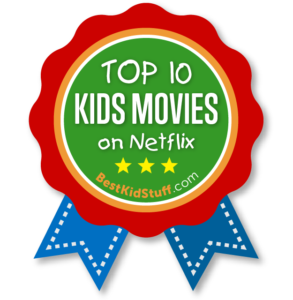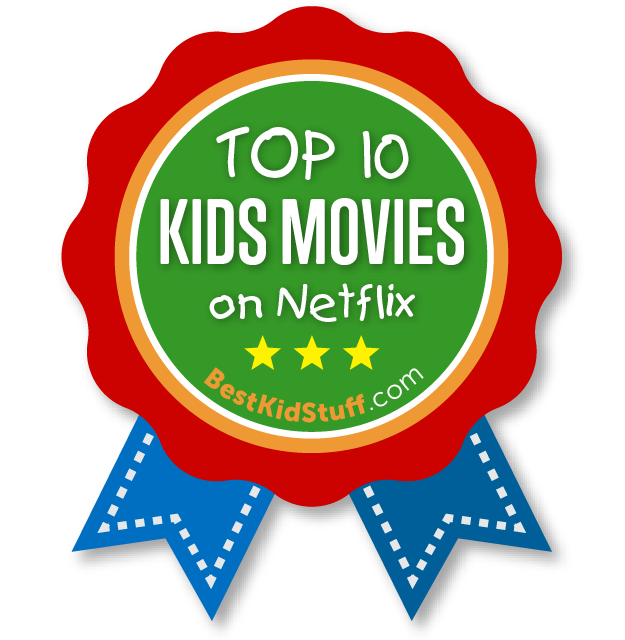 We've all been there. The choices are seemingly endless, particularly if you have streaming services and cable. But when it comes down to it, you're tired, or time-starved, or just don't want to have to choose. So you click on the first thing that catches your eye (or — potentially worse, your kids' eye) and sit through a mediocre show for an hour.
Well, luckily for you BestKidStuff.com has a good bit of experience helping parents to make informed choices on entertainment for kids. And as you likely know quite well, many kids movies are also classic in their entertainment value to adults.
While all of the major streaming services have their own kids-centered perks, we've chosen Netflix for this guide as it is the most popular of streaming services, and its potentially got the best selection of truly classic kid's movies. Check out our picks for the 10 best movies for kids below!
Metrics:
Style (33.3%): the beauty, unique production, amazing music, or other skillfulness exhibited in the film.
Story (33.3%): how well does the story work, for kids and parents?
Timelessness (33.3%): what's the lasting value of the film. Can you watch it again? Some films truly are timeless…
1. The Little Prince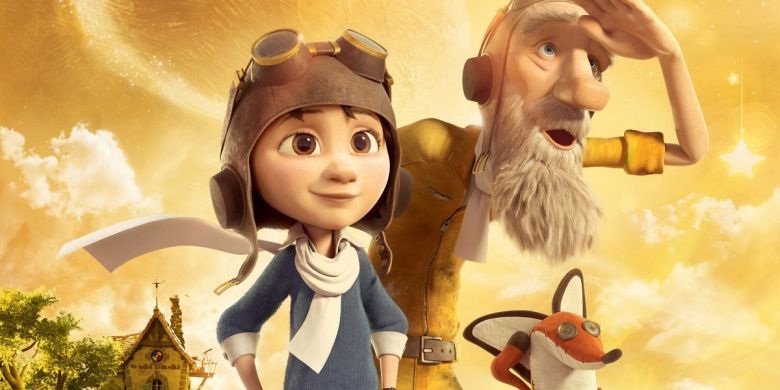 The Little Prince is a classic children's book (Le Petit Prince) that has been translated to over 300 languages and adapted for film, stage, radio, ballet, and even opera. Once again The Little Prince has been adapted to film, and the latest version is not a disappointment. Mark Osborne has directed the film which features an incredible cast including Jeff Bridges, Rachel McAdams, James Franco, Benicio del Toro, and Mackenzie Foy among others. We like the two styles of animation used to visualize the two places in time. The characters are well developed and the story is captivating.
In this version, we become close to the Little Girl, played by Mackenzie Foy. Her story is common and relatable as she is forced to overachieve to appease her mother and fulfill extraneous expectations put upon her by society. Her mother, portrayed by Rachel McAdams, creates a "life plan" for the little girl who is distracted from the "life plan" after meeting a retired elderly man who is her neighbor. He is the aviator. The aviator introduces her to the story of the Little Prince. The aviator becomes her closest friend and the little girl becomes entranced with the story of the Little Prince. Problems arise when the aviator is taken ill and ends up in the hospital. The little girl must then journey into space with the aviator's fully restored airplane. She lands on an asteroid that is populated by overworked and overstressed adults. There she meets the Little Prince who is working as a janitor and no longer remembers his past life. Will the Little Girl help the Little Prince remember his past and complete the epic tale? Definitely check out the film to see how it all unfolds.
Pros:
Beautifully Animated
Amazing Cast
Fun Take on an Old Classic
Exciting
Cons:
Some Cliches Get a Little Old
We Would Have Liked to See a the Little Girl Not Getting into the Prestigious Academy
Score:
Syle:100
Story:100
Timeless:100
Total Score:100
2. Coraline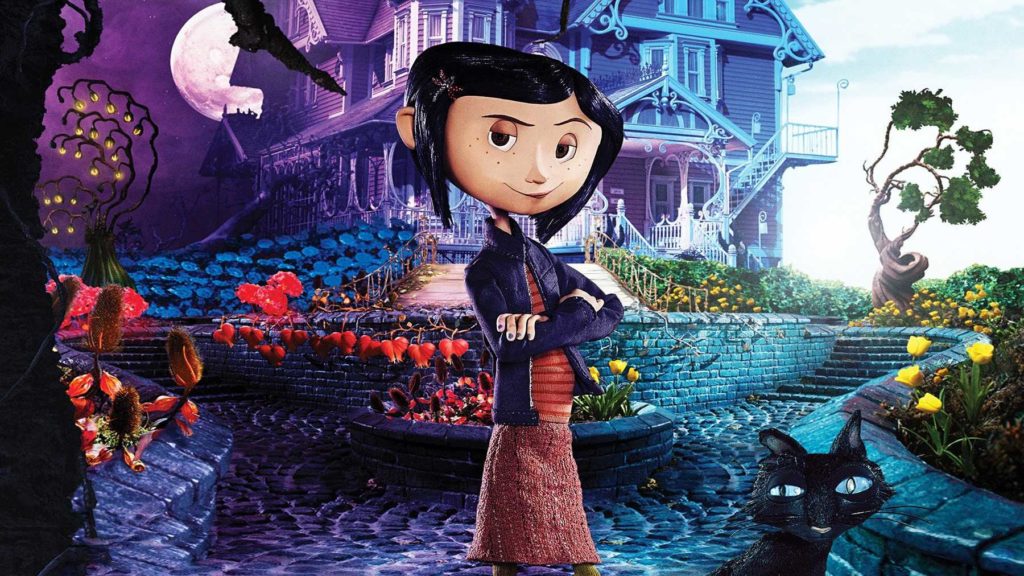 Coraline is a film adaptation from the book of the same name written by Neil Gaiman. The film is directed by Henry Selick, who is known as the director of the Nightmare Before Christmas and the stop-animation version of James and the Giant Peach. Selick is known for his magical worlds and for taking risks. He has a certain dark aesthetic that works perfectly for a Neil Gaiman adaptation. This film is just as much for adults as it is for children.
Coraline Jones recently moved to Ashland, Oregon. Her parents are busy and preoccupied with work so Coraline is left to make friends with the neighbors on her own. She is given a button doll that looks a lot like herself. Before long Coraline finds the secret button key that opens the passageway into the Other World. The Other World is an alternate universe where everyone looks like the people back home except with button eyes. She is rather charmed by her new not-so-preoccupied button parents and has a lot of fun with them. Though warned about visiting the other world, Coraline returns only to discover that the mother of the other world is actually an evil arachnoid-like creature known as the Beldam. The Beldam has been trapping children in the other world for decades, and it is up to Coraline to save herself and her family. Can she do it? Do not hesitate to save this one to your Netflix cue!
Pros:
Artisically Original
Whimsical Story
Fun for the Whole Family
Etc
Cons:
Some of the Visuals are Scary
Not Appropriate for All Children
Score:
Style:100
Story:99
Timeless:100
Total Score:99.6
3. Coco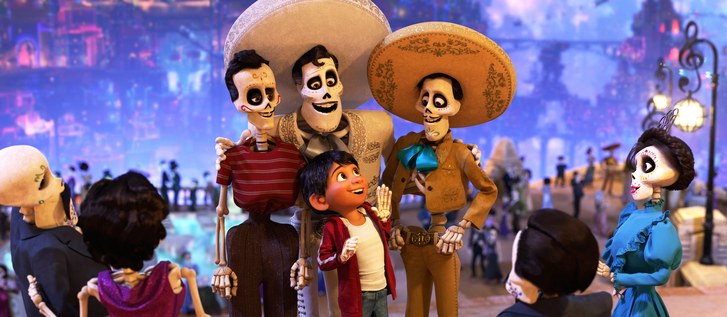 Coco is another Disney Pixar animated film that was released in 2017. It was directed by both Lee Unkrich and Adrian Molina. The entire film is based on one holiday in Mexico known as the Day of the Dead (Dia de los Muertos) a day of remembrance and celebration of family members. The cast is a great match for the film as each cast member is Latino. The animation style is colorful and vibrant-reflecting on the cultural vibrancy in Mexico. Coco won two Academy Awards one for Best Animated Feature and another for Best Original Song ("Remember Me").
Coco is the story of Miguel whose dream is to be a musician. Unfortunately for Miguel, a musician in his family caused some family traumas so music has been banned in his family. In secret, Miguel learns the guitar and enters into a whirlwind of a journey back to visit his ancestors and unfortunately estranging himself from his family in the process. Miguel goes in search of Ernesto the ancestor who ran away to be a musician so many years ago. Miguel's dream to become a musician uncovers the truth about his great-great-grandfather- one that will (you guessed it) make it possible for Miguel to become a musician and reunite with his family in the land of the living.
Pros:
Unique Story
Bright Animation
Memorable Characters
Great Music
Fun for the Whole Family
Cons:
Some Stereotypes are Used a Bit Much
Score:
Style Score:100
Story Score:97
Timeless Score:99
Total Score:98.6
4. Disney's Mulan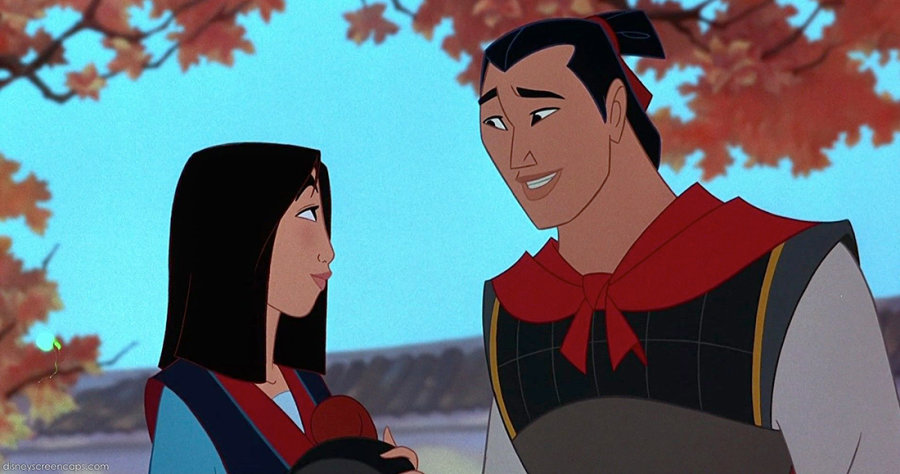 Mulan is an epic Disney film created during what is considered to be Disney's Renaissance period in the 1990s. It was released to popular and critical acclaim in 1998. The film was produced at the Disney Animation studio though the art directors were sent to China to acquire inspiration for the film which can be observed in the animation style, architecture, and landscape.
Mulan is the animated feature film based on the Chinese legend of Hua Mulan. Mulan disguises herself as a man to take her father's place in the army. The army is training to attack the Huns who have invaded the Han region of China when they scaled the Great Wall. Mulan learns to fight alongside the men in the army and her grandmother sends the Mushu the dragon to be her protector. When Mulan becomes injured it is revealed that she is in fact a woman. Her life is spared but she is banished and can no longer fight. The Emporer but is captured it is Mulan who helps to save his life. She earns her place of honor in her community and returns safely to reunite with her family. Mulan continues to enchant audiences with its unique animation style, inspirational characters, and great music.
Pros:
Beautiful Animation
Amazing Music
Great Story
Inspirational Characters
Cons:
Somewhat Dated in Style
A Few Cliches
Score:
Style Score:98
Story Score:100
Timeless Score:97
Total Score:98.3
5. Mary and the Witch's Flower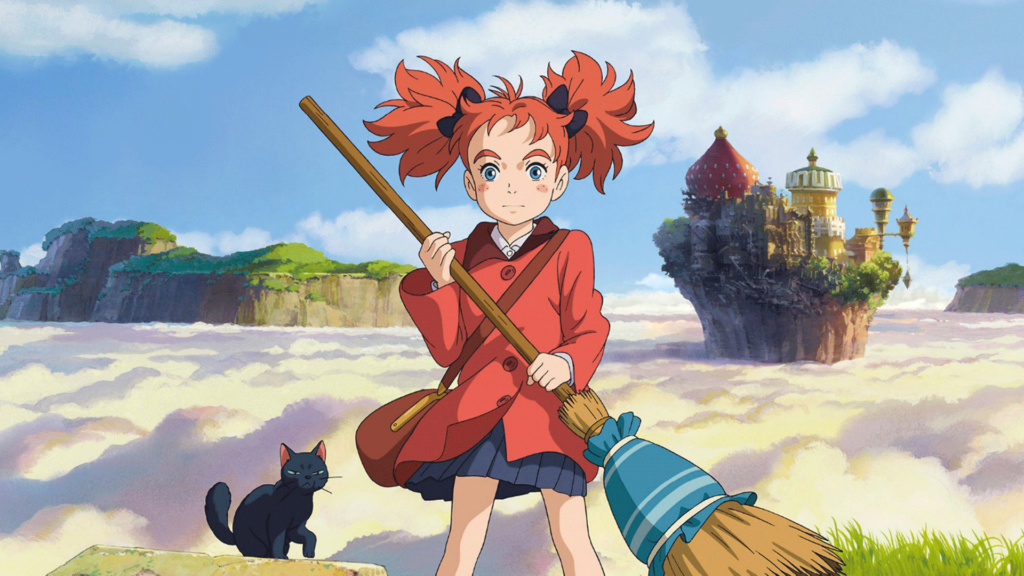 Mary and the Witches Flower is a Japanese animated feature film that was directed by Hiromasa Yonebayashi. It's based on the story The Little Broomstick by Mary Stewart and was released in 2017. Many people confuse this film with a Studio Ghibli production. It is not but it does feature an individual who was formerly associated with Studio Ghibli. The similarities are hard to ignore. The voice actors include Jim Broadbent, Kate Winslet, and Ruby Barnhill.
This is the story of Mary who moves in with her great aunt Charlotte. She is bored, kind of clumsy, and feeling really useless. To top it all off, she hates having her bright red hair. A neighborhood boy teases her at first but his two cats lead her to an area with some mysterious glowing flowers. Before long Mary's broomstick is ridable and she and one of the neighbors Peter's cats are whizzed off to Endor College- a school for witches. The flower, known as the "fly-by-night", gives Mary her powers and the heads of the school believe her to be a prodigy. It's not long before we learn that the heads of school are actually evil and are looking for a way to turn all humans into witches. If you know anything about kids' movies, you probably guessed that it's up to our underdog Mary to save humankind from the evil intents of Madam Mumblechook and Doctor Dee. This enchanting Japanese fantasy film will have you and your little one excited for more from the same director.
Pros:
Great Animation Style
Exciting and Relatable Protagonist
Amazing Storytelling
Cons:
Not Everyone Likes Witches
At Times it Feels a Bit Derivative
Score:
Style Score:97
Story Score:100
Timeless Score:98
Total Score:98.3
6. Incredibles 2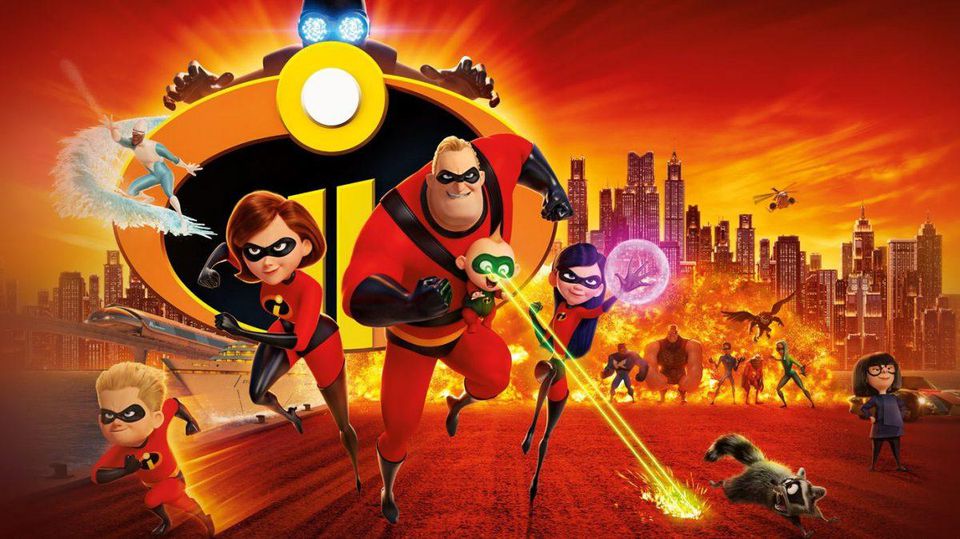 The follow-up to the much beloved Incredibes, Incredibles 2 couples the quirky super-hero family of the first film with some harder hitting commentary about current social norms. This sequel builds on the adorable, quirky, and downright funny animation that only Pixar could pull off in such a polished way. Those who watched the first Incredibles may be pumped to know that Little "Jack Jack" plays a majorly funny role in this film. And we can see why this is the 17th highest grossing film of all time (wow!).
This story begins with the Incredibles (the main characters who are a family of super heroes) battling the Underminer with Frozone. Of course, the day is saved. But not without some collateral damage. Following the showdown, Elastigirl is approached by a wealthy businessman, who wants her services in an effort to live broadcast super heroes saving the day to the public (since the first movie, super heroes haven't been doing so well in the eyes of the public). While this appears to be Elastigirl's "big break" in her career, as well as a way to change the public's perception of superheroes, it places Mr. Incredible in the new situation of being a "stay-at-home" dad. Hilarity ensues as little baby "Jack Jack" starts developing super powers of his own.
Pros:
Builds on a much loved storyline while still being exciting
Amazing animation
Funny, lovable, and timely, no matter your age
Cons:
It "only" took Pixar 14 years to make the sequel
Score:
Style Score:95
Story Score:100
Timeless Score:96
Total Score:97
7. Tarzan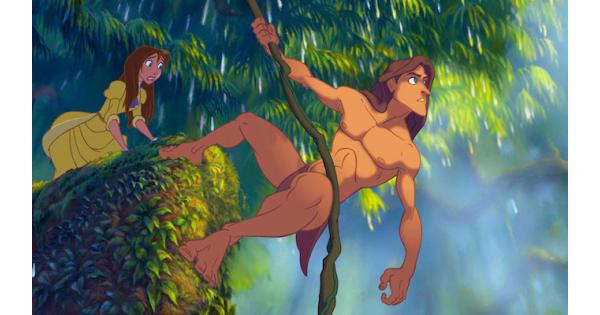 Walt DIsney's animated 1999 classic Tarzan — not to be confused with the original live action Tarzan, or Tarzan II — was the production of four years of hand drawn 2D storytelling combined with then new 3D imaging techniques. One of the last films contained in the golden 90's of Disney's films, Tarzan has many of the hallmarks of Disney films of the time, including an award-winning sound track, and the then largest budget ever for an animated film.
In case you haven't watched any of the version of Tarzan, the basics of the story surround a young family shipwrecked in the Congolese jungle back in the 1890's. Over time, the family builds a treehouse, until one day the mother and father fall prey to a local leopard. The matriarch of a group of local gorillas hears the baby crying and adopts the boy. As this human baby is raised as a gorilla, befriending the inhabitants of the jungle and learning to swing through the trees, Tarzan is born.
Pros:
Timeless tale that's been re-created many times
There's now a sequel to follow up with
Great for animal lovers
Great soundtrack
Cons:
The animation style is lovable, but only "cutting edge" for 1999
Score:
Style Score:92
Story Score:100
Timeless Score:98
Total Score:96.6
8. Hercules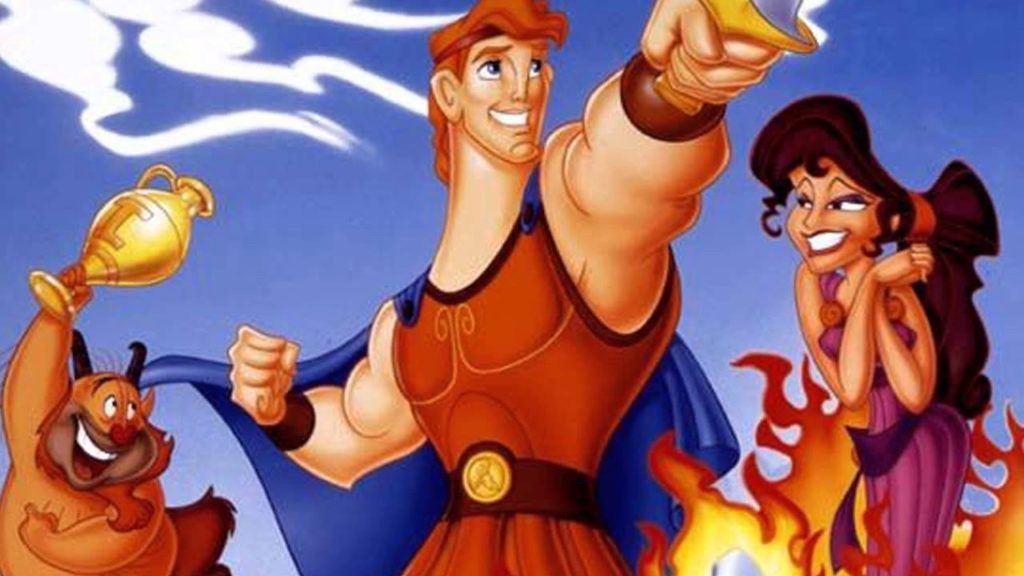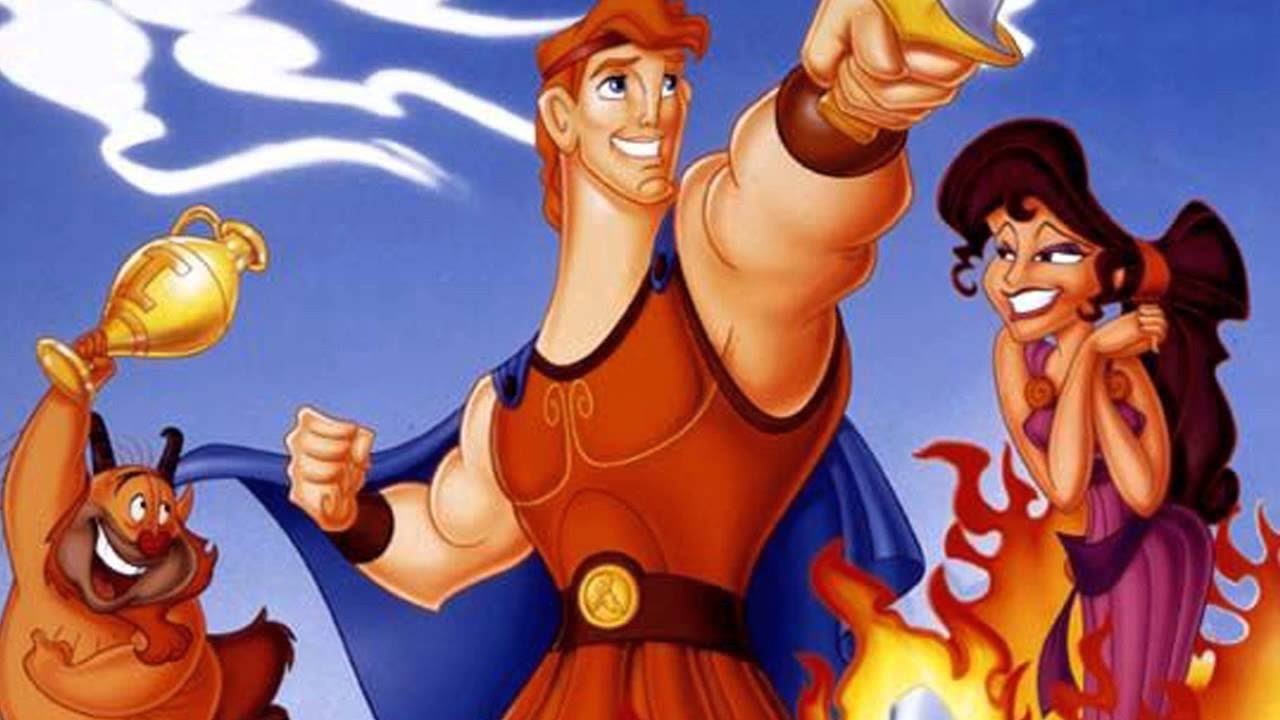 Another Disney Rennaisance classic of the 1990's, Hercules is the animated musical comedy about the mythical son of Zeus in Greek mythology. As many of the best animated features of the 90's did, the film was in production for almost 5 years. Originally critically acclaimed, the film underperformed in the box office, but has been elevated to its well-regarded status as time as gone on.
The plot of Hercules begins with Zeus and Hera — King and Queen of the Ancient Greek gods — banishing the Titans below the ocean. Hades, brother to Zeus, is jealous of their standing, and upon figuring out that there will be a planetary alignment 18 years into the future hatches a plan. The only thing standing in his way will be Hercules, baby son of Zeus and Hera. After a botched kidnapping of the baby Hercules, Hercules begins his life as the adopted son of two human farmers. Over time Hercules becomes an outcast for his superhuman strength and general "godliness" compared to the humans around him. That is until he finds out about a plot to steal his love by Hades. And so the final showdown begins…
Pros:
Fun introduction to Greek mythology
Catchy soundtrack
Classic Disney movie
Cons:
A little dated
Bends stories from Greek mythology
Score:
Style Score:89
Story Score:96
Timeless Score:94
Total Score:93
9. Bolt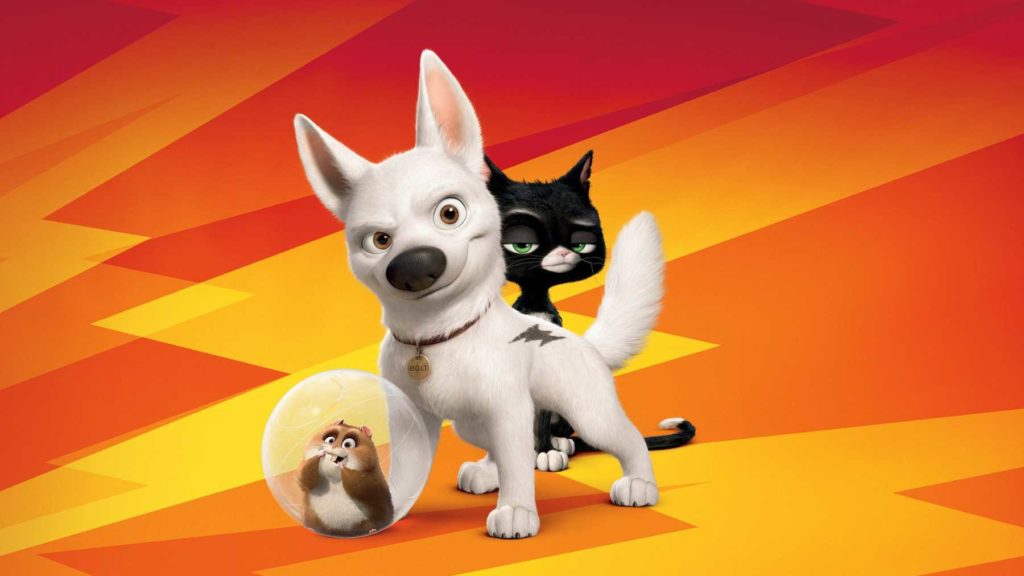 Bolt is a 2008 computer animated feature film by Disney. This film boasts a star studded voice cast including John Travolta and Miley Cyrus. The film recieved strong critical reviews and has been credited as the start of the Disney Revival that has continued through the 2010's. The first Disney film to be created solely under the creative leadership of the then Pixar chief executive John Lasseter, the film employed unique visual techniques. One such technique has garnered the film the title of the first feature length film to use non-photo-realistic computer rendering.
The plot of Bolt centers around a a white shepherd puppy named Bolt and his eight year-old owner named Penny. Penny and Bolt star on a hit TV show named after the dog and in which the dog has superpowers. Having grown up in an environment in which everyone told the dog he has super powers, Bolt truly believes he is a super hero. When an episode ends in a cliff hanger in which Penny is kidnapped (in the show's plot), Bolt believes this is real. He escapes the set of the show to find his owner only to realize his powers weren't real (and to get an education in the school of hard knocks).
Pros:
Award-winning animation
Historically-important Disney film
Great for animal lovers
Cons:
General audiences did not like Bolt quite as much as other films in our list
Score:
Style Score:99
Story Score:89
Timeless Score:89
Total Score:92.3
10. Charlie and the Chocolate Factory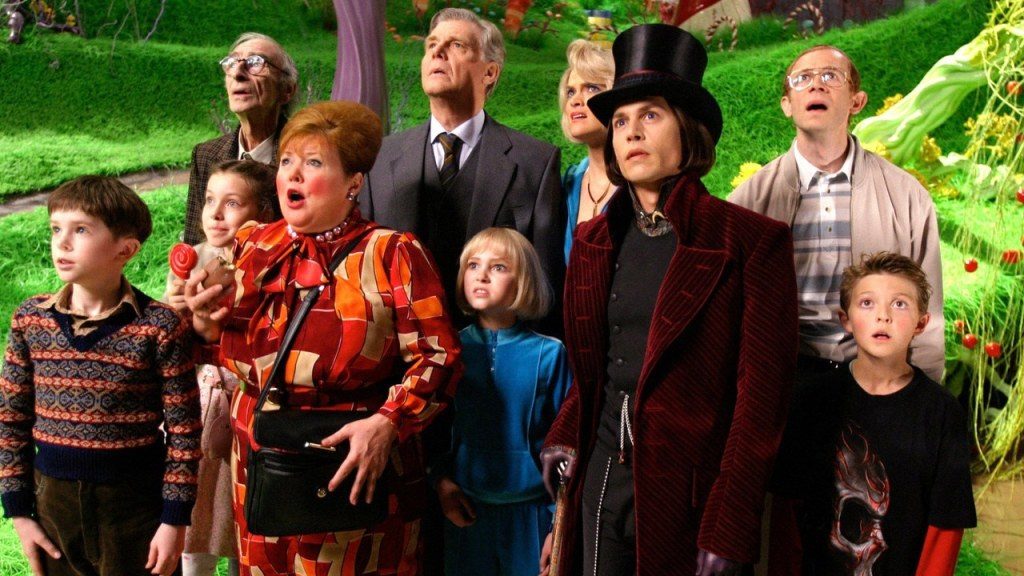 Charlie and the Chocolate Factory has been remade several times by classic actors. The latest 2005 rendition is presently available on Netflix. With discussions for a remake of the already classic film starting as early as 1991, Charlie and Chocolate Factory had a long time to germinate. This fantasy musical is directed by the whimsical Tim Burton, and stars a number of instantly recognizable stars including Johnny Depp, David Kelly, and Helena Bonham Carter.
The plot of Charlie and the Chocolate Factory is based on Roald Dahl's classic 1964 story by the same name. The story centers around the story of Charlie Bucket, a poor young boy who lives close to the Willy Wonka Chocolate factory. When the factory holds a contest with the prize of getting a tour of the factory, Charlie is delighted to win. While many offer Charlie money for his ticket, he would rather keep it to take his grandfather on the tour. On the tour, four other children succumb to various temptations that lead to their demise, while Charlie finds a way into the heart of the candy factory's owner.
Pros:
One of several classic renditions of the story
Amazing cast
Visually Exciting
Timeless
Cons:
Is it as good as the older version?
Smaller children may find scary
Score:
Style Score:100
Story Score:90
Timeless Score:80
Total Score:90