Did you know that from 1200 to 1500, St. Nicholas was considered the bringer of gifts on his feast day, December 6? Of course, St. Nicholas is the basis for Santa Claus, the jolly fellow dressed in red with white fur trim who ventures from the North Pole to distribute gifts to nice children.
Indeed, Christmas is when parents, grandparents, and other relatives buy toys for the children in the family, and it becomes a more festive occasion because of these gifts.
However, parents and grandparents should also remember that the best toys are more than just playthings! Toys should be fun to play with, but they should also be appropriate for the child's age, safe to use, and provide physical and mental stimulation. This is because play is vital in children's physical, mental, and social development and, thus, toys must be chosen as developmental learning tools.
When chosen well, the best age-appropriate toys encourage the following in children:
Solve problems on their own and with others
Learn cause and effect
Learn to compromise, resolve conflicts and share while playing with others
Develop their gross and fine motor skills
Nurture their imagination, creativity, and resourcefulness
Strengthen their self-esteem, self-confidence, and independence
The emphasis here is on choosing age-appropriate toys since children enjoy toys that fit their current physical and mental development stages. While you can look at the box in which the toy comes in and check for the age-appropriate label, you can also keep these tips in mind.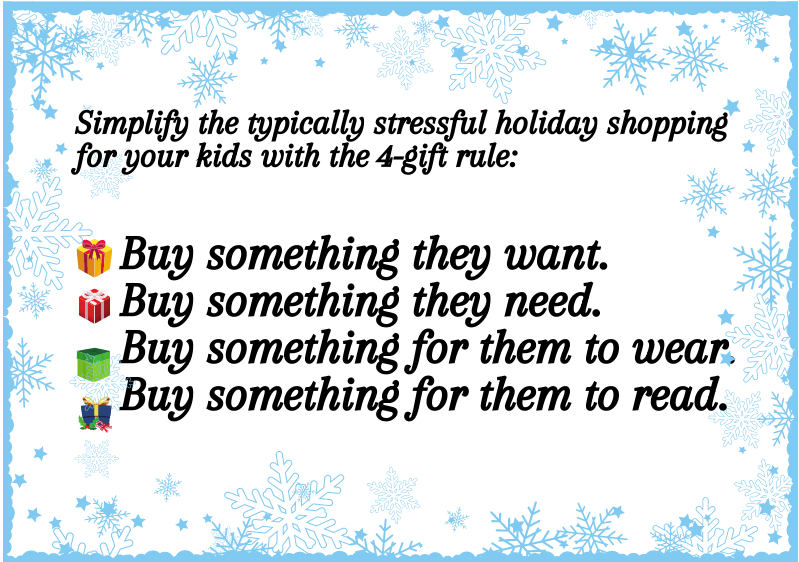 Choose toys with simple yet versatile features.
Your children's imagination will come to the forefront when their toys do not do too much. Your children should be the ones taking charge of the action instead of letting the toys do most of the work. The latter are the best choices between stuffed animals that talk, sing, or light up and stuffed animals without these features because your children direct the action.
Indeed, the best toys are usually simpler ones, such as building blocks, because children can be spontaneous and imaginative. However, as your children grow older, they may want something more sophisticated yet still encourage their creativity, such as build-your-own-robot kits.
Limit your children's access to video games and electronic toys until they are older.
Research has suggested the possible dangers of electronic toys, video games, and television time on children's development and overall health. These dangers include weight gain from a sedentary lifestyle (i.e., too many hours spent playing videogames), hearing loss from loud toys, and delays in language development, to name a few.
Children who use toys that do not require them to do anything except watch may also experience critical and analytical thinking delays. They are also more likely to experience reduced attention span due to the extended use of electronics, especially with toys that have constant changes like flashing lights and sounds. They cannot focus their attention on a single thing and, thus, they will find it challenging to concentrate on a non-moving toy.
The American Academy of Pediatrics is urging parents to limit their children's television, computer, and videogames time, depending on their age. The AAP says children under two years of age should not be exposed to screen time, while kids over two years of age should only have 1-2 hours per day of screen time.
You may want to skip the so-called educational toys.
Many parents fear that their children are not learning as much and as fast as they should, a fear that makers of educational toys tap into. However, do not fall into the trap of buying educational toys that are supposedly designed to create math geniuses or early readers! The real educational toys are the basic toys that have been around for decades, such as building blocks and dolls.
Tip: Avoid giving your children too many toys to avoid sensory overload, reduced concentration, and a materialistic mindset, among other effects. Instead, rotate their toys every week, so these feel fresh and new, and your children can fully explore them first before moving on to another set of toys. For example, keep just two shape-sorters in their room instead of five; remove these two toys and then replace them with the other two sorters.
Choose toys based on age.
Children enjoy toys designed based on their interests at their age and toys they can play with and master. Here are a few suggestions for age-appropriate toys for every age bracket. (We started with the 1-3-year-old bracket for this article.)
1 to 2 years old – Building blocks, rings on poles, take-apart toys, nesting cups, and shape sorters are great toys for toddlers. Children like to experiment with space, size, and shape at this age and take action on their goals, such as building a simple fort.
3 to 5 years old – Finger paints, large crayons, miniature sets featuring houses and farms, puzzles, large blocks and construction toys, and Play-Doh are the best choices. Other choices include picture books, books, wagons and wheelbarrows, plastic balls and bats, CD and DVD players with songs and activities. These are great toys for pretend play and experimentation, as well as for physical skills development.
6 to 11 years old – STEM toys and games, such as robot kits and fast-paced games, are up to their alley. Children can express their personality, preferences, and interests through these toys.
Twelve years old and up – Pre-teens and teens prefer electronic toys and video games at their age. However, we suggest limiting their screen time and giving them interactive toys that encourage them to play with others, create things, and be physically active.
We chose 20 age-appropriate toys that are best for each age group. You will find our recommendations helpful, considering that there is little time between now and Christmas Eve when you are looking for must-have gifts for every child in your family! Keep in mind that you must give ample time allowance for shipping and then for wrapping these toys.
(The male pronouns are used, whenever necessary, for convenience. But most, if not all, of these toys, is suitable for use by boys and girls)
---
* Toddlers (1- to 3-Year-Olds) *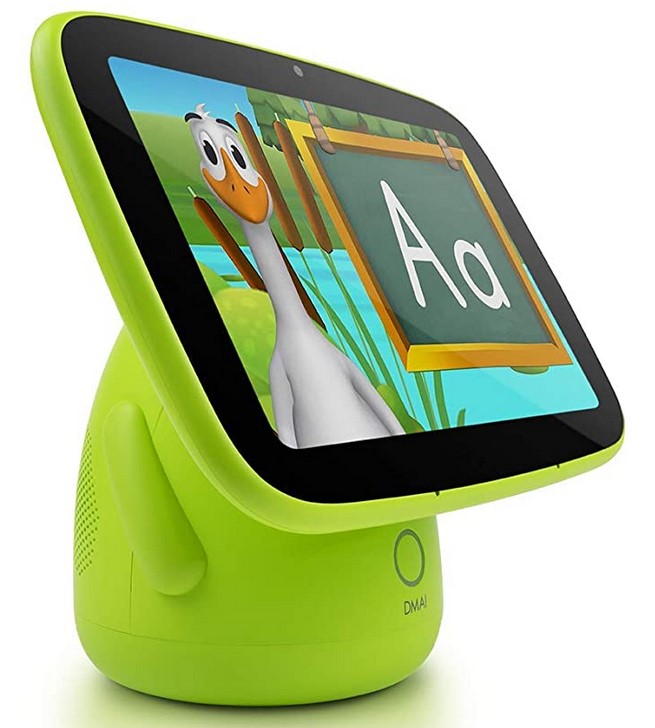 While conventional tablets allow children to swipe the screen and control the flow of images, the AILA Sit and Play Virtual Early Preschool Learning System has a unique program.
The tablet controls the flow of images and sounds on the screen so toddlers can focus their attention on the activity. There are no unnecessary sights and sounds that will distract your toddler from whatever is being displayed on the screen, which is vital in improving young children's concentration.
You, the parent, can choose from three play modes – broadcast, session, and lullaby – with each mode featuring curated playlists. The session mode features interactive lessons, including the alphabet, numbers and words, colors, shapes, and stories. Your toddler can play, sing, and dance along with the lessons, which means he can simultaneously play and learn.
Plus, the tablet is programmed to track your toddler's milestones and provide the appropriate content. You should see your toddler's progress in terms of early literacy and emotional growth, social skills, and cognitive development with daily supervised use.
Other great features include a parent dashboard for adjusting your toddler's screen time, monitoring his lessons and rating his session, check-in with your toddler through the tablet while he is using it, a sort of baby monitor; and sending photos and videos from your smartphone to his tablet as mail.
The AILA Sit and Play Virtual Early Preschool Learning System is the perfect gift for your young, impressionable learner!
2. Costzon 6-in-1 Baby Tricycle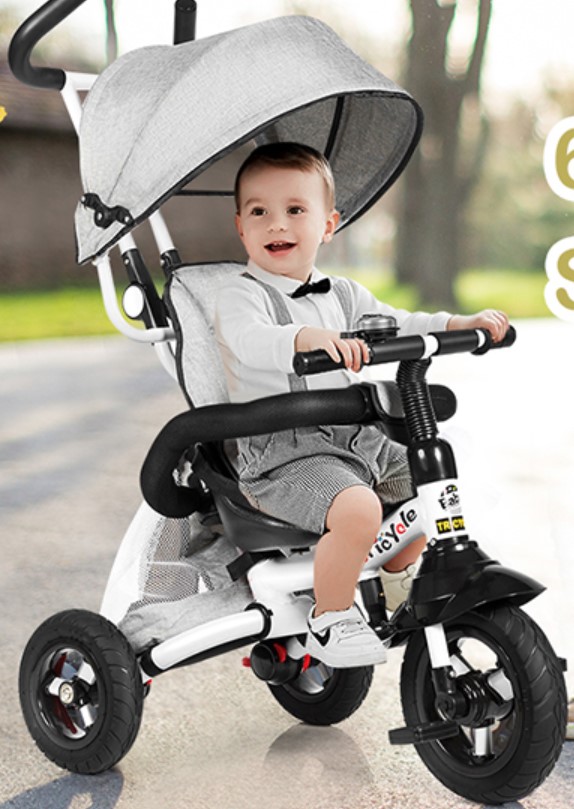 When it comes to multifunctional toys that your toddler can use for several years, the Costzon 6-in-1 baby tricycle comes highly recommended!
Think of it as a Transformer-like Optimus Prime that can be used in six ways, including an infant stroller for younger babies, a steering tricycle for toddlers, and a learn-to-ride tricycle for preschoolers. Finally, it becomes a classic tricycle that your preschooler can ride on his own.
With so many uses over the years, you are getting the best value for your money! This is a high-quality product, too, with a stable construction, sturdy materials, and robust build to last for several years with proper care. The moving parts are well-built, too, so there is little to worry about premature wear and tear.
The safety features, including a three-point safety harness, adjustable push handle, and foam-padded guardrail, are part of its appeal for parents who want the best for their children. The rubber wheels roll quietly and smoothly over most terrain, including asphalt, sand, and gravel, while the back wheels function as a brake. The retractable and folding pedals prevent your baby's feet from being hit by the front wheel, too.
This is sooooo cool… Plus, it is so easy to assemble with no extra tools necessary. You can also easily and quickly fold it for transport and storage.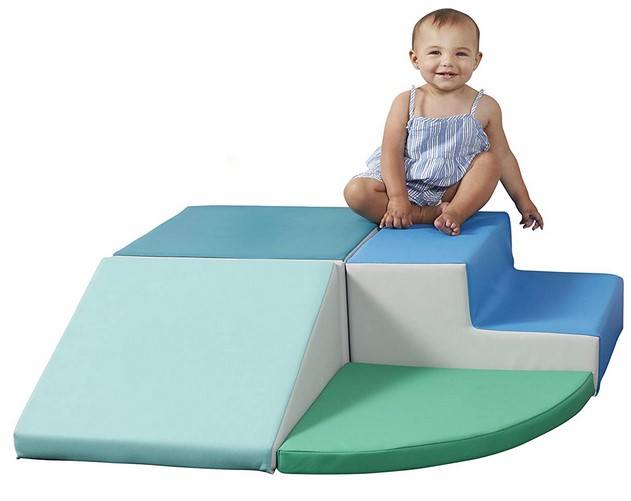 Toddlers explore their world by climbing, crawling, and sliding, usually over pieces of furniture, up and down the stairs, and even cabinets. Why not give your toddler a dedicated place for his physical explorations with the SoftScape Toddler Playtime Climber?
Made of dense yet lightweight foam, the four pieces can be easily arranged in whatever configuration will fit in your home. The four blocks also have a non-slip bottom that keeps them securely in place even when your toddler and his siblings climb, crawl and jump on it. You do not have to worry about your children being hurt by hard edges and surfaces since every foam block absorbs the impact while also providing a soft surface to play on.
The foam blocks also retain their shape despite numerous children's jumps, sort of a trampoline without the net. The blocks are also easy to clean, thanks to their pastel-colored durable polyurethane cover. Just wipe the surfaces with a damp cloth, perhaps spray with a disinfectant spray before wiping with a clean, dry cloth for good measure.
While the blocks seem simple in design, therein lies its genius! As your toddler and his sibling play on it, they develop hand-eye coordination, body coordination, and social skills. This can also be used differently, such as part of a make-believe fort when they are older.
As a young parent, you only want the best for your toddler. Safety is the number one concern. This is a great way to allow kids… to be kids! It comes in great colors, too!
4. Happybuy Toddler Slide and Swing Set 4 in 1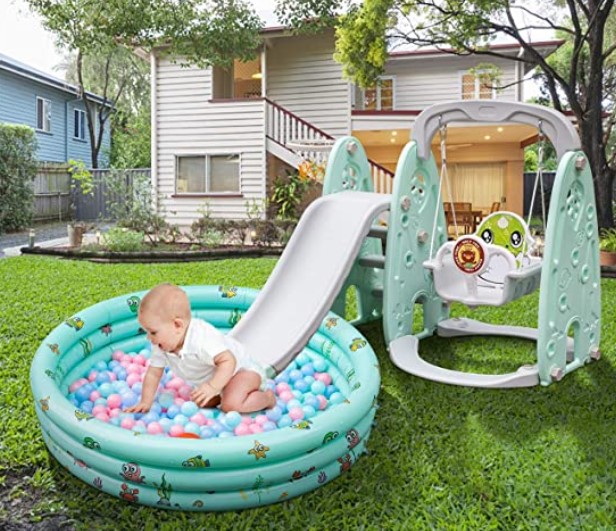 Physical activity is not just good for the body, but it is also good for the mind! Getting your toddler to enjoy various activities on this Happybuy Toddler Slide and Swing Set will contribute to his overall health and development. You can set it up in an indoor or outdoor area, depending on the space and weather, and it is fairly easy to install with a little help.
Both boys and girls will love playing on it, too, not only because of its neutral light green color. Your children will find something that will challenge their physical ability and stimulate their mental capacity, too. You can assist them on the slide and swing and let them shoot balls through the hoop when they are younger and then let them discover their strengths.
As your children grow, they will also find new ways to play with the slide, swing, and basketball hoop, as well as the ball pit. Since the entire playset is made of sturdy materials, such as thick plastic, it will last for years with proper maintenance. You can easily clean the pieces with a damp cloth and pressure hose, where necessary.
The playset comes with 300 pieces of colorful plastic balls, which do not easily fold into themselves. The slide and swing can accommodate children up to 110 pounds.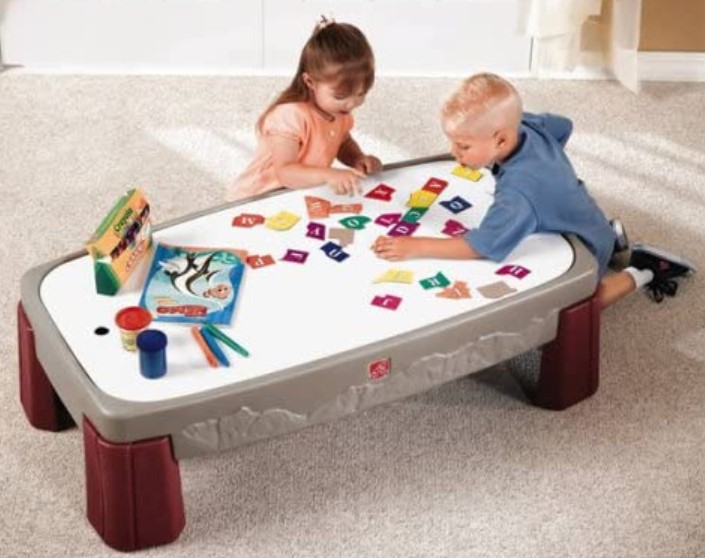 Children who play with train sets enjoy many benefits from doing so, such as developing their gross and fine motor skills, solving problems, and learning about concepts like the past, future, and present.
Let them play with this Step2 Deluxe Canyon train set and watch them play and learn and enjoy sharing with their siblings and friends. Take note that this is not just a train set – it can also be used as a table for making arts and crafts, even as a table for eating snacks. Just close the lid, and voila!
The train set transforms into a small table. Of course, the train set is the main draw here, and your children will find plenty of things to amuse themselves with it. There is a multi-level track where trains can zoom up and down over it and non-removable bridges where they can take a rest. The molded-in track is stable and sturdy, so it can take a little bit of rough play, while the multicolored tracks make for a visual treat.
Made of durable plastic, the train set will last for years, not to mention that it has made in the USA, a sign of high quality.
This is also compatible with Thomas the Train toys and hot wheels so that you can add to your children's train collection. Take a look!
---
* Preschoolers (3- to 5-Year-Olds) *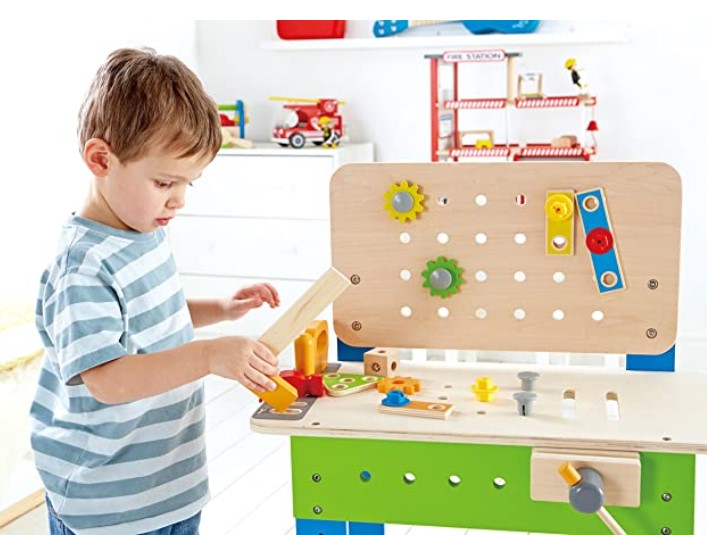 Both boys and girls will benefit from playing with workbench toys, so you may want to introduce the Master Workbench by Hape to your children, too.
This toy workbench will contribute to their improved hand-eye coordination and fine motor skills and boost their creativity and confidence, all without a screen. Children will find numerous tools useful in building their imaginary castles, forts, and bridges.
Your preschoolers can build, repair and fix using tools like a hammer, screwdriver, saw, vice, angle, wrench, nuts and bolts, and gears and links, among others. There are 35 pieces in the set that can be used for a wide variety of ways – let your children discover their conventional and creative uses on their own.
They can make different things from connecting pieces, which come in several shapes like triangles, rectangles, and cubes with holes in them, using the nuts and bolts. They can also hammer the pieces into place, pretend to saw them apart and disassemble their creations.
This toy workbench will also grow with your children since it has a height-adjustable table, not to mention that it has made of durable materials. Your kids can also store the pieces and other toys on its shelves, a handy feature to keep their clutter in control, too.
The bottom line: Your children will have hours upon hours of playtime with just a single toy set!
This workbench table is great for hand-eye coordination, dexterity, and creativity!
7. Osmo – Little Genius Starter Kit for Fire Tablet + Early Math Adventure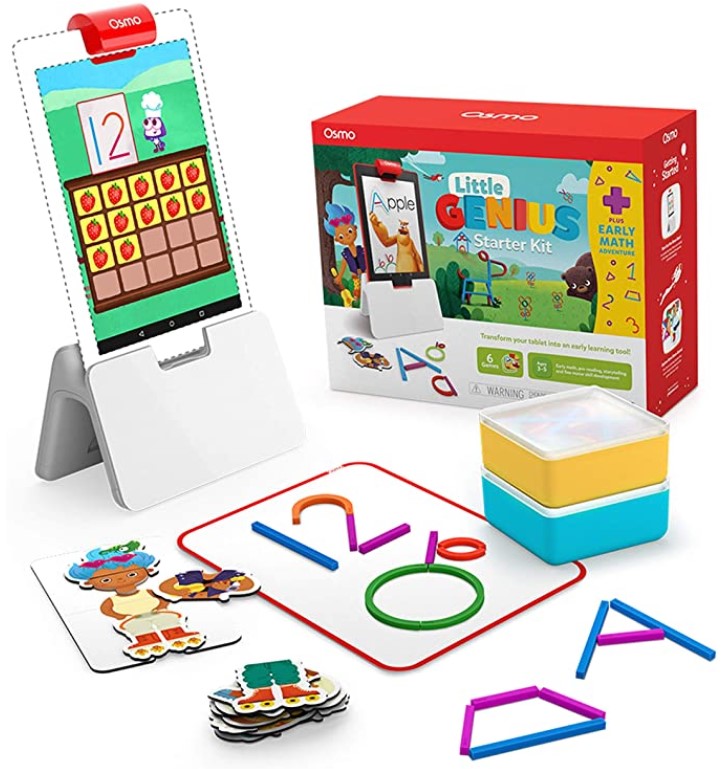 Preschoolers love using their senses to learn new things, including their ABCs, numbers, and shapes. This Osmo Little Genius Starter Kit is a fantastic gift for them because it combines hands-on learning and digital learning, a holistic learning experience indeed.
The box comes with the Osmo base and reflector compatible with a Fire Tablet and stackable storage, 19 cardboard costume pieces, 38 BPA-free silicone sticks and rings, and six-game apps. Take note that a Fire Tablet requires a separate purchase, and it is essential to play the kit. The cardboard pieces are for pretend play, while the silicone sticks and rings are used for learning letters, numbers, and shapes.

Your children will find plenty of activities to do with the kit, from filling a virtual mansion with things and creating towns complete with buildings to practice counting numbers, creating images in playgrounds, and experimenting with colors and clothes. This is made possible through the six-game apps, including Shape Builder, Counting Town, and Squiggle Magic.
With daily supervised play, your preschoolers will be prepared for their kindergarten days. They will develop their early math and reading skills and life skills, such as attention to detail, critical thinking, and problem-solving.
Buy the Osmo Little Genius Starter Kit today! Don't forget the Fire Tablet, as it is a separate purchase!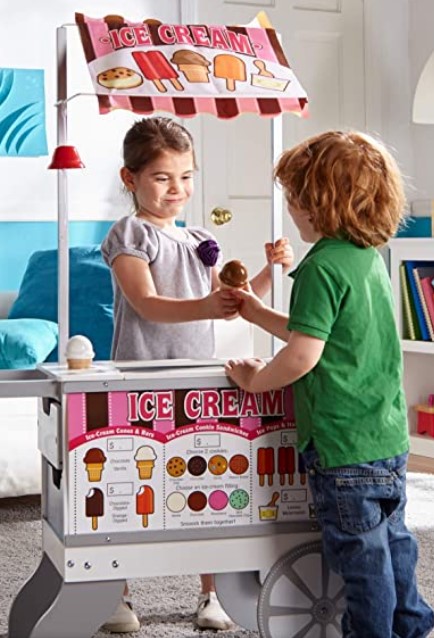 Pretend play among children has been shown to bring benefits that promote physical, mental, and emotional development. With this Melissa & Doug toy food cart, your preschoolers will also enjoy these benefits, such as improved creativity, language and communication skills, and problem-solving skills.
This is a 2-in-1 toy food cart since it can be easily transformed from a hot dog cart to an ice cream cart by flipping the sign and reversing the awning. Even your preschoolers will find it fun! The entire food cart is well-made with sturdy wooden parts and overall construction, so it should last for several years of regular use.
There are no annoying and distracting sounds aside from the little bell's cute sound, which children love to ring when buying or delivering orders. The food cart comes with more than 40 accessories that simulate a real-life food cart, such as hot dogs, pretzels, buns, soda cans, ice, condiments in bottles, and ice cream cones toppings, popsicles, and ice cream sandwiches. These are not edible, but children love them, nonetheless, because they can pretend to be vendors or customers.
The attention to detail is quintessential of the Melissa and Doug brand, too. There are drawers for storing the accessories, which keep the clutter under control while also teaching kids about organization skills. Many of the food accessories have Velcro, such as popsicles and ice cream sandwiches, so children can mix and match flavors.
From a staple in quality toys for children, the Melissa and Doug Food Cart will provide hours of fun for your preschooler!
Disney characters are well-known among preschoolers because, well, it is Disney! If your preschoolers are Disney fans, consider giving them the Disney Animators' mini-doll gift set and making their Christmas extra special. The fact that these are durable toys is the icing on the cake.
These are authentic Disney dolls, not the cheap knock-offs that easily fall apart or fade. Their glittering costumes have fantastic details, such as Flynn's belt and Snow White's red bow, which children will love to discover. Even their facial expressions are quintessential of their characters – Moana, for example, has a mischievous expression!
The set contains 14 mini-dolls: Mulan, Belle, Pocahontas, Cinderella, Ariel, Tiana, Rapunzel, Snow White, Aurora, Tinker Bell, Jasmine, Moana, Flynn Rider, and Merida. Accessories include guitar, Pascal, paint brush, and paint palette.
Each mini doll measures five inches in height and is made with molded plastic. Every doll also has moving arms and legs as well as jointed knees and a swivel waist. Your children will love playing with them, even making up stories about their adventures, since they can be made to assume different poses.
These sweeties come in a decorative storage box with a carry handle! Check them out!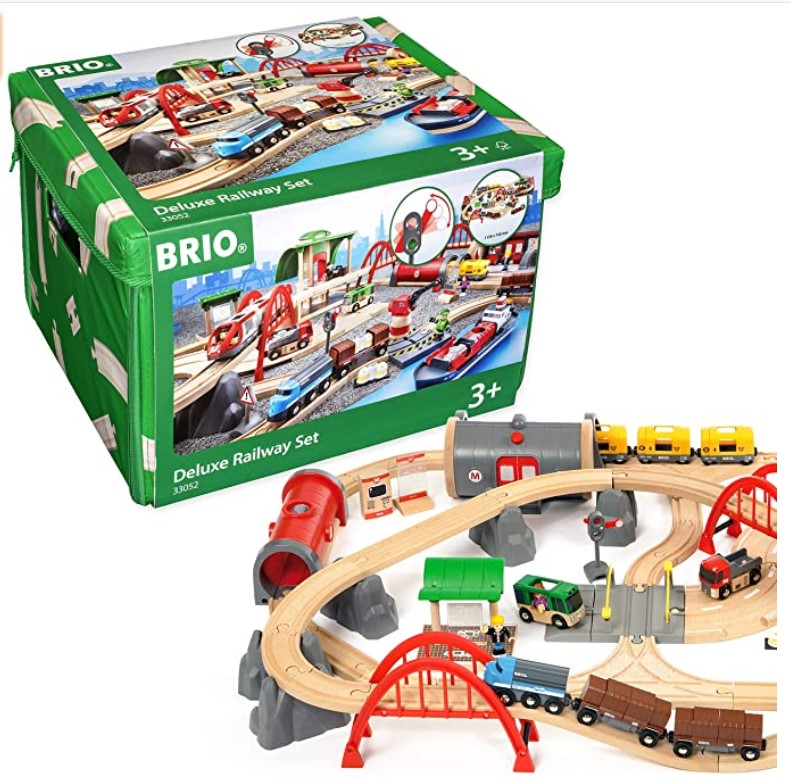 Preschoolers will want a more sophisticated train set to play with, and this Brio World Deluxe Railway Set meets their higher expectations.
The box comes with passenger and freight trains, rail tracks, cranes, stations, bridges, figures, vehicles, and harbor scenes – indeed, a complete train set that will provide hours of imaginative play!
Take note that there are 87 pieces in the set, and most of these pieces are essential to creating the train set. The rail tracks, for example, interlocking pieces while the bridge and rock pieces are the platforms for the tracks. Many, nonetheless, are standalone pieces like the figures, vehicles, and information shed.
This is an awesome gift for a would-be engineer or a child who expresses an interest in trains, both boys and girls. Your preschoolers will likely make up stories about the trains' destinations and the figures' adventures on the trains. Such a pretend play develops vital life skills, including problem-solving, resourcefulness, and sharing.
Despite the set's apparent sophistication, it is easy to assemble, and your kids will love doing it on their own! The smooth wooden tracks are cut so well that these can be connected quickly.
ALL ABOARD!!! The passenger and freight trains have polished wheels that smoothly glide on the rail tracks, too. Your preschooler will have a ball with this one… It will make a great gift!
* Middle Childhood (6- to 11-Year-Olds) *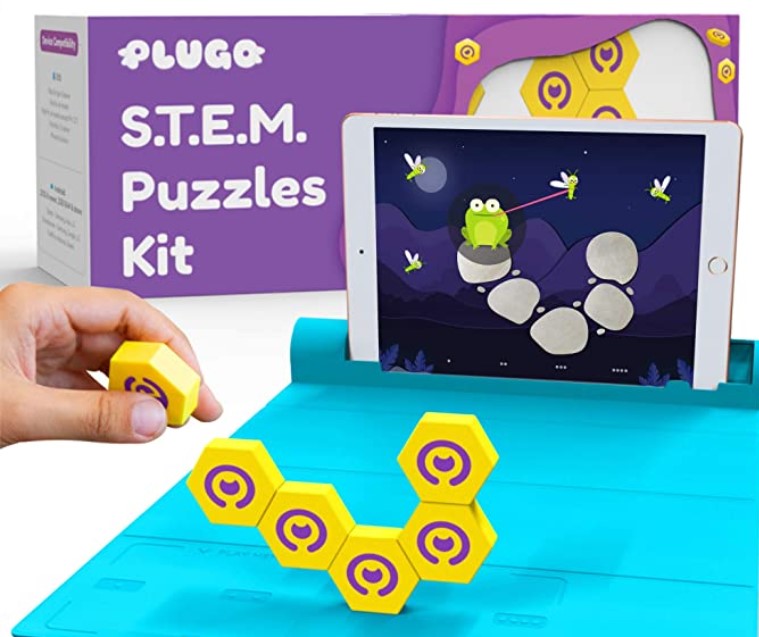 The interactive nature of the Shifu Plugo Link toy engages the older children's ability to connect the real world with the virtual world. Instead of being just passive participants in a video game, your children have to build magnetic links in the real world to solve problems in the virtual world. Now that sounds like fun!
The set comes with the foldable fabric Plugo gamepad and 15 magnetic hexagonal-shaped building blocks. You have to download the free Plugo app to a tablet or smartphone before your children can start playing the five games in it. However, do not dismiss it as just being five games as there are more than 250 progressive levels, a feature that allows kids to constantly challenge their virtual construction skills.
The app is compatible with most devices, including iPad 5th generation or older, iPad Pro, iPad Air, iPhone 6 or newer, and Samsung tablets and smartphones with more than 2GB RAM. Amazon's Fire 7 9th generation and Fire 8 are also compatible.
It is easy to set up, too. Just download the app into a compatible device, roll out the playmat in front of the device, and activate the app. Then build the hexagonal apps on the mat so that the engineering problem on the screen can be solved, such as connecting a water pipe to a faucet.
Keep in mind that the Plugo Link set is a STEM-inspired toy designed to encourage critical thinking, creativity, and spatial intelligence.
STEM toy play is a crucial part of a child's development.
12. Kids Adventure 192pc Jumbo Blocks – Jumbo Set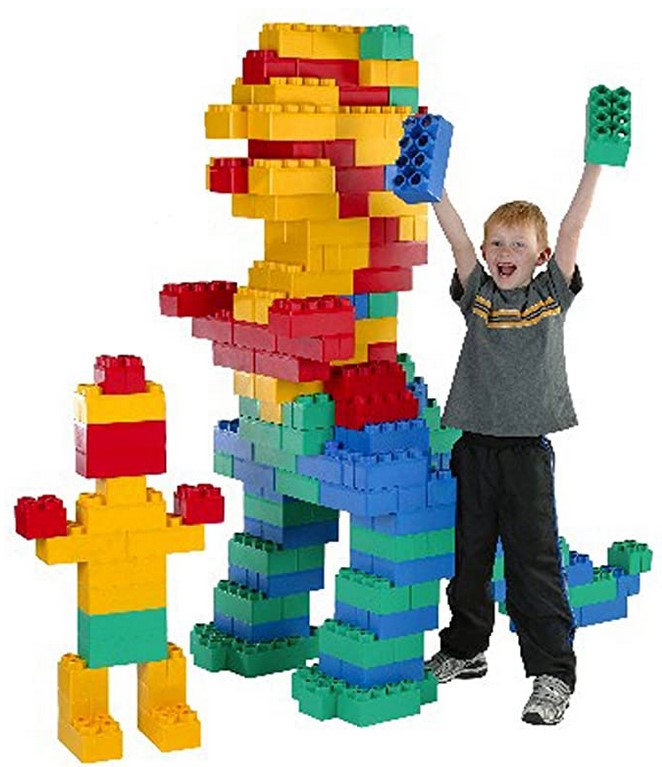 Castles, dinosaurs, and spaceships – name it and your kids will likely be able to build it with the 192-piece Kids Adventure jumbo block set!
These large blocks are made of thick plastic and polypropylene, easy to clean with a damp cloth, and resistant to breakage, cracks, and fading. These should last for several years, even with rough handling from older children, although proper care is advised.
There are two sets of blocks – 160 blocks measuring 8×4 inches and 32 blocks measuring 4×4 inches – so your children can make as many figures and structures as they want with them. The blocks come in four bright primary colors – yellow, red, green, and blue – so your children's creations will be attractive, not only because of their creative shapes but also because of their striking color combinations.
These are interlocking blocks that can be connected to form bridges, soccer stadiums, bear caves, dinosaurs, and thrones, to name a few. The interlocking circles hold fast, too, so there is little risk of one or two blocks falling from their high perch and hitting your children's head. These blocks also have soft, rounded edges that make them safe to handle, even for younger children.
Your children will learn life skills from playing with these jumbo blocks, either on their own or with their siblings and friends. These skills include language and communication skills, teamwork, and problem-solving skills.
Hey… The BIGGER the better, right?!? Your child will love building things with these oversized JUMBO Blocks!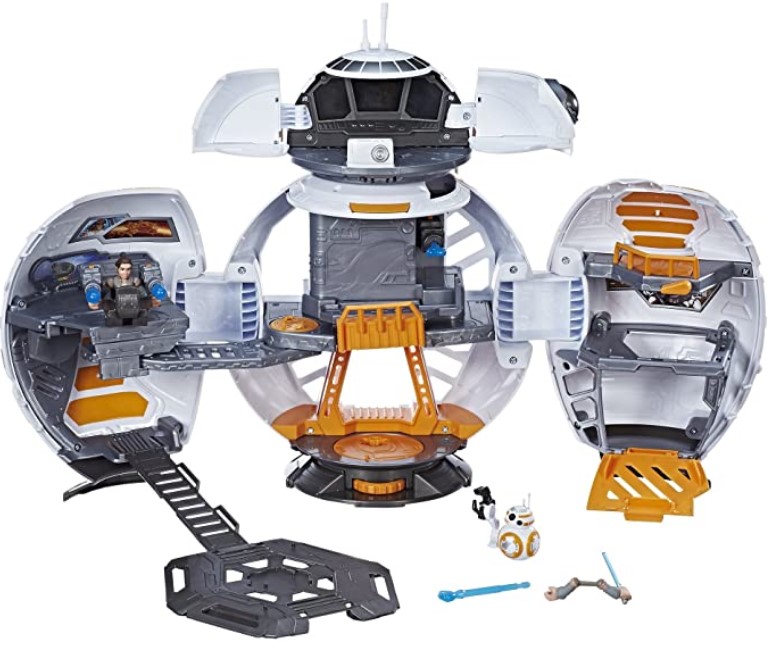 The Star Wars franchise is not just a world-famous series of movies – it is also the source of imaginative play for several generations of fans!
If you enjoyed your Star Wars-inspired toys during your childhood, then your children will love this Playskool Heroes Star Wars playset, too. Your children will think of it as a universe within BB-8, the beloved white-and-gold Android with a spinning head on top of a round body.
When BB-8 is opened, his interior reveals four main sections – the command center at the head with three panes that light up with a push of a button and each pane showing a different character with dialogue; the center section of the body with a top platform and a bottom platform with a manually-controlled spinning circle; the command center at the left with a chair for Rey; and the left section with a top platform and a cage at the bottom.
Other features that encourage interactive play are the bridge that connects the center section and the left command center, the swiveling chair, and missiles that can be fired with a push of the button.
In her Resistance Outfit, Rey has two sets of interchangeable arms – one set features missile launchers, and the other set has her Jedi sword. BB-8 is just as cute, too. You just can't go wrong with the timeless topic of Star Wars, agreed?
14. WEDRAW Robot Toy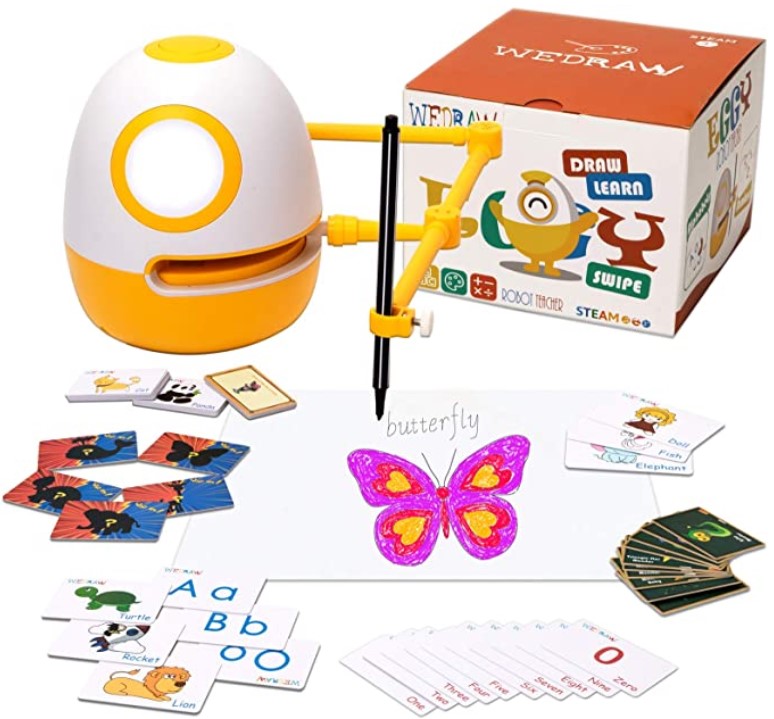 The WEDRAW Eggy drawing robot does not look like much – an egg-shaped toy with a slit for the magnetic drawing arms and a slot for a pen. However, when middle school-aged children use it, it becomes a fantastic toy that allows them to learn the basics of drawing!
By mastering the basics, they are more confident in learning more sophisticated techniques and showing off their work. It is easy to use for drawing purposes, too! Just place one of the cards with a drawing on it in front of Eggy's "eyes" for it to recognize its contents. Then, wait for a second for Eggy to give the step-by-step instructions of drawing, say, a chicken monster with a ballerina tutu.
It isn't just for middle school-aged children either. Many of its features also appeal to the younger crowd, particularly preschoolers learning their three Rs – arithmetic, writing, and reading. Children can choose from 56 learning cards categorized into 26 alphabet cards, ten drawing cards, ten numbers cards, five math challenge cards, and five words guessing cards.
Your children will learn their letters and numbers by following Eggy's instructions on writing them. You will soon find them more confident in their writing skills and identify numbers and letters.
Who doesn't love a ROBOT… no matter what it does, right? This is a cool way to make learning fun.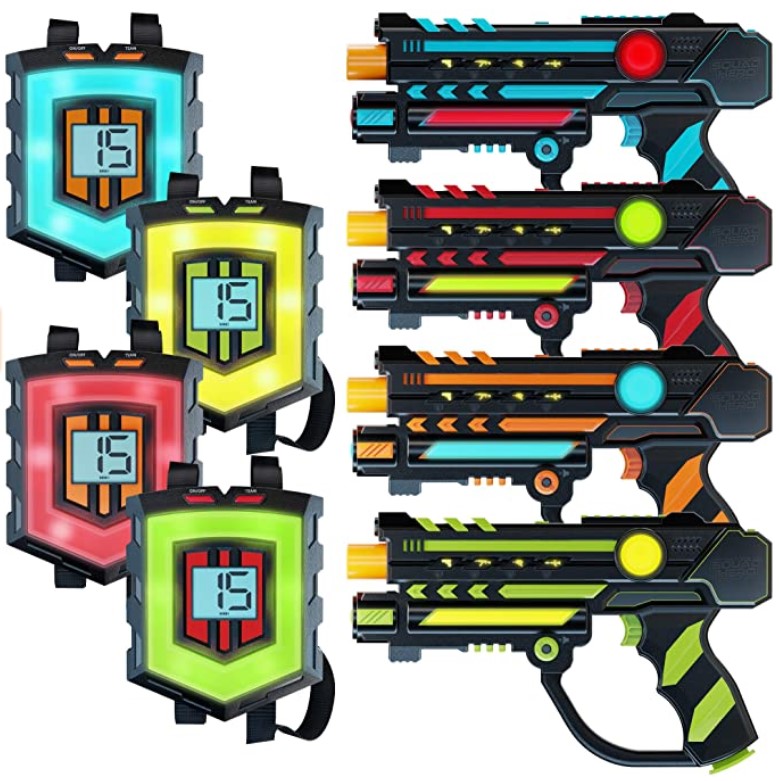 Getting older children to be more physically active with the triple temptation of videogames, Netflix, and social media can be challenging for parents. Fortunately, they are more easily swayed with fun games like the Squad Hero Rechargeable Laser Tag Set!
This is highly recommended because of its ease of use, hours of physical fun with family and friends, and imaginative play loads. The guns are made of thick plastic that withstands hours of rugged play and easy to handle and fire with an excellent feel.
The guns have four weapon modes – laser, automatic, pistol, and rocket. There is no cheap feeling that other play guns have, and it is a bonus. Your children can run, roll, hide, take aim, and fire at their opponents with ease, and there is no need to change batteries, too constantly.
This is because the four guns and four vests are rechargeables, so batteries are not required. Your children can play about eight games for every full charge, which should be enough physical exercise for them.
They will not need to keep track of scores either as the number of lives and other data for each team are synced automatically, and they can check their status via the LCDs on the vests and guns.
No more sitting in front of the TV… Get them outside with a game of laser tag! Come on parents, it will be great exercise for you, too. Fun for the whole family!
---
* Young Teens (12- to 14-Year-Olds) *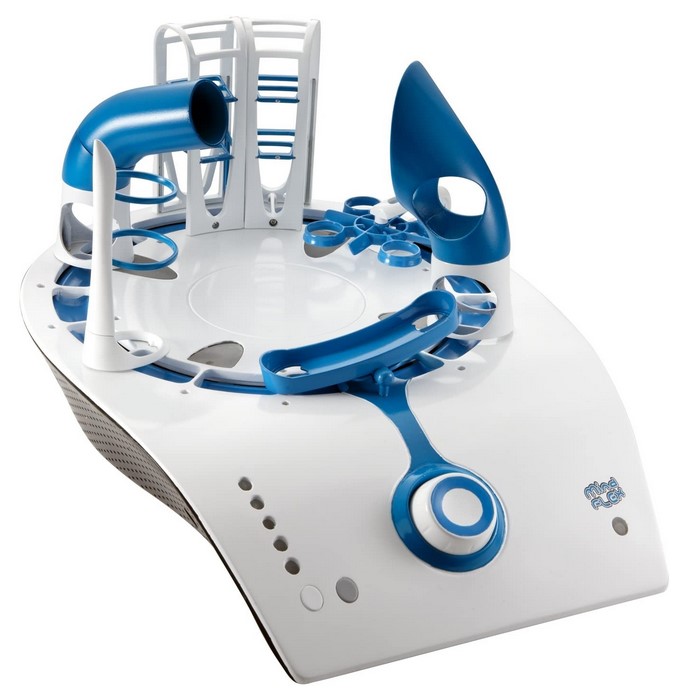 Telekinesis, or the power to move objects using the mind only, is likely a dream for many teenagers, but it may well be in the realm of the imagination – or not! With Mattel's Mindflex Game, your children can challenge their mind power and discover how science can make science fiction a science reality.
While the lightweight headset looks and feels like Professor X's headset, it is more real than the fictional version. It has sensors that measure brainwave activity via the forehead and earlobes – the clips must be connected to the earlobes, and the metal sensor must be over the left eyebrow to make it work. Moreover, now the fun and challenge begin!
Your kids have to concentrate on making a small foam ball rise and fall by concentrating and relaxing their minds, respectively. The ball's rise and fall make it go through an obstacle course, which can be customized according to their mastery. You or your kids can design a new obstacle course using a wide variety of hurdles, hoops, teeter-totter, and funnels.
Your children can also play against others, such as in a team of two, and design unique obstacle courses.
With Mattel's Mindflex Game, your children can also select their preferred game – there are five to choose from – and set their preferred difficulty level.
17. TOMOLOO Music-Rhythmed Hoverboard
Burning calories, improving posture, and enhancing reflexes are just a few health benefits children will enjoy while on a hoverboard. The Tomoloo hoverboard is then a great gift for teens for these reasons, not to mention that it is such a fun grown-up toy for them!
The appeal lies in the fun of getting from Point A to Point B and in the colorful lights, danceable tunes, and fast cruising speed.
Of course, this is a hoverboard with the standard safety features, including a shell with high resistance against high temperature and fire and high strength and capacity. Just be sure that only one person rides on it, and children refrain from performing potentially dangerous stunts. The battery also meets international safety standards, including the UL2271 standards.
A built-in self-stabilizer makes it safe to ride even for beginners, although it is just as enjoyable for intermediate and advanced riders. Your teen can ride it over fairly rough terrain, and you will not have to worry about him flying off it, thanks to this feature.
You may limit the speed at which your teen can ride it, but it is cruising speed – about 12 km/h – is safe enough for teens.
With the Tomoloo hoverboard, your teen can listen to his favorite music, thanks to the Bluetooth feature and music stereo speaker.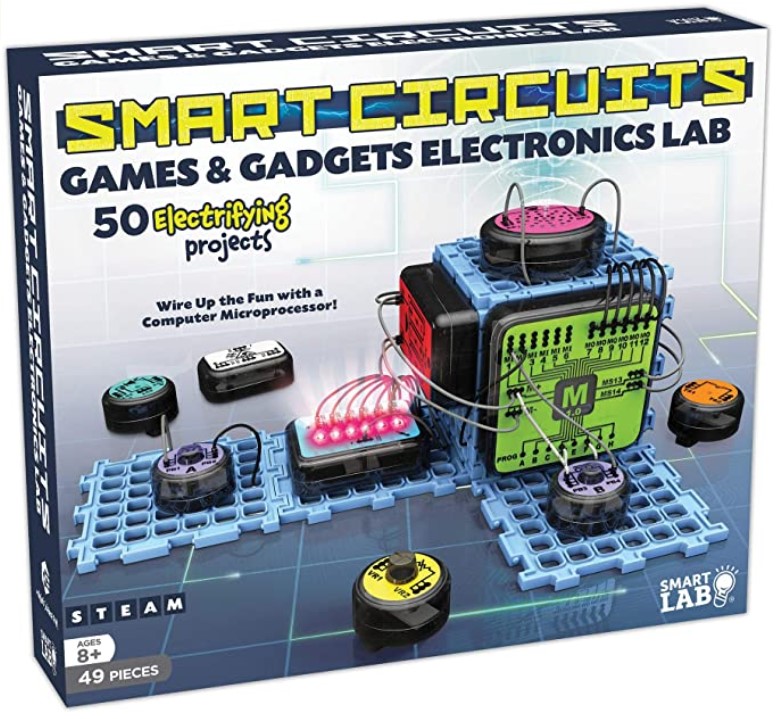 Teens appreciate build-it-yourself kits because they provide more physical and mental challenges than, say, playing ready-made videogames for hours on end. In turn, parents love kits like the Smart Circuits because it means less screen time and more STEM learning! It is a building block for a future career in science, technology, engineering, and math.
With 48 pieces, your teen can build 50 fun circuits, including a motion-sensing alarm, a doorbell, and a pong game. The pieces include a microprocessor, battery pack, variable resistor, tilt switch, jumper wires, pushbuttons, modular boards, and a manual packed with ideas. Indeed, your science geek will love that he can build many things from scratch, a source of pride for him.
The manual contains step-by-step instructions and illustrations that make it easier for beginners to start creating things, such as a magic massage wand or a pencil that can draw music. However, older teens will likely not refer to the manual so often considering their greater exposure and experience with science projects.
Your teens will be more curious about STEM subjects and research more about them. This means getting them off videogames and television and on to learning activities that will truly benefit them.
19. Sphero SPRK+: App-Enabled Robot Ball STEM Toy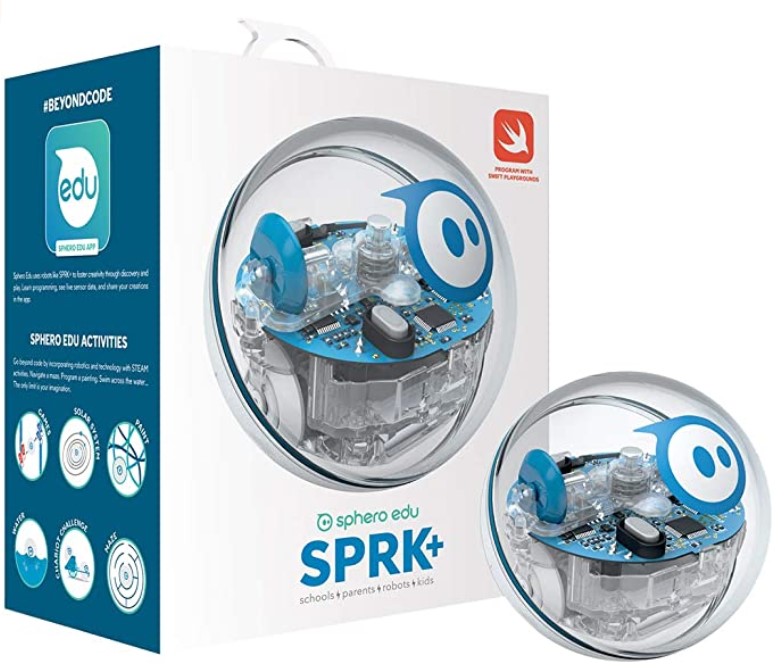 The Sphero SPRK+ Robot Ball is not just a robot, according to its manufacturer, and it is not just a plaything either.
This is a programmable robot ball with a wide range of features that make it a great educational tool for teens. Even teachers use it in inspiring curiosity, creativity, and competence in STEM subjects among their students, and you can use it, too, for this purpose.
The main lesson learned from this robot ball is programming or coding; an in-demand skill that teens are well-advised to learn as early as possible. Your teen can tinker with the programmable sensors, including an accelerometer, a gyroscope, and motor encoders, as well as manipulate the colorful LED lights.
Do not worry if your teen does not have mastery of coding! The robot ball's language is easy to understand, and the Sphero Edu app uses several JavaScript-based platforms. Your teen can learn to program the robot ball so that it can drive through mazes and obstacles, as well as play games.
Plus, the robot ball will last for several years of regular play. It is made of scratch-resistant material as well as waterproof.
This can also be connected to other devices through Bluetooth technology. Foster their desire to learn coding and programming!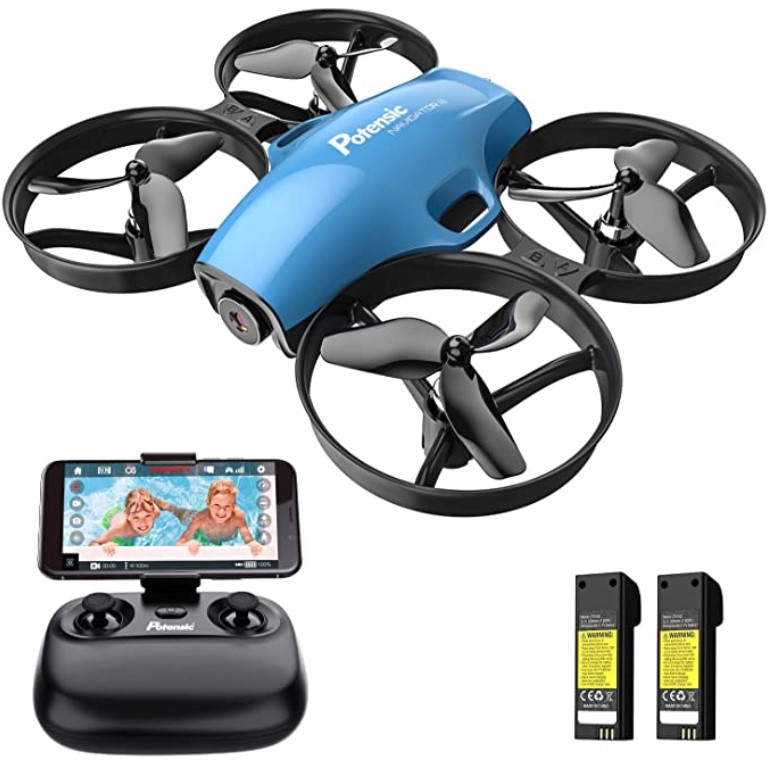 Drones are the perfect way of exploring the world from up above without actually being on an airplane, a parachute, or a skyscraper. Teens then find this drone with a camera among the best, if not the best, gifts they will receive on Christmas Day! With it, they can zoom around the neighborhood, the beach, and the park while their feet stay on the ground – and you, the parent, will be less anxious, too.
Be sure to read the manual before assembling the drone! While the drone's design is intuitive by itself, keep in mind that it's a precision toy, too – each piece has a specific place on it, so even a single out-of-place part can jeopardize its operation. Your teen should also read the calibration and frequency synchronization procedures to ensure a smooth operation.
Nonetheless, the great thing about this drone is its relative ease of operation once it has been properly set up. There is one key used in starting and landing it, so even younger kids can have a shot at flying it. It is not easy to break through four circle propeller guards, although we suggest reading the manual to learn the controls and parts.
The pictures taken by the camera are clear and crisp but stops short of being high-definition in quality; however, it's perfect for the beginner!
With this list, you will be able to shorten your Christmas shopping time and enjoy the holidays more!