Written by Chief Editor, Britt Lynn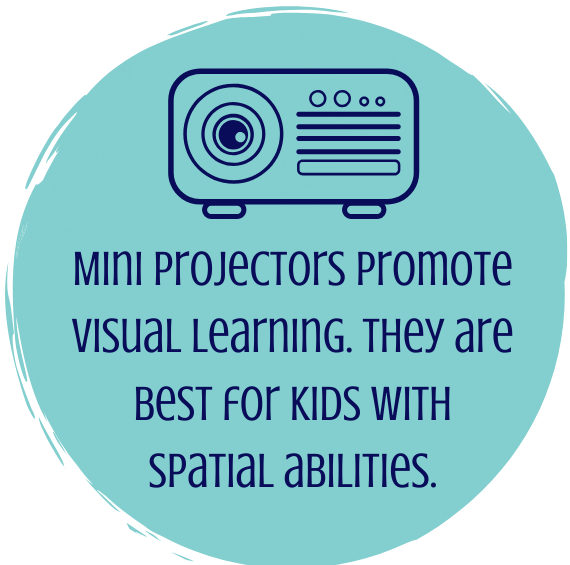 Imagine surprising your child with a mini projector that enables them to view their phone's images on their wall?! What a great gift idea! But, not only is a projector fun, it also can be used as an educational tool for parents.
Children within the toddler and kindergarten age range are likely to participate in various physical activities, play, and in socialization. Early childhood activities may involve exploring nature, drawing, and collaborative play with other children.
It's also the time where they even start going to school to learn and build relationships with their peers, teachers, parents, and siblings. Today, the shift in the educational landscape has gotten more children to learn through a different lens using technology.
STEM-related topics such as science and math are best delivered through visual presentations more than just mere words. Some kids are gifted with spatial abilities, an ability where a person understands three-dimensional images and uses them to create solutions. Other children at an early age may do better learning through visuals such as educational videos and movies.
Quick Peek at Our Top 3 Mini Projectors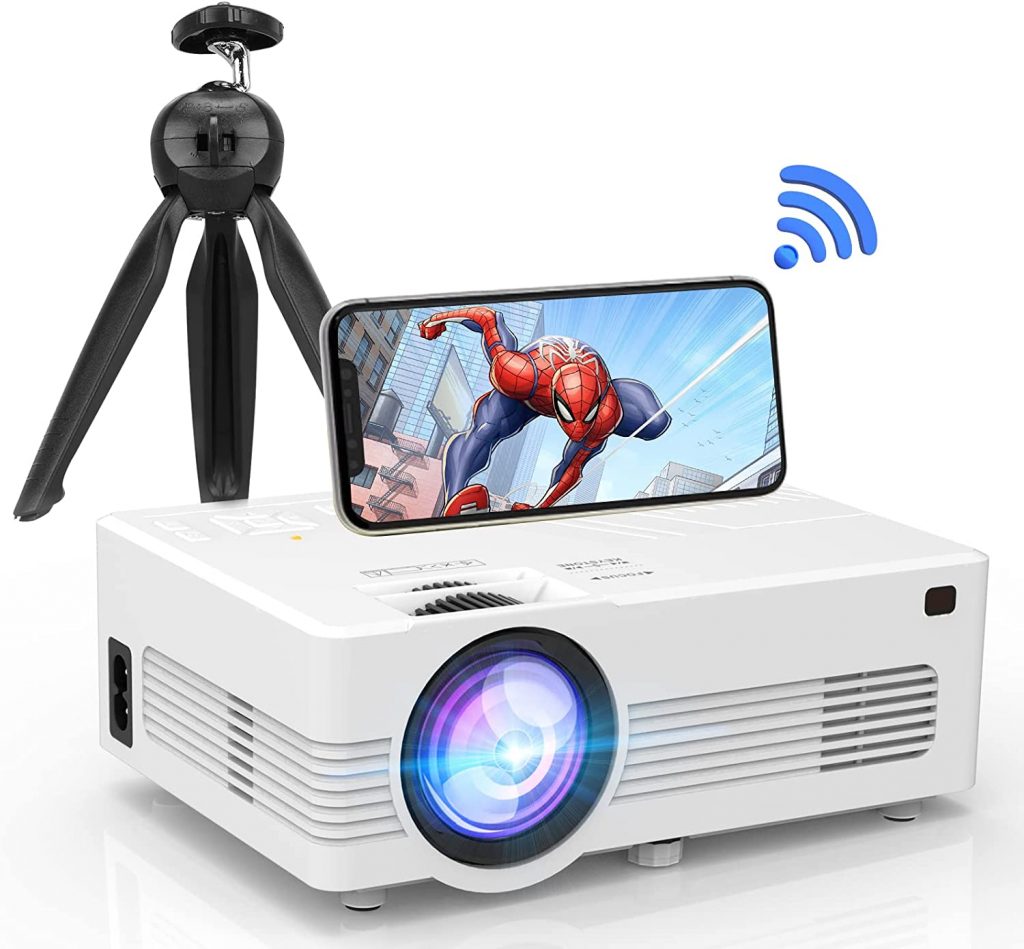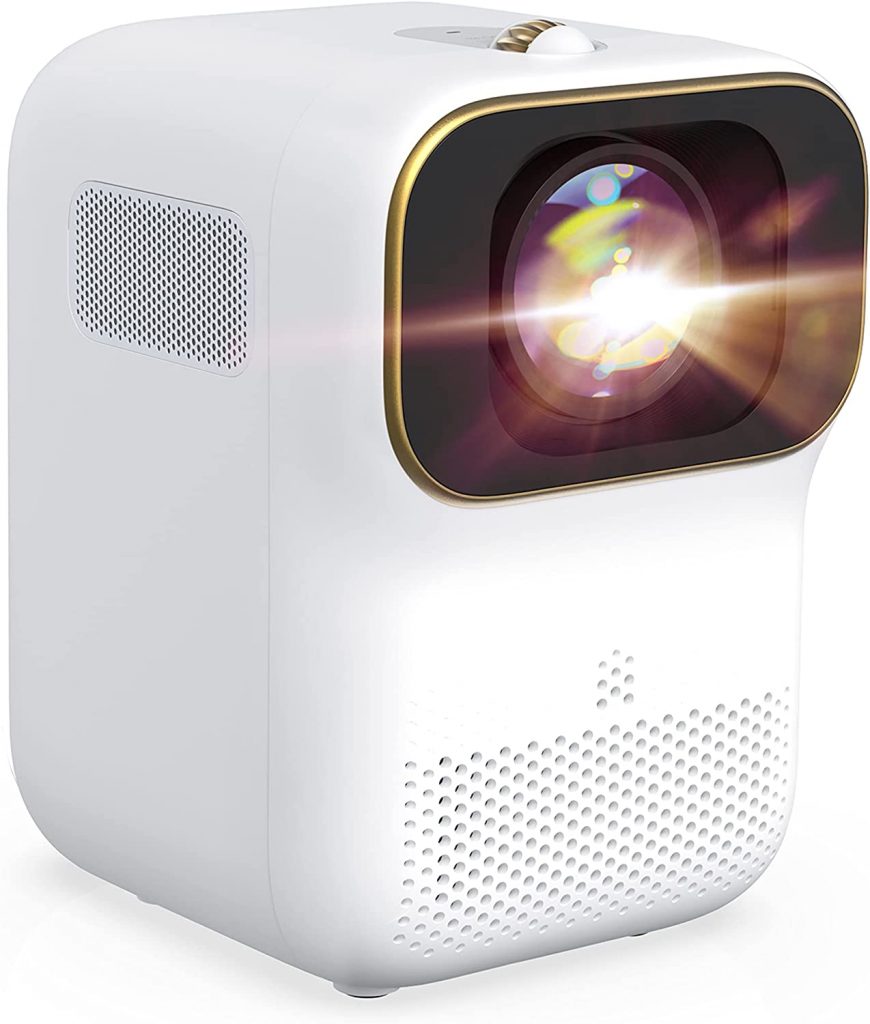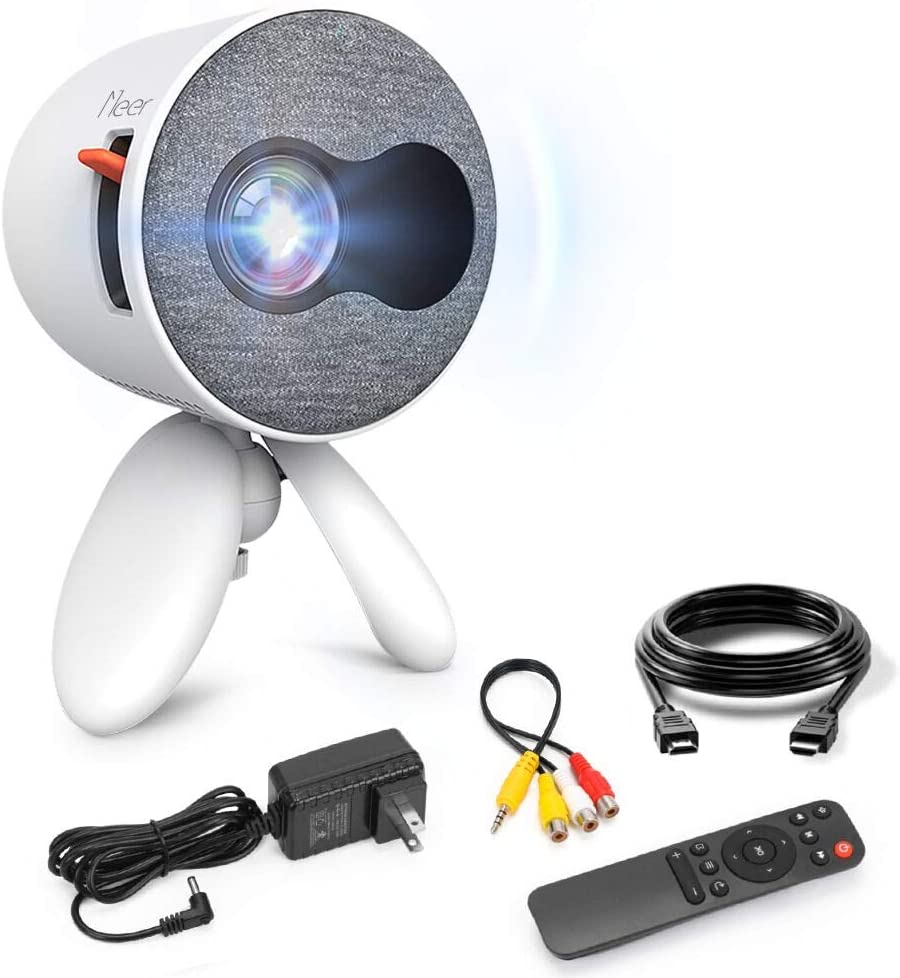 Visual explanations could be used as an excellent tool to draw interest in children into the world of science. At an early age, using entertaining but fun toys, such as microscopes and creative workshop sets, could tweak the imagination and enhance problem-solving skills while mini-projectors promote visual learning.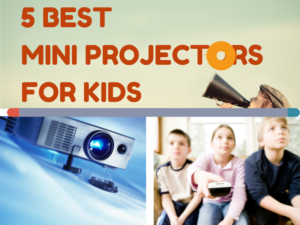 Here are our best picks on Amazon! The prices apply as of publishing.
1.

QKX Outdoor Mini Projector
If you have a 3-year-old, you know the feeling of being nagged continuously to watch their favorite cartoon show. With the QKX 7500 Lumens WIFI Projector for Kids, watching cartoons has never been more convenient!
Very affordable, this mini-projector has all the essentials you'll need to watch movies and other educational videos. Make it exciting and have them watch nature segments and let them discover the world of insects and animals.
Synchronize your Smart Phone Screen device to the projector for easy connectivity. This projector is full HD 1280 x 720P native resolution supported, has 4000 picture quality, and has a 200″ display. It has a 6000:1 high contrast and ultra-wide color gamut for excellent video quality. This kid's projector is small and can easily be stored in your bag. In fact, this projector is even good for adults!
This kids' (or adult's) movie projector is great for homeschooling, movies, video games, or outdoor activities. Check it out on Amazon.com!
2.

WEWATCH Portable Mini Projector
Spend the best time with the family indoors with WEWATCH Portable Mini Projector. Learning has never been more fun! When you gather around for a family reunion with the other kids, this projector for kids keeps them entertained watching animal or nature shows. This lovely yellow device is easy on the eyes but packed with the essential things you'll need to get the right visuals.
This portable projector's LED lamp is estimated to last up to 30,000 hours of use. Its lights are warm and don't sting the eyes. Projection size is measured 40 inches by 120 inches, a sufficient visual dimension picture quality to get vibrant visuals. This children's projector also supports 1920x1080P HD resolution with a built-in speaker for audible sounds.
It's not limited to children, but adults can use it too! This device supports a WIFI connection with iOS Android systems. It also has 3D built-in dual speakers.
Reasonably priced, this is a portable projector you can carry with you wherever you go. You can use non-slip pads or place screws on the bottom if you're planning to use this in a stationary part of your home.
Interested in this WEWATCH Mini LED Video Children's Projector? Good news! It's available on Amazon!
3.

Meer YG220 Pico LCD Video Projecto

r
Tell better stories and spend time with your kids watching what you all love best. Reinvent learning at home with Meer's LCD Video Projector. This adorable design is attractive and pleasing to the eyes.
Although this device will not hook to the Internet or Bluetooth, it will connect to your laptop, phone, tv box, or game consoles, and more. Have fun watching his or her favorite cartoons or educational videos to keep them entertained.
With this portable projector, you can use it to listen to music or watch videos or pictures. Enjoy 75 inches of projection visuals with this compact projector, 800 lumens, and a native resolution of 480×272 pixels, with a support resolution of 1920x1080p. Comes with a remote control, too!
Weighing in at 1.38 pounds, it's great to take to Grandma's or to a friend's house, or camping! What could be a more charming way to spend family time than gathering over bonfires and marshmallows and watching family videos together?
For the price and perks, this Meer Video Projector is one of the best with its remote control!
4.

Portable Movie Projector for Children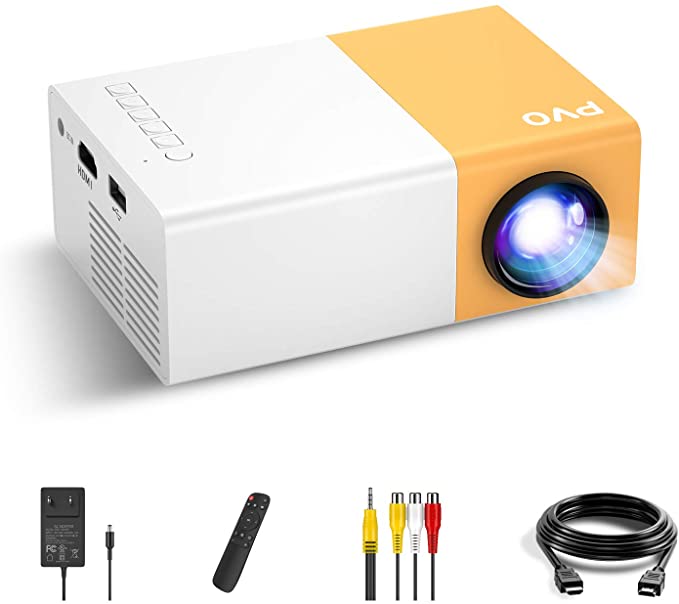 The PVO Portable Movie Projector for Children is convenient and entertainment rolled into one. This 0.57 lbs. mini-projector fits in your hand just like your smartphone. This children's movie projector is a compact device that makes for an ideal educational tool to entertain your kids while you go about your task in your home.
Are you always traveling? This gadget can be powered using a power bank. Use a 5V/2A power outlet. This works with various multimedia outlets such as USBs, SD cards, or AV. Connect this projection using your iPhone with an HDMI adapter and MHL or HDMI adapter for your android phone.
Enjoy visuals with its 320X240 pixel resolutions, 4:3 or 16:9 aspect ratio, and 24-60 inches projection size. Consume less energy with its 10W-24W consumption Bridgelux LED light and get the most of this device with 20,000 hours' lifetime use. For only $69.99, this would also make a great birthday gift that the whole family will enjoy!
The compact Portable Movie Projector for Children is a great buy on Amazon!
---
Related electronics "stuff":
FAQS about Mini Projectors
Does my child need a mini Portable projector or a regular projector? What are the differences?
Besides the obvious, which is in the title… mini refers to the size of the projector. Regular sized projectors are much larger; however, you will get better picture quality and will project images to a larger distance with better resolution.
What size does your child need? That's easy… try out the mini to see if it will suffice. Typically, images can be projected on a wall from a closer table surface to receive a quality image which makes them great kid's room projectors. In addition, they are so lightweight and portable, your child will enjoy getting it out, setting it up, operating it, and showing it off. It makes learning fun for them!
What makes a good quality mini projector?
Choosing an electronic device of any kind can be daunting, but don't let deciding on a great projector for your child get you down. Selecting one that is simple to use is usually the best policy if you would like for your child to be able to operate it without your help.
There are a few points to review before you buy:
Check the lumens count – to determine brightness; over 500 should suffice for your child's needs,
Check out the resolution – some models support a 1080p resolution but downgrade them to 720p or less. Pay attention to the "native resolution."
Check for a USB connection or other connectivity that you will need.
Be sure to read the fine print to determine which selection will fit your desired use.
What can my child do with a mini projector?
As most children are best educated from visual learning, rest assured purchasing a mini projector will keep them interested. Many math/science related activities can be explored, as well as watching educational videos or movies. (Be sure to check the ways you can connect before purchasing). It's like a mini TV for kids that can be used as a picture projector or a story projector, as well. Given the opportunity, your child can make their own movies with images and music!
And, let's face it… technology now is the way of the world. If your child is still too young for a smartphone or an expensive laptop, a mini projector is a great introduction to the world of technology. They can easily learn to operate it and care for it. The portability factor is great for taking it on the go or to a friend's house.
How do I project quality outdoor movies for a family fun night?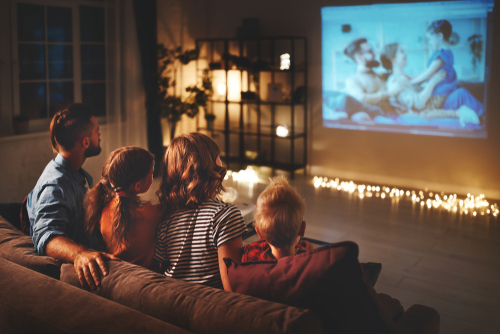 To get a quality picture outdoors, you may want to purchase a regular size projector. Typically, they are much brighter and project a clearer picture. Check out the Epson Home Cinema 2100 1080p 3LCD projector. It has a widescreen full HD 1080p resolution, 2500 white lumens, easy-to-use remote control, and is easy to connect to streaming devices. It's on Amazon!
What is a "fun and festive" element using projection that my kids will love for the holidays?
If you are looking for a popular story projector "As Seen on TV" product, look no further than the Star Shower Window Wonderland Movie Projector by BulbHead. We've all seen them advertised on TV and watch as our children are enamored by the "come to life" images of Santa or dancing skeletons in the window. With the 2-pack option, you can project in more than one window or screen. In addition, you get 6 Halloween and 6 Christmas story projections. You, your kids, and your neighbors will love this! Let the kids help you set it up.
What is the best mini projector for a teenager?
No doubt, teenagers want a mini projector that works well; however, it's also important that it is small and portable, perhaps to fit in a purse or backpack, and also looks cool. With a weight of 1.04 pounds and measuring in at 2.68 x 2.68 x 4.72 inches (about the size of a soda can), the Anker Nebula Capsule, Smart Wi-Fi Mini Projector checks all the boxes. This is a great gift idea for a teenager!
---
Check out these other important articles: