Children within the toddler and kindergarten age range are likely to participate in various physical activities, play, and socialization. Early childhood activities may involve exploring nature, drawing, and collaborative play with other children. It's also the time where they even start going to school to learn and build relationships with their peers, teachers, parents, and siblings. Today, the shift in the educational landscape has gotten more children to learn through a different lens using technology.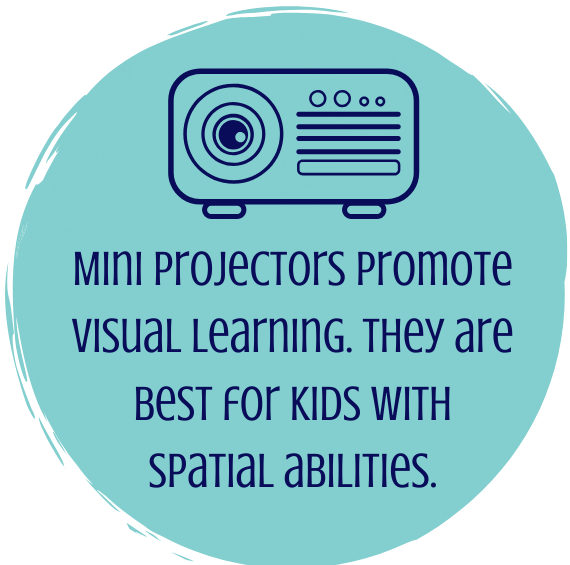 STEM-related topics such as science and math are best delivered through visual presentations more than just mere words. Some kids are gifted with spatial abilities, an ability where a person understands three-dimensional images and uses them to create solutions. Other children at an early age may do better learning through visuals such as educational videos and movies.  Visual explanations could be used as an excellent tool to draw interest in children into the world of science. At an early age, using entertaining but fun toys such as microscopes and creative workshop sets could tweak the imagination and enhance problem-solving skills while mini-projectors promote visual learning.
Here are our best picks on Amazon! The prices apply as of publishing.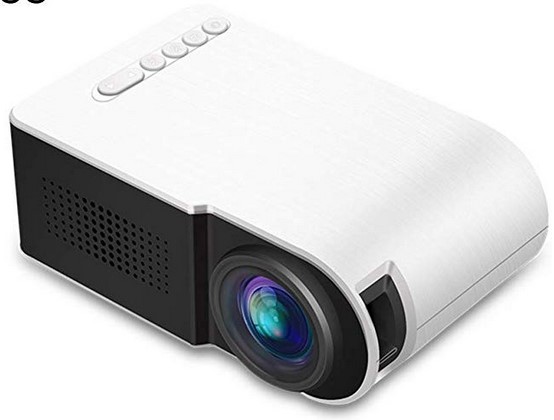 If you have a 3-year-old, you know the feeling of being nagged continuously to watch their favorite cartoon show. With the jiuhui Children's Mini Projector, watching cartoons has never been more convenient!
For only $43.64, this mini-projector has all the essentials you'll need to watch movies and other educational videos. Make it exciting and have them watch nature segments and let them discover the world of insects and animals.
The quartz glass lens ensures that you're getting durable and clear images direct from the video source. Its body is made of thermal-regulating material that can withstand hot conditions due to prolonged use. If you choose to place this in a stationary area such as the bedroom or playroom, you can have this installed on the wall or ceiling — no need to get a video adapter to start watching. Connect your wireless device to the projector for easy connectivity.
Weighing only 1.16 lbs, this mini projector can easily be stored in your bag. Your child will delight watching videos and movies anywhere at any time! This works well with any devices, including smartphones. Connect your phone with the display receiver, and you get clear 1080p HD visuals. It also has a built-in stereo speaker, so you don't need to bring a stand-alone speaker to hear the audio. Its LED life expectation lasts for 30,000 hours. It also comes with an easy-to-use remote control so you can control the device from a distance.
This incredible Jiuhui Children's Mini Projector is available on Amazon.com!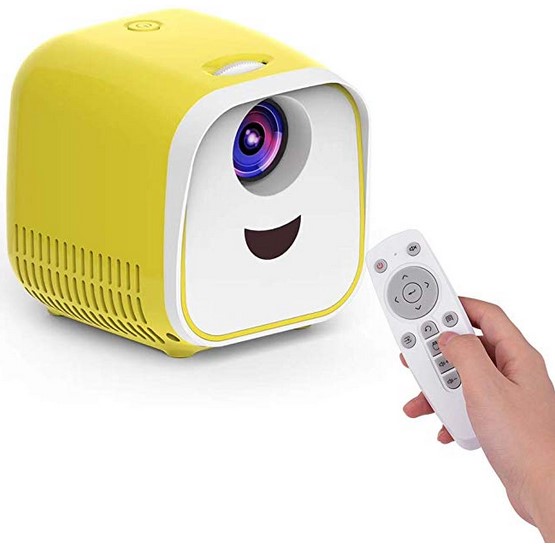 Spend the best time with the family indoors or outdoors with Aibecy Mini LED Video Children's Projector. Learning has never been more fun! When you gather around for a family reunion with the other kids, this projector for kids keeps them entertained watching animal or nature shows. This lovely yellow device is easy on the eyes but packed with the essential things you'll need to get the right visuals.
Its LED lamp is estimated to last up to 50,000 hours of use. Its lights are warm and don't sting the eyes. Projection size is measured 15 inches by 80 inches with a 480*320P native resolution, and a sufficient visual dimension to get vibrant visuals. This mini projector also supports 1080P HD with a built-in speaker for audible sounds.
It's not limited to children, but adults can use it too! Tune in to your favorite shows or sports using auto, 4:3, and 16:9 aspect ratio. This device is compatible with smartphones, DVD players, laptops, T.V, or USB flash drives. It also supports other formats such as picture videos and music.
At $49.99, this is a portable device you can carry with you wherever you go. You can use non-slip pads or place screws on the bottom if you're planning to use this in a stationary part of your home.
Interested in this Aibecy Mini LED Video Children's Projector? Good news! It's available on Amazon!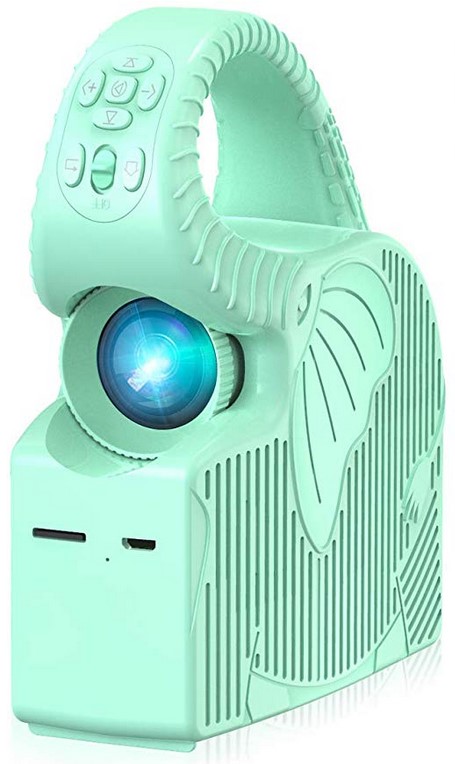 Tell better stories and spend time with your kids watching what you all love best. Reinvent learning at home with ROTEK Kids Stories Zoomable Video Projector. This adorable baby elephant design is attractive and pleasing on the eyes. No Internet? No problem! Load up the TF memory card with his or her favorite cartoons or educational videos to keep them entertained.
With this projector, you can use it to listen to music or watch videos or pictures. It's generally safer for everyone compared to watching videos using a smartphone or television. Enjoy 720P and 6.7 to 80 inches projection visuals with this compact projector.
Out in the woods? No electricity? For only $49.99, this mini-projector is equipped with a 2000mAh rechargeable battery that can work for 2 hours. What could be a more charming way to spend family time than gathering over bonfire and marshmallows and watching family videos together?
For the price and perks, this ROTEK Kids Stories Zoomable Video Projector is one of the best!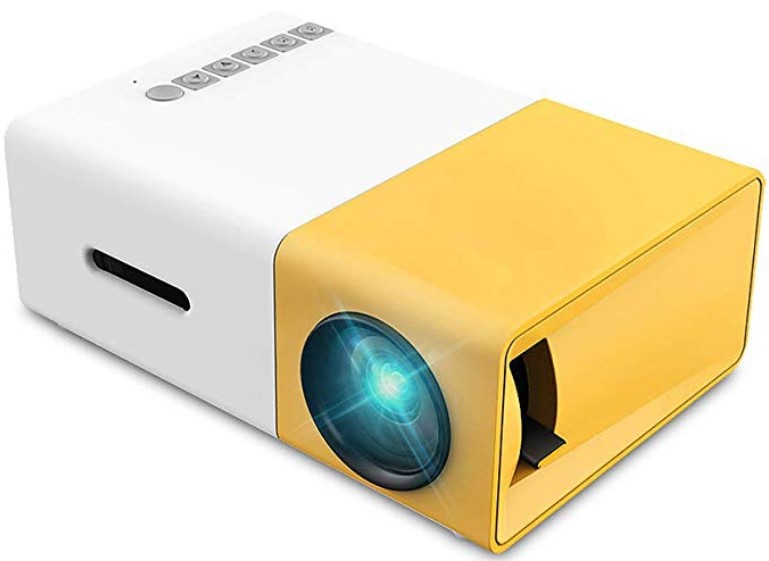 The FOF Portable Movie Projector for Children is convenience and entertainment rolled into one. This 0.57 lbs mini-projector fits in your hand just like your smartphone. This compact device makes for an ideal educational tool to entertain your kids while you go about your task in your home.
Are you always traveling? This gadget can be powered using a power bank. Use a 5V/2A power outlet. This works with various multimedia outlets such as USBs, SD cards, or AV. Connect this projection using your iPhone with an HDMI adapter and MHL or HDMI adapter for your android phone.
Enjoy visuals with its 320X240 pixel resolutions, 4:3 or 16:9 aspect ratio, and 24-60 inches projection size. Consume less energy with its 10W-24W consumption Bridgelux LED light and get the most of this device with 20,000 hours' lifetime use. For only $52.99, this would also make a great birthday gift that the whole family will enjoy!
The compact FOF Portable Movie Projector for Children is a great buy on Amazon!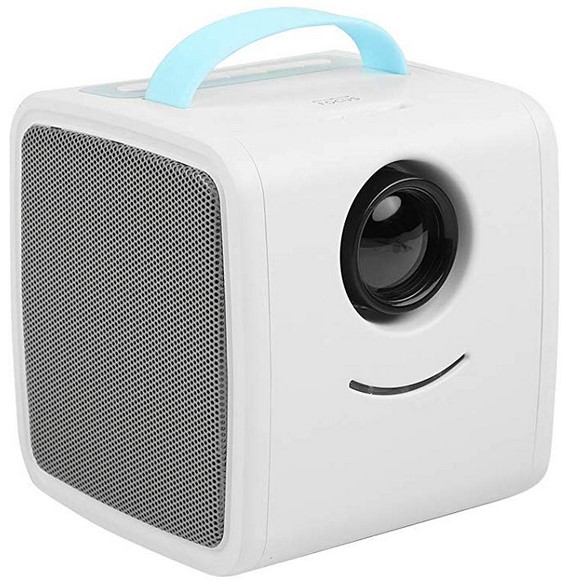 Learn the fun way with the Eboxer Mini Projector for Kids! Its sleek design comes in blue and pink colors. You can watch videos, listen to music, study, or play games using this device. It supports a 320*240P resolution with a maximum support resolution of 1920*1080 and a projector screen size of 24 to 60 inches. For a compact projector, you get quality and distinct visuals as you watch family-friendly movies while munching on popcorn.
For only $75.69, the Eboxer Mini Projector has a 2W built-in speaker for small rooms or spaces. You can also enjoy listening to music with this gadget! It also uses a 10W LED lamp that can last up to 30,000 hours of use. This works with most media mediums such as a TV box, desktop computers, laptops, smartphones, and other HDM enabled devices.
Amazon has it! The Eboxer Projector for Kids is just a click away!