In a world in which we spend so much of our time in front of a screen – smartphone, tablet, computer, television – setting up board games, or tabletop games, is a refreshing change. These (largely) screen-less games allow children to touch and interact with something tangible.
Children can learn so much from playing games. At first, the focus is on cultivating simple skills like taking turns, understanding and following basic rules, and winning or losing gracefully. Classic games like Candy Land reinforce knowledge of colors.
Dice games like Sorry!, for younger children, and Yahtzee, for bigger kids, can help make math fun. The older kids get, the more sophisticated the rules, objectives, and gameplay become – and the same goes for the skills they learn.
The Benefits of playing board games
For your kids to benefit the most from playing board games, they need to be playing the right games. Yet with thousands upon thousands of games to consider, how can parents choose which games are worth the money, time, and energy? To curate our meticulously researched list of the 10 best kids' board games, we delved deep into the gameplay mechanics, premises, objectives, and outcomes of the most widely praised board games on the market to find out what kids and parents really think are the top games.
find your family's next favorite Board game
1. Suspend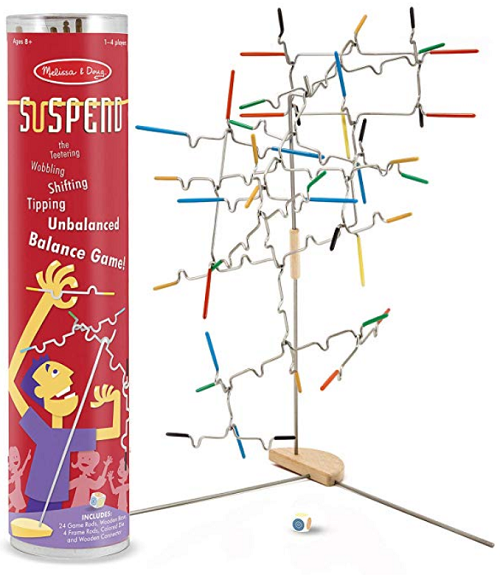 Our top game has the perfect balance of all five factors, rightfully so. The balance game Suspend by Melissa & Doug is a fun challenge for the family.
The premise is simple: roll the die and add the game rod of that color to the ever-growing sculpture without being the one to cause it all to come crashing down. Simple enough for a child as young as eight to play, Suspend is fun enough for family game nights and can even amuse grownup players – either as an intense challenge or a light diversion during conversations.
A great choice for fans of classic "don't let it fall" games like Jenga and KerPlunk, Suspend's primary educational benefits are improving fine motor skills and hand-eye coordination, but it also lets kids flex their creativity in building the abstract sculpture as well as cultivating cognitive skills like thinking logically about cause and effects and predicting how their next move will affect the game. The ease of learning this simple game and short playtime – generally, just five to 15 minutes – make Suspend a great choice for busy families.
For younger kids, especially those below the recommended age of 8, the game can be frustrating. It takes practice and patience to develop those motor skills and the hand-eye coordination needed to place the notched rods on the frame – so this game might not be ideal for high-energy kids, or at least, high-energy moments. There's also a Junior version of the game recommended for ages four and up, but at a higher price and with few real differences, it's far less popular than the original.
While the vast majority of reviews for Suspend are overwhelmingly positive, some families felt that the balancing act was too difficult and others, not difficult enough to pose a real challenge.
Pros and Cons
Pros
Suspend is a hands-on game that's great for sharpening motor skills and hand-eye coordination – at any age. The game can also contribute to developing better cognitive and social skills.
The die-rolling, bar-hanging balance game puts a fun twist on games like Jenga and KerPlunk, making it at once different and familiar.
Intended for one to four players, this game can be a fun, quiet activity for solo play or a social activity – and some families have even played with larger groups by buying more than one set of the game.
Suitable for kids as young as eight but also appealing to adults, Suspend will entertain a wide audience, and your kids won't grow out of it quickly.
This game is affordable and offers plenty of replay value.
The game has a 4.6-star rating, with more than 3,500 positive reviews.
Games can finish in as little as five to 15 minutes or stretch to as long as 20 to 30 minutes – but don't be surprised if your opponent demands a rematch. The quick gameplay makes it possible for busy families to squeeze in a game and fits into the shorter attention spans of younger players.
The game is quick and easy to learn, so you won't spend hours trying to decipher the rules. Your family can dive right into the fun part – actually playing the game.
Cons
Suspend is all about the balancing act, and that means whether you love it or hate it depends on your perception of this task. Some families found it too easy to be a challenge, and others thought it was too difficult to be much fun.
For those still working on their motor skills, placing the rods can be frustrating. If your child has a tendency to get frustrated easily with tasks like this, it might be wise to wait until he or she is a little older.
Score
Innovativeness: 95/100
Educational value: 94/100
Fun: 93/100
Value: 96/100
Flexibility: 95/100
Overall score: 94.6/100
2. Harry Potter Hogwarts Battle
One of our top-scoring games won't appeal to every family, but families of Potterheads won't want to miss it. For fans of J.K. Rowling's magical Wizarding World, Harry Potter Hogwarts Battle is the perfect kid-friendly introduction to the world of both cooperative tabletop games and deck-building card games.
This sequence of seven adventures gets progressively more challenging, starting off with easier villains to defeat and simpler rules to follow. As you move through each successive round, the game gets more complex, more challenging – and more fun, with the exciting spell, ally, and item cards that really get players into the spirit of the game. However, each round is played as a separate game, so you can play whatever round you are most comfortable with and advance after numerous successful round completions.
The theme isn't just to sell more copies. Hogwarts Battle fully embraces the world of Harry Potter with recognizable spells, allies, and items, making it a can't-miss addition to the merchandise collection of any child or adult fan of the Boy Who Lived.
No game is perfect, and Hogwarts Battle is no different. Unless you count brushing up on your Harry Potter lore to be educational, most of the educational value comes from learning to strategize, collaborate, plan ahead and make decisions with the in-game currency. Although the early adventures are easy to play, the rules are too complex to be suitable for young children. If they're not old enough to get their Hogwarts letter, they're likely to be too young to play.
The later adventures are challenging even for grownups and can be frustrating especially for kids on the younger side. Expect to spend some time learning the rules and, due to the progressive nature of the game, need to revisit the instructions between rounds to get accustomed to each new adventure's rules.
Hogwarts Battle is the most expensive game on our list, but if you look at it as a multi-part game, you're getting plenty of play value for your money.
Pros and Cons
Pros
Cooperative play builds teamwork and collaborative skills and keeps family games from becoming overly competitive and turning hostile.
Seven-adventure sequence means there's more to the game, with each new "year" of adventure bringing new cards and abilities to explore as well as new villains and limitations to challenge players.
The increasing difficulty level of the game allows families to start off with simpler rules and gameplay mechanics that introduce them to the game and the style of play. The game gets gradually more challenging instead of ramping up from easy to near impossible in a single round.
Young and young-at-heart fans of the Harry Potter universe will love the theme of the game, down to the designs of the cards that feature familiar spells, characters and magical items from the series.
The game is fun with two to four players, although the number of players you have will affect strategy – even down to which characters have the best abilities for your group.
The game is challenging enough and fun enough to hold the interest of older kids, tweens, teens and adults.
There's a lot of replay value, with different character abilities to choose from, numerous cards that have different effects on the game and villains that appear randomly and will affect gameplay in different ways. A Monster Book of Monsters expansion, sold separately, further expands the game by adding another playable character, creature villains and other elements.
This well-loved game has an average rating of 4.6 out of 5 stars on Amazon, with more than 1,082 positive reviews.
There are plenty of opportunities to incorporate house rules and, due to the game's popularity, plenty of ideas for house rules you can add circulating online.
Cons
With a recommended age of 11 and up, parents of little kids will have to wait awhile before introducing this game.
The early rounds can be a bit dull due to the simplicity, although these rounds can be beaten very quickly.
The more challenging rounds are a lot more challenging, even for teams of adults. Losing can be frustrating, especially when some of the most highly powered (some would say, overpowered) villains, who appear at random, show up in an order that makes it difficult to make a comeback.
Later rounds can stretch on for a long time, so this game isn't a quick-play game when you get past the first few adventures.
Luck – in terms of what villains appear when and what cards players have available to aid them – plays a big role in the game, which can be frustrating when it overturns your best strategies.
Under the official rules, you don't get to keep any of the cards you acquire from one game to the next, which kids – and fans of deck-building games – may find frustrating.
Hogwarts Battle isn't a game that's quick to learn or easy to explain. Expect to spend some time going over the rules and getting familiar with the components at first.
This game has the highest price point of any game on our list. While you can justify the cost by saying it's really not just one game; may be out of the realm of possibility for some families on a budget.
Because the Harry Potter theme is prevalent throughout the game, it's not a good choice for families who don't enjoy the franchise.
Score
Innovativeness: 97/100
Educational value: 88/100
Fun: 96/100
Value: 92/100
Flexibility: 95/100
Overall score: 93.6/100
3. Blokus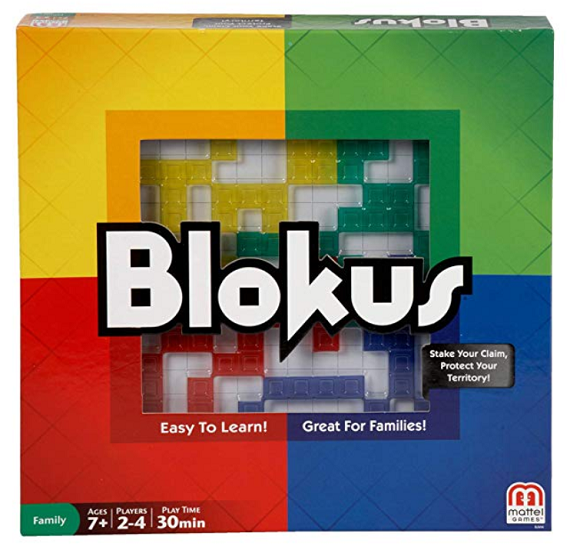 Mattel's Blokus is a hands-on game that will keep the whole family engaged. Use strategy as you build across the gameboard with your brightly-colored blocks, with the goal of fitting as many of your 21 uniquely-shaped pieces on the board as possible – not to mention, blocking your opponents from doing the same.
The rules are easy to learn in as little as one minute: essentially, each block you place must touch one other tile of your color at a corner. Although the game is simple enough for seven-year-olds to understand, the need for strategy and the head-to-head competitive element of having to defend your own territory and break into other players' spaces will keep older kids and adults interested, too.
Fitting the unique combinations of relatively small blocks onto the gameboard grid requires a dexterity that the youngest players might not have achieved yet, so be prepared for some possible struggles there. Your family might find that it's better to alternate which player goes first because purchasers report that there's a noticeable advantage to being the first one to play.
Pros and Cons
Pros
Develop strategy, visual skills and physical dexterity with this hands-on tile-laying game.
This game is affordable and offers plenty of replay value.
This game has a 4.8-star rating, with almost 2,500 positive reviews.
Recommended as a family game to be played with two to four people, including kids age seven and up, the game is easy to learn fast and simple to play.
The 30-minute average playthrough time will help Blokus keep the attention of kids (and adults) long enough to finish a game but won't take up your entire evening.
Like kids, adults also enjoy the simple but fun challenge of the game.
The game's simplicity means that children can play independently, freeing up parents' time.
The game's accolades include the 2004 Teacher's Choice Award and the 2003 Mensa Select award.
Cons
As with Suspend, Blokus requires some dexterity that younger players might not have yet, which can be frustrating for them.
Whoever makes the first play has a definite advantage in this game, so you may have to regulate which player goes first in a given round, especially if you have a competitive crowd.
Some purchasers had complaints about the quality of the game materials and the packaging. Buyers should be aware of the specifics of who they're buying the game from and should promptly check the product for any missing or defective parts.
Score
Innovativeness: 92/100
Educational value: 93/100
Fun: 93/100
Value: 96/100
Flexibility: 78/100
Overall score: 90.4/100
4. Robot Turtles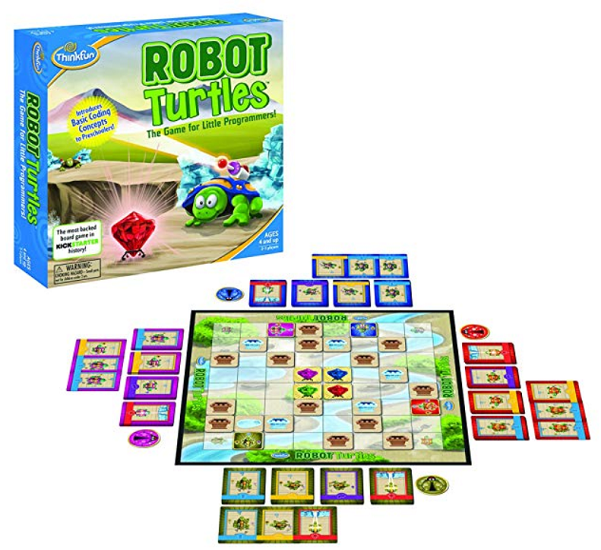 For a great educational game for little ones, look no further than Think Fun's Robot Turtles, which bills itself as "the game for little programmers." Kids as young as 4 can learn the principles of computer coding and programming through play with this screen-less tabletop game.
The objective is for each turtle to collect jewels– but to do that, you have to use cards to "write programs" that allow you to move your turtle. Children and parents love that the base game is easy to learn and easy to play, but it also grows with your child. Advanced levels feature more challenging obstacles and more complex Code Cards.
The biggest disadvantages of Robot Turtles are the same disadvantages you'll find in other educational and preschooler games. The game is too simple to really amuse older siblings and parents, and once young children learn the principles the game is teaching, they may become bored.
Pros and Cons
Pros
Invented by a programmer and initially launched through Kickstarter, Robot Turtles exposes preschool-age kids to the basic STEM principles used in computer programming and coding – without sitting them in front of a screen.
You can learn to play the game in only seconds.
By keeping the base game simple but adding levels of advancement, the manufacturer of Robot Turtles has created a game that grows with young children as they develop a better understanding of the underlying principles of programming.
The game is reasonably priced and won't break the bank.
Recommended for two to five players with a starting age of four years old, this is an educational game the whole family can play.
Players have control over the time required to play, with simple games able to be completed in mere minutes and more complex games lasting longer.
This game has a 5.0-star rating with nearly 371 positive reviews.
Cons
Though suitable for kids as young as four, parents report that this is one game kids tend to age out of within a few years. Most kids older than six are likely to find the game boring, and it's not a game parents will want to bring to game night get-togethers for adults.
Despite there being advanced levels to the game, some buyers felt that the game was a little lacking in the area of replay value once kids have played through all of the levels.
This isn't a game that you can expect preschool-aged children to play independently, because it will typically require adult help.
Score
Innovativeness: 99/100
Educational value: 99/100
Fun: 85/100
Value: 84/100
Flexibility: 79/100
Overall score: 89.2/100
5. Qwirkle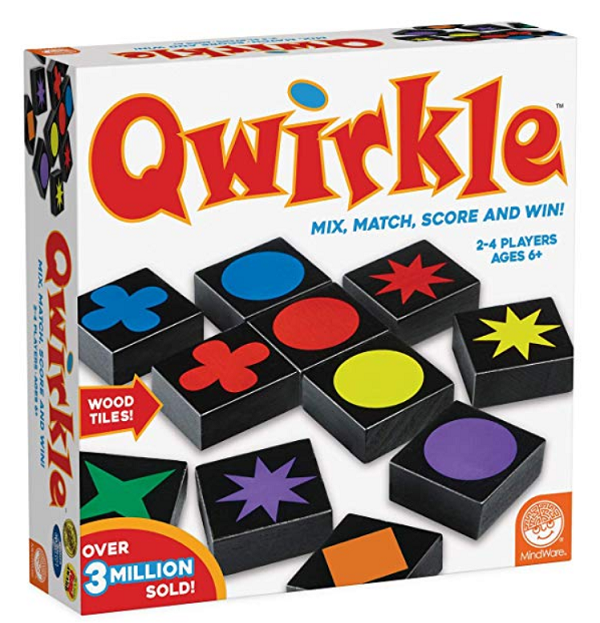 For a game that puts an educational spin on dominos but has strategic and tactical components to keep the adults amused, too, try Qwirkle.
The 108 wooden tiles reminiscent of Scrabble tiles feature brightly colored shapes instead of letters. To play your tiles and build onto the configuration, you have to match either the shape or the color of the adjacent tile – which makes the game ideal for teaching kids ages six and up about color and shape identification, matching, and the beginnings of the game strategy.
Adults love this tactical component, which makes the game so much more interesting to play than many other children's games and takes the game's educational value beyond mere identification and matching. Young players learn skills like teaching spatial recognition, problem-solving, and planning.
The game encourages strategic thinking by awarding bonus points for placing tiles in prime positions that touch multiple other pieces with the correct attributes – with the best play being a six-piece line called a "Qwirkle." Although the manufacturer suggested average playing time of 45 minutes may be too long for kids with short attention spans, parents say that games can go faster – sometimes taking just 15 to 20 minutes.
Pros and Cons
Pros
Kids will have so much fun playing this colorful tile-laying game that they won't realize they're learning strategy, spatial recognition and problem-solving skills.
Suitable for two to four players, ages six and up, but interesting enough to keep the attention of older kids and adults, too.
The rules are simple and easy to learn in minutes, making for a quick start to the game even for new players.
This game is affordable and has as much replay value as classic dominoes.
Qwirkle has a 5-star rating with nearly 4,229 positive reviews.
Cons
The potential for longer gameplay might be too much for children with shorter attention spans.
Scorekeeping isn't hassle-free, with the need for pencil and paper to keep score throughout plays – and for young children, that means parental oversight is required, so kids won't be able to play independently.
Some purchasers had complaints about the quality of the game materials and the packaging. Buyers should be aware of the specifics of who they're buying the game from and should promptly check the product for any missing or defective parts.
Score
Innovativeness: 84/100
Educational value: 91/100
Fun: 95/100
Value: 88/100
Flexibility: 80/100
Overall score: 87.6/100
6. Santorini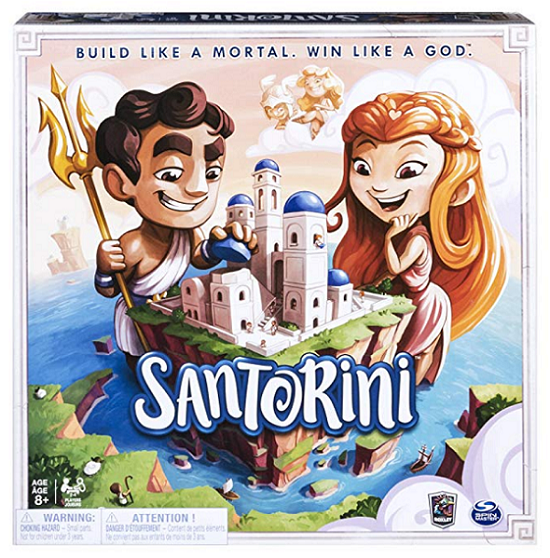 For kids who love to build, Santorini is a great introduction to strategy games, teaching players as young as eight the analytical skills to plan ahead. With little chance involved in the game, kids aren't likely to get frustrated that a stroke of bad luck makes their strategies go awry.
Originally launched as an abstract three-dimensional game, this republished version made by Roxley Games adopts the theme of ancient Greece, and it does so beautifully, with blocks that resemble the architecture and powers that draw from Greek mythology. Kids are sure to enjoy the 3D building aspects, which will suck them into the strategy game.
The replay value is pretty strong, especially with 30 god cards, and a game can be played in just 10 to 20 minutes. It takes only seconds to learn how to play this fun game but mastering it is another thing entirely.
Pros and Cons
Pros
Santorini is a fun way to learn strategic and analytical skills – not to mention some fundamentals of ancient Greek mythology through the powers of the god cards.
This hands-on game incorporates 3D building as a crucial component to the gameplay mechanics, which will grasp the attention of kids who enjoy building with blocks.
As a game of strategy, not chance, Santorini involves little, if any, luck and rewards those who play with great skill.
The game is simple but elegant and nicely designed, with the appealing pieces that mimic the style of ancient Greek architecture.
The flexibility to play with or without the god cards allows players more control over the game – including how simple or complex it is to play and whether to allow extra powers that could divert the focus on basic strategy alone. Starting off without the god cards allows the game to grow with younger players.
The quick playthrough time means games won't get boring or drag on – even for kids with small attention spans.
This game is reasonably priced and won't break the bank.
Santorini has a 4.7-star rating and more than 227 positive reviews.
Cons
Although intended for two to four players, the game works best with only two, so it's not the ideal choice for a whole family game or a group game night.
Despite the 3D design and distinct gameplay, some players felt that the strategy emphasis of Santorini reminded them too much of chess to really be unique.
Some families felt that the instructions were difficult to understand, while others conversely felt that the game wasn't that challenging.
The game's replay value is debatable, with some buyers complaining that it was less than they expected while others noting that the strategy game can go many different ways, especially with 30 god cards in the mix.
Score
Innovativeness: 85/100
Educational value: 91/100
Fun: 90/100
Value: 85/100
Flexibility: 84/100
Overall score: 87/100
7. Otrio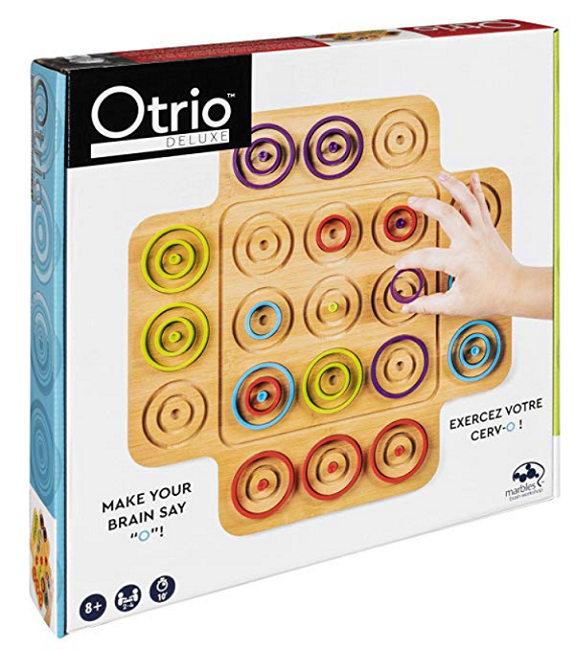 A game that's equally suited for kids as young as six and adult tabletop game enthusiasts, Otrio is tic-tac-toe on steroids.
With deceptively simple rules but plenty of strategies required, players have to get three of their own differently-sized pieces in a "row" pattern – not quite the same one you usually think of with tic-tac-toe – while blocking their opponents' attempts to do the same. Kids and adults can practice their strategic thinking side-by-side in this fun family game that has won global acclaim.
With more replay value and far more suspense than a simple game of tic-tac-toe, this easy-to-learn, quick-playing game is well worth the cost.
Pros and Cons
Pros
Otrio develops skills in reasoning, critical thinking and especially strategy as players try to outsmart their opponents to score three in a row. You've never played tic-tac-toe like this before!
Made for two to four players, even the two-player games aren't overly easy. Under the official rules, in two-player games, both players have to control two different colors – effectively making two-player games into four-player games.
Adults tend to enjoy the game as much as kids do, thanks to its fast pace, need for strategy and competitive nature.
A round of Otrio can take just minutes, but it's the kind of quick game that often leads to calls for immediate rematches.
Rules are easy to learn in minutes, but winning the game proves to be surprisingly challenging.
Otrio's international awards include the 2016 Family Game of the Year award from both the Swedish Toy & Baby Association and the Finnish Toy Association.
The game has a 4.5-star rating with more than 110 positive reviews.
Cons
Otrio is on the more expensive side compared to other children's games.
Although many families reported that adults love the game as much as kids, some adults found it too simple for their liking.
Some purchasers reported frustration due to their game arriving without the English instructions. Buyers should promptly check the product for any missing or defective parts, including missing instructions, and notify the game manufacturer or distributor for help securing replacements.
Score
Innovativeness: 91/100
Educational value: 87/100
Fun: 96/100
Value: 80/100
Flexibility: 79/100
Overall score: 86.6/100
8. Ticket to Ride: First Journey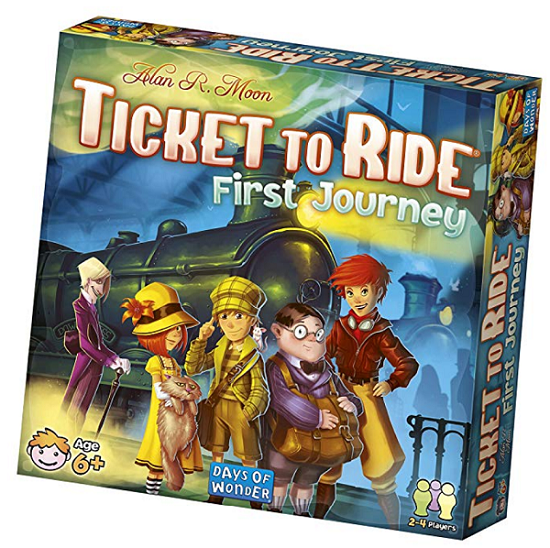 The train-themed strategy game Ticket to Ride, by Days of Wonder, has been labeled a "modern classic," with good reason.
For parents itching to introduce their kids to the beloved and wildly popular game – especially before the recommended age of eight – Ticket to Ride: First Journey fits the bill perfectly. As in the original game, two to four players of this junior version play matching colored train cards to claim routes and complete tickets.
Instead of requiring kids as young as six to strategically decide which routes to complete and why, the game has a simpler objective: be the first player to complete six routes, which will win you the Golden Ticket. Kids love the cartoon-style art of the gameboard and the colorful train pieces, while adult game enthusiasts love that it introduces the basics of the original Ticket to Ride to a younger audience without oversimplifying it.
This kid-friendly version is also quicker to play than the full game, making it ideal for children who may not yet have the attention span needed for a 60-minute game.
Pros and Cons
Pros
Ticket to Ride: First Journey is an introductory version of the global bestselling Ticket to Ride game franchise that streamlines the rules and gameplay of the original for an audience of six-year-olds and above without dumbing it down.
Parents who enjoy board games, particularly the original Ticket to Ride game, will enjoy introducing their children to the concepts of the franchise and won't mind the simplified, but still fast-paced and fun, gameplay.
As kids age out of this junior version, they're also aging into the full game.
Playing Ticket to Ride: First Journey helps expand children's skills in strategic thinking and their knowledge of North American geography, as well as allowing an opportunity to practice skills in counting and color matching.
Kid-friendly features include the cartoon interpretation of the map of North America and the brightly colored plastic train pieces that children (and adults) can't help but play with.
A 30-minute playing time means games won't drag on too long to hold kids' attention or monopolize busy parents' time.
Ticket to Ride: First Journey has a 4.7-star rating and nearly 100 positive reviews.
Cons
Some parents found that, while the game served as a good introduction to the franchise, it only took a couple of playthroughs before older kids transitioned to the "real" game – and after that, the junior version didn't serve much purpose.
Ticket to Ride: First Journey is on the more expensive side compared to other children's games.
Some families found the directions confusing and not as quick to learn as other children's games.
Some families ran into the problem of too many routes getting blocked so that no one player was able to complete the six routes needed to win.
Score
Innovativeness: 97/100
Educational value: 84/100
Fun: 93/100
Value: 70/100
Flexibility: 75/100
Overall score: 83.8/100
9. First Orchard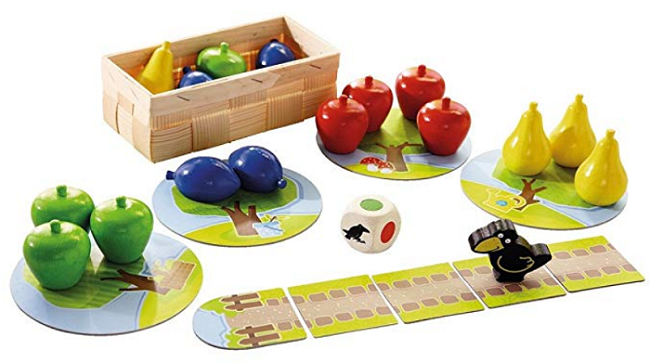 If you think two-year-olds are too little for games, this charming offering from HABA's My Very First Games series will surprise you.
In the cooperative game First Orchard, players work together to harvest all the fruit from the trees before a pesky raven swoops in and steals it. It's not only the simplicity of the rules and gameplay that make First Orchard so appealing to the little ones. The extra-large die that reveals what color fruit a player gets to pick on his or her turn is easy for small hands to handle.
The brightly colored, well-made wooden fruit provides a hands-on component that improves kids' motor skills and can do double duty in a play kitchen. This learning game is ideal for teaching basic concepts like color recognition and counting in a fun way.
Pros and Cons
Pros
Through playing First Orchard, children as young as two years old can practice their motor skills "picking" the fruit, their color recognition skills and basic counting.
As a cooperative game, your young child won't get bogged down in competing and will have the opportunity to practice social skills and, through your prompting, language skills.
This simple learning game won't overwhelm the youngest players, who can often start out using the wooden fruits in free play, even if they aren't quite ready to follow the rules just yet.
Since the game is already played against the raven, rather than against other human players, it's easy to make this game into a solo activity for quiet playtime, or to play with a group as large as four.
An extra-large die and sturdy, colorful wooden fruits will make this hands-on game a favorite among children who love exploring the world around them through touch. Free play with the safe, durable fruit pieces is encouraged.
Games can take as little as 10 minutes, which is ideal for the short attention spans of toddlers.
The charming game has earned a 4.9-star rating, with more than 330 positive reviews.
Cons
Although the fruits are made to be safely played with by two-year-old, some kids of this age will get stuck on free play. Parents may need to wait until their young children are a little more mature to start incorporating the rules and gameplay into the mix.
Because the game is so simple, some families didn't find enough educational value in it, while others had high praise for it.
Because there's not much strategy to the largely luck-based game, it can quickly get boring for parents and older siblings.
At an affordable price point, the game is still reasonable and won't break the bank.
Score
Innovativeness: 72/100
Educational value: 87/100
Fun: 79/100
Value: 86/100
Flexibility: 92/100
Overall score: 83.2/100
10. Bounce Off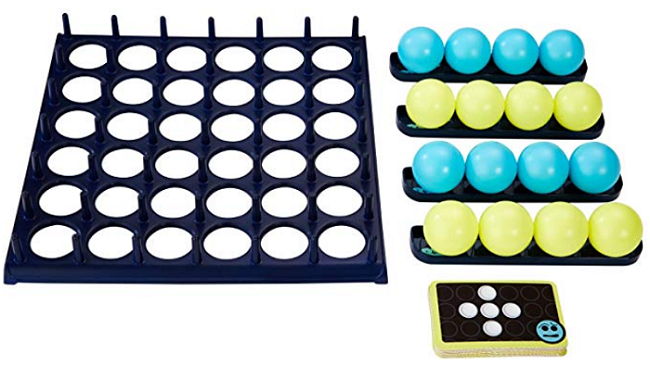 What kid doesn't love to bounce balls – especially in the house? In Bounce Off, a hands-on game for two players or two teams of two players, you strategically bounce balls onto the grid to match a pattern and win a card.
The first player or team to acquire three cards wins the game. One of those games that sounds easy but is harder than it looks, Bounce Off more often than not causes explosive laughter from players of all ages. Although the game is simple enough that kids of any age could join in, those younger than the recommended age of seven might struggle with having the motor skills and hand-eye coordination needed to bounce the balls into the desired position (and for that matter, so might some adults). The game is quick to set up and to play.
Although more fun than educational, playing Bounce Off helps kids develop dexterity and hand-eye coordination as well as skills for visualization strategy. The biggest drawback to buying Bounce Off has to be replay value. Most negative reviews admit that the game started out fun but got boring after the novelty wore off.
With just nine challenge cards, it doesn't take long for players to realize they've seen these patterns before – but the question is, how well can they recreate them?
what we love!
Bounce Off is a hands-on ball bouncing, pattern-recreating game that provides an opportunity to practice hand-eye coordination and physical dexterity. Attempting to match the patterns on the cards helps kids develop visualization strategy skills.
The simple rules and objective allow children to play independently and make it possible for even very young children to participate, especially as part of a team.
Not to be taken too seriously, Bounce Off is a fun game that will have your family laughing out loud at the hilarious misses – but that doesn't mean the competition can't heat up in this head-to-head challenge.
Although the game is recommended for ages seven and up, kids younger can also join in, while much older kids-at-heart often enjoy the challenge, as well.
Bounce Off is an affordable game – so even if it doesn't hold interest for that long, you're not wasting much money.
The game is quick and easy to set up and to learn, and games are quick, lasting just 15 minutes on average.
Score
Innovativeness: 90/100
Educational value: 75/100
Fun: 82/100
Value: 84/100
Flexibility: 81/100
Overall score: 82.4/100
Kids learn essential skills
Through some of the best kids board games on the market, children learn to develop strategies, break down difficult objectives into steps they can accomplish, use logic and deductive reasoning, synthesize numerous pieces of information and think critically. These skills are essential not only for success academically throughout elementary and secondary school and beyond but also in solving real-world problems in the workplace and our personal lives.
Choose innovative games to keep interest
As parents (and board game enthusiasts) ourselves, we based our rankings on the factors that matter the most. The top consideration is how different or innovative the game is. If you're a family that enjoys board games, chances are that you've already got the classics – like Monopoly, Scrabble, Candy Land, and many more – in your collection. Not to diminish the fun of these traditional tabletop games, which are classics for a reason, our list of the best kids' board games focuses on the more innovative and exciting games that you're not already playing.
As every parent with limited space already knows, you only need so many versions of Monopoly. The games that landed coveted spots on our top 10 list have something a little more unique to offer in terms of gameplay, objective, strategy, or style. Some have already won a lot of acclaims and generated plenty of buzz in gaming circles since their release, while others may be games you haven't heard of (but won't soon forget).
games with educational value are beneficial
Next, we looked at the educational value of each game. What does playing this game teach children? For some games on the list, there's obvious educational value in color matching or learning STEM and programming principles. In other games, the educational component isn't quite as pronounced, but practicing hand-eye coordination, developing analytical skills, or learning to strategize are all things that enrich children's lives and their abilities to excel in school and beyond.
Even the most educational learning game won't do your child any good if he or she hates to play it. The best board games are undeniably fun for kids – and it doesn't hurt if they have something to offer the adults who will play with their kids, as well. Parents often bemoan the mind-numbing repetition of playing dull, luck-based games with their children over and over again until the kid finally moves on to a new obsession.
These games are fun for the family, not just the little ones – so much so that parents might even be tempted to break them out for their next grown-up get-together. We've also awarded extra points to games that are relatively easy to teach, learn and play – because what's not fun is spending hours trying to navigate pages and pages of convoluted rulebooks.
Affordability and storage are important
Both finances and storage space are finite, so we've integrated factors like value and flexibility into our rankings. Value includes the price – because some games can really blow your family's budget – but also what you get for the price. Is the quality high, or will pieces fall apart after a few playthroughs? Is this the kind of game that will spend most of its shelf life sitting forgotten in a closet until someone sells or donates it, or does it have enough replay value to keep it interesting time after time?
find a board game that fits your family's needs
The best games are flexible enough to fit your family's needs. How many people can play? How long will it hold your child's interest? Games that have levels that advance with your child as they grow, that are easily converted to solo play or team play, and that provide plenty of opportunities to make the game your own through house rules scored extra points here.