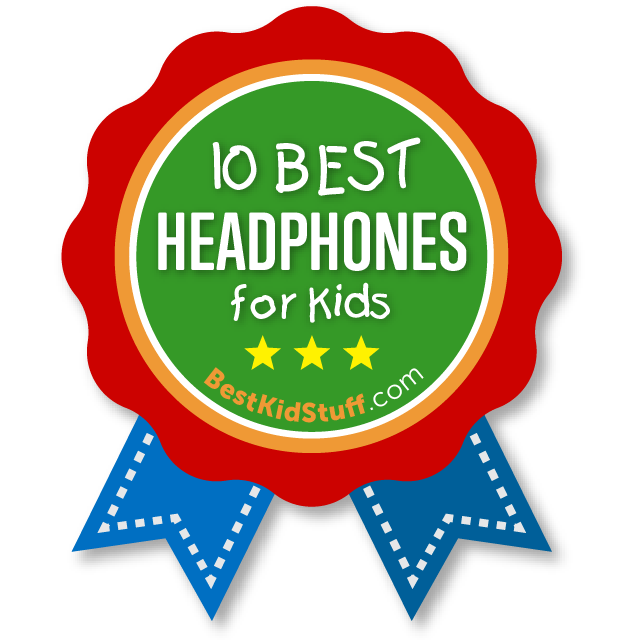 When left to their own devices, kids are on devices, and that's okay. We get that kids use tablets and phones, and let's face it, they're useful for education and when it's time to travel. Not only that, but there's nothing wrong with listening to our favorite music, and sometimes we can do without hearing the theme song to Paw Patrol for the 5 millionth time. When it comes to kids and their developing sensitive ears, it's important to find headphones that are a good fit for their cute little heads, sound great, aren't frustrating, are durable, and affordable. Some of the headphones we reviewed also have volume control technology keeping the decibel levels just right for your little one's eardrums. We also looked at some noise-canceling headphones that work well for individuals with sensory processing needs or just kids who need a little help blocking out distracting background noises when it's homework time or time to be nice and quiet on an airplane.
For our ranking, we looked at close to 100 of the most popular headphones for children. We know that not all kids are the same, and so while the first 7 entries listed below are ranked by the following methodology, the final three were ranked in relation to metrics that matter more for special needs children and infants.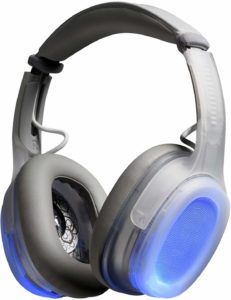 The Bose BoseBuild Headphones made it to the top of our list for innovation. These are a durable, fun headphone project with all of the sound quality that comes with a ready-made pair of Bose headphones. It's like someone built a STEM toy into the headphones which are personalizable with 18 different inserts. Three games are included along with the headphones. Use an IOS app to play along and for instructions on how to build these headphones. This pair of headphones even includes Smart volume to help protect your kids' ears.
Users have mentioned that their kids love to build with the headphones. Others report that they like how long the charge lasts on the headphones. The quality is great for the price. The great thing about the customizable options is that these headphones are great for any gender. So many kids, teens, and tweens are expected to enjoy STEM but may need some motivation… what better way than with a pair of buildable headphones?
What We Love
Promotes STEM Learning
Durable
Customizable
Fun
Readily Available
Educational
Durability Score: 99/100
Availability Score: 99/100
Volume Control/Limitations Score: 99/100
Design Score: 99/100
Overall Score: 97/100
BOSE… What more can you say? Perhaps the best of the best, your child will love every minute immersed in these awesome headphones!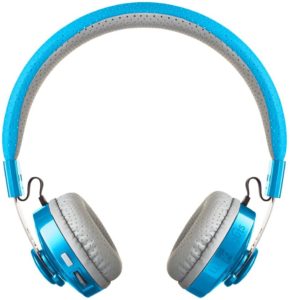 The LilGadgets Untangled PRO Kids headphones are a high quality and affordable bluetooth wireless pair of headphones that come in multiple colors. There are six colors to choose from. This product includes something called a SharePort. The SharePort allows for multiple listeners to listen at the same time- all wirelessly! The earpads are soft and engineered to remain intact. When it comes to battery life, this product holds a charge for about 12 hours. Not only that but this is a product with a mission. LilGadgets sets aside a portion of their proceeds to go towards bullying prevention.
Users report a fantastic customer service team. Many have mentioned that the headphones are light and comfortable and really appreciate the carrying bag. Other reviews mention that this pair of headphones are great for young children all the way through to adults. The downside we see is that sometimes these items break, but the upside is of course that the customer service team works with you to get replacements quickly.
What We Love
Affordable
Many Colors to Choose From
Bluetooth
Soft and Comfortable
SharePort
Durability Score: 99/100
Availability Score: 99/100
Volume Control/Limitations Score: 99/100
Design Score: 97/100
Overall Score: 95.5/100
Wireless headphones are great for active kiddos… Buy at Amazon.com!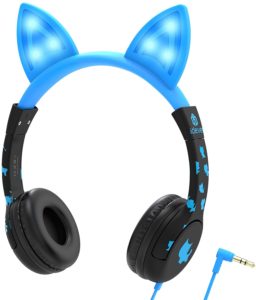 iClever have created a really fun set of headphones. These are "cat-inspired" so as you may have imagined, they look a bit like cat ears when placed on your kiddo's head- fun! These headphones do utilize volume control technology and are EXTREMELY durable to boot. They are actually twistable, and bendable, soft and made with food-grade material. Worried about what is going into your toddler's mouth? Worry no more with these! We simply can not believe that the cost is just $12.99. What a great bargain! Unlike some of the other products we have reviewed, these headphones have universal capabilities, so no worries if you use Apple or Android, these headphones will work.
Users have reported speedy delivery, comfort, and great volume control. All parents love the kitty ears and report that their kids do too. They are durable and come with an 18-month warranty. To top it all off, their customer service team is great and will swoop in to help you get a replacement ASAP. What more can you ask from a thirteen dollar purchase?
What We Love
Adorable
Affordable
Durable
Good Sound for the Cost
Excellent Customer Service Team
Durability Score: 99/100
Availability Score: 99/100
Volume Control/Limitations Score: 99/100
Design Score: 93/100
Overall Score: 92.5/100
MEOW… For the cat lover in your family, these are purr-fection!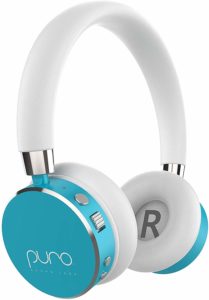 Puro Sound Labs has created a volume-limiting pair of headphones with your little one's precious ears in mind. The sound is limited to 85 dB to help prevent noise-induced hearing loss. No more blaring! This item is compatible with Apple, Android and more. We like that they are lightweight and comfortable for young sensitive ears. But it's not just the cushioned ear cups that make these headphones so great, it's the sound. The sound is pleasing and crisp- something that you would hope to find from a pair of headphones that are going to set you back $60.
Many of the users report loving the sound quality of this product. Users even say that the sound quality is comparable to other high-quality brands which are a lot more expensive.
What We Love
Great Quality Sound
Comfortable
Holds a Charge for 12 hours
Wireless
Durability Score: 90/100
Availability Score: 99/100
Volume Control/Limitations Score: 99/100
Design Score: 97/100
Overall Score: 88.75/100
No fear of getting the volume too high on these. They have volume-limiting capabilities. Amazon has them!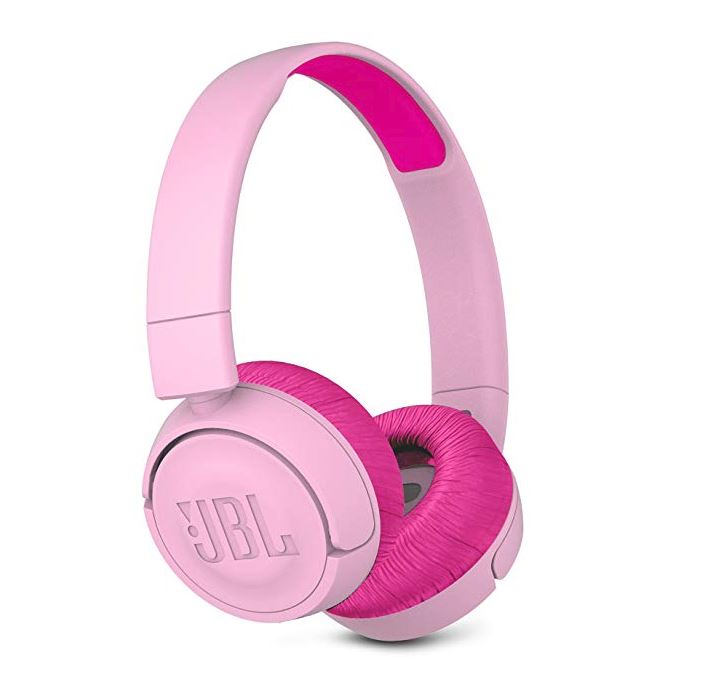 The JBL JR is a kid-friendly pair of wireless headphones that come available in three different colors, teal, blue or pink. This set of headphones will last all day with 12 hours of battery life. The JBL Jr has built-in volume control ensuring that the volume is always below 85dB. The ear bands and headbands are both padded for maximum comfort. The cost of this product is $50. The company thought to include a pad of stickers making these headphones even more customizable.
Users report that their kids love their headphones and that they are extremely comfortable.
What We Love
Wireless
Multiple Colors to Choose From
Comfortable
Durability Score: 91/100
Availability Score: 99/100
Volume Control/Limitations Score: 99/100
Design Score: 95/100
Overall Score: 88/100
Let your kid have fun customizing these headphones with the cool stickers included!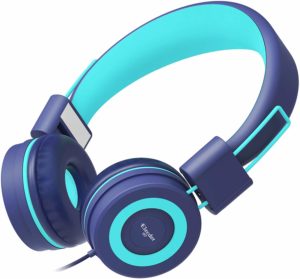 The Elecder i37 Kids Headphone is an affordable and attractive set of headphones designed with kids in mind. You can choose from 7 different colors and the price is currently listed as just $10.99. This bargain also comes with a one year warranty. The headphones are both adjustable and foldable, so these are easy to fit and easy to store when you're traveling. Also, the chord is made of cloth which can be even more durable than plastic.
Users report that these headphones are durable and easy to fit younger and older kid's heads. Many can not believe the level of sound quality that you receive for the prices. Some report that the sound even has some base and these 10$ headphones have been compared to professional level headphones. Others have noted that the chord is tangle-proof. We can't believe the level of value you'll get for 10 bucks. These are a seriously great go-to option for kids or even a backup pair for yourself!
What We Love
An Absolute Steal for less than $20
Great Sound Quality
Lots of Color Choices
Comfortable
Fits young children
Durable Cable
Durability Score: 99/100
Availability Score: 99/100
Volume Control/Limitations Score: 91/100
Design Score: 93/100
Overall Score: 86.5/100
Find a color that suits your child's personality! Find them on Amazon Prime today!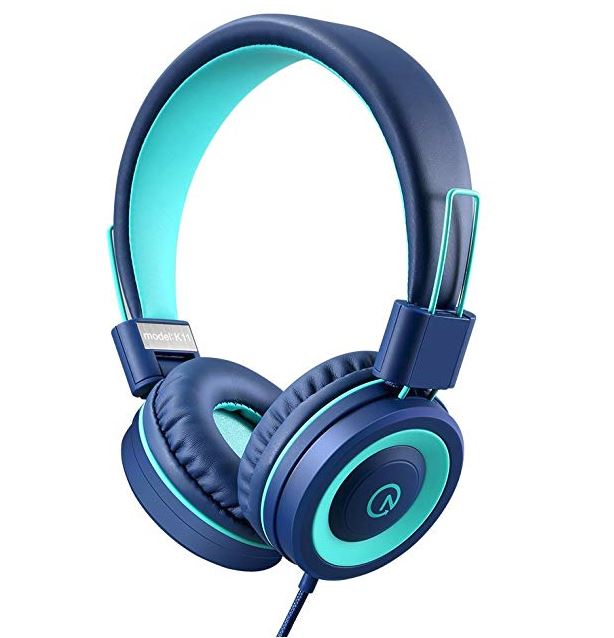 Noot has created fantastic headphones for kids and these are no different. This headphone is offered in three colors, and is foldable, adjustable, and cushioned. The audio on these is fantastic. The chord is nylon braided- made to last, and what's more, these cost just $9.99! These headphones are compatible with smartphones and tablets, not to mention the company gives you a two-year warranty. Wow! These headphones are designed for kids ages 3 and up.
Users have reported using these in classrooms and love them for their durability. Many parents love the price of these headphones. We love these headphones for their fantastic price.
What We Love
Good Customer Service
Affordable
Three Colors to Choose From
Durability Score: 99/100
Availability Score: 99/100
Volume Control/Limitations Score: 99/100
Design Score: 90/100
Overall Score: 90.25/100
For your next road trip, take these handy headphones along. They are foldable and easily transported to your next destination!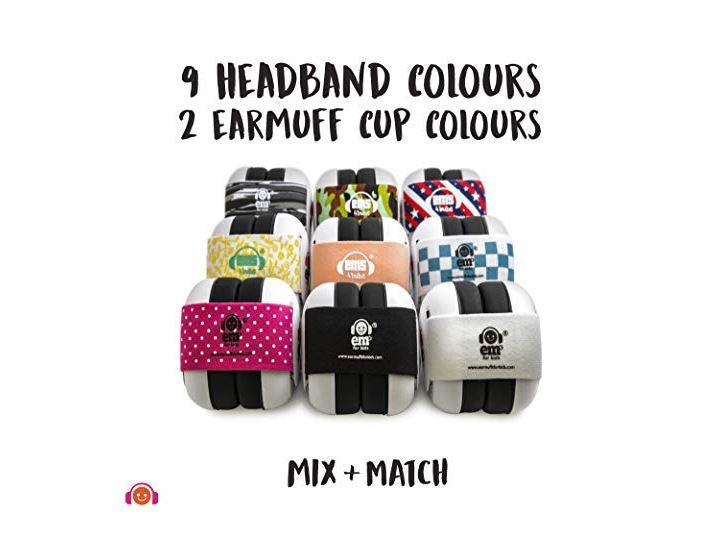 We would be missing something if we didn't include the Ems for Kids and Babies noise cancellation headphones for little babies. These are not really headphones for babies to listen to music. These are earmuffs for when you need to go to your older daughter's sporting event and want to bring the baby along. These incredible earmuffs were designed in Australia and are made in America. The headbang is flexible and fits around the front of the head, so there's no pressure on top! We love that. So, the next time you're at the Kentucky Derby a NASCAR race or Uncle Mike's rowdy birthday party, you can bring your newborn, just make sure to snatch up a pair of these adorable little muffs!
Users have reported taking their babies to concerts, on airplanes, and even to the shooting range with no problems. Are you looking forward to a sleeping baby on your next flight? Definitely grab up a pair of these.
What We Love
Sleeping Baby
You Can Carry On With Your Life Even With A Little One
Unique Design for a Developing Infant's Head
Cute
Durability Score: 99/100
Availability Score: 99/100
Volume Control/Limitations Score: 99/100
Design Score: 99/100
Overall Score: 97/100
Order these from Amazon. Protect your baby's precious hearing with these noise-canceling earmuffs!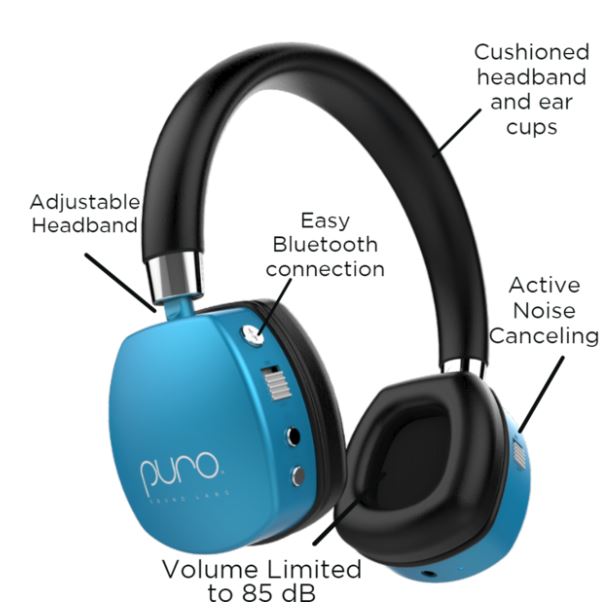 The Puro Sound Labs Noise-Cancelling headphones are a winner for any parent who has a child with sensory issues. That could mean a child on the autism spectrum or a child who struggles to focus when there is a lot of stimulating audio all around them. If your child loves to crank the volume, try these as they include volume-limiting technology to help protect developing ears. These do come with a built-in microphone so your little one can FaceTime with grandma completely free from distraction. So whether you're heading out on a loud flight or are simply looking for something to help your child process excessively stimulating sounds, these noise-canceling headphones by Puro may be the perfect fit.
Users love these for their adjustable strap and have noted that they work great for children as young as 3 years old. Parents love the volume control and the protective case not to mention the ease it brings to children with autism.
What We Love
Noise Canceling
Good Design
Travels Well
Great For Short or Long Flights
Excellent Option for Autism and Other Sensory Processing Disorders
Durability Score: 99/100
Availability Score: 99/100
Volume Control/Limitations Score: 99/100
Design Score: 93/100
Overall Score: 92.5/100
These are awesome to cancel out distracting noises! Buy from Amazon Prime and receive within two days and take advantage of free shipping as well!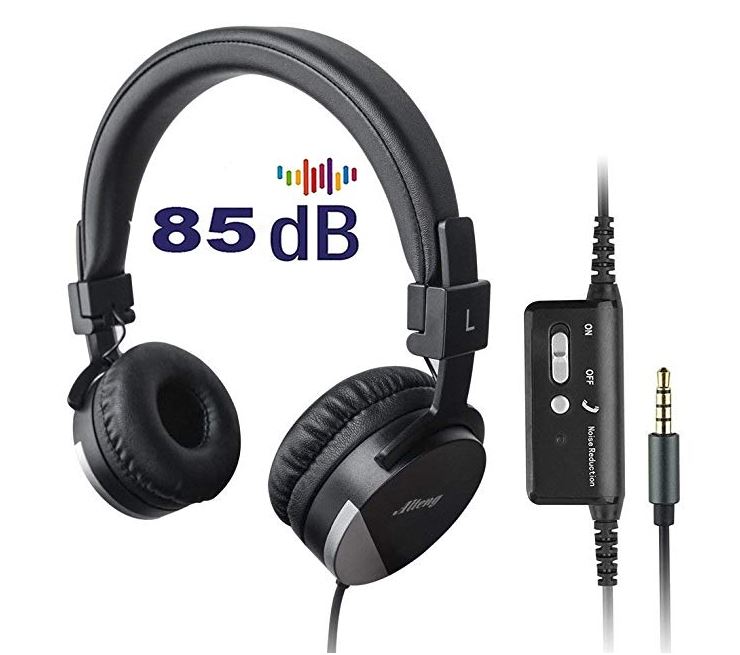 The Alteng Noise-canceling headphones are a great option for any kid who needs to block out background noise. They are effective at blocking up to 85% of background noise, are volume controlled, durable in every way imaginable, and universally compatible. The current listing price for these headphones is just $29.99 though sometimes the price fluctuates so do check out Amazon for current pricing. We also love that the company uses food-grade materials for their kids' headphones – so no need to worry about whether or not your little one is chewing on the headband again. Whether you need to bring your child with autism to a crowded setting or simply need your child to get to work without distractions, these noise-canceling headphones are a great option.
Individuals who reviewed the item love the noise-canceling feature and the comfortable materials.
What We Love
Noise Cancelling
Volume Control
Lightweight
Durability Score: 99/100
Availability Score: 99/100
Volume Control/Limitations Score: 99/100
Design Score: 90/100
Overall Score: 90.25/100
This is a great product for a great price. Check it out on Amazon.com!