At the earliest stages, children unknowingly engage in singing activities. They listen as their parents hum them to sleep, learn the alphabet song, or sing the theme of their favorite shows!
Did you know that singing plays a crucial role in your child's development? This hobby encourages children to express their feelings creatively, enhances their ability to communicate, and exercises their tongue and lip movement. A particularly positive effect of singing is the repeated use of memory muscle.
Children attach their new learning to a familiar melody, enabling them to store and retain information better. Learning the alphabet demonstrates "learning by singing" best. Most kids learn the alphabet by heart when they sing it.
Encourage Your Little Crooner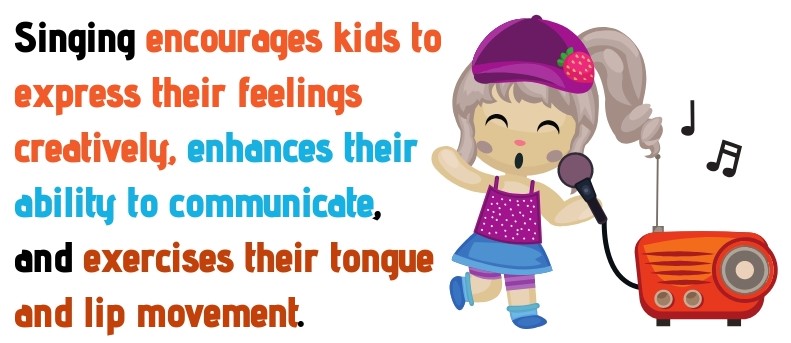 Singing is an exceptional talent—and a portable karaoke machine is every singer's best friend! Karaoke machines make singing an entertaining activity for your little one. It encourages not only singing as a talent but also serves as a fun tool for playtime.
Friends and family join in the fun, too, making each karaoke session a memorable one for your little singer! Portable karaoke machines let kids learn new vocabulary and showcase their talent.
What else could be a more suitable gift than a karaoke machine for children who love to sing? Bring out the singer in your child with this top-rated product. Our guide lets you in on the five best portable kids' karaoke machines out there.
---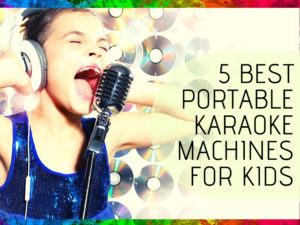 All the items on our list cost less than $50 on Amazon at the time of publication.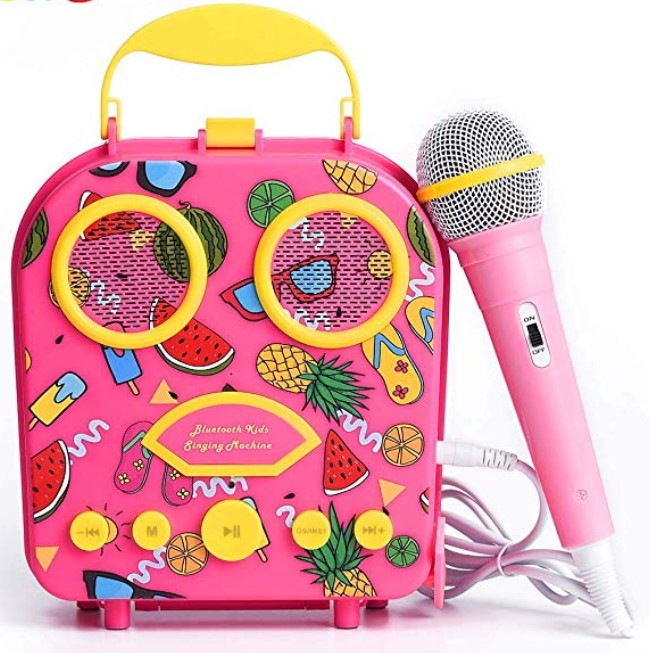 The HowQ Children's Portable Karaoke is one of the best choices for younger children! It does not only act as a portable karaoke machine, but it also can become a handy storage box for your children's toys.
Isn't that a great companion for kids who love to sing and play anytime, anywhere? It has a charger cable, a microphone, and a strap that makes it 100% portable for indoor and outdoor travel.
This portable karaoke machine from HowQ is compatible with almost any mobile phone. Your kids can play songs through AUX IN/USB, AM/FM, as well as they can stream any music from their iPad, smartphones, and other mobile devices.
Integrated with Bluetooth functionalities and wireless speakers that cover within 30 feet range, it can be used on any occasion, whether it's a children's party or just a picnic on the beach. HowQ Children's Portable Karaoke features high-quality bass stereo systems for HD stereo audio quality.
A portable karaoke machine made with a high-capacity 1200mAh battery power, it offers four hours of playback use. This product, beaming with its funky pink vibe, boosts your child's confidence and lets them have fun too!
Have we mentioned how CUTE this HowQ Karaoke Machine is?!
2. Matecam Kids Bluetooth Karaoke Machine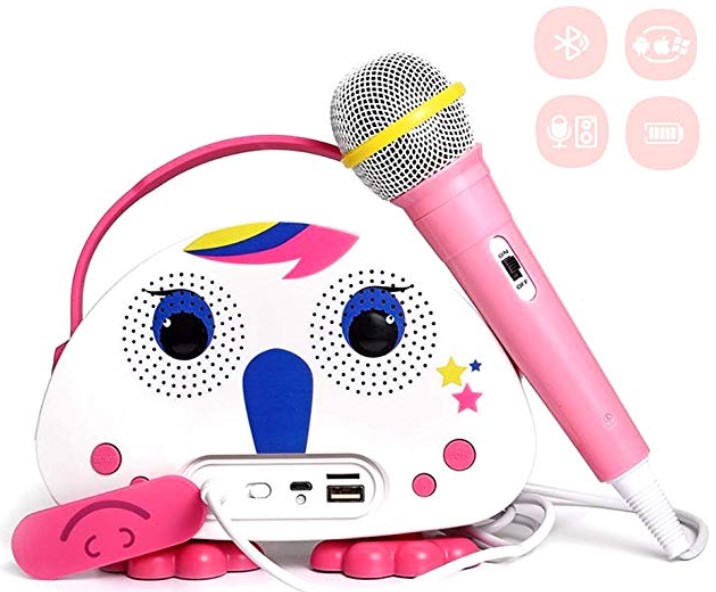 Are you looking for high-quality and eco-friendly portable karaoke machines without compromising your budget? Matecam Kids Bluetooth Karaoke Machine is your best choice!
This portable karaoke machine is made of non-toxic materials without sharp edges, which makes it safe for young children to play with. This product has a soft silicone handle that makes it easier for your child to carry it anytime anywhere.
It comes with a built-in, USB-rechargeable lithium battery for faster charging time and longer-lasting battery life. Enjoy long playback time in this device that supports Bluetooth or AUX cable connectivity.
With a high-definition stereo HIFI loudspeaker, Matecam's portable karaoke machine provides one of the best sound effects. It has rich and clear audio, and kids can easily adjust the volume.
Kids can sing their hearts out in either the Accompaniment or Original mode.
This little, pink handheld Karaoke Machine from Matecam is perfect for toting around indoors and out!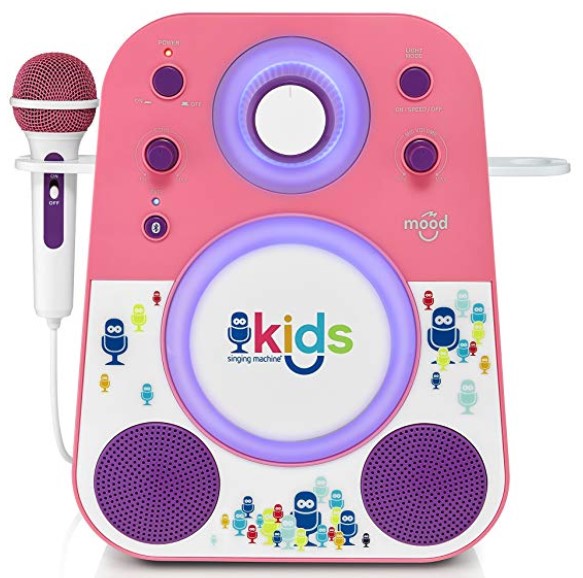 Built with a colorful mood LED-glowing lights, the Singing Machine Kids Bluetooth Sing-Along is one of the brightest and most fun portable karaoke machines for very young children. It promotes developmental skills while nurturing talent through the sing-and-play activity.
Children can stream their favorite songs using this portable singing device that is compatible with nearly all mobile devices. If you have an Android tablet, you can download the Free Singing Machine Kids Music App so your child can sing different kinds of songs.
This portable karaoke machine also comes with an echo control for a variety of voice effects. The package includes two microphone jacks with one youth microphone and is playable using an AC adapter. You can buy eight C batteries to convert to make it entirely portable.
Not only does it act as a portable karaoke machine, but it also doubles as a night light. For only $39.99, this product helps boost your little singer's confidence while they have fun with bright colors.
Your kid will be singing up a storm in no time! Why?
4.

Kidzlane Karaoke Machine for Kids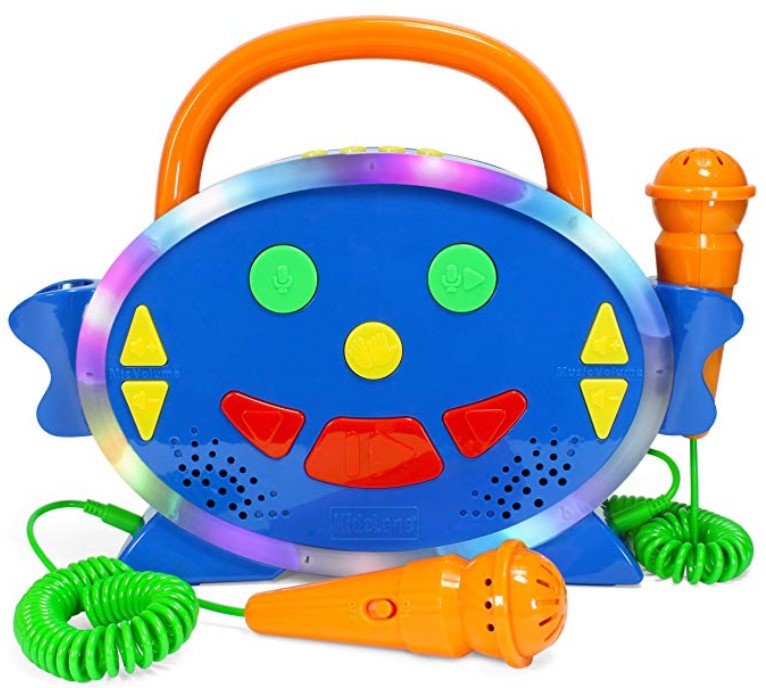 Pre-loaded with 100 songs, the Kidzlane Karaoke Machine for Kids provides a unique experience that allows children to sing their hearts out to a different range of cheerful nursery rhymes and songs. It has a colorful robot design and has multicolored LED lights, which makes it a fun experience for children of all ages.
Kids can boost their confidence through its flashing lights feature that can amp up their singing performance!
This portable karaoke machine comes with two microphones and requires three AA batteries. The package already includes one line-in cable jack and one micro USB cable wire. One of its unique features consists of a voice changer, which enables your children to distort their voices for added fun. As a result, they cannot recognize their voices, making it a hilarious singing experience.
This portable sing-along machine has separate volume controls for the microphone and for the unit itself. Also, it's convenient for your kids to easily play their favorite music by streaming from any Bluetooth-compatible mobile devices or through plugging the AUX jack. As a commitment to quality and safety, Kidzlane guarantees that its products are only made with the best and premium materials.
Interested in the Kidzlane Karaoke Machine for Kids?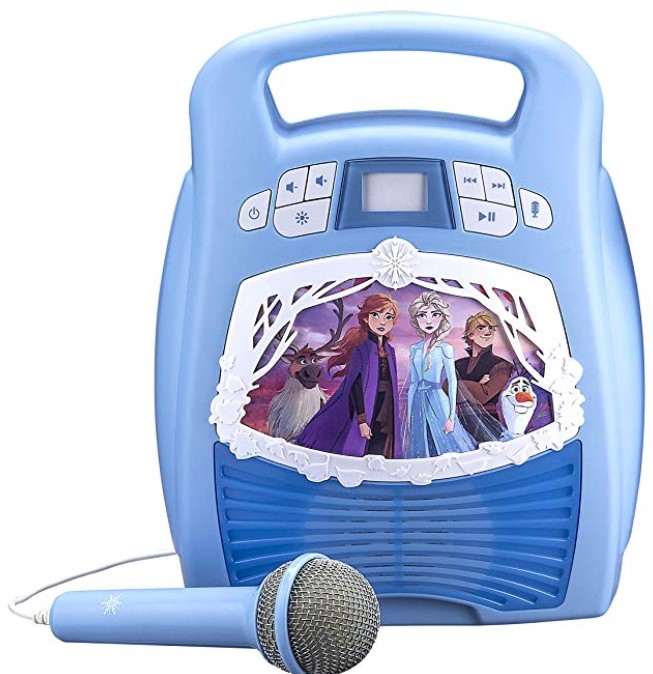 Do you want your child to sing to Frozen's famous song, "Do you want to build a snowman?"? Channel their inner Elsa with eKids Frozen 2 Karaoke Machine Player that comes with a multicolored LED lights for an added effect! This portable karaoke player can store up to a thousand songs in an integrated memory.
Kids can stream unlimited music via Bluetooth-enabled devices and are entirely compatible with almost all mobile devices. If you want to add more songs, you can plug in a USB drive on its built-in USB port.
This portable karaoke machine has a real-working wired microphone that enables children to sing their hearts out or make their performance as if they are on stage. Designed with a lightweight aesthetics and built-in handle, you can store the microphone and bring your portable karaoke anytime, anywhere.
Children can have an amplified singing performance through its eye-catching LED lights and are suitable for kids who are fans of Frozen. This portable karaoke player has built-in rechargeable batteries. Its screen displays the remaining battery level and other relevant information.
Ready to take on the mic? Sing to the beat of Frozen's "Let it go" and have the very first performance of your kid's singing career!
The eKids Frozen 2 Karaoke Machine Player is on sale via Amazon!