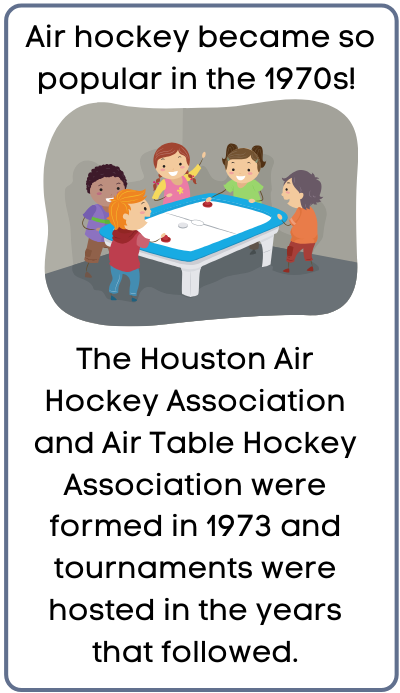 Air hockey and foosball are two of the most recreational games that kids can play with their friends or family members at home. The former, in particular, is a staple in arcades, bars, and clubs.
As a popular toy for indoor play, air hockey tables are a go-to game for kids, mainly because of the adrenaline rush that comes with the activity! Younger kids may also benefit from this "non-physical activity" by learning the rules and gamesmanship.
Air hockey tables are perfect for kids because they improve the reflexes, develop critical thinking, and serve as a distraction from social media. Overall, toys like these decrease screen time and cultivate meaningful bonds with fellow peers offline.
That said, air hockey tables for kids are not just for kids, though; if you're young-at-heart and up for some competitive play, it's perfect for you too! Using a portable hockey table does entail some physical effort and provide some form of exercise and enjoyment at the same time!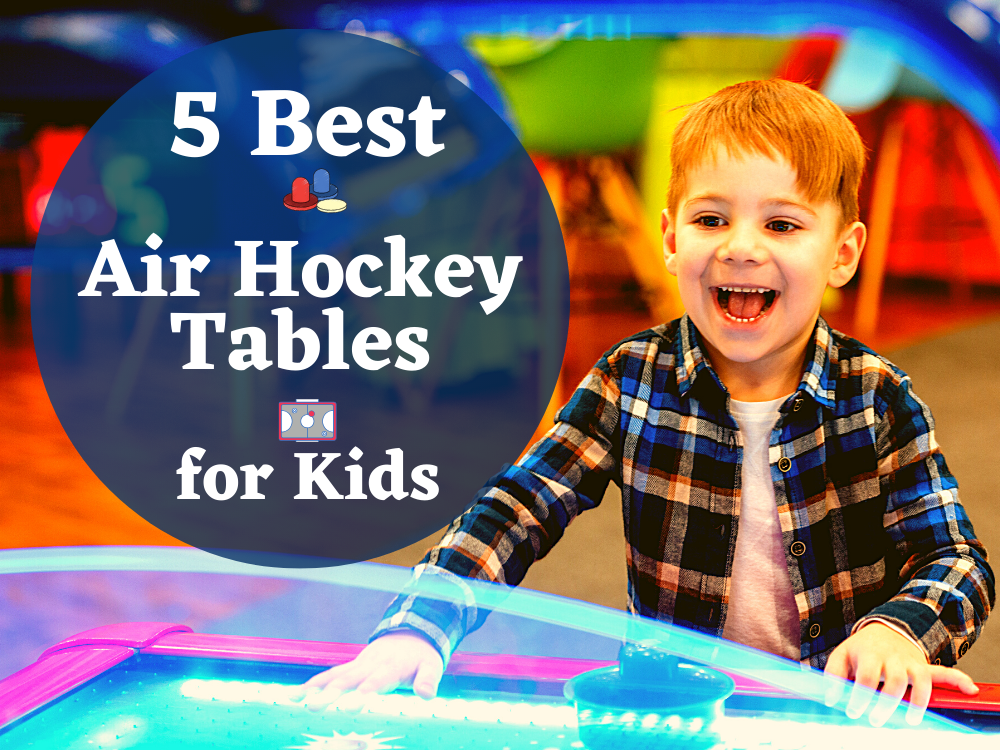 Here are the best air hockey tables for kids in the market today. The selling rates apply to these products on Amazon as of publishing.
1. Hey! Play!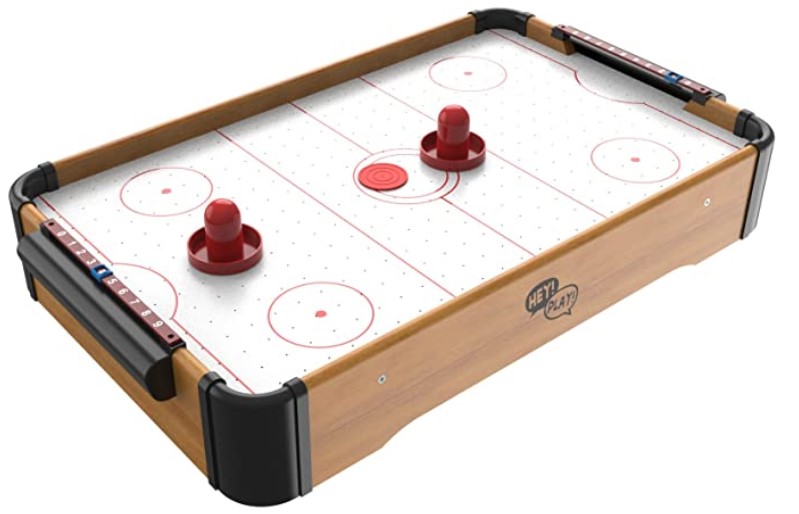 This portable Mini Arcade Air Hockey Table is ideal for small spaces built for maximum fun!
Keeping a full-size air hockey is space consuming and costly. This portable toy from Hey!Play! will give you and your kids the full benefits of playing air hockey—minus the bulk!
It's lightweight, so your kids can quickly bring this with them from their playroom to another spacious room to play with friends. After use, this table can easily be stored in a small compartment or cabinet until the next use.
The table is made from quality wood with plastic parts ensuring the safety and enjoyment of your kids for a long time.
Kids love to bring their toys for camping. This miniature air hockey table can be stored in a small space in the bag and brought with them for the trip. After camping activities, the kids can have a friendly match and play the afternoon away.
Keeping score is easy using the scorekeeper found on each side of the goal. Moreover, after scoring the puck in the goal, the automatic return technology allows players to keep focused on the game.
Air motor embedded in this table allows the puck to glide smoothly on the surface, making each game exciting and free flowing.s
No need to look for electric plugs to have a good game. It only takes eight pieces of AA batteries to power this small hockey table. For kids 3 to 5 years old, parental guidance is advised as some parts require assembly.
This set comes with two paddles and two pucks.
2. International Playthings Game Zone – Electronic Table-Top Air Hockey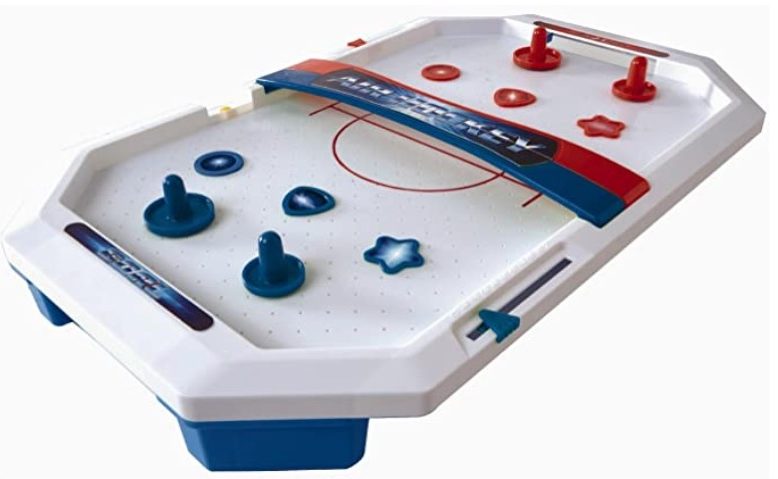 The International Playthings Game Zone Electronic Table-Top Air Hockey gives you the same level of fun as you would in the arcade.
Don't let its miniature size deceive you. Ideal for five years olds and above, this set is a good purchase fit for families and gatherings. Unlike your traditional air hockey set, this product from International Playthings provides electric airflow to let the pucks' hover' above the rink. Players will feel the difference as pucks go back and forth smoothly. Scoreboards, located at the end of each goal, are manually moved from scores 1 to 10.
Active kids require physical activities to burn that excess energy. Give them a break from screen time and allow them to explore playing air hockey with you, their siblings, or friends. This toy can be stored easily inside a pouch with the pucks and paddles. Each set comes with four paddles, six uniquely designed pucks, two bridge pieces, and a sticker sheet.
And this set is not exclusive only for kids! It's perfect for adult friends coming over for dinner.
3. Air Hockey Table Set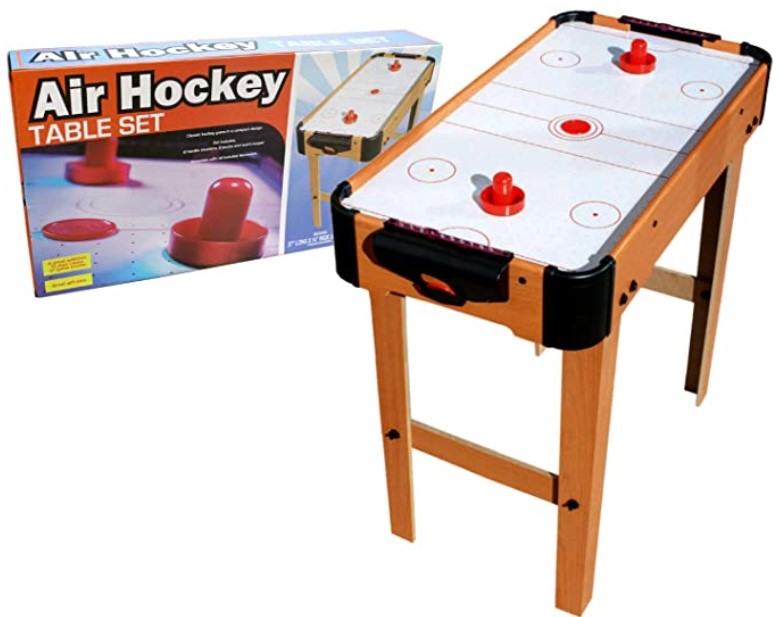 Having a hard time prying your children away from their devices? Let the Air Hockey Table Set keep them off-screen!
Perfect for playtime, this table set is created by Zelica for the young and young at heart. It can be set-up in small spaces too since it won't take much room to get two players in. It can be a great tool to help young kids explore other aspects of child development, such as social skills and hand-eye coordination.
All edges are blunted to prevent young kids from scrapes and blunt as they play. It's also set at 26 inches high, so you don't have to worry about finding a table for them to enjoy the game entirely.
For kids younger than seven years old, it would be best to assist them during the assembly of the set. Some parts may be hazardous or will require further assistance from an adult for kids below six years old.
This portable little hockey table set can be stored back in its box if they choose not to use it for a while. It would be an ideal space-saver where you can tuck this in a small corner of their playroom.
To activate this, use 3 "C" batteries. Each set comes with a set of shooters, pucks, and manual scorekeepers.
4. Ideal Lightning Air Hockey Kids Tabletop Game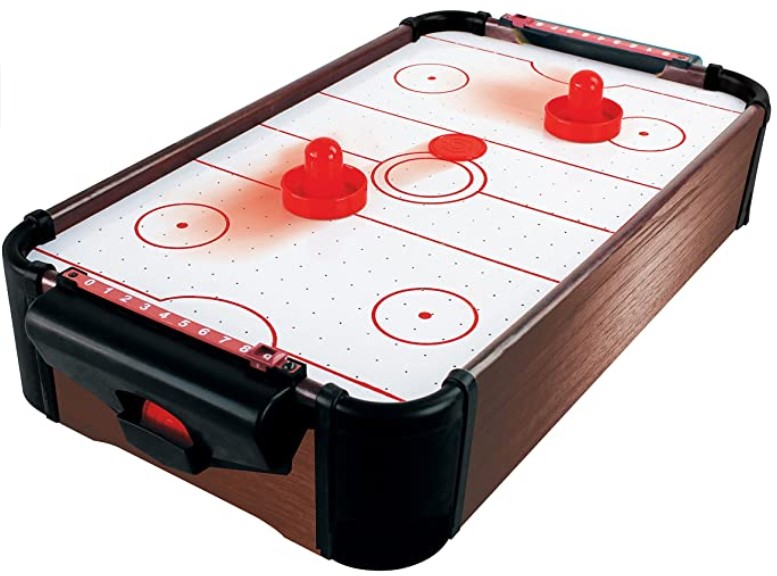 No need to go to your nearest arcade when your kids can have the same enjoyment with the Ideal Lightning Air Hockey Tabletop Game!
When you're always in the move, it's ideal to have toys that they can bring quickly. This product by Ideal is a 2-player game fit for kids 5 to 15 years old. It's lightweight so your kids can bring this with them for camping or a short trip.
It makes an excellent present for your kids on their birthday. Playing with friends using this air hockey set will help your children socialize. Active kids will also enjoy this non-physical activity that burns excess energy without the intensity of active sports and exercises.
With air jets blowing above the holes on the table, the puck moves smoothly over the surface for a satisfying air hockey game. Adults can also use this to play with their guests coming over for a weekend get-together. This portable tabletop set can be taken outdoors and played with the guests or kids over a barbecue.
Manual sliding scorekeepers are located on both sides of the goals to help each player keep track of the scores. As the puck slides into goals, this automatically slides to the back plastic slot for easy picking and play.
To use this tabletop, insert 8 AA batteries (not included in the set). This tabletop game set includes two paddles and two pucks.
5. Matty's Toy Stop Deluxe Wooden Mini Table Top Air Hockey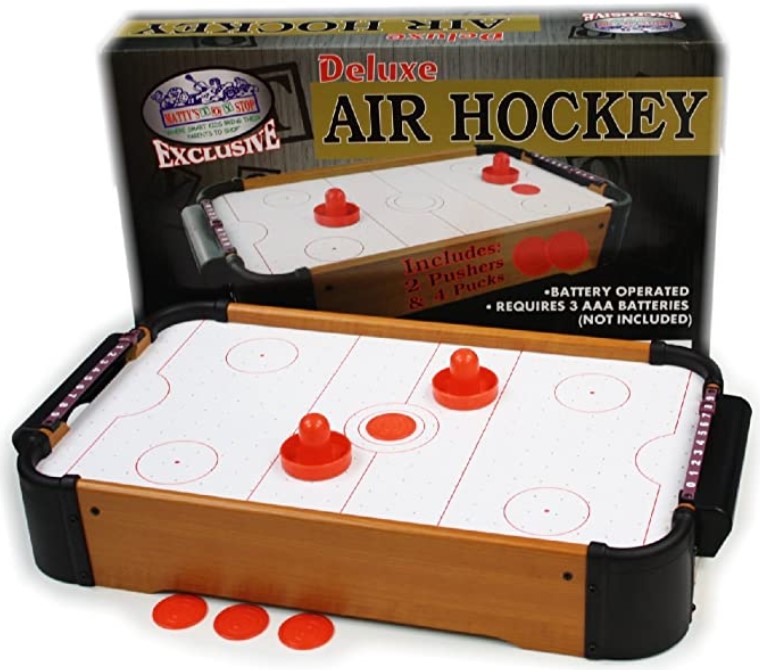 Get two set in one with Matty's Toy Shop Deluxe Wooden Mini Table Top Air Hockey that kids and adults will love!
Air hockey enthusiasts would surely love this dual set of foosball and air hockey tables made by Matty's Toy Shop. No need for extra space to enjoy the game. These portable sets can be used outdoors, too, so kids can play this with their friends out in the porch or lawn. '
The miniature air hockey is made of durable plastic and can be stowed easily in small spaces when not in use. Players will feel the pucks gliding effortlessly on the tabletop for a fast-paced play.
If your kids are not up for a more intense play such as foosball, this one will surely be a hit for lazy weekend afternoons! This air hockey set comes with two paddles and four red pucks. To power this set, use 3 AAA batteries.
If they are not up for an air hockey match, take out the foosball set. This game develops social skills, competitive play, and critical thinking since this is the fast-paced version of air hockey.
It will keep your kids engaged as they figure out a way to score with the opponent's defenses. It's an exciting game to share with other kids and adults as they try to outdo each other. This foosball set comes with four soccer balls.
There might be some assembly required for the air hockey tabletop game and foosball set. For children around 5 to 7 years old, it's best to have an adult guide them in finishing the set-up.