We know – nothing can make a teacher workday or summer afternoon at home go from relaxing to infuriating faster than "I'm bored." (That's what you get for not investing in summer camp.) That's why any smart parent should have some fun, easy crafts for kids up their sleeve.
With video games and YouTube, you might not have to break out your emergency supply of easy craft ideas for kids, but just in case, here's a selection of 50. Some you can leave the kiddos to themselves; some will require a little assistance. But all of our simple and easy crafts for kids will give you as much or as little stimulation and entertainment to fill up the downtime.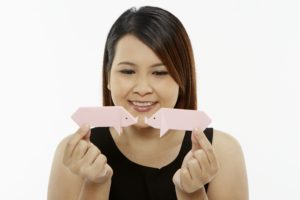 The ancient art of Origami has long been one of the most fun and easy craft ideas for kids. With everything from simple box designs to elaborate animals, games, and toys, origami is flexible, with endless possibilities.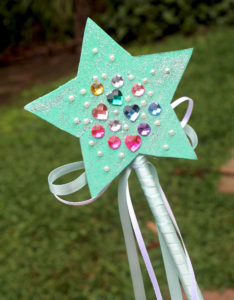 The Sparkly Fair Wand is one of the easy craft ideas for kids that can easily turn into whatever you want it to be. With a few changes to the crafting recipe, the "wand" can be a king's scepter or a superhero's power device. Let the kids use their imaginations to make it whatever they want it to be.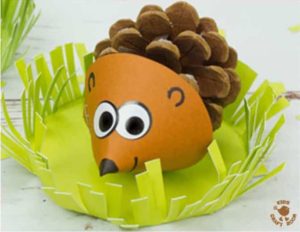 Pinecones are one the perfect materials/ingredients for any number of fun easy crafts for kids. This hedgehog is cute and easy, but it's just as easy to make a whole menagerie of critters by digging into that a craft bucket or using construction paper, glue and an active imagination.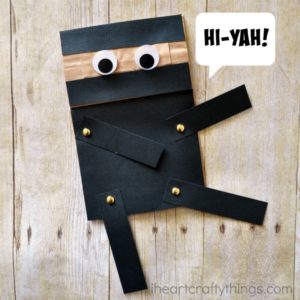 Paperbag characters are always one of the easy quick crafts for kids. With the rest of the package of paperbags, create paperbag puppets. They're colorful, fun, and easy to make. Best of all the kids can put on a puppet show.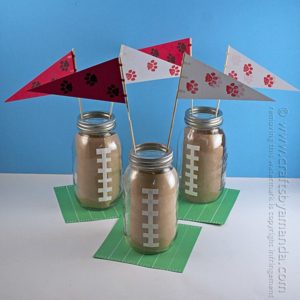 Kids love to help with centerpieces, particularly when it's for a sport they love. This football centerpiece is one of the super easy crafts to do with kids, and it uses materials that are typically pretty standard in a craft room/bucket/area.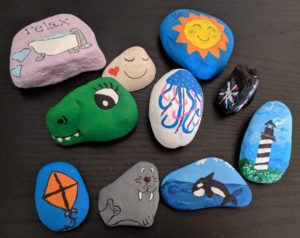 Every kid loves to paint rocks. It's one of the easy to do kids crafts that can quickly evolve into something of an obsession. Kids can create a village of rock people, create a zoo full of rock animals, or just create colorful rocks for their own collection. Some kids love to make rocks and then leave them in parks and other public areas for other people to find. It's a fun way to create fabulous creations while sharing their artistic talents.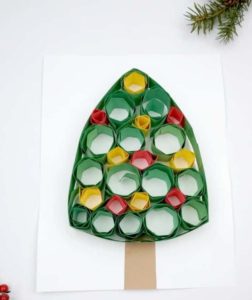 This Christmas-tree idea is another one of the simple and easy crafts for kids. Once they know how to do this, this is another one of those ideas that can snowball into any number of other fun creations.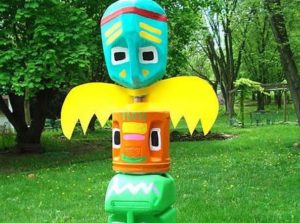 Milk jugs are another one of those materials/ingredients that are a great way to teach recycling while creating something fantastic, colorful, and unforgettable. Better yet, this collection offers fun and easy crafts to do at home for kids. The milk jugs become building blocks, sculptures, and all manner of other fabulous creations.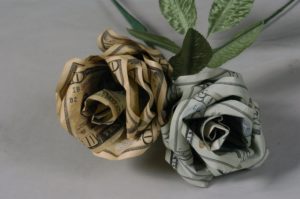 The money rose is another one of those easy crafts to do for kids. It's also a great way to jazz up a gift basket or any packaged gift. Kids may just decide that they'd like to keep the money rose themselves.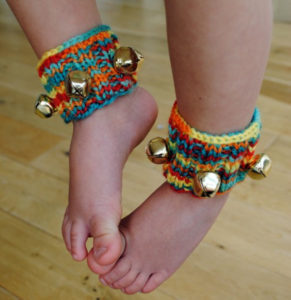 Kids love to make noise, but they can redirect their passion with these super easy crafts for kids. With a few friends or siblings, they can start their own band with this range of homemade instruments. We especially dug the knitted ankle jingle bells!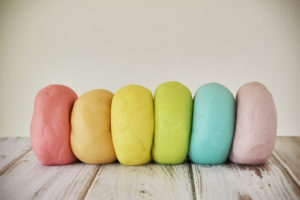 After the millionth time of buying playdough at the store that dries up in two seconds, it's pretty clear that this idea is one of the best yet. Playdough making is one of the most fun and easy craft ideas for kids. Beyond making the playdough, the kids then have endless hours of entertainment with the playdough.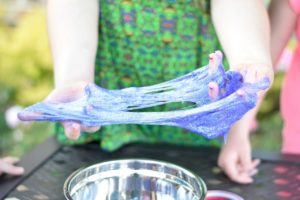 Slime, like playdough, is one of the most fun and easy craft ideas for kids. You can rely on slime for countless hours of entertainment, with so many options for colors, consistency, and other ingredients. (Glitter is fun to add!)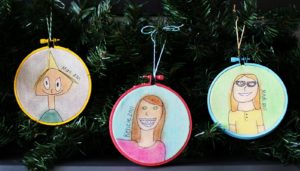 A self-portrait ornament is one of the most fun and easy crafts for kids. A handmade ornament pulled out during Christmas, will also become a treasured memento for years down the road.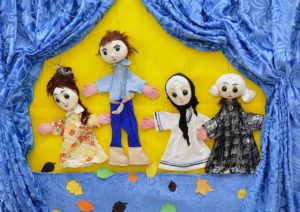 Puppets are easy crafts to do with kids. Gather up some old material to create outfits, try using posicle sticks as armatures- it's best to use what you already have on hand. And puppets are even more fun when kids turn their creations into a puppet show!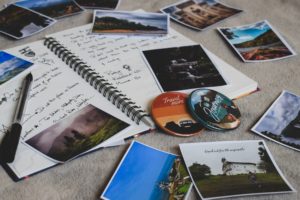 Scrapbooks are super easy crafts for kids, but they can be educational tools as well. Kids can collect pictures of just about anything and create a collection of favorite things, topics, places, or other fun ideas.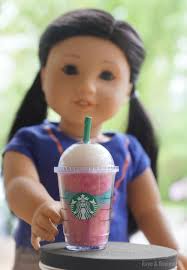 Of course we want our children to share – but a $5 frappo is not exactly something their BFF American Girl doll "Jess" really can utilize, ammaright? This little craft idea works well as a "pretend" beverage for any of your child's favorite dolls or other stuffed pals. Save yourself some money too!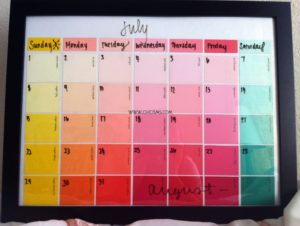 This Paint Sample Calendar is a fun way for kids to count the days and weeks as they fly by, but also make sometimes fun and recyclable for their room or play area. It's another one of the easy crafts to do with kids.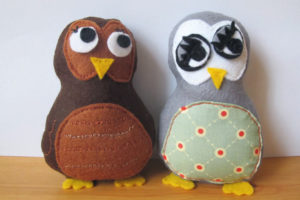 A felted owl is just one of the super easy crafts for kids that introduces them to the wonders of felt. Kids really can make and do pretty much anything they want to with felt. Felt critters like this owl are also some of the fun and easy crafts to do with kids. The critters they create can also become fast friends for the kids.
19. No-Sew Blanket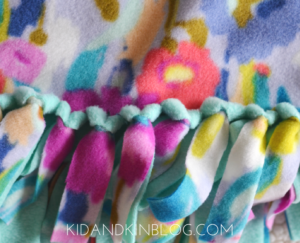 A no-sew blanket is one of the fun and easy crafts to do at home for kids, but it's also a little more substantial than some of the other crafts. Kids can use the blanket for their collections of animals or dolls.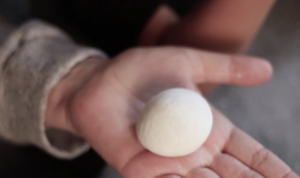 The bouncy ball is one of the most essential toys in every kids' arsenal, but they get lost so easily. Here's a fun way to teach kids about how stuff is made, while making them a toy that they'll love.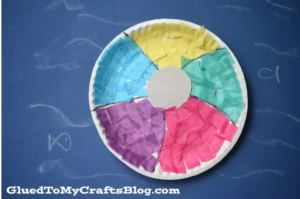 Just when the paper plate pack appeared to have no use at all, here's an idea for yet another way to repurpose the paper plate. It's also one of the fun and easy crafts to do at home for kids.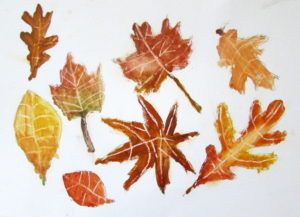 Got the kids to rake up the front lawn? Great, now grab some of those beauties and get your Autumn craft on! Leafy wax crafting is most often a fall activity, but kids can also find all sorts of fun ways to incorporate the wonders of nature into their wax paper crafting ideas.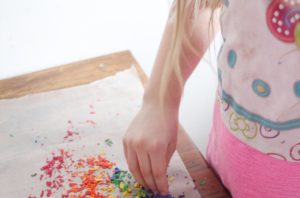 With some wax paper and some crayons, kids can not only create beautiful rainbows, but they can also create all manner of other waxy creations for a creative, festive window display. This one might seem like an easy craft to do with kids (and it truly is), however, it's always best for an adult to manage a hot iron.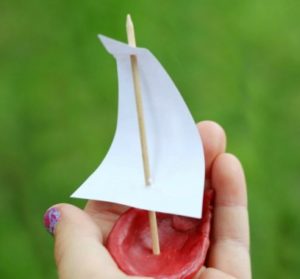 Wax Boats are easy to do kids crafts at their finest. Kids can mold the cheesy wax into the preferred boat shape, and then create some wax people and critters to go along for the ride. This crating idea is also a great reminder of how often the materials for crafts can be found for free in some of the most common object in everyday life.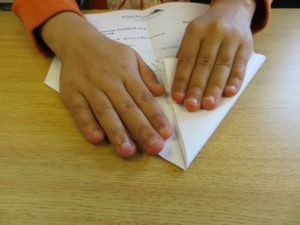 Yes, paper airplanes are educational too. Kids learn about flight, aerodynamics, and the importance of precision in creating the most stable paper airplane. The best part of the craft is the fun time kids have in their trial and learning process of flying their handmade paper airplanes.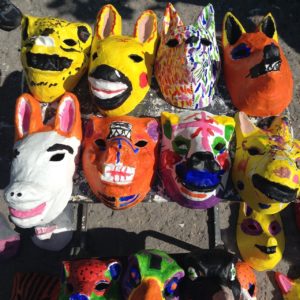 Paper mache is one of the easiest and most versatile crafting ideas. It's also a great way for kids to make sculptures, fun moldable objects, etc. With a bit of practice and some imagination, kids can make all sorts of amazing objects from the recycled materials lying around.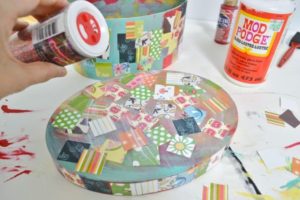 It had to be decoupage! It's one of the easiest and most fun kids can have with simple, recycled materials. It's one of the fun and easy crafts to do at home for kids, but it's also something that they can create for themselves or for a gift for family and friends. It's truly inspiring to see what the kids come up with for their decoupage projects.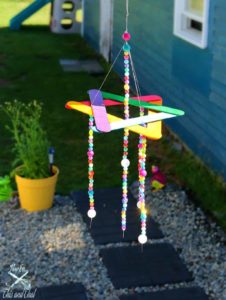 This beaded wind chime craft idea is another example of how kids can create a fun craft that's also a great gift or functional masterwork. They can hang it in their rooms or put it outside to catch the breeze. If they add a few bells or chimes material, it can also make noise when the wind blows.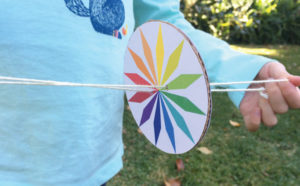 A whirligig is spinning fun at its finest. They're not really very easy to find in stores, so the best bet is for the kids to make one themselves. With a simple printed template, and some string, the kids have hours of mesmerizing entertainment. It's one of the fun and easy crafts to do at home for kids.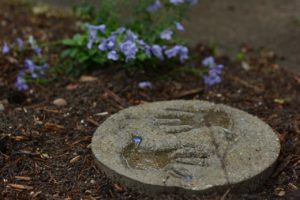 The Outdoor Stepping Stone is one of the easy to do kids crafts that can become part of a pathway outside, or it can be a fun DIY gift for family or friends.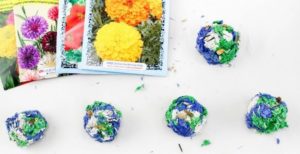 The Seed Bombs are an Earth Day idea that can be one of the simple and easy crafts for kids that they can do all year round. It's also something that you can watch grow, and make it just one of the science-slanted craft projects that they undertake.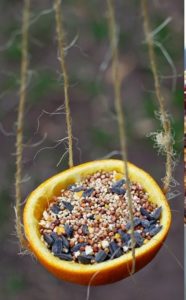 A bird feeder brings nature into the backyard, but the bird feeder crafts bring the experience closer to home. It's also just one of those fun and entertaining crafts ideas that help kids engage with nature and learn while they are having fun. This craft is also provides a great lesson in composting, as it uses the remains of an orange as the container for holding the bird seed.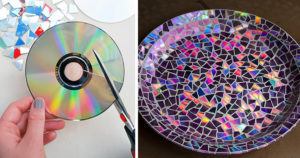 Kids may not even know what CDs are anymore, but they can use that stack of recycled CDs to make all manner of fun and entertaining crafts. This is another one of those fun and easy crafts to do at home for kids.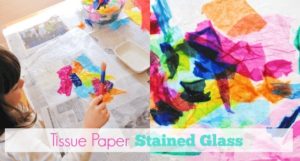 Tissue paper is another material that is the source for countless possibilities in crafting and fun. Kids can make stained glass crafts and turn tissue paper into all manner of creative masterworks.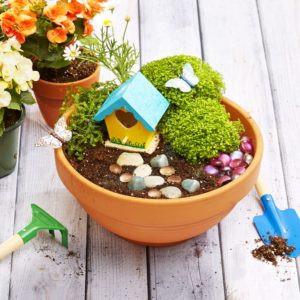 Fairy gardens are another fun and educational craft idea. While there are lots of ways to start a fairy garden, indoors or outside, what a kid puts in the fairy garden is all about crafting and personal preference. Kids know that fairies love bright, shiny, and homemade creations, the possibilities are endless. It's one of the fun and easy crafts to do at home for kids.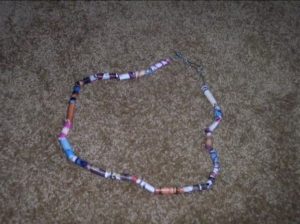 Paper beads are a fun way to teach recycling while tapping into one of the most fun and easy crafts to do at home for kids. This is another craft that really can become a fast obsession. How could it not be? With a few bits of paper and some glue, kids can make beads, chains, necklaces, earrings, and lots of other fun stuff.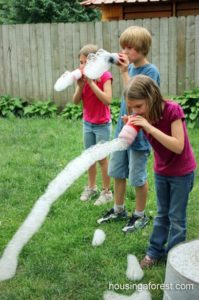 With a recycled plastic bottle, a towel, and some dish soap, kids can create sudsy snakes. This is one of those easy quick crafts for kids that makes for a fun outdoor play activity, but it can also be done indoors.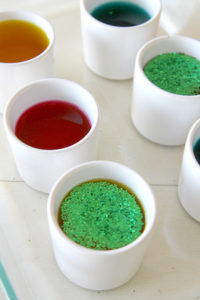 With the right set-up (baking soda and vinegar), kids can learn about chemical reactions, while they make a contained and fun mess with these mini volcanoes. The ingredients are also super flexible. Add food coloring, glitter, or see what other materials or ingredients will do when they are part of the mini volcano mix.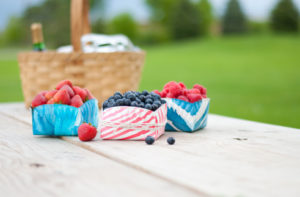 Here's another way to repurpose that stack of paper plates. Kids can make berry baskets, or they can also use the paper plates to makes other craftsy creations for their toys and themselves. It's also one of the fun and easy crafts to do at home for kids.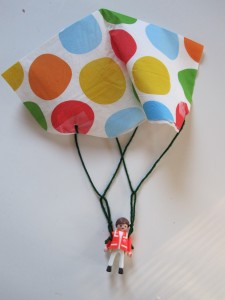 Have you got a lone lego man laying around? Want to put him to good use? Great! We've got the craft for you! And really, these little guys in the bottom of the toy box are begging to be practicing their parachute jumps. Here's one of the easy to do kids crafts that can extend the hours of play and fun for any kid with an active imagination.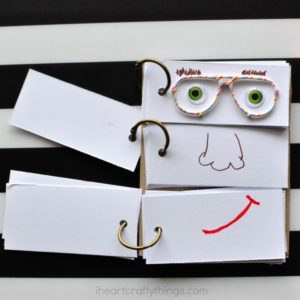 A flipbook is another fun activity that offers the fun of drawing and creating art with the entertainment of seeing how the progression happens. Come up with a theme and make a series of books with the whole family! The DIY flipbook may just be one of those projects that the kids (and adults!) will want to try again and again.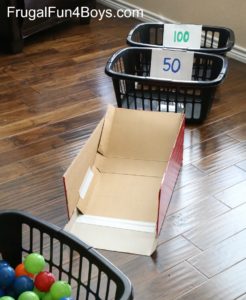 Who didn't love the skiball booth at the seaside boardwalk of their youth? This fun game just shows that kids can take pretty much any of the objects around the house and make something out of it. This is a great way to safely practice coordination, but it's also a fun time when the kids are cooped up indoors on a rainy or snowy day. Figure out a way for your basket to spit out tickets and you'll have a real winner!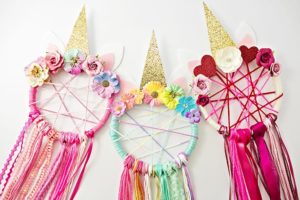 Dreamcatchers are fun and functional crafts that can help to chase away the monsters. When kids add the unicorn spin on it, they've personalized the crafting experience and made it more fun in the process. Kids can also make it a superhero dreamcatcher or really any kind of dreamcatcher they'd prefer.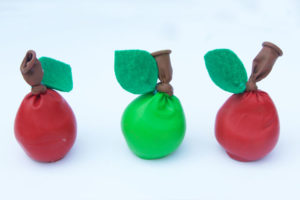 Take a balloon and some baking powder, and kids have a fun and manipulatable stress ball that's fun and functional. Beyond the apple, the kids can create other fantastic creations with the stress ball. Use a marker to add a face. Then keep this stress ball on hand for manic moments, for times when the kids are having a hard time focusing on homework, or just those times when they need something to play with that will help calm them.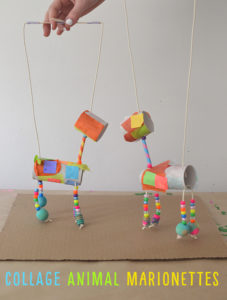 Kids can put the artistic power of paper collage to work for them with these fun animal marionettes. Save up those toilet paper rolls and colorful pipecleaners and get busy making your favorite creature dance accross the table! This craft combines puppet-making skills and theatre with recyled craft art for a great feel-good experience.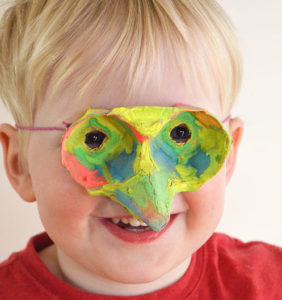 Kids can become anything with an Egg Carton Mask. It's one of the easy quick crafts for kids that also allows kids to put their imagination to work, transforming themselves into animals, superheroes, or all manner of other characters, critters, or creations. The endless possibilities with masks and play make this one of those activities that kids love to go back to again and again.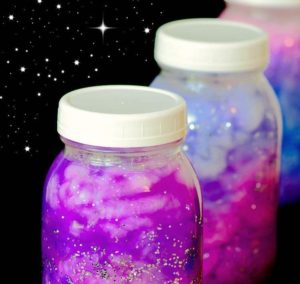 The galaxy or nebula jar is a fun way to learn about space, while making something that will continue to stick around for a long time to come. Add all the ingredients, including the glitter. It's one of the super simple and easy crafts for kids that also allows them to imagine what the experience of space must really be like.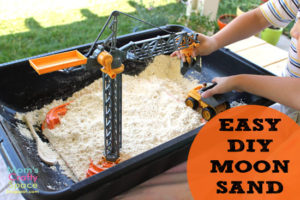 Moon sand can be lumped with the playdough and the slime as one of the most fun and easy crafts to do at home for kids. Kids love to use this stuff for making roads, shaping it, moving it around, and just having fun.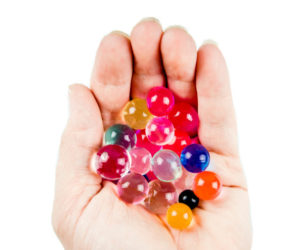 It's sometimes a struggle to find easy crafts to do for kids that are also edible for smaller children. Just face it, even the older kids still put stuff in their mouths. With tapioca pearls, you've got a fun and unique material that is edible and easy to use and re-purpose to this colorful play experience. For kids who love texture, this may just become one of their favorite activities.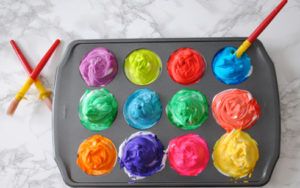 Homemade bath paint is controlled chaos. It's one of the super easy crafts for kids that is self-contained and easy to clean up. Bath paint also allows kids to have fun and get artistic in the bath. For those kids who hat baths, it can also be a way to entice them in and show them that baths really can be a lot of fun.
---
Related:
The 10 Best Road Trip Car Games For Kids
50 Great Ideas For Your Next Kid's Scavenger Hunt