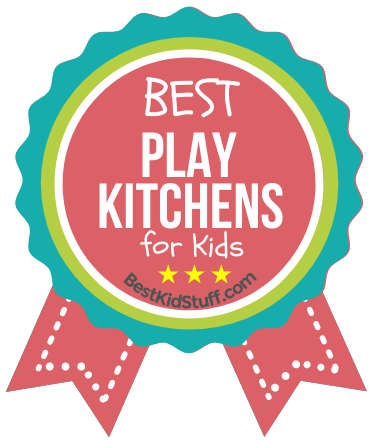 If your kids have been yearning to explore and play in the family kitchen, then wouldn't giving them one of the best toy investments be a great idea? Play kitchens make a wonderful present for kids.
They are safe and highly entertaining for kids. But there's more to these than meets the eye! Play kitchens are not just toys but are also tools that will contribute to your child's development.
Play kitchens help cultivate creativity in your kids and bring joy to pretend play. Whether they are pretending to cook or bake, mimicking adults in the kitchen, or playing the roles of waiter, waitress, or porter, youngsters learn and explore their social skills.
Play kitchens allow them to free play, which means they can do whatever they want without any adult intervention. This kind of toy also helps develop fine motor skills in your child. They learn to push switches, open door cabinets, turn knobs, hold bowls, spoons, and use other kitchen tools.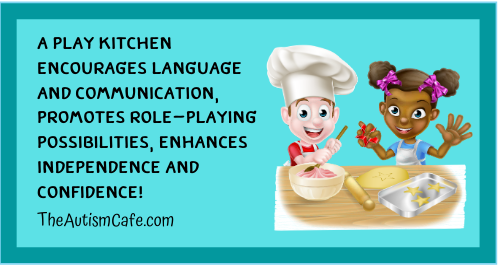 Also, any child can play this wonderful toy regardless of gender. Little boys and girls who have always shown interest in cooking will have a great time with these toys. Not all boys are fond of playing with robots, cars, or basketball. Some of them want to take charge in the kitchen, set the table for dinner, or learn different foods and cooking ingredients.
Will they become the next Gordon Ramsay or Rachael Ray? Only time can tell! For now, gift your kids with top-of-the-line and adorable play kitchens today. Here are the five best play kitchens for kids. They are all available on Amazon!
---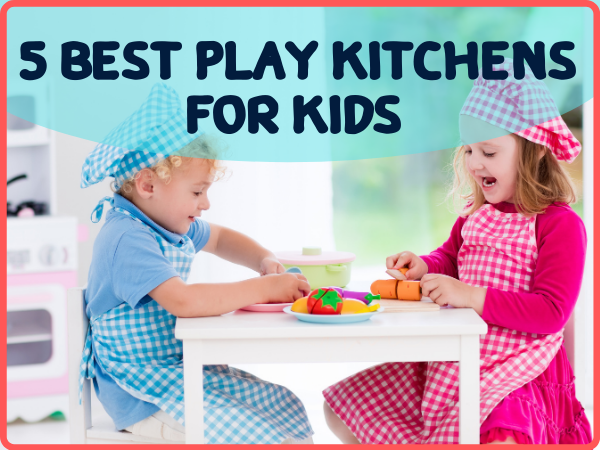 1. DEPRQ Kitchen Playset Childrens Toy Kitchen Set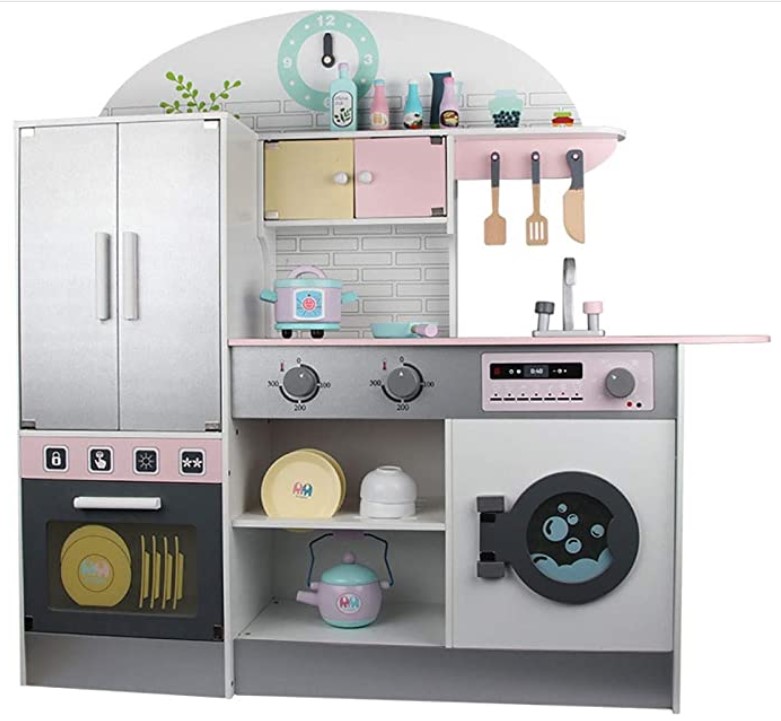 The DEPRQ Kitchen Playset will give kids age 3-8 years old a beautiful, modern design with gender-neutral colors. Once the kitchen set is completely assembled, it stands about 102.5 cm and is approximately 105 cm wide, so 2-3 children have enough space to play and interact with each other.
Materials are BPA-free plastics, non-toxic paint, and lacquers, and its solid wood construction makes it safe for your little one to play. It is adorned with interactive features that will keep your kids busy. Its cupboard door opens and closes easily.
Children will appreciate role-playing with a stovetop with dials that turn and click, a sink with a swiveling faucet, a dishwasher, a decent top shelf, and a bottom shelf that keeps pots, pans, and plates neat and organized.
Other pretend accessories include a wooden knife, kitchen utensils (which kids can hang on the included hooks), and condiment bottles. Kids below three years old must always have adult supervision to protect them from choking hazards.
What more could your little kitchen helper ask for? This has it all!
Don't forget the apron and chef's hat!
2. ZnMig Kitchen Playset Puzzle Children's Cooking Role Play Set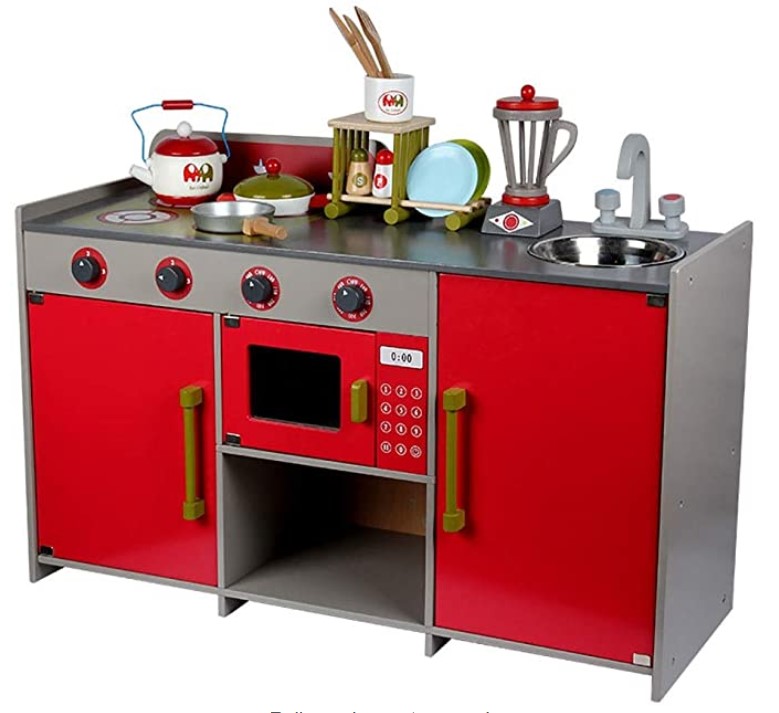 Let kids enjoy playing on their working and cooking stations by bringing them the ZnMig Kitchen Playset Puzzle Children's Cooking Role Play Set.
This play kitchen is 82 cm wide, so it's big enough for two or more kids to play. It is made of wood and BPA-free plastic, which makes for a sturdy toy your kids will play with for a long time. It is straightforward, and its non-gendered colors are not too bright nor too flashy. It's so realistic that your little ones would surely get carried away.
The ZnMig Kitchen Playset sports a removable sink with faucet and rotating handles, a stove with dials that click and clack, and a microwave oven with a door that opens and closes. Its cupboard provides a big space to accommodate your kid's pots, frying pan, kitchen tools, and wooden utensils.
This kitchen playset will keep your child busy as he/she pretends to prepare different meals.
Get them cooking today through this cute pretend kitchen playset, available on Amazon.com!
3. DEPRQ Kitchen Playset Children's Cooking Role Play Set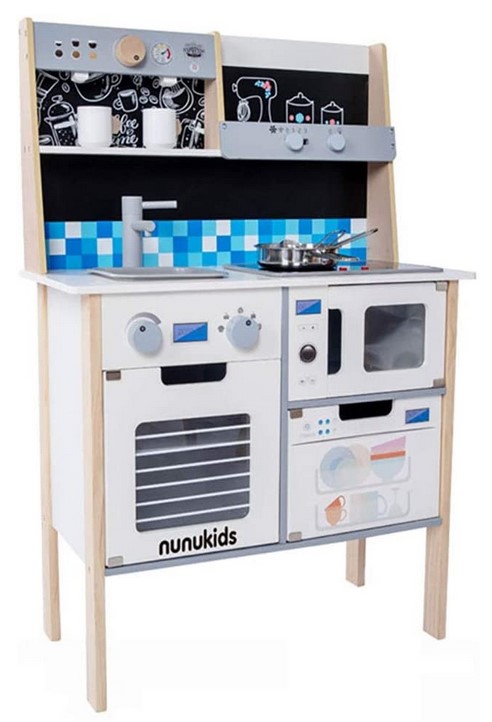 The DEPRQ Kitchen Playset Children's Cooking Role Play Set is perfect for those dealing with small spaces. It's suitable for a toddler's height and only measures 60 cm wide.
It has a unisex color scheme which little boys and girls age 3-8 years old will find attractive. What makes this play kitchen engaging to tiny tots are its realistic knobs, microwave, sink, oven, and a built-in coffee area.
The coffeemaker is perfect for little aspiring baristas. Kids can pretend to prepare their favorite coffee blend with buttons and switches. They can push for a more realistic feel. This modern-style kitchen playset comes with accessories that sport a stainless-steel appearance and are easy to clean.
Once your child is done cooking and making coffee, he/ she can pretend to wash the dishes, pots, coffee cups, and organize them in dishwashing rack.
If you are limited on space, this cute little kitchen is perfect for a child's room or small living area.
4. Kitchen Playset Little Bear Deluxe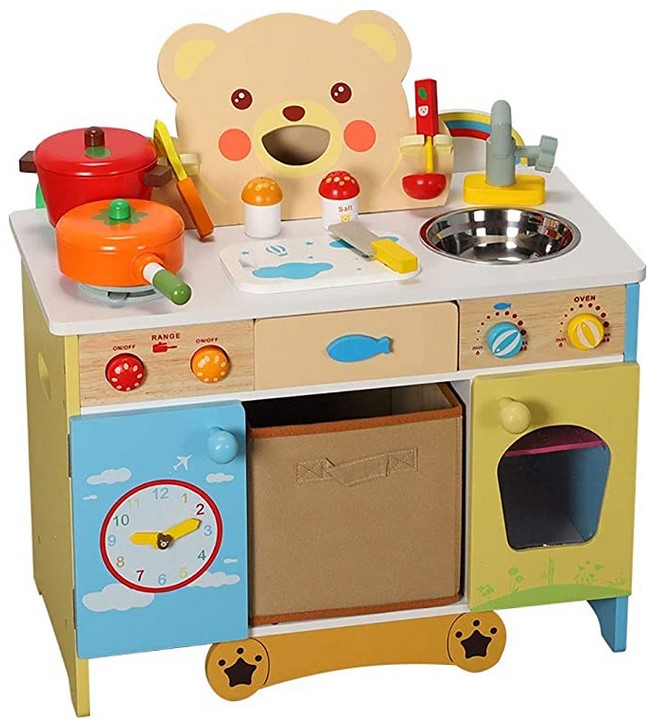 Get your kids entertained for hours without taking up too much space with the Kitchen Playset Little Bear Deluxe. This toy is compact, and its colorful design makes for a cute kitchen playset that your little tots will surely love. It is built and produced with safety in mind.
The set has rounded corners and is built from wood and BPA-free plastic to prevent kids from injury while playing. It will not only fill your child's imagination through pretend play but will also help develop fine motor skills with its turning knobs, buttons, and doors. It also comes with a movable clock that can help teach your toddlers about telling the time.
The Little Bear Deluxe is complete with a stovetop, a sink, oven, and cupboard doors that open and close, a drawer, and an open shelf for pull-out storage. Other accessories include a cutting board, knife, ladle, salt and pepper, a pot, and a frying pan.
This one is a great beginner kitchen for your small toddler… they want to help out in the kitchen, too!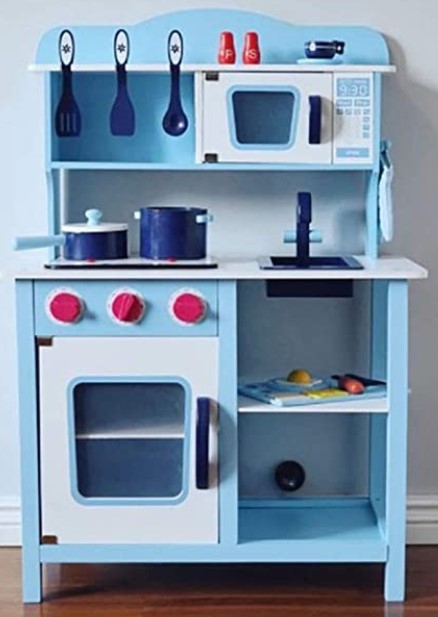 Another compact play kitchen on our list is the TOOKYLAND Kitchen Playset Kids Play Kitchen Set. It measures 60 cm in length and 85cm in height, which fits small spaces.
It is made of sturdy wood and non-toxic finishes that come in two colors— blue and white. Its sleek design matches any modern décor at home. It's simple yet well-built. Its pots have a stainless steel accent, and it comes with accessories such as play food, tray, kitchen utensils, and pots. It is easy to assemble as installation instructions are included in the set.
Kids get the excitement in exploring its microwave oven door that opens and closes, kitchen sink, a hob with modern switches and turning knobs, a cupboard, and two open shelves for adequate space for storage.
Another great option for small spaces. Check out the TOOKYLAND Kitchen Playset Kids Play Kitchen Set on Amazon.com!