As a parent, you're picky about what your children watch – and rightfully so. It's so difficult to find the middle ground between sheltering your kids from all media and letting them watch whatever they want. Some shows really can add value to your children's development by teaching them educational and life lessons, modeling positive behaviors and nurturing creativity. Other programs can have a negative impact, exposing your children to values you don't agree with, unintentionally promoting bad behavior or subjecting them to content that's inappropriate for their age. The question for busy parents is, "How do you tell which shows are the best for your kids?"
Our list ranks the top 10 best kids shows on Netflix based on the same factors that matter the most to parents. Whether your children are toddlers or tweens, you want to know that the content of the show is age-appropriate for its intended audience. You don't want your child mindlessly binge-watching inane shows while the world passes him or her by, so we gave extra merit to shows that provide real educational value about a topic like science, the arts and the world around us. Likewise, shows that include great and relatable role models and explore moral and life lessons earned high scores because of the positive ways they can impact impressionable children.
Creativity is a crucial part of being a child – and a trait parents should encourage their kids to develop and carry with them into adulthood – so the best shows are imaginative and invite viewers to use their imaginations, too. Of course, no matter how positive and educational a show may be, children won't watch it or learn from it if they don't find it entertaining, so fun is a factor, too. The shows that made our list include Netflix originals and classic 90s throwbacks. Some are based on books, others on songs, and still others are revivals of beloved children's series from before the dawn of video streaming. You'll find recommendations for shows for children ranging from toddlers to pre-teens and teens, so there's sure to be a show on this list for every young Netflix viewer.
1. Ask the StoryBots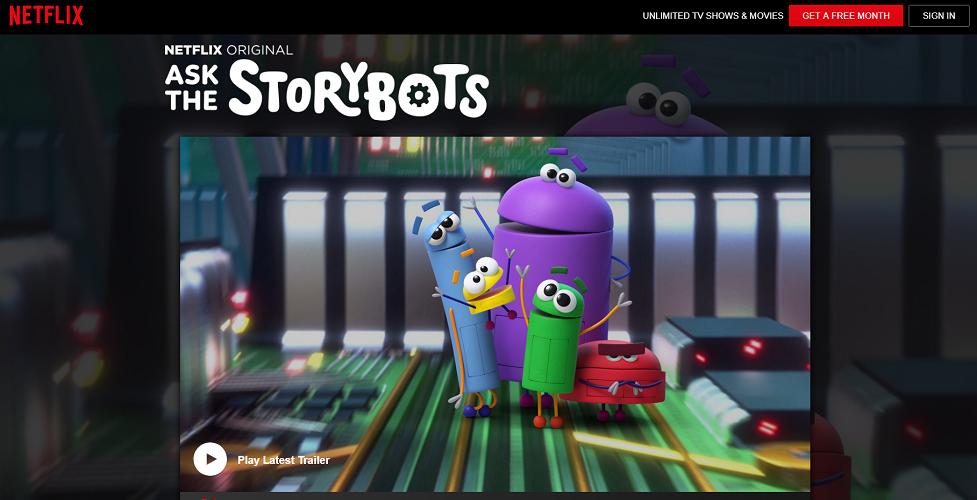 Every kid goes through a "Why?" phase. While that constant question is enough to drive parents nuts, it's also a good sign that your child is aware of and curious about the world. The Netflix-original television series Ask the StoryBots, based on the established StoryBots franchise, answers the whys, wheres and hows of a multitude of topics, including how airplanes fly and why kids need to brush their teeth. Colorful characters Beep, Boop, Bo, Bing and Bang comprise Answer Team 341B, which ventures forth from their home within computers and other devices to explore the world and find answers to kids' questions. The twist is that this is a kids' series made for a modern audience. Ask the StoryBots incorporates today's technology into its format and its content, with questions such as "How Do Computers Work?" Prior to starting their work on StoryBots, the show's creators made a name for themselves producing immensely popular political humor videos for a grownup audience, and this children's series shares that same humorous tone – making it a hit with parents and children alike.
Pros and Cons
Pros
The laugh-out-loud funny StoryBots franchise, including the Ask the StoryBots Netflix series, was developed by brothers Evan and Gregg Spiridellis. The Spiridellis brothers had previously made a name for themselves for their digital media website JibJab, known for its political humor and satire videos.
Every episode of Ask the StoryBots is rooted in educational programming, as Beep, Boop, Bo, Bing and Bang answer the question posed in the episode's title.
Technology plays a crucial role in the StoryBots franchise, but young viewers also learn the answers to classic questions, like what makes the sky blue and where rain comes from.
Ask the StoryBots includes special guest appearances by celebrities parents are sure to recognize, including Jay Leno, Whoopi Goldberg, Snoop Dogg and "Weird Al" Yankovic.
The tunes in each episode are catchy, with smart, educational and amusing lyrics.
StoryBots is a whole franchise, including digital learning books, printable worksheets for offline fun and a series of Starring You digital videos and books that you can customize with your child's photo. Children also love the companion show StoryBots Super Songs, also on Netflix, the content of which is more topic-based than question-based. A StoryBots Christmas, the franchise's 2017 holiday special, was also well-received.
The award-winning series received the Daytime Emmy Award for Outstanding Interactive Media – Enhancement to a Daytime Program or Series in 2017 and an Annie Award for Best Animated Television/Broadcast Production for Preschool Children in 2019.
The half-hour format is long enough to answer questions in a level of depth appropriate to an audience of preschoolers and early elementary schoolers, but not so long that children will lose interest.
Though there are currently three seasons of Ask the StoryBots, the total number of episodes is 22. However, the amusing show is enjoyable enough to rewatch.
Cons
With a recommended age range of 3 to 8, the show can be overstimulating for some toddlers. Some parents, particularly of younger viewers, found the series too "flashy" and "busy" for their kids to enjoy.
Younger children occasionally find the character of Hap, the often-angry manager of Answer Team 341B, to be a little upsetting.
Parents noted that some of the language is geared more toward older kids, and that younger kids aren't likely to fully understand the content and the jokes.
Score
Educational: 99/100
Moral messages: 93/100
Imaginative: 98/100
Fun for kids: 99/100
Age-appropriate: 96/100
Overall score: 97.0/100
2. The Magic School Bus Rides Again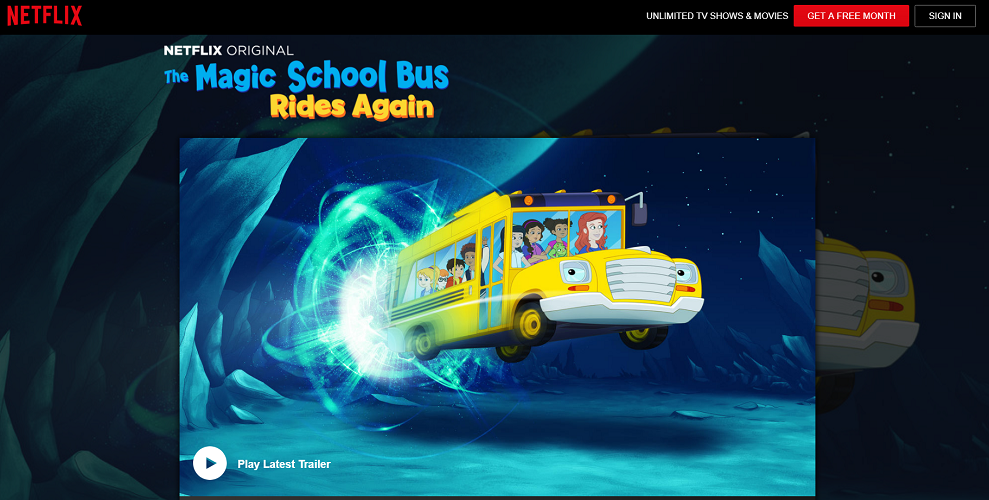 Many of today's parents were children in the 90s, so they inevitably grew up with the Magic School Bus books and the beloved Saturday morning cartoon series. The Magic School Bus Rides Again, a Netflix original series that premiered in September 2017, revisits and reinvigorates the educational programming that made learning seem downright magical. The series is both a continuation of its predecessor and a reboot, with the original series' Miss Frizzle – better known as "The Friz" – retiring from Walkerville Elementary and her younger sister Fiona taking over as the new third-grade teacher. When Miss Frizzle hands over the keys to Fiona, the magic school bus itself gets an upgrade in line with today's technology. Some of the content of the episodes is reminiscent of the original show, with field trips into prehistoric times to study fossils or inside the human body to learn about allergies. However, the revival series also incorporates new technology and inventions, with episodes that focus on computer codes and adventures that including riding on top of a drone. The Magic School Bus Rides Again is one program parents can feel comfortable letting their kids watch – or better yet, watching right alongside them. The whole family can "take chances, make mistakes and get messy" together!
Pros and Cons
Pros
Like the original show, The Magic School Bus Rides Again offers a lot of educational value and makes learning fun. Parents can feel good knowing that kids are learning as they watch, not just mindlessly staring at a television.
The imaginative show fosters creativity and innovation, and many of its episodes involve learning lessons that help students with their own inventions and artistic projects.
As with the original show, the animation, music, exciting storylines and quirky characters continue to appeal to children in the intended 5 to 7 age range – and beyond.
Because our knowledge of science, technology and the world around us has increased a great deal since the 90s, watching new episodes of The Magic School Bus Rides Again is more educational than showing your kids old reruns of the previous show, some of the lessons of which are now considered outdated.
In 2018, The Magic School Bus Rides Again won the Parent's Choice Silver Honor for Spring 2018 Television as well as the Common Sense "Great for Families" seal.
The Magic School Bus Rides Again has released 4 seasons. Netflix also airs all 4 seasons of the original Magic School Bus.
The half-hour format is long enough to explore educational topics in a level of depth appropriate to the age range, but not so long that children will lose interest.
Cons
Some parents feel that the new show doesn't live up to the standards of the old one, suggesting that Fiona is not as "crazy" or "wacky" as the original Miss Frizzle and that the learning experiences are less challenging.
The technology used in the animation of The Magic School Bus Rides Again is different from that used to create the original series, which some parents and children found disappointing.
Some viewers felt that the educational content was "dumbed down" compared to that found in the previous show.
Score
Educational: 99/100
Moral messages: 92/100
Imaginative: 97/100
Fun for kids: 98/100
Age-appropriate: 97/100
Overall score: 96.6/100
3. Julie's Greenroom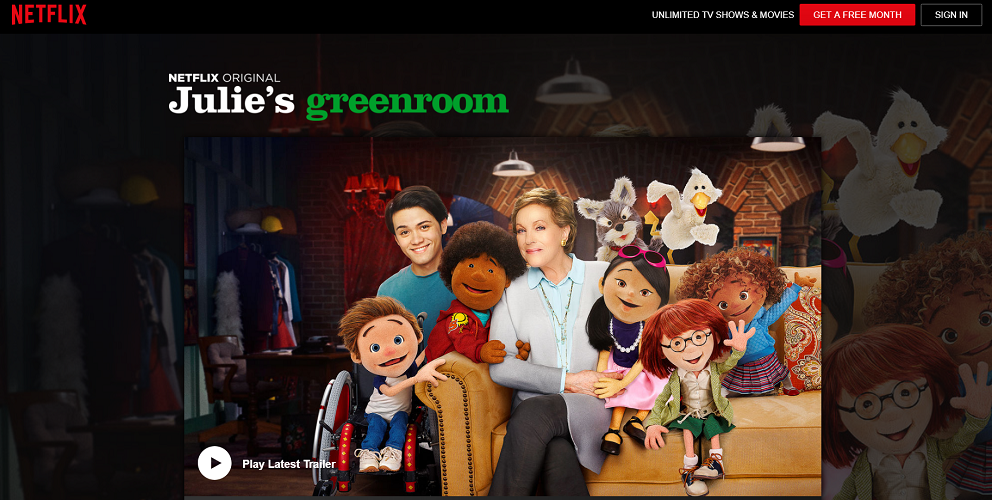 It's never too early for children to begin learning about culture and the arts. Julie's Greenroom is a live-action program for preschoolers that stars film and stage icon Julie Andrews as a performing arts teacher – herself – alongside a cast of puppets created by The Jim Henson Company. Celebrity guests such as Idina Menzel, Josh Groban, Alec Baldwin and Sarah Bareilles appear to teach the puppet-students, known as the "Greenies," about acting, singing and writing for the stage. Parents and children alike find Miss Julie and her puppet-students charming and appreciate the uniquely educational approach of the show.
Pros and Cons
Pros
While not educational in the traditional sense of teaching toddlers their colors or teaching elementary schoolers about science, Julie's Greenroom teaches the skills, processes and etiquette of the performing arts.
The learning part of the show is subtle, so children won't feel that watching it is a chore.
The puppets make the show quirky and fun for younger audiences, and parents praise the quality of the interactions between real human stars and the puppets.
The program celebrates diversity and differences, sending a positive message of acceptance.
For parents who grew up watching Julie Andrews in Mary Poppins and The Sound of Music, or with the Muppets and films like The Labyrinth, the Netflix original series is sure to spark some nostalgia.
Both kids and parents will get a kick out of the special guests who act as mentors to the Greenies.
As you would expect from a show all about the performing arts, the musical numbers are catchy and beautifully performed.
The half-hour format works well for the intended age group of preschoolers, who might lose interest if the episodes were much longer.
Cons
This show might not be what many parents have in mind when they think of educational programming.
Since only one season of the show was released, there are just 13 episodes total for your kids to enjoy.
Children who are not artistically inclined might not be overly interested in the subject matter.
Some parents felt that the puppets were less relatable than a cast of real children would have been.
Score
Educational: 96/100
Moral messages: 95/100
Imaginative: 96/100
Fun for kids: 95/100
Age-appropriate: 93/100
Overall score: 95.0/100
4. Beat Bugs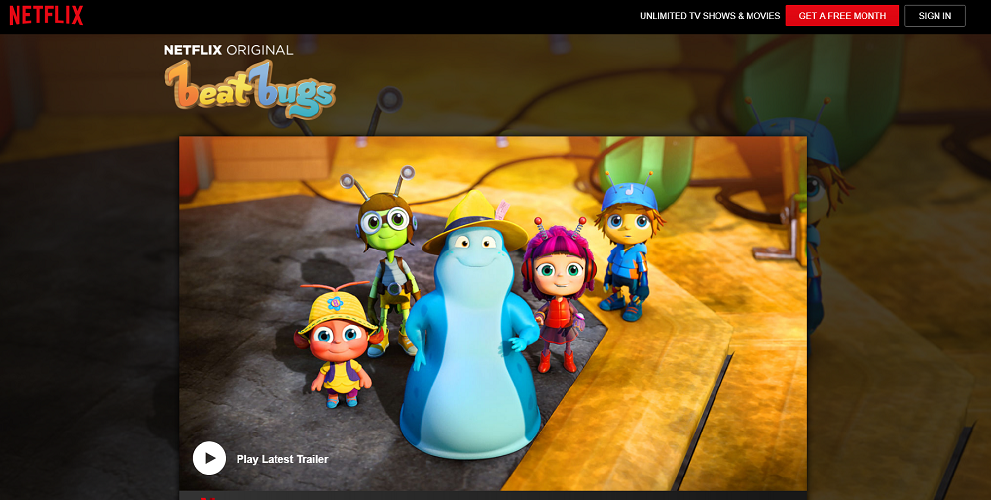 Parents and grandparents who are big Beatles fans will love Beat Bugs as much as the kids do! Incorporating legendary music by the Beatles into each episode, the series follows Jay the beetle, Buzz the fruit fly, Crick the cricket, Kumi the ladybug and Walter the slug as they learn life lessons in the Village Green. Colorful animation and cover versions of classic Beatles songs by contemporary artists bring to life the story of the anthropomorphized young bugs who star in this British-Australian-Canadian series. While Beat Bugs has more entertainment value than real educational value, the theme for the series – "All You Need Is Love" – sets the tone for the positive, uplifting messages found in every episode. When your 5-year-old is a Beatles fan, you know that's parenting done right.
Pros and Cons
Pros
This fun show is perfect for expanding the horizons of music-loving children and introducing them to one of the most influential rock bands in history. If you've ever wished your kid's taste in music were a little more cultured compared to today's pop tunes and old-school nursery rhymes, this is one program to check out.
Beat Bugs is an award-winning show that received an AWGIE Award for Animation and an AACTA Award for Best Children's Television Series in 2016, followed by a Daytime Emmy Award for Outstanding Writing in a Preschool Animated Program in 2018.
The show, which premiered in 2016, has already released its third season – so, although we can't guarantee that your children won't insist on watching the same episode over and over again, there are dozens of different episodes for kids aged 5 to 7 to enjoy.
For kids who can't get enough of 20th-century classics, Beat Bugs creator went on to launch another series, Motown Magic, in November 2018. While the character and stories are different – Motown Magic revolves around the adventures of a boy named Ben and his magic paintbrush – the role of music in the series is similar. Motown Magic is based on Motown songs by acclaimed artists like The Temptations, The Supremes, Marvin Gaye and Smokey Robinson.
The half-hour format is long enough to keep kids entertained but not so long that they will get bored.
Three seasons are available with 52 episodes!
Cons
As adult fans already know, Beatles songs include content that isn't child-appropriate, such as lyrics that involve references to drugs and sex. While some parents felt that enough of the questionable content was removed from the Beat Bugs versions, others disapproved of certain song choices.
Some parents disliked the cover versions of classic Beatles songs or the changes made to those songs, such as cutting out whole verses.
While the life lessons and emphasis on love are certainly valuable, this show is less educational in nature than many other children's shows.
The target age range for this series is on the small side, intended to appeal only to kids who are 5 to 7 years old.
Score
Educational: 90/100
Moral messages: 94/100
Imaginative: 99/100
Fun for kids: 97/100
Age-appropriate: 89/100
Overall score: 93.8/100
5. Super Monsters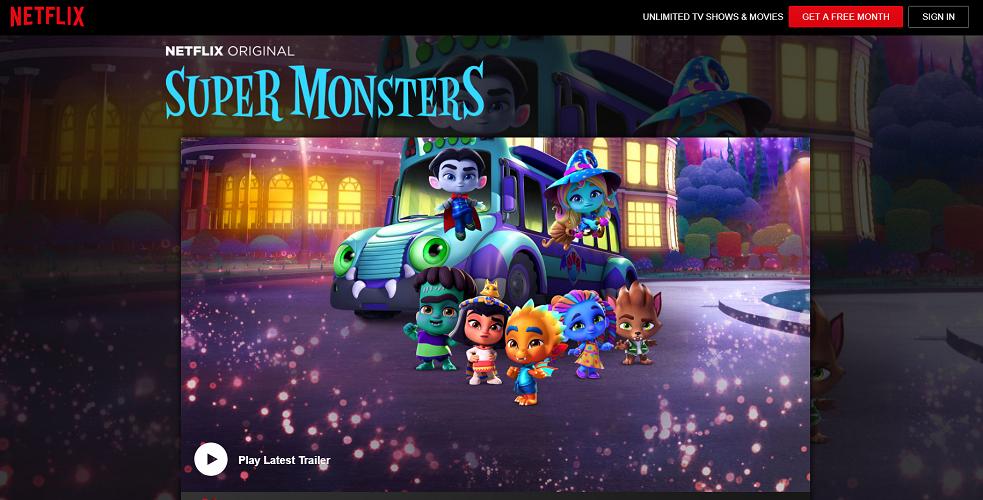 If you don't want your child acting like a monster, you've never seen the Netflix original series Super Monsters. Drac, Katya, Lobo, Cleo, Zoe and Frankie aren't typical preschoolers. They're the sons and daughters of the world's most famous monsters. When the sun goes down every night, they transform into a vampire, a witch, a werewolf, a mummy, a zombie and a stitched-together monster in the vein of Frankenstein's creation. Throughout the series, these children must learn to control their superpowers, but they also learn so much more. Parents love the positive behavior modeled by the characters, who – like real preschoolers – sometimes make mistakes, struggle with emotions and communication and have to face the consequences of their actions. The series, which premiered in 2017, somewhat jumps on the monster bandwagon made popular by predecessors like the Hotel Transylvania franchise, but viewers have called Super Monsters "imaginative" and "creative."
Pros and Cons
Pros
The show approaches topics like respecting differences, sharing and minding manners.
Like the best parts of Halloween, Super Monsters is fun without being too scary.
Watching this show could help children who are afraid of monsters conquer their fears. The characters prove not to be spooky at all but instead adorable, kind, gentle and easy to relate to.
Although the show isn't scary, its focus on monsters appeals to kids' desire to do something grownups do – watch monster movies. It's especially a must-see if you are a monster movie or horror movie buff yourself and want to begin sharing that love with your children in a way that's appropriate for their age.
The half-hour format makes episodes easily digestible and perfect for a quick watch before bedtime or dinnertime.
Super Monsters has released 3 seasons with 22 total episodes for your child to enjoy. Parents and kids alike are still clamoring for more.
Cons
Although kids in the preschool age group the show is intended for might not be bothered, some older kids and adults take issue with the logic of the show, including why the characters transform between humans and monsters, what powers they have and even why the program focuses on monsters to begin with.
While kids generally find the show entertaining, some older viewers thought the plotlines were "weak" and felt that the series misses opportunities for fun by making the monsters a little too scary.
Unlike other kids' shows in which the music is one of the highlights of the series, the music of Super Monsters leaves a lot to be desired. Parents find it obnoxiously loud, repetitive and somewhat boring, without clever lyrics.
Although the characters of Super Monsters are positive role models and the show teaches valuable lessons about accepting differences and learning from mistakes, you won't find the level of educational content in this show that you would in some other top children's programs.
Score
Educational: 85/100
Moral messages: 93/100
Imaginative: 96/100
Fun for kids: 97/100
Age-appropriate: 96/100
Overall score: 93.4/100
6. Bill Nye the Science Guy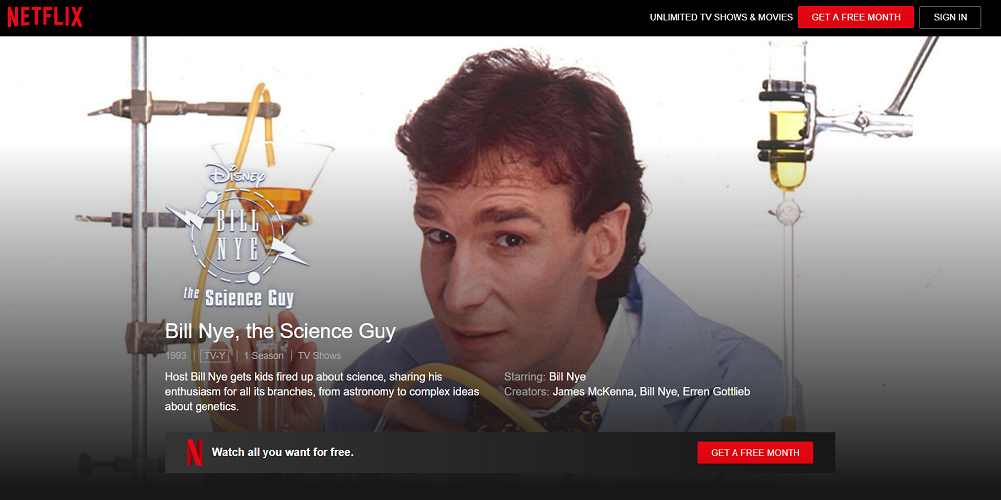 Another show that many of today's parents grew up watching themselves was Bill Nye the Science Guy. The educational science show tailored to elementary schoolers premiered in 1993, years before Netflix even existed and long before video streaming became a reality. Yet the award-winning and widely admired show continues to be reviewed highly by today's parents and children, earning a place on critics' lists of the best children's shows on Netflix. Over the course of the award-winning show's 3 seasons, Bill Nye covered 100 science topics ranging from planets to pollution and dinosaurs to deserts.
Pros and Cons
Pros
The show's focus on science makes it naturally educational.
The fun, humorous approach to learning and experiments make science much more interesting than what kids read in a textbook.
Parents who have fond memories of the series from their own childhoods don't have to worry about what their children are watching and may even enjoy looking back on the childhood favorite show themselves.
With 5 seasons and 100 episodes, Bill Nye the Science Guy offers plenty of quantity and variety to keep kids interested.
Since the show is not a reboot, it won't face the problem of seeming to detract from or fail to live up to the expectations of the original.
The half-hour format is long enough to explore educational topics in a level of depth appropriate to the age range, but not so long that children will lose interest.
Cons
Nostalgic parents may be bigger fans of this show than kids, especially since learning technologies and expectations (as well as attention spans) have changed since the 90s.
Some of the science taught in the show is now outdated due to the new discoveries, innovations and research that have taken place in the 20 years since the show's final season originally aired.
As curricula have changed over the years, the concepts taught in the show that were once brand-new ideas for children in the target audience age group may no longer be considered age-appropriate. Today's children may already learn much of the material covered in the show from materials meant for a younger audience.
Score
Educational: 92/100
Moral messages: 91/100
Imaginative: 90/100
Fun for kids: 93/100
Age-appropriate: 95/100
Overall score: 92.2/100
7. A Series of Unfortunate Events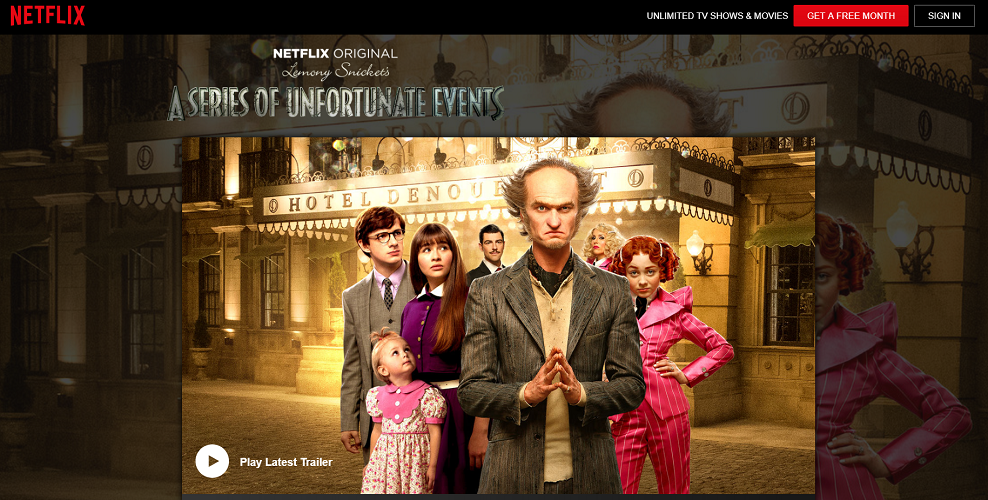 Teens and tweens love the star-studded Netflix original show A Series of Unfortunate Events based on Lemony Snicket's wildly popular 13-book novel series. Like the books, the show is dark, spooky and mysterious. For older age groups and more mature tweens and teens, the story of orphaned children Violet, Klaus and Sunny Baudelaire is compelling and brimming with dark humor. Viewers who were fans of the book series praise the show for being unusually faithful to the books for an adaptation. A Series of Unfortunate Events accomplishes this by stretching the storyline out over 3 seasons, so that the first season covers just the first 4 books, the second season the next 5 and the final season the last 4. Parents should know that the series is not appropriate for young children, as it has the definite potential to be too dark, creepy or otherwise inappropriate. It's a good idea for parents who are on the fence to preview A Series of Unfortunate Events on their own before showing it to their children.
Pros and Cons
Pros
Older children and adults enjoy watching this more mature show for the mystery, suspense and dark humor.
The show's protagonists, the Baudelaire children, are good role models that viewers call "kind," "intelligent" and "cunning."
New and old fans of the book series alike will appreciate that the show stays true to the tone and the content of the novels.
Parents will recognize stars such as Neil Patrick Harris, whose enthusiastic performance as villain Count Olaf garnered critical acclaim.
The series won 8 awards from 2018 through 2019, including awards for costumes, makeup, hairstyling and music.
The 3 seasons, culminating in 25 total episodes, allow much more room for the story to develop than the film adaptation of the series attempted in 2004.
The longer episode formats, with runtimes typically in the range of 43 to 55 minutes, work well for a live-action drama that might otherwise feel too choppy in a half-hour format.
Children who enjoy the show might be keen to start reading the book series, too.
Cons
Although the show is based on what is supposed to be a children's book series, both the show and the book are dark in tone and content.
Many parents find the tone and subject matter – which includes some onscreen and offscreen violence as well as sexual innuendos – too mature even for their older children.
As the title suggests, the events of the show are unfortunate – and children (as well as adults) who start watching in hopes of a truly happy ending may be disappointed.
While the Baudelaire children themselves are positive role models, there are many bad characters in the show, and many of the other good characters meet untimely demises.
Though the show is based on a book series, it isn't inherently educational as other children's shows are.
Score
Educational: 87/100
Moral messages: 85/100
Imaginative: 99/100
Fun for kids: 97/100
Age-appropriate: 89/100
Overall score: 91.4/100
8. Creeped Out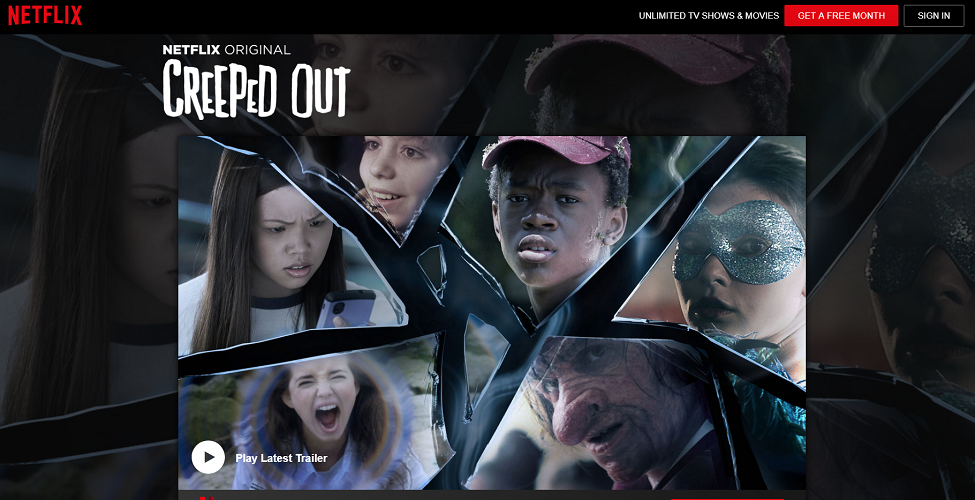 For parents who remember watching Are You Afraid of the Dark? on Nickelodeon, children's horror anthology series Creeped Out might feel familiar. Each episode portrays its own tale of mystery, suspense and age-appropriate horror for older children. It's a character called "The Curious," a masked observer who "collects" supernatural stories, always with moral lessons in them. Drawing from classic supernatural series such as The Twilight Zone, the British-Canadian show achieves an ominous, eerie that's perfect for young fans of the spooky and mysterious.
Pros and Cons
Pros
The show is meant to be just scary enough to be fun for older kids, and most of the time, it achieves that goal.
Ideal for kids who love mystery and suspense but are too young for gory, nightmare-inducing grownup horror films.
The moral lessons in each episode allow the show to make a positive impact, even if it isn't educational.
The half-hour format makes episodes easily digestible and generally wraps up stories before they become too scary for the target age group.
The show has two seasons, so if your children do enjoy it, there are 23 episodes for them to watch.
Cons
The show is geared toward older kids and, although rated Y-7, many parents have reported that their children still found the show too scary. While whether a child can handle the scares depends on the individual, many parents suggest waiting until your kid is 10, 11 or even 12 before letting them watch Creeped Out.
The show isn't educational, strictly speaking, although the moral messages and learning how to cope with fear are positive aspects of watching it.
Score
Educational: 80/100
Moral messages: 92/100
Imaginative: 95/100
Fun for kids: 98/100
Age-appropriate: 90/100
Overall score: 91.0/100
9. Llama Llama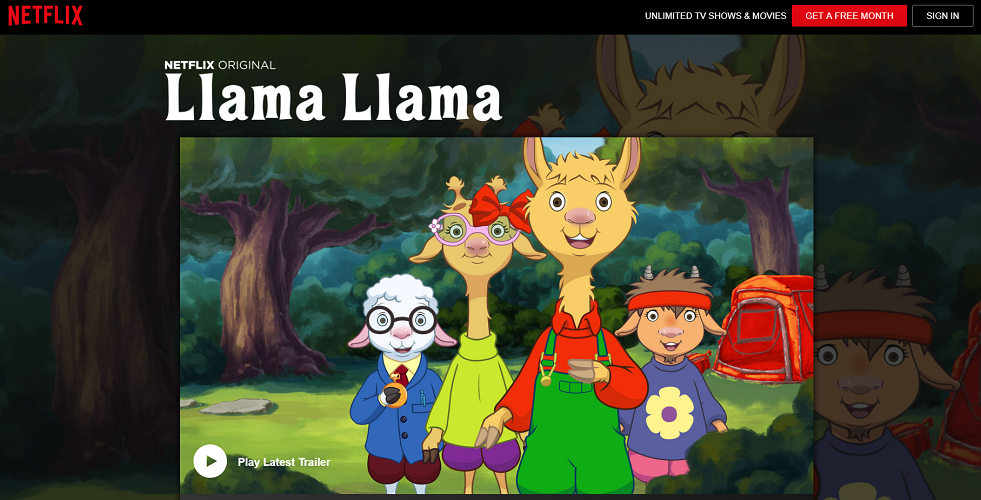 If getting your toddler, preschooler or kindergartener to enjoy books is a struggle, the Netflix original series Llama Llama could be the answer. The animated show, which premiered in 2018, is based on a 20-book series by beloved children's author and illustrator, the late Anna Dewdney. Her first book, Llama Llama Red Pajama, published in 2005, is now considered a "modern classic." The show's sweet characters and mild content make it appropriate for the youngest viewers, and kids who fall in love with the show are likely to become interested in the book series, as well.
Pros and Cons
Pros
Parents describe this show as "cute" and "sweet" for an audience of children as young as 2 years old.
With no violence, villains or other objectionable content, most parents feel comfortable with their child watching the show.
Parents will recognize the voice of Jennifer Garner as the narrator of the adorable show.
Positive messages imparted by the show include the love and support of family, the value of persistence and the importance of friendship.
The topics of the episodes are relatable, exploring issues that children often have to deal with, such as learning to share and controlling one's own behavior.
Each half-hour episode tells 2 stories, keeping the show short, sweet and easily digestible for the youngest viewers.
There are 2 seasons and 25 episodes to watch!
Cons
Llama Llama doesn't offer educational content, only life lessons, so some parents felt that it did add enough value to children's development.
Some parents had concerns about unconventional life lessons and portrayals of families in the content of the show.
Unlike the books, which feature rhyming verses, the dialogue of the show is conversational in nature, to the disappointment of some viewers.
Some viewers, especially adults, found the main character "whiny" and the stories too "muddled" and "meandering" to enjoy.
Score
Educational: 88/100
Moral messages: 93/100
Imaginative: 91/100
Fun for kids: 88/100
Age-appropriate: 94/100
Overall score: 90.8/100
10. Dinotrux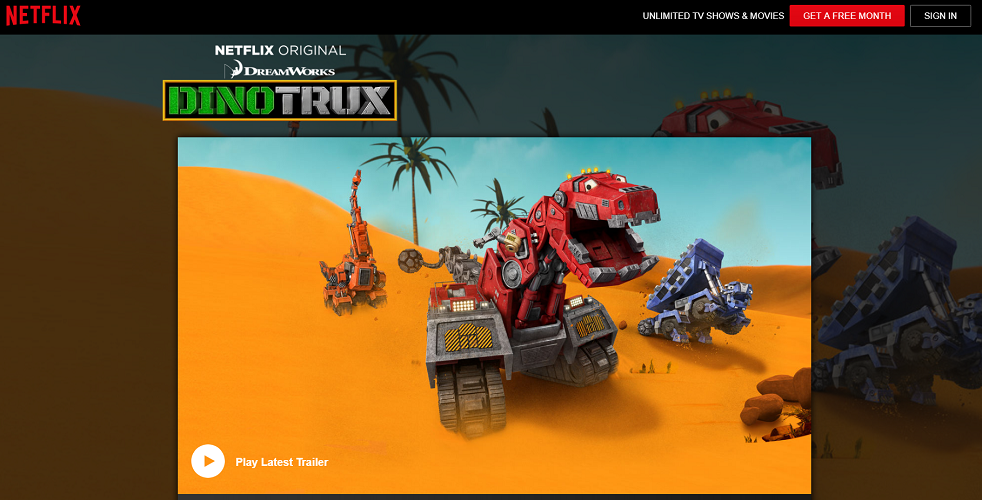 Dinosaurs and trucks are probably 2 of the things children love most in the world. Dinotrux, a Netflix original computer-animated series produced by DreamWorks Animation, appeals to kids ages 5 through 7 by combining these favorites. Accompanying these part-dinosaur, part-construction truck hybrids, are Reptools, smaller beings that are part-reptile, part-tool and are able to repair damage to the Dinotrux. The main protagonists are a Tyrannosaurus Trux named Ty and a Reptool named Revvit. Along with their friends and neighbors in this fictional prehistoric world, Ty and Revvit build structures and stand up to bullies. The series is great fun for young audiences but lacks much in the way of educational content, and parents have mixed reviews over the quality of the moral lessons expressed in the show.
Pros and Cons
Pros
Young kids love the combination of dinosaurs and construction trucks.
The show is fun to watch and visually interesting.
Positive messages of the show include a focus on teamwork and the importance of perseverance.
With 5 seasons released on Netflix, there are 52 episodes of Dinotrux for kids to enjoy. There are also 3 books for fans of the show to enjoy.
Cons
This show is not educational, as many other children's shows are.
Physical violence, verbal fights and bullying are prevalent in the show, causing some parents to consider the content inappropriate for the target age group.
Some young children found the show, especially the bad guys, scary.
Some children at the upper end of the age range found the plotlines predictable and somewhat boring.
The half-hour format is long enough to keep young kids entertained but not so long that they are likely to get bored.
Score
Educational: 80/100
Moral messages: 83/100
Imaginative: 97/100
Fun for kids: 98/100
Age-appropriate: 85/100
Overall score: 88.6/100