Written by Britt Lynn
Mornings can be stressful when you are getting the kids ready for school. Cereal is a quick and easy breakfast that can also be healthy if you buy the right kind.
It's hard to mess up a bowl of cereal so it is also an excellent breakfast for independent kids that like to do things on their own. We want to help you pick one that tastes good and is good for them.
There are a ton of popular cereals that are full of sugar and other harmful ingredients. It is essential to know what to look for, so your kids will have enough fuel to help them make it through their day.
Quick Peeks at Our Top 3 Healthy Cereals
The Mayo Clinic says that children that eat a healthy breakfast are more likely to meet the recommended amount of daily nutrients which will allow them to have better concentration during the day.
They say that you should look for cereals that have at least 3 grams of fiber per serving. There should be little to no sugar or other sweeteners, and they should contain 160 calories or less.
You might be overwhelmed by the hundreds of cereals in your local grocery store, but this list will help you steer clear of the candy-like cereals and on to more healthy options.
We looked specifically at calories, sugars, fiber, protein, and fat when picking the cereals on this list.
Check out our "Things to Consider" Section!
1. Magic Spoon Cereal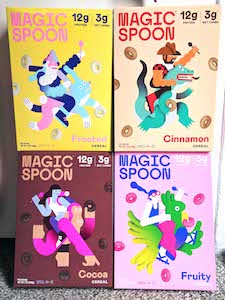 Magic Spoon was created by two friends that grew up eating cereals every morning when they were growing up. They wanted to make a cereal that had that same great taste of their favorite cereals without all the sugar, and they accomplished that.
Your children will love these great flavors in this low sugar kids cereal, such as cinnamon, fruity and cocoa, and the best part is they won't even notice that it is good for them. There are 12 grams of protein which is twice the amount of a single egg.
Magic Spoon cereal is the perfect addition for families that are on a keto diet. They do not have a cardboard taste like other gluten-free cereals. It is good and good for you. This cereal is also more filling than most other cereals, so it will give your children enough fuel to make it through their day.
what we love
They have 12 grams of complete protein per serving.
They are low in sugar and do not contain any cane sugar or corn syrup.
They are perfect for children that can't eat gluten because they are entirely gluten-free.
There are only 3 grams of carbs in each serving size.
They come in four delicious flavors including fruity, frosted, cocoa, and cinnamon.
Nutrition Facts
Calories-110
Sugars- 3 grams
Fiber- 2 grams
Protein- 12 grams
Fat- 6 grams
Click here for pricing on MagicSpoon
2. Original General Mills Cheerios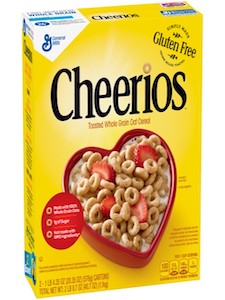 It is hard to not like Cheerios. These toasted little circles are known for being heart-healthy, but they have lots of other health benefits as well.
There is one gram of sugar in one cup, one of a few cereal with less than 5 grams of sugar that pediatricians recommend. They are very low in saturated fat (0.5g), cholesterol (0mg) and are a good source of iron. They also have a good amount of fiber and minerals that kids need to grow big and strong.
Cheerios make a great snack with or without milk, which is perfect for toddlers. Adding milk is an excellent way to provide your kids with calcium and other nutrients to help strengthen their bones. They do not have much of a taste, but you can add your children's favorite fruits to make them taste even better.
This can also be the best Cheerios for babies because these are soft cereals. But only give Cheerios to your baby when he/she can already pick up the round cereals with his/her fingers and then bring them to his/her mouth. This usually occurs between seven and nine months old.
what we love
Your kids can enjoy them with or without milk.
They are very low in sugar.
They are high in fiber and minerals that are great for your kid's health.
Cheerios are free of genetically modified ingredients.
They are gluten-free due to the elimination of cross contaminations between wheat and oats.
Nutrition Facts
Per 1 cup serving
Calories- 100
Sugars- 1 gram
Fiber- 3 grams
Protein- 3 grams
Fat- 2 grams
Cheerios is available for Amazon Prime customers with a quick two day shipping option!
3. Kellogg's Rice Krispies Cereal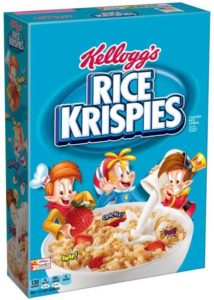 Who doesn't love the snap, crackle, and pop of Rice Krispies? They are light and crisp and go great with berries and other fruits for added flavor. They are nutrient-rich and provide a low-calorie option for your kids to eat before they take on their day.
When the question of "What are the top 5 healthiest cereals?" is discussed, Kelloggs always makes it to the list. Why? Because one cup contains 4 grams of sugar and no fat or cholesterol. One serving also contains almost half of the recommended amount of iron, which is a great way to make sure your kids have enough energy to make it to lunch.
They are primarily made out of puffed rice, which gives them their crispy texture. The four main ingredients are rice, sugar, salt, and barley malt flavoring. Not all cereals are made out of ingredients that you have heard of so you can count that as a small victory.
And this is one of the rice-based kids cereal that you can give your children without worrying about feeding them toxic levels of inorganic arsenic!
what we love
They are small and easy to eat for young children.
They are even better when fresh fruit is added.
Everyone loves to hear the snap, crackle, and pop when milk is added.
Nutrition Facts
Per 1 ¼ serving
Calories – 130
Sugars – 4 grams
Fiber – 0.5 grams
Protein – 2 grams
Fat- 0 grams
Get some Rice Krispies from Amazon Prime Pantry!
4. Cascadian Farm Honey Oat Crunch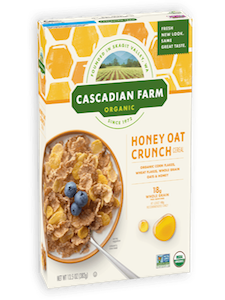 These golden flakes have a delicious honey taste, so we consider Cascadian Farm as the best oat cereal for its combination of nutrition and flavor.
The best part is they are made with non-genetically modified ingredients, which makes it an organic kids cereal that your kids will love. They are made with a blend of whole grain oats and organic corn and wheat flakes. Each bite has a delicious honey taste that your kids will love.
what we love
It is an organic cereal that contains no GMO ingredients.
They contain no high fructose corn syrup or artificial flavors.
It is organic with no GMOs.
This cereal has a great honey flavor.
Nutrition Facts
Per 1 ¼ cup
Calories- 250
Sugars- 9 grams
Fiber- 3 grams
Protein- 5 grams
Fat-2 grams
5. Kix Cereal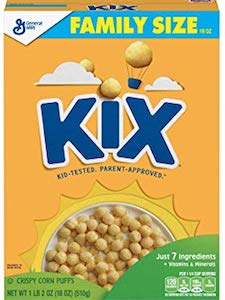 General Mills made kix to impress moms and kids alike. Their motto is "Kid tested, mother approved." Kids love this cereal because it tastes good, and moms love it because it is low in sugar and calories,
the combo that makes it the best cereal for kids since it's less likely to cause obesity with moderate consumption.
Formulated specifically as a cereal for toddlers, they have a unique, delicate puffed corn texture that your kids will love. They are a tasty snack for very young kids without milk. They have a very mild corn flavor but still manage to be sweet and enjoyable. One serving only contains 3 grams of sugar and only 110 calories.
what we love
Kix has a larger serving size than other cereals on this list.
There is a small amount of sugar added.
There are 3 grams of fiber in each bowl.
They have a lot of vitamins and minerals in each serving.
Nutrition Facts
Per 1 ¼ serving
Calories- 110
Sugars- 3 grams
Fiber- 3 grams
Protein- 2 grams
Fat- 1 gram
6. Kashi Heart to Heart Honey Toasted Oat Cereal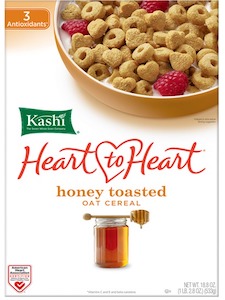 Kashi Heart to heart honey toasted cereal is a unique blend of honey toasted circles and small pieces of whole-grain oats in heart shapes.
There is so much fiber and protein-packed in this cereal, that it's the best kind of high fiber cereal for kids we've seen so far and yet it is slightly sweet with a light honey flavor. The fiber is a great way to help make sure that your kids do not feel hungry until lunch.
This cereal was created to promote heart health, which is where it gets its name. It is packed full of ingredients that reduce cholesterol and so it may be best cereal for toddlers with weight-related issues. There are also natural antioxidants which support healthy arteries.
what we love
This cereal is packed full of ingredients that are good for the heart.
It is a unique blend of whole grain and honey toasted cereals that taste amazing.
Contains a good amount of fiber that will keep your kids feeling full until lunch.
Nutrition Facts
Per ¾ cup serving
Calories- 160
Sugars- 7 grams
Fiber- 7 grams
Protein- 5 grams
Fat- 1.5 grams
Shop Amazon for Kashi Heart to Heart Honey Toasted Oat Cereal
7. Barbara's Original Puffins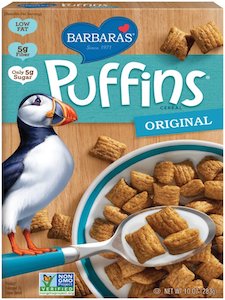 Barbara's Original Puffins are small crunchy squares of whole-grain goodness. They are high in fiber and are sure to boost your children's energy levels to get their day started. They are made with natural ingredients, so you won't find the preservatives and other artificial flavors that can be found in other cereals. They are not full of sugar but still manage to taste a little sweet, as well as the best cereal for 1 year old children because of their easy-to-pick size.
what we love
This is completely vegan.
It tastes good with or without milk or other milk alternatives.
It is made with non-GMO products.
It is low fat and cholesterol-free.
Nutrition Facts
Per ¾ Cup Serving
Calories- 90
Sugars- 6 grams
Fiber- 6 grams
Protein- 2 grams
Fat- 1 gram
Order some Barbara's Original Puffins from Amazon
8. Whole Grain Total Cereal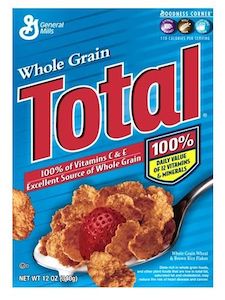 Whole Grain Total Cereal is made by General Mills, a well-known manufacturer of good cereal for toddlers like Cinnamon Toast Crunch, Golden Grahams and Fruity Cheerios.
It gets the name because it meets 100% of the US Department of Agriculture total allowance for at least 11 vitamins and minerals. It is made with whole-grain wheat flakes and has fewer calories and sugar than all the other total cereals.
Not only is it a healthy cereal for toddlers but it's also a versatile food that children will not tire of soon – you can add your kid's favorite fruits for added taste and nutritional value.
what we love
Meets 100 percent of the total vitamins and minerals recommended by the USDA.
Full of macronutrients.
One bowl contains whole grains.
Nutrition Facts
Calories – 100
Sugars – 5 grams
Fiber – 3 grams
Protein – 2 grams
Fat – 0.5 grams
Grab some Whole Grain Total Cereal from Amazon today!
9. Catalina Crunch Cinnamon Toast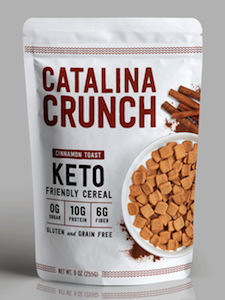 Catalina crunch cinnamon toast cereal is a fantastic keto-friendly option to help get your kids mornings started right. It is non-GMO and gluten-free as well as being 100% vegan, a great kids breakfast cereal for little ones with sensitive tummies.
Cataline is a healthy alternative for that other cinnamon toast brand cereal that is full of unnecessary sugars and other sweeteners. This brand was created by a cereal lover that was diagnosed with T1 diabetes when he turned 17, and instead of giving it up he created a brand that has 0 grams of sugar and other empty carbs that are harmful to his health.
The zero-sugar level makes it a good cereal for babies, too – babies should have little to no artificial sugar in their diets.
what we love
This cereal contains 0 grams of sugar.
It is keto-friendly.
It is vegan-friendly.
Nutrition Facts
Per 3/8 cup
Calories – 90
Sugars – 0 grams
Fiber – 6 grams
Protein – 10 grams
Fat – 3.5 grams
Shop Amazon for Catalina Crunch Cinnamon Toast
10. Nature's Path Organic Whole O's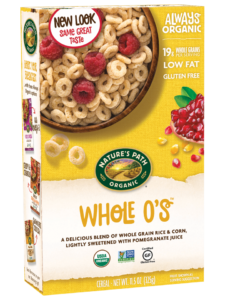 Whole O's are an excellent way for your kids to start their day because they are made up of a gluten-free blend of whole grain rice and corn which gives them a light and crunchy texture that other similar cereals don't have. They have a sweet flavor that comes from pomegranate juice. Whole O's are organic and contain products that are not genetically modified.
The recommended serving size is 1 ¼ cups, which more than some of the others on this list. Your kids will start their day off with a full stomach with this fiber cereal for kids, and that is important to help them have enough energy to get through the day. With its round shape and delicious taste, it's also an excellent cereal for 1 year old kids.
what we love
They have a sweet taste without the added sugar.
Whole O's are certified as organic.
They contain non-genetically modified ingredients.
Nutrition Facts
Per 1 ¼ cup serving
Calories- 120
Sugars- 4 gram
Fiber- 3 grams
Protein- 2 grams
Fat- 1.5 grams
Nature's Path Organic Whole O's can be found on Amazon
---
FREQUENTLY ASKED QUESTIONS:
Why is breakfast the most important meal of the day for my child?
After your child has slept eight or more hours, naturally they may get up hungry, as do most folks. After all, the body has been in rest mode and has not required a "refueling." But when breakfast time rolls around, everyone's body needs to be replenished with nourishment… not just the kiddos!
What benefits does eating a healthy breakfast provide? With kids, in particular, they need a good breakfast to concentrate in school, sustain the energy level required to endure the physical activities of the day, as well as maintain a healthy body weight. Studies have shown that children who eat a healthy breakfast are more apt to overall eat healthier meals all of the time.
Be sure to give the best nutritional cereals for breakfast instead of just any food you can make from ingredients in the kitchen! Nutritious food is a must since its macronutrients and micronutrients provide fuel for the brain and body.
How do manufacturers market their cereal to my kids?
Do you take your kid grocery shopping with you? If you do, you've probably experienced your child having a breakdown over wanting a box of cereal that you know is not good for them. Kids are vulnerable to the marketing skills of companies that offer sugary cereals yet market them as the most nutritious cereal products.
They know what kids like, so they design their packaging with brightly colored animals or superhero images on the box to attract the little ones. Often, there is a hidden prize in the box to help entice the kids!
Other marketing strategies hat make unhealthy children's breakfast cereals more attractive to parents and their children are in play as well. Have you ever noticed that "kid-focused" cereals are on their visual level in the grocery store aisle? Have you ever noticed that the brand's cereal character's eyes are looking down towards your child… making eye contact with them? Sounds creepy, doesn't it?
But it works, as children are attracted to that big floppy-eared rabbit seemingly calling their name… Buyer beware! Perhaps the lesson here is… always go grocery shopping by yourself!
How can I get my child to try healthier cereal options?
Well, let's face it… The boring cereal boxes and organic looking cereal is not always the most appetizing of breakfasts, even for adults. As grown-ups, we know the right way to eat healthier, but kids just don't know. That's why we must set good examples for them. Don't expect your child to eat Cheerios while you are eating Fruit Loops!
Depending on your healthy cereal choice, you may choose to add fruits, such as strawberries, bananas, peaches, or blueberries to sweeten it up a little. Adding small amounts of honey, cinnamon, or unsweetened dried fruits may also spark their interest. Does your child like smoothies?
If so, sprinkle some healthy cereal on top! You may also choose a kids cereal with fiber since it stimulates good digestion and promotes a better appetite.
What are the ideal nutritional facts to look for when purchasing a healthy child's cereal?
We want the best for our kids, so, how do you know what cereals are best… nutrition wise? There are several factors you should consider when deciding what is the best cereal to eat:
Sugar Content: Needs to be 5 grams or less per serving
Fat Content: Should be 3 grams or less per serving
Fiber Content: Preferably 3 grams or more per serving
In addition, you should take note of the vitamins or minerals listed in the nutritional label. Look for Vitamin C & D, Calcium, and Folic Acid. And finally, remember that the ingredients list begins with the highest amount of content.
Generally, if the first few ingredients begin with "Whole Wheat" or "Whole Grain," it's okay for your little one. And.. just one more point… you must pay attention to serving sizes. If the box says a serving size is one cup, filling a huge popcorn bowl to the rim defeats the purpose!
Are there any sugar free cereals for children? Yes, there are a few like the Catalina Crunch with its zero-sugar content. But most kids' cereals are considered as low-sugar food with their sugar levels being limited to five grams per serving. Cheerios, for example, only has one gram of sugar.
How much of a healthy boxed cereal should a child get? The current dietary guidelines recommend three teaspoons to eight teaspoons (12 to 32 grams) of cereal for children who consumer between 1,200 and 2,000 calories per day.
But don't be too worried if your child consumers two to three times said amount during breakfast – these amounts are still considered average for American kids.
Just be sure to give your children a wide variety of fresh fruits, vegetables and eggs, among other healthy food, in addition to their ready-to-eat cereals.