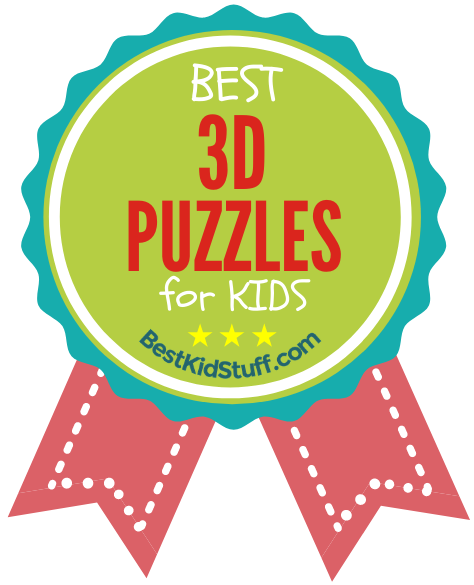 We often try to look for inspiration for us to come up with a gift for our child. We might discover good ideas or recommendations online for gifts that we can give to them: toys that they can play with by themselves with their loved ones or with a group of friends.
Most three-dimensional or 3D puzzles give additional challenges to traditional puzzles for numerous reasons. Depending on the number of pieces, 3D puzzles are meant for various age groups with diverse difficulty levels. Most parents and educators like 3D puzzles because all they have to do is guide the children in putting and making the pieces fit.
Despite their simplicity, puzzles are extraordinary learning tools that educate youngsters on their advantages, emphasizing the numerous crucial life skills learned from them.
Benefits of 3D Puzzles for Children
Research from the University of Chicago reveals the direct relationship between puzzle play and spatial awareness. It was found that children two to four years old who played with puzzles enhanced their spatial perception skills more than those who did not.
Furthermore, 3D puzzles enhance concentration and visual memory!
According to child development experts, your toddler can concentrate for around two to five minutes depending on their age. If your three-year-old can focus on a specific task for six to 15 minutes, a four-year-old might be able to do that for about eight to 20 minutes!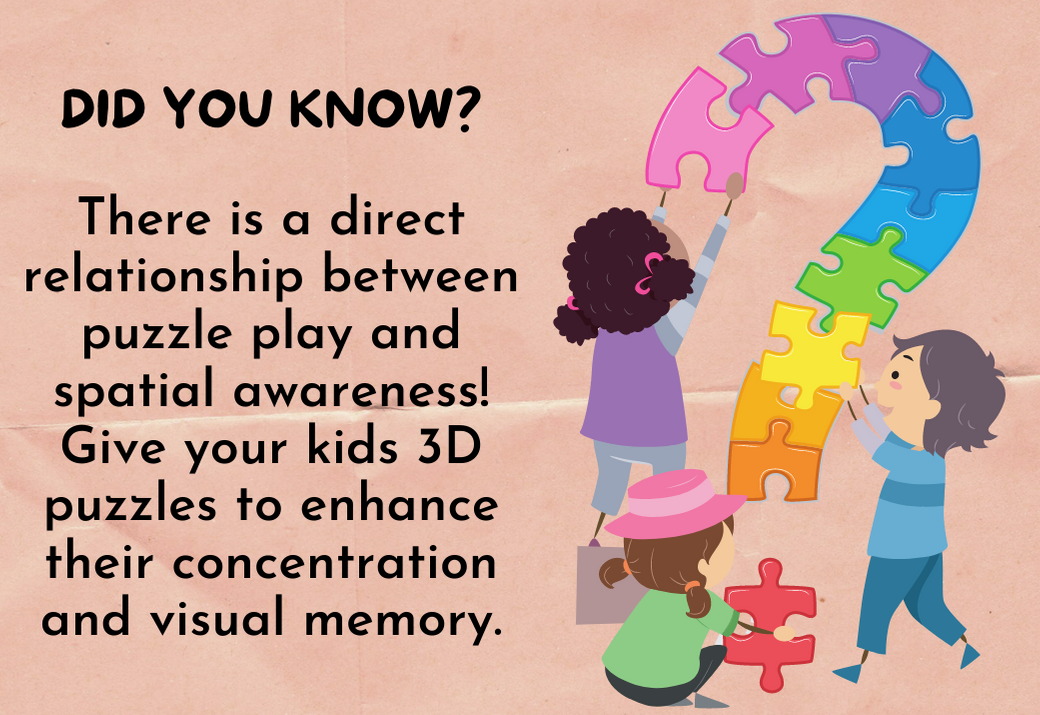 Other benefits of 3D puzzles include the following:
Helps develop problem-solving, association and classification, mathematical logic, and topic-specific knowledge
Develops self-esteem, long-term results, and patience
Helps enhance the ability to observe and come up with a geometric association between pieces as well as shape recognition
Helps enhance spatial concentration and orientation
Helps enhance hand-eye coordination and fine motor skills
3D puzzles enable us to form a three-dimensional structure, making it a suitable family bonding activity that positively influences social relationships.
Most Montessori programs are known for the use of puzzles to educate children regarding zoology and botany. Most spectacular wooden puzzles can separate the parts of a fish, tree, flower, and other animals, making them a suitable learning tool.
Pegged puzzles typically urge toddlers to use the pincer grip, which is an essential skill that they can use later to hold a paintbrush or pencil in preschool.
These jigsaw puzzles can be seen on Amazon. You might want to check these out for features that are suitable for your child's needs: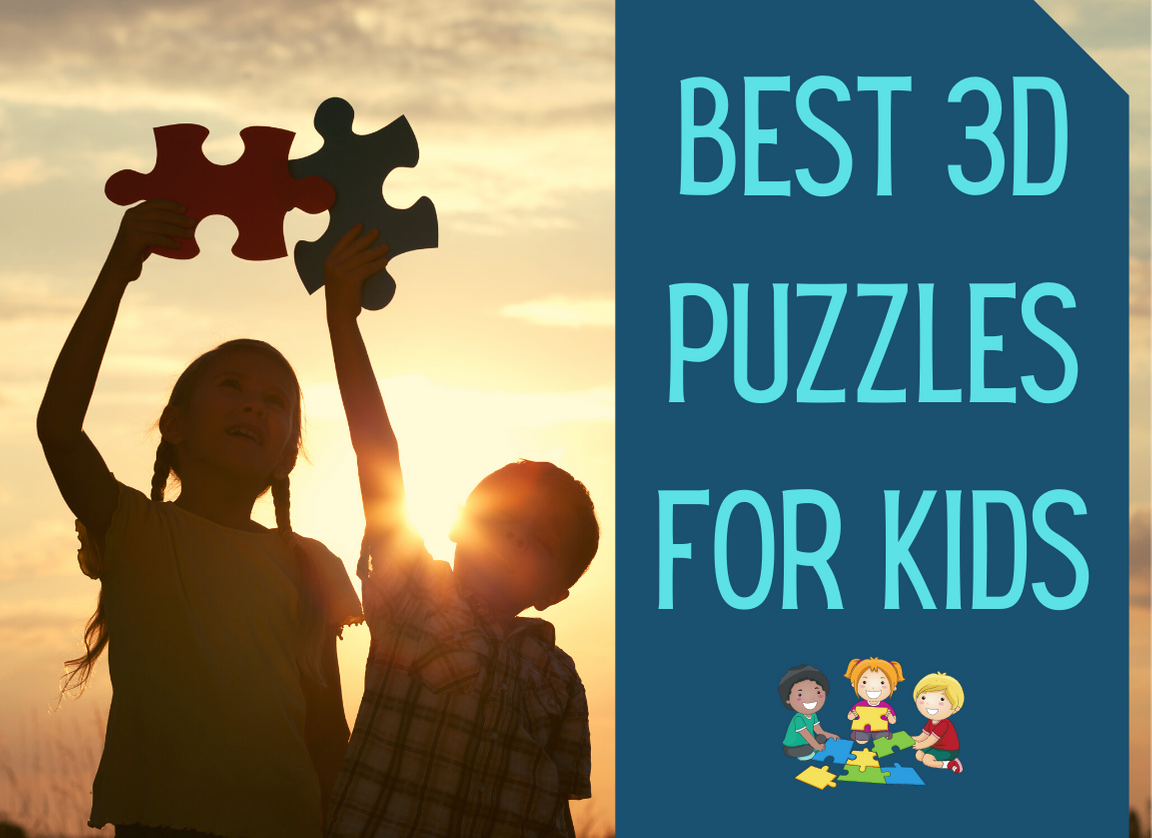 1. Ravensburger Porsche 108 Piece 3D Jigsaw Puzzle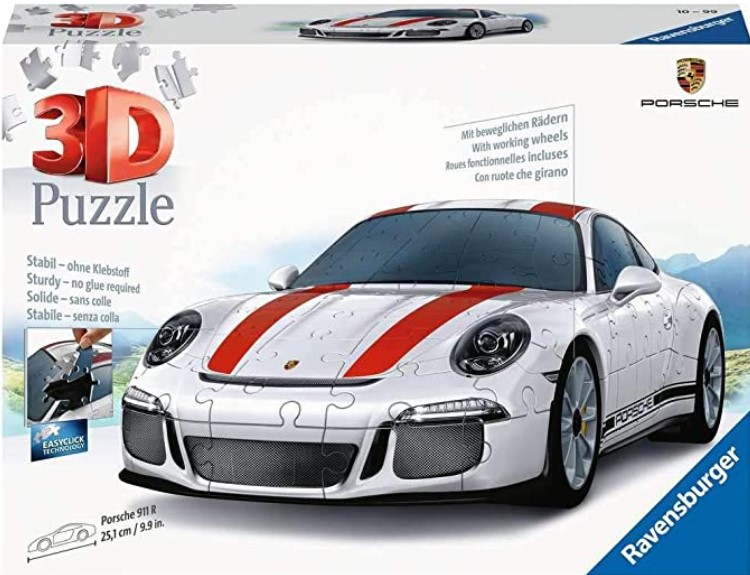 Are you a Porsche enthusiast?
You need to know about this brand because, in 2016, the Porsche 911R was reconstructed for racing with limited production.
In the case of this Ravensburger Porsche 108 Piece 3D Jigsaw Puzzle, sleek vehicles and classic buildings can be formed, which enables your child to attain a higher level of creativity.
This 3D puzzle follows the 1:18 scale, an exceptional model of iconic white design and sophisticated lines. This makes it appealing to children who like Porsche vehicles.
This 3D puzzle is made of 108 durable plastic puzzle pieces. It features all actual sports vehicles, including the yellow brake calipers, 10-spoke rims, and classic red racing stripes.
Once the puzzle has been completed, the rotating wheels can change the puzzle into a realistic vehicle model.
Below are some of the reasons why you should purchase this 3D puzzle:
Each piece is individually numbered on the backside, which means that every piece can fit together accurately with one easy click technology; in this case, glue is not needed.
It is ideal for advanced or new puzzlers who are ten years old and above.
It is backed by the iconic Ravens and Porsche brands.
It is made of top-quality, sturdy, and durable plastic.
Pieces are numbered accurately for convenient assembly and perfect interlocking
Vroom! Vroom! If your child is into cars… this is the puzzle for them.
Check out the Ravensburger Porsche 3D Jigsaw Puzzle today on Amazon.com!
2. Ravensburger Sneaker American Style 108 Piece 3D Jigsaw Puzzle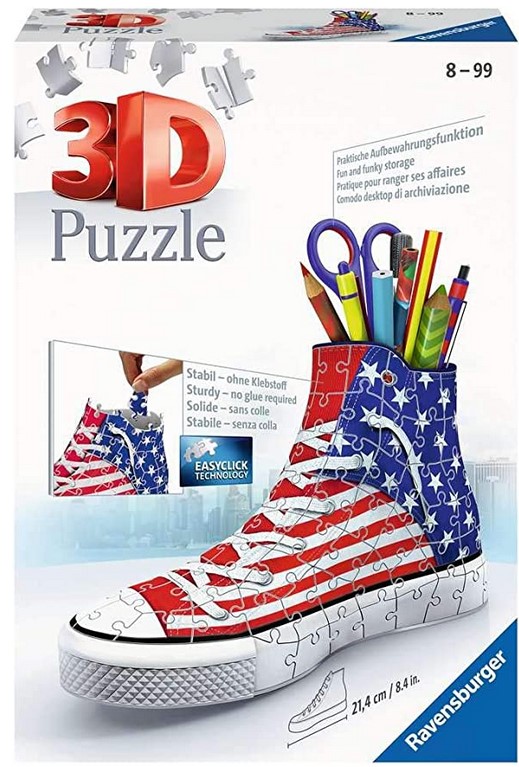 Ravensburger, founded in 1883, provides high-quality, age-appropriate science kits, arts and crafts, puzzles, and age-appropriate games.
The company is committed to the philosophy that children begin early through hand and brain stimulation that aid in the development of artistic and fine motor skills and promote a sense of accomplishment.
Thus, through the Ravensburger Sneaker American Style 108 Piece 3D Jigsaw Puzzle, you can assemble your desktop accessory through a 3D Puzzle, where you can store brushes, markers, and pencils.
You should consider this as one of your kid's toys because:
All puzzle pieces are numbered on the inside for easier assembly. Puzzle pieces can also be sorted in numerical order. Then, you can assemble sneakers by number as well.
Some arrows show where the next piece should be added. More difficult challenges await advanced 3D puzzlers as they assemble in accordance with the printed image side of the pieces.
It helps bring to life a world of colors, photos, ideas, and styles that unite and help bring happiness to puzzle enthusiasts worldwide.
It allows 3D objects to be created with individually bendable and formed puzzle pieces.
It aids in supporting the child's development as they play and improving their creativity and concentration.
We are loving the design of this puzzle. It is so cool and can be used on the child's desk or bedside table to hold pencils, art supplies, as well as hairbrushes and combs.
Check it out the Sneaker American Style 3D Jigsaw Puzzle
3. Ravensburger The Earth 540 Piece 3D Jigsaw Puzzle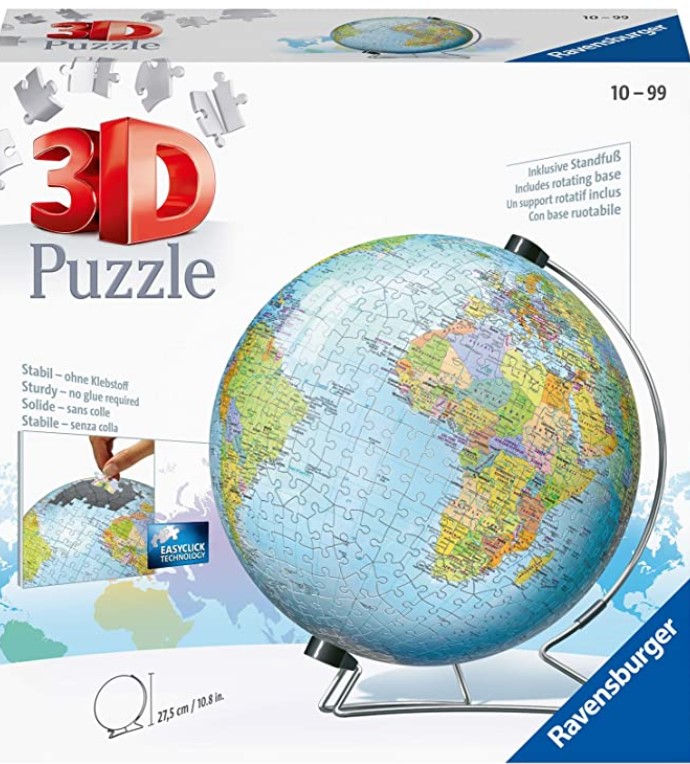 Ravensburger has been in the business of creating toys that help develop a myriad of skills for more than 130 years.
One example is the Ravensburger Earth 3D Globe Puzzle that comprises 540 sturdy pieces and has a stand for your child to easily fit pieces together.
Glue is not required to fit the pieces together– whether each piece is bendable, straight, or curved. Size does not matter as well, as each piece is precision-made so that each piece fits without any frustration.
Here are some of the benefits of having this puzzle as one of your kid's toys:
Pieces are numbered for convenient assembly.
Puzzle pieces are of supreme quality in terms of both material and content.
These jigsaw puzzles aid in supporting the development of a child when they play.
These jigsaw puzzles aid in building skills, such as creativity and concentration.
It offers fun and entertainment for adults, which provides greater experience whether your kids do the puzzles alone or with a group.
Every child needs a globe, right? It can provide hours of fun for someone interested in geography. So, why not let them construct their own?
Check this Earth 3D Jigsaw Puzzle out for sure!
4. Wrebbit 3D Puzzle Harry Potter Hogwarts Astronomy Tower Puzzle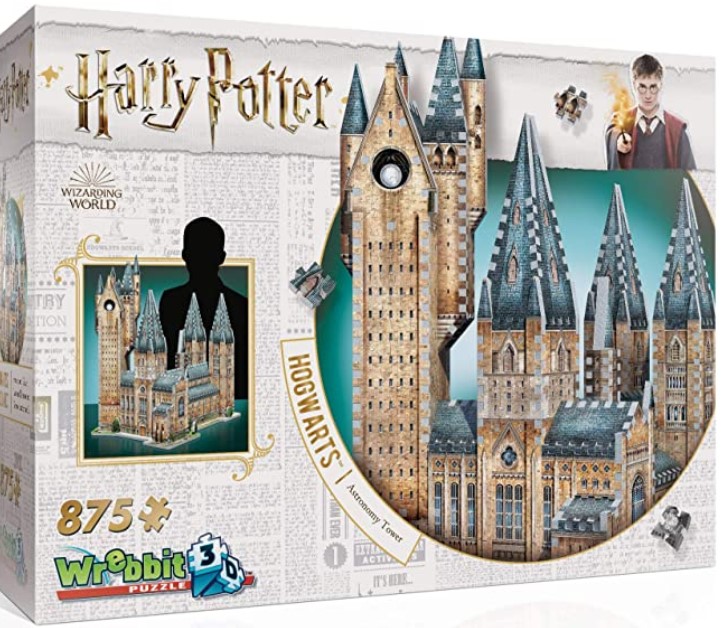 The Hogwarts Astronomy Tower 3D Jigsaw Puzzle is composed of 875 puzzle pieces, which will help your kid appreciate the story of Harry Potter and the sorcerer's apprentices.
Your child will have the opportunity to build the highest Hogwarts castle tower where the office of Professor McGonagall is located. It's where the classes on Potions and Defence Against the Dark Arts are taught.
The Astronomy Tower is also part of the official Harry Potter puzzle collection. It is combined with the Great Hall for the recreation of Hogwarts in its splendor.
Moreover, the other 3D puzzles of the collection can be added to efficiently observe the magical world of the popular series as it unfolds before the eyes of your children. This makes it an ideal gift for them.
Yes, please… for the Harry Potter lover, this puzzle will be particularly special for them!
The Hogwarts Astronomy Tower 3D Jigsaw Puzzle is on Amazon!
5. Ravensburger Disney Castle 216 Piece 3D Jigsaw Puzzle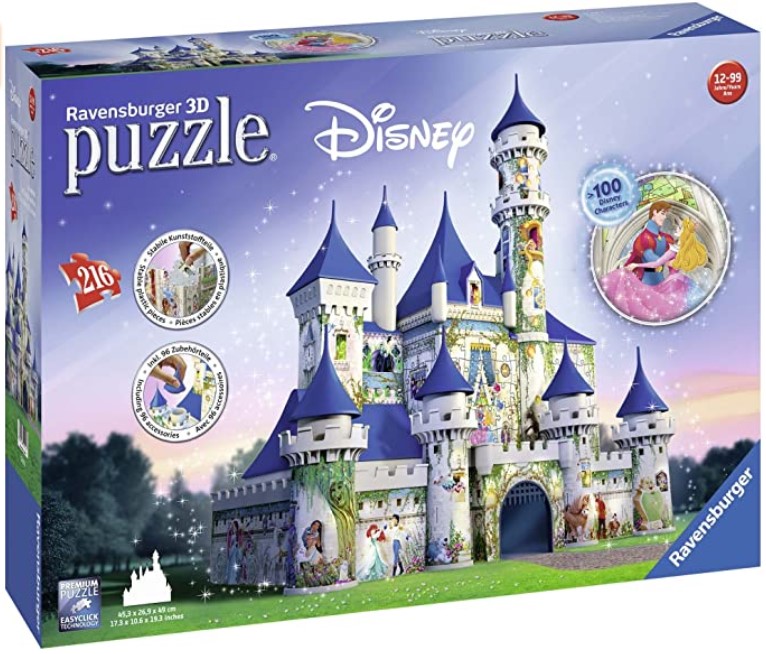 The Ravensburger Disney Castle 216 Piece 3D Jigsaw Puzzle has 216 puzzle pieces that feature more than 100 Disney characters— most of which are your child's favorites.
The puzzle pieces are sturdy and can be fit together accurately without the need for glue. The pieces are also bendable, straight, or curved for easier fitting.
Below are some of the reasons why you should buy this toy for your kid:
The 3D jigsaw puzzles are of supreme quality, and the puzzle pieces fit perfectly.
These 3D jigsaw puzzles aid in supporting the development of a child as they play.
This toy also helps build skills like creativity and concentration, and it is also regarded as a great way to entertain adults.
It provides a great experience for kids individually or as a group.
The pieces are numbered for more convenient assembly.
Are you a Disney fan? Who isn't, right? This replica of Cinderella's castle will get your child excited about their next visit!
See how many characters they can identify! Disney Castle 3D Jigsaw Puzzle
6. CubicFun LED Russia Cathedral 3D Puzzles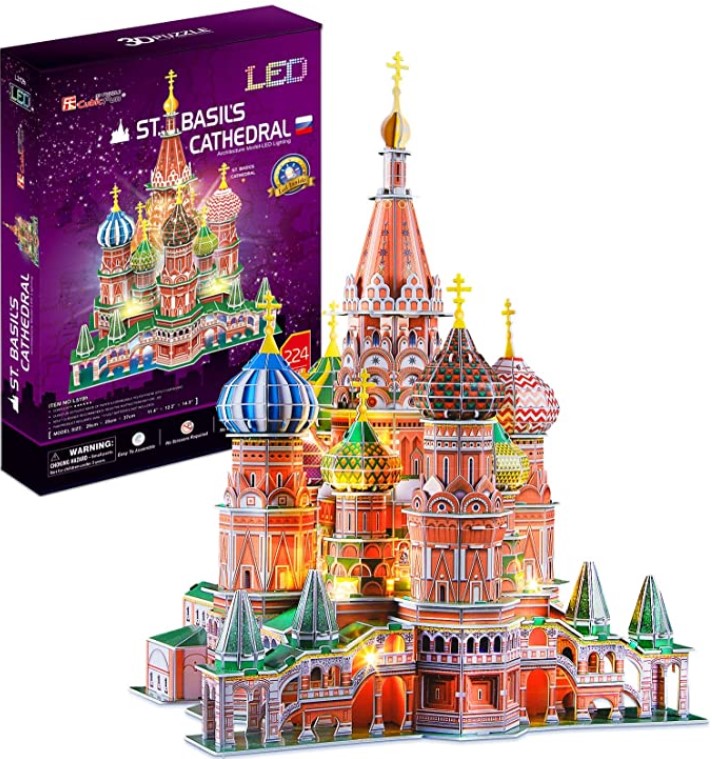 The Cubic Fun LED Russia Cathedral 3D Puzzles features a distinct design with 10 LED bulbs that are remarkably noticeable at night. The lights also produce a warm festival vibe to any given space.
This 3D puzzle is made from high-quality material with spectacular building details. It is composed of 9 distinct layer-by-layer decors and colorful domes.
In assembling it, you only need to follow the step-by-step instructions on the booklet to create your puzzle. Every puzzle piece is numbered as well for easier assembly.
All interlocking holes should be punched out before assembling it, and you can also remove pieces that you need through illustration to aid you in clearly determining each piece as you help your child in assembling it.
Through this 3D puzzle, you and your child can:
Discover appealing standard and holiday decor alternatives for your space or house. The puzzle can be considered as contemporary indoor decor that enhances the vibe of your gatherings at home.
Have the perfect gift for holidays like Christmas and New Year, as well as for dinner and home parties as decoration.
Experience an opportunity to help level up your relationship with your kid and inspire their interests, logical thinking, and spatial imagination.
Experience relief from fatigue, especially for your elderly relatives. This puzzle also helps in preventing dementia.
Gain training in hand and brain coordination.
Experience relief from stress, anxiety, as well as boredom. This toy also helps children with autism.
Have a satisfying and spectacular puzzle-building experience with your whole family.
Have fun games and activities for bonding.
This Russian Cathedral 3-D puzzle highlights the architecture and brilliant colors used in this type of construction. In addition, it lights up! How nice is that?
For this unique piece of art, check it out on Amazon.com!
7. Ravensburger 11157 Disney Frozen 2 Olaf – 54 Piece 3D Jigsaw Puzzle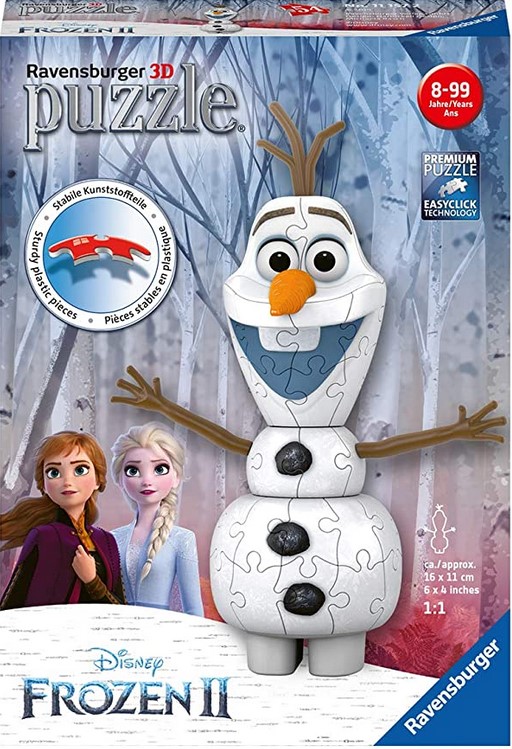 The Ravensburger 11157 Disney Frozen 2 Olaf-54 Piece 3D Jigsaw Puzzle takes your child to another dimension, inspired by the Frozen 2 movie. The puzzle pieces are made of durable plastic and can fit together well due to proprietary easy-click technology.
Glue is not needed in joining the pieces together. Aside from this, technology has been developed to print on puzzle pieces instead of gluing paper onto plastic. You can spend more time with your kid fitting puzzle pieces together every day!
Here are some of the advantages of having this 3D puzzle as one of your kid's toys:
No glue is needed to fit the bendable, straight, or curved puzzle pieces.
There are step-by-step instructions.
The pieces are numbered to guarantee hassle-free and entertaining puzzle-building.
Any sturdy object can be built without the use of any support frame or glue.
Olaf's head and body can be fit together, and its carrot nose, hair, and arms can be attached as well.
Pieces are numbered for easier assembly.
Do YOU want to build a snowman? But don't have any snow?
Well, with this Disney Frozen 3D Jigsaw Puzzle from Ravensburger, you can do just that!
8. Whirligig 3D Jigsaw Puzzle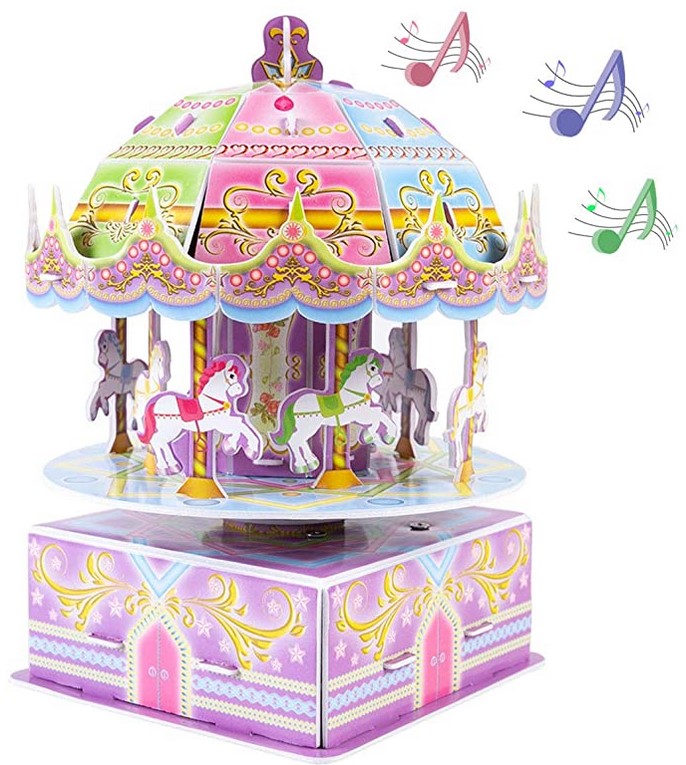 The Whirligig 3D Jigsaw Puzzle is deemed a three-dimensional (3D) carousel puzzle and a self-assembled music box. Once the music sounds, eight lively horses spin.
This 3D puzzle is made of sturdy cardboard thicker than other puzzles, which can fit together to create a strong and durable model.
Glue or scissors are not required in assembling. This is because every puzzle piece is printed with a number on the reverse side, so your kid can put together the puzzle by checking on every piece or by following the numbers printed on it.
Below are some of the benefits of having this 3D puzzle as one of your kid's toys:
It serves as an ideal gift for any occasion aside from being an educational toy.
It is suitable for the intellectual development of your child.
It allows children to be trained with practical ability and develop their imagination.
It is an effective way to acquire knowledge, which is ideal for a parent-child relationship to foster.
It is convenient to assemble and very durable.
Who doesn't love a carousel? Your child will love assembling this one because there is a reward at the end… music AND movement.
This Whirligig 3D Jigsaw Puzzle great decorator accent piece for any child's room!
9. BEARUN 3D Coloring Puzzle Set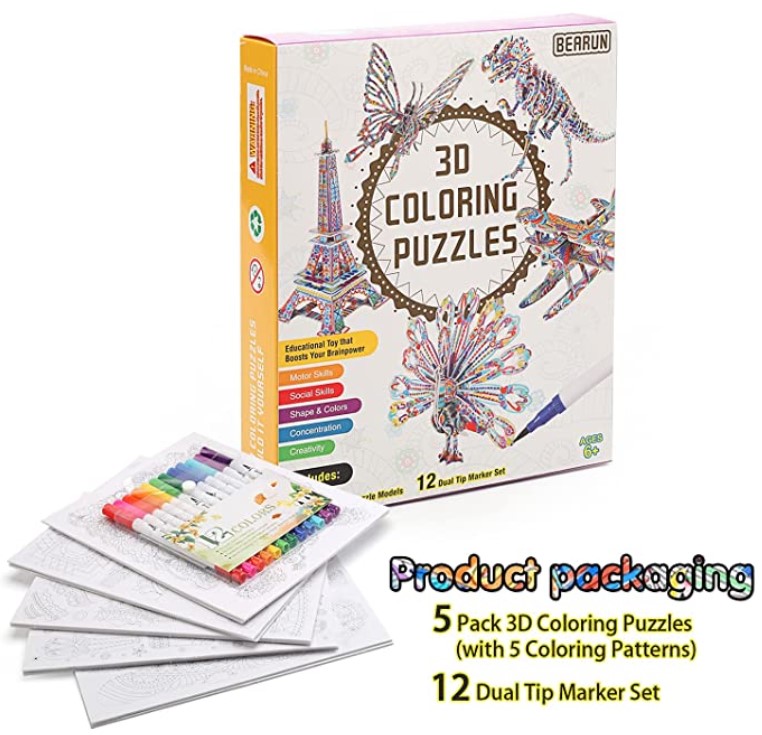 The BEARUN 3D Coloring Puzzle Set involves a non-repetitive coloring pattern wherein five puzzle models are chosen with five various coloring patterns.
The five types of models include the Eiffel Tower, Peacock, Dinosaur, Seaplane, and Butterfly.
This 3D puzzle comprises 12 Dual tips high-quality marker sets, where you obtain 12 kinds of colors with no replications.
Dual tips markers have been designed with brush tips for larger areas to be colored and fine tips for details and outlining.
Puzzle models have a larger size than others, making it more convenient for children to assemble and color. The puzzle pieces have printed white and black line patterns to enable coloring.
Moreover, coloring the puzzles can be accomplished before or after building.
Here are some of the benefits of the BEARUN 3D puzzle set:
It keeps children engaged and entertained.
Completed puzzle pieces can serve as home decorations.
Involves a combination of STEM arts and craft activities; ideal for smart kids who love being challenged.
The puzzle is packed in a durable storage case ideal for drawing, writing, doodling, and coloring, as well as other art projects.
It aids children in improving their hand-to-eye coordination, focus, improved color awareness, and stimulation of their creativity.
It helps to enhance the motor skills of children, problem-solving, visual-spatial skills, and improve a kid's math performance
This is fun and creative for kids who enjoy art combined with puzzle construction. Let them color each piece to suit their own taste and then put it together for a true art project.
Wouldn't this 3D Coloring Puzzle Set be nice for a home school art project?
10. Outer Space Planets 3D Puzzle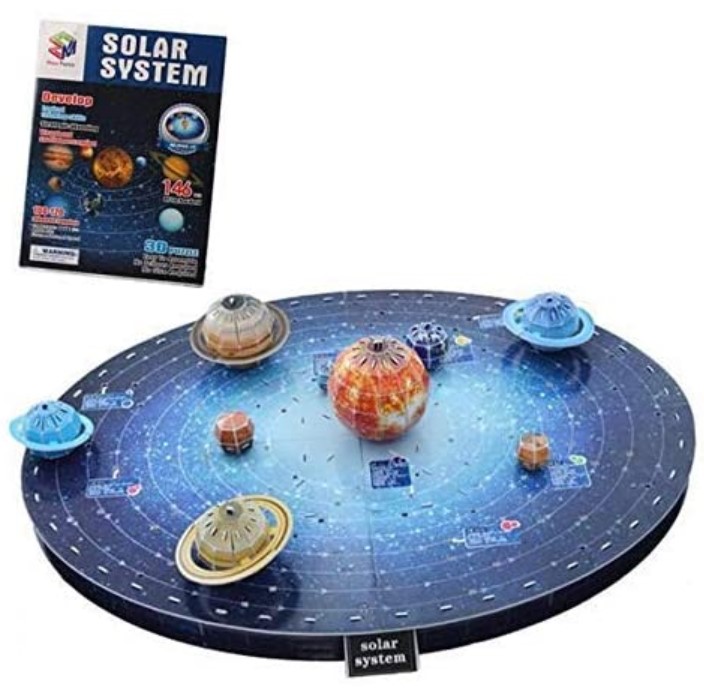 The Outer Space Planets 3D Puzzle is regarded as an ideal space toy for kids. This jigsaw space puzzle and science, technology, and mathematics (STEM) toy will allow your children to spend time assembling an extraordinary diorama of the solar system and other planets, including distinct vivid colors and intricate details.
This 3D puzzle also includes a Space Kids Planetary guide that provides educational, informative, and detailed information about the toy.
Some of the reasons why this 3D Puzzle is ideal for children are the following:
It boasts of limitless hours of entertainment and educational play.
It is very educational and fun.
It aids in keeping your kids away from gadgets like the smartphone or tablet.
It helps promote the development of hand-eye coordination and cognitive skills.
It helps foster creativity and imagination.
It aids in the development of problem-solving skills and kid's patience.
It is very durable; made from high-grade, premium quality materials.
It is ideal for adults as well, especially for those who enjoy physics, astronomy, and brainteasers.
The pieces are accurately cut to ensure that the jigsaw can be assembled conveniently.
If you home school your children, this would be an EXTRAORDINARY activity for when you are teaching about the solar system. It would be great to refer to as you instruct.
Let them BLAST OFF into the solar system as they put this Outer Space Planets 3D Puzzle together!