Education is a privilege that parents aspire to provide to their children. Understandably, you would want the best for your child, allowing them to learn and understand the world around them while gaining valuable skills that will help them later on in life!
While most kids get their education inside the four walls of a traditional classroom, it is also prevalent for many to learn from the comfort of their homes. This method is what we call homeschooling.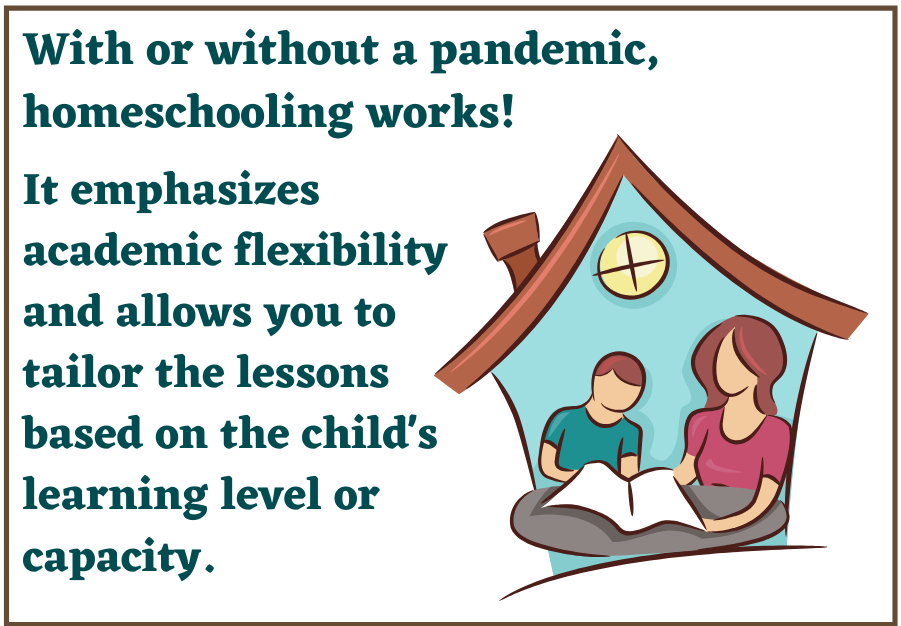 Homeschooling has been in existence for ages. With sufficient time, temperament, resources, and commitment, any parent can homeschool their child.
Now that the world is facing the disruption brought on by the current pandemic, homeschooling becomes even more relevant and attractive than ever.
It is an ideal option for many parents who want to take charge of their child's education from the safety of their homes.
Even in ordinary circumstances, homeschooling is a logical choice for those who find it ideal for their situation. Here are some reasons why it works for many:
It allows for academic flexibility. You can educate your child regardless of their capacity and personality.
You can choose your pace and approach, allowing you to tailor each lesson based on your child's capability and learning level.
You can quickly meet your child's current needs. This lets you prioritize your child's mental, emotional, behavioral, and physical health.
You will be able to set the standard for your child's learning, making it more meaningful and doing away with the method of teaching to the test and arbitrary minimal standards.
Homeschooling also allows you to accommodate exceptional circumstances. It is ideal for military and traveling families. You can easily adjust your schedules to adapt to your situation.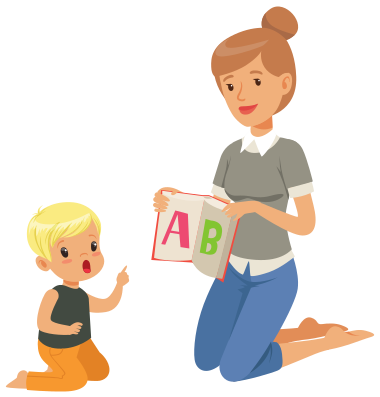 How to Prepare for Home Schooling
Planning to homeschool your child? Then the following steps can guide you through the process and ensure you are doing the right thing.
Researching Your Options
Doing this for the first time can be confusing. You need all the information and first-hand knowledge you can get to help you decide on your best option. You can subscribe to magazines and newsletters that talk about homeschooling. Parents who have homeschooled their kids can also be a good source as you try to navigate your way around the process.
Find Out Your Homeschooling Requirements
Some states have their own homeschooling rules and regulations. It is a good idea to know all about these to avoid complications in the future. For example, parents in New York need to file an annual declaration of intent with the local superintendent 14 days before starting to homeschool.
Determine Your Homeschool Curriculum
This is an important step. Your curriculum will define what textbooks and workbooks you will need for homeschooling. These will cover reading, writing, and arithmetic. Your curriculum must also include your plan of an approach tailored to your child's interests and abilities. You may also check out homeschooling publications and resources.
Set Your Homeschooling Goals
While you are allowed to design your homeschooling pace, it is still imperative that you define your goals. What do you wish to accomplish with your child? Do you need your child to develop their physical and creative skills on top of traditional academic skills? You might want to consider giving them extracurricular activities that will let them have fun. Your goals can also help you set your schedules throughout the school year.
Prepare Your Homeschooling Space
While any place at your house can be utilized for your lessons, it is still best if you dedicate a particular space for homeschooling. Your child, after all, needs the best learning atmosphere. You can also start thinking about the materials that you need, such as a desk, table, blackboard, organizers, and many others.
Homeschooling is a challenging endeavor both to you as a parent and for your child. It requires absolute commitment, time management, and patience. You also need to remember that it is something you can learn as you go, allowing you to define and redefine your set goals as time goes by.
More importantly, you can turn homeschooling into a success by equipping yourself with the necessary educational tools and resources that will make the process easy and smooth-sailing. You need supplies that will help you do your job better, from the school materials and workbooks to other homeschool essentials that can turn every lesson fun, exciting, and memorable.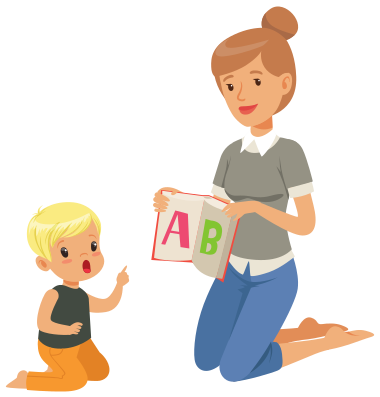 The following products are handpicked for your perusal and consideration. You will find all kinds of homeschool supplies that can enrich your child's learning experience. Check them out!
1. Homeschool Class Scheduling Chart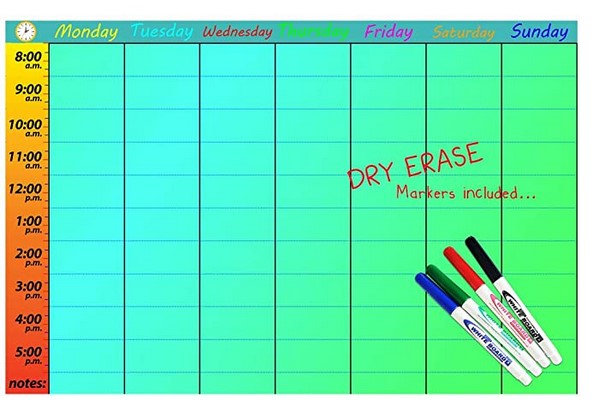 Just because you are homeschooling your child does not mean you do not have to follow a routine. Having a fixed schedule for all the lessons you need to cover every week and listing daily activities can help you stay organized and on track.
The Homeschool Class Scheduling Chart from It's A Skin can be your new best friend as you navigate the challenging work of homeschooling. This product is superbly designed as a class schedule and reward chart at the same time. Printed in removable peel and stick vinyl, the chart can be pinned to a wall and complement your other homeschool tools and furniture.
It has a full-color, dry erase gloss finish that lets you essential in the scheduled line up for each day using the free markers in four different colors. Since the chart is visually appealing, it can make things more interesting for you and your child. Your little boy or girl will love checking out what they need to do for the day and track their milestones at the same time. Great visuals can even aid those who have autism.
Make each homeschool day exciting by including their accomplishments and providing reward points. This way, they will be more motivated to learn and succeed in every academic endeavor. Inculcating the importance of time management and class schedules can help your child develop strong discipline and efficiency skills that will come in handy as they grow up.
As a parent who supervises their kids to the ways of homeschooling, a schedule chart is imperative. This helps you to keep track of what you need to cover each day, allowing you to stick to your schedule, and manage your time more wisely.
Even better, this chart is something you can use over and over again with dry eraser markers and durable materials. You save money while helping the world build a more sustainable future.
When homeschooling… ORGANIZATION is the key to success!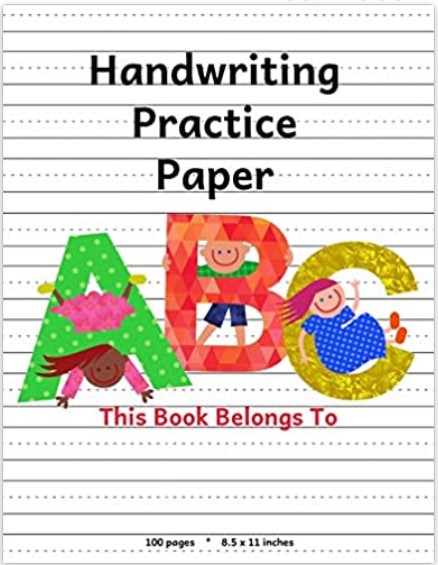 Writing as a skill will never be irrelevant! Almost every profession requires writing at some point, even if it is only as simple as filling out forms. If you are homeschooling your child and you have now reached the stage where you need to teach them how to write, then you need materials to make the training successful.
From One Dot Notebooks comes a well-designed supply that you and your kid will love. Handwriting Practice Paper: Notebook with Dotted Lined Sheets has a total of 100 pages of dotted, white paper. It is quite large and in portrait orientation.
It makes every writing practice so much more comfortable with its well-defined lines and neat high-quality paper material. Your child can start her writing journey right away, letting her copy every letter of the alphabet and improve her handwriting with constant practice. The pages are suitable for several months of writing practice.
The front page design is quite colorful and appealing to the eyes. It can be a great inspiration for kids to familiarize themselves with every letter and start writing their names and other words they learn along the way. The sentence lines ensure the handwriting will be straight and neat, imparting a skill to your child that can get better if done again and again.
All in all, this Handwriting Practice Paper: Notebook with Dotted Lined Sheets is an ideal choice for parents like you who need to get your kids started on one of the fundamentals of learning. It can also be a great gift to your parents' friends or children in your family.
Excellent and legible handwriting is a must. Help your child sharpen their handwriting skills with practice paper they will love!
3. Nature Arts and Crafts 5 DIY Projects for Kids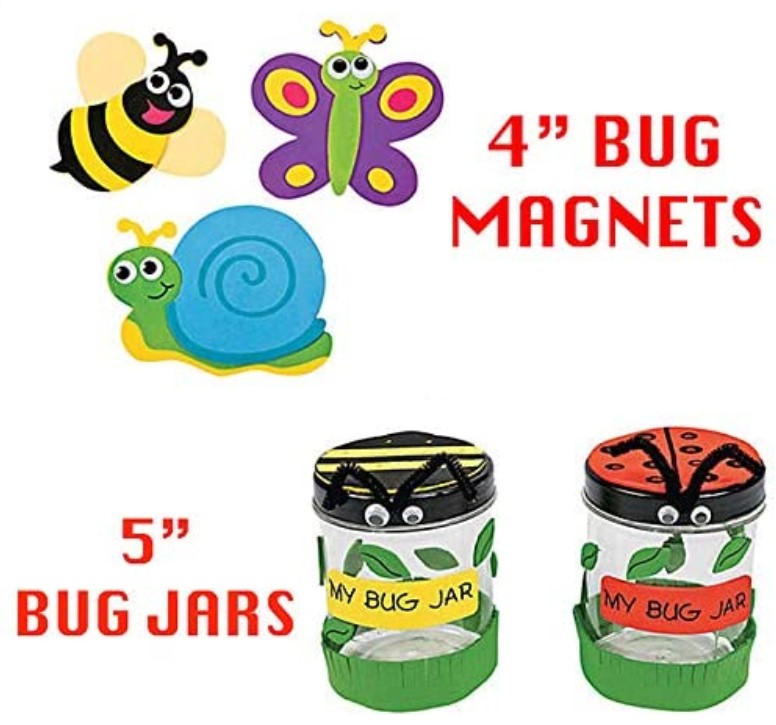 Arts and crafts do wonders to your kids' imagination and creative spirit. For homeschooled children, learning the ways of DIY projects can improve their creative skills and give them a wonderful outlet when they are bored. It is even better if you cultivate their love for the arts while they are young.
Mr. E=mc2 introduces Nature Arts and Crafts 5 DIY Projects for Kids, an all-inclusive kit that includes high-quality materials for various unique science, arts, and crafts projects.
The materials are bright and colorful and just the right size for small hands. Inside this kit, you will find three insect crafts that let your kids build snail, butterfly, and bee magnets using self-adhesive felt pieces, chenille stems, and googly eyes. They will also get to create bug jar crafts. These are made up of plastic jars with lids, googly eyes, pipe cleaners, and foam pieces.
The materials are so easy to use. Each project is wrapped in an individual package to ensure the pieces are secured. They each have instructions on how to go about the project, making it a breeze for kids to follow.
This arts and craft kit is not only an excellent creative learning experience for your kids. It is also an excellent way to let them learn about nature, specifically about the fascinating insects. You can use this to teach them about the importance of science and experiments. They can spend a good deal of their time learning about each insect, honing their creative skills, and getting entertained while they are at it.
If you are looking for ways to motivate your kids, then this DIY project can also serve as their prizes. You can use these as party favors, too!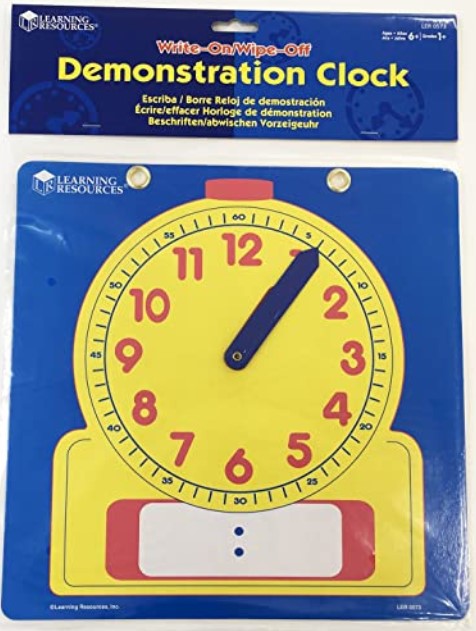 Time is an essential element of life. While they are young, it is a good idea to impart the essence of time to your kids. It is great if they will be able to read and tell time, making it easier for you to train them in the art of time management and discipline. Being able to tell the time of the day will give them a sense of perspective and help them organize their day-to-day responsibilities.
Learning Resources presents the Write & Wipe Demonstration Clock. This demonstration clock can help your little girl or little boy learn to tell the time of day. It is a heavy-duty laminated clock with movable plastic hands and a designated area where they can write the digital time.
You can use this product to show them how to read the time with the analog clock and to write it down in the digital form. The written time can be easily wiped clean, allowing you to demonstrate the art of reading the clock over and over again.
It makes teaching and assessment clear and practical. You can demonstrate and let them do it on their own in the subsequent exercises. It will make learning fun and practical.
The materials are also of high quality, ensuring their durability in the long run. This demonstration clock is such an excellent addition to your child's homeschooling resources. This demonstration clock is an ideal gift to kids in your family who are just starting to learn at home. This product is suitable for children ages six and above.
The Write & Wipe Demonstration Clock is a must-have for teaching a child how to tell time. Don't let them get dependent on digital clocks!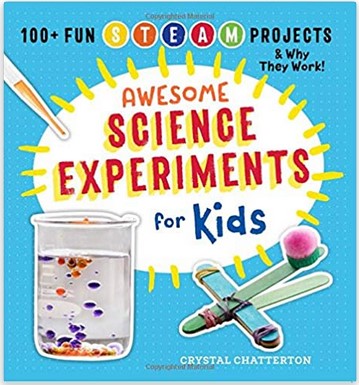 Science can be an easy subject to love, primarily if one's interest is cultivated from the very start. You can encourage their love for science by giving them this useful companion, Science Experiments for Kids (Book/Resource) by Crystal Chatterton.
Why do you need it? Well, it can get your kid excited about science, a difficult task if you are a parent who supervises a child's homeschooling. But with this book, you will be able to provide your young scientist with hands-on experiments that can teach them how to apply the scientific method.
The author is a former chemistry teacher and now blogger who formulated ideas from her home laboratory. Her book combines fun experiments with the hows and whys behind them.
In this book, you will find more than 100 STEAM experiments. These provide interactive science experiments for kids in science, technology, engineering, art, and math. The experiments are laid out in clear and easy-to-follow instructions, making the learning process fun and straightforward. The whole book is also accompanied by colorful photos that illustrate science experiments for girls and boys ages six to10. It also includes illustrations of common household materials used and the final results.
The book is such a great way to foster your child's curiosity. It lets them know that being curious is cool. They will learn to love the idea of discovering things and exploring results through fun experiments, from figuring out how quicksand works to turning lemon into a battery.
You can guide your kids every step of the way, checking the listed materials needed for the experiment and explaining the process at an appropriate level. It can be an excellent learning and discovery experience for both of you as you help your little one understand the world around them.
Who doesn't love a great science experiment? Get your kids involved with the Science Experiments for Kids Book! Need it quick?
6. Daily Magnetic Calendar, Fabric-Hinged Dry-Erase Boards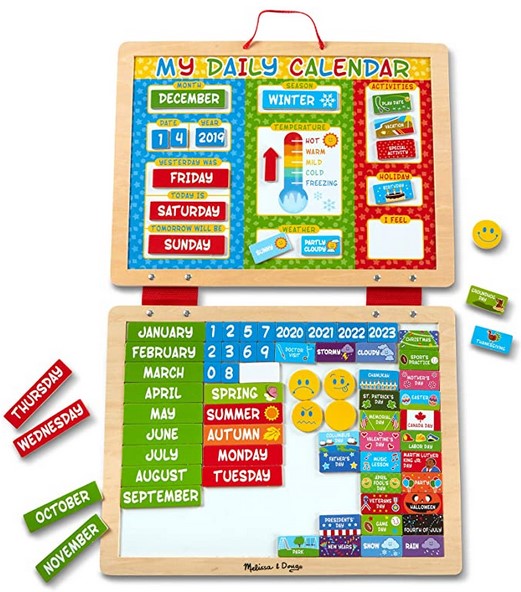 Just like any other activity that requires organization, homeschooling emphasizes the need to encourage scheduling and time management. If you start training your kids about the importance of these early on, they will grow up to be well-disciplined individuals who know the value of time and how to use it to their advantage.
From Melissa & Doug comes the Daily Magnetic Calendar, Fabric-Hinged Dry-Erase Boards. This toy is a tool for learning that every boy and girl will love. Designed to inspire engagement and connection with your child, the daily magnetic calendar displays the day of the week, date, weather, and other special events.
It comes with 80 magnets, featuring the years, months, days of the week, holidays, emotions, and so much more. It also includes two fabric dry erase boards. This inclusion features the calendar template and one blank board that can be used for storing the magnets.
While the primary function of the calendar is to teach kids how to read the dates and learn the art of scheduling, it is also a great way to encourage children to communicate and interact with family members. They can enjoy the excitement of looking forward to upcoming events, like birthdays and Christmas, by displaying it on the calendar. They will discover a sense of control while acknowledging their responsibility. There is a space allocated for their moods, too, encouraging them to gauge and be in tune with their changing emotions.
It is an ideal way to make them imagine the possibilities, allowing them to dream and reach for them. An excellent gift for your little children, this magnetic calendar can fulfill a huge role in early childhood play. It helps them learn in a healthy and fun way.
Check out the Melissa & Doug Daily Magnetic Calendar, Fabric-Hinged Dry-Erase Board!
7. A Journey into the Human Body (Science Kit)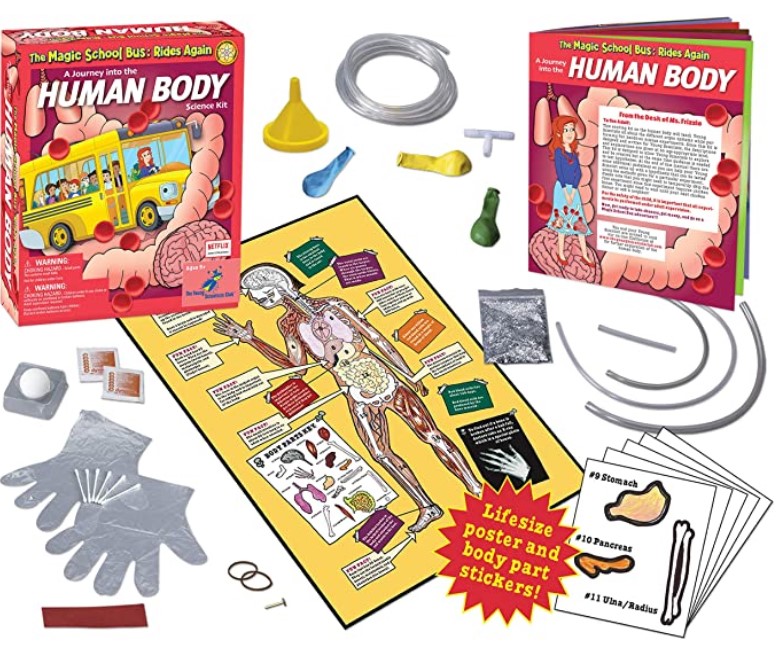 The human body is often a fascinating aspect of science that can pique many young mind's interests. And what better way to encourage your little boy or girl's love for science than this learning and educational science kit from The Young Scientists Club? A Journey into the Human Body (Science Kit) is a lovely gift for five-year-old kids and above who want to delve into the topic of the human body.
This kit encourages STEM learning, turning the whole experience into an exhilarating and unforgettable one where they follow along with the Magical School Bus books and Netflix series. Then little kids are in for a breathtaking adventure as Ms. Fizzle takes them through the human body with fantastic STEM experiments.
In this kit, they will find how young scientists bend bones, make joints, map taste buds, expand lungs, build a stethoscope, and measure lung capacities. They will learn how to perform the iodine starch test, spin glitter, simulate synovial fluid, and create a human body poster.
The kit comes with all the necessary supplies, except for the typical household items. It also includes a detailed manual with instructions, making this kit an education learning toy for many kids. Kids will also love the added touch of a life-size poster with eight sheets of body part stickers.
Did you know that this product was developed by a team of Harvard graduates, scientists, and educators? This kit was only put in the market after it has passed the ultimate test-approval by multiple teams of Young Scientists at the annual camps.
This science kit will be loved by your child. It is a beautiful way to teach them the fascinating world of science in a fun, exciting way.
Do you have a budding doctor in the making? Check out the Journey into the Human Body Science Kit!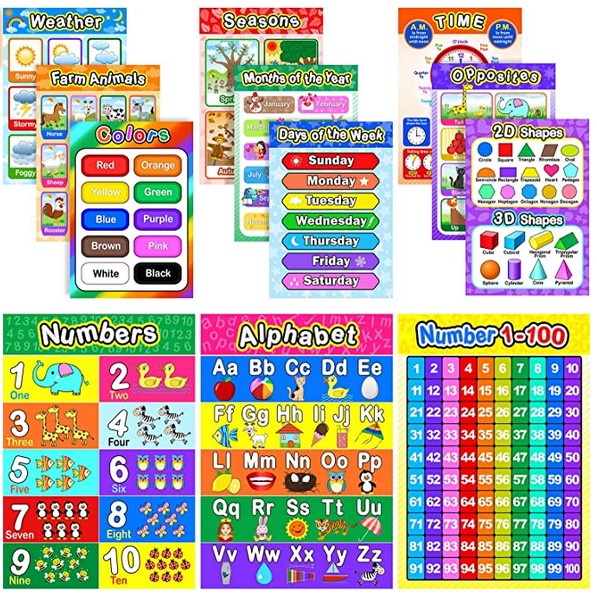 Toddlers often develop their sense of curiosity and imagination early on. As parents, you can encourage and cultivate this further by providing them with the necessary tools and toys. One of these is the Numbers/Alphabet/Colors/Days Educational Preschool Poster from Blulu.
It comes in 12 different wall posters, from alphabet and numbers 1-10 to days of the weeks and months. There are also posters for seasons, time, weather, opposites, colors, farm animals, and shapes. The posters are made of 250 gsm cardstock, double-sided covered with high-quality PET film for added durability.
They are also waterproof, tear-resistant, and reusable. The posters are dry-erasable if you use water-based markers. This will allow your little one to draw and doodle on the content of the posters for better expression.
The posters can be easily mounted with a glue point dot that comes with the package. Each poster is designed with delightful colors and illustrations. Engaging graphic elements can grip children's imagination and arouse their curiosity.
These posters are an excellent addition to your preschool homeschooling tools. They can make learning fun and engaging for your child.
9. Connecting Blocks Math Learning Toy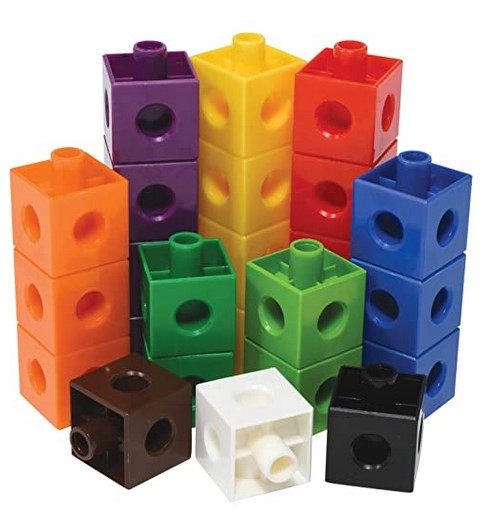 Children have developing minds that require nurturing. Use educational toys that can enrich their knowledge, creativity, and imagination. From edxeducation comes a learning toy that kids can use for creative construction activities.
Designed for small hands, this Connecting Blocks Math Learning Toy is composed of bright colored plastic linking cubes that can snap together with an easy click and took apart with a soft pop.
These toys are ideal for a creative activity session with your kids to help them refine their motor and construction skills. They are suitable for children three years old and above, with proper supervision, of course. You can watch and guide your child as they learn the art of pattern-making and applying colors to build their 3D creations.
Since the cubes can connect on all six sides to build up or sideways, playing with these can offer endless building possibilities for your little ones. Their mini architecture project can range from creating rockets and robots to rainbows and so much more.
This sort of toy can encourage them to sort through colors, solve problems, count, construct, create, and master early arithmetic skills that will give them a head start.
It is also an excellent learning tool when you teach them mathematics at home. You can use the cubes to lead them through various math concepts such as number problems, algebra, geometry, measurement, and reasoning. The blocks are designed to foster their imagination and creativity. It is an educational resource for every home that you should not miss.
Buy the Connecting Blocks Math Learning Toy from Amazon.com! The kiddos will love them!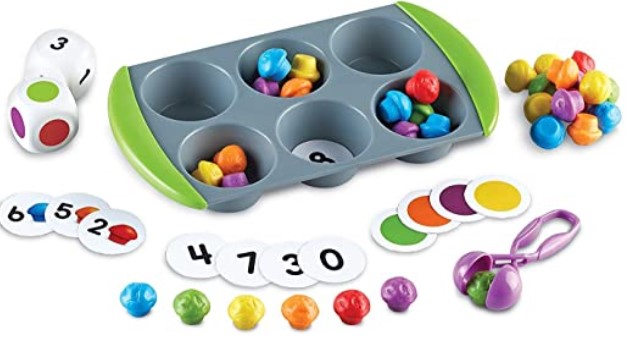 Math skills are something that can be developed over time. If you are teaching your little kids at home, having them learn the ins and outs of basic arithmetic can go a long way. The Mini Muffin Match Up Counting Toy Set from Learning Resources can be your perfect companion.
This educational toy set includes one muffin pan. 2 dice, Squeezy Tweezers, 12 double-sided sorting circle inserts, 60 mini muffin counters, and an activity guide.
Kids can develop their math skills using these mini muffin counters. For one, they can match, sort, and count the mini muffins. The bright colors can be appealing to their senses and will encourage them to learn how to count. They can also learn to recognize the colors and sort these out using the tweezers.
The toy set can be used by kids who are three years old and older. You can start by teaching your little girl and boy to match and sort the muffins by colors. They can try using the tweezers themselves with your supervision. This way, they can sharpen their grip and motor skills. You can tell them to roll the dice to decide what colors they should pick and put inside the tray.
Apart from the math and motor skills, the kids can also learn to work on their attention span by focusing on a particular task at hand. This toy set is an excellent tool for homeschooling your young ones.
Do you need an "interesting" way to teach math? Why not make it fun!?!
11. Crayola Washable Kids Paint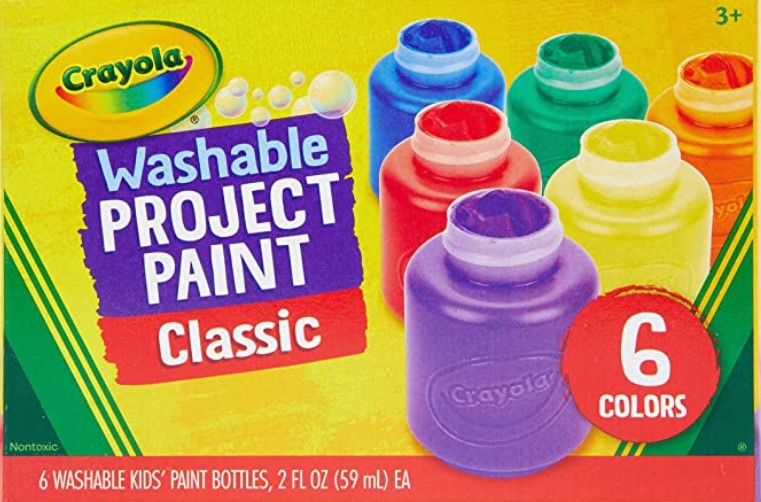 If you are looking for creative activities to keep your kids busy, consider art supplies! Crayola introduces Crayola Washable Kids Paint, the perfect tool for home crafts and indoor activities.
In this art set, you will find washable kids' paint in six different colors, from blue, violet, and red to yellow, green, and orange. They are perfect to use for your home art class.
Made from non-toxic formulas, these paints and paint sets are also available in tempera, glitter, neon, watercolor, and suitable old-fashioned finger paints. The paints do not drip easily from the brushes, so it does not create a whole mess. They are freeze-thaw stable, ensuring consistent performance at every activity.
Since they are washable, these paints can give your child the perfect outlet to unleash their imaginations and indulge their artistic sense. As you know, painting can help improve children's excellent motor skills. Blending colors can also teach them all about the different shades and hues. In time, they will be able to recognize primary and secondary colors.
Aside from freeform art activities, you can use this art supply for your art class when homeschooling your kids. They are ideal for arts and crafts, posters, and various school projects that can enhance their creative skills. The paints go well with brushes, sponges, stamps, stencils, and other art tools. They can also be used on any surface.
Art is a great creative outlet… and kids love it! Buy this wonderful AND washable paint set from Crayola!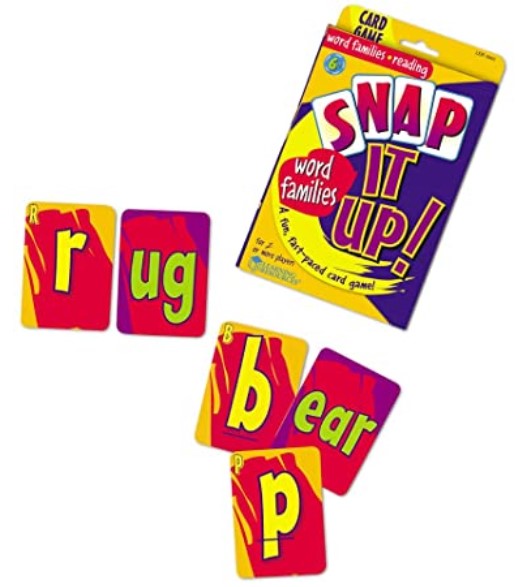 For parents who home school their kids, it is crucial to look for ways to make every lesson fun and exciting. This appeals to the children's senses and motivates them to do well. Fun games and activities can help sharpen their mental skills and let them enjoy learning all the more.
Learning Resources presents Snap It Up! Phonics & Reading Card Game to engage kids as they build their reading and phonic skills through a fast-paced game. The set includes 90 boldly printed cards that players can pick and pass quickly to make words from 1 and 3-letter word families.
Whoever forms three correct words wins. The key here is to build words at record speeds. It is often fast-paced, awakening the kids' competitive spirit and pushing them to win. This is a healthy way to hone their drive while providing them with hard-hitting practice in reading skills.
Generally, asking your child to read for school can be immensely tricky because they often find it boring, or they have too many distractions. To combat their short attention span, you can use this card game to pique their interest and make them enjoy learning how to read.
While this can be suitable for kids who are six years old and above, the younger ones may not keep up with the difficulty level of the game. You can always modify it to suit your child's learning level.
Parents love this game for incorporating play in the arduous task of reading. Kids do not only get to improve their reading and spelling skills but also practice their pronunciation ability. The game can teach them phonics, consonants, and vowels to form word families.
So much fun… the Snap It Up! Phonics & Reading Card Game gets them excited about reading! "Snap it Up" today!
13. 100 Words: Sight Word Practice for 3rd Grade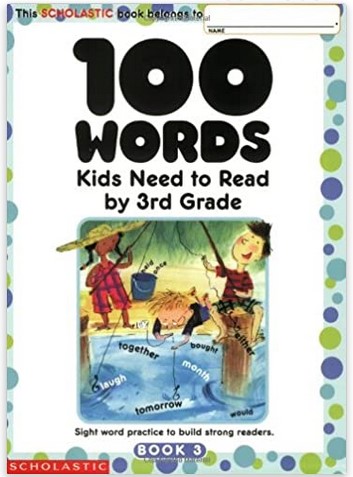 Not all children have the same learning pace. Sometimes it can take others longer to grasp a lesson. But no worries because it is something that can be remedied by constant practice. If you are looking for a way to get your little girl or boy interested in make-up lessons and practicing for their 3rd grade, then this workbook from Scholastic Inc. is the perfect educational tool for them.
100 Words: Sight Word Practice for 3rd Grade reinforces 100 words that children need to know. An excellent product, it features all sorts of word games and activities, including riddles and puzzles! Some stories present the words in context, the right way for the kids to enrich their vocabulary.
Activities like "guess the word" can pique their interest and make learning each word exciting. Kids will also be able to classify and sort the words in several activities. Some include practicing irregular verb forms and filling in the blanks in sentences and stories.
Overall, the workbook is an excellent way to help children learn and master comprehension, spelling, writing, and word usage. Since it also includes images and bright colors, this workbook is not only a tool of learning but also of entertainment. Every incoming third grader will love each game and activity in store for them.
100 Words: Sight Word Practice for 3rd Grade… An excellent homeschooling tool! This would make a great summer activity as well, to get your elementary student ready for 3rd grade!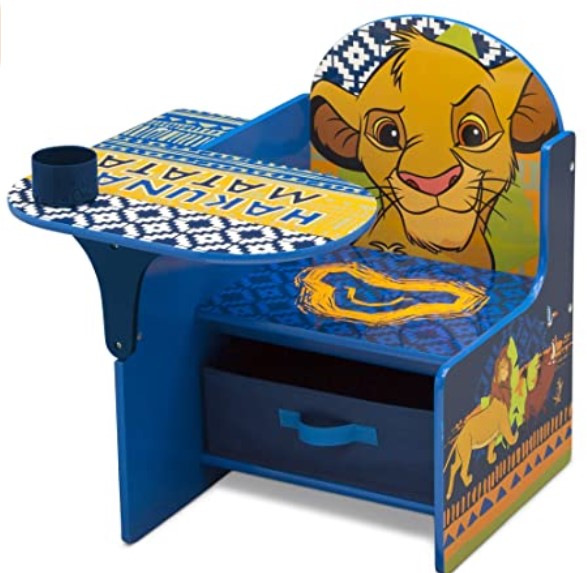 The problem with homeschooling children as young as 3 to 6 years old is the challenge of getting and holding their attention. They are often active at this age and are bound to be tempted by too many distractions around them. The trick often lies in simple things, though. Take, for example, this Children's Desk with Storage Bin from Delta Children.
Made with engineered wood and fabric, this desk chair can hold up to 50 pounds, a perfect seat for children ages 3 to 6. The desk has several exciting features. It has a removable cup holder for art supplies.
It also includes a fabric storage bin that sits low on the ground, making it easily accessible for a small child. The desk surface can be easily wiped clean with a dry cloth. It has a scratch-resistant finish that protects the beautiful colored Disney design.
It is a throne fit for your little royal where they can have a sturdy place to sit, snack, and do their school work. The product is built from long-lasting materials that can endure years of jumping and playing. It ensures your child's safety at all times.
Plus, the thoughtful addition of a storage bin is a nice touch that can help instill organization and discipline into your little one. It is the perfect gift for them on any occasion with its practical and valuable uses. They will associate this children's desk as a place for their schoolwork and would better focus on their tasks at hand.
It comes in many designs. You will surely find one to fit your little one's personality.
15. Crayola Ultimate Desk Organizer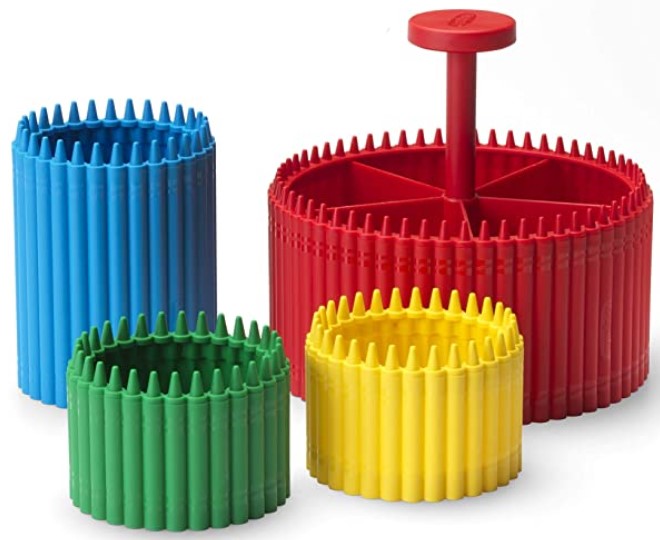 Organizational skills can be cultivated at a very young age. Teaching your kids to clean up after their mess and put their stuff in the right place can help build their character. The Crayola Ultimate Desk Organizer is one such organizing tool.
Inspired by the iconic Crayola crayon brand, it is a part of a mix and matches desktop storage collection that provides your little girl or boy a creative desk organizer where they can store their classroom craft supplies.
This set gives you four generously sized pieces of organizers, including a pencil cup, crayon cups, and a round organizer with five divisions. They can hold plenty of art supplies such as pens, pencils, crayons, and even office supplies, including paper clips, staplers, notepads, notepads, scissors, and many more.
These colorful organizers are not only practical. They are also brightly colored and fun to look at. They can be stacked too, which makes them great space-saving storage solution tools. Kids can even customize these storage bins. The round organizer has five broad sections. They can be placed on top of the round storage box to store items in less space.
The organizers are made from a durable material (polypropylene) without the presence of BPA, phthalate, and PVC, so it is safe for your child. Available in red, blue, yellow, and green, this product will spruce up your child's schoolwork and desk area.
Another great product from a name you can trust, Crayola!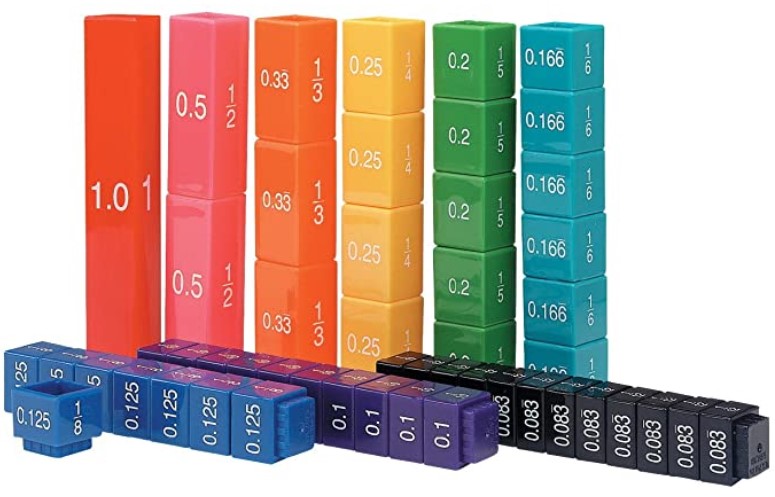 Mathematics has many different aspects that need a different teaching method. As a parent who does the homeschooling for your child, you will appreciate this Fraction Tower Activity Set from Learning Resources.
An excellent tool for visual learners, this educational toy set can teach your child the decimal, percentage, and fraction concepts in a hands-on, tangible way. The color-coded cubes feature fractions, decimals, and percentages.
They are interchangeable, allowing your child to make a whole with two ¼ cubes and ½ cube. The set includes 51 chunky, durable, and brightly colored cubes that represent various fractions, from whole, halves, and thirds to quarters, fifths, sixths, and up to twelfths. You can find a label on each cube's three sides.
You can use these cubes to teach the concepts of fractions by letting your child build simple, graphic mathematical models that demonstrate the fraction relationships. They are suitable for children ages six and above, but they are perfect for fourth and fifth graders where fractions and decimals are tackled. Kids often love handling the cubes as they are colorful and interlocking. They can play with these cubes, all the while learning some essential mathematical concepts.
If you like a hands-on approach to teaching your kids at home, then this tower activity set can be your perfect companion. The cubes are well-constructed and can easily snap together. They are also easy to pull apart to form other sets. They are also sturdy and designed to fit small hands.
You can buy this set and build your educational tools at home. They also make great gifts for family and friends on any special occasion.
17. Sum Swamp Addition/Subtraction Game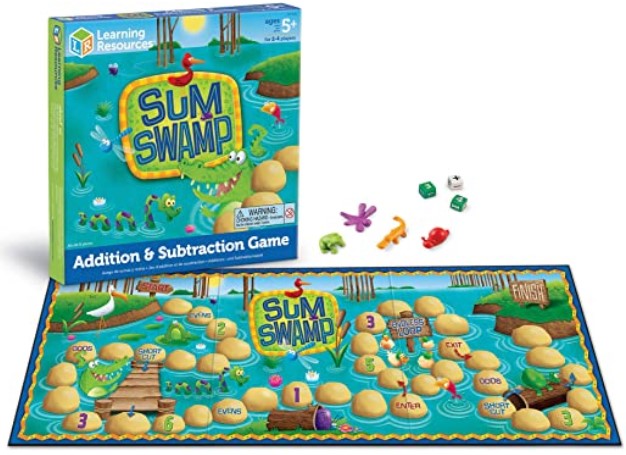 Math lessons and drills can be hard to maintain because they often require focus and enthusiasm. If you are teaching your kids at home, you would know how hard it is to catch their attention when it comes to mathematics. That is why many experts recommend utilizing educational toys that will make learning exciting and fun.
The Sum Swamp Addition/Subtraction Game by Learning Resources is an ideal choice in developing your child's fluency in early math skills. This exciting game brings children on a fantastic journey through the swamp.
Designed for up to four players, the game requires the participants to add and subtract numbers on the dice. The set includes four swamp creature game pieces, 2 number dice, and an operations dice.
Through this game, the kids can develop and sharpen their beginner math skills as they try to escape the mire with every roll of the dice. They need to add and subtract their way around the board. It features some fantastic rewards and challenges too.
Lucky players can land on a Crocodile Short Cut. Those whose luck is not on their side will get caught in the Endless Loop. There are also special squares such as the Even or Odd number space that makes things even more interesting.
The most fun part? This is a game that kids can grow with. While 5 to 6-year-old kids might find it a learning challenge, they will be able to have more fun with the game as they grow older and acquire more math skills.
Teaching them math concepts through this game is not so hard as the kids can take it as a fun adventure every step of the way. It will make every math lesson enjoyable both for you and your kid.
Now, this is how to make math fun! The Sum Swamp Addition/Subtraction Game by Learning Resources is the tool you need!
18. Shapes Beanbags ñ Educational Sensory Toys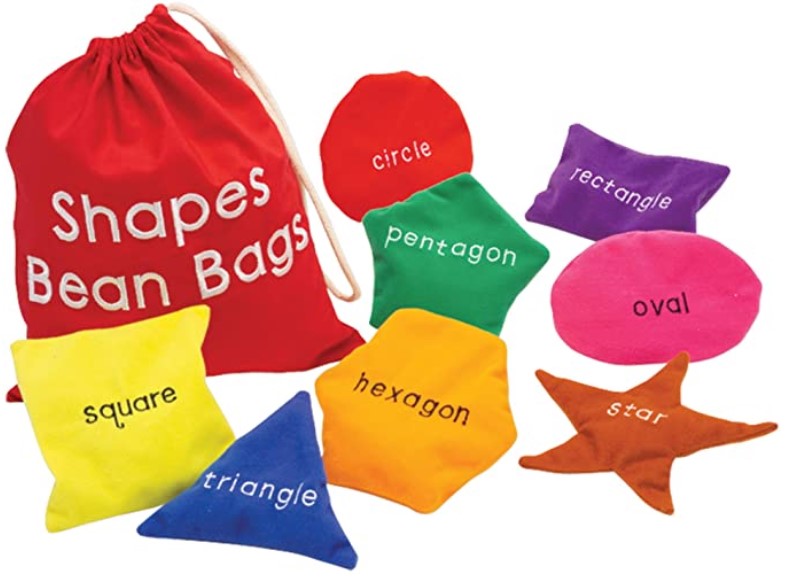 Perfect for every toddler and preschooler in your home, the Shapes Beanbags ñ Educational Sensory Toys by Educational Insights is a great way to encourage your little boy or girl to learn and identify shapes.
This toy set includes eight beautifully embroidered beanbags featuring different shapes, from a square, triangle, hexagon, and pentagon to circle, rectangle, oval, and star. It features an activity guide with seven hands-on games.
All of these can be put inside the free drawstring bag for secure storage. Each bean bag is 4 to 5 inches small, making it perfect for a toddler's hand. The bean bags are also lightweight and easy for them to handle.
The children can learn the shapes and colors while developing their motor skills, including their sense of balance and hand-and-eye coordination. They can have fun with a toss-and-catch game, or you can try making them pick the correct shape and colors.
You can organize a fun activity for your child to help them stay engaged, entertained, and learning even at home. Every lesson can be filled with exciting visual and kinesthetic experience. Kids can also let their imagination run as you let them play and learn on their own. This proves that this beanbag set is a versatile teaching toy that will make your child's home learning journey fun and unforgettable.
The materials used for these beanbags are of high quality. They can endure being tossed around and thrown back and forth. Each bean bag has a secure lining that keeps the beans from seeping out, Even so, it is still essential to keep close supervision of your kids as they handle these educational toys.
Perfect for beginners, the Shapes Beanbags gives your little ones the confidence they need to move on to the next big task! These can also be used to learn their colors!
19. Math Dictionary for Kids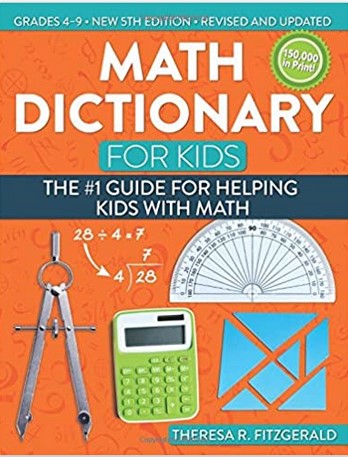 Kids often shy away from doing their homework, especially if this has to do with problem-solving and other math concepts. As parents, you would want them to be equipped with necessary math skills that will make school life and learning smooth-sailing for them. Why not give them this Math Dictionary for Kids by Theresa Fitzgerald?
This guide book covers every possible topic. This book is the fifth edition of the Math Dictionary for Kids series that provides students in grades 4 to 9 a plethora of math concepts and vocabulary that they can master.
The book has more than 400 definitions accompanied by illustrated, concise explanations and examples of the most commonly used terms in math classes. The terms are categorized by subjects, including measurement, algebra, geometry, fractions and decimals, statistics, probability, and problem-solving.
In this edition, students will also find discussion on using essential math tools that will significantly improve their understanding. It even includes handy measurement conversion tables.
If you are teaching your kids at home, this book is a useful resource that will guide you through as you help them accomplish their math homework. You can also set a challenge or lesson for them to do based on the terms they encountered. The math terms and concepts ensure that your kids' math learning journey is a stress-free and enjoyable experience.
So, this is for the kids AND the parents! Yes, sometimes Mom and Dad need help, too!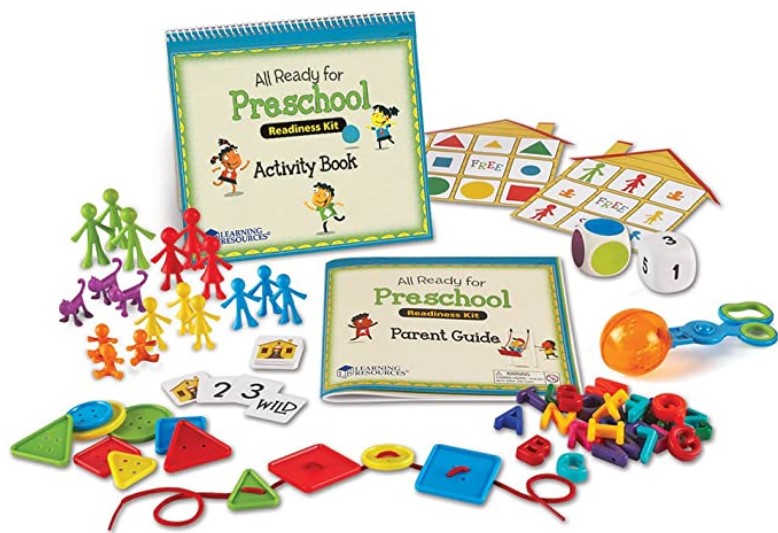 Getting your child prepared for preschool can take a lot of work, but it does not mean you can't have lots of fun while learning together. From Learning Resources comes All Ready for Preschool Readiness Kit that includes all preschool essentials bundled in one sturdy carrying case.
The kit is vibrantly designed to help you teach your child various educational concepts such as numbers, counting, alphabet, colors, shapes, excellent motor skills, and more. It includes a 32-page parent guide structured upon an easy-to-follow set for a lesson framework.
You can find a comprehensive collection of activities and hands-on tools for preschoolers, from colorful manipulatives, a write-and-wipe activity book for children, and many more. It also has a handy storage box where you can store everything and keep your learning space organized.
You can use these tools to instill essential preschool skills like counting, alphabet memorization, color identification, and shape recognition. The inclusions can give you a ton of ideas to make each lesson enjoyable. You can combine games and activities using the colored pieces. Since they are brightly colored, the set can easily catch children's eyes and pique their interests. They are great tools to cultivate their love for learning while enriching their imagination and creativity.
The materials used for this set passed the safety standards. They are also durable and versatile, making them an ideal choice for your preschool lessons.
Are you looking for one set that covers it all? Get your kiddo ready for preschool with this All Ready for Preschool Readiness Kit!
21. The Scrambled States of America Game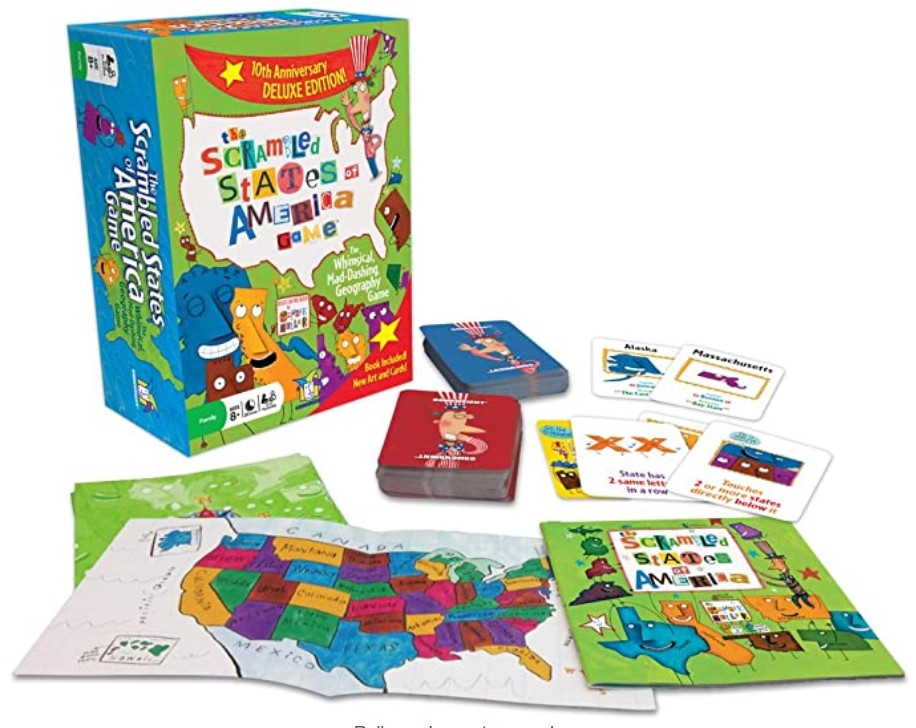 While geography does not seem like an exciting subject for many young people, it is something that needs to be learned for its sheer usefulness. Living in an interconnected world requires individuals to have ample knowledge of the world around them.
For American kids, learning the country's geography can be a bit boring. That is if you stick to the traditional teaching method. Why not give them an exciting geography lesson instead?
Gamewright presents The Scrambled States of America Game based on Laurie Keller's hilarious story. They aim to provide a fun way for children to enrich their basic knowledge of U.S. geography through an exciting game.
The set is composed of 60 Scramble cards, 50 State cards, 4 U.S. maps, a full-color paperback book, and rules of play. For each game, the players are expected to learn the names, capitals, nicknames, shapes, and positions of the states through a variety of visual teasers, language riddles, and geography challenges.
They can find the state that ends with a particular letter or one that borders Tennessee. They will also have so much fun collecting cards by matching them to a Scramble challenge. It is a mind game of observation and quick reflexes. The player who collects the most cards can get the distinction as the "Head of States."
This new deluxe edition has new exciting features such as the new art, challenges, and a copy of the book, "The Scrambled States of America." It is the perfect teaching tool for your child as you guide them through the subject of geography.
This exciting game can make learning about geography fun for the whole family! Get it in time for your next family game night!
22. Book Bin Assorted Colors Case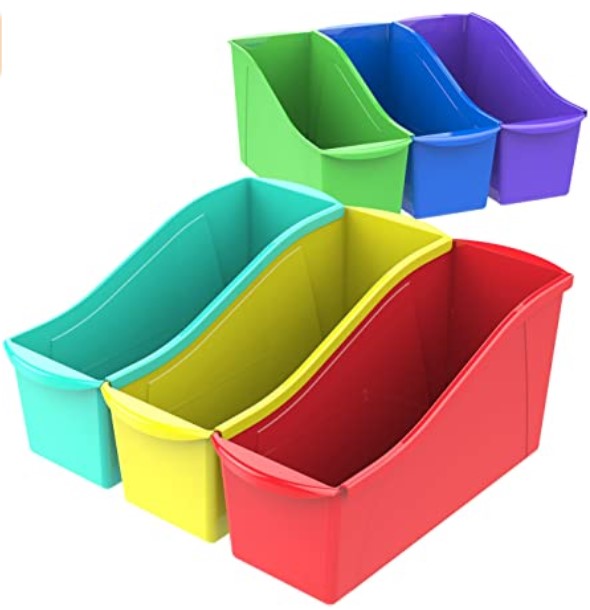 Classes and lessons, even those done from the comfort of your home, require a semblance of organization. You would not want to see school supplies scattered around after every use. At the very least, you must have a designated place for all the books, magazines, folders, and files that you use for homeschooling.
Storex has the perfect organizer for you. The Book Bin Assorted Colors Case comes in beautiful assorted colors, from green, blue, and teal to red, yellow, and purple. They are the perfect tool to hold books, magazines, and folders.
The sides of the bins can connect for safe storage. There are also front and rear handles that make it easy for you to grip the bins, making it perfect even for little hands. The bins are made from sturdy and drop-resistant plastic that ensures its durability.
If you have a lot of books and other lesson materials, these organizers can help you keep your study space neat and scatter-free. The materials you put in the bins are accessible, too, making it easy for you to reach out and pull out whatever you need.
For your homeschooled children, these bins offer an excellent way to teach kids to clean up after themselves. You can use color coding for each bin, designating one bin for each subject. They can put their workbooks and folders in the designated bin and easily located them when the need arises.
These storage solutions can also be used in different ways. With a little bit of creativity and imagination, you can repurpose them to whatever need you have, from stacking and sorting to organizing. Their beautiful colors make them suitable for any interior décor you have at home. They are built for optimum function and designed to impress.
Buy these colorful Book Bin Cases by Storex for your homeschooling workspace today. The assorted colors will enhance any decor AND they offer a solution to an organizational issue every home teacher has!
23. Classroom Seat Companion with Name Tag Slot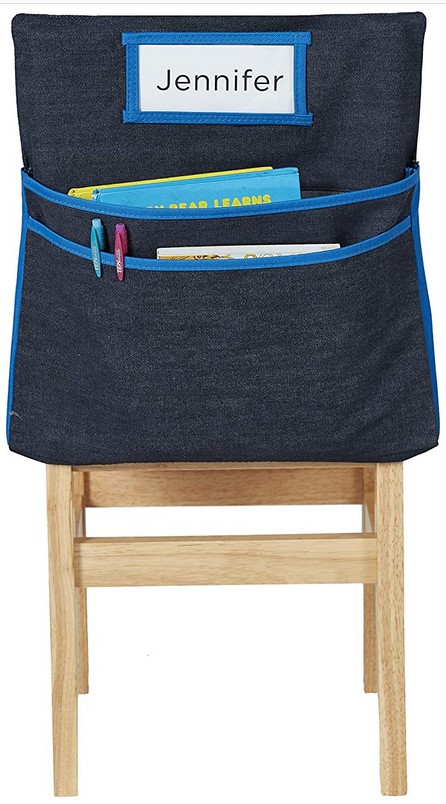 If you are one of the parents who home school their child, you would know the different kinds of challenges you have to face just to provide the best learning environment and experience for your children.
While space at home can be easily set up for young minds to enjoy learning, it can be a headache for you to keep things continuously organized. To help you maintain a clutter-free space, ECR4Kids introduces the Classroom Seat Companion with Name Tag Slot.
This seat companion serves as the perfect place for kids to keep and store their school supplies. It can help them sort their stuff and keep them within easy reach. The organizer can be attached to the back of a chair with the help of hook-and-loop fasteners. It is where your kids can keep their pencils, notebooks, art supplies, and more when they are not used. When they do need it, they can easily reach for them as they are close at hand.
The organizer features two spacious pockets for books and supplies. It even includes a clear name pocket where they can put their names, making the experience more personalized. It is made of durable, high-quality, machine-washable denim with blue trim. The tapered design makes it suitable for most standard-size chairs.
Your kids will be able to reach for their supplies without commotion. It will also help them stay organized and keep their study space clutter-free, allowing them to concentrate better as there are fewer distractions around them.
While each child has a designated chair just for them, they can easily have their supplies ready for a great day of learning.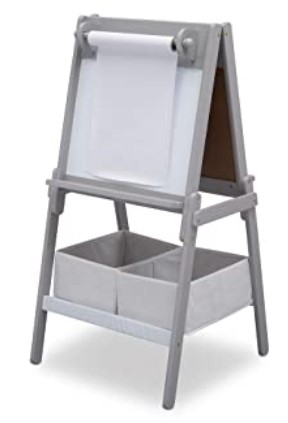 Does your child exhibit an interest and passion for art? Nurture their creative spirit by providing them with the best tools to explore their hidden talents. Delta Children has a two-sided easel that is ideal for arts and crafts.
This MySize Kids Double-Sided Storage Easel can be a perfect tool for homeschooling, too, as it gives your child a good outlet for artistic play.
The two-sided easel features three different drawing surfaces. One side of it is a chalkboard, and the other side is a magnetic, dry-erase whiteboard. It features a pull-down paper roll at the top, including 33 feet of paper. Made from durable wood and built for durability, this easel is designed at the right height for your growing artist.
This is where they can be given free rein to their creative and imaginative sense through painting, drawing, coloring, and writing. Art activities like this do develop not only their artistic sense but also their motor skills.
Its usefulness does not only stop at the easel, though. It also includes two storage bins underneath the easel where children can keep their art supplies. This product is available in three colors: grey, white, and dark chocolate. It is a great way to cultivate your child's creativity while teaching them the art of discipline and organization.
All in all, this easel is a perfect addition to your homeschooling arsenal. It can even complement the décor and interior of your study space.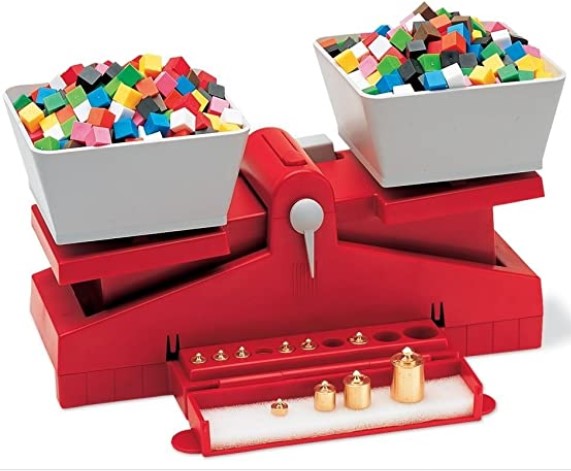 Teaching your kids at home can present all kinds of challenges, not the least of which is the struggle to make them interested in mathematical and scientific concepts. These aspects often require focus and attention, which young kids often have in limited supply.
To rouse their interest, you can make every lesson fun and exciting with the use of educational toys like this Multi-color Precision School Balance from Learning Resources.
This sturdy balance is designed for precise measurement. Featuring two removable pans and zero adjustment knob, it includes a built-in weight case and 10-piece brass gram set.
The ideal homeschooling item for children ages eight and above, this balance scale can help them learn mathematical and scientific concepts ranging from inequalities, mass comparisons, operations, and order. It is a useful homework aid for children learning all about measurements and balancing. You can easily demonstrate complex ideas for your kid, allowing them to grasp the concepts smoothly.
They can learn all about weight and how to measure them. It is a good way to get them interested in the lesson at hand. While it can keep them entertained, it is ideal for maintaining that this learning tool is an equipment with a valuable purpose instead of a toy that they can carry around. This way, they will take it more seriously and give their utmost attention to when you tackle a particular concept.
It's a great way to teach about the concept of measuring weights and balance!
26. Erupting Volcano Model, Fun Science Learning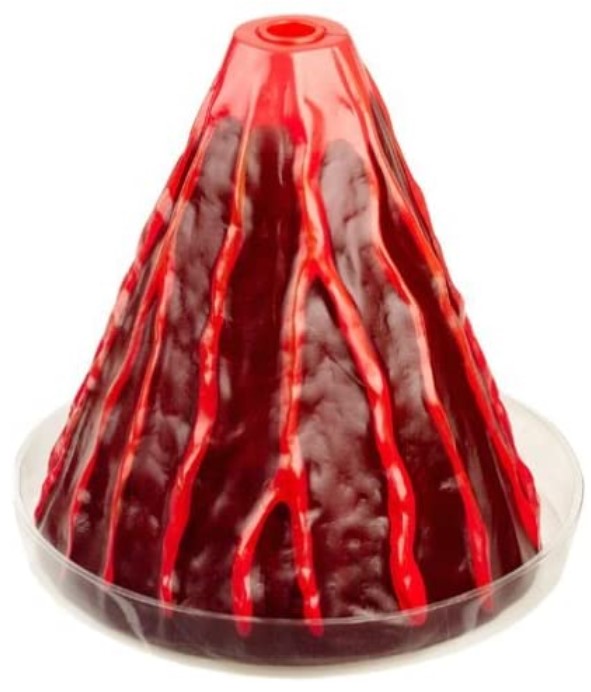 Volcanoes can be a foreign concept to most kids when you first introduce it to them. However, it can become a fascinating subject once they get to know and see this natural phenomenon. While there are all sorts of videos and photos that you can use to let them grasp what it means, nothing can beat the excitement of watching an erupting volcano in front of their eyes.
Learning Resources reveals the Erupting Volcano Model, Fun Science Learning. This product is a handy learning tool for parents who want to teach their children the science of erupting volcanoes.
The set includes an easy-to-prepare lava recipe, a 13″ clear plastic tray, and a removable tube that allows for a quick clean up. You can also find a fact-filled activity guide inside, which is useful if you are not familiar with the whole process. For an exciting lesson, you can create your very own erupting volcano and get your child fired up about science.
They will be in awe to witness a volcanic eruption from the safety of their home. Once you get their attention, it will be easier to teach and make them understand the concept of an erupting volcano.
The detailed cross-section will even show them the inside of a volcano, which can be a cool experience for every young mind. The activity guide also includes fact-filled information about volcanoes that every kid will love.
Made from hard plastic, this product makes the clean-up process a breeze. They are also made from non-toxic materials so you can be assured of your children's safety.
Talk about making your science lesson unforgettable. This will do it! So much fun and a great learning experience too!
27. Kids First Science Laboratory Kit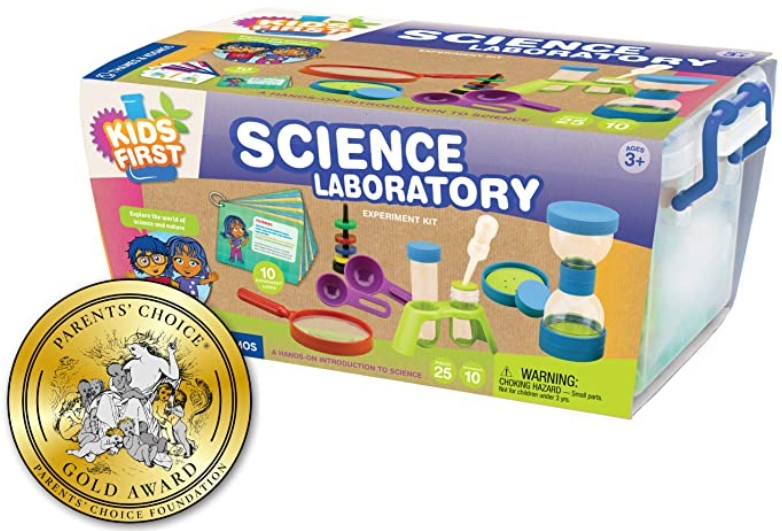 Science lessons do not have to be tedious and stressful! If you are homeschooling your little boy or girl, then you would want to provide them with the best learning experience, from arts and crafts to fascinating science experiments.
Thames & Kosmos has created the Kids First Science Laboratory Kit that you will want to include in your homeschooling supplies.
Designed mainly for preschoolers and kindergarten aged students, this kit can inspire your child's inquisitiveness and interest by providing them with tools and learning experiences.
It includes 24 tools, a 16-page full-color parent guide, and 10 illustrated experiment cards. You and your kid can experiment freely with a variety of safe and engaging tools. Every experience can stimulate creativity and enrich the spirit of scientific thinking. You can tap into your child's natural curiosity to explore and learn about the world around them. What better way to do this through experimentation, observation, and play?
This product is recommended for children ages three and above. Conducting fun experiments with younger children requires careful supervision. The price starts at $49.95, which is a relatively good value for your money if you think about the educational benefits it can provide for your kid. It can also be a perfect gift for special occasions like birthdays and Christmas.
They are not only educational and practical. These toys are also made from quality materials that ensure their durability, which allows you to use them for a long time.
In a bind? Need some fun science experiments fast?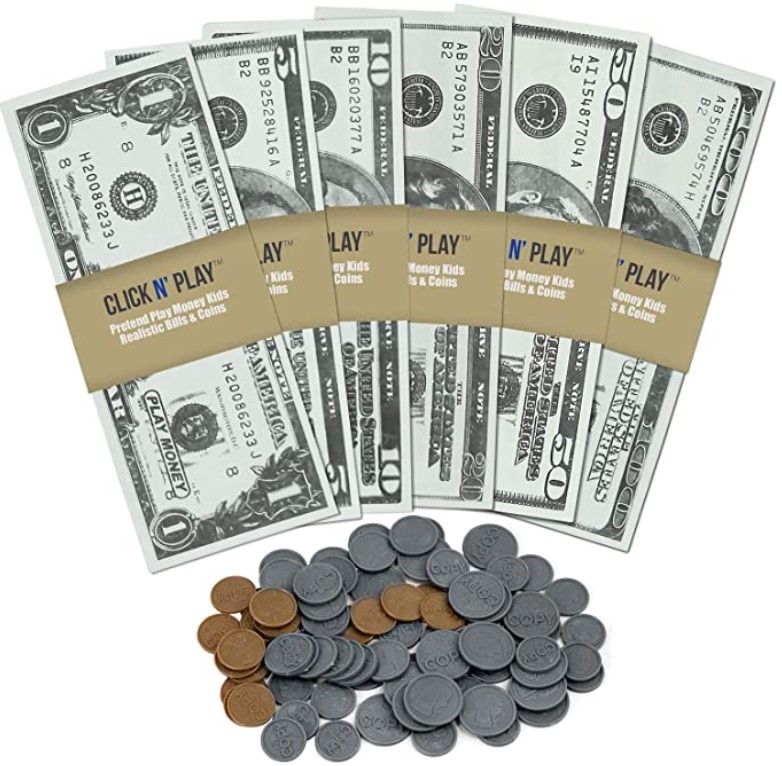 Math skills are a must for every growing child. You probably know by now that mathematical lessons can be challenging, whether you are homeschooling your child or helping them through their homework.
Teaching your kids to use the currency and count their money is a foundational skill that will come in handy in their future profession. Make your lesson meaningful and fun by making use of Pretend Play Money for Math/Counting/Currency Learning by Click N' Play.
This "pretend money" playset is comprised of real-looking money, including plastic coins made of high-quality materials and paper bills with an authentic look. It has a total of 150 pieces of money that you can use to teach your children all about currency.
They will also learn the essential skills of counting, adding, and subtracting their money in make-believe scenarios, letting them go through the lessons while playing and having fun. Perfectly designed for children ages three and above, this money set will teach the value of money early on. Your child can experience pretend play in different settings, from banking, cash register, shopping, and grocery playsets.
More importantly, you can teach your kids to manage money and accountability. They do not only learn how much the value of each bill and what they can buy with it but also realize that they need to be responsible spenders. You can make the lesson even more fun by letting them use this money set as currency around the house.
You can ask them to accomplish simple tasks and reward them with snacks and fun time, all the while teaching them to use the bills and coins properly. It is also an ideal way to improve their counting and math skills.
Counting money is a basic life skill every child should learn at an early age. This is perfect for homeschooling or just to practice at home.
29. GeoSafari Jr. Talking MicroscopLee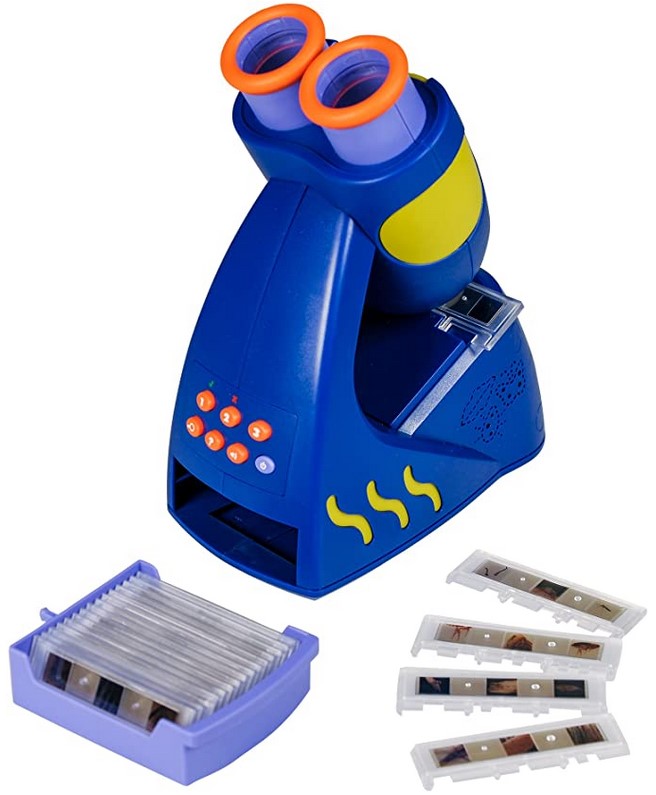 Every science lesson from home requires tools and equipment that will let you and your child go through the concepts clearly and realistically. Taking the beauty and fascination of the natural world inside your home can be challenging but not impossible with the help of the GeoSafari Jr. Talking MicroscopLee from Educational Insights.
This talking microscope can encourage your child to look, listen, and learn. It features the voice of Bindi Irwin, Wildlife Warrior from Australia Zoo. The perfect STEM toy for your young learner, it stimulates a kid's interest in and love for biology and botany.
The toy set includes more than 100 facts and questions, showcasing beautiful full-color images that can aid the child's visual experience. The microscope has two modes of play, namely Fact Mode and Quiz Mode. This gives your child the option to listen and learn first and test themselves after. It is also available in audio featuring four languages, including English, Spanish, French, and German.
To let them see the images, kids can make use of the dual eyepiece. They are not required to close one eye, which makes this equipment more comfortable and safer to use. While they can see the images up close, the talking microscope can also tell them about it, whether it is snowflakes, honeybees, tadpoles, or the human tooth.
Through this toy set, you can make at-home learning activities fun and exciting. They are a great way to make your kids stay focused, engaged, and entertained as they learn the exciting world of plants, animals, and many others. You can also clean it up quickly. It includes built-in storage where you can keep the slides for safety.
This is so cool… Where was this when I was a kid? It includes 60 awesome full-color images!
30. Go Wild Craft Kit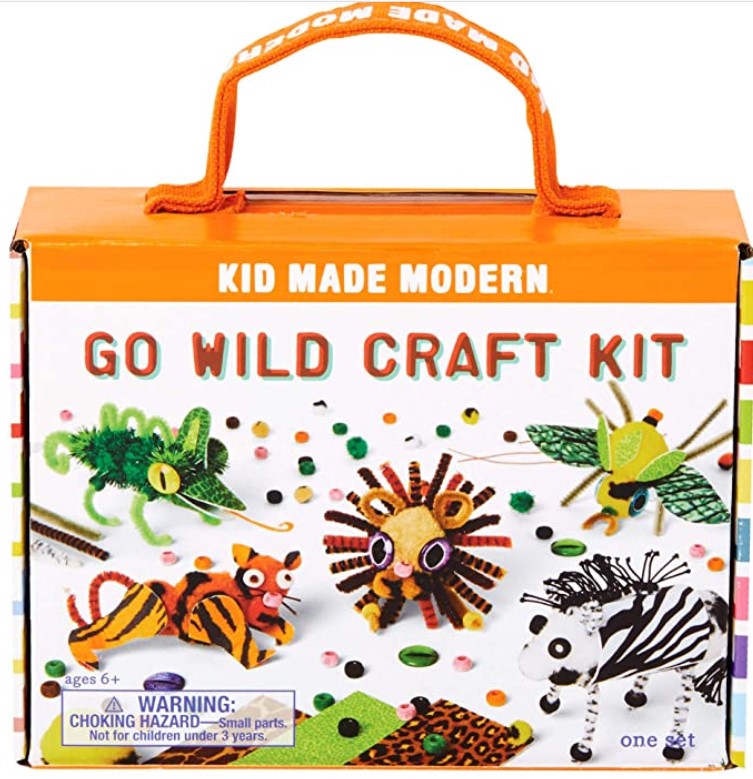 Staging home lessons often require creativity, knowledge, and innovation. You will need proper resources and tools to make each learning experience, not only educational and fact-filled but also enjoyable and exciting.
The latter will ensure your child's attention will not wander elsewhere when the lessons get tough or bland. You can make your lessons fun by incorporating this Go Wild Craft Kit from Kid Made Modern.
This learning kit gives you excellent value for your money. It is a great way to foster your child's love for animals while letting them exercise their creative muscles. Through this kit, they will be able to create their zoo with various creatures found in the wild. They can even create these creatures from their imagination, allowing them to dream up their species.
The craft kit gives them creative freedom. They can create their zoological inspired craft by making use of the beastly googly eyes, ferocious fuzzy sticks, printed pompoms, feathers, and more. Gluing the materials together requires low-temperature glue gun, which highly needs adult supervision.
You can create the project together, giving you the chance to explain and provide fact-based information for each creature. They will easily remember these details because they have a visual representation. Apart from the science lessons, you can use this kit for their art and craft projects, which will enrich their imaginations and stimulate their creative juices.
They can incorporate this in their playtime, giving them an excellent way to spend their free time while exploring their creative side and getting to know their wild creations.
This kit also makes a perfect gift for your child. Every parent will love how this arts and craft product can also be a way for them to bond and accomplish things together.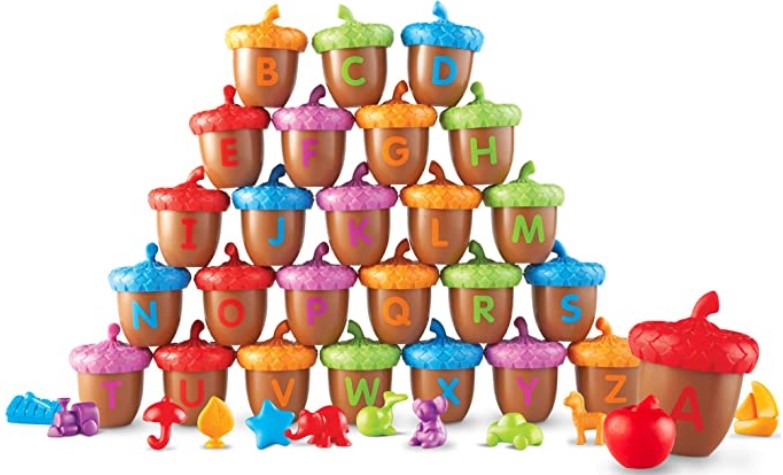 Kids have boundless energy, and at any given day of the week, homeschooling parents might find it hard for their young ones to calm down long enough to get a lesson on the alphabet done.
For your energetic young learners who can be as active as squirrels, the Alphabet Acorns Activity Set is a fantastic homeschooling tool that will certainly catch their attention and make lesson time more fun. It's especially suited for kids who lean towards tactile and visual learning, as the acorns make use of hands-on play and lots of colors.
Creatively developed by the company Learning Resources, which has been in the educational toy industry for over 30 years, the Alphabet Acorns Activity Set is flexible enough to be used in a variety of ways. Each set has 78 pieces – 26 acorns with an uppercase letter printed on the outside and a matching lowercase letter inside the removable top part, and 26 counter figures that match the color of particular acorns and start with its corresponding acorn letter (e.g., a red apple for the red A acorn).
Thanks to the toy's multiple elements, they can be used to play games like matching the lowercase letter to its uppercase version or matching the figure with the proper letter. Another way is to ask the learner to arrange the acorns alphabetically or to group the acorns and counter figures by color.
Parents can also strengthen their child's phonic skills by either asking them to make the corresponding sound for each acorn they pick or by asking them to pick the correct acorn based on a sound.
Due to the small size of the acorns and figures, they can be choking hazards and are recommended only for the use of children three years old and above, and with supervision.
A unique way to help your child learn the alphabet, the Alphabet Acorns Activity Set is available on Amazon.com!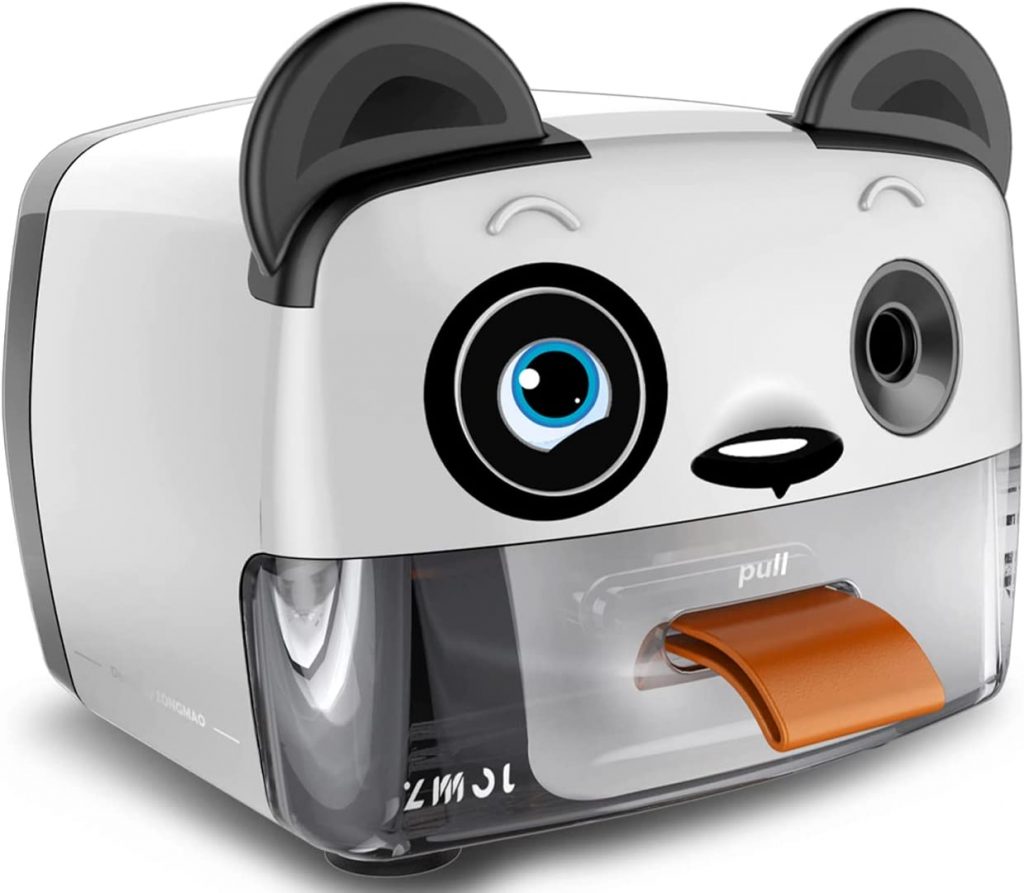 The charming Electric Automatic Pencil Sharpener can make even the most mundane task of sharpening a pencil ten times cooler for your child. And it doesn't just look beautiful; it's safe and gets the job done effectively, too.
Designed to look like a small, friendly panda with smiling eyes, it's also dual-powered, meaning it can run on both USB power or batteries. To use it, your child simply has to insert a pencil into an opening on the panda's eye, and the pressure will automatically start the sharpener – no force required, unlike with traditional sharpeners.
Plus, it only takes a few seconds to finish the task. Pencil shavings are then stored in an ample inner storage compartment and can be emptied by pulling the tongue.
The Electric Pencil Sharpener will be so fun to use.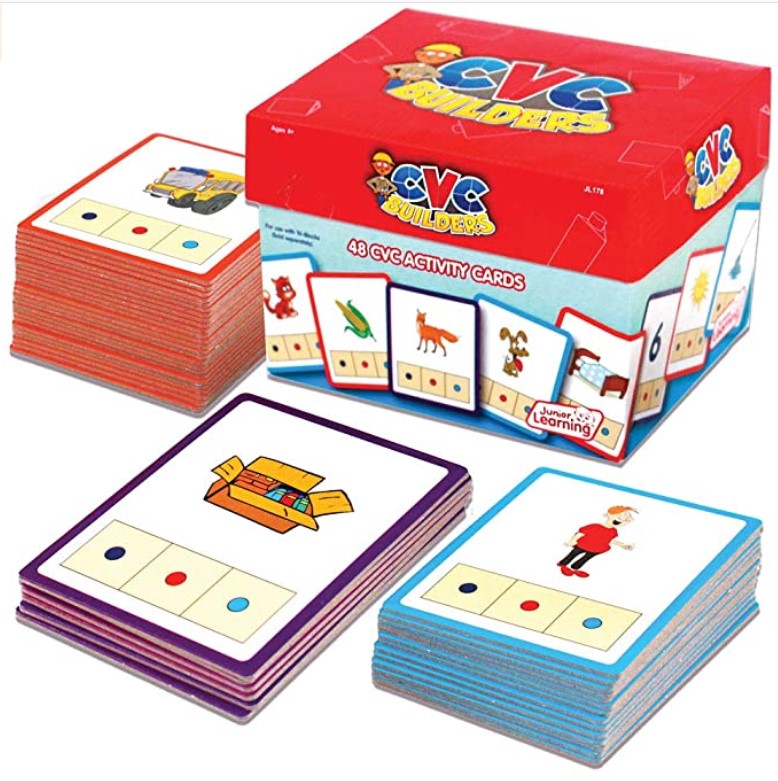 Bright and colorful illustrations adorn each of the 48 CVC Word Builders Activity Cards – an excellent homeschooling resource that can be adapted for various levels. CVC stands for consonant vowel consonant, which is the pattern of all the three-letter words used in the cards (e.g., van, cat).
This product is manufactured by trusted educational resource brand Junior Learning, which was founded back in 2009 by Dr. Duncan Milne, an educational neuroscientist, and Anna Kirschberg, a children's book author. Junior Learning's products incorporate research and principles from cognitive psychology to bring the most out of every child.
This $15-dollar product is light on the wallet but heavy on the learning benefits! Parents facilitating a homeschooling curriculum can incorporate the Activity Cards into phonics, spelling, or vocabulary lessons for kids aged four or older. Each card features an illustration of a word and a set of phoneme color codes, while the back of the card has the actual word printed on it.
While it is intended to work best with the separate CVC Tri Block Tubs product, which is composed of letters that can be put together to form words corresponding to the Activity Cards, it can be still be used as a stand-alone resource. Parents can guide their children by asking them to produce the sounds each three-letter word is composed of, or they can ask the child to identify the sounds produced by the parent for each letter or word. The words have three levels of difficulty, which can be identified by the blue, orange, and violet borders on each Activity Card.
Parents should note that that the product's size may pose a choking hazard for children three years old and below, and is intended for use only among those who are age four or older.
An excellent value for your money, check out the CVC Word Builders Activity Cards!
34. Homeschool Weekly Planner for Kids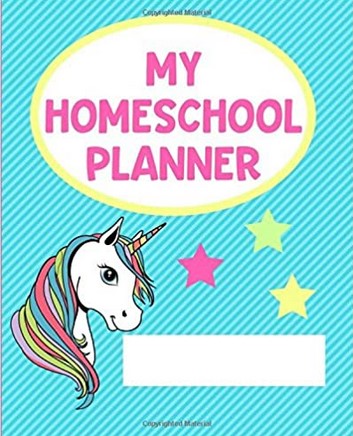 Every little kid loves magical creatures, most especially unicorns. And every homeschooling parent wants their little learner to gain organization and time management skills early on in life. The unicorn-themed Homeschool Weekly Planner for Kids is something that both kids and adults will appreciate.
This colorful 88-page weekly planner can be purchased for only $12.99 on Amazon and provides space for 40 weekly schedules or roughly one school year. Specific sections for areas like Chores, Bible, Math, Reading/Literature, Writing, History, Science, and Music/Art are also incorporated.
It's the perfect supplementary tool for homeschooling; parents can use it to fill out their child's one-week schedule with the intended lessons, activities, and homework, and then they turn it over to their child. The child is then able to have clear expectations for their studies, and they can use the planner to track and accomplish the needed tasks for a specific date through a checkbox format.
Regular use can build a child's ability to manage their time, and it gives them a sense of control and order by being well-informed about what to expect every week.
The planner features a bright blue striped cover with a rainbow unicorn and a space on the cover where the student can write their name. Aside from the section for weekly planning, it also has other handy pages like a Memory Work page where they can jot down texts they need to memorize (like a short quote or the dates of historical events).
While at it, check out the Book Log page that keeps track of the books your kids have read throughout the year! There is also a Field Trip Log page for every exciting yet educational trip they embark on. Publisher SDG School Books also offers the same weekly planner in other design options.
This is an important tool for any homeschooling parent. It will help keep students and parents organized and happy!
35. Mini Dry Erase White Board with Markers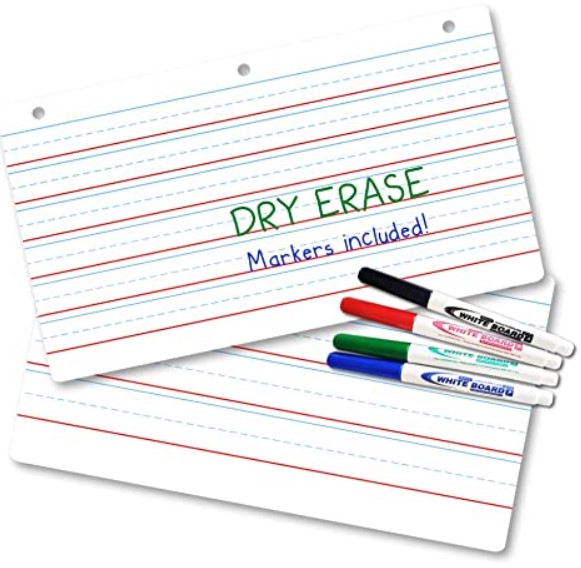 It is okay to make mistakes and start over again! This great lesson must be learned by your kids while they're young, and the Mini Dry Erase White Board with Markers is one way to teach them that!
For young learners at home who want to feel a little more grown-up by moving past the use of pencils, markers can be their next step. And being erasable, the markers and the whiteboard encourage children to become less afraid of things like misspelling something or messing up a drawing.
This homeschooling tool is lightweight and ultra-portable, so any homeschooling parent or guardian can use it when maximizing various locations for lesson time. Use the Mini Dry Erase White Board during an outdoor lesson, or make use of a long car ride to get your child to write or draw something (without the added risk of pointed ballpens or pencils).
Some great homeschooling activities you can do using the White Board and the markers are spelling games, handwriting practice, math problem-solving, or drawing practice.
Designed and made in the United States, a set of the Mini Dry Erase White Board includes two dry erase sheets measuring 11.5 inches across (one printed with a 1-inch rule, and the other with 1.5-inch rule). These sheets are punched with three holes on top for easy adding into binders, plus four dry-erase markers in black, blue, red, and green.
Customers can expect durability from the dry erase sheets, which are covered in reliable dry erase laminate and supported by the strong backing material. Other types of markers you might have at home, like permanent and wet-erase ones, can also be used on the whiteboard, giving you and your child more options.
This Mini Dry Erase White Board is a staple in anyone's homeschooling arsenal. And, the markers are included!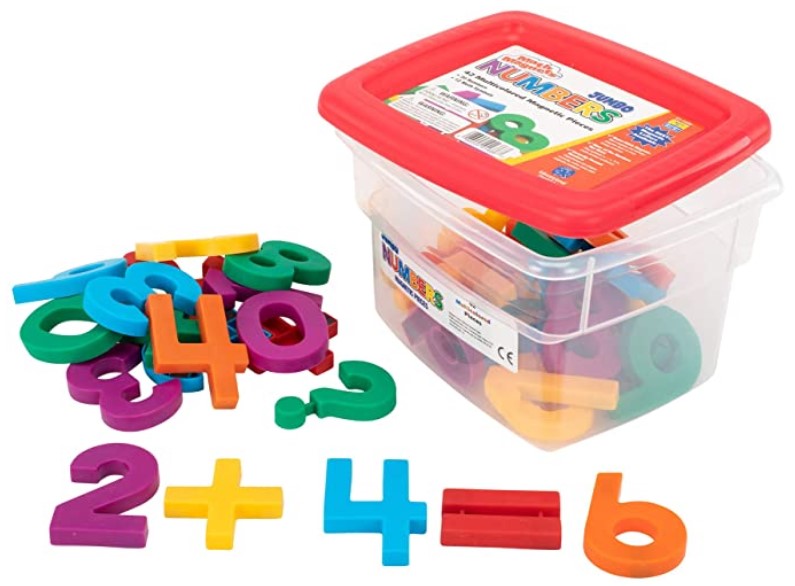 Bring a splash of color to every mathematics lesson at home with these Jumbo Multicolored MathMagnets from Educational Insights. The sturdy magnetic backs are perfect for use on whiteboards or other similar magnetic surfaces (even the fridge!), while the plastic storage tub makes tidying up super easy.
The containers are also stackable, which is excellent if you have multiple tubs. The product comes with 42 colorful plastic pieces made up of the numbers 0 to 9 (with three pieces of each number) and 12 math operations symbols like the plus, minus, and multiplication signs.
Each magnet is 2.5 inches tall, which is a perfect size for smaller hands. Use the pieces to form equations or problems appropriate for the current lesson, and let students answer using the other pieces or by writing down the answer.
Even though the product is mainly intended for kindergarten students, homeschooled kids of all ages will still definitely enjoy working with the magnets that range from six colors – green, red, yellow, orange, blue, and magenta. Manufacturer Educational Insights, which specializes in creating educational yet engaging toys, aims to teach efficient number recognition and simple equation solving skills through the MathMagnets.
Another added plus of working with magnets when doing math is that it also allows kids an opportunity for tactile learning by letting them solve math problems hands-on, literally! All these benefits make MathMagnets an excellent supplementary material for homeschooling, whether in an actual lesson or for independent learning and play.
Parents, guardians, and teachers, however, must ensure supervised use of the MathMagnets, as the pieces can be choking hazards to smaller children, especially those under two years of age, and they must be stored out of children's reach when not in use.
Make math fun and colorful with these cute Jumbo Multicolored MathMagnets. Perfect for beginner math students!
37. 15-Drawer Multi-color Organizer Cart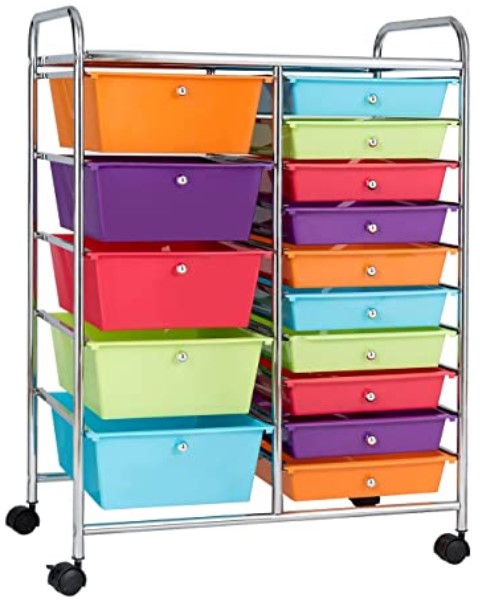 From brand Giantext comes a 15-Drawer Multi-color Organizer Cart that's perfect for storing, organizing, and moving around all your homeschooling essentials effectively. We all know that art supplies, craft materials, papers, colored pens, and dozens of other learning tools are an integral part of the homeschooling experience, and it's hard to keep up with so many items.
This organizer cart is quite possibly the best storage solution for you. It is affordable and easy to assemble on your own, plus its steel frame is sturdy enough to carry more substantial items.
The 15-Drawer Multi-color Organizer Cart would be fantastic for parents who utilize various locations for their homeschooling lessons, as it allows them to quickly bring all the necessary materials without having to do any heavy lifting or last-minute rummaging.
The Organize Cart is also designed to have chrome side handles that the user can hold onto to make moving around a breeze. Chrome handles for the drawers also provide stylish finishing touches, while the black castor wheels provide 360-degree rotation for ultra-flexible movement and positioning, even in cramped spaces.
The colorful drawers come in orange, purple, light blue, light green, and pink, and can brighten up any room, while the two different drawer sizes can accommodate whatever type of supply you want to store. For items that are more frequently used or don't fit into the drawers, the top part of the Organizer Cart can serve as a sort of desk or tabletop alternative, giving you some extra space.
A bonus to the design is the opaque material used for the drawers, giving parents and guardians privacy from their curious homeschool students' eyes. This is useful for items like score or answer sheets, or for times when a project calls for surprise materials or prizes.
A MUST-HAVE for home organization within any capacity… from homeschooling to home-based workers, this is a great find! It's also ideal for crafters!
38. Time Tracker – Mini Visual Timer, Auditory and Visual Cue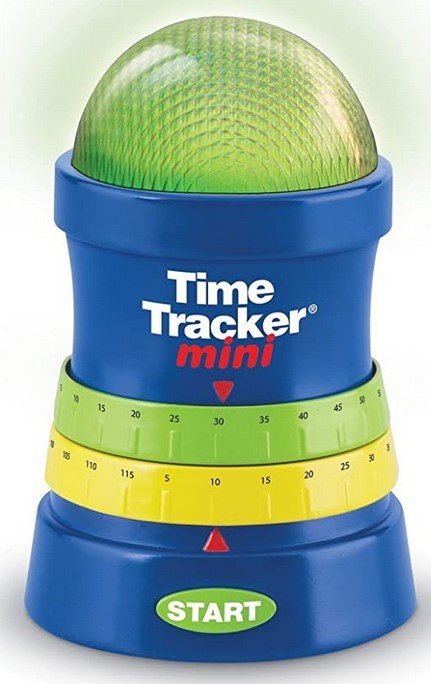 Home-schooling can sometimes give kids a harder time setting boundaries, as playtime and lesson time both happen at the same place – home. One of the best tools you can use to emphasize lesson time clearly and also to teach them the valuable skill of time management is the Time Tracker – Mini Visual Timer, Auditory and Visual Cue.
This cute toy-like timer equipped with colorful lights is barely five inches tall and weighs only 6 ounces, making it easy to store, carry, and use anywhere. The Time Tracker has two timers: the green dial and the yellow dial. The green dial is for setting the actual time you want to track, while the yellow dial is sort of a warning alarm – it's for setting the time when you want to be reminded that only a certain number of minutes is left.
While the task is being carried out, the Time Tracker's light flashes green. When the warning time is up, the lights change to yellow as a visual cue, while a warning sound plays as the auditory cue. When the actual time is up, the lights will flash to red, and another sound is produced. The timer allows for increments of 5 minutes, and parents can rest assured that it does not make any sort of ticking noise while running that can distract their kids.
The combination of lights and sounds help homeschooled children become more mindful of the time spent on any task, and it allows them to be more mindful that they are currently in "school mode." Three AAA batteries are required for the product to work, while manufacturer Learning Resources recommends it for the use of kids five years old and above.
This is a brilliant idea brought to you by Learning Resources. Their Time Tracker is perfect for teaching children to understand the importance of time restrictions.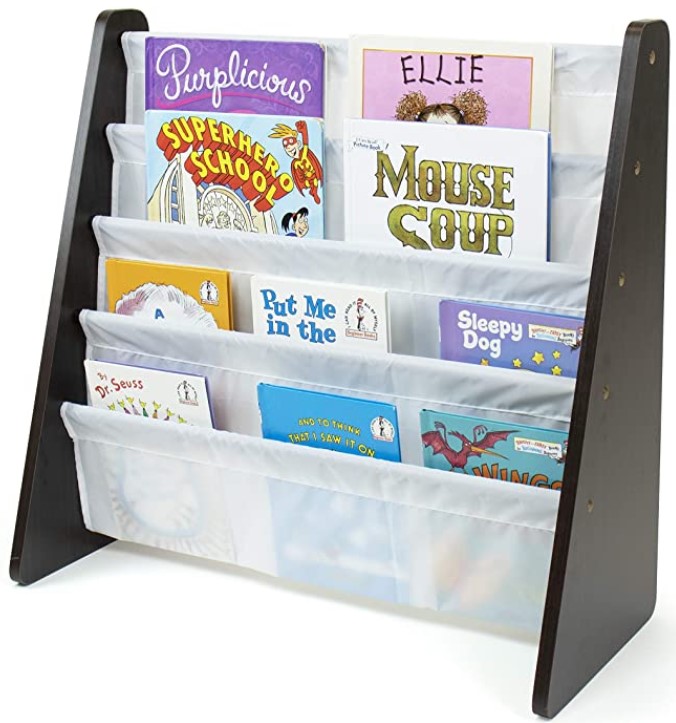 Learning doesn't only come from lessons, but also from the countless universes and timeless tales found in books, whether fiction or nonfiction.
If you're building a small collection of paperbacks to supplement your child's homeschooling lessons, then the Kids Book Rack Storage Bookshelf would be a must-have product for the both of you.
Manufactured by Humble Crew, a company that's been producing home products for more than 25 years, the Tot Tutors Kids Book Rack Storage Bookshelf is designed with fabric sleeves that display the book covers so kids can easily find the book they want to read. It's also short enough to be kid-friendly, as the rack only goes up to 24 inches, so toddlers and preschool children can reach any book regardless of where they are placed.
The product also weighs only six pounds, making it both lightweight enough not to cause any injury, yet sturdy enough to avoid getting knocked down quickly. The wooden sideboards come in three colors – espresso, grey, or natural wood finish – that can match any home's color scheme.
Humble Crew also recognizes the need to save space at home, which is why the bookshelf is only 11 inches wide – compact enough to fit into corners or smaller rooms. Users will also be pleased to know that installation is simple, while the removable parts make them easy to clean.
Parents doing homeschool can also use the five fabric sleeves to get their kids to group their favorite books into various simple categories, like by color or alphabetically, which can, in turn, develop their organizational skills. The well-thought-out design and the multi-purpose features that make it easy to use for both kids and adults alike make the Tot Tutors Kids Book Rack one of the best products for homeschooling.
Check it out! It's another great organizational tool for homeschooling!
40. Left and Right Handed Kids 5″ Scissors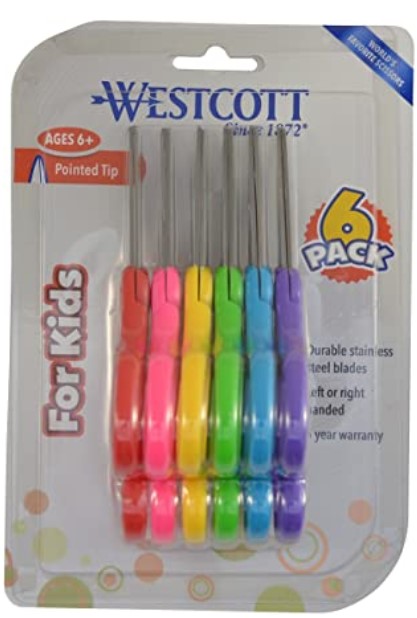 Whether you're homeschooling a left-handed kid, or you're a lefty yourself, these nifty Left and Right Handed Kids 5″ Scissors designed by all-American brand Westcott will fit the bill. We all know the world isn't always the friendliest to left-handed people – for instance, notebook spines poke into left-handed wrists, while lots of lefty kids struggle with the default right-handed armchairs.
Also, even the way we write from left to right makes lefties more prone to smudging the ink on their freshly-written notes! The good news is, more companies are recognizing the need for items that have been designed to work for left-handed people too.
Intended for kids six years old or older, these 5-inch scissors are ambidextrous and can be used by anyone, whether they are right- or left-handed. The handles, which are made of comfy yet durable plastic, are molded to fit a child's fingers snugly, and one pack comes in six lively colors: pink, yellow, green, red, purple, and blue.
If you're dealing with more than one kid at home school, you can easily assign a pair to each one based on the colors. Finally, your left-handed learners won't have to put up with uncomfortable scissors that weren't made for them
Customers can choose between a set with blunt or pointed ends, but both types are made of the same high-quality stainless steel safety blades that remain sharp and smooth even after years of cutting.
However, do note that these scissors are intended for use only on lightweight materials such as paper, yarn, and art materials and are not meant for heavy-duty cutting. They also come with a limited five-year warranty from the manufacturer Westcott, a trusted company that's been in the industry since 1872.
From a company you can trust, let Westcott's Left and Right Handed Kids 5″ Scissors be in your child's art kit!
41. Pretend and Play Checkbook With Calculator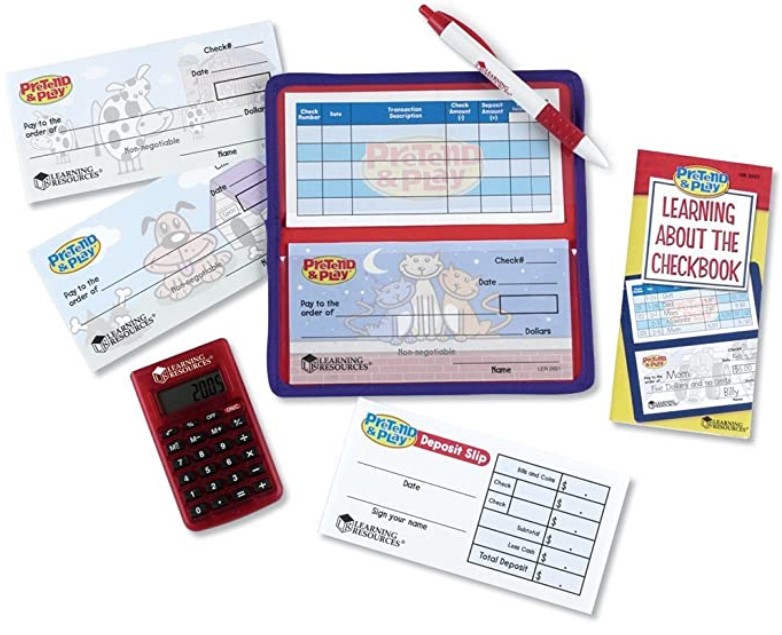 When you ask adults these days what they wish their schools taught them, most of them bring up stuff like finances, banking, and taxes.
For parents who homeschool their children, they have the freedom to incorporate the more practical life stuff into their kids' studies, and it's never too early to teach your young ones about money matters. And since kids love to play grown-up, why not start them out with a fun yet realistic Pretend and Play Checkbook With Calculator?
One pack includes the following: 25 actual-sized checks, a calculator, a pen, a check register, deposit slips, and an instruction card. Another great feature is that the calculator is solar-powered, so parents don't have to worry about batteries falling out or needing to be replaced.
With their parents' guidance, children can learn the purpose of checks and how to fill out one. They can issue pretend payments and work on balancing their checkbook. With the deposit slips, they can also learn how underlying banking transactions work at an early age. With the Pretend and Play Checkbook, playtime becomes an invaluable opportunity for kids to know more about real-world matters.
Parents and guardians facilitating math-related homeschool lessons can create scenarios where the students can use the checks to pay for products and services and make sure that they still maintain the required balance in their account. For the affordable price of only $21, this product can help kids gain the life-long skill of money management.
Pretend and Play Checkbook is produced by company Learning Resources, whose mission is "to help kids love to learn" and is recommended for kids ages five to twelve. Small parts may pose a choking hazard to younger children, so supervised use is recommended.
Help teach your child valuable life lessons like how to write a check and balance their bank account! With today's technology, these crucial skills are often neglected; however, they are much needed to learn the importance of keeping track of financial responsibilities later in life!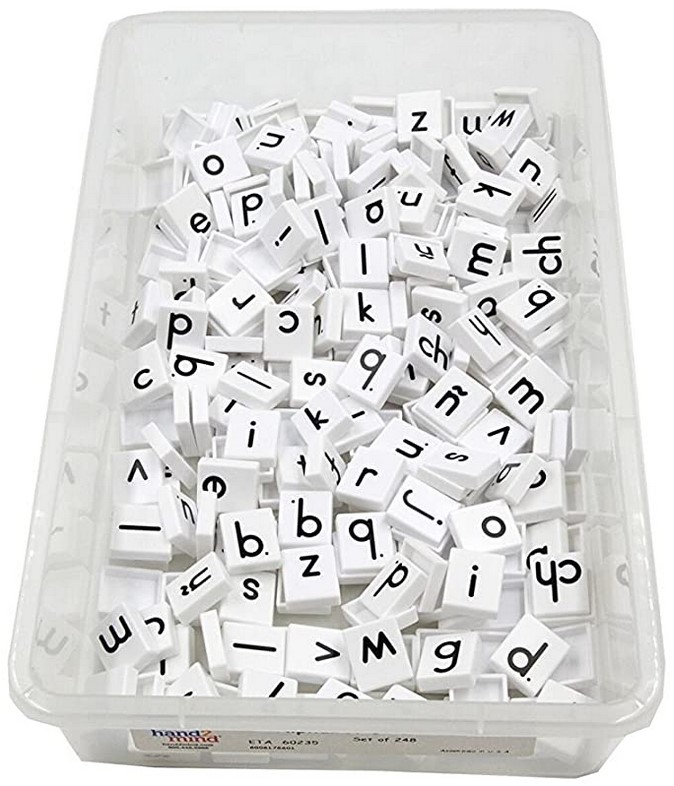 The possibilities are endless with the 278-piece Black and White Plastic Lowercase Alphabet Letter Tiles. This product is one of the best homeschooling supplies you can get for your child, as it is flexible enough for a variety of language-related activities for kids of varying ages.
Some examples of the many exercises you can do with the alphabet letter tiles are spelling, filling in the blanks, practicing pronunciation, identifying sounds, sorting letters or words alphabetically, and building new vocabulary words.
Manufacturer hand2mind prides itself on having more than 50 years of experience in the world of educational materials, and their expertise has led them to develop some of the best yet affordable tools for any type of learning environment, including homeschooling or one on one learning.
The Black and White Plastic Lowercase Alphabet Letter Tiles currently sell for only $15.94 on Amazon (as of writing) – quite the steal for such a multi-purpose item!
Each tile is roughly over an inch tall, and they come in a handy blue plastic container for secure storage. There are ten tiles for every letter, except for some of the ones less frequently used in the English language, such as j, q, v, x, y, and z, which only come in eight tiles. As all the letters are in lowercase, letters that resemble each other such as p, d, b, q, n, and u are marked with small dots for easier identification.
Due to the small sizes of the tiles, which can make them a choking hazard, this product must be kept away from children below three years old.
There are so many uses for these letter tiles… Spelling Lessons, Reading and Crafting, to name a few! Get them on the way to you by clicking here.
43. 2-Pack Yellow Translucent Harmonica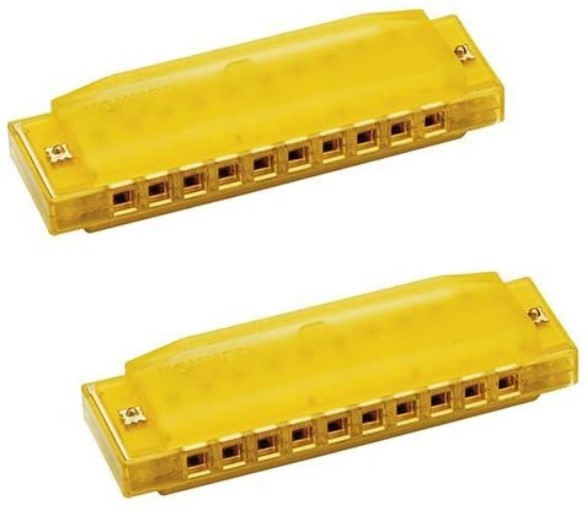 A well-rounded homeschooling experience is not complete without letting your child explore the magical domain of music. Who knows – you could have the next Mozart in your very own home!
Skill and interest in music and the arts begins early in childhood, so start him or her off with a simple 2-Pack Yellow Translucent Harmonica. These musical instruments from the company Hohner Kids make use of real brass reeds and are guaranteed to be free from harmful materials like phthalate and BPA. And there's no need to shell out hundreds of dollars on expensive equipment when your kid is just starting; you only need $12.95 to get these two harmonicas!
Exposing young children to the study of music brings with it vast benefits and skills that are useful in many other areas in life. They don't just learn the instrument; they also develop hand-eye coordination, detail-orientedness, and memorization techniques in the process! Being able to play a musical instrument can also give children a boost to their self-esteem. These, and many other reasons, show how crucial it is to incorporate music into every homeschooling curriculum.
This basic 10-hole harmonica is small enough to be easily handled by kids age three and above, and the fun translucent yellow color is sure to attract them while also making the instrument easy to spot even in the messiest drawers.
Parents can also rest easy knowing that these harmonicas are produced by Hohner Kids, a division that's dedicated to creating safe and well-designed musical instruments for children. Customers through the years have trusted in the quality of their products, as Hohner Kids' parent company, Hohner Inc., has been in the industry of professional musical instruments for an impressive 163 years, having been founded back in 1857.
Music is a fun aspect of the learning experience which is often included in the public school system. Homeschooling should be no different. Try out these exciting harmonicas and make beautiful music together!
44. Prepared Microscope Slide Set for Biological Science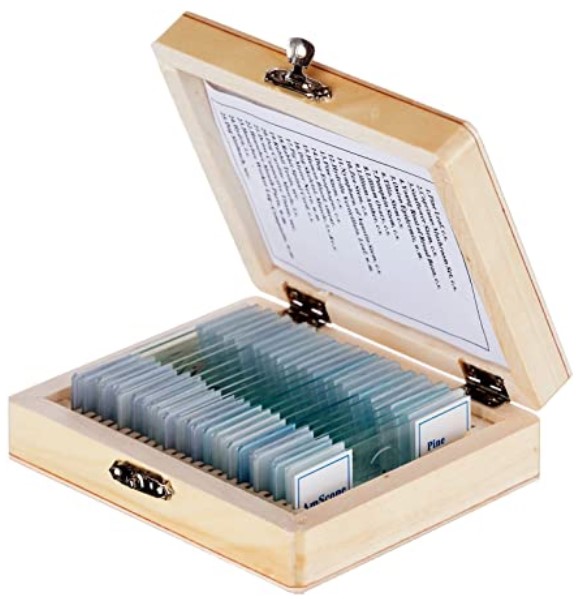 Homeschooling your very own little scientist? Then one of the top items on your Amazon shopping list should be the AmScope PS25 Prepared Microscope Slide Set for Biological Science.
Don't worry about it burning a hole through your wallet, unlike other science-related supplies out there – this set composed of 25 prepared microscope slides is priced at only $17.88! It also currently holds the title of #1 Best Seller on Amazon when it comes to the Microscope Sample Slides category.
During biology lessons at home, go beyond the textbook and let your child experience a hands-on look at the vibrant world that exists under the microscope, through this assortment of slides that range from animal, insect, and plant tissues.
Just some of the specimens they will be able to examine are the following. For animal tissues, slides include dog cardiac muscle, dog skeletal muscle, pig motor nerve, and rabbit spinal cord. For insect tissues, honeybee worker leg-composite and house bee mouthparts are some of the specimens provided.
Meanwhile, some of the plant tissue samples available are the young root of a broad bean, a pine leaf, onion epidermis, sunflower stem, pumpkin stem, and Lilium ovary. All specimens are preserved in cedarwood oil, covered with clear optical glass, and labeled accurately on each side for quick and easy identification.
The slides come in a fitted wooden storage box that safely protects from breakage and also includes a master list of all the slides. Parents worried about safety, and contamination can be assured that each specimen is carefully sealed with a coverslip that prevents any leakage from happening.
The slides are manufactured under the brand name AmScope by American company United Scope, which has been around since 1996.
These slides are perfect for the budding scientist in your family!
45. Hanging 6 Multicolor Pocket File Folders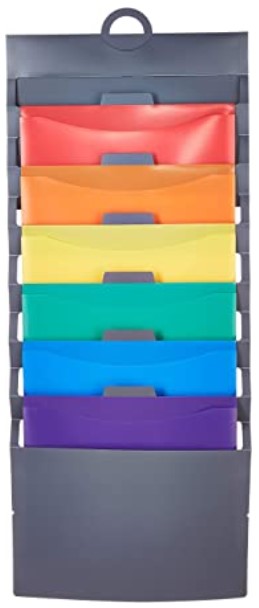 Being organized doesn't have to mean being dull and boring. These perky Hanging 6 Multicolor Pocket File Folders from AmazonBasics will keep your workspace and your little learner's papers neat and tidy while brightening up the room.
A significant selling point of file folders is that they don't take up any desk space and can simply be hung on the wall or any flat surface. This frees up your desk or table, so you or your student don't have to put up with a cramped, crowded surface. The product also comes in an all-gray version, for those who prefer a more monochrome, minimalistic look.
As the name says, this is a file folder that has six colorful, removable pockets that cascade down when hung from the wall. It is made from a long-lasting polypropylene material that is also resistant to water and is tear-proof.
Those who are particular about long-term storage will also be delighted to know that the folders provide acid-free, PVC-free, and archival quality to keep your papers in their best state. All this makes the Multicolor Pocket File Folders a reliable way to store and protect your most critical homeschooling files and documents.
And despite the lightweight material, each of its colorful pockets is also strong enough to hold 25 sheets' worth of 20-pound thick paper, so you don't have to worry about it accidentally falling apart. If you need to be on the go, it's also surprisingly efficient – the pockets are removable so you can take them off and bring them anywhere instantly.
At the same time, the entire product itself has a snap closure that can convert the hanging folders into a compact sort of envelope. Plus, it also has a plastic carry handle to make it easy to carry around.
For the money, this is an excellent storage solution for all the paperwork that goes along with homeschooling!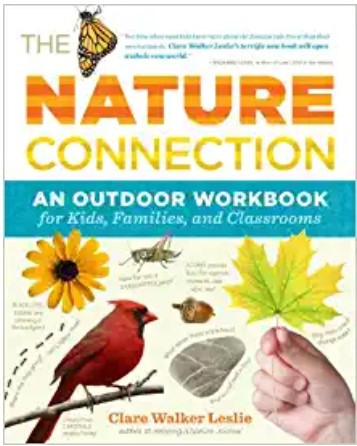 Bring nature to every homeschooling lesson, whether you're in the middle of a concrete jungle or the sprawling countryside. The inspiring Nature Connection: An Outdoor Workbook for Kids, Families, and Classrooms from author Clare Walker Leslie gives every child the chance to find and get to know nature in any setting.
Walker Leslie has been working not just as an author but also as a wildlife artist and educator for over thirty years, and she has written several other best-selling books on nature.
Intended for use all year long, this charming yet inexpensive book (currently priced at only $12.69) serves as a journal where your child can record their observations and nature-related activities in the form of writing, drawing, and even by pressing leaves and flowers. This is the perfect complementary homeschool resource that can level up science lessons from knowledge to experience.
Even for families stuck in the most urban of landscapes, the Nature Connection Outdoor Workbook can provide practical activities that can help children feel more connected to nature during any season. Readers are asked to take on the role of Nature Detectives.
The latter embark on tasks like spotting birds and their nests, planting bulbs in preparation for spring, walking around the neighborhood to identify trees, and even reading nature-themed poetry and children's novels that can give them a glimpse of unfamiliar locations and wildlife. Walker Leslie makes an effort to develop a mix of indoor and outdoor activities that are fun and accessible.
This paperback, intended for children from eight to twelve years old, features beautiful photographs and detailed illustrations of topics being covered across more than 300 pages. Even older kids (and adults too!) can still find joy in the simple activities and insights found in this nature-themed workbook.
Get back to nature with the Nature Connection: An Outdoor Workbook for Kids, Families, and Classrooms from author Clare Walker Leslie.
47. Sentence Building Literacy Cards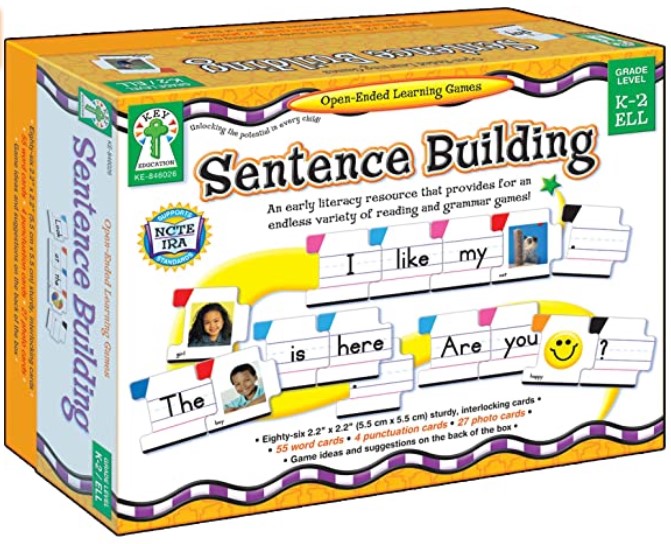 Nurture budding wordsmiths with this creativity boosting Sentence Building Literacy Cards. Featuring bright colors, a kid-friendly design, and vocabulary-based photographs that will keep kids engaged, these Literacy Cards were developed by educational products company Key Education for kindergartners, first graders, second graders, and individual education students.
Plus, the contents support NCTE and NAEYC standards. Currently available for only $17.53, the Sentence Building Literacy Cards are a fantastic and low-cost tool for parents and guardians to put their kids through home school. Guided use can make English and grammar lessons more exciting, while those looking to instill independent work ethic among their kids can opt to make it an activity for them outside of classes.
A colorful box contains 86 interlocking cards that are grammatically color coded, consisting of 55 word cards, 27 photo cards, and four punctuation cards. It also consists of an extensive list of games and activities and teaching suggestions and reading levels applicable to homeschooling.
Aside from being an excellent resource for reading and grammar, the Sentence Building Literacy Cards also is a useful multi-sensory learning tool! It fosters a familiarization of the colors and photographs while putting sentences together.
Manufacturer Key Education recommends the Literacy Cards for kids five to seven years old. Still, the contents are flexible enough to be adjusted to work with kids above the age of seven.
Parents and guardians should also note that the small interlocking pieces can pose a choking hazard, so this product must be safely stored away from the reach of children three years old and below.
Occasionally, sentence construction can be challenging for some. The Sentence Building Literacy Cards can be a great homeschooling tool!
48. Neon Colored Ruled Index Flash Cards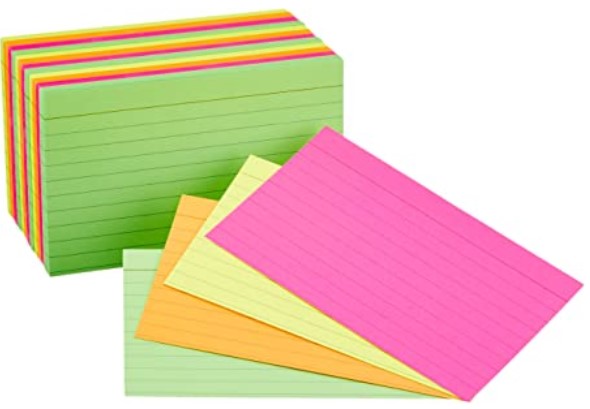 Studies have shown that using flashcards is one of the most effective ways to retain information, which is why these Neon Colored Ruled Index Flash Cards by Amazon Basics are a great addition to any homeschooling regimen. They are available in two sizes: 3 by 5 inches and four by 6 inches.
Colorful, handy, and easy to store; these flashcards can be used to practice a variety of topics. Parents facilitating homeschooling lessons can use them to conduct vocabulary and definition exercises, write down checklists, or even make use of them to do matching type quizzes for any subject.
Meanwhile, let your students of any age use them for jotting down essential equations, answers, book summaries, or notes for their presentations.
As the index cards come in bold neon hues of green, orange, light yellow, and bright pink, they can also be used for color-coding specific topics. They also work great for tasks outside of homeschooling, like taking down recipes, leaving reminders, or labeling storage boxes (plus the neon colors make them super easy to spot!). Index cards are also sturdier and thicker than standard paper, making them longer-lasting and easier to store and carry around.
For only $5.49, you can get a pack of 300 index cards in all four bright colors. The front part is ruled for convenient writing and reading, while the back part is unlined, allowing for more creative note-taking, like illustrations or symbols. AmazonBasics also guarantees uniform card sizes, thanks to quality engineering standards that give precision-cut edges for every single one.
Forget those plain ole white index cards… Spice it up with these neon-colored cards that are sure to pique your little one's interest!
49. Office Storage Organizer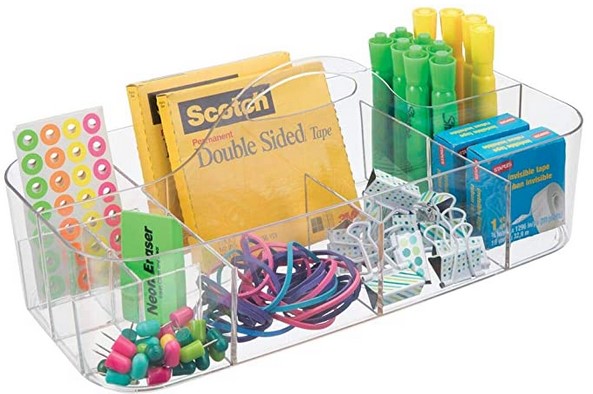 It's harder for you and your homeschooled student to be productive when the workspaces are a mess. Consider investing in a couple of multi-purpose Office Storage Organizers. This Office Storage Organizer comes in five colors: black, light grey, pink, white, and bright.
You can opt for the precise model, which uses transparent material so you can easily see what items are in each division. In addition, the eleven compartments of varying sizes allow use for a multitude of school supplies, art materials, gadgets, first aid items, or even toiletries.
And did we mention it has a handle for easy transporting? If you and your homeschooled student maximize different locations for your lessons, it's easy to bring all the supplies you need with this Office Storage Organizer. Take crayons and colored pens for an outdoor art session in the yard, or bring your kid and their craft materials to the kitchen counter while you have to keep an eye on your cooking.
Outside of homeschooling activities, they also work great to keep your bathroom, laundry room, or make-up dresser neat and tidy. You can use them as a portable shower caddy, as the organizers have drainage holes to keep water out.
Customers can also be assured of the product's durability, as they are made from shatter-resistant plastic. Cleaning is easy with soap and water! They're also guaranteed to be free from harmful BPA and chlorine, ensuring safe handling for anyone in your family.
With their affordable price of $15.99, you can buy multiple organizers for every room in your house without breaking the bank.
So, these are great in any application, whether in the home classroom or at work. You just can't have too many organizational tools, can you?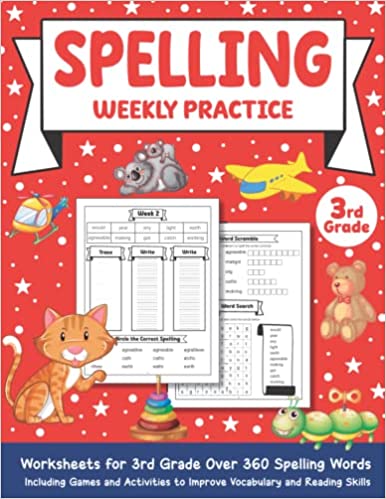 Got a spelling bee enthusiast at home? Strengthen and develop his or her vocabulary with the Spelling Weekly Practice Grade 3. This paperback activity book is also perfect for third graders who want to challenge themselves outside of homeschool lesson time.
Let them work on this practice book once a week during breaks or outside of school hours to encourage independent work, and take time to check their answers together during lesson time. Students can use this product to review and prepare for their upcoming spelling exams on their own.
Reviewers have also mentioned that it's a high summer activity for kids to make sure they retain their lessons even while on vacation mode.
Some of the activities include writing repetition (for better retention of spelling and vocabulary), filling in the blanks to spell a word, and filling in sentences using learned vocabulary words. The activity book also features simple illustrations that children can write in or even color, to add a creative spin to their spelling tasks.
With 82 pages worth of lessons and varied activities and priced at only $12.99, the Spelling Weekly Practice is an excellent supplementary material to your homeschooling curriculum. This workbook is published by CreateSpace Independent Publishing Platform in the United States.
Well, whether they are a spelling bee enthusiast or not, this is an excellent practice book for every student in 3rd grade!
---
related homeschool "stuff"