Are you ready for the spookiest night of the year?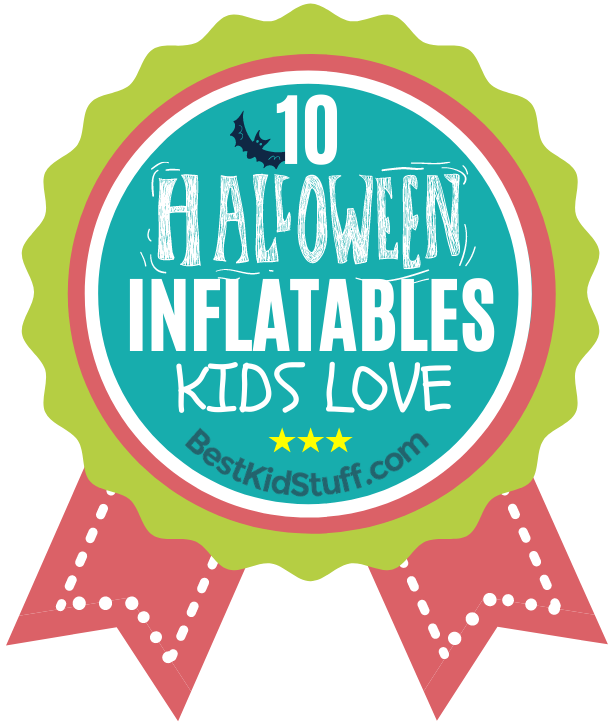 Halloween is an enjoyable holiday for children and families. It is filled with excitement as kids get to pick their favorite costumes, wander in the neighborhood at night for a friendly trick-or-treating, and fill up their Jack-O-Lanterns with candies and sweet treats.
It is an excellent time for parents who wish to make their houses, lawns, and gardens look attractive with awesome Halloween decorations. Americans spent a near-record $8.8 billion on Halloween alone last October 2019. One of those decorations was outdoor inflatables.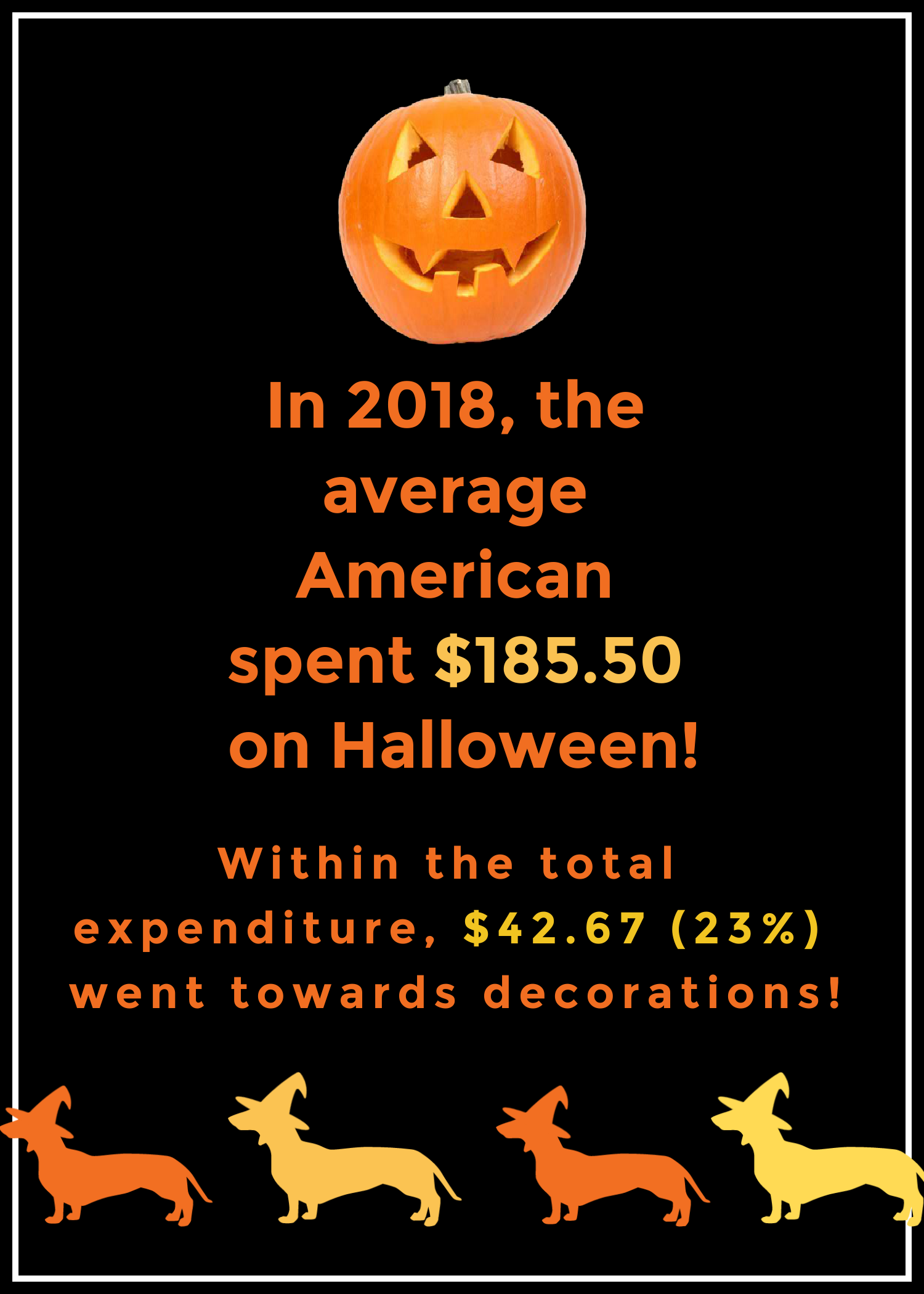 Halloween Outdoor Inflatables come in various designs. Dressing up your home with these cute, yet spooky, products at this time of the year is a convenient way to highlight the Halloween spirit to your home. All you need to do is plug them in! All that's left is watching the spooktacular outdoor decoration come to life!
There are also light and animation features in some inflatables, which adds a festive atmosphere during this season. And with its big size and impressive design, these outdoor inflatables will be the talk of the neighborhood. It will impress even the most skittish of little visitors to your fun mini-house of terror! 
Whether you prefer a front yard full of ghosts, a stack of smiling Jack-o-Lanterns, or a group of witches, there is availability for each one of them. So if you are looking for a wide range of Halloween outdoor inflatables for your kid-friendly home, then these ten products currently available on Amazon are meant for you!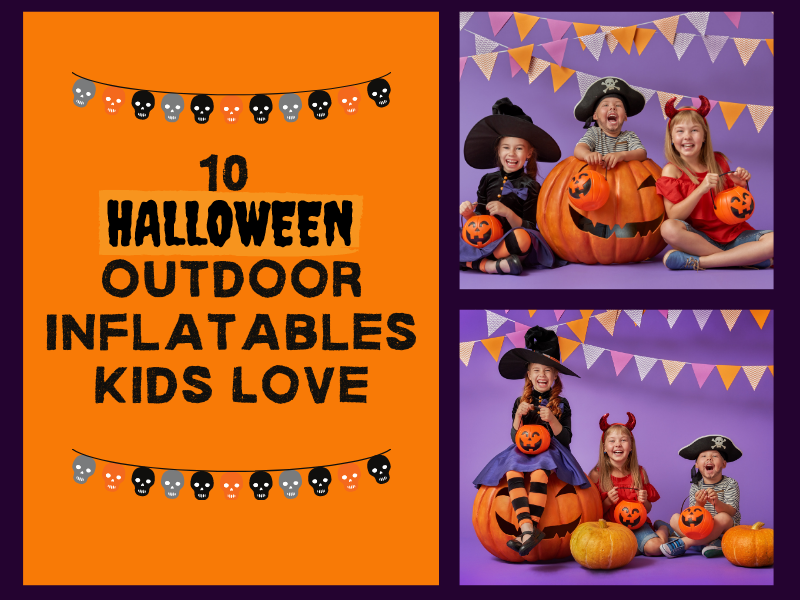 1. LOOHUU Halloween Spooky Inflatable Ghost and pumpkin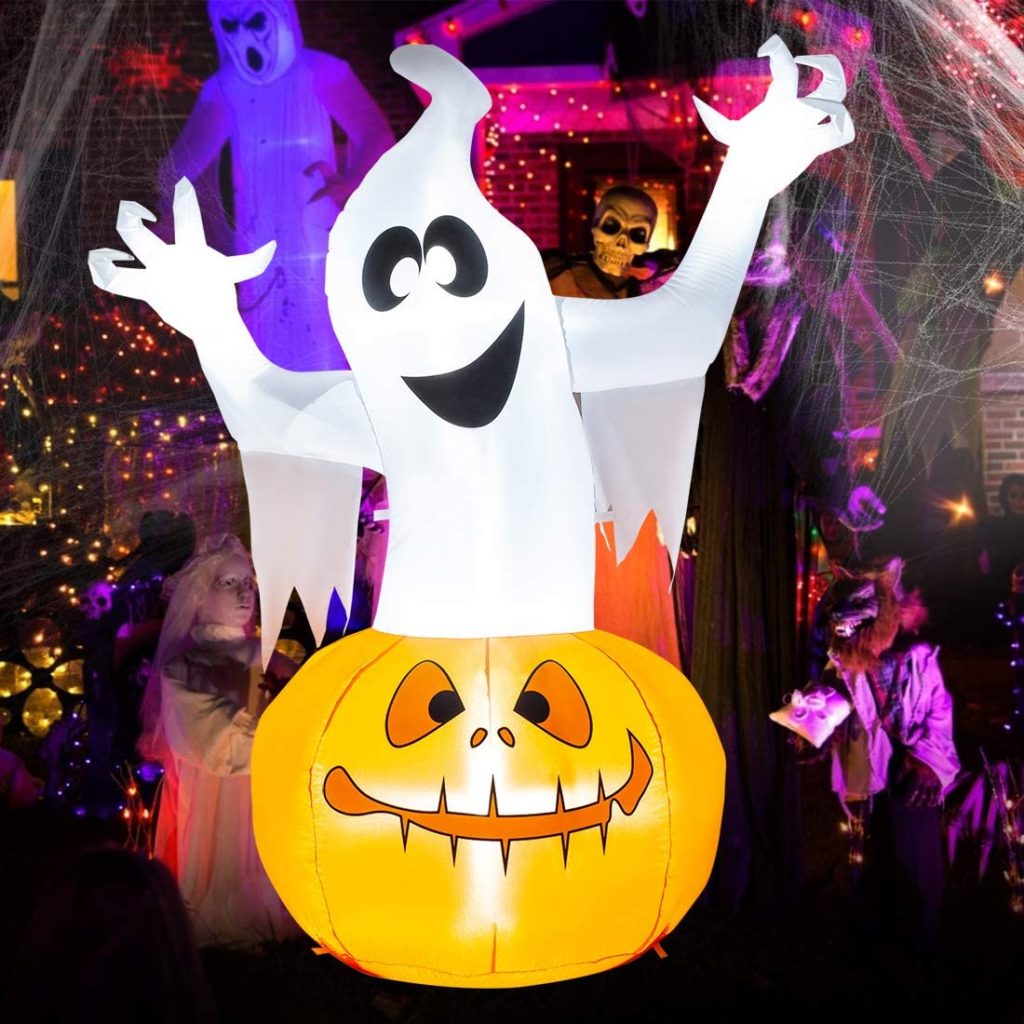 Greet your trick-or-treaters in a fun and spooky way this October with this Halloween Inflatable Ghost. Manufactured by LOOHUU, this lighting decoration is perfect for night time display in your front yard, garden, or party.
LOOHUU Halloween Inflatable features two typical elements of this celebration, a ghost and pumpkin. The ghost stands on the latter, presenting a vibrant appearance providing a satisfactory atmosphere and measures 6 feet high when fully blown. As it will help create a perfect Halloween mood for your children and guests, it will surely bring joy and some spooky fun to them. It can be a great part of your group and family photos, too.
The product is easy to use, convenient, and safe, especially for your little ones. It can be fully inflated in only seconds when plugs into a standard electrical outlet. If your power source is far from your garden or front yard, it has a longer power cord, which gives you more freedom in where you place this decoration.
Made of lightweight materials, the inflatable display is strong and durable. You can also display all year round both inside and outside your home as LOOHUU Halloween Inflatable is also waterproof. Once deflated, its compact and foldable design makes storage easy and can be placed almost anywhere.
To guarantee customers of risk-free shopping, LOOHUU refunds unconditionally if you are not 100% satisfied.
2. Chen 4.4 Ft Inflatable Pumpkin Tumbler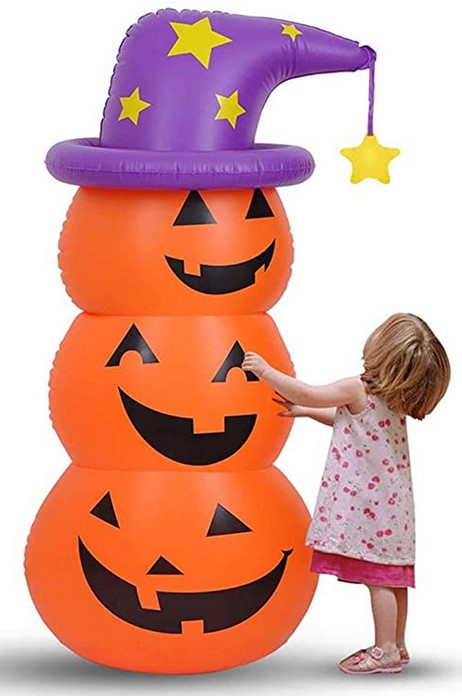 Chen Inflatable Pumpkin Tumbler has an adorable kid-friendly style that is great for indoor or outdoor Halloween decor. Neighbors, visitors, and passersby will certainly stop by at your front yard and be attracted by this lovely design!
In this Inflatable Pumpkin, Chen made its decoration look like three cute patches of smiling jack-o-lanterns. On top of the design is a witch's hat that will appeal to your young ones. Compared to other Halloween outdoor inflatables, this one is a tumbler where you can fill it with water and inflate with no ropes needed. Once full-blown to 4.4 feet, it is a good playmate for little trick-or-treaters as they can touch it, and it won't fall. No matter how they push or punch the Halloween pumpkin, it will always bounce back!
Chen Inflatable Pumpkin Tumbler is made from environment-friendly PVC materials making it more stable and durable. This will also make you less worry about air leakage as it is sealed and can stand for a long time in your front doors, gardens, or courtyards. Aside from being waterproof, that will not affect it on rainy days. It will not be blown away by a strong wind, either! As the product includes accessories, such as an air pump that is easy to use. Fill it with water, use the air pump to blow it up, and you're ready to go mount it as a Halloween decor and a prop for other parties, parades, masquerades, carnival events, and more!
The Chen Inflatable Pumpkin Tumbler is a SPOOKTACULAR way to get into the Halloween spirit!
3. 6-FT Halloween Inflatables Outdoor Decorations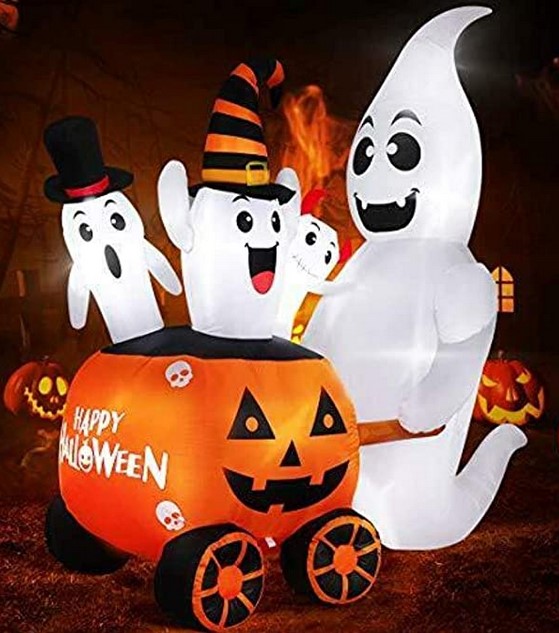 Adding a festive touch to the season, this Halloween Inflatable Outdoor Decoration from Daana Grant can be used in gardens, yards, lawns, terraces, porches, and any outdoor setup. With its great design, it will have the most friendly greetings to anyone around.
This Halloween Inflatable Outdoor Decoration has a cute ghost pumpkin cart shape that the kids will love. In just one minute of inflation, it is ready to charm and terrify your whole neighborhood! Standing 6 feet tall, this seasonal inflatable provides the best attraction when lighted up in the evening. With built-in bright LEDs, it will create a fun Halloween atmosphere during night time for young trick-or-treaters. Made from a thick fabric material, the design uses durable nylon. These high-quality materials make it large when inflated, but when deflated, small in size and easy to store.
This product from Daana Grand also uses a high-quality zipper, has a powerful blower, and comes with a US Standard plug. If you worry about inflatable decorations being flown by winds, this one comes with a built-in sandbag to effectively stabilize the weight. The box also has additional two ropes and four stakes for ground stability. All you need is to attach the sandbag in the cord and stake it into the ground securely.
If you need a Halloween decoration that packs a punch, this one is it!
4. Holidayana 10 ft Inflatable Halloween 3-Headed Dragon Yard Decoration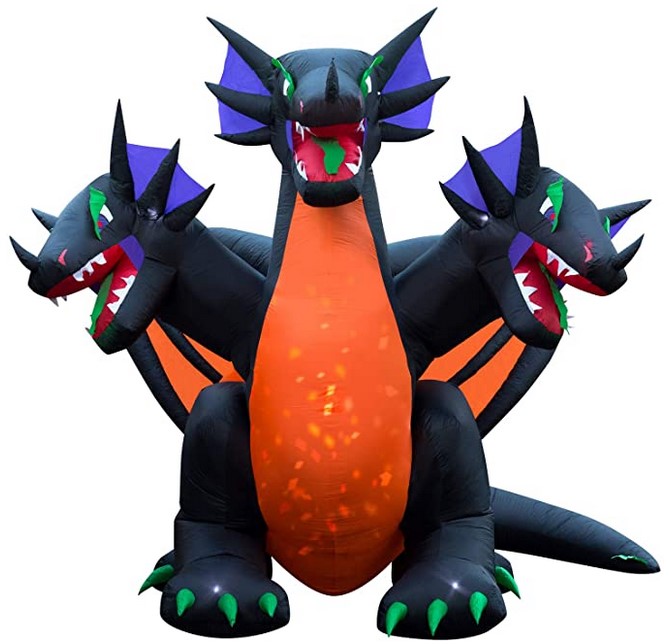 A huge hit among trick-or-treaters young and old, this Holidayana Inflatable Halloween 3-Headed Dragon Yard Decoration has a 'massive' offering. It stands at an impressive 10-feet tall when fully inflated that no one in your neighborhood can ignore it.
Being one of the biggest Halloween decorations on the market, this is specially designed to be shown off in your front yard. It can be a great backdrop for pictures and parties, too. Put it around your house to bring about a spooky yet fun atmosphere on trick or treat night conveniently. This gigantic inflatable has nine bright internal LED Bulbs that light up the 3-headed dragon and keeps glowing the whole night. The belly shimmers with multi-colored flame FX lights, too! Also, each dragon's eyes have piercing red LED bulbs bewitching every passerby and Halloween hunters approaching your front yard!
In the package, Holidayana Inflatable Halloween 3-Headed Dragon Yard Decoration comes with tie-downs, stakes, and ropes to keep the product stable in the ground. Made with quality construction and materials, they are built to last as it ensures there is no chance of tearing, making you less worry about this dragon flying away with the wind. Moreover, it has thickened waterproof polyester fabric, making this inflatable less damaged on rainy days! A powerful external waterproof fan is also included in the box reinsuring fast, easy and consistent reinflations.
Whether it is a haunted house or medieval fantasy, this enchanting dragon design will surely be a staple for ages!
5. Horror Ghost Lantern Inflatable Model with Color Changing Light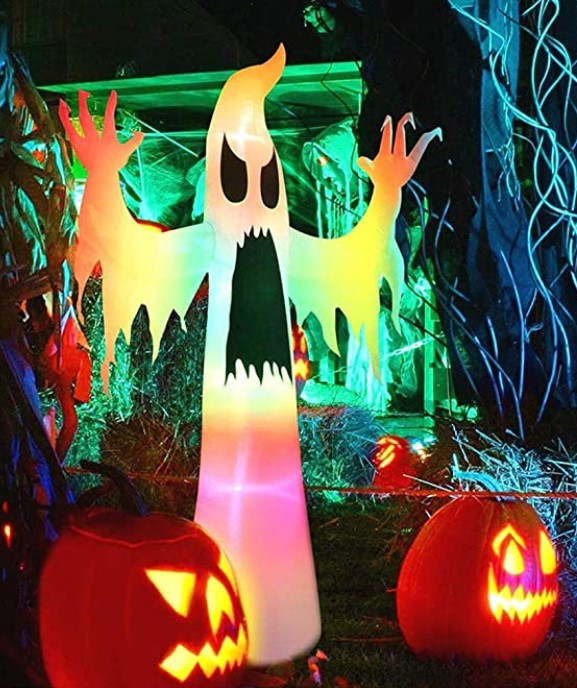 Horror Ghost Lantern Inflatable Model with Color Changing Light is a perfect front door or backyard decoration at night. Made by Chen, this model is one of the tallest ghost inflatables on our list.
The best feature of Chen's Horror Ghost Lantern Model is its height! Measuring approximately 11.8 ft, it is taller than adult size and extremely visible from afar. It is equipped with LED lights built within, large, and bright enough to illuminate your front yard, porch, or garden for a cheerful mood during Halloween Night. It features seven LED lights that change colors and attract little trick-or-treaters and adults for better nighttime viewing. With the colors red, yellow, orange, blue, green, purple, and white alternately changing, this product has what a cheery-scary prop is all about!
Chen's Horror Ghost Lantern Model is made of high-quality polyester fabrics and a good sewing process. This makes the product very durable, not easy to break, and safe for use. It can also withstand high-pressure inflation without damaging. With its self-inflating den, the airblown inflatables also provide maximum impact with minimum effort. It only takes a minute for this inflatable to stand up to its full, almost 12 feet height. It is a lightweight and compact product that does not occupy too much space. The product guarantees 100% satisfaction, and a refund should there be any damages incurred.
For the ultimate yard haunt, this nearly 12-foot ghost will be the hit of your neighborhood!
6. Gemmy 9ft Airblown Haunted Ghost House Scene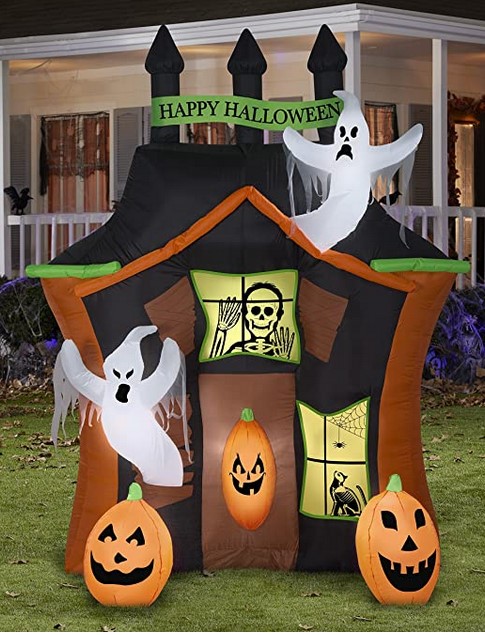 Gemmy Haunted Ghost House Scene is another larger than life decoration you can flaunt in your front yard. Great for wide outdoor spaces, this inflatable is a truly spooky scene to scare the pants off your neighbors.
In this 9-foot airblown inflatable, young trick or treaters will enjoy the Haunted House scene complete with Ghosts, Skeletons, Jack-O-Lantern Pumpkins, and greeted with a Happy Halloween Banner. It is already a total Halloween package to fill your neighborhood with that fun and spooky atmosphere. There are also built-in lights creating a nighttime display. The illuminating scene in the surrounding area, which will attract all your little guests' attention!
Made from waterproof polyester nylon fabric, Gemmy Haunted Ghost House Scene also is strong and durable. It comes with a powerful air blower, too! All you need to do is plug this inflatable ghost house in an adaptor, and it can self-inflate within minutes! With its tall size and larger width, customers are assured that it can withstand the test of wind for outdoor use. It is also easy to fold or store for safekeeping when Halloween season is over. 
7. Gemmy Star Wars The Mandalorian Baby Yoda Halloween Inflatable Outdoor Decoration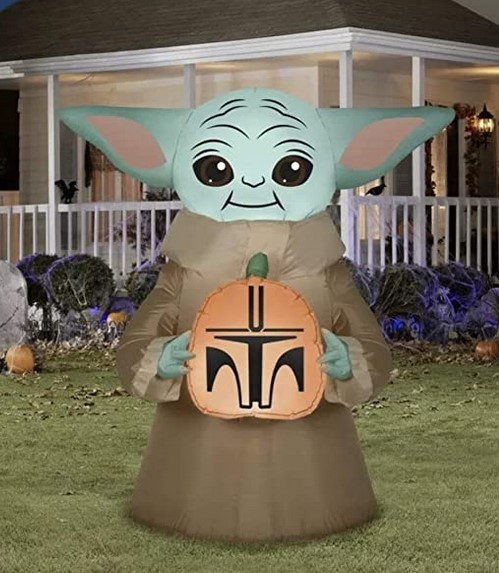 If your little trick or treaters are a fan of Star Wars, this is a perfect match for your Halloween Decoration. Designed by Gemmy, famous for its inflatable brand since 2001, this Star Wars The Mandalorian Baby Yoda Halloween Inflatable is sure to make a wonderful addition to your outdoor decoration.
A themed Halloween decoration, this Mandalorian Baby Yoda inflatable takes the spooky season into a new level. Aside from the usual ghosts, jack-o-lantern pumpkins, and witches, this one is surely a head-turner to our young trick or treaters, creating a custom scene. Standing 4.5 tall when inflated, it features a Star Wars-inspired character holding a pumpkin. With its energy-efficient LED lighting, the inflatable glows in the nighttime perfect for decorating and illuminating outdoor for welcoming Halloween ambiance. You can also combine this product with other Gemmy inflatables as the company is a trendsetter and industry leader in seasonal decors and novelty characters!
Star Wars The Mandalorian Baby Yoda Halloween Inflatable comes with heavy-duty lawn stakes and tethers. With everything you need for an outdoor setup, the stakes and tethers will stabilize during windy days. Made from high quality thickened, waterproof polyester fabric, no need to worry that this blow-up Baby Yoda will be damaged on rainy days, too! It also includes an airblown inflatable that self-inflates in a minute once plugged into the power adapter.
For the true Star Wars fan… The Baby Yoda inflatable is easy to store and convenient to be transported from any garden, lawn, or patio!
8. Airblown Inflatable Halloween Animated Witches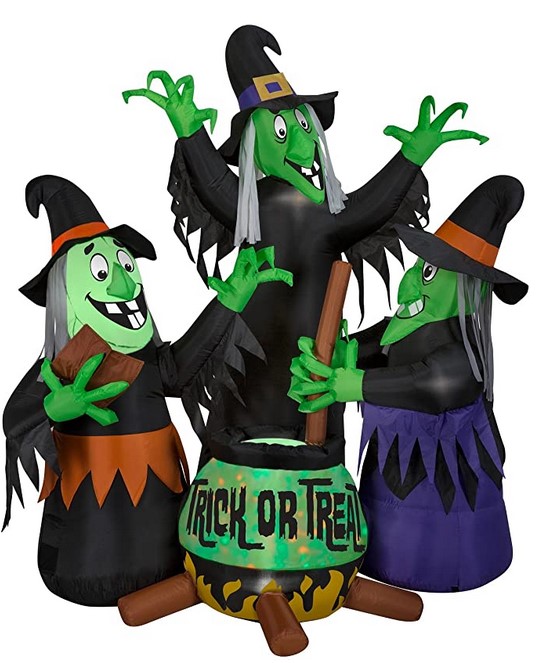 Airblown Inflatable Halloween Animated Witches is a decoration that will catch your kid's eyes and draw grasps in your neighborhood. From the makers of Baby Yoda and Haunted House Scene inflatables, this one from Gemmy's is up for an extra Halloween cheer and spook!
When night falls, the Halloween Animated Witches Halloween decoration is not just an ordinary inflatable as it has a lot of festive features. All of the three witches in this 6-foot tall inflatable are animated! While the witch on the left moves her arm up and down, the witch's head on the middle moves side to side! Moreover, the witch on the right stirs the pot while her head and body gyrate! To complete the animation, these witches speak multiple phrases with spooky background sounds! To add some effect on the cauldron in the center, it has Projection Kaleidoscope lighting ready to cast their spells, too!
In the box, Airblown Inflatable Halloween Animated Witches has a standard built-in fan motor, yard stakes, and tether ropes. Just plug the motor into any 110 AC outlet and wait for the magic unfolds in a moment. The yard stakes and tether ropes increase the inflatable stability to be blown up by the wind! This Halloween decor is also made of waterproof fabric and sturdy material to ensure a high-quality product that will last for many trick-or-treating seasons.
You can combine this Inflatable Halloween Animated Witches with other Gemmy's inflatable products to add more fright to your Halloween guests when placed around haunted houses, lawns, landscapes, or entryway!
9. Halloween Inflatable Jack Skellington Nightmare Before Christmas 9′ Archway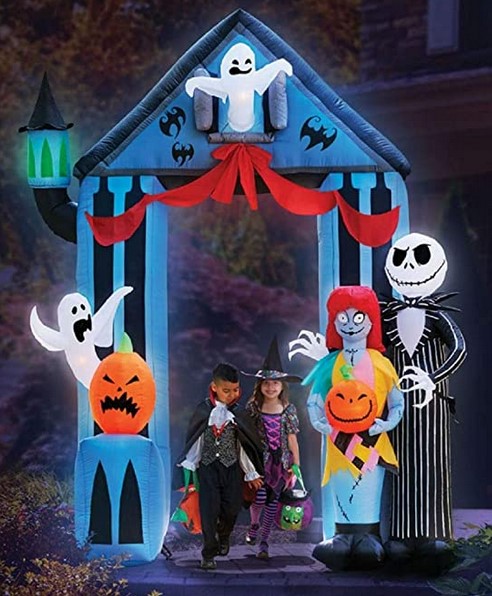 If you are a Nightmare before Christmas fan, this Halloween Inflatable Archway invites every trick or treat seekers to a night of Halloween. Led by the Pumpkin King and his Halloween friends, this archway will transport you to another dimension of fun and scare!
Jack Skellington Nightmare Before Christmas Archway inflatable is inspired by Tim Burton's classic movie. At 9 feet tall, this inflatable portal can be placed outdoors to create a spooky atmosphere during your Halloween night. With your family and guests, this is a picture-perfect spot to make memories altogether! Together with Jack Skellington, Sally, the Ghosts, and Jack-O-Lanterns Pumpkins, they are all illuminated by six C7 bulbs to light up the spookiest night of the year. The Tim Burton-inspired archway and its charming lights attract trick-or-treaters around and add more joy in the festival's ambiance!
The Halloween inflatable is made from durable nylon materials that are also tear-resistant. In the package comes everything you need to decorate your yard right out of the box for a hassle-free setup. The plastic yard stakes and tether ropes keep this eerie product from flying away brought about by winds when used outdoors. With its self-inflating mechanism, plug it into any standard 110 outlets.
With limited storage space, the archway collapses down for easy and convenient space-saving storage.
10. GOOSH 7FT Halloween Inflatable Dinosaur Decorations Outdoor Blow up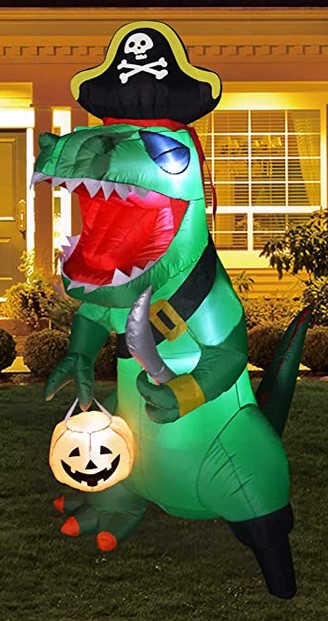 Last on our list is for every trick or treater who loves dinosaurs and pirates during this spooky spirit of Halloween. Manufactured by COMIN, GOOSH Halloween Inflatable Dinosaur Decoration is a charming character perfect for night time fright.
This outdoor inflatable features a T-Rex dressed up in a pirate costume and holding a Jack-O-Lantern Pumpkin. As this inflatable T-Rex is ready for his own Halloween hunting, it invites young children at night into your home for one cheerful mood of trick or treats. From afar, this Dinosaur decoration glows as it is installed with eye-catching pure white LED lights adding some finishing touch to the fright! With its giant-size 7-foot high dimensions, it will be a stand out among your neighborhood decorations during the Halloween event.
This eerie yet fun inflatable prop decoration is safe and convenient. You can place it anywhere as it comes with a 10-feet long power cord! Thanks to its sandbags, stakes, and anchor ropes, the GOOSH Halloween Inflatable Dinosaur Decoration features has a fastening mechanism so you can securely place it in your garden, lawn, or patio! With this, you also don't have to worry about windy days on Halloween night. It also features a waterproof fan and a bottom zipper that prevents air leakage. In just a minute, this model transforms into a giant décor that can be deflated in no time!
The inflatable dinosaur comes with a storage bag too, so it's easy to keep after each use. To protect you from product defects, it offers a price refund or replacement.