Thinking of what to pack for a kid's school lunch for 180 days of the year is a daunting feat. While most parents choose the basics like a sandwich, fruit, or veggie, and some type of snack, this gets boring really quickly. You have the option of purchasing pre-made lunches from the store, but these aren't very healthy and can get costly fast.
This leaves people questioning what they should pack for their child to keep things exciting while still giving the child the nutrients he or she needs to grow. Whoever is making the lunch more than likely doesn't want the child to eat a lot of preservatives, unhealthy fats, and sugar.
Whether you're is making lunch for your children or grandchildren, the health of the snack is an essential part of choosing what to include. Fortunately, there are several healthy snacks for school lunch to choose from.
This list includes several healthy snacks for school lunches that give a child nutrients, aren't high in fat, and will even be something a kid will enjoy receiving in his or her lunch. Inventive parents can also add their own spin on these and create something that their child will like even better or may even be more packed with vitamins and minerals.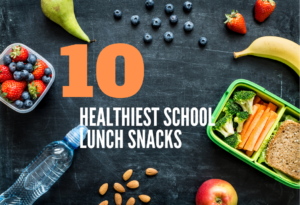 Make the kids a part of the process too, with kid-inspired and kid-friendly recipes!
1. Beef Jerky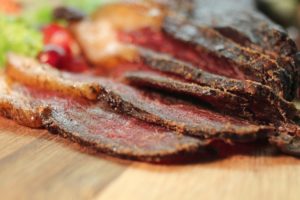 Although you may not associate beef jerky as a healthy snack for school lunches, beef jerky is a great choice for growing kids. Beef jerky is low in fat. It's also high in protein. Protein is an essential nutrient that helps a child build strong muscles.
Fortunately, someone packing healthy snacks for school lunch has numerous flavors to choose from when purchasing it from a store. Every flavor from teriyaki to black pepper to sweet and sassy are available.
Another option with beefy jerky is to make it homemade. This way, you know exactly how much sodium is in it. Plus, homemade jerkey give you the option to make any flavor you thinks the kids would enjoy. To make beef jerky, it's as simple as purchasing a flank or round steak or a London broil, cutting into strips, soaking it in the flavor of a person's choosing or seasoning it, and placing it in the food dehydrator or oven.
An individual could also choose other meats to make jerky out of as well. Making jerky at home is a lot more cost-efficient than purchasing it from the store.
2. Greek Yogurt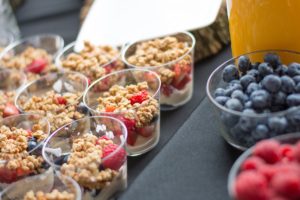 Greek yogurt is one of the easy healthy snacks for school lunches. It's as simple as purchasing Greek yogurt from the store. One option for this healthy school lunch snack to make it more exciting is to make it into a parfait. This also can add to the health benefits of the snack. Add nuts, granola, or fresh fruit.
When making healthy school lunch snacks out of Greek yogurt, a person can either send all the ingredients with the child to make his or herself, or the lunch maker can create a parfait by layering the different components in a container.
Another way to make it more fun is to create a dip for fruits out of it. As one of the healthy homemade snacks for school lunches, a person can add a variety of flavors to the dip. One option is Nutella mixed with the yogurt. By mixing honey and lime into the yogurt, a person can make a more tart fruit dip. Another option is to mix in Cool Whip and powdered pudding mix. The possibilities are endless.
Another option is to make a fruit smoothie out of the yogurt by blending fresh fruit, milk, and yogurt together.
3. Cottage Cheese With Fruits or Veggies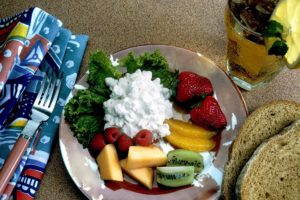 Just like plain Greek yogurt, cottage cheese is very versatile for healthy homemade snacks for school lunches. It's packed with protein and provides kids with other nutrients like vitamin B.
One idea for easy healthy snacks for school lunches is to add fruits or veggies to it. A classic dish with cottage cheese and veggies is onions and green peppers with a hint of salt and pepper. Tomatoes go well in cottage cheese as well.
For students who don't like veggies, there's the option of fruit. Some examples of fruit that goes well with cottage cheese are strawberries, peaches, berries of any kind, canned tangerines, and canned fruit.
Cottage cheese is a very mild flavor, so the possibilities are endless. A person could even use it to make wraps, a dip, or pasta.
4. Hard Boiled Eggs
When you're is looking for healthy snacks for kids school lunch, a hard boiled egg is an excellent option. It's loaded with protein. Plus, it contains vitamin D and various minerals.
Not all kids may be happy to receive a hard boiled egg in their lunch. It may be something a person wants to add to other foods to make it more enticing.
One example is cutting it up and putting it on top of a salad with a low-calorie dressing. Another is to use it in a wrap or on a sandwich. Try turning hard boiled eggs into an egg salad for egg salad sandwiches or a wrap. Make deviled eggs or use the egg to make a dip or filling for chips, flavored rice cakes, or flatbread.
5. Cashew Butter and Jam on a Rice Cake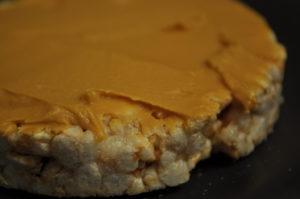 Cashew butter is surprisingly healthy for a child. It's high in protein and has healthy fat. Therefore, it's smooth like peanut butter without all the added fat to make it creamy. To further make this snack healthy, use jam. It's high in vitamin C, which is beneficial to a child's immune system. Instead of using bread for this snack, use rice cakes. They're low in fat and calories.
Try different types of jam to spice this treat up for the child.
6. Homemade Lunchables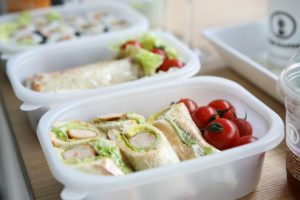 Lunchables are expensive when a person considers how much cheaper it is to make them at home. Use nitrate-free turkey slices and cheese along with wheat crackers to make a crackers lunchable. Give the child breaded chicken lettuce, tomatoes, and a whole wheat wrap to make their own lunchable snack wraps.
Use wheat tortillas and make the child homemade chips. Then, either purchase salsa or make some homemade. It could be a fun project to do with the kid.
To make the lunchable more like a lunchable, a person may want to add a treat on the side. While a person may choose to give the child a chocolate or cookie, this defeats the purpose of wanting to make a healthy snack for school lunches. Instead, a person can pack the child dark-chocolate covered cherries, strawberries, or almonds. These are all loaded with nutrients because of the item that's being covered.
Plus, although chocolate has a bad reputation for packing on pounds, dark chocolate has minerals like iron and copper. Not to mention, it also has antioxidants, which can help the child's health for years to come. Rather than rely on the store for these snacks, a person can easily make them at home by buying cooking dark chocolate, melting it, and then drizzling it over the fruits or nuts.
Instead of paying for one of the packaged fruits and veggie packages in the store, a person may want to make one of their own for the kids. It's as simple as either buying or making a dip. Then, cutting up a variety of fruits or veggies to go with it.
7. Hummus & Veggies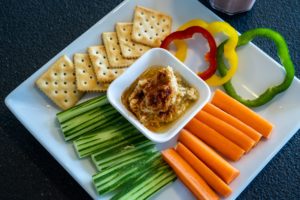 Hummus is beneficial to a child's digestive tract and is low in calories and fat. A person can buy hummus from the store, or he or she can make it from scratch using chickpeas and whatever seasonings a person desires. One option is Parmesan and garlic, but a person can make it into whatever he or she believes the child will enjoy. For instance, maybe a person can make a taco-seasoned hummus.
Instead of chips or crackers, an individual can make this into one of the healthy snacks for kids school lunch by using vegetables as the dippers. Some examples of veggies that go well with hummus include cherry tomatoes, baby carrots, sliced cucumbers, and celery sticks. If a child isn't a fan of vegetables, try cutting flatbread into pieces and toasting it.
8. Mini-Pizzas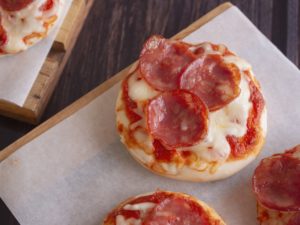 Pizza is a hit with most kids, but it's not all that healthy when a person thinks about all of the grease on a pizza and the high carb amount.
Instead of a regular pizza crust, a person can use a tortilla shell or flatbread for the crust. Then, the individual can use either low-fat ranch, pizza sauce, or even a combination of olive oil and garlic for the sauce.
Choose a low-fat cheese to put on top of the pizza. It doesn't have to be a white cheese either. Someone can opt to make a taco-inspired pizza and use cheddar cheese or give it a Mediterranean vibe by putting feta on top.
The key to this pizza is to add healthy toppings. If a person chooses to use sauce, maybe he or she could use turkey pepperoni instead of standard pepperoni. Use cooked, low-fat ground turkey and season it with taco seasoning to make a taco pizza. Vegetables of any variety make excellent additions to a pizza.
9. Breakfast for Lunch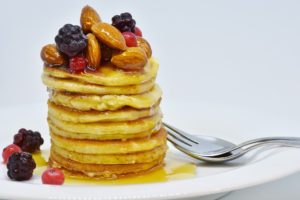 We've all heard of breakfast for dinner, but a kid would enjoy breakfast for lunch just as much.
One example of a healthy snack for school lunches is a pancake sandwich. A person may not really think of pancakes as healthy, but when you remove the syrup and butter and opt for wheat pancake, it makes them much healthier.
As the meat inside the pancake sandwich, parents can use turkey bacon or sausage. Another option is to spread one pancake with cashew butter, and the other one with a jaw, or maybe a person wants to use only nut butter. A child may also enjoy a pancake sandwich with jam and low-fat cream cheese. Instead of a pancake, a person could also use wheat waffles for this recipe.
A parent could opt to make a child a homemade egg muffin. Using turkey bacon, ham, or turkey sausage, toasted wheat muffins, and a fried egg, a person can make a child a homemade egg muffin for lunch.
An egg burrito is another lunch idea for kids. This is as simple as making scrambled eggs with cheese and rolling them into a burrito. To spice this up, you can saute veggies for the burrito or add turkey bacon or sausage. Some examples of veggies that go well with the burrito include bell peppers, onions, and tomatoes.
Make a homemade breakfast pocket. Using a dough of a person's choice, a person can add any type of breakfast ingredients he or she wants, such as scrambled eggs. A person could also bake the pockets with jam and cashew butter or a low-fat cream cheese and jam.
10. Cream Cheese Sandwich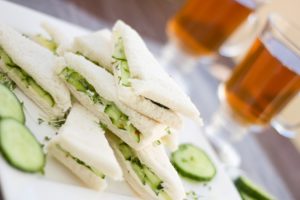 All you have to do is decrust the bread and cut each sandwich into quarters, and this snack turns into a fancy tea party for lunch for a child. Plus, low-fat cream cheese is a healthy source of protein. It's a light flavor, so it's versatile with a variety of other ingredients, both savory and sweet.
One example is a cream cheese and jam sandwich. If a child likes tomatoes, then cream cheese, sliced tomato, and a dash of a seasoning works very well.
You could try making a toasted cream cheese sandwich in a panini maker or on the stove using cream cheese and another type of cheese, such as cheddar.
A cucumber tea sandwich with a seasoned cream cheese spread may be something a child would like as well.
Another option to make a creative lunch idea for kids with a cream cheese sandwich is to make a cream cheese spread using herbs. A person may add vegetables to the sandwich or leave it as just the cream cheese spread.
---
Related Posts:
5 Cheap Cookbooks for Your Little Chefs
5 Best Bento Lunchboxes for Kids