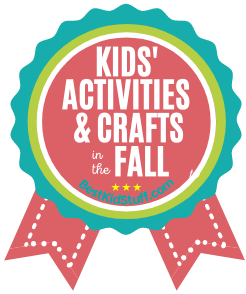 Smack in the middle of summer and winter is the sweet spot for all seasons: fall. This 'cooling-off' period's most noteworthy signs include shorter days, longer nights, and the seemingly stunting of vegetation growth where leaves turn to a distinct auburn to faded yellow.
This season carries with it a certain charm captivating families and children for an anticipatory (and joyous!) celebration ahead.
Fall happens from September to November. It's a season that is anticipating two celebrations: Thanksgiving and Halloween. And while some states are contemplating on re-opening schools this fall, kids may be better off taking alternative learning mediums to cope with school requirements.
Nonetheless, there are fun activities that you and your kids will surely enjoy even in the comforts of your own home. You and your family may also consider a 'fall bucket list' to get the children to make the most of this season.
By age 5 or 6, some children may start going to kindergarten. At age 5, children can speak more clearly, involving more simple sentences. They can count up to 10 or more and will be able to illustrate about six body parts or more. At school, they will be more adept at writing letters, numbers and can create triangles and other geometric illustrations.
On the physical aspect, they are likely to be more active with more pronounced gross motor skills such as hopping, skipping, climbing, swinging, and doing somersaults.
By ages 6 to 8, children are more independent and are likely starting grade school. It's also a time where they are likely to be more social with their peers and classmates. It's a time where they are also taking on more school work and learn to value teamwork.
At age 9 to 11, your kids are well on their way to puberty. During this time, kids give more importance to developing healthy friendships with a strong pull towards peer pressure. It is also a time where they feel a growing sense of responsibility and set goals for what they want to achieve.
Play is crucial to this stage of the child's development. As studies have already shown, the number of childhood obesity and hypertension is evident because of the lack of physical activities and improper diet. While gadgets may be to blame, parents or caregivers can actively play a role to encourage kids to participate in outdoor activities through play, exploration, or other creative means such as camps or getting them involved in sports.
Consider developing their physical skills during this stage. As kids grow older, their bodies are also expanding and allowing for wider range-of-motion movements. Any activities involving walking, running, climbing, or skipping are good outlets to help them attain balance.
Adults can accompany small children in taking short trips in the park or nature walks to help them explore and gain new friends along the way. Older kids would benefit greatly from collaborative and competitive play to help develop their critical thinking. Moreover, the outdoor play exposes them to the sun, a good source of Vitamin D to help build their bones and strengthen their immune system.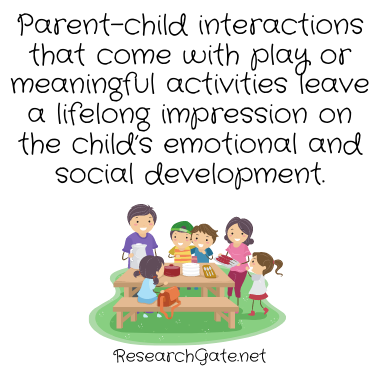 Creative play involves activities like baking, craft-making, and even sports. Executive functions such as negotiating, prioritizing, planning, and multi-tasking are all developed during this type of play. Parents can get involved with this type of play by allowing unstructured time for kids to go about with the activity. This imaginative play could help boost their social skills as they seek to play with other kids.
However, they may also be forced to play alone and forcibly think of ways to entertain and amuse themselves. Parents play an important role in guiding kids on how to go about with the process but also giving them space to decide independently.
Kids consider parents as immediate role models. This involvement creates a deep impact on their social and emotional development, especially with their academic performance. Parent-child interactions that come with play or meaningful activities such as baking or craft-making leave a lifelong impression on the child's emotional and social development while enhancing their listening and talking skills.
Lastly, parent involvement helps kids with their self-esteem. With the current pandemic, children can derive confidence from their parents who serve as their teachers through alternative learning means. Parents involved in their child's education and other interests enhance their ability to regulate emotions with lesser feelings of negativity. It's also a way to help children navigate through life with lessons beyond the four corners of a classroom.
So take the opportunity to let your children have fun while learning. Spend time together and make lasting memories before winter arrives!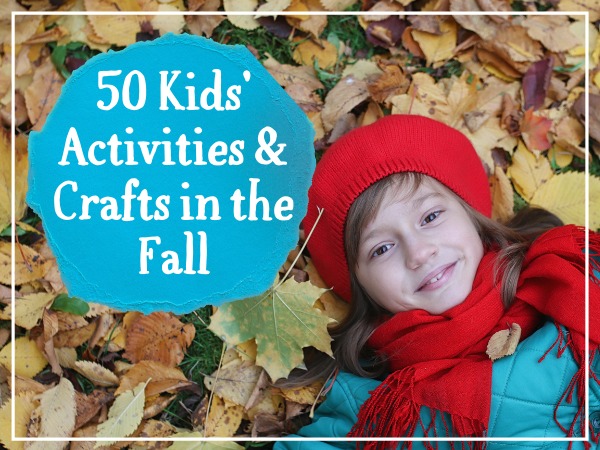 1. Visit the apple orchard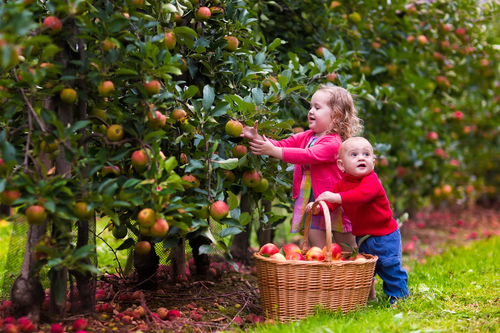 Whether it's for a class trip or just to spend quality time with the kids in 'unfamiliar' territories, apple orchard offers a venue to spark farming interest, growing, and learn anything and everything about apples!
The auburn to light brown foliage should be a magnificent view to take in. There is still a good chance that the apple harvest is still in full swing before winter comes along. Make sure to wear your most comfortable clothing as you rummage through bushels and walking through leaves and trees to find the best apples in the orchard.
TheDailyMeal.com offers up a list of the Best Apple Orchards in America! Check out their "apple pickins'" and make a day trip to one of these exciting destinations!
2. Bake an apple pie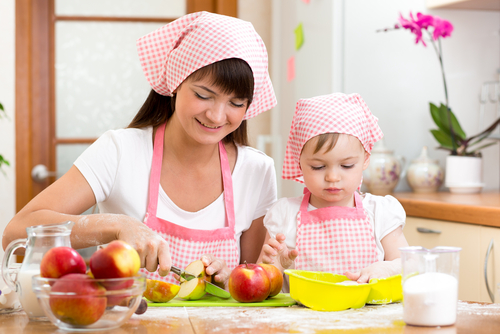 The exciting part of picking apples from the orchard is what to make out of those fruits. And, what can you do with the "not-so-good" ones? A warm apple pie provides a great solution! Watch this video on YouTube from AllRecipes.com on How To Make Easy Apple Pie!
You can have the kids help in creating this tasty treat. Kids can help in the preparation, mixing, and cooking. Make this a fun experience for them to learn basic baking skills and in creating a farm-to-table experience, unlike any other!
3. Host a fall tea party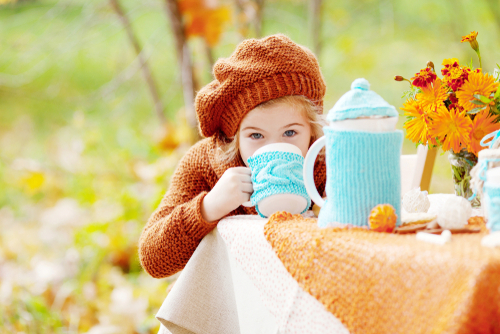 Young girls love a good tea party, especially if they have an outdoor playhouse; they can hang out. And what better way to celebrate a good company with some tea and cookies!
Apple cider is a fall favorite. Aside from its nutritious content, apple cider is a versatile addition to foods and, yes, tea. For kids, you can ask them to help you prepare the treats by letting them decorate and mix the ingredients for the cookies. Allow them free reign in planning their tea party as you guide them from setting up to hosting their mini-celebration with their friends.
Rachel's Nest posted a video on having a successful Fall Tea Party for your daughters, nieces and their friends!
4. Make a DIY scarecrow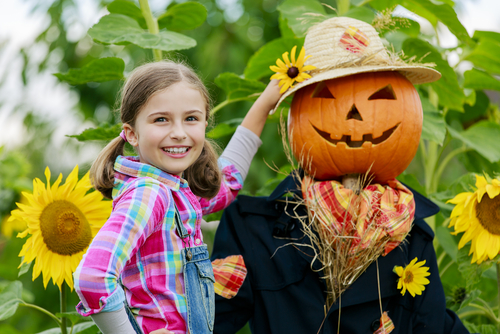 This is true if you live with a spacious garden or huge farmland filled with crops. As scarecrows are closely related to harvest season, building one during fall is a great way to protect ripening crops from pesky birds.
You can find several do-it-yourself scarecrows online for you and your kids to work on over a weekend, such as this one by KraftsByKatelyn. It will only require a few materials such as scissors, straw, glue, strings, old newspapers, and worn-out clothes that might be lying in your closet. Your creativity is your limit!
5. Craft a DIY organizer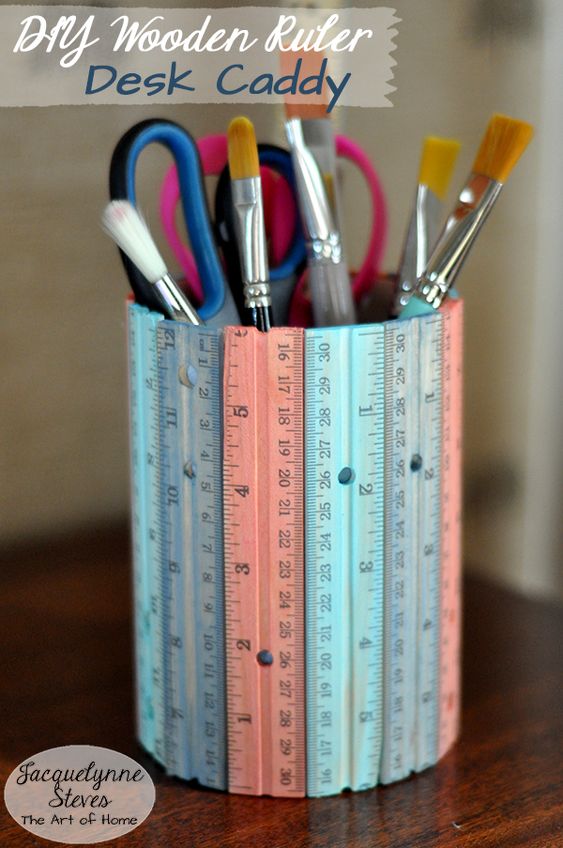 Craft-making is a fun activity to help kids do something on the creative side. Opt for practical but enjoyable pieces such as ruler organizers like the one shown here by Jacquelynne Steves. These are easy DIYs you can help your kids create to serve as reminder boards or just a complementary piece to hang their favorite photos or work of arts.
Using old wooden rulers, clothespin, non-toxic paint, and some wood glue, this DIY craft can be done with a few minutes to an hour. They can get creative and add some buttons, small toys, or other ornaments that might catch their fancy.
6. Make cotton candy Monsters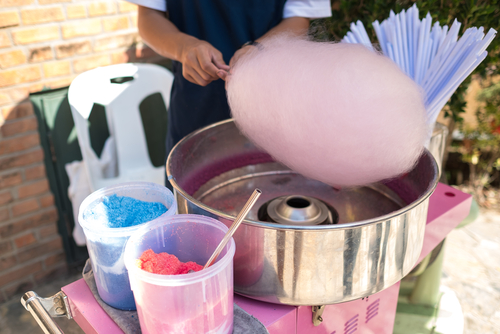 Fall is perfect for getting ready for the much anticipated Halloween. You're probably searching for costumes and decorations as well. There are fun and unique ways to prepare your treats without burning a hole in your wallet.
This cotton candy monster is a fun and imaginative way to decorate your treats! Dry environments work best for cotton candy to be molded. You can search for online resources to create homemade cotton candy while your kids brainstorm for possible designs using gummy worms, marshmallows, chocolates, and candies!
7. Make leaf ghosts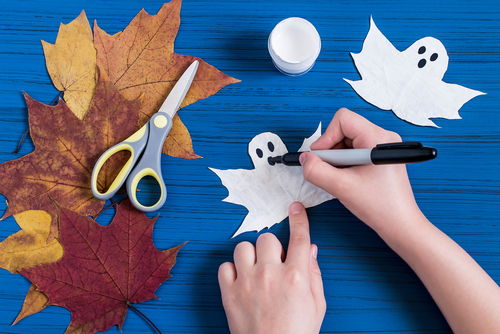 Another eco-friendly way to prepare for Halloween is to prepare for decorations with whatever is abundant this season: dried leaves. It's everywhere, and it's just beyond your doorsteps too!
Have your kids rummage through the garden or nearby park for some leaves. Make it as interesting as possible, and have them collect large and smaller leaves. Using some scissors, they can cut out small holes for the eyes before painting these accents with non-toxic white paint. String these together, and you have a boo-tiful string of leaf ghosts!
8. Fun pumpkin stamps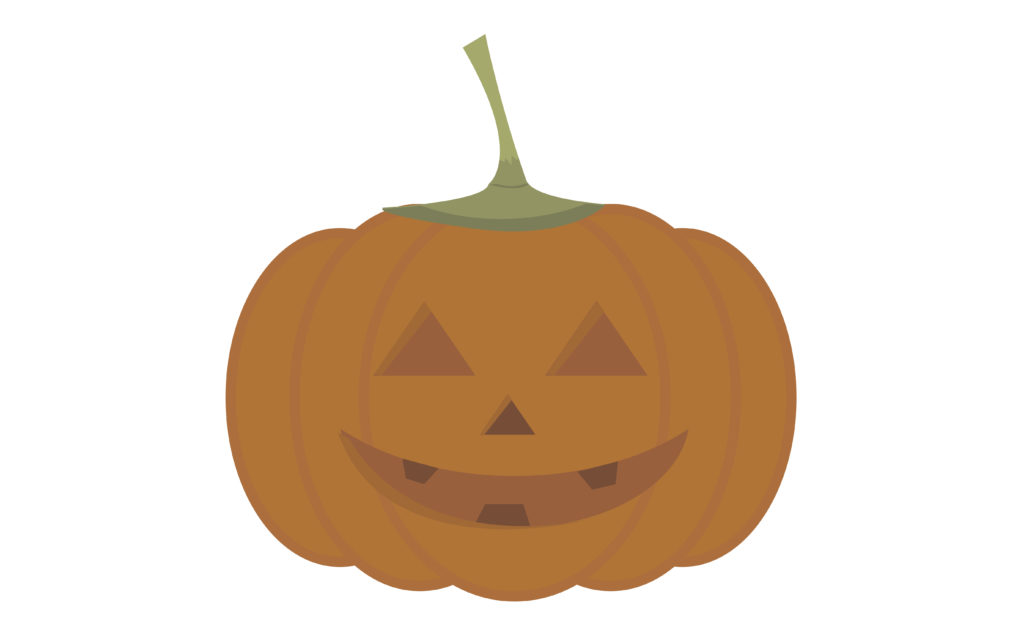 Sending out invites to guests for Halloween? There's no need for costly greeting cards. This fun and easy to do pumpkin stamps are just the right material!
For this activity, you'll only need an apple (cut in half), craft paper, orange paint, glue, googly eyes, and pipe cleaners that you can purchase off your local craft store. If you have excess cards, you can also use these as décors attached to the wall or string them like buntings. This is a cost-efficient way to save on décors just before for Halloween!
9. Rake dried leaves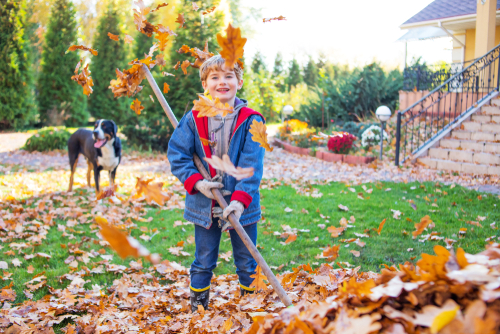 While this may seem like a "chore," raking leaves during fall gives you and your family something old—and something new. You can do a lot with dried leaves. Instead of using paper, create a fun activity where you and the family can create leaf crafts together. Kids can doodle on leaves using metallic sharpies or draw leaf mandalas and use these to hang on their walls. Or create unique leaf art on smooth rocks using a Mod Podge that they can use as decoration or paperweight. After craftwork, they can dive in and enjoy the autumn vibes!
10. Read autumn-themed books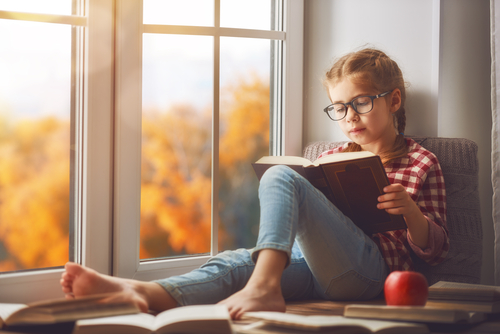 It's a great season to be inspired. Before going to bed, you can make this a habit to read with your kids and discover interesting stories about autumn and valuable lessons you and your kids can glean from these books. Autumn-themed books like Goodbye Summer, Hello Autumn (Kenard Pak), Autumn (Gerda Muller), and We Gather Together (Windy Pfeffer) are good books to start with.
11. Prepare popcorn balls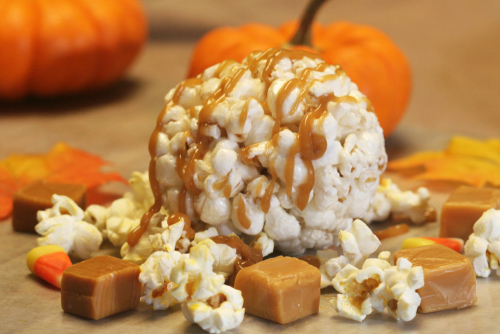 Another favorite treat for this season is munching on popcorn balls. The crunchy texture and reminiscent feel of the upcoming holiday season will surely spark the celebratory spirit in your children. It will take roughly 20 minutes to prepare with about 10 to 20 servings per batch for 7 quarts of popped popcorn. You can use as many colors as you like with allergy-free food coloring that you can purchase off your local grocer.
12. Create eco-friendly pumpkin bags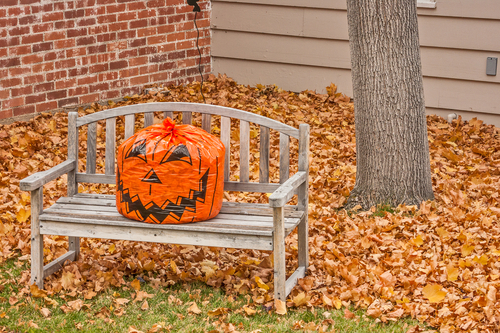 Pumpkin decorations are an unmatchable activity you can do with your kids for this fall. Aside from buntings and wall decorations, you and your kids can also start making eco-friendly pumpkins using a bag stuffed with leaves.
Using only a few items such as recycled orange bags, dried leaves from your backyard, and a little creativity, your children can doodle on the eyes and mouth with that typical pumpkin "grin." Of course, their creativity is the limit! They can always add other trinkets, buttons, and other craft paper to make it more interesting.
13. Create colorful leaf rubbings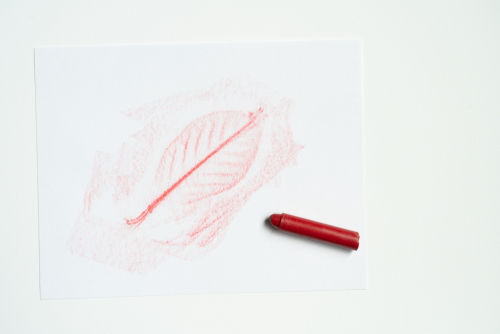 Creating colorful leaf rubbings keeps them occupied for the whole afternoon! This craft activity is easy to do and will only require crayons, a diverse set of leaves, and white craft paper. If you feel that the set of leaves you have in the backyard is limited, you can bring the kids to a nearby park and collect as many as they can. These colorful pieces can be used as decorations in anticipation of the fall season. These would also make nice DIY cards they could send to friends if your little girls want to invite friends for some tea and cookies!
14. Go pumpkin picking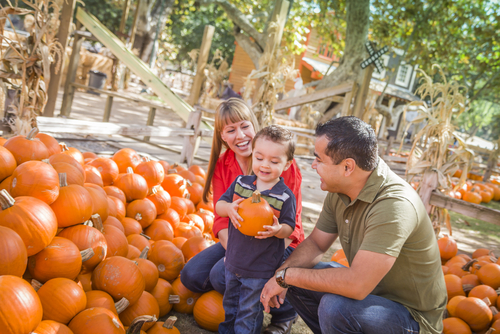 Just like apple picking, visiting a pumpkin field is also a favorite activity for this season. And as many adults know it, pumpkin is everywhere, from decorations to food choices. With some creativity, you and your kids can create a fun activity to carve out pumpkin heads in anticipation of Halloween. With excess pumpkins, the kitchen is your next location. Spend quality time with the kids creating apple pumpkin muffin, pumpkin pancakes (for that delicious fall breakfast!), or pumpkin banana smoothie. You and the kids can also do pumpkin chocolate chip cookies to be given away as treats.
TravelChannel.com lists the Top 15 U.S. Pumpkin Patches to visit each fall season!
15. Hike!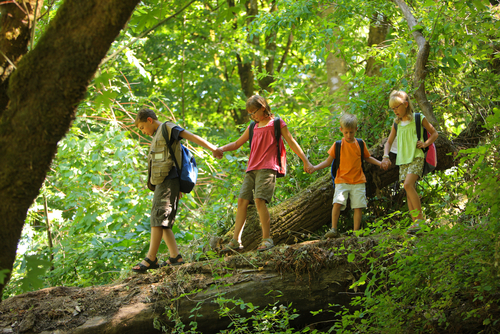 The distinct auburn foliage is something your kids shouldn't miss during this season. For weekends, you can schedule a short trip to a nearby local park. You can pack in some sandwiches and take them out for a picnic too.
You can also check local trail locations to bring your kids to get some fresh air. These nature trails would often look marvelous in a backdrop of copper, yellow, and brown. Snap as many pictures as you can and build fond memories with your kids for this season!
The Best Family Hikes in the U.S. from Oyster.com details nine of the friendliest hiking trails for families! Are there any near you?!
16. Play "scavenger hunt"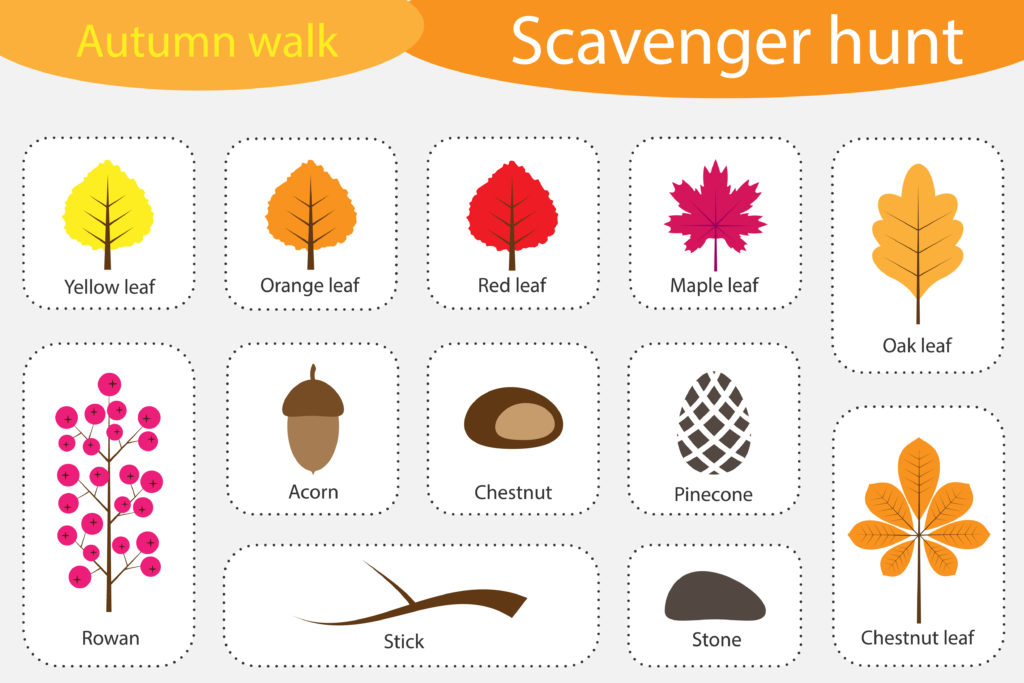 Kids love to explore. And what better way to tinker on their imagination with a DIY scavenger hunt? You can create a hunt focused on the kind of activities you plan around this fall. Make this a friendly competition for your kids as they search for organic materials such as leaves, sticks, rocks, and other materials that they will be using. This is a fun game to let your kids explore but also have fun without thinking much of the physical activity.
17. Corn maze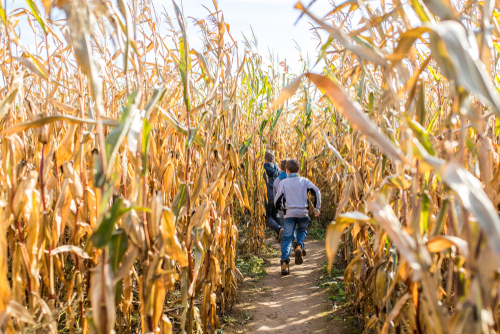 Another fun activity common this fall season is roaming around the corn maze. As pumpkin fields usually come with corn mazes, take this opportunity to explore and play around with the kids after a fun time picking out pumpkins. Remember to use comfortable clothing since it can take hours to wander and reach the end of the maze!
According to 10Best.com, the best corn mazes in the U.S. in 2020 can be found spread out all over the country with over 500 corn mazes in the U.S. to choose from!
18. Make a pumpkin head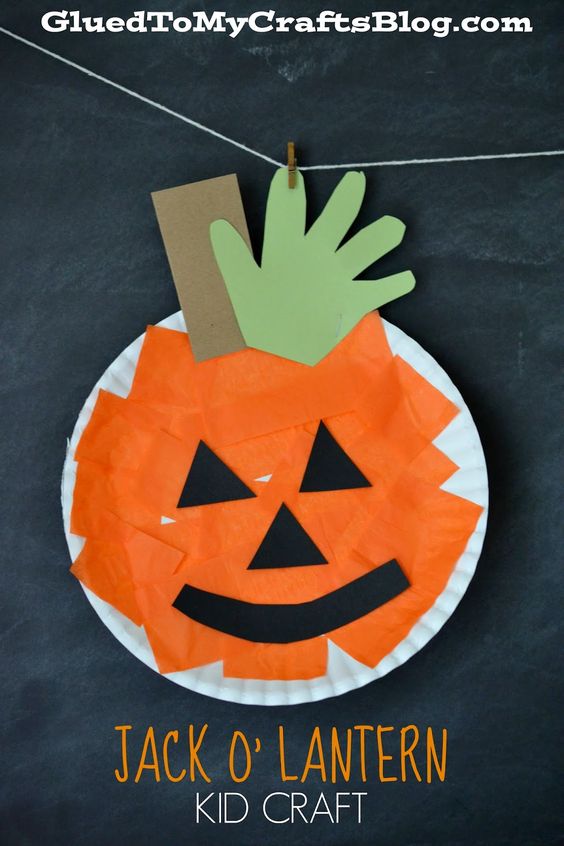 If you have toddlers, this activity would surely be a hit! Creating a paper plate pumpkin is a creative activity to let your kids have fun drawing, doodling, pasting, and cutting parts to creating the perfect pumpkin head. Gluedtomycraftsblog.com pinned this fun toddler project on Pinterest. You can choose to take out a free outline of jack-o-lantern patterns and have it printed so your toddlers can just snip it and paste these on orange paper plates. Or, they can take it a little extra and become artists themselves by doodling their masterpieces!
19. Explore egg carton crafts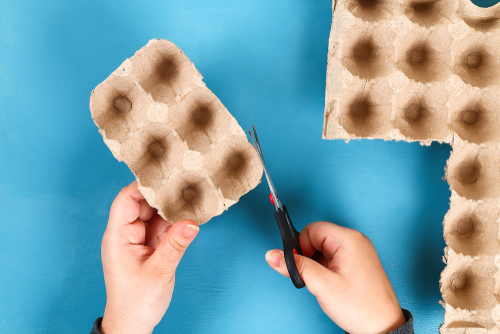 Fall also hints Thanksgiving. If you have egg cartons lying in your kitchen, don't throw them away just yet! You can save these and create fun and colorful decorations of fancy Thanksgiving turkeys. Head out to your favorite local craft store for some googly eyes, craft paper, glue, non-toxic paint, and colorful feathers.
These whimsical turkeys can be used as decoration for their rooms. Or give it a cool twist by adding small candies and treats inside the cartoon during the festivity!
20. Create cute bookmarks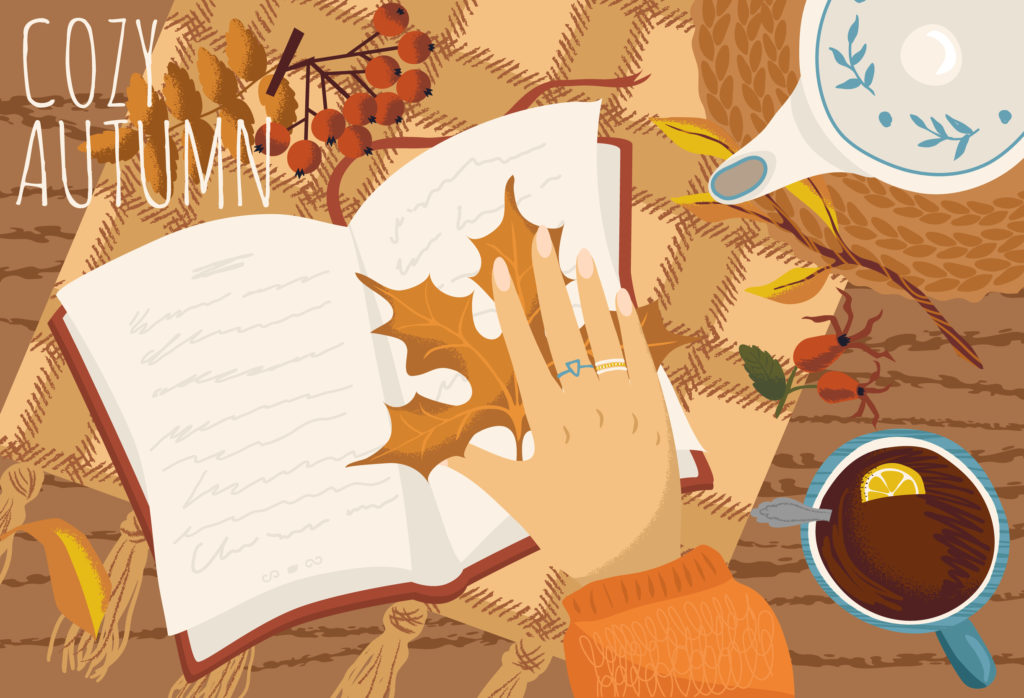 If you have children who love to read books, a good DIY craft for their favorite books might just be a fitting activity for fall! Enjoy the last few stretches of summer, picking flowers and leaves for this activity.
You'll need card stock, scissors, glue, and contact paper or laminator to preserve the beauty of the flowers and leaves. Kids can use white or brown card stock to help make the colors pop out. Make sure to dry and press the flowers and leaves on the card stock. These would make wonderful presents to give to their friends for the holidays!
21. Make a DIY pencil holder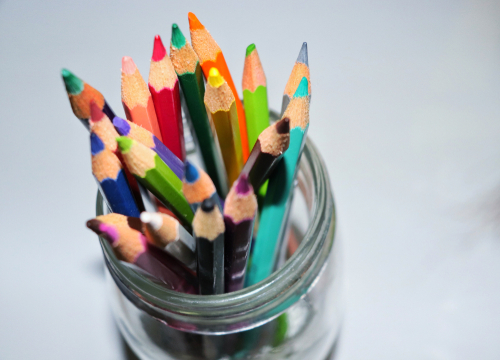 There are many craft materials that you can use to create a pencil holder. These are practical back-to-school crafts that your children can enjoy making this fall. These nifty pencil holders could act as organizers too!
Use mason jars for this activity with a hole on the lid. Kids can use non-toxic paint to add color inside the jar. They can also paint or add some stickers on the exterior to make it more customized. These easy but fun crafts would make beautiful back-to-school presents for their teachers too!
22. Use fall leaves for crafts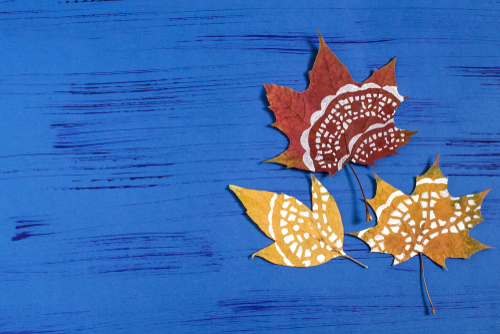 With some black glue and a little bit of creativity, these fall leaves crafts would make a wonderful backdrop to make your home autumn-ready. The beautiful watercolor paint splashed across leaves gives it an interesting take of their version of colorful window cathedrals!
Use non-toxic glue for this activity and supervise them if they're using sharp objects. To help make the artwork stand out, use craft papers that won't bleed when watercolor paint is added.
23. Create an art work using fall spice paints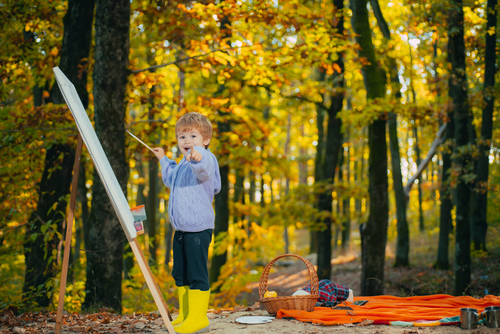 If you feel like the paints you have are very limited, you can create a fun activity to create beautiful autumn paints fitting for the season. Kids will love authentic autumn-themed artworks, and by creating these fall spice paints, they can enjoy the colors of fall to their heart's content!
It's easy and will only require a couple of spices just lying around your cupboard. Homemade spice paints are made of flour, oil, water, and spice of choice. Autumn colors usually use cinnamon, turmeric, thyme, and nutmeg.
24. Do gardening activities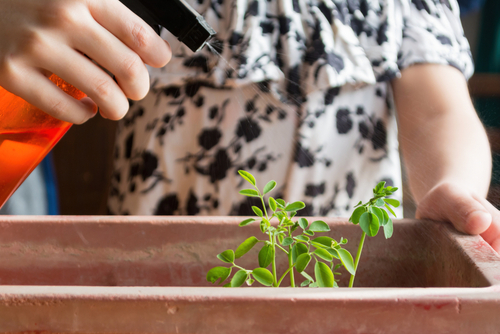 Nature is never far when you have a wide space for some gardening work. You can create fun activities around planting on the lawn.
To make it more interesting, have your kids pick up the kind of flower, fruits, or plants they'd like. If they have outdoor playhouses, some of these have window planters to carry small plants. Perfect autumn blooms include crocus, dahlia, nerine, sternbergia, and begonia.
25. Donate food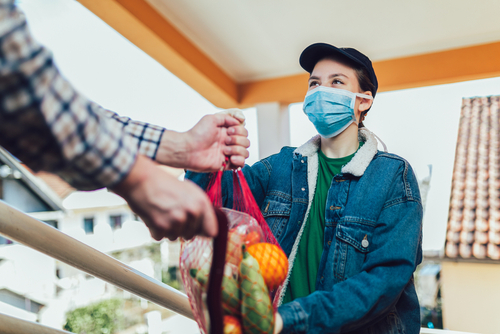 It is a good season to be reminded of gratefulness. Fall to winter is a great time to give back to the community, even in small ways. You can make this a learning activity by allowing your kids to participate in donating food items and even clothes to their chosen charity.
It would be an eye-opener and wonderful experience to learn to share and give that goes beyond this Thanksgiving season. You can turn this into a tradition and create meaningful memories with your kids through giving.
26. Bake a unique pumpkin pie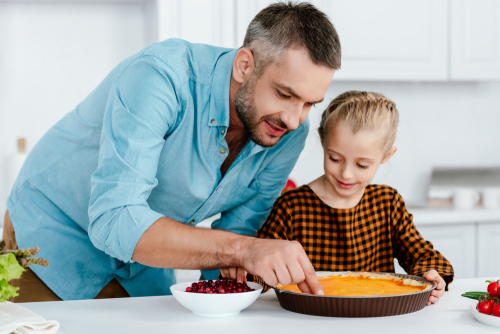 Fresh from the pumpkin orchard? Create an autumn-perfect pumpkin pie. Kids love to explore, and they've likely found their perfect set of pumpkins just before Halloween. You can use some of it to create this treat to pair with some of their favorite toppers!
You can find kid-friendly pumpkin pie recipes online to ensure they're getting the maximum fun out of this activity. They can add their toppers of choice such as pecans, caramel ice cream, or peanut brittle.
27. Make fruit smoothies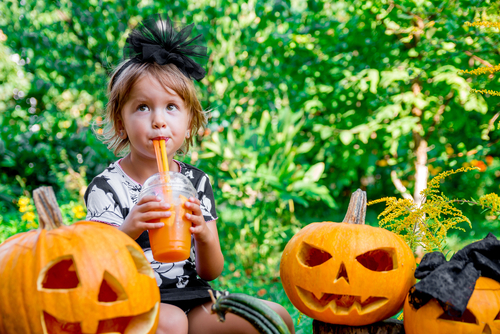 Particularly pumpkin, apple, and butternut squash. These are perfect smoothies to pair with freshly baked apple or pumpkin pies!
It's a delectable and nutritious treat that you and your family will love. It's easy to do while giving your kids the freedom to explore (and taste!) the best smoothies fit for this season. Give Caramel Apple Overnight Oatmeal Smoothie some space in your fridge for a hearty breakfast meal your kids will be guzzling this fall.
28. Play a fun Apple Game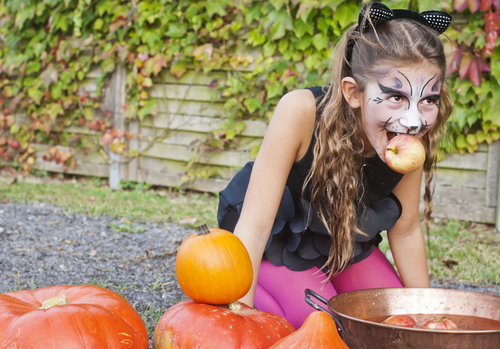 Kids can still have fun even in the confinements of home. Chances are, your backyard is just the right place for a mini-fun fair. And if they've been to one, they're most likely familiar with the bobbing apple game.
If you have three or more kids, it's a good game to use for a friendly competition. You can use creative DIY crafts for prizes too! After bobbing for apples, have them create candy apples, apple donuts, or apple 'nachos' topped with melted chocolate, nuts, and seeds.
29. Make homemade butter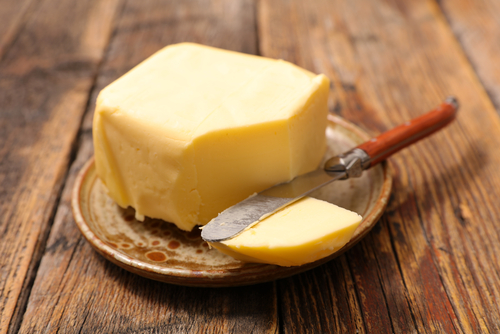 Autumn is the best time to get kids involved in creating crafts and other fun activities. While butter making may not be on your top list, it's a great activity to give to a happy and active kid.
Butter making is not as intimidating as it sounds (and certainly not as uninteresting either!). It's a science activity that teachers use in class and will only use a clear jar and a carton of cream. Just make sure they pack on a lot of energy to mix the ingredients vigorously to create the creamy and delicious butter to go along with their pancakes!
30. Camp outside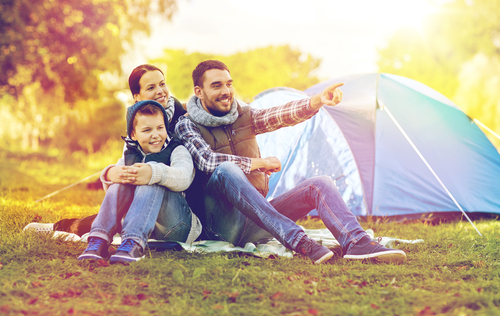 You can create a mini-camping trip in your backyard. If you have an existing outdoor playhouse, this camping should make it even more fun!
Armed with treats and drinks, you and your kids can spend time together outdoors for a few hours. You can also incorporate story-telling, charades, or even go along with their pretend play. If the playhouse permits, they can hunker down for the night with their siblings telling ghost stories.
31. Make a scarecrow jar
https://www.youtube.com/watch?v=K02oLUz1TEU
This is another fitting activity you can do with your kids in preparation for Halloween. These scarecrow mason jars are just the right piece to go along with your autumn accents.
By now, your kids are probably accumulating Halloween items. It's a quirky and interesting piece that will only use some old fabric or burlap cloth, straw, googly eyes, black sharpie, non-toxic paint, and fake flowers. These adorable jars can be used to hold your cookies and candies fit for trick-or-treating!
32. Create pine cone crafts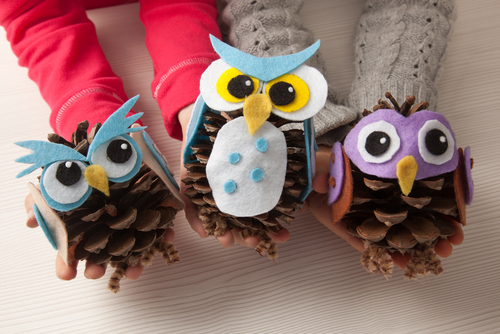 Pine cones are everywhere this autumn season. And what better way to maximize this by using it as crafting materials for autumn (and winter) decorations.
Upcycling is a wonderful opportunity to teach kids about Mother Nature. Make this a fun learning experience with the kids through craft-making such as pine cone bunnies. These are easy crafts that use only a few items such as twine, googly eyes, wooden beads, craft glue, and some colorful pompoms. Your kids have the option to use craft paper or felt for the bunny ears.
33. Do paper bag crafts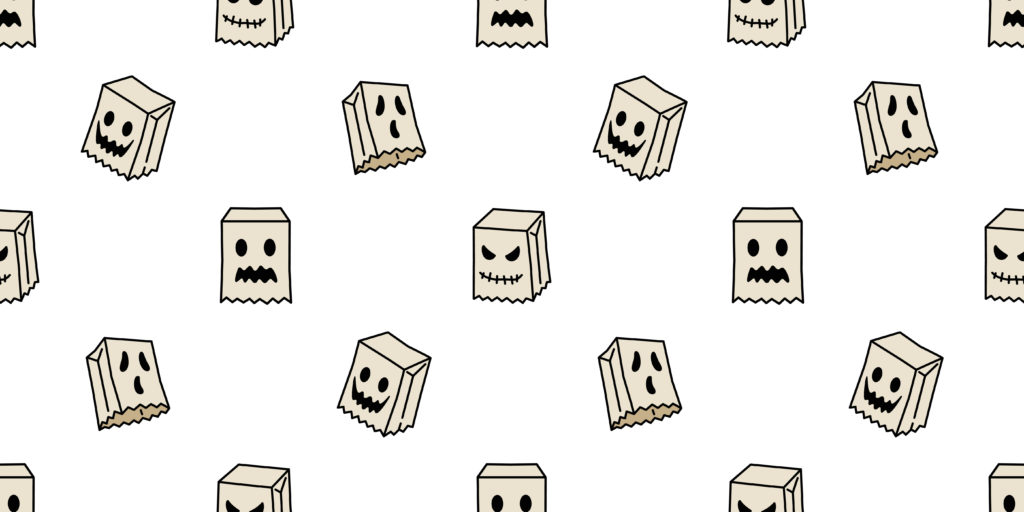 This timeless but enjoyable craft is something fitting for autumn: paper bag monster! You and your kids can create adorable puppets made from recycled paper bags.
Storytime is the best time to get these monsters out. Whether it's for an overnight camp outside or just a fun day in their rooms, you can create mythical creatures with good stories behind it. It's ideal entertainment for your toddlers to get them excited for Halloween too!
34. Make a DIY bird feeder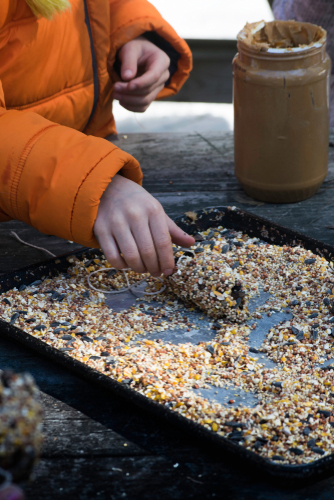 Nature exploration is never far when you have a bird feeder. If you don't have one yet, this is a great time to create one with the kids.
It's a simple DIY craft that you can supervise your kids to construct. Collect pine cones (preferably large ones) from a nearby park or local walking trail. Your tools include peanut butter, strings or wire, birdseed, and pine cones. Find a good spot, whether in your backyard or lawn, to hang these treats where they can easily spot these birds picking on the seeds.
35. Bake candy corn treats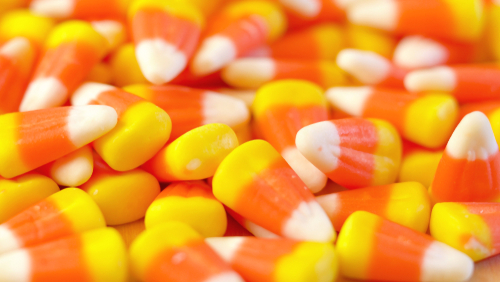 Make lickety-split baked goods on a long weekend afternoon with these candy corn cookies. It's an easy baking activity that your kids will surely enjoy eating afterward.
Using only a loaf pan, allergy-free food coloring, and an easy cookie dough recipe, your kids will surely be entertained as they choose the colors and cut these into corn-shaped pieces. It would also be a nice treat to give away for the much-anticipated Halloween this fall!
36. Make DIY Halloween shooter crafts
https://www.youtube.com/watch?v=K1aYtEN9YjI
Bring the uniqueness in Halloween-themed games using these easy DIY shooter toys. This creative activity is easy to create and gives your children something to play with anywhere.
You can inspire the kids to create their unique shooter characters such as Dracula, a ghost, or a pumpkin. You can create a friendly competition for your kids and see who shoots the longest. Of course, be ready with some delectable treats afterward. They can also use these as part of their Halloween decoration along with miniature Jack-o-Lanterns on the display table.
37. Craft a cupcake liner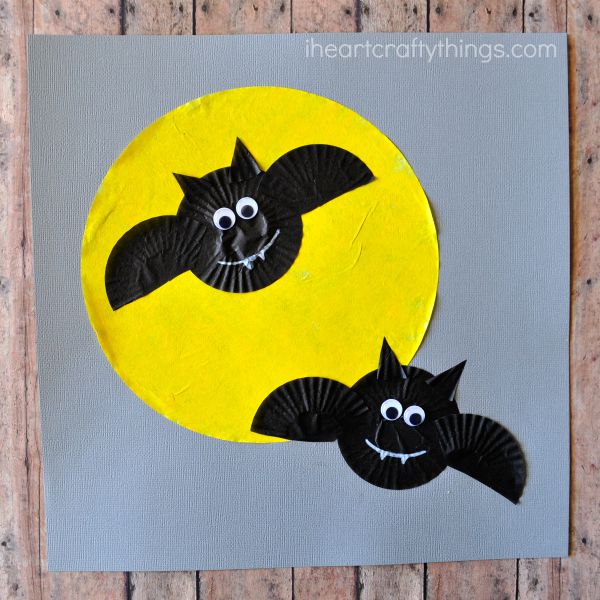 This is another interesting craft you can create with your kids for Halloween. Cupcake liners can be made into different art pieces from flowers to bat designs.
According to ww.IHeartCraftyThings.com, Have them place the circular yellow craft paper over a dark gray one. Then line the bat figures using one full circle cupcake liner and two half ones (serving as wings). Use googly eyes and some white paint to create the fangs. These would make wonderful decorations to serve as buntings in the Halloween trick-or-treat counter.
38. Make Halloween bookmarks
Do your kids love listening to stories? If you plan to give them loads of books this fall, a uniquely crafted bookmark would be a great addition to make reading more interesting!
These cute corner bookmarks are eco-friendly and easy to create. Using only a few craft paper, a bookmark guide, and trinkets such as buttons, googly eyes, twine, ribbons, and what-nots, your kids can have a fun time creating two (or more!) of these adorable corner bookmarks that they can use on their notebooks or books. They can also give these away as part of trick-or-treating!
39. Go tree climbing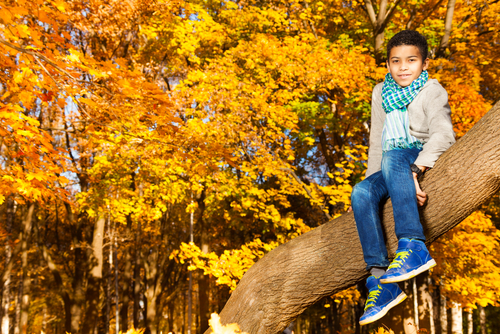 Fit for older kids, this is a good physical activity during fall since trees are likely to be bare. It's easier to climb and supervise your kids as they explore.
Active boys would surely love some exploration. Throughout this activity, you can create meaningful explorations by having them get materials such as twigs, leaves, and flowers for your planned fall activities. There's a good chance they'll still get remnants of full-bloomed flowers and healthy green leaves that can be used later.
40. Play football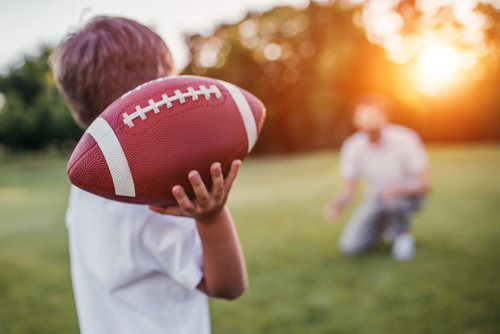 Because, why not? Football is a good sport to get your kids engaged in some physical activity without them noticing it.
As football is about to end during autumn, it's still a good time to catch what's left from summer. Take time to get your kids into a friendly competition in the backyard. Or you can take them out for a homecoming game for that Thanksgiving Classic they're accustomed with.
41. Schedule a farm visit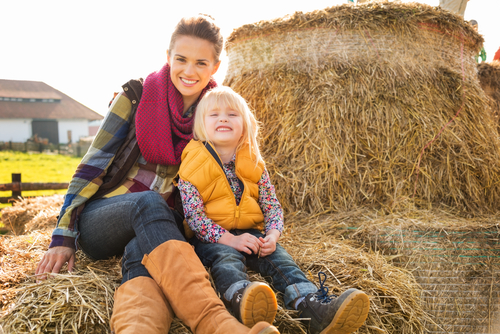 Farms do exhibit its charming way of captivating kids to explore. These are ideal locations for active kids who like to explore farm animals, ride ponies, or experience tractor rides!
You can take the opportunity to let your children know more about farm life (and even learn new things yourself!). It's also good to let your kids experience feeding the animals or watch farmers how they go about with their usual routine out on the farm. Plus, climbing a hay bale is fun!
42. Visit a nearby sanctuary
You and the kids can visit a local sanctuary for some exploration. This is an ideal time to spend quality time with the family looking and feeding animals.
Aside from its aesthetic brown and yellow background, a sanctuary is an interesting place to explore exotic animals that are truly being cared for. Make this trip even more exciting by creating an 'I spy' game for your little toddlers.
43. Get that Halloween Costume ready!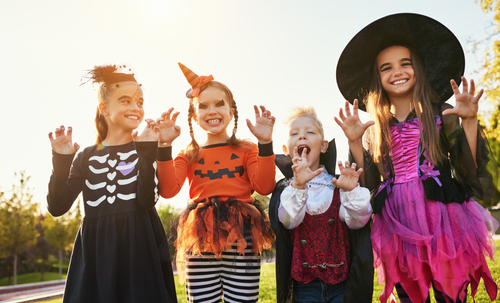 When all the preparation has been done, it's time to move to the exciting part: finding the best Halloween costume!
Kids love to play pretend. Give them free rein who they want to be for Halloween. Make it more interesting by allowing them to craft it themselves. With your supervision, they can create costumes from Superman to a cute little monster. You can create friendly competition and give additional treats to those who get the most treats for Halloween.
44. Plan a Halloween Party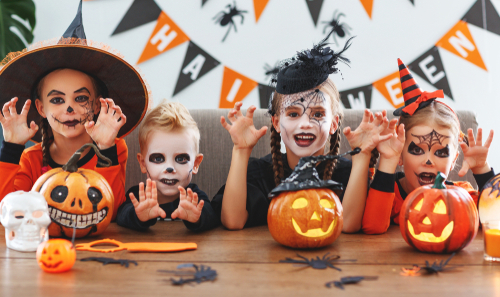 It's a lengthy preparation, so this could keep your kids busy. With your supervision, they can plan to have family and a couple of friends over for a mini-Halloween party.
It doesn't have to be an elaborate one. With simple DIY crafts and some pumpkins, this could be one of the most memorable parties for your kids this year (aside from Christmas, of course). Get them to participate in creating the decorations, treats, refreshments, and game prizes if they have a program in mind.
45. Bond Over a Halloween Movie Marathon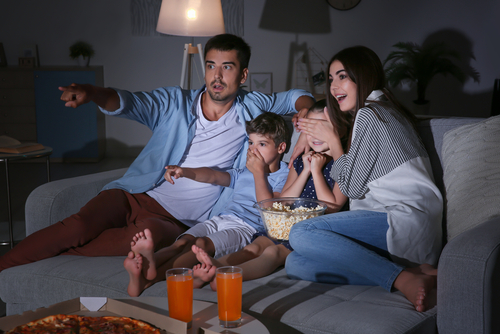 Watching movies is a great time to bond with your children. There are good online resources to look for meaningful and fun movies to watch over a weekend.
Try going for family movies where everyone can enjoy it. Let the kids participate by letting them plan the snacks (popcorn balls anyone?) for this day-long marathon of movies such as Kubo and Two Strings, Miss Peregrine's Home for Peculiar Children, and Storks!
46. Play "Pin the Nose of the Pumpkin"
https://www.youtube.com/watch?v=0gbqp-rNqcc
This is an interesting take of pin the tail on the donkey. If you're still looking for fun games to incorporate for that special day, this one should be part of the list.
Kids can easily re-create this version by using a large pumpkin. They can opt to use printable pumpkin eyes and grin, or they can choose to draw it themselves. Cut a triangular nose using a black craft paper and stick a small pushpin on the button (secured using glue). You can use treats as prizes for anyone who brings the nose to the closest spot!
47. Make pizza!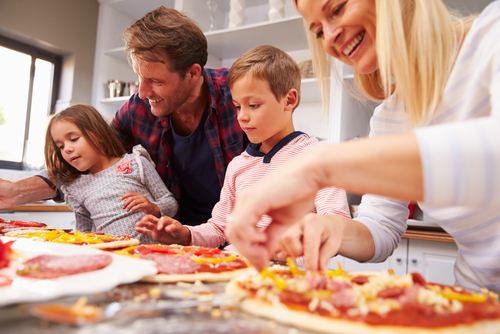 Everyone loves pizza. Aside from baking treats, teaching your children easy recipes is a great way to let them discover the many facets of pizza!
Pizza rolls are the easiest pizza type to create with kids. It's a delicious snack enough to feed a crowd! It will only take an hour to accomplish, and kids can help in placing the toppings and sauce. Make it more enticing by placing a variety of toppers such as pepperoni, cheese, ham, and pineapples!
48. Play the Turkey Rockets game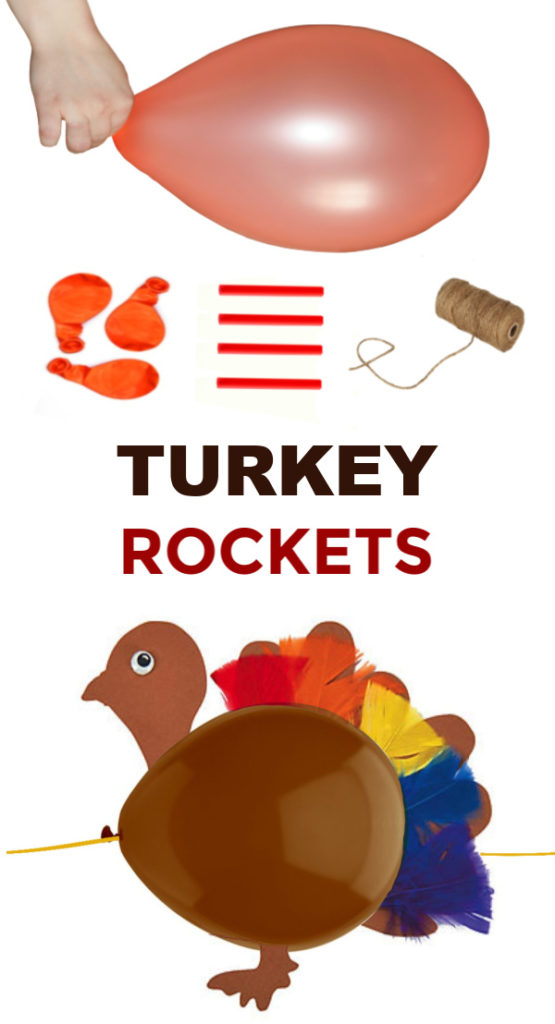 Make this a fun Thanksgiving game from GrowingAJeweledRose.com! This is a simple DIY game using only a handful of materials. Have your kids design the turkeys using colorful feathers or plumes or find a ready-made foam turkey from the local craft store. Secure the crafted turkeys using tape on the inflated balloons. Be sure to add a straw so these can move seamlessly along the string. Then, tie the string one end to a chair to another wall or chair to hook the other end. As your space allows, you can have two to three players at a time.
49. Make "Snakes ALIVE Jello Cups"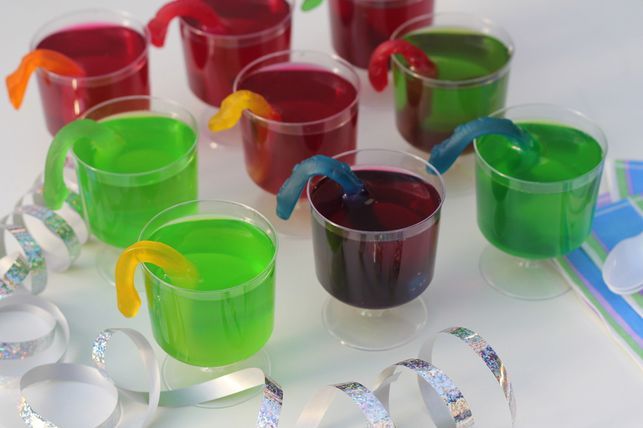 Get a good spook from this bowl of snakes! According to KidSpot.com.au, have your kids use jello and small rubber snakes that can be purchased from a nearby toy store or Amazon. These are timely accents for Halloween and would make a wonderful addition to your line of Halloween decorations. You have the option to add glitter to make it more interesting (and scare a couple of guests).
50. Create a Gratitude Tree
It's a Thanksgiving tradition. And what better way to express this than creating a tree expressing what everyone is grateful for this year.
Showing kids the value of gratefulness will help them later in their adult life as many of life's challenges may come running their way. They can use a craft paper and design their gratitude tree. Kids can also customize each leaves using the fall spice paints or non-toxic paints that they are using for other crafts. From here, everyone can take turns in writing notes on the paper for everything good that they're grateful for.