Children 2-and-a-half to 4 years old usually start preschool. And with kids this age having short attention spans, teachers and parents need to be a little more creative. Equally important is the comfort and safety of your preschoolers while they do school work.
Kids spend a lot of time running around, but all the writing, reading, and school work require them to sit for more extended periods. At home, they spend several hours sitting and doing artwork or assignments.
The market is teeming with beautifully designed chairs and table sets for this purpose, but can they give the right comfort and support to ensure your child's good health?
Why Pay Attention to Your Kids' Furniture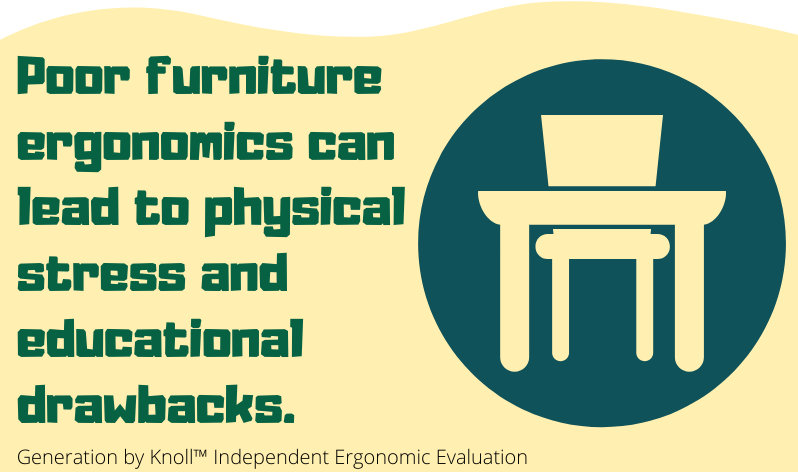 There is such a thing as "sitting the wrong way," bringing your kids discomfort and affecting their health. Proper posture should be a priority, which you can achieve by getting the top-quality table and chair sets.
The right size, the right fit with adjustable features, and overall ergonomics are critical factors for choosing preschoolers' furniture. Poor furniture ergonomics can lead to physical stress and educational drawbacks.
The ideal table and chair sets are out there, but not all of them are created equal! If you're looking for quality furniture sets your preschoolers can use at home or in school, let us help you get a good start! The furniture pieces featured on this list are suitable not only for classroom settings but for home and leisurely use as well. Here are our top picks!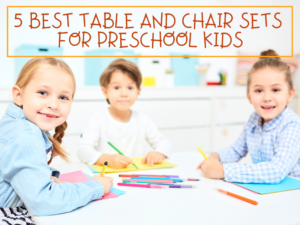 1. Step2 Mighty My Size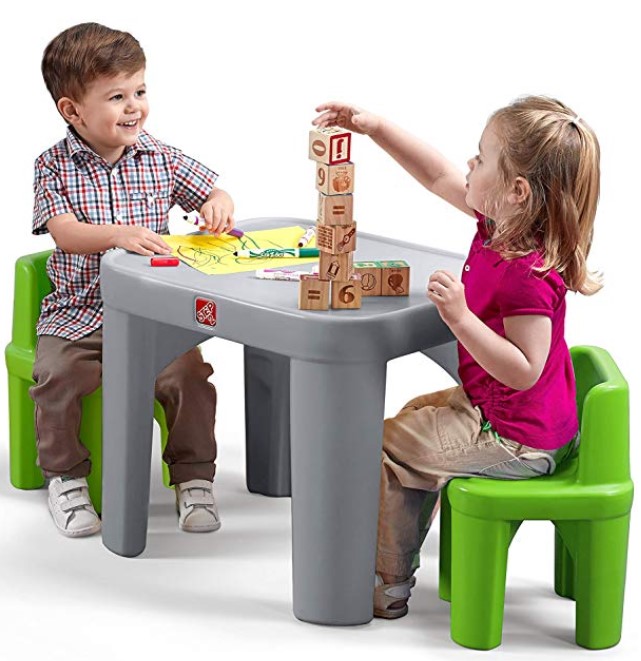 The Step2 Mighty My Size Table & Chairs Set is a simple yet durable table and chairs for two.
Once you get the item, you don't have to worry about complex assemblies with its 'pull and tuck' usage set for easy storage in small spaces. It is a portable set that is perfect for a quick camp out with the kids.
If things get messy, don't worry! This table and chairs set is easy to clean. You may wipe off dirt or other products from the table or chair and you're good to go. Polypropylene material makes this furniture lightweight but durable so that you can use this for a long time. This furniture set is ideal for kids between 2 to 5 years old.
2. Little Tikes Bright 'n Bold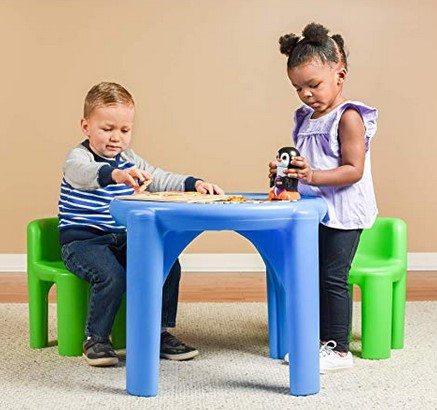 Pre-school kids can get loud with their siblings or friends. At a whim, they can switch from drawing to beating the tables out of excitement. Here's where the Little Tikes Bright 'n Bold Table & Chairs come in handy.
This set is fully assembled and comes in a compact design suited for small spaces. Bright blue and green combination invites kids for some fun and happiness as they cut out pictures, draw, or play in it.
It can get stuffy inside, and when kids want to play out, you can carry this outside. The table and chairs edges are blunted, unlike regular furniture that tends to scrape off the skin from running or playing.
If the kids get messy, you are assured that this set is safe from staining. Take a washcloth and wipe the dirt or liquid away!
3. KidKraft Wooden Round Table & 2 Chair Set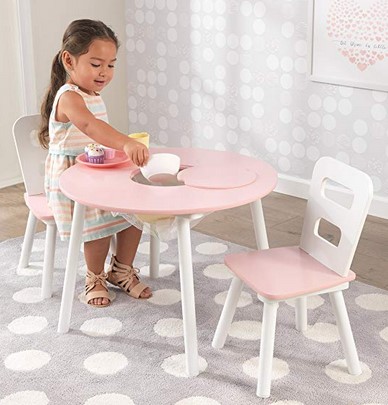 The KidKraft Wooden Round Table & 2 Chair Set is a traditional wooden set that works for school-related activities and is also suitable for little girl's tea parties. This is a beautifully crafted table and chairs made from wood and metal in color pink and white. This set comes with easy to assemble pieces.
The table is round, and chair edges are blunted to ensure safety as they play or enjoy a kiddie tea session. Instead of separate storage compartments, this furniture has a built-in hidden storage container to keep their toys, drawing materials, and other small teacups ready for play. They can just open the circular middle piece and take their treasures out.
Measuring 23.4″ x 23.4″ x 17.2″ and weighing 23 pounds, this kiddie tea party table is best for spacious rooms. Keep in mind to wipe away any liquid spillage to maintain the integrity of the material.
This furniture set is recommended for kids between 3 and 6 years old.
4. Simplay3 Kids Play Around Table and Chair Set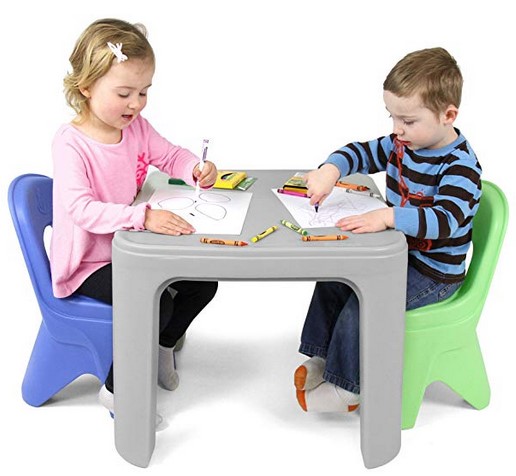 Whether your kids are at play or doing their assignments, the Simplay3 Kids Play Around Table and Chair Set is the right furniture.
This is an all-purpose table and chairs set right for 2. It is made of quality plastic construction material so that it can endure for more extended periods. Smooth edges keep your kids safe from scrapes when they move around.
Are you looking to have a little picnic in your garden? For picnics or some fun under the sun, this set is also for outdoor use. It's waterproof so you don't have to worry about the integrity of the material after a heavy rainfall. Easy to tuck and pull chairs keeps it simple and compact for use.
If you're worried about your kids falling off, this furniture set is the answer. The table and chairs come with sturdy tip-resistant features to keep it firmly planted on the ground.
5. Tot Tutors Building Blocks-Compatible Table & Chairs Set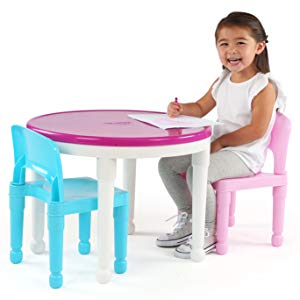 Kids are drawn to cute and colorful designs. This Tot Tutors Kids 2-in-1 Building Blocks-Compatible Table & Chairs Set is going to be your kid's next favorite spot!
This set comes in two color combinations: white/blue/pink/purple and red/green/blue/yellow. Durable plastic material ensures this set is fit for indoor or outdoor use.
Compared with other pre-school furniture, this set is compatible with building blocks so kids can take out their Legos from the built-in storage area and start playing. Want to switch to a regular table? Take out the building block cover and it's ready for other kiddie activities such as snacking, drawing, or any other play.
It's lightweight that even your kids can pull it to their favorite spot in your home! Are you planning to bring this for a camp out next weekend? Simple snap-together features make this portable and easy to carry for any trip with the kids!
This set is recommended for kids three years old and above.