As parents, you want the best of everything for your babies! As your little munchkins grow, you will find yourself scouring the market for some kid-safe products to use. You can never build a fully child-proof home, but you can always start with a little bit of planning and decision-making.
Bath time, for example, is one of the most crucial parts of raising a child. It is a routine they need help with every single day until they learn to do it on their own.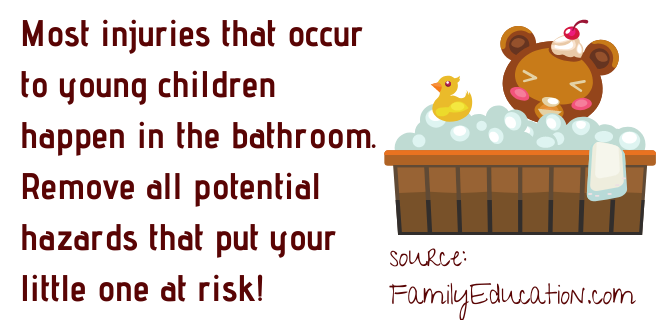 Bath time should be fun… not dangerous!
A relaxing and fun bathing session makes for a happy child. It is an excellent chance for you to bond with them. However, most accidents among kids occur in the bathroom, so you should prioritize bath safety early on!
Using the right bath products and accessories are extremely important in preventing any accident involving your kids. Give them a proper bath, and never take for granted the type of products you use!
Check these out…
Allow us to help you pick today's safest bath products for the best value! These products are fun, exciting, and dependable. Instead of a difficult time getting your kid into the tub, you could have a hard time getting them out of it.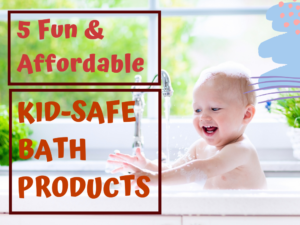 Here is a shortlist of some of the cheapest yet fun bathroom safety products you can find on Amazon. The prices apply as of this publishing.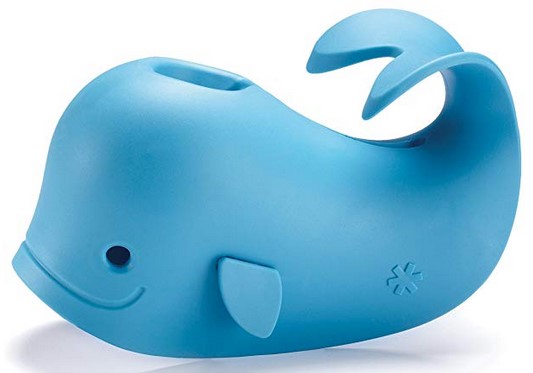 When considering purchases for bath time safety, the Moby Bath Sprout Cover is a great choice to help prevent accidents and head injuries to your little tots.
This little darling whale covers the hard metal faucet and is made with disguised features you will surely love. The Moby Spout Cover fits a wide variety of tub spout and faucets, thanks to its durable, adjustable strap (shaped into whale's fins). It fastens securely, so little hands can't remove it easily.
It is designed with a rubber that is soft enough to protect your toddler's head in case they tip over. It is BPA-free, PVC-free, Phthalate-free to guarantee safety when kids tend to put the product in their mouth. Its blowhole at the top allows your shower diverter to lean out for easy access.
It's mildew and mold-resistant so moms don't have to go through the tedious cleaning. Its tail makes for a handy hook so you can hang it dry after using it. Besides this spout cover, the brand has a whole range of safe bath products that match it turning the bathroom into a waterpark attraction.
Don't let your little one bump his head! The Moby Bath Spout Cover is available on Amazon.com!
2.

Munchkin Float and Play Bubbles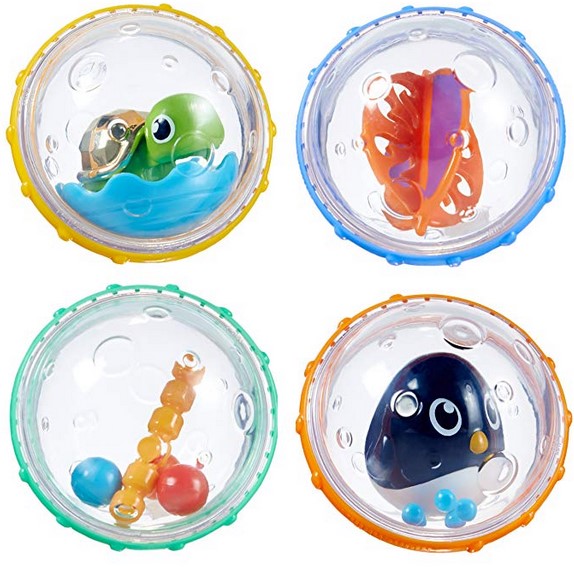 Babies and toddlers will always find bubbles entertaining, especially those that make tubs and bath time look welcoming to them. A winning bath time toy that is safe and affordable is the Munchkin Float and Play Bubbles.
These bath toys come in a set of four with each one featuring a fun animal character. These character bubbles float, rattle, shine and spin as kids shake them stimulating their senses. They are easy to grab and hold even with the smallest hands.
Each toy has a ring that can freely rotate, and the bubbles are designed with no holes, so water does not go in, making it mold-free. Each toy has a different ring and color that helps introduce kids to different textures.
Your little ones will have their hands and eyes busy while you bathe and rinse them, giving your little one a splashing good time. They are recommended for eight months old and up.
Nothing is more important to a parent than a safe bath time for their baby! You can purchase the Munchkin Float and Play Bubbles here!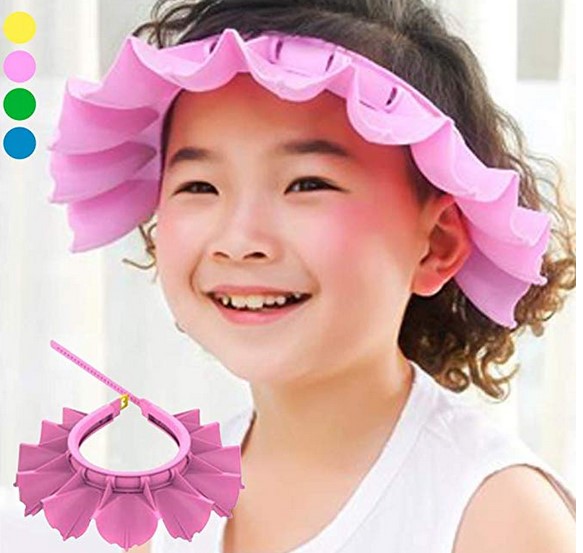 Paying attention to your kid's hygiene is as important as looking for bath products that are safe and come at a fair price. Bathing your babies and toddlers can be such a daunting task, especially when they get irritated by it.
Water, shampoo, and other bath products could get into their eyes or some sensitive part of their face making bath time disastrous. This is why you need a Baby Safety Shower Cap.
It is one of the significant innovations parents need during kids' bath time. This shower cap is designed similar to a sun visor with ruffles to protect the baby's face. It is made of high-quality silicone material, so it's soft and light enough to fit the most delicate baby heads.
It is built with 23 adjustable fasteners perfect for kids age 0-6 years old. This shield cap comes in 4 bright colors, such as pink, blue, yellow, and green.
Offered via Amazon Prime, you can have this Baby Safety Shower Cap in as little as two days!
4. Faucet Sink Handle Extender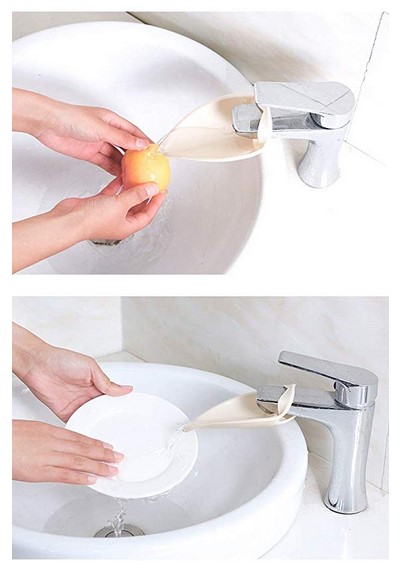 There is no stopping your toddlers from getting sticky and messy while eating and playing. This signals that your tiny tots are having a great time.
The best way to keep them from getting sick is to teach them to wash their hands frequently. This means a good lather and a thorough rinsing, but it could be frustrating for little kids to reach the sink. Even with the help of a stool, kids will find it hard to get the washing that they need.
This is why parents should be ready with a Faucet Sink Handler Extender. This extender is created with durable silicone for flexibility, so clumsy little hands won't break it. It is certainly easy to install on most gooseneck faucets or bathroom sinks and its curve design prevents water from streaming down onto kids' clothes.
This affordable extender is ideal for kids as young as two years old to use. It comes in neutral colors, so it's not an eyesore in the bathroom. The faucet extender cultivates independence and good hygiene in children and makes parents' lives a little bit easier.
Kids can't reach the water to brush their teeth? Purchase this extender through Amazon!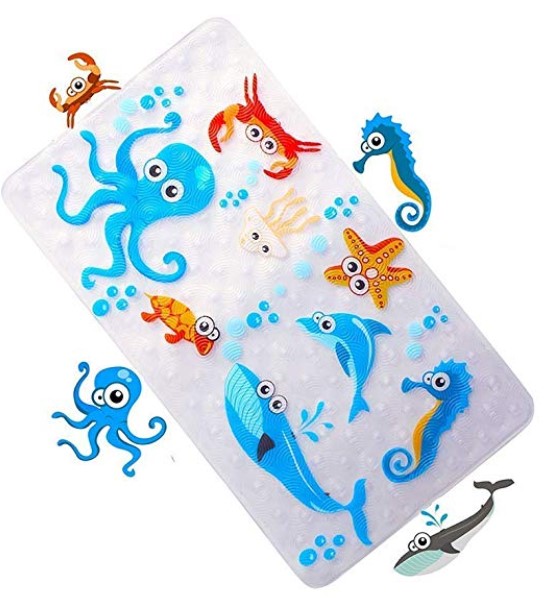 Bathing your baby is a great bond but as they grow older, they learn to sit up, stand or crawl in the tub, and sometimes bathing can be so stressful to handle, however; safety is of utmost importance. As responsible parents, adding in a bathroom accessory that keeps wriggly tots from slipping in the bathroom is necessary.
A BeeHome Non-Slip Bath Mat is a great tool to keep your babies safe in or out of the tub. You can get a bathmat with sturdy suction cups that keep it firmly in place. It is designed with colorful sea character illustrations that are suited for young minds.
Made of elastic rubber, this bathmat is textured to keep little kids' feet from sliding and is gentle to the skin giving enough comfort to them while sitting.
It is easy to clean and washable, so moms won't have to take so much time with the cleanup. With this very affordable bathmat, your hyperactive kids will enjoy slip-free bath time.
A slip could be DEVASTATING! The BEEHOME Non-Slip Bath Mat is available on Prime from Amazon!
---
related baby and toddler "stuff"