Written by Chief Editor, Britt Lynn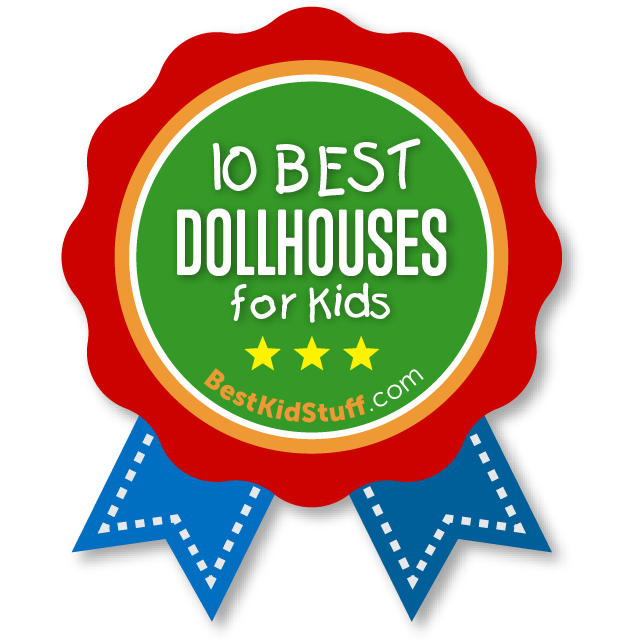 The process of pretend play teaches so many social-emotional skills, as well as language and thinking skills. Children process life through play. It is their way of existing. And what better way to engage in this formative type of play than with a dollhouse?
In some ways, the game has changed with dollhouses. Companies are toeing the line between creating high-quality wooden houses and creating products that are affordable. With Amazon in the equation, the days of waiting weeks or even months for a certain piece to arrive in the mail are over.
Quick Peek at our Top 3 Dollhouses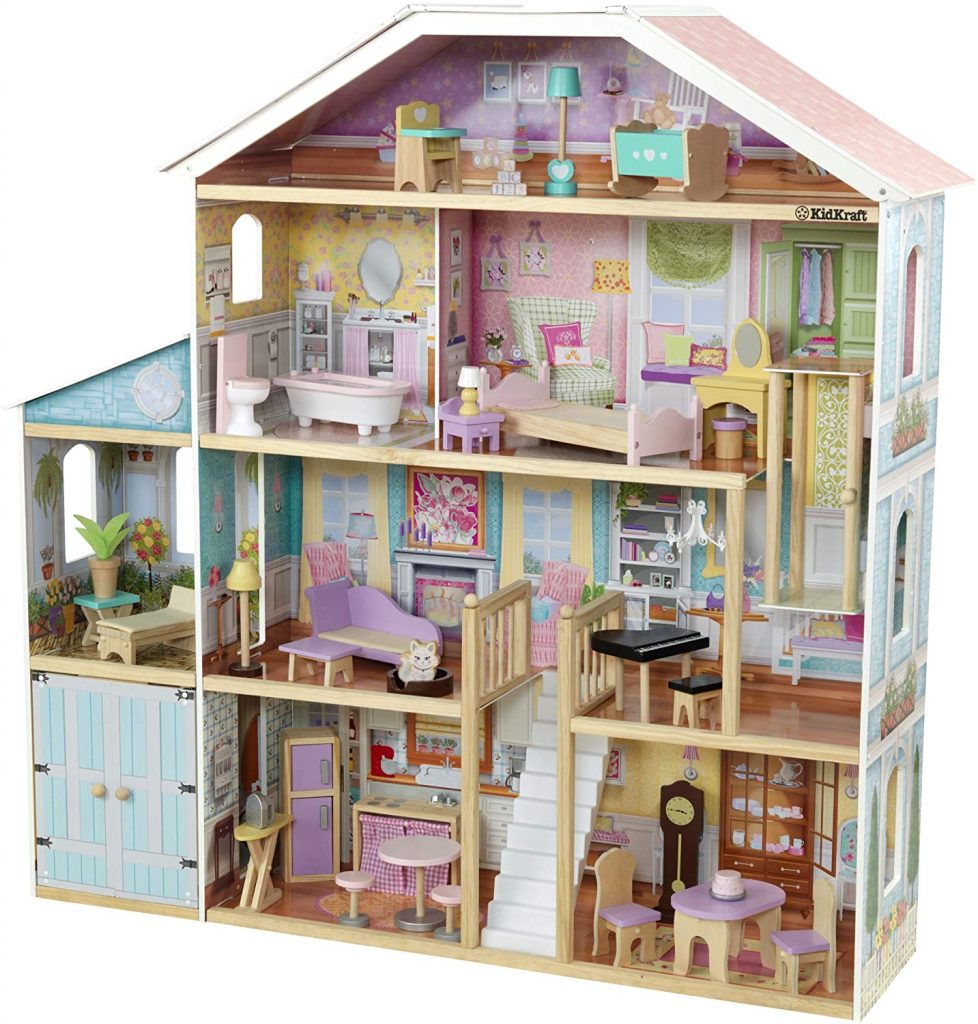 KidKraft Grand View Mansion Dollhouse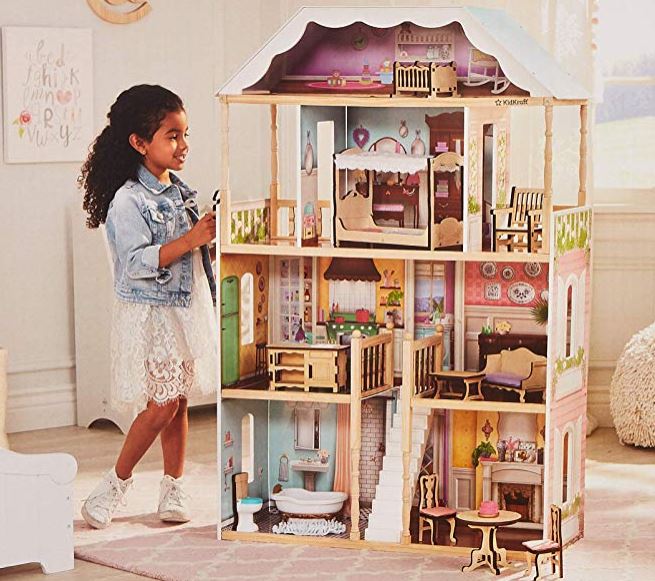 KidKraft Charlotte Dollhouse with Ez Kraft Assembly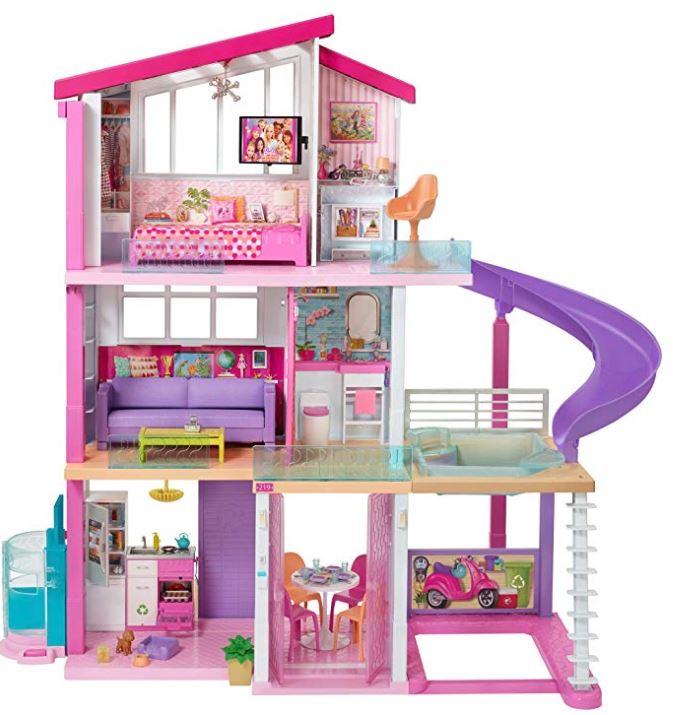 Barbie DreamHouse
Many of the dollhouses we reviewed actually come with furniture, so this toy is ready to play with just as soon as the dollhouse is set up. In other ways, playing with a dollhouse is exactly the same as it has been. Sure, items are more readily available and quite a bit less expensive, but the purpose of the toy still functions.
Your child's imagination will be swept away into the tiny and exciting world of imaginative play available through these exciting and colorful dollhouses.
Check out our "Things to Consider" section!
To determine which Dollhouses were high quality enough to present in this year's ranking (and there was quite a showing from many pieces), we looked at the following metrics:
Engagement Score (25%): When we constructed this ranking we played close attention to how long children were engaged with this toy. For our engagement metric, we looked at parent's reviews and looked to see whether or not children maintained engagement with their product.
Quality Score (25%): We looked at the quality of the product. Is this a durable product? Is it safe? How many years will this product last? All of this was considered before making a selection.
Value Score (25%): For our value metric we looked at price and quality together. If a product was on the higher end was it made from solid materials? Did it include more accessories? We also wanted to be sure that the products that were cheaper were not going to simply fall apart.
Ready to Play (25%): Finally we looked a "readiness to play." Did the product include furnishing? Was it relatively easy to assemble and access?
---

KidKraft makes great toys and they specialize in dollhouses with the Grand View Mansion among the best dollhouses for 5-year-old children they offer. It is certainly grand! Standing at 4 ½ feet tall, it's the life-size dollhouse for toddlers whose imagination exceeds their small size, so to speak, not to mention that your child is sure to feel swept away into a world of imagination.
The house has 8 rooms and includes 34 pieces of furniture and accessories. There are several moving parts including the movable elevator, and swinging windows and doors. The dollhouse is big enough so that more than one person can play. We like that it comes with 34 pieces already so your kids can start imagining right away.
This can also be a wooden Barbie dollhouse because it's large enough to fit Barbie dolls so a number of dolls 12″ or smaller will fit this grand house. The items are sturdy, but many parents have noted that this dollhouse will take some time to put together.
The upside is that everything is clearly labeled and though it may take some time, it's not super frustrating and will be entirely worth it. One reviewer noted that they only purchase KidKraft for all of the larger play toys in their home and several owners have mentioned that their children remained engaged with this dollhouse for periods over an hour.
What We Love!
Made of a Sturdy Wood Composite

Comes with 34 Pieces

Large Enough For Multiple Children to Play At Once

Fun Moveable Parts

Attractive

Dollhouse for 12 inch dolls

Kids Stay Engaged
Engagement Score: 100
Quality Score: 99
Value Score: 98
Ready to Play With Score: 100
Check out the Kidcraft Grand View Mansion for your little one. It's just right for fostering their sense of creativity!
2. KidKraft Charlotte Dollhouse with Ez Kraft Assembly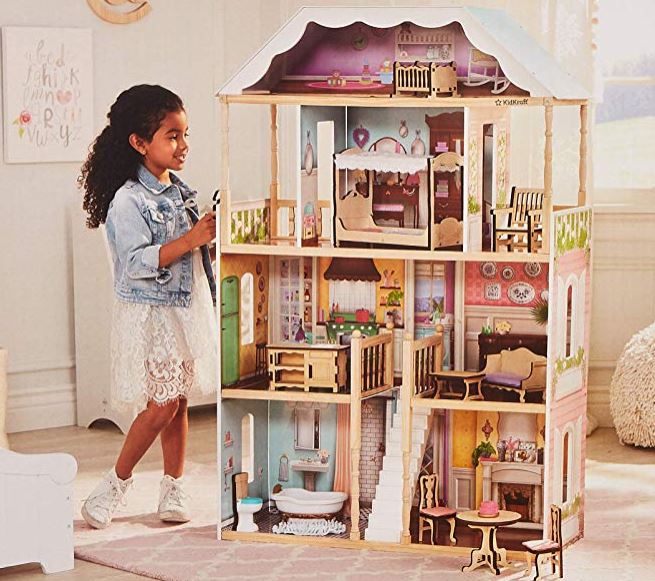 The KidKraft Charlotte Dollhouse is a four feet tall dollhouse modeled after a grand Charlotte home. It's truly a large wooden dolls house with four levels and includes 6 rooms and two balconies. This high-value dollhouse is currently priced lower than many other houses we reviewed and comes with 14 accessories so a child can begin designing their home right away.
Like the Majestic Mansion, the Charlotte can also be a wooden Barbie house because it fits in well with the Barbie theme. In fact, the house accommodates 12 inch dolls so nearly all dolls will work here. The only limitations are your child's imagination.
We like the vibrant colors and sturdy wood parts, both features of which are common in many a wooden dollhouse for toddlers in our list. But this is not a solid wood dollhouse as some parts are made of plastic or a composite but for the quality, this is an excellent dollhouse for the price.
What We Love!
Easy to Assemble

Accommodates Larger Dolls

Engages Children for A While

Comes with Some Furniture

Good Value
Engagement Score: 97
Quality Score: 99
Value Score: 100
Ready to Play With Score: 98
Let's pretend… which is so important for your child's social development. Today, order the KidKraft Charlotte Dollhouse!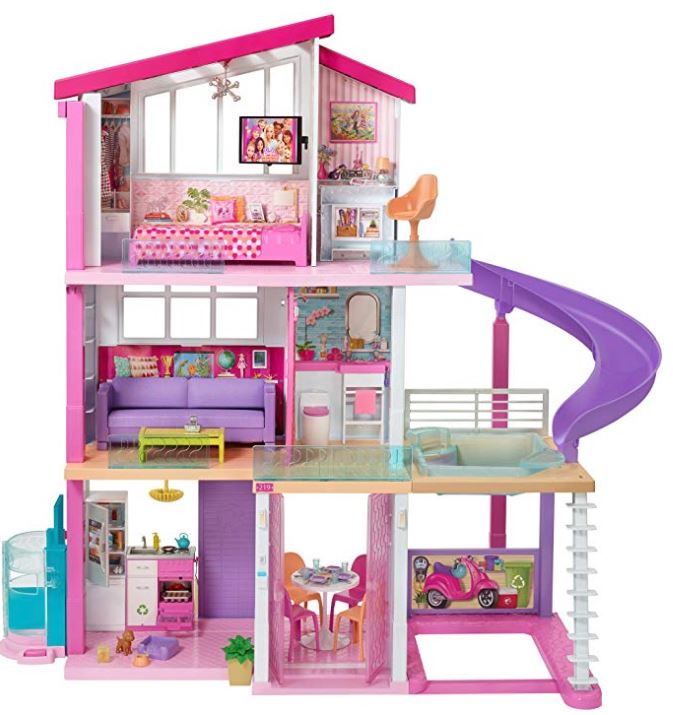 The Barbie DreamHouse got a makeover and kids and parents are loving it! This house is 3 feet tall and 4 feet wide and features 3 stories, 8 rooms, and a whopping 70 accessories. There's a pool that you can fill with water, an elevator, and sound and lighting are built into the house.
Some of the furniture features 2-in-one capabilities like a sofa that you can turn into a sofa bed or a fireplace that can be turned around to create an office.
As you can see there are tons of features to explore for hours of fun for your little one. Fans of Barbie will be in love with this upgrade. Though countless dolls will work in the Barbie dream home. We like that you can fill the pool up with water and the sizzling sound the stove makes when you're using the frying pan.
Though on the pricier side, we think this high-value item is worth it especially when considering how many hours of fun your kids are going to have.
What We Love!
Large

Fits Barbie Products

Sound Effects

2-in-one options

Lighting

Comes with 70 Accessories

Hours of Engagement

Easy to Put Together
Engagement Score: 99
Quality Score: 99
Value Score: 94
Ready to Play With Score: 100
Who doesn't love Barbie!?!… With this house, a good time can be had by all! Check out the pool!
4. Best Choice Wooden Cottage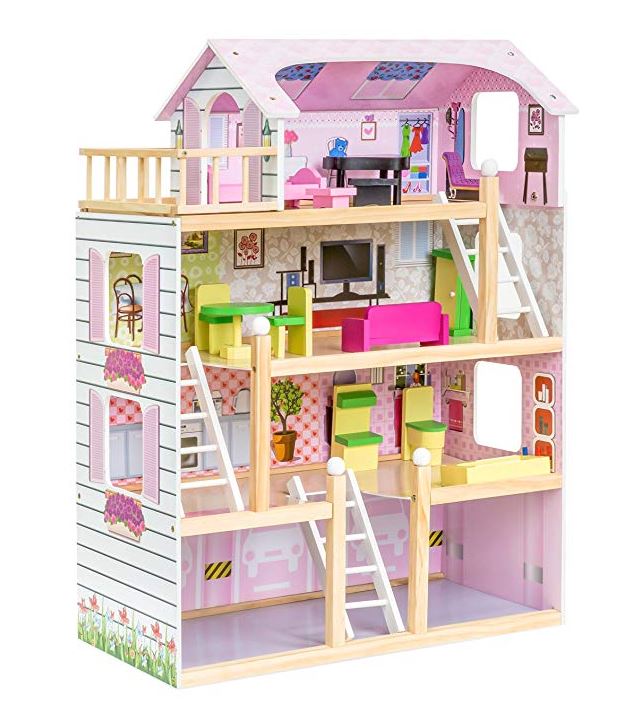 The Best Choice Wooden Cottage is a 4-story wooden dollhouse that is currently listed at a great value! Do we even need to say anymore? If you are looking for a high-value dollhouse this is absolutely it.
The house even comes with 13 pieces of wooden furniture (our favorite is the miniature baby grand piano!), is brightly colored and has three flights of stairs.
But it isn't exactly a big wooden doll house so parents must set realistic expectations both for themselves and their children. Though a bit too small for a 12″ doll, there are tons of great dolls out there that will fit into this sturdy wooden dollhouse. In addition to a living room, kitchen, and bathrooms, this house also features a garage.
Your child will be playing for hours, and with the wooden materials, this dollhouse has the ability to last for years to come. For hours of imaginative play at a great price, certainly consider this dollhouse from Best Choice.
What We Love!
Great Price

Best Wooden Dollhouse

Comes With Some Furniture

Brightly Colored

4 Floors of Fun

Wooden Accessories

Easy to Assemble
Engagement Score: 97
Quality Score: 100
Value Score: 100
Ready to Play With Score: 97
Just add your child's favorite little dolls to this fantastic four-story house with a great rooftop terrace… Is this your dream home, too?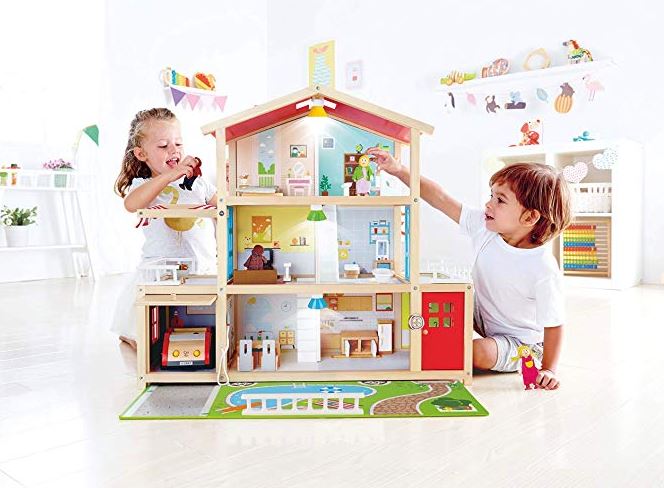 The Hape All Seasons Colorful Dollhouse is an excellent choice for any family who likes to purchase toys that will last for generations. This timeless dollhouse is made from solid wood that has been sourced sustainably. The house is painted with "child-safe" paint which we would hope would be used on all kids' products but at least Hape states it.
The mix of fairly large furniture and furnishings, non-toxic materials, and colorful parts make it an exceptional dollhouse for 3 year old children, too. You can easily mix and match other furnishings from your other Hape dollhouses. This furnished dollhouse is also adjustable so the arrangements are limitless, and it's one of the reasons why we consider it arguably the best toy house for kids.
The opportunity to imagine various arrangements and scenarios encourages children to express their personalities and experiences through play.
In 2011, this dollhouse actually won the Oppenheim Toy Portfolio Platinum Seal Award. Oppenheim primarily uses kid testers and in fact, primarily relies on kids for their prestigious title. They also weed out toys that are deemed unsafe before the process even begins.
Check out Toy Portfolio for more on their criteria. That being said, if you are looking for a high-quality award-winning dollhouse that will last for years on end, certainly consider going with Hape.
What We Love!
Solid Wood
Sustainable and Safe Materials
Comes Furnished
Interchangeable with other Hape toys
Award Winning Toy House for Kids
Engagement Score: 98
Quality Score: 100
Value Score: 95
Ready to Play With Score: 99
Order the Hape All Seasons Colorful Dollhouse from Amazon.com! It's an award winner!
6. Lego Friends Stephanie's House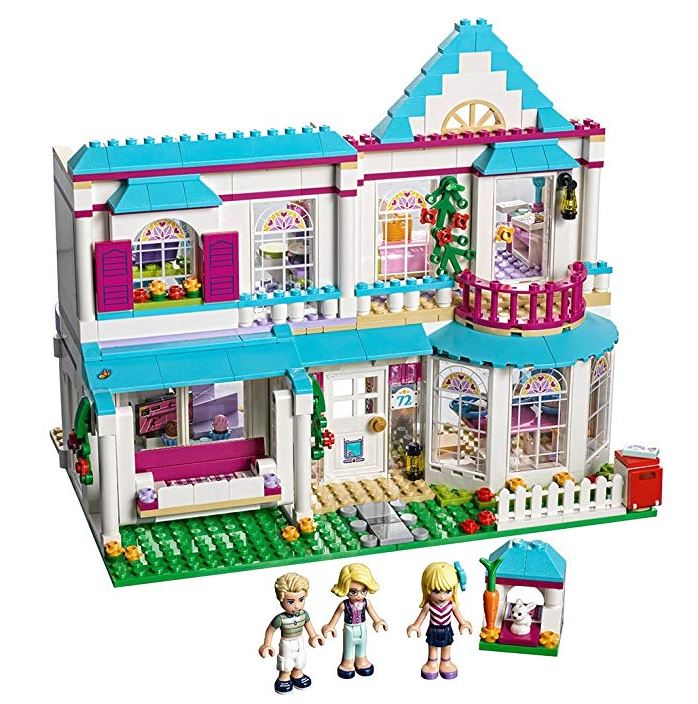 Do you want a doll house for kids that they can actually build from floor to ceiling? With Lego Friends Stephanie's House, your child actually gets to build their own house. Building toys are extremely good at bringing out your child's creativity, problem-solving skills, grit, and so much more. Lego bricks are durable and exciting to work with.
Additionally, this building set comes with mini-dolls and furniture and accessories. Essentially, this kit is all ready to go- and Mom and Dad you won't have to assemble a single thing!
Plus, this isn't just a doll house for girls since boys will also love building it one brick at a time. Just imagine boys and girls working together on a building project and you will get why it's such a popular dollhouse.
In the past, we have seen some steep prices on Lego kits, but this one is an excellent value. The kit contains over 600 pieces and is designed for children ages 6-12. We like this item for any child who loves to imagine and build. Parents have raved about how many hours their children spent engaged with this toy which we think makes this item pretty much priceless.
If you are looking for a creative dollhouse for your kiddos, check out Lego Friends Stephanie's House.
What We Love!
Lots of Fun
Colorful
Lego-based
Hours of Engagement
Over 600 Pieces
Encourages Problem Solving and Creativity
Engagement Score: 100
Quality Score: 99
Value Score: 97
Ready to Play With Score: 100
So, this one is for the little builder (ages 6 and over) in your home. With Legos, your child can change the style of their dollhouse whenever they want!
Often, the best dollhouse for toddlers is a small one since their little bodies can handle its size. Toddlers will not be intimidated or confused by the large number of parts that a larger children's dolls house has to offer. They are then more likely to play with a smaller dollhouse since it's fairly simple to use.
This is among the reasons fans of Melissa and Doug are going to love their Medieval Wooden Castle. We love that this product is made from good quality wood and you don't have to assemble it. Just unfold the castle walls and ta-da! It's time for some seriously great imaginative play. We really like the drawbridge and other moving parts but are a little sad to see that this castle doesn't come with any furniture.
The castle is designed to suit ages 3-6 and we like that the optional pieces are safe for younger children. That being said, with a little imagination I'm sure your young one will figure out a way to play right away and if not, Melissa and Doug do separately sell furnishings and dolls.
What We Love!
Solid Wood

High Quality

Fun for A Wide Variety of Ages

Built to Last

Good for All Genders

Great for Imaginative Play
Engagement Score: 97
Quality Score: 99
Value Score: 94
Ready to Play With Score: 96
Melissa & Doug, a trusted name in the production of quality children's toys.
8. Costzon Dollhouse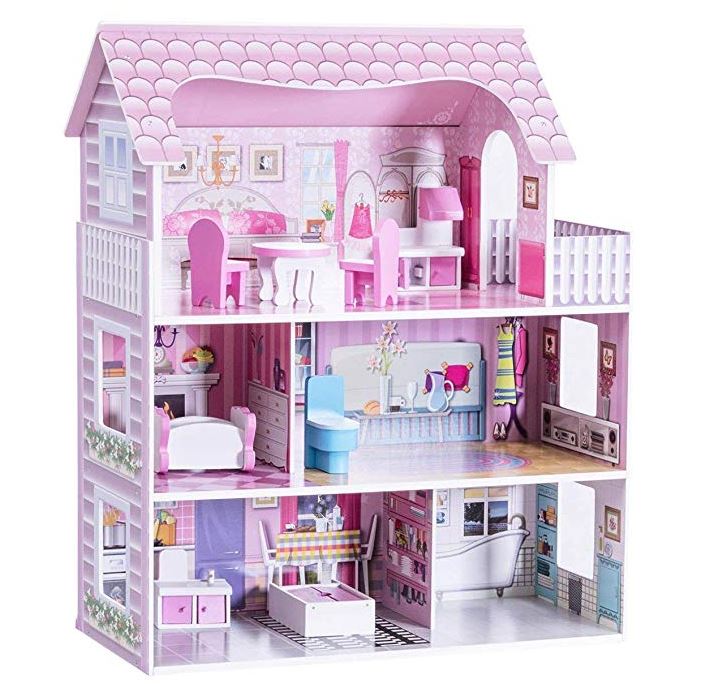 If you're looking for a snazzier and fancier toddler dollhouse, you should check out the pink-and-white Costzon dollhouse. Costzon offers a fun three-level dollhouse for girls that is a great value. This dollhouse comes with furniture, is constructed well, and painted with non-toxic paint.
What's more, is that the cost is excellent – currently listed below other similarly built dollhouses, and this house is big enough for more than one child to play with at the same time.
This dollhouse is very attractive though not the easiest of all of our picks to assemble. Some of the pieces are made of wood while others are not. The dollhouse comes with 13 pieces of miniature furniture. Parents have reported that their little ones play with this house for hours.
What We Love!
Affordable

Large Doll House

Good For Multiple Children

Comes with Some Furniture

Attractive
Engagement Score: 97
Quality Score: 95
Value Score: 97
Ready to Play With Score: 98
Very reasonably priced, the Costzon dollhouse is attractive and is large enough for your child to invite a friend to play with them!

If your Barbie-sized dolls are ready to splash out in this beautiful pool, consider this model, the KIDKRAFT UPTOWN Dollhouse, a more affordable alternative to some of the "Barbie" brand dollhouses. Like many a KidKraft Barbie dollhouse, Barbie dolls will fit in here with no problem.
This house is almost 4 feet tall and includes a rooftop balcony. Who wouldn't love that?!? The Kidkraft Uptown Dollhouse is well-built, wooden and so very sturdy. The furniture and accessories are also made of wood, and… includes 36 pieces of chic furniture and an elevator!
This is a large doll house so parents must allocate sufficient space for it, whether it's in a playroom or bedroom. But its large size is also part of its appeal – your girls will love playing with its furniture, from rearranging them to letting their Barbie dolls stay in the rooms.
The durability of this product is second to none. Parents have stated that the instructions are easy to follow and that their daughters stay engaged for hours on end. The dollhouse is currently listed at a great price point for a solid wood dollhouse.
What We Love!
Durable
Large
Fits 12″ dolls
Kids Play for Hours
Wooden Dollhouse
Comes With Furniture
Good Value
Engagement Score: 98
Quality Score: 98
Value Score: 99
Ready to Play With Score: 98
Order this today from Amazon.com! At four feet tall, your kiddo will love this dollhouse mansion!
10. KidKraft Chelsea Doll Cottage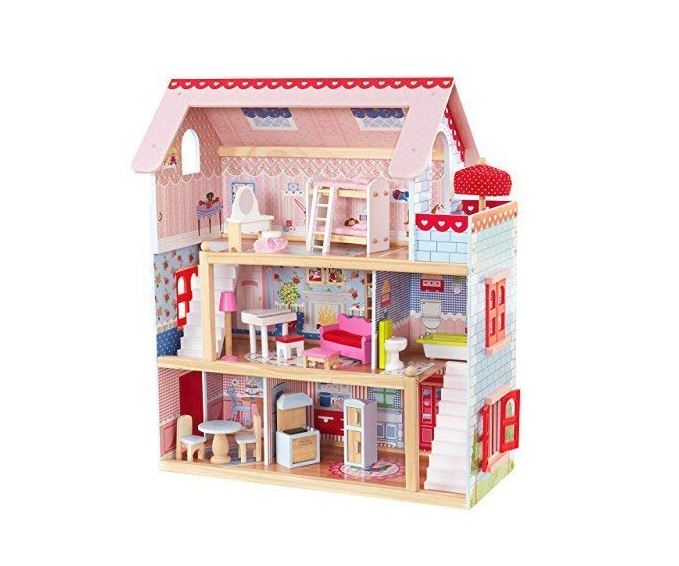 Every KidKraft wooden dollhouse is made with high-quality craftmanship, durability and beauty. Even the most affordable dollhouses are known to last for years with proper use by kids and care by parents. This is the same with the KidKraft dollhouse dolls, which are made of sturdy materials and with attention to detail.
If you love KidKraft dollhouses but need to save a little money, check out their Chelsea Doll Cottage. This is a fantastic value and the dollhouse is still 3 levels, has 5 rooms, and comes with 17 pieces of furniture! The best part may be the price listed much lower than other similar dollhouses.
The time it takes to assemble this item is a bit lengthier than some of KidKraft's other products. The reviews on Amazon are mixed. It may be worth contacting KidKraft directly for any of your customer service needs. That being said, the majority of the reviews are positive and for the price, we simply could not exclude this budget-friendly KidKraft house.
What We Love!
Lots of Space

Great Value

Comes with A Lot of Furniture

Ready to Play With
Engagement Score: 97
Quality Score: 90
Value Score: 99
Ready to Play With Score: 97
This cute cottage is sure to pique any child's interest… with its colorful 17 pieces of furniture! Order today… it's perfect for a birthday, Valentine's or Christmas gift!
********************
AND… IF SIZE MATTERS, THIS ONE MEASURES IN AT AN IMPRESSIVE HEIGHT OF 53.3″… CHECK IT OUT! This is one KidKraft big dollhouse that will make even adults say, "Oh, wow! I wish I had one as a child! That's really big and beautiful, to boot!"
KidKraft Sparkle Mansion
---
FAQS About Dollhouses
How does "pretend play" help my child's development?
At the age of about four years old, your child's imagination is running wild. They learn by example and they are paying attention to every move you make and every word that comes out of your mouth. You may want to take advantage of the "sponges" that they are at this age and foster their creativity by purchasing a dollhouse.
How can this type of play possibly help your child? Often, they will play for hours with a dollhouse, often mimicking real-life situations, such as playing outside, attending birthday parties, or feeding their pets. They can creatively rearrange their dollhouse furniture to learn design and spatial skills.
And parents, you can play too! Children love for their parents to get down on their level and play with them. Perhaps you remember having a dollhouse of your own and how much fun it was! You can present a situation to your little one, and let them help you "act" it out, or better yet, let them suggest a circumstance as they observe how you would handle it.
Playing with friends, siblings, or adults while using their playhouse will teach them patience, social and motor skills, communication, cooperation, kindness, and compassion.
How do I choose the right dollhouse for my child?
Choosing the right playhouse for your child is very important. Without a doubt, you must first consider your child's age. At under 3 years old, small dollhouse accessories can cause a choking hazard.
Other considerations include:
What size dollhouse would you like? Dollhouses come in a wide array of sizes. Although the largest dollhouse may be your desire, you will need to consider how much room you have in your home to accommodate one. Also, you will want to consider the size of the dolls your child will enjoy playing with, as some are for little people and others accommodate Barbie doll size.
Is your dollhouse selection heavy or lightweight? If you suspect you will need to transport your child's dollhouse for them between play areas, such as their bedroom or living room, you will want something that is within your weight range to move easily.
Is your selection durable? Can your child be rough on their toys, or do they handle every toy with care? Depending on this, you will want to locate a dollhouse made out of the proper materials to endure your little one's play.
Would you like a dollhouse that fits your own sense of style, or does your child prefer a certain type of decor? There are many styles to choose from!
Would you prefer to buy a dollhouse with the furniture, accessories, as well as the dolls included? Most do prefer to purchase the whole package; however, if you have previously owned everything you need to fill a dollhouse, then purchasing one without it could be a less expensive option.
What features should I look for in a dollhouse to keep it interesting?
Dollhouses come in all shapes and sizes, from the Victorian mansion to a small dollhouse done in a cottage style. Many are designed to look like castles, or even treehouses, and there is even a boys dolls house featuring action figures. Depending on your child's interest and personality, you will want to choose one that will keep their attention, no doubt!
Here are a few extra "amenities" to look for:
Lights – To add to the realness, most modern dollhouses have battery operated lights in one or more rooms,
Doorbell – For the occasional visitor,
Swimming Pool – Most can be filled with a little water to simulate an outdoor activity,
Garage – Got to store the Vette somewhere,
Working doors and windows – Adds a realistic aspect for certain,
Other working parts – Such as an elevator or a garage door that lifts,
Sound effects – These are fun, such as a flushing toilet, sizzling fireplace, or barking dog, along with many that play music,
Garden area – Because everyone needs a place to stroll and play outside!
Any or all of these features will spark your child's creativity and add hours of fun through an immersive and interactive learning experience!
What is the best dollhouse for toddlers?
Typically, larger dollhouses are for ages three and above, as they often come with small pieces that could be a choking hazard. But your little one should not be left out of the fun… so, we have a few suggestions for a toy house for toddlers that are safe for daily play.
Check out this option by Fisher-Price. It's a great toddler dollhouse and is recommended for ages 1 – 5 years: Fisher-Price Little People Surprise & Sounds Home Playset.
***
And, here is another great option for girls or boys! It's the Fisher-Price Little People Big Helpers Home, also recommended for ages 1 through 5 years old.
***
If you'd rather have a pink roof on your cute dollhouse… here it is! The Fisher-Price Little People Big Helpers Home.
Are there any dollhouses that would be suitable for a boy?
Imitating real-life is not limited to just little girls taking care of the household. Boys can do the same; however, if your little guy is into everyday heroes like firefighters or some pretend play with pirates, we've got you covered! Check out the below suggestions for a great boys dolls house for your sons:
KidKraft Everyday Heroes Play Set
This KidKraft boy dollhouse is a great alternative for the boy that wants to play house… but not necessarily in a pink dollhouse.
Best Choice Products 32 in Kids Large Wooden 3-Story Model Fire Station Play Set Toy w/ 2 Vehicles, Accessories, 5 Rooms
This is another great option for a boy's dollhouse option!
KidKraft Pirates Cove Play Set
Foster their imagination with this great KidKraft Pirate play set. Aaargh!
---
Do I need to buy accessories and a family for my child's dollhouse?
The answer to this totally depends on the dollhouse you decide to purchase. Most of them come with furniture; however, not all come with a family. Also, the higher-end dollhouses may not come with furniture or a family. They are designed to let you furnish the little home with a customized touch.
In addition, when you purchase furniture, it needs to be in scale with the size of your dollhouse, such as for smaller accessories, which are normally 1:18 or 1:12 scale, and fashion doll size, such as Barbie is 1:6.
In the end, the best doll house for your children and your family fits your personal style, lifestyle and budget. You don't have to buy your children the most expensive or the fanciest dollhouse in the store either. You may want to play with them, however, since it's the best way to strengthen your familial bonds.
Take a look at these options:
FURNITURE
Giragaer 5 Set Colorful Wooden Doll House Furniture, Wood Miniature Bathroom/ Living Room/ Dining Room/ Bedroom/ Kitchen House Furniture Dollhouse Doll Decoration Accessories Pretend Play Kids Toy
50 Pack Kids Little Dollhouse Furniture Toys House Big Dreams for Baby Children Girls Boys Age 3+
My Fancy Life Dollhouse Furniture- Family Room
Gloria Dollhouse Furniture – Deluxe Kitchen Play Set
My Fancy Life Dollhouse Furniture – Bathing Fun with Bath Tub and Toilet Playset
FAMILIES
Beverly Hills Doll Collection Sweet Li'l Family Dollhouse People Set of 9 Action Figure Set – Grandpa, Grandma, Mom, Dad, Sister, Brother, Toddler, Twin Boy & Girl
Melissa & Doug Doll Family [African American]
Melissa & Doug Victorian Doll Family
Doll Family of 7 African American
Barbie and Ken Doll 2-pack