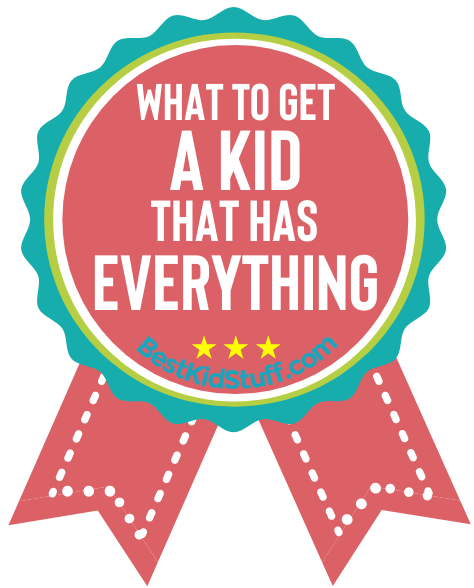 Every year, you probably buy a gift for your child on two or more significant occasions. If you've already given them toys on their birthday, you'd like to gift them with something else for the holidays, right? When these recurrences happen, it's unavoidable to give redundant gift items–especially if your kid already has everything they need!
Finding an exciting present for a little one who already has everything they could ever want, including the latest gizmos, gadgets, and whatnot, can be daunting! Shopping for presents for them can be an exhausting trip to shops and online stores, particularly during the holidays when they could get their hands on the hottest toys, thanks to so many generous relatives and friends!
If your kid has too many toys to count, get those creative juices flowing and come up with some unique gifts that will pleasantly surprise them!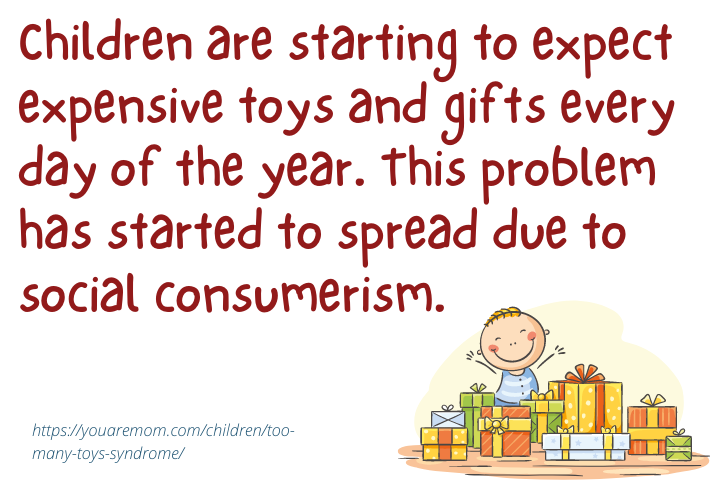 Consider a unique gift that they'll love to receive instead of the standard doll or a video game present. There are plenty of unusual gifts that they will get for the first time!
Take a look at the following list of 10 exciting presents you can give a kid who has access to all of the world's best toys and things!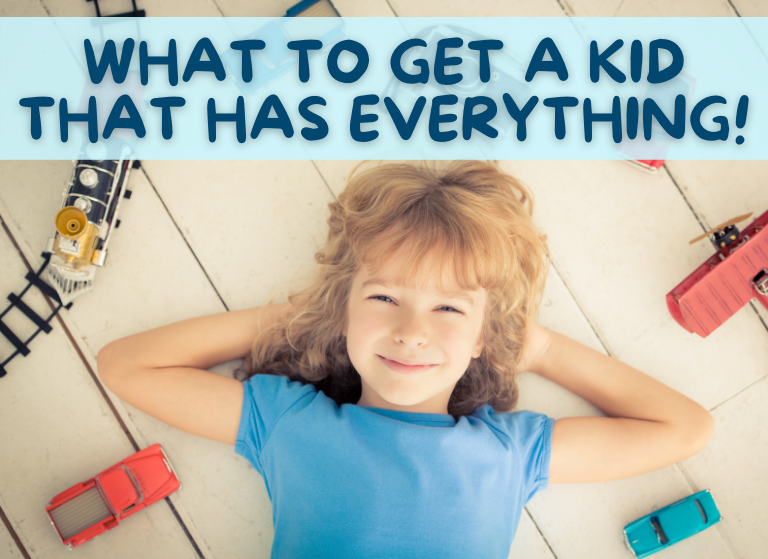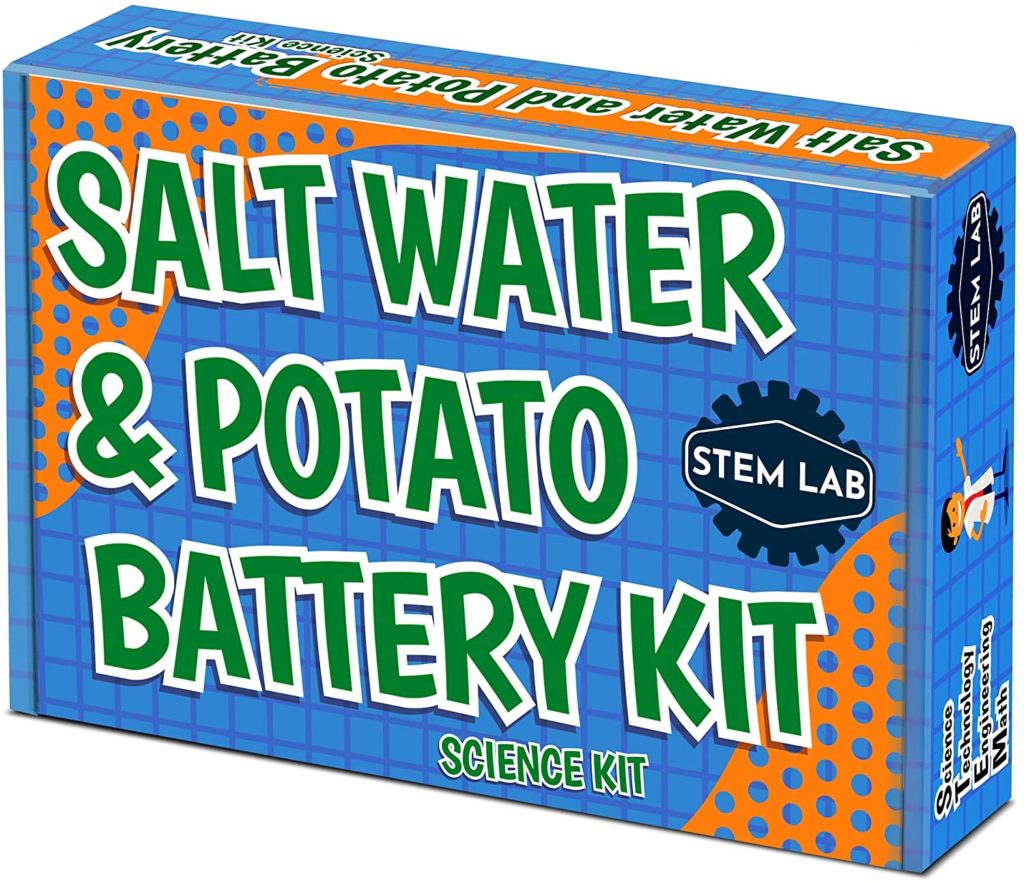 Give your kid an all-inclusive saltwater and potato battery stem kit, where they won't have to keep asking help from you to find many other materials needed to activate their battery. Perfect for your tween ages 8 to 10 years old, they can take advantage of this kit to grow their skills in chemistry and engineering. They can play with their friends at school or enroll in camps or engage in outdoor activities with friends.
With a complete battery set kit, they can make their batteries while tweaking and learning to make them work. When done successfully, these batteries can power up to four different kinds of LED lights. Your kid can even use it to power their nightlight. The box also comes with six battery cells, sodium, potato, lemon, and vinegar. What's even great about it is that the instruction guide is very elaborative; students can learn a lot about the procedures, understand how and why it works, and gain knowledge about ions and electrons. Overall, this is a gift that's fun but allows your kid's mind to work!
WHAT WE LOVE
Sparks kids' curiosity and creativity
Demonstrates a scientific/engineering experiment using simple materials
An affordable educational STEM toy
Easy-to-follow instructions
Easy to operate
Cost Score: 96/100
Fun and Creativity Factor: 97/100
Educational Score: 98/100
Product Safety Score: 96/100
Total Score: 96.75/100
STEM activities are a great way to learn… while having fun, too!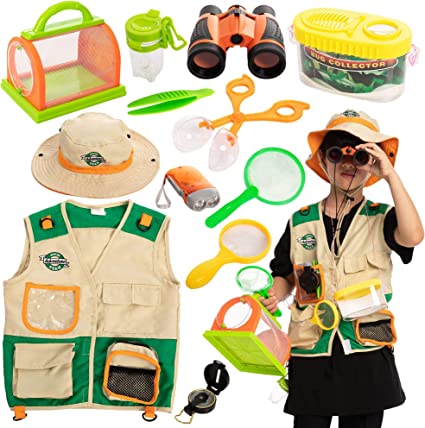 Do your kids love nature and the wildlife? Encourage and support his passion for STEM by giving him this Forty4 Kids Explorer Kit to present for his birthday, holidays, or any other special occasion.
Perfect for your boys and girls ages 5 to 8 years old, allow them to use their imaginations and creativity as they sleep inside their tent, which can be placed either inside your home or in the backyard. This explorer kit highlights the insect catching kit, which has bug catching tools, binoculars, magnifying glass, whistle, compass, light, periscope, and bug tweezers and tongs. The entire kit includes a safari outfit with a hat and a tent that comes with screens to protect them while they sleep outdoors.
This exciting and educational gift for your toddler will teach them about science and discovering insects and other living things. With the rampant growth of technological innovations on gadgets and toys, it's nice to take a break from the screens and allow them to enjoy nature instead. Plan an outdoor adventure with the entire family so your kids can use this explorer kit.
What we love
Keeps kids active
Gives kids an idea of how vast the outdoor (and the world!) is
Best for adventurous kids
Promotes a curious, patient, and imaginative mind
Cost Score: 96.5/100
Fun and Creativity Factor: 98/100
Educational Score: 98/100
Product Safety Score: 96/100
Total Score: 97.1/100
Get them outdoors with this cute kid-sized exploration kit! Find it on Amazon.com!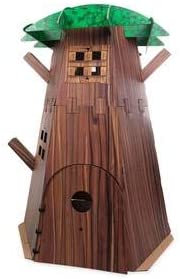 If your kid already received a wide variety of toys in the past, give them a different one this time. This HearthSong Big Indoor Tree Fort Build-A-Fort Kit won't ever disappoint your child who loves to play with other things. Using their imaginative minds, they can play with the fort in various ways. They can make it their hideaway, create a play-pretend game with it, or use this space to play with their toys inside. It's spacious enough to accommodate your child, along with their playmate.
It's constructed with heavy-duty cardboard that is sturdy enough to be played for a long while. You can assemble it quickly without complex instruction guides and just 20 cardboard pieces that need to be attached altogether. So, free your kids away from technology and let them use their imaginations as they use this tree fort to play indoors. This toy will broaden your kids' building and cognitive skills and also expanding their creativity and inventiveness.
What we love
Promotes safe indoor play
Best for imaginative and active kids who love to build
Easy-to-follow instructions
Cost Score: 96/100
Fun and Creativity Factor: 98/100
Educational Score: 95/100
Product Safety Score: 96/100
Total Score: 96.25/100
Take your fort-building skills to the next level. The kiddos will love this!
Does your child love to collect items and toys? This next gift idea is another unique item perfect for any occasion. Since your kid may already have received any toys available in stores near you, it's time to buy them something new. These Extra Large Metal Pirate Treasure Coins have that "WOW" factor that will entice your kids at first glance. This set comes with 500 pieces of metallic gold and silver pirate treasure coins or doubloons. They are shiny and have an antique finish that gives its pirate-ish or historical feel.
Because of their aesthetics, your kid will love to keep playing with them. They can use it for treasure-hunting games. Since they are created to duplicate the designs from a hand-struck Spanish 2 Escudo doubloons from 1651 to 1773, your kids can pretend to have real gold and silver coins from the past. Along with their siblings and playmates, they can use these coins as a means to exchange or trade toys and so on.
What we love
For your adventurous, treasure-hunting little one!
Exposes your kid to things of value (like money) in a healthy, fun way
Sparks your kid's love for history
Cost Score: 96/100
Fun and Creativity Factor: 95/100
Educational Score: 95/100
Product Safety Score: 95/100
Total Score: 95.25/100
Every pirate needs some valuable treasures, right? For the true pretend-pirate experience, surprise them with these cool coins!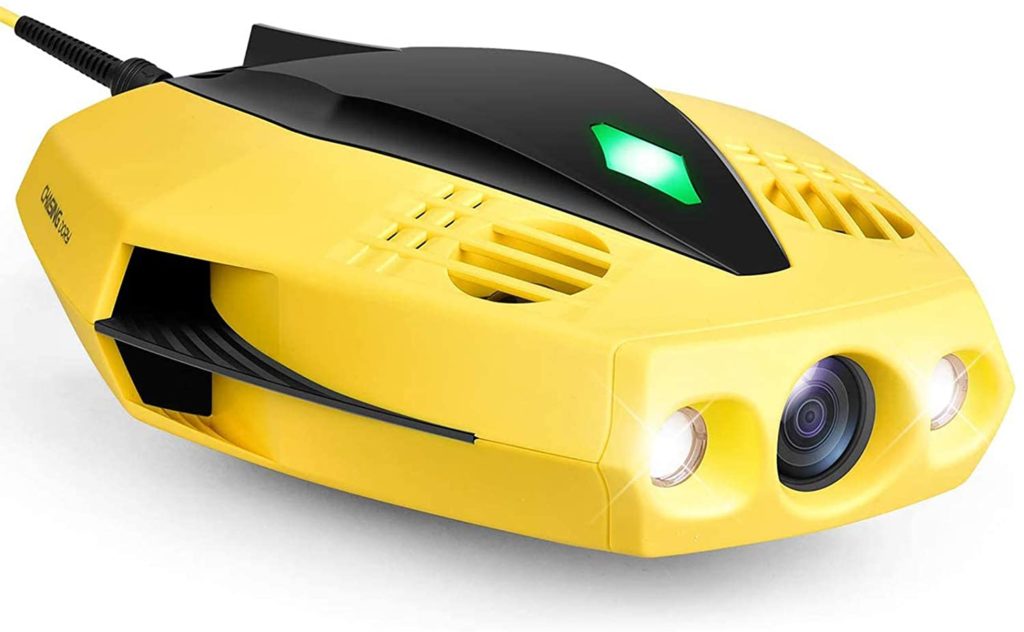 Speaking of something new might mean this next gift item for your kid. It's sure to cause excitement and joy once they discover how this Chasing Dory Underwater Drone works. If your child loves marine life and water, then they'll be very curious to see animals from down under. This drone can take images underwater and can dive up to 49 feet max. You and your kid can witness the surroundings in real-time through your smartphone as the controller. The camera placed onto the drone has 1080 pixels in full high definition. It also comes with 250-lumen headlights, allowing you to see the photos and videos in excellent color conditions.
The entire family can enjoy using this, especially when brought during a vacation by the coast. It's portable and reasonably priced, so it's a great gift that doesn't break the bank. The battery lasts up to one hour. This DORY drone is straightforward and convenient to operate because your phone will be the controller. The drone can move in any direction as you navigate it underwater with the remote control. When you're done taking photos and recording videos, you and your kids can share them all through the DORY app. People can watch your posts on social media as they get real-time updates on what you've explored and discovered underwater.
What we love
Makes going to the beach or hitting the backyard pool a lot more fun!
Exposes your little one to some underwater adventure
Durable and easy to operate
Great for documenting "underwater treasures" that kids find
Cost Score: 96/100
Fun and Creativity Factor: 98/100
Educational Score: 97/100
Product Safety Score: 96/100
Total Score: 95.75/100
For the underwater adventurer, the Chasing Dory Underwater Drone is the perfect gift. Take a look!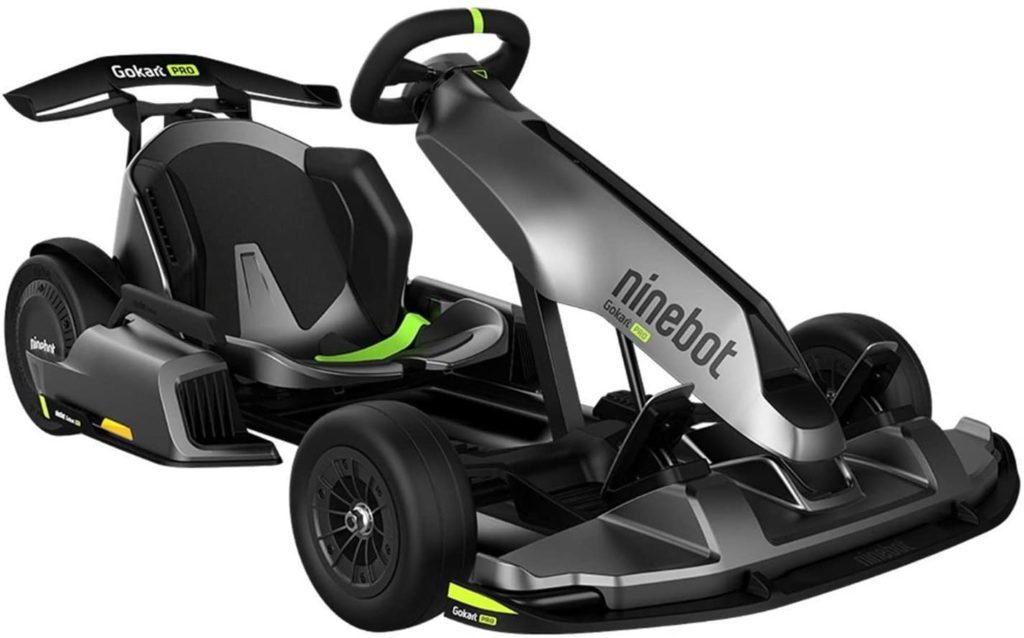 How cool would it be for your child to have his GoKart? When other games and toys are too ordinary for his liking, give him this Segway Ninebot Electric GoKart Pro and Gokart Bundle. Although little boys probably love cars and GoKarts more than girls, this gift can be perfect for your kids to share. It comes with a maximum speed of 23 mph and can drive for up to 15.5 miles after a full charge. This racing cart is a great game to share on a relaxed afternoon in the park near your home. It's easy to assemble, so your kids can play and ride it soon after.
This Ninebot GoKart offers maximum protection for your kids, so you won't have to be concerned about their safety. The entire frame is made of steel and can potentially carry a load of 220 lbs. It has anti-collision protection and comes with dual communication technology so riders can speak to each other while driving. This is best for your 14-years old kids and older. You can adjust the frame length and height to accommodate your kid's height and size. It comes with an electronic brake and mechanical handbrake, making it more secure and safe to ride. Since this racing cart is collapsible, you can even bring it conveniently to any place as you load it on your vehicle. So, if you've run out of gift ideas, this is a very calm and excellent gift your pre-teen or teen would love to have!
What we love
Perfect for active pre-teen and teens who enjoy rides
Allows your kid to experience actual driving
Easy to assemble and operate
Well-built with guaranteed safety features
Cost Score: 96/100
Fun and Creativity Factor: 98/100
Educational Score: 95/100
Product Safety Score: 97/100
Total Score: 96.5/100
Who WOULDN'T love this? Check out this Segway Ninebot Electric GoKart Pro and Gokart Bundle on Amazon!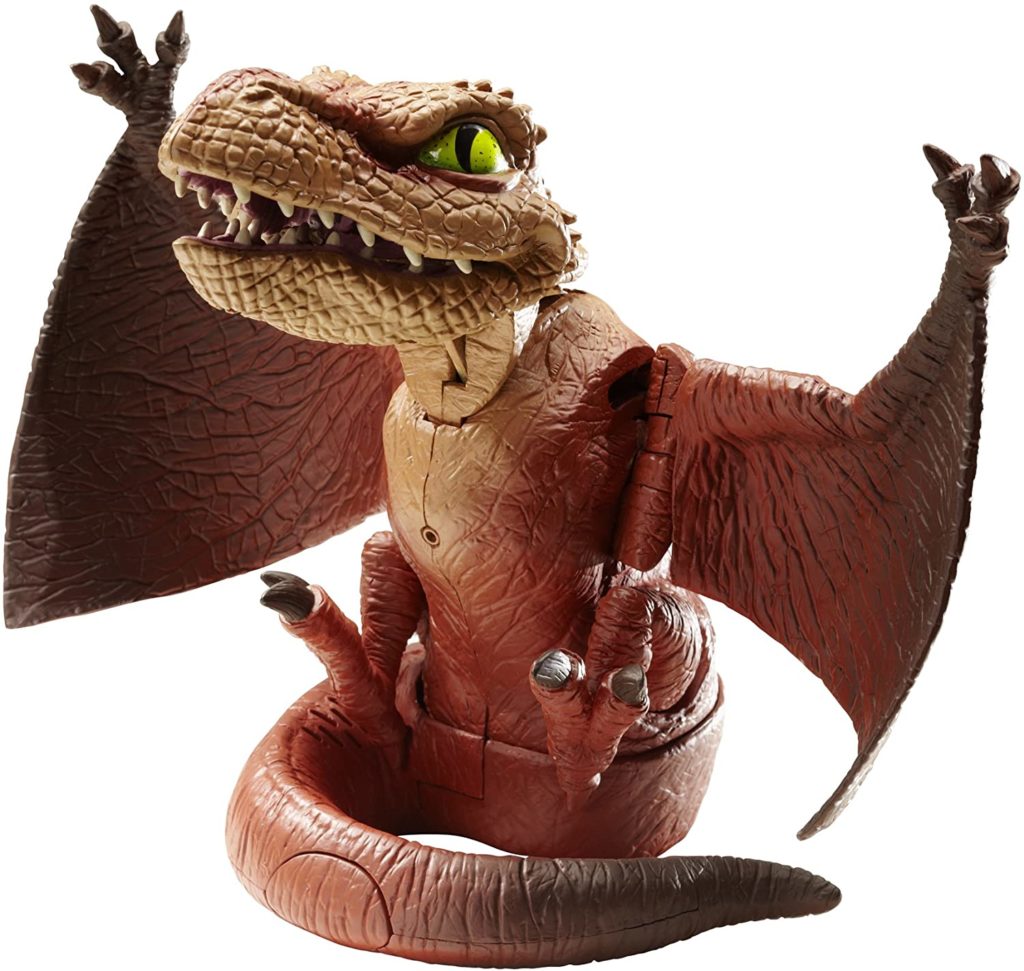 Perfect for your baby who's fascinated with prehistoric times where dinosaurs exist, these collectible toys are great gift items for them. This Prehistoric Pets Terrordactyl Interactive Dinosaur is perfectly molded and crafted into looking like a real-life dinosaur. Its best feature is that it's interactive and fast-snapping, so your baby will stay entertained observing its snapping talent. They could be an excellent pet alternative to your kids who might be allergic to furry creatures and other animals. With its advanced din-robotics, this Terrordactyl is capable of creating various sounds and roars.
Expect your kid to shout, laugh, and be curious about the different reactive sounds of this dinosaur robot. Your kid can tame the dinosaur like a real pet by touching the chin or petting its head. However, if the robot is left alone, it'll send out a horrifying screech. This might surprise your little one so tell them to keep correctly rubbing the dino so that these screeching sounds can be avoided. This dino can also eat his gooey food, so make sure that it's well fed. His snap attack can surprise just about anyone, so this is an excellent toy to play with the entire family. You can play a harmless trick on some family members and enjoy an excellent laughter session together through this toy.
What we love
Great for kids who generally love animals
A great substitute for real or live pets that your kid may not be ready for
Mimics the actual sound and general behavior or the historical creature
Easy to assemble or operate
Cost Score: 96/100
Fun and Creativity Factor: 96/100
Educational Score: 97/100
Product Safety Score: 96/100
Total Score: 96.25/100
All kids… boys and girls… love dinosaurs. If they've always wanted one as a pet… here you go!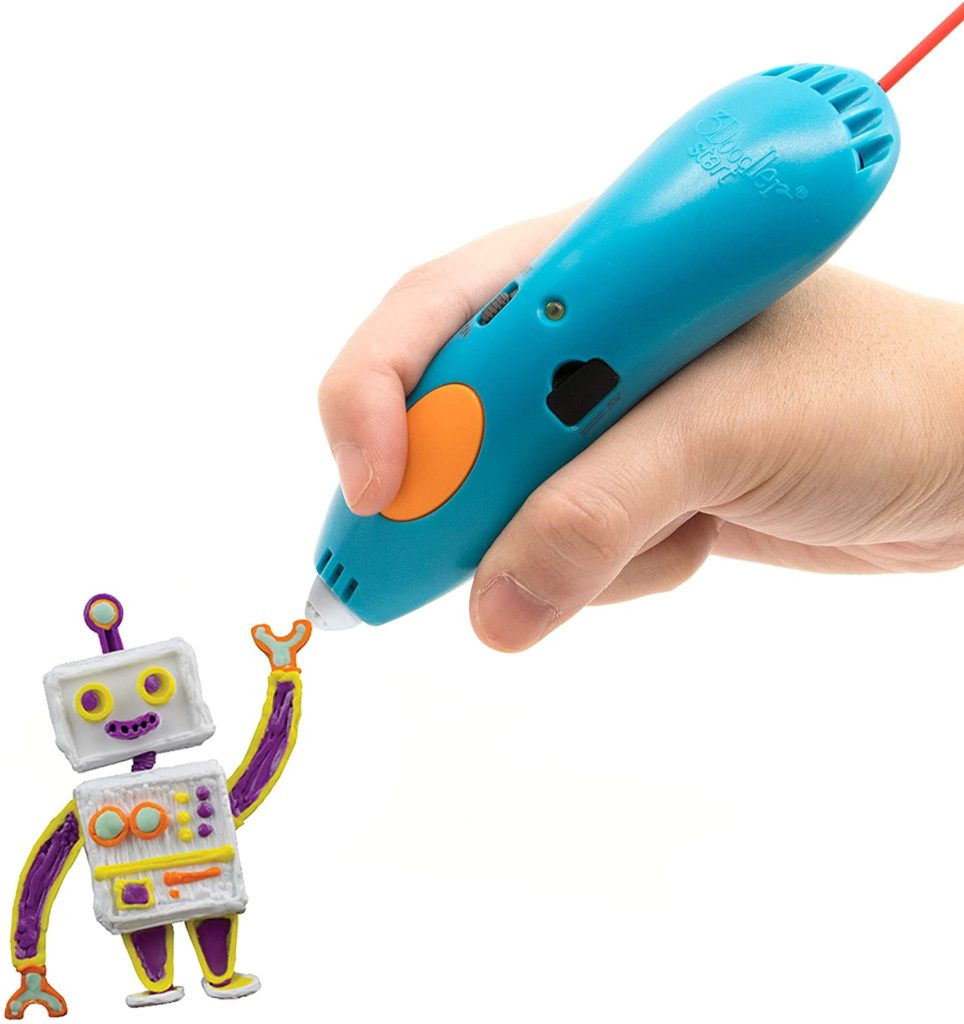 Once your child starts to draw and doodle, you will expect many markings almost on any surface in your home. It could be the table or the wall, and those are disasters that are difficult to avoid. However, with this 3Doodler Start essential (2021) – 3D Pen Set for Kids toy, you can provide them an effective tool to practice their artistic skills without creating damages and mess in the house. This 3D doodling tool is a modern way for your kid to learn art. It's child-safe and is excellent for kids aged six and above. You can give it as a present for any occasion. The pen set is made of a plastic nozzle with no chances of burning your baby.
Let your kid enjoy art and have a great drawing experience by utilizing this learning toy and tool. With it, they can develop their creativity, design, planning, and building skills. This entire kit gift includes the 3D Pen, a doodle pad, two packs of start plastics, a charger, and an activity guide to help your kid learn how to use it. It's the perfect art tool to be included in your baby's drawing box.
What we love
Perfect for your little artist
Sparks your kid's creativity and imagination
A simple, safe and non-toxic art tool
Easy to use
Cost Score: 96/100
Fun and Creativity Factor: 98/100
Educational Score: 97/100
Product Safety Score: 97/100
Total Score: 97/100

The 3Doodler Start essential (2021) – 3D Pen Set for Kids is just what you need to tap into their creative side. Let their imagination soar with this set! Available on Amazon!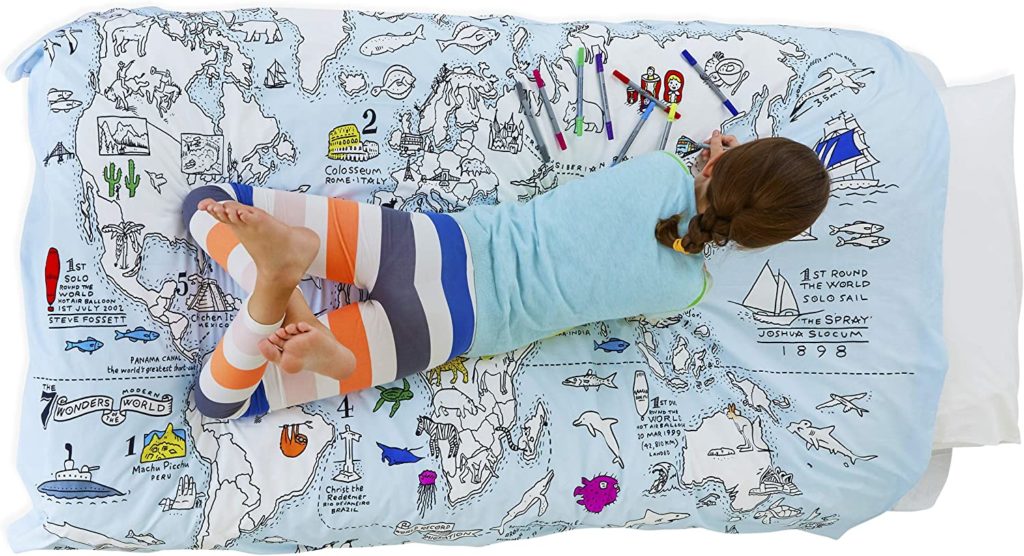 This next gift item might be given as a present not only for kids but for moms and parents likewise. This Eatsleepdoodle World Map Coloring Twin Duvet Cover is a perfect gift idea for kids who already owned too many toys and games given by their family and loved ones. Not to mention, it's a practical gift that won't be ignored, as your child would love to sleep in their cozy sheets during bed night rest. What sets this duvet cover apart from other kinds is its world map design and print. It is multi-functional since your kid can turn their duvet into a work of art. It's a fun way to educate your kid about the world and the different nations while they turn it into their coloring sheet.
Quite interestingly and uniquely, this bed sheet's colors are washable so that you can wash the colors right off. There won't even be leftover inks from the washing machine, making it convenient for homemakers to clean them. This is an effective way for your child to develop their creativity and increase their curiosity about the world. Aside from their artistic skills and geographical knowledge, this activity will also improve their motor skills. Inspire your kid to begin with small coloring movements each night as you share a bit of information about a specific country or city found on the map.
This duvet cover is made of 100% soft cotton, making it comfortable to use for your child every night. It's made from eco-friendly materials that are washable and easy to clean. This coloring cover comes with ten double-ended fabric washable markers. Every night, let your child practice their coloring skills through this excellent gift item.
What we love
Allows your kid to express their creativity in the comfort of their own room
Sparks your little one's imagination and creativity
Enables your kid to "travel" without leaving their bed!
Easy to use
Cost Score: 96/100
Fun and Creativity Factor: 97/100
Educational Score: 97/100
Product Safety Score: 97/100
Total Score: 96.75/100
This is a unique gift item, to say the least. Let them express their creativity while traveling around the world… all before bedtime!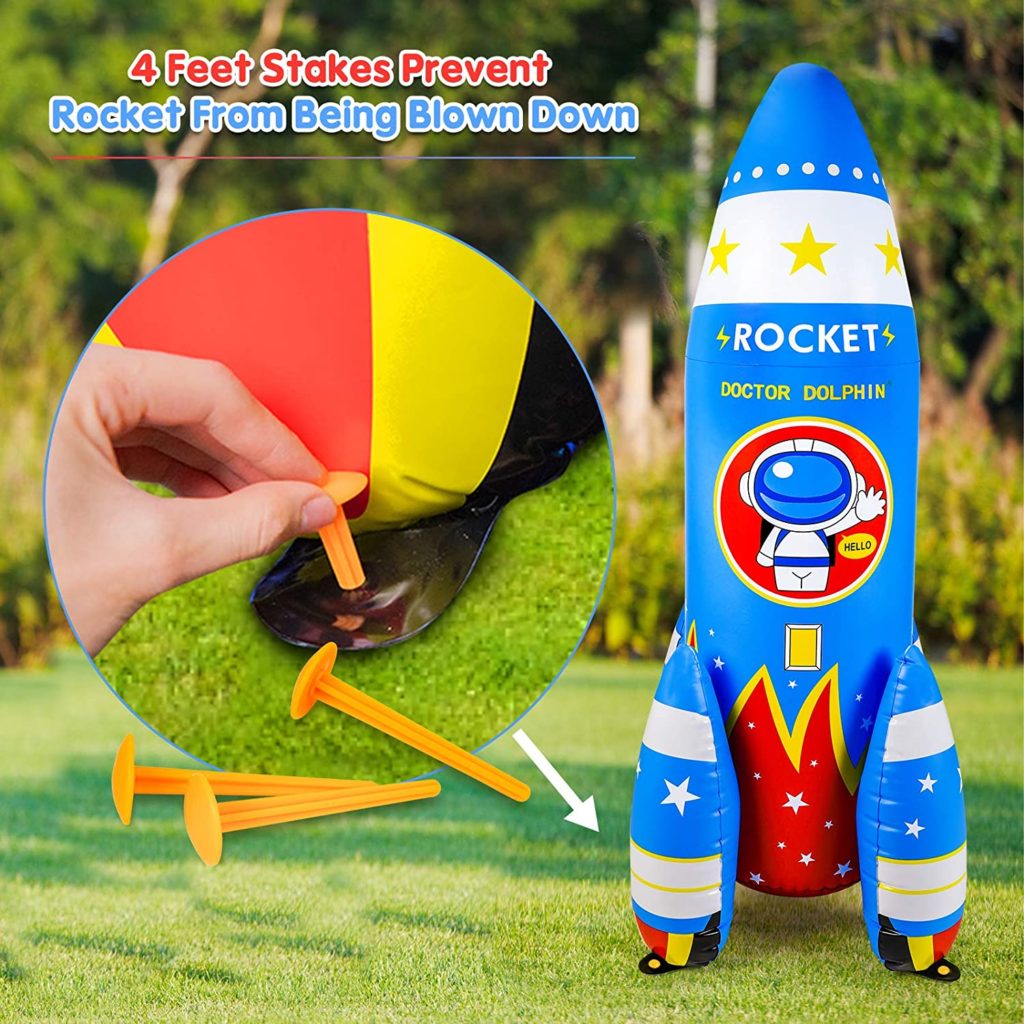 Perfect as a summer toy gift for your kids, this Qrooper Water Toys Inflatable Sprinkler for Kids is the right tool to cool off during this scorching season. There will be plenty of time spent outdoors with the family, and as everybody gets uncomfortable, exhausted, and drained from the heat of the sun, turn the garden hose that's connected to this inflatable sprinkler and let your bodies cool off. This rocket is inflated with air and has a height of 72.5 inches. This is perfect for the entire family to enjoy outdoor time altogether.
This gift item is made of safe PVC material, which is environmentally safe for kids. It's durably designed and constructed to last long. The assembly requirements of this gift are easy, as you only need to inflate the rocket sprinkler and connect the garden hose to it. Get ready to have your kids and let the entire family join long hours of fun summer or pool party in your yard.
What we love
The ultimate must-have kid stuff for summer (or when your child wants some fun with water!)
Perfect for the kids and the entire family
Environment-friendly and safe for kids
Easy to operate
Cost Score: 96/100
Fun and Creativity Factor: 98/100
Educational Score: 95/100
Product Safety Score: 96/100
Total Score: 96.25/100