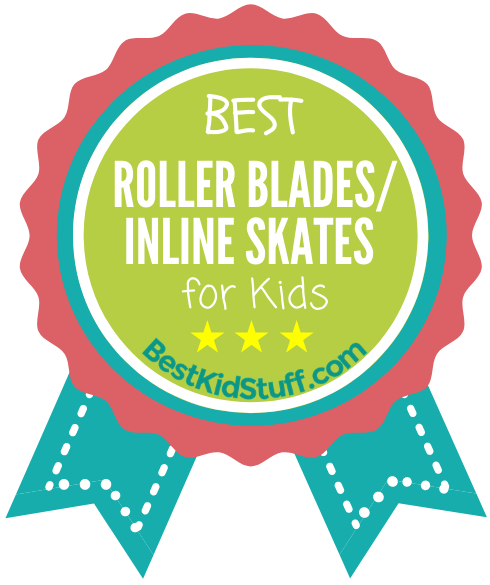 Written by Britt Lynn
Skating is a great exercise…
According to the experts at Johns Hopkins All Children's Hospital, skating is an envigorating activity that works on almost every muscle group in the body. Roller skates use synchronization of movement to facilitate the flexibility of joints. Skating is an excellent cardio exercise that promotes efficient pumping of oxygenated blood all over the body, including the brain.
If your child wants to do skating either as a hobby or as exercise, you should be happy because it shows that he/she wants to develop some skills and stay fit in the process. However, be sure to instill in your little athlete's mind that safety should be their top priority when practicing the sport.
Always remind them to properly use protective gear for using roller skates like helmets with chin straps, knee pads, wrist guards, and elbow pads as these can protect them from injuries whether they're skating indoors, outdoors, or at a local roller rink.
The quality of inline skates also plays a role in keeping your child safe! Rollerblades must be able to provide enough support to your kid's ankles to prevent injury. Roller skates must be fitted with high-quality wheels and brakes to ensure control. Moreover, roller skates must have adjustable sizing features to allow feet of different sizes to fit snugly without making the skater uncomfortable.
Children can't have too many toys: however, it can be tricky to find the best rollerblades and inline skates for kids that fit their personality, age, and interest. We all had roller skates growing up. Whether we could stand up to them let alone move about was a whole different story! But when it comes to rollerblades or inline skates, it's a fun sport for little kids to enjoy even at the young age of 3 or 4.
Promoting outdoor activities through play such as physical sports and roller skating can help improve overall health of children. It's also essential to get them to engage in any physical activity to keep them from obesity, high cholesterol, and risk of developing early type 2 Diabetes.
With that said, watch your kids to prevent them from getting immersed in computer games. It makes them sedentary and addicted. Addiction to computer games can trigger negative effects on children of different ages. It exposes them to behavior and health problems such as social functioning disorder, anxiety, and depression.
Don't just sit around…
According to a study, prolonged screen time contributed significantly to obesity among children in the U.S. To make matters worse, the high consumption of fast food and other products with processed sugars have contributed to this debilitating condition.
Keeping children encouraged to participate in any physical activities not only prevents the early onset of these diseases but also improves brain health.
Get them outdoors…
To protect your children from the possible consequences of sedentary life, get them outdoors and instill in them the love of physical activities like outdoor skating. But before you go out to grab a pair of roller blades for your child, you should know first the basic information about them . It will allow you to pick the best inline skate options for your kids based on their ages and skill levels.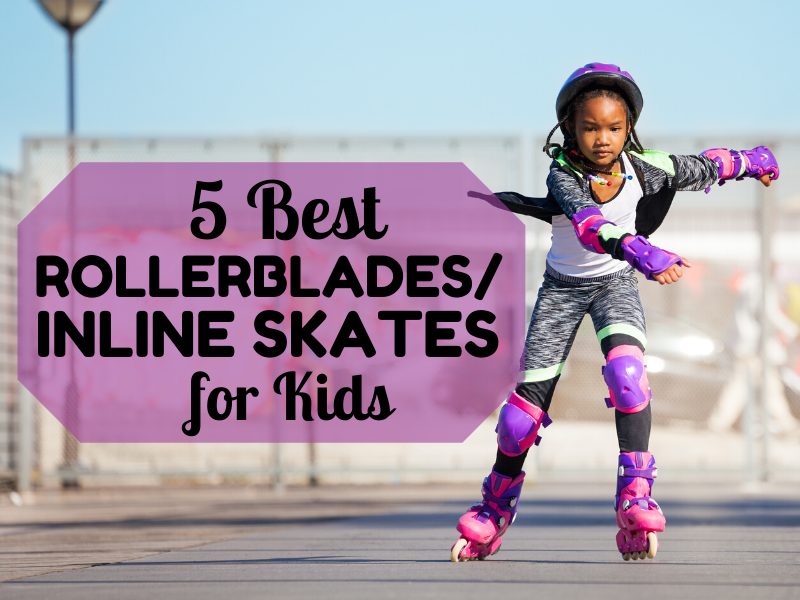 The best children's inline skates are a fun way to introduce your kids to fun sports and outdoor activities that they can enjoy with friends and family. It would also be an excellent medium to help them develop social bonds among their peers. That having said, we are pleased to show you our picks for the best kids' inline skates. These are some of the best products you can find on the market!
1. Rollerblade Microblade Boy's Adjustable Fitness Inline Skate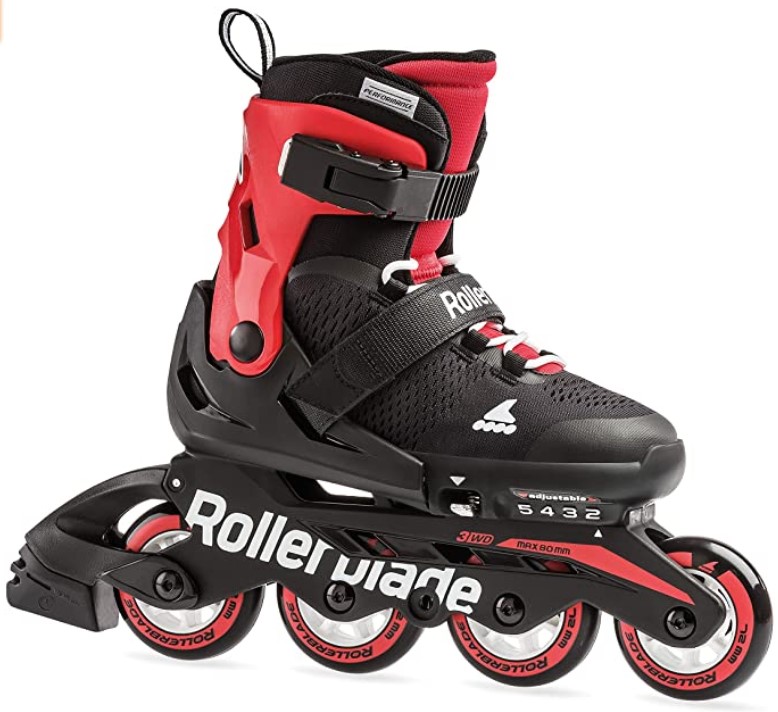 Designed for active boys, the Rollerblade Microblade Boy's Adjustable Fitness Inline Skate is their best companion outdoors.
True to its nature, this product from Rollerblade created this for safe, smooth movements as soon as the wheels hit the road. Your children are assured they are using an exceptional product built with 72 mm wheels with SG3 bearings for firm grip, speed control, and easy surface glide.
Cushioned liners inside the shoe provide optimum comfort with twists, turns, and speed adjustments. Lightweight and engineered mesh surrounding the shoe further enhances the cushion feature while letting their feet "breathe."
We know that with kids ages, it's normal for them outgrow their shoe sizes every year. These adjustable inline skates can accommodate up to four sizes. Simply push the size adjustable button, and it expands quickly for a snug but firm fit. No need to keep changing youth rollerblades for the next coming years!
The microblade feature is designed for support and balance. Compared with other skates in the market, this one is lightweight but sturdy. Low balance support also improves stability as they glide along concrete roads.
Additional safety features such as lace closure system, buckle, and straps keep the ankles and feet firm inside the shoe throughout use. The breaks provide sufficient force should the child want to stop skating.
For more efficient movement, the wheels can be adjusted to a Microblade 3WD. These types of wheels will help the skates move faster as the child learns to maneuver the skates. For older children, shifting to larger wheels could help improve their performance.
For first time skaters, this would be an excellent introductory product to get them to love to skate! 4.8 out of 5 stars on Amazon means over 1,100 happy customers! We didn't choose this as our number one best inline skates for nothing!
---
2. K2 Skate Youth Raider Inline Skates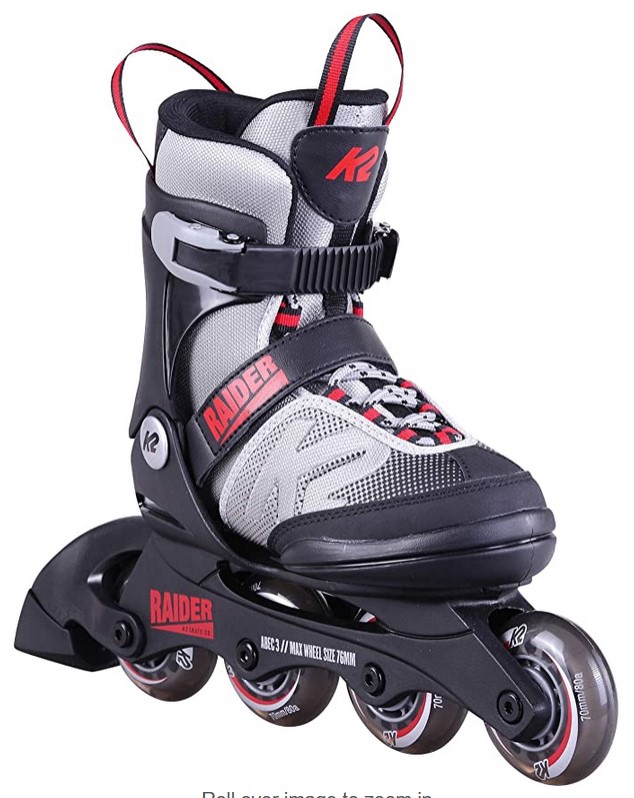 Inline skating may feel daunting at first glance. But with the K2 Skate Youth Raider Inline Skates, kids can glide with ease.
Perfect for recreational skating, this product from K2 Skate is fitting for beginners who are just getting a hold of their footing. With a rugged design in gray and red combination, this neutral shade would make excellent skates for boys. The fabric also provides a snug fit around the feet and ankles.
It's inevitable to hit a few bumps as they are still trying to find their balance practice. This recreational skate is made with an FBI frame, a sturdy shock-absorbing component that provides stability throughout use.
Kids can enjoy this product longer too! It allows up to 5 size adjustments to accommodate the kid's growing feet. So, if they happen to have younger siblings in the future, they can pass these to them and show them how to have fun skating!
Following safety skating standards, this pair is equipped for supporting the child's weight when they are inline skating. The traditional lacing, velcro strap, and stability plus cuff allows for easy maneuver and cruising for beginner skaters.
It uses quality 70 mm wheels with ABEC 3 bearing to allow for sufficient speed to help kids get used to skating.
Are you considering giving your kids a gift for the holidays? Is their birthday coming up soon? These budget-friendly kids rollerblades not only takes them outdoors, but it also helps develop their gross motor skills to help them balance. It's also an excellent skill to learn during school breaks too!
Take a look at these… on Amazon.com! For a good value beginner skate, this product is a sure hit for boys who'd like to participate in some outdoor fun! Over 1000 reviewers have given these skates a very high 4.7 out of 5 stars rating!
---
3. Kuxuan Boys Camo Black & Silver Adjustable Inline Skates with Light up Wheels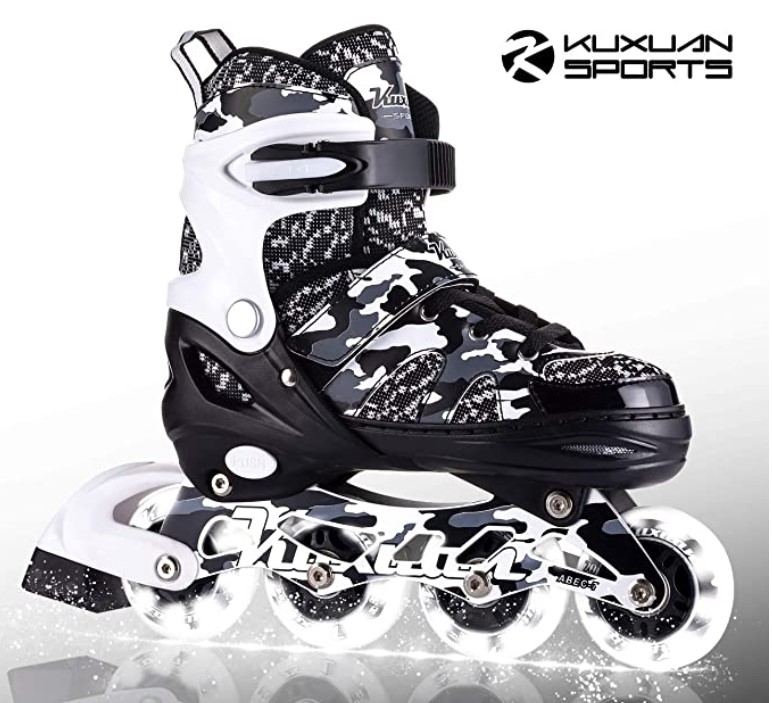 Boys and girls who like to shine would love the Kuxuan Boys Camo Black and Silver Adjustable Inline Skates with Light up Wheels.
Uniquely designed camo patterns set in black and white is a creation of Kuxuan for any kid needing a little 'extra' on the road. The shoes are created with quality artificial leather combined with mesh to keep the child's feet ventilated.
If you're seeking a present for your kid's birthday, consider this a worthy investment! With four adjustable sizes, kids can enjoy this inline skate for a long, long time. Simply push the adjustment button and fit accordingly.
Attention-grabbing illuminating wheels are sure to spark the curiosity of passersby. Embedded with LED lights, these wheels don't need any batteries or power source to light up. Each wheel is made of quality polyurethane wheels surrounded by a sturdy aluminum frame.
So, when the wheels are in contact with the surface, it can stand against the friction of frequent use for a smooth ride. The ABEC-7 bearings also glide smoothly on rough, concrete roads appropriate for outdoor and indoor use.
They don't need to continually switch bearings to maintain the consistency and quality of their inline skates. Simply lubricate the bearings every four weeks, and it's good for another go!
Whether your kid has been inline skating for a day or a year, choose inline skates that are durable for use. The triple secure lock ensures the child's safety as the utmost priority. Considering the maneuvers, twists, turns, and speed adjustments, these safety features, coupled with quality materials used, give them peace of mind.
Young kids are always on the go. For an affordable price, these pair of entertaining inline skates will surely keep them busy for a long time! Over 2000 reviews with a 4.7 star rating makes these inline skates a no brainer!
---
4. Pacer Explorer Children's Youth Inline Adjustable Skates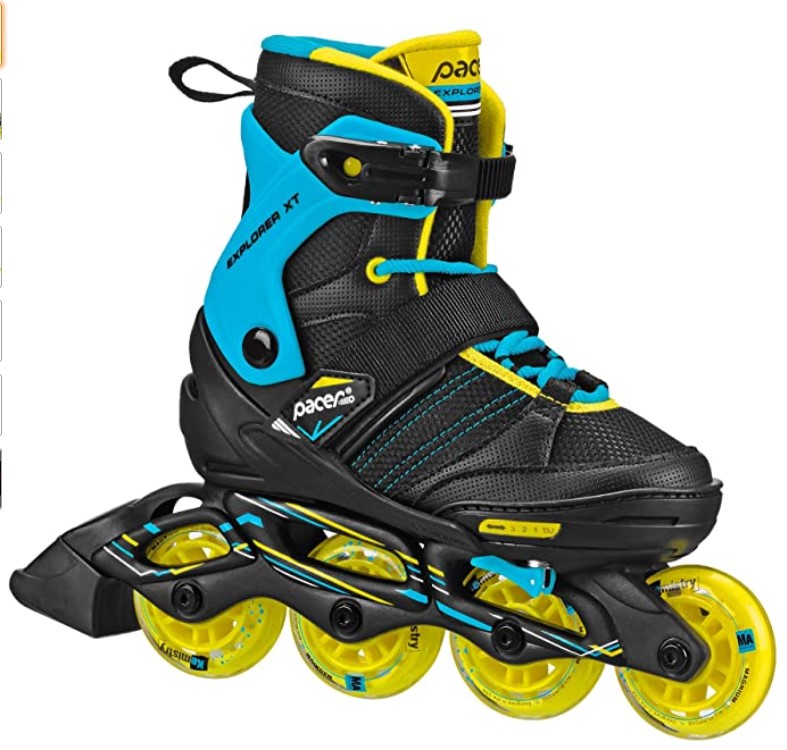 The snazzy Pacer Explorer Children's Youth Inline Adjustable Skates are just the right item for the children.
This Pacer creation is a combination of function and art. The combination of light blue, yellow, and black color creates an electric fusion that's sure to grab attention.
This pair of adjustable inline skates is made with sturdy artificial leather and mesh to keep the feet comfortable throughout use. The hybrid boots are embedded in quality padding to prevent snares and bruises as they cruise along the pavement.
Let them experience better skating performance with its quick-drying liner that prevents any moist build-up from sweat while keeping the feet cool.
The safety features are also one of its unique value points. The cam-lever buckles and ankle-cuff support serve extra cushion and firmness to the ankles protecting it from twists and turns while skating. The power strap protects the laces from any snags that might come along the way. And lastly, speed laces provide the extra support to keep your feet firm inside the shoes.
The adjustable sizing of the skate frame allows for up to four size adjustments. With a broad size range, rest assured that they're getting the right shoe size since they can simply adjust according to the proportion of their feet. To adjust, just loosen the straps, tug the toebox to expand the shoe, and push the lever to secure. No need for intricate tools to get the right fitting on the go!
These recreational inline skates are made for speed. With its lightweight polymer chassis, children will surely have more time spending outdoors for some inline skating fun!
For added durability, these inline skate wheels are made of Kemistry Magnium which are urethane wheels suitable for daily use for outdoor or indoor skating guaranteeing a smooth ride. Kids will surely have more fun with its superb gliding performance for such as reasonable price tag! Children can choose from a range of sizes from small (10 Jr to 13 Jr), medium (13 Jr and 1 to 3), and large (3 to 6).
For high blades and excellent experience, this set of children's inline skates will get them loving the outdoors! Check it out on Amazon.com! 86% of Amazon purchasers gave these skates a 5 star rating!
---
5. 5th Element G2-100 Adjustable Girls Recreational Inline Skates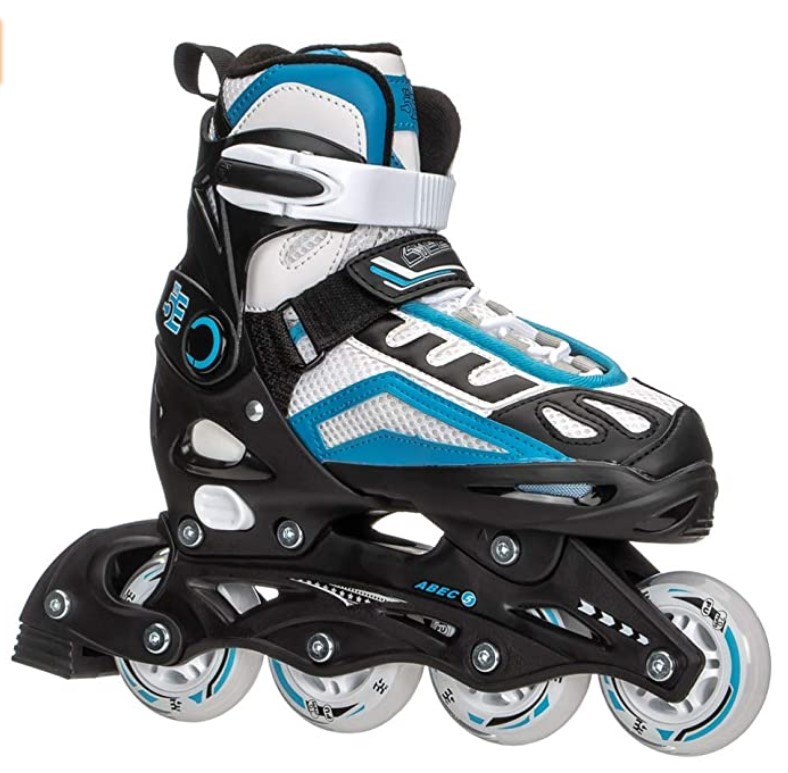 The 5th Element G2-100 Adjustable Girls Recreational Inline Skates is a girl's companion for that exceptional fun outdoors. They are also good for beginner and intermediate skaters.
This 5th Element product is made for skaters who are still practicing their skating skills. As beginners, this pair provides the comfort, style, and function they need in an inline skate.
Compared with other recreational skates in the market, this one undoubtedly stands out. A combination of mesh and synthetic leather provides enough protection for the feet from accidental bumps, scratches, and bruises.
The triple closure system includes a velcro strap, laces, and buckle lock to ensure further that the wearer moves around smoothly and with ease as they still try to find balance and support during skating.
Each boot is secured with a durable composite frame for better skating performance. The ABEC 5 bearings allow just enough speed for a beginner to find her balance and get into a faster pace at a later time.
Rest assured that you won't be spending more money on another pair for the next coming years. With adjustable sizing, children can use this for up to 4 sizes!
For girls who like to roll, this one is a good bargain for parents who are looking for a bang for their buck. These skates have performed well on Amazon!
---
6. Roller Derby Tracer Boy's Adjustable Inline Skates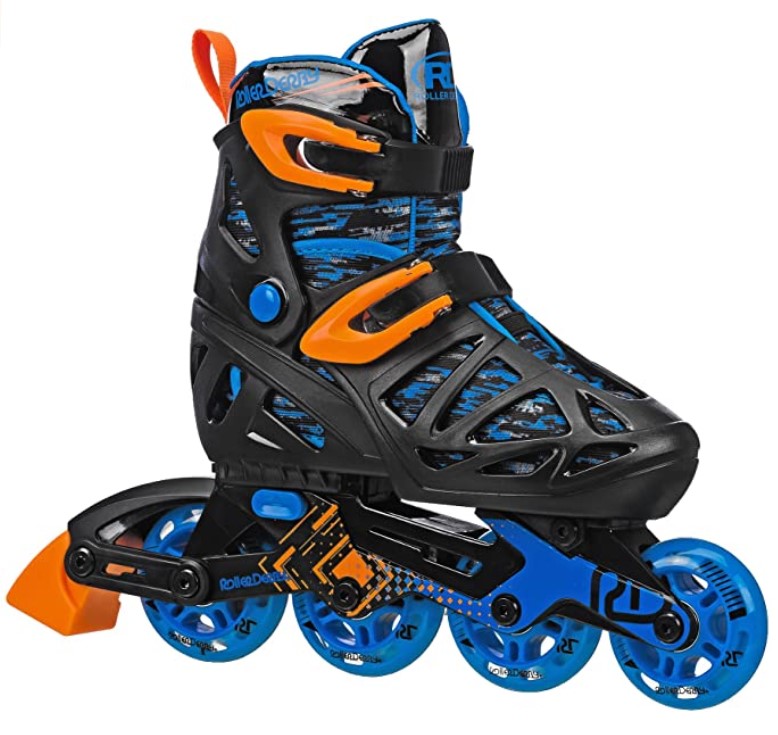 The Roller Derby Tracer inline skates has one great attribute every kid-skater would love; they are easy to adjust and they can fit quickly to growing feet. Small children with 12J size feet can continue wearing them until they reach size 1. Similarly, kids with medium, size 2 feet can continue using their Roller Derby Tracer until their feet reach size 5.
Aside from being adjustable, the Roller Derby Tracer is designed for comfort with its padded boot liner and tongue. The skate is fitted with urethane wheels and 608ZB carbon bearings to give your kids a smooth ride. These are durable skates with high-quality parts. They work well for both indoor and outdoor use.
The Roller Derby Tracer is perfect for younger kids, especially those who are just beginning to skate! No need to worry about your kid's lack of roller skating experience, this pair makes the process easy!
---
7 . Blade Runner Phoenix Boys Adjustable Fitness Inline Skates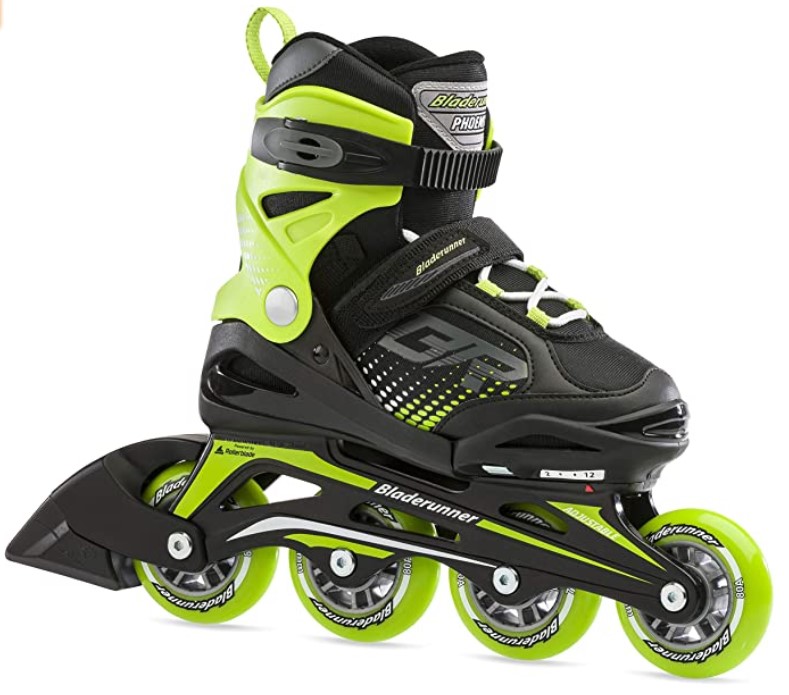 The Blade Runner Phoenix Skates by Rollerblade are value-driven skates made of high-quality materials. It would be an excellent choice if your child has some skating experience, although it will also do well for beginners. Fitted with 72 mm urethane wheels and ABE 3 bearing the Blade Runner Phoenix is sure to give your kid a nice ride.
Blade Runner Phoenix Skates are adjustable they can adjust up to four sizes at a push of a button without causing discomfort. They are also durable and fitted with lining to provide perfect cushioning for your kids' feet.
This awesome pair's lightweight frame and high cuff are designed to provide excellent ankle support. The padded boot liner, laces, and Velcro strap of the Blade Runner Phoenix are intended to provide comfort and a secure fit.
Comfort and safety are Blade Runner Phoenix Inline Skates' top features! Get yours on Amazon today!
---
8. Rollerblade Spitfire XT Boy's Inline Skates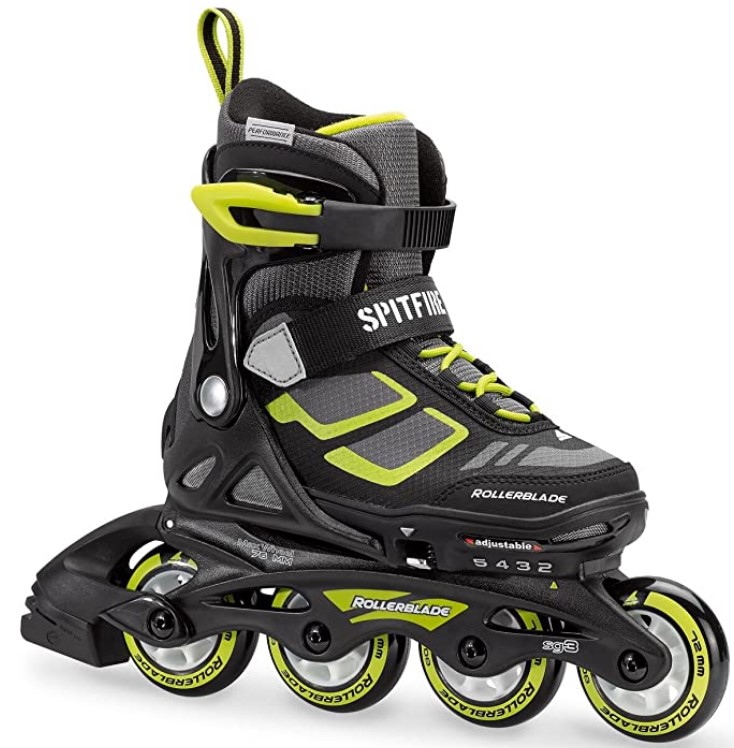 The Rollerblade Spitfire XTs are durable, high-quality inline skates. Specifically designed for young skaters, they are known for providing comfort, pretty smooth rides, and giving kids better speed control. The SG3 bearings of the Spitfire XT enable your young skater to have speed and control altogether.
Spitfire XT skates are sturdy, have a low balance frame, and provided with laces, a ratchet buckle, and a Velcro strap to keep the wearer's feet stable and secure.
Rollerblade Spitfire XTs are designed for intermediate skaters, but beginners with little skating experience can also use them. They are also adjustable – kids with small size feet can wear the same pair for a long time.
The Spitfire XT is one of the best inline skates from Rollerblade. It has a perfect 5 rating and positive customer feedback!
---
9. K2 Marlee Pro Inline Skates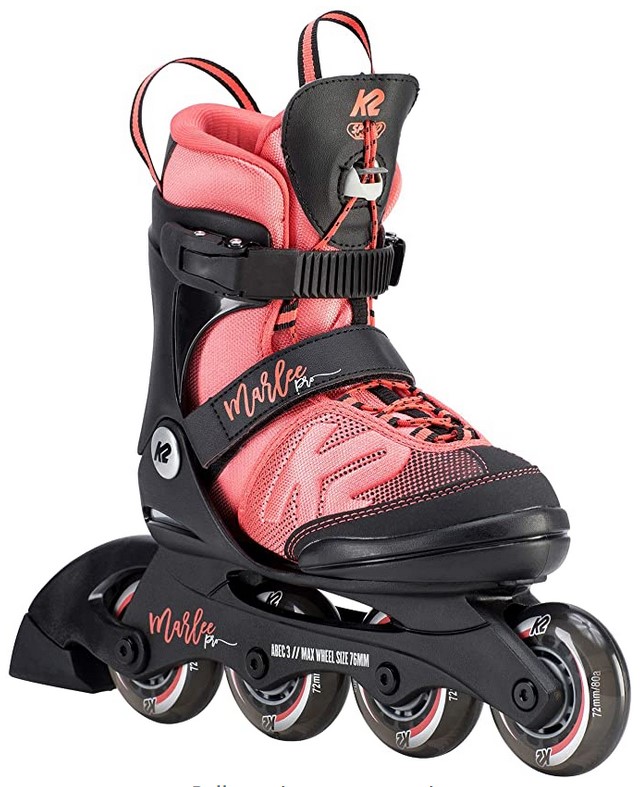 The K2 Marlee Pro is an excellent first pair of skates for girls. It is packed with features that can provide your kids with an exciting skating experience. The K2 Marlee's traditional lacing system ensures young skaters with a secure fit. It also uses Stability Plus Cuff to provide your young skater with good ankle support.
The K2 Marlee absorbs vibration because its composite F.B.I Frame is integrated into its lower center. It is adjustable in up to five sizes your young daughter can use it for a long time. It is fitted with ABEC 3 bearings and 70mm wheels to provide your kid with smooth rides.
More than 85% of Amazon customers gave the K2 Marlee a five-star rating in their reviews!
---
10. Flying Eagle S6S Adjustable Junior Inline Skates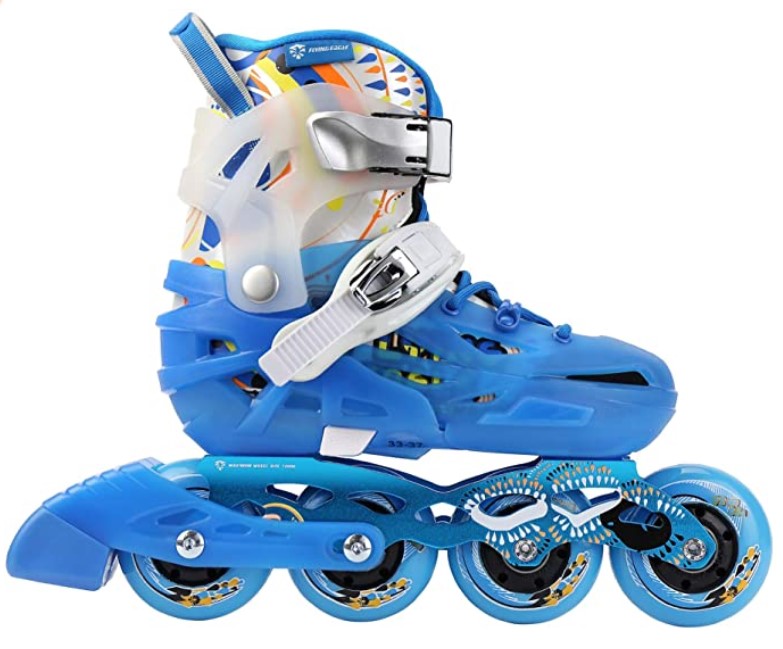 If you are tight on the budget but want to make your child happy, healthy, and a skilled skater, the Flying Eagle S6S is the right skates for you. Its aluminum frame, adjustability of up to four full sizes, hard hybrid wheels, and adaptability for both outdoor and indoor use make these rollerblades perfect for their price – a great value for your money.
On top of these attributes, the Flying Eagle S6S has additional features that could match its pricey counterparts. These are:
Speed lacing which allows your young skaters to secure their skates and take them off with one pull,
V02 Cuffs that provide support for bigger wheels that facilitate higher speeds
Vortech Ventilation System to keep your kid's feet dry and cool, allow for high-performance 90 mm wheels, and with a removable and washable boot liner.
An integrated system that ensures safety and comfort in roller skates for your skate-loving kids? Get the best roller skates for your little one now!
---
FREQUENTLY Asked Questions
Are rollerblades different from inline skates?
Inline skates and rollerblades generally refer to the same thing. Inline skates is the generic name for all types of skates with a single row of wheels at the bottom, while kids rollerblades or roller blades refer to a particular type of inline skates manufactured by the Rollerblades brand. Boys and girls can get these options in different sizes that are known for their great value.
which is more important in inline skates for CHILDREN, speed or safety?
Safety is more important than anything else when inline skating. It is a critical feature you should find when looking for the best roller skates. To ensure safety, you should base your decision on your child's skill level. If your child is a beginner, choose training skates or inline skates that offer added stability with a sturdy aluminum frame, proper balance, and control over speed. You can get these from inline skates with 70 – 80mm wheel diameter.
We can't overemphasize the importance of excellent composite frame quality, and size adjustable protective gear like power strap, elbow pads, ankle support, wrist guards, knee pads, and skate wheels for roller skates, particularly for younger kids or bigger kids!
any factors for buying inline skates for little kids?
Buying inline skates for your child can be complex simply because their feet are still growing. To make the right decision, consider the different sizes of roller blades for kids.
Refer to this buying guide to pick the best kids roller skates for your little munchkin!
Skill Range
Different skates are intended for different skill ranges. These are beginner, intermediate, and advanced intermediate. There is a higher level – the expert level, but skates are scarcely produced for this because this level is hard to achieve at a young age. If your child is a beginner, determining their skill level won't give many challenges. But if your child has been skating for some time, you should see them in action and find out how often they skate, and what skill level they're aspiring to achieve to determine the type of rollerblades they need.
Adjustability
Sizing is a crucial aspect of choosing a child's inline skates – as your child grows, their feet also grow larger. Roller blade brands offer their products in various sizes, but it would be too costly on your part to buy a new pair each time the size of your child's feet changes. A size 2 may be perfect now but after a season, the feet could grow to size 4, making one good pair of slightly used skates a piece of junk!
For this reason, it is prudent to find skates that will match growing child shoe sizes. It is the type that you can adjust from two sizes up to four sizes. Even if your kid's feet grow bigger at a particular time, they can still wear the skates comfortably. Picking the right sizes ensures years of long hours of fun and excitement. Most inline skating products and brands offer three size options (US, UK, and EUR) to allow customers to pick the correct size!
Closure Type
Closure type refers to the lacing system the skates are designed with. The skates you would want for your kid is the one they can wear and take off on their own.
Wheels and Wheel Size
Wheel hardness rating or durometer was a thing that mattered in the 1990s when all the wheels were made of plastic and were not durable. Nowadays, the wheels of inline skates are made of polyurethane which is hard and lasting.
When choosing wheel size for inline skating, bear in mind that if your kids are just learning to skate, they wouldn't need big wheels that offer speed. Recreational skates with wheels from 70 – 79mm would be fine.
What are the Types of Inline Skates for Kids?
There are four common types of inline skates for kids. These are:
Recreational Skates – These are the ideal kids roller skates for beginners and they are fine for both outdoor and indoor use. Though they are intended for beginners, there are several high-quality brands you can buy for your kids to improve their skating skills.
Aggressive Skates – Aggressive skates for kids are designed and built to tackle skating obstacles which are common in skate parks. They are fitted with smaller wheels for better control and not much speed. These skates are intended to endure the abuse associated with aggressive skating.
Inline Hockey Skates – These roller skates for kids are intended to make quick increases in speed with abrupt cornering. Designed for bigger kids with advanced skating skills, these kids inline skates have a shorter wheelbase for sharp turns, and larger wheels to facilitate speed.
What are Quad Skates?
Quad skates are considered the original roller slates. Each skate is fitted with four wheels – two at the front and two at the back which is intended to promote stability and increase the confidence of roller skaters of all ages and skill levels. Some roller skating experts recommend quad skates to beginners training skates because they facilitate safety and help skaters establish their balance. Skaters may transition to inline skates when they learn the sport.
---
Additional Outdoor Activities: