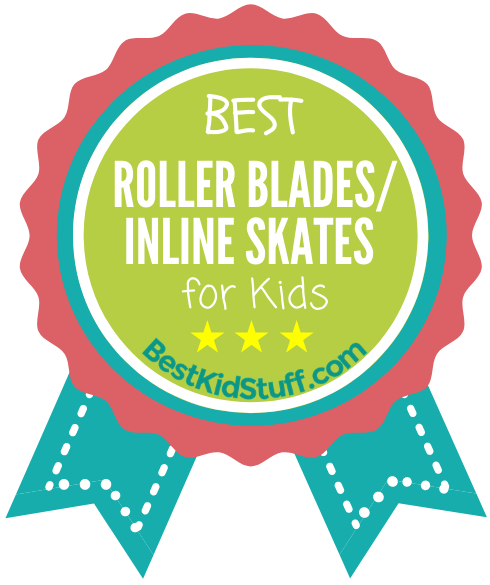 Written by Britt Lynn
Skating is great exercise…
Children can't have too many toys: however, it can be tricky to find the one that fits their personality, age, and interest. But when it comes to rollerblades inline skates, it's a fun sport for them to enjoy even at the young age of 3 or 4. Promoting outdoor activities through play such as physical sports and rollerblading can help improve overall health for children. It's also essential to get them to engage in any physical activity to keep them from obesity, high cholesterol, and risk of developing early type 2 Diabetes.
Don't just sit around…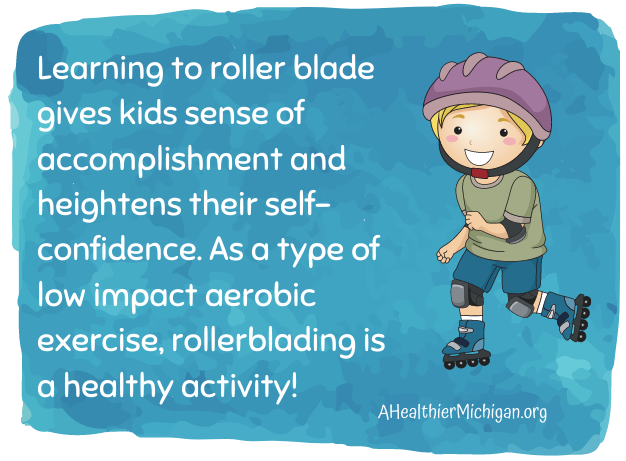 Prolonged screen time contributed significantly to obesity among children in the U.S. To make matters worse, high consumption of fast food and other products with processed sugars have contributed to this debilitating condition. Encouraging children to participate in any physical activities not only prevents the early onset of these diseases but also improves brain health.
Get them outdoors…
Rollerblades are a fun way to introduce your kids to fun sports and outdoor activities that he or she can enjoy with friends and family. It would also be an excellent medium to help them develop social bonds among their peers.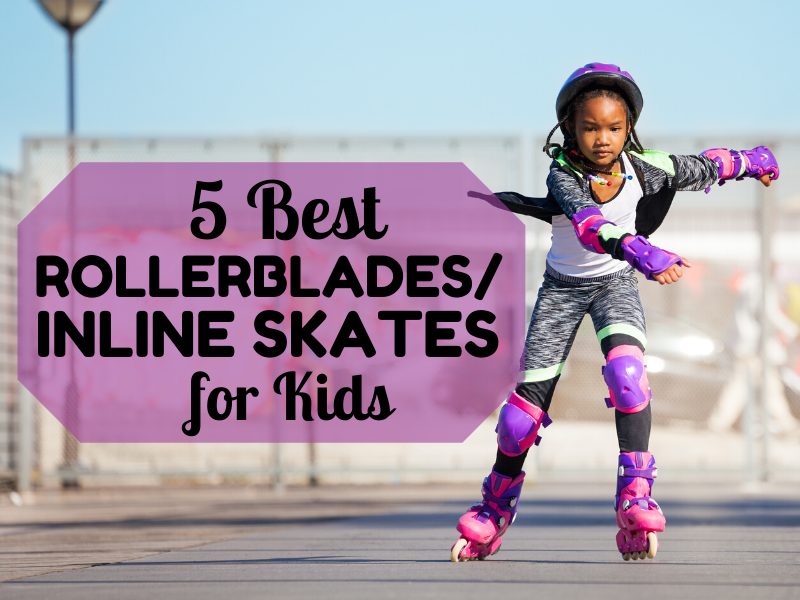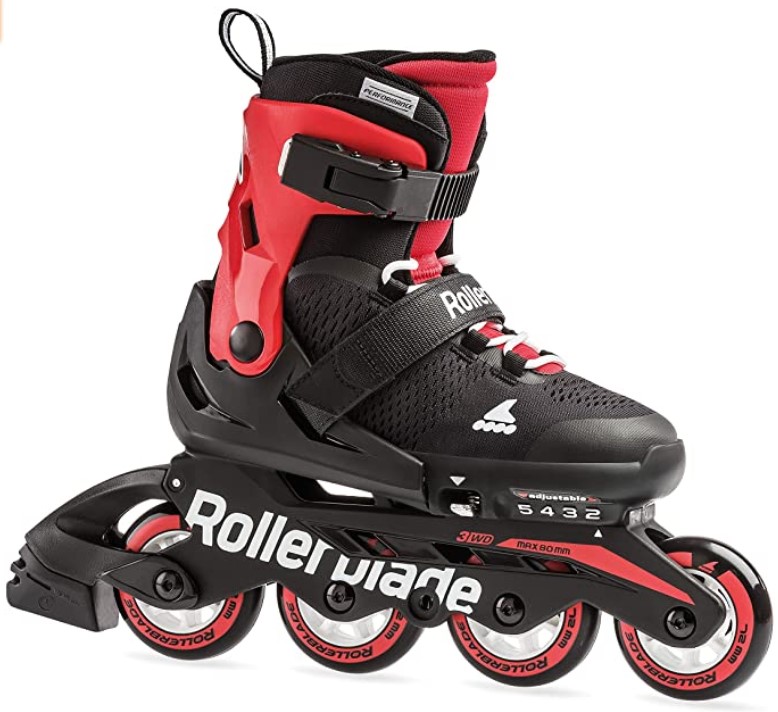 Designed for active boys, the Rollerblade Microblade Boy's Adjustable Fitness Inline Skate is their best companion outdoors.
True to its nature, this product from Rollerblade created this for safe, smooth movements as soon as the wheels hit the road. Your children are assured they are using an exceptional product built with 72 mm wheels with SG3 bearings for firm grip, speed control, and easy surface glide.
Cushioned liners inside the shoe provide optimum comfort with twists, turns, and speed adjustments. Lightweight and engineered mesh surrounding the shoe further enhances the cushion feature while letting their feet "breathe."
We know that kids outgrow their shoe sizes every year. With this product, it can accommodate up to 4 sizes. Simply push the button, and it expands quickly for a snug but firm fit. No need to keep changing rollerblades for the next coming years!
The microblade feature is designed for support and balance. Compared with other skates in the market, this one is lightweight but sturdy. Low balance support also improves stability as they glide along concrete roads. Additional safety features such as lace closure system, buckle, and straps keep the ankles and feet firm inside the shoe throughout use. The breaks provide sufficient force should the child want to stop skating.
For more efficient movement, the wheels can be adjusted to a Microblade 3WD. These types of wheels will help the skates move faster as the child learns to maneuver the skates. For older children, shifting to larger wheels could help improve their performance.
For the first time skaters, this would be an excellent introductory product to get them to love to skate!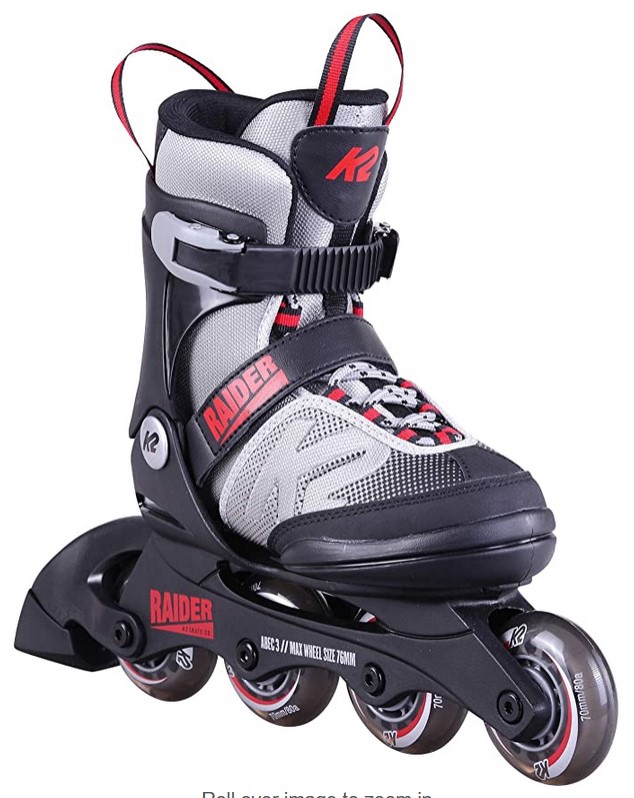 Inline skating may feel daunting at first glance. But with the K2 Skate Youth Raider Inline Skates, kids can glide with ease.
Perfect for recreational skating, this product from K2 Skate is fitting for beginners who are just getting a hold of their footing. With a rugged design in gray and red combination, this neutral shade would make excellent skates for boys. The fabric also provides a snug fit around the feet and ankles.
It's inevitable to hit a few bumps as they are still trying to find their balance practice. This recreational skate is made with an FBI frame, a sturdy shock-absorbing component that provides stability throughout use.
Kids can enjoy this product longer too! It allows up to 5 size adjustments to accommodate the kid's growing feet. So, if they happen to have younger siblings in the future, they can pass these to them and show them how to have fun skating!
Following safety skating standards, this pair is equipped for supporting the child's weight when they skate. The traditional lacing, velcro strap, and stability plus cuff allows for easy maneuver and cruising for beginner skaters.
It uses quality 70 mm wheels with ABEC 3 bearing to allow for sufficient speed to help kids get used to skating.
Are you considering giving your kids a gift for the holidays? Is their birthday coming up soon? This budget-friendly item not only takes them outdoors, but it also helps develop their gross motor skills to help them balance. It's also an excellent skill to learn during school breaks too!
Take a look at these… on Amazon.com! For a good value beginner skate, this product is a sure hit for boys who'd like to participate in some outdoor fun!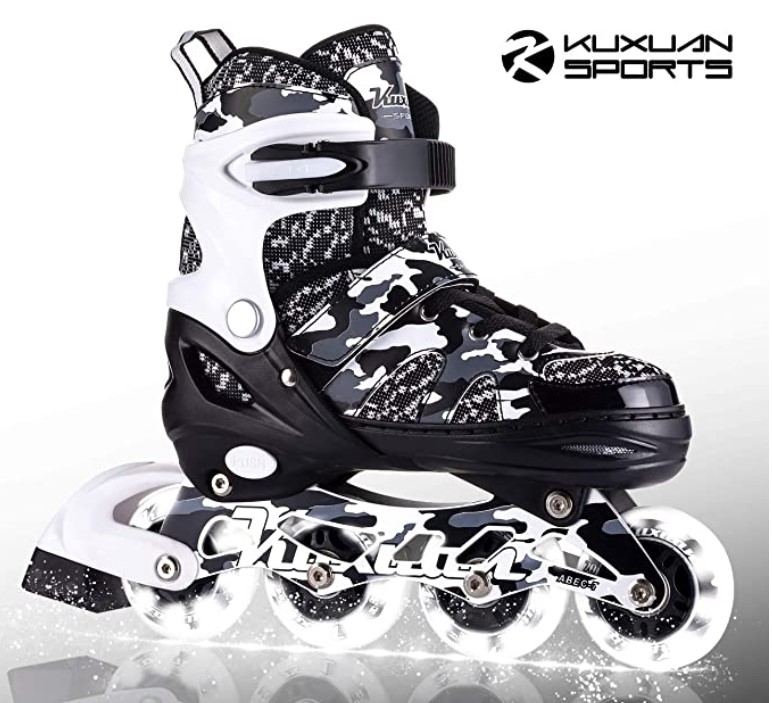 Boys and girls who like to shine would love the Kuxuan Boys Camo Black and Silver Adjustable Inline Skates with Light up Wheels.
Uniquely designed camo patterns set in black and white is a creation of Kuxuan for any kid needing a little 'extra' on the road. The shoes are created with quality artificial leather combined with mesh to keep the child's feet ventilated.
If you're seeking a present for your kid's birthday, consider this a worthy investment! With four adjustable sizes, kids can enjoy this inline skate for a long, long time. Simply push the adjustment button and fit accordingly.
Attention-grabbing illuminating wheels are sure to spark the curiosity of passersby. Embedded with LED lights, these wheels don't need any batteries or power source to light up. Each wheel is made of quality polyurethane wheels surrounded by a sturdy aluminum frame. So, when the wheels are in contact with the surface, it can stand against the friction of frequent use. The ABEC-7 bearings also glide smoothly on rough, concrete roads appropriate for outdoor and indoor use.
They don't need to continually switch bearings to maintain the consistency and quality of their inline skates. Simply lubricate the bearings every four weeks, and it's good for another go!
Whether your kid has been skating for a day or a year, choose inline skates that are durable for use. The triple secure lock ensures the child's safety as the utmost priority. Considering the maneuvers, twists, turns, and speed adjustments, these safety features, coupled with quality materials used, give them peace of mind.
Young kids are always on the go. For an affordable price, these pair of entertaining inline skates will surely keep them busy for a long time!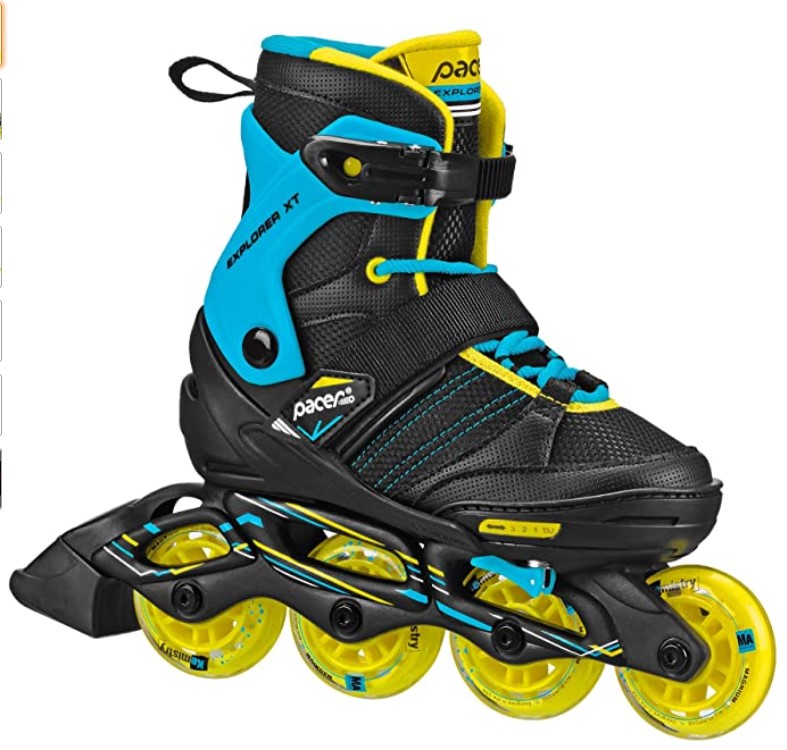 The snazzy Pacer Explorer Children's Youth Inline Adjustable Skates are just the right item for the children.
This Pacer creation is a combination of function and art. The combination of light blue, yellow, and black color creates an electric fusion that's sure to grab attention. This pair is made with sturdy artificial leather and mesh to keep the feet comfortable throughout use. The hybrid boots are embedded in quality padding to prevent snares and bruises as they cruise along the pavement.
Let them experience better skating performance with its quick-drying liner that prevents any moist build-up from sweat while keeping the feet cool.
The safety features are also one of its unique value points. The cam-lever buckles and ankle-cuff support serve extra cushion and firmness to the ankles protecting it from twists and turns while skating. The power strap protects the laces from any snags that might come along the way. And lastly, speed laces provide the extra support to keep your feet firm inside the shoes.
The adjustable skate frame allows for up to 4 size adjustments. With a broad size range, rest assured that they're getting the right shoe size since they can simply adjust according to the proportion of their feet. To adjust, just loosen the straps, tug the toebox to expand the shoe, and push the lever to secure. No need for intricate tools to get the right fitting on the go!
These recreational inline skates are made for speed. With its lightweight polymer chassis, children will surely have more time spending outdoors for some skating fun!
For added durability, the wheels are made of Kemistry Magnium suitable for daily use for outdoor or indoor skating pavements. Kids will surely have more fun with its superb gliding performance for such as reasonable price tag! Children can choose from a range of sizes from small (10Jr to 13Jr), medium (13 Jr and 1 to 3), and large (3 to 6).
For high blades and excellent experience, this is a beautiful item to have to get them loving the outdoors! Check it out on Amazon.com!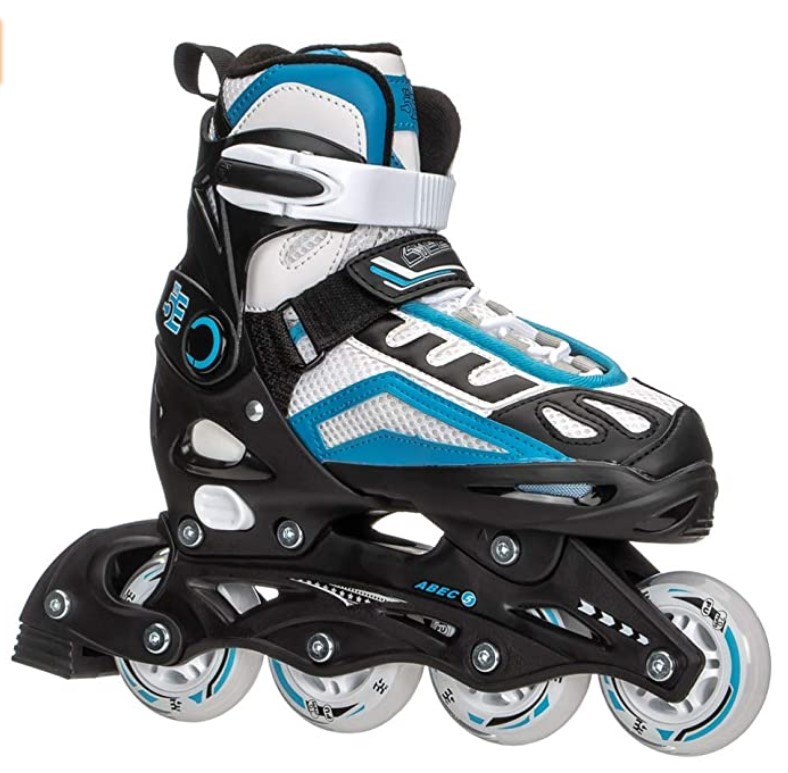 The 5th Element G2-100 Adjustable Girls Recreational Inline Skates is a girl's companion for that exceptional fun outdoors.
This 5th Element product is made for skaters who are still practicing their skating skills. As beginners, this pair provides the comfort, style, and function they need in an inline skate.
Compared with other recreational skates in the market, this one undoubtedly stands out. A combination of mesh and synthetic leather provides enough protection for the feet from accidental bumps, scratches, and bruises. The triple closure system includes a velcro strap, laces, and buckle lock to ensure further that the wearer moves around smoothly and with ease as they still try to find balance and support during skating.
Each boot is secured with a durable composite frame for better skating performance. The ABEC 5 bearings allow just enough speed for a beginner to find her balance and get into a faster pace at a later time.
Rest assured that you won't be spending more money on another pair for the next coming years. With adjustable shoe sizes, children can use this for up to 4 sizes!
For girls who like to roll, this one is a good bargain for parents who are looking for a bang for their money.
Additional Outdoor Activities: