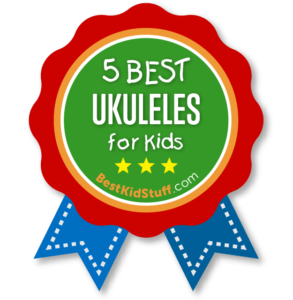 Beginning ukulele lessons for a child will have numerous benefits for both his or her musical abilities and emotional well being. Playing a ukulele can act as a stress reliever and also help kids better focus. Scientific research has also shown that playing an instrument can also help with academics.
Children's ukulele lessons may boost IQ level and improve auditory processing. Compare local music instructors to find a teacher who can introduce the child to this unique and fun instrument.
Shopping for the best ukulele for kids involves looking at the key features of the instrument. The most important thing to remember is that a ukulele for kids is not intended as a toy.
Over the past several decades, some of the most popular musical talents have added the ukulele to their instrumentals. Although toy versions are available, these are not the best ukuleles for kids looking to learn how to properly play the instrument.
Choosing the Best Starter Ukulele for Kids
The best starter ukulele for kids will fall into one of four length options: 21-in, 23-in, 26-in, and 30-in. The original children's ukulele was the 21-in version with a scale length of 13-in. This option remains the best starter ukulele for kids. The size is suitable for children and the sound has the more traditional ukulele sound.
Ukuleles for kids will also be referred to by manufacturers as soprano or standard models. The larger version produces a deeper sound and is typically picked for more advanced students who have already begun lessons. The sound quality also differs. The smaller the ukulele, the more high-pitched and twinkling sound it makes. The larger ukuleles produce deeper tones that are more reminiscent of guitars.
Ukulele Shape and Size
The best starter ukulele for kids will also depend on how well they can maneuver their fingers over the strings. The smaller size children's ukuleles have a shorter scale length—meaning the strings are very close together. Some instructors may recommend ukuleles for kids with a longer scale to start as a way to help them get used to working their fingers over the strings.
Another thing to look at when choosing the best ukulele starter kit is the shape of the instrument. The figure eight is the most common type of ukulele shape. Pineapple-shaped ukuleles are larger with a higher volume capacity. Banjo ukuleles are also larger and have a closer tone to banjos than the higher tone associated with ukuleles.
Best Materials for Children's Ukuleles
Wood and material types are another consideration when buying ukuleles for kids. The best starter ukulele for kids shouldn't be made from the most expensive type since they are just learning on the instrument for the very first time. The best ukulele for kids can be made from cedar, koa, maple, and redwood.
Any of these types of ukuleles produce balanced tones that resonate well and have a crisp sound. Additional options for a children's ukulele include plastic, mahogany, spruce, and exotic wood.
The best ukulele starter kit will include everything the child needs to begin lessons. Typical kit inclusions besides the actual instrument are a lesson book, online lesson access, and a tuner. The tuner keeps the ukulele's pitch accurate. The set may also include cleaning supplies to maintain the instrument.
The following are the best ukuleles for kids who are just starting out on this fun and unique instrument.
1. Luna Mahogany Series Tattoo Concert Ukulele

For the novice and advanced ukulele players, the Luna Mahogany Series Tattoo Concert Ukulele is a solid choice. Hawaiian musicians inspired the traditional design with black tattooed ornamentation against the brown mahogany body.
Mahogany produces a clear, crisp sound that is able to resonate through large venues. It has the larger body type than the traditional soprano type with a measurement of approximately 23 inches. This concert ukulele has strings spaced further apart and produce a deeper tone than soprano versions. Total weight of the ukulele is around 1.3 pounds—making it easy for young children to carry and handle.
The Luna Mahogany Series Tattoo Concert Ukulele includes a travel bag with the option to buy accessories separately. The mahogany ukulele is a budget model, so it may not be a permanent choice for ukulele players. However, children can get started on the instrument or use it as a backup practice version if they decided to continue with lessons.
Sound: 8/10 – Good, rich wood tone in the concert size
Playability: 7/10 – May be some issues with action, but good for the price
Aesthetics: 10/10 – Luna makes some lovely little instruments
Longevity: 8/10 – Lunas are well-made for their price range, but should be handled more carefully than a plastic ukulele
Score: 8.25
This Luna Mahogany Series Tattoo Concert Ukulele will make kids look like a pro!
2. Kala Makala Waterman Soprano Ukulele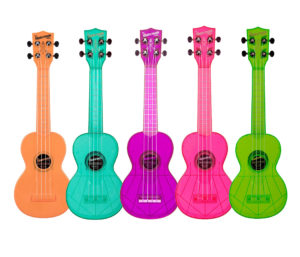 The Kala Makala Waterman Soprano Ukulele is a good starter ukulele for kids because of the quality construction and fun design. The model is offered in a glow in the dark blue style and comes in the standard soprano size.
This type is constructed from plastic, which is a good option for kids who don't yet know how to handle the instrument delicately. The plastic also makes it easy to keep the children's ukulele clean.
The plastic design is actually inspired by the Maccaferri ukulele—a model type that gained popularity in the 1950s. Through 1969, over nine million Maccaferri ukuleles were sold in the United States.
The draw of this type of ukulele for kids is that the plastic keeps the instrument at a very low price point and also makes it appropriate to bring on the go. The Kala Makala Waterman Soprano Ukulele set also includes a bag to easily transport the instrument safely.
Sound: 7/10 – Not a lot of substance, but better than one would expect from a plastic ukulele
Playability: 8/10 – Clean, clear chording
Aesthetics: 9/10 – Lots of fun colors, including a glow-in-the-dark version
Longevity: 8/10 – Well-designed to survive kids
Score: 8
Cool kids need cool instrument colors, no doubt!
3. Mahalo Rainbow Soprano Ukulele

The Mahalo Rainbow Soprano Ukulele has similar features as the Kala Makala Waterman Soprano Ukulele. Like the latter, the Mahalo Rainbow Soprano Ukulele is one of the best starter ukuleles for kids. The ukulele comes in the 21-in standard size like most soprano models and produces a high and crisp twinkling tone.
The children's ukulele comes in a range of fun colors, allowing kids to choose their preference including blue, purple, red, pink, and green. The ukulele is constructed from a lightweight wood and painted in the customer's selected color.
Another unique design feature is that each of the ukuleles has a dolphin-shaped tuner attached. The standard model includes downloadable lessons to get started on learning the instrument at home.
As one of the best ukulele starter kits, a set is also available with extra strings, picks, beginner guides, decorative stickers, and lesson books.
Sound: 7/10 – The Mahalo comes with cheap strings, but quality strings will give a decent tone
Playability: 6/10 – Lots of variation in quality – it's hard to be sure what you'll get
Aesthetics: 10/10 – Kids will love the color options and dolphin design
Longevity: 8/10 – If you have a responsible child, it will last them until they're ready for a serious professional instrument
Score: 7.75
This Mahalo Rainbow Soprano Ukulele is perfect for your little beginner!
4. Outdoor Ukulele Soprano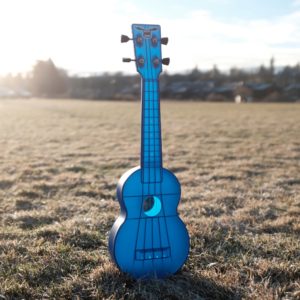 The Outdoor Ukulele Soprano is constructed for the child who wants to bring the beloved instrument everywhere. The ukulele is associated with camping and beach trips and the durable construction of this model ensures the instrument holds up.
These ukuleles are made to order and constructed from durable polycarbonate. Strands are made from glass fiber to also withstand the rough handling by kids. Besides being impact-resistant, the ukulele is waterproof and can withstand extreme temperatures.
The model is the soprano type and measures the standard 21 inches. The horn-shaped string slots help produce high-quality acoustics.
Sound: 7/10 – The plastic body does not resonate as much as a solid wood instrument
Playability: 9/10 – Great fretboard and neck design
Aesthetics: 5/10 – Not much to look at …
Longevity: 10/10 – … but practically indestructible
Score: 7.75
Going to the beach, cookout or on a camping trip? This ukulele is perfect for outdoor activities!
5. Eastrock Soprano Ukulele
The Eastrock Soprano Ukulele is one of the best starter ukuleles for kids because of the very simple design. Only four strings are included to make it easy for children to learn basic chords.
The ukulele is geared toward young children. Position marks are also etched into the ukulele to make it easy for children to follow along with lessons. It also comes in the standard 21-in size to produce the traditional ukulele tones.
The children's ukulele comes with everything a kid needs to get started on lessons including a clip-on tuner to always keep the pitch right while playing. Additional accessories include a carrying case, cleaning cloth, and extra strings.
Sound: 8/10 – A fine but weak tone
Playability: 7/10 – Designed for beginners
Aesthetics: 8/10 – Very cute design
Longevity: 6/10 – Low-quality wood, will not stand up to hard play
Score: 7.25
Help your little one begin their career as an expert ukulelist!