Written by Britt Lynn
A night light is an integral feature in a child's bedroom. Whether to stave off a fear of the dark or simply to illuminate the way to the bathroom, night lights are inherently functional. The very best ones are also so much more. In our ranking of the best kids' night lights, we've delved into the details, specifications, features, and reviews of dozens of the top-performing night lights on the market to identify which 10 are truly deserving of the title.
Every night light on our list offers something special that makes it so much more than a throwaway purchase. Sure, you could get a bargain on a purely practical light that does little more than provide some illumination in the dark, but if you want something more, something better, for your child, you'll find it on our list. We've factored all of the considerations that matter most to parents into our methodology, so you can depend on our thoroughly researched ranking to guide your next investment in your child's nighttime comfort.
The first factor we took into account as we investigated the bestselling and most fully-featured night lights on the market… is fun. After all, shouldn't your child's nightlight also make his or her face light up with joy? Some of the top night lights double as toys, others are merely fun to look at, but they all bring a smile to kids' faces and a sense of fun and personality to the room.
A parent never stops worrying about his or her child, which is why we rank safety very highly in our calculations. The best night lights have eye-soothing lights with a level of brightness that won't harm your child's vision or sleep cycles. Often, they are made from materials that are free of harsh or dangerous chemicals and sturdy enough not to break and pose a safety risk. Some are washable and many stay cool enough to touch safely, even when lit for hours. Certain lights come with special safety certification, but not all night lights meet the requirements needed to be evaluated for certification.
Raising kids is expensive. While you don't want to skimp on the things that keep your children safe, happy, and sleeping well, you also want to stick to your family's budget and get the most out of your money. We get it – and that's why we emphasize value as one of our key ranking factors. Although we look at the price point of a night light, we know that it's not pure cost that matters, but what you're getting for the price. Night lights that offer something extra, whether it is quality, dual functionality, or money-saving energy efficiency, scored the highest in this category.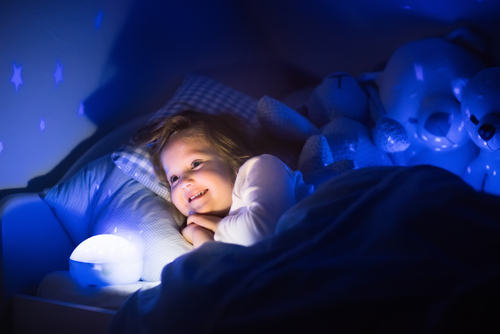 Some of the best night lights are versatile because as a parent, you want every purchase you make for your kids to be working as hard as you are. You don't have the time, money, or storage space for an item that isn't pulling its weight in your household. Some of these top contenders serve two, three, or even four purposes, which often means your child won't outgrow them as quickly.
Finally, we looked at how interactive each night light is. Let's face it, no matter how many times you tell a small child, "Look with your eyes," kids want to touch and interact with the world around them. While traditional lamps can pose serious safety hazards and are fragile enough to be easily damaged by a little one's overenthusiastic hands, many of the best night lights for kids are designed to be touched, played with, and even brought into bed for snuggling. We then included a huggable light for kids in our list for good measure.
Beyond that, we also investigated factors like how much control parents and kids have over the use of the device, how convenient it is to operate, and whether it provides educational value or other extra functions and features. We're confident in saying that the ten night lights listed below are the best on the market right now – so read on to find the perfect option to give your child a better night, starting now.
Check out our "Things to Consider" section!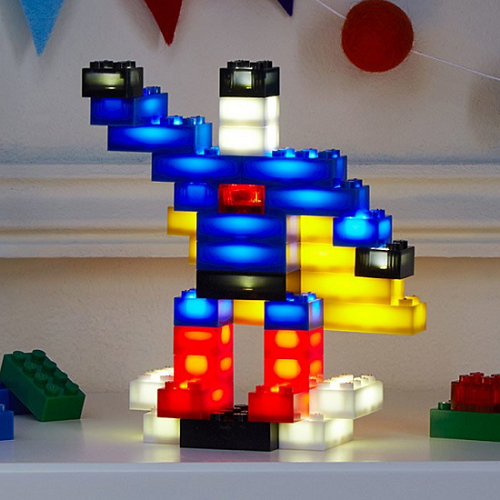 The #1 night light option on our list has to be the Sound-Activated Light Blocks set from LightStax. There are several features that make it the cool lamps for kids who want something different whenever they fancy instead of a static night light. For creative kids who love to build, this set takes night lights to a whole new level. Your child can build the night light of his or her dreams – over and over and over again. For the kid whose passions change by the day, it's a great alternative to the wallet-straining task of trying to keep up with new obsessions. A superhero night light one day and a dinosaur the next, and it's such versatility that makes it a great boys night light. With this creativity-promoting block set, anything is possible. Start out with a reasonably-priced 36-piece set at the $25 price point, or expand the limits of your child's inventions with the 102-piece set around the $60 price point. The rechargeable power base that creates the magic features different light modes as well as a sound activation mode that allows you to turn the light on and off with just a clap of your hands.
What We Love:
This night light doubles as a colorful block set that will nurture your child's creativity as well as develop motor skills, visualization skills, and early STEM skills.
Three light modes include steady, fading and flashing lights as well.
Enable the sound-activated mode to use your voice or the clap of your hands to turn the light on and off.
The blocks are a standard size and are also compatible with Legos and other construction block sets.
Charge the base via a USB cable just like a smartphone. There are no batteries to buy and replace, and you can use the light unplugged to avoid the safety hazards posed by having cords near children.
The rechargeable power base takes around 2 hours to charge fully using the included USB cable.
Light can be left on all night long, without an automatic shutoff to override your controls.
Score
Fun: 100/100
Safety: 94/100
Value: 95/100
Versatility: 99/100
Interactivity: 98/100
Overall score: 97.2/100
What!?! This is so cool… Your kids can build their night light a different way every night!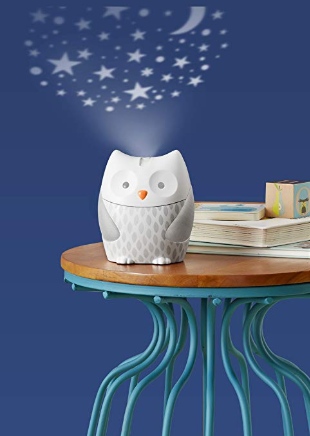 If you want more than a night light, the Skip Hop Moonlight & Melodies Nightlight could be the one device that answers all of your child's bedtime needs. With a traditional glowing night light in the owl's belly, an adjustable projector that recreates a night sky and speakers that include 4 built-in lullabies and 4 white noise nature sounds, this handy little lamp has it all. With an impressive auto-off timer that allows parents to select 15 minutes, 30 minutes, 60 minutes, or continuous play, you can choose the settings that best meet your child's unique needs for falling – and staying – asleep. This is a toddler night light with timer that actually works as a lullaby for children. At a price point around $30, this is the coolest of the cool night lights for kids because it combines topnotch features with an affordable price.
What We Love:
No other night light on our list, and few on the market, does as much as this night light does. It's a versatile combination of a nightlight, projector, and sound machine.
The sound machine features 4 built-in lullabies: Twinkle, Twinkle Little Star, Rock-a-bye Baby, Brahms Lullaby, and Mozart's Eine Kleine Nachtmusik.
The sound machine features 4 types of soothing nature sounds – white noise heartbeat, waves, jungle crickets, and rain forest.
The Skip Hop Moonlight & Melodies Nightlight has one of the best automatic shutoff features on the market, allowing you to choose from 3 preset durations or disable automatic shutoff to keep it playing all night long.
Plenty of control and adjustment options, allowing you to choose the perfect combination of lights and sounds for your child as well as adjust volume and brightness.
No batteries needed.
Score
Fun: 94/100
Safety: 88/100
Value: 92/100
Versatility: 99/100
Interactivity: 95/100
Overall score: 93.6/100
Buy the Skip Hop Moonlight & Melodies Nightlight on Amazon Prime today… Get it within 2 days and receive Free Shipping!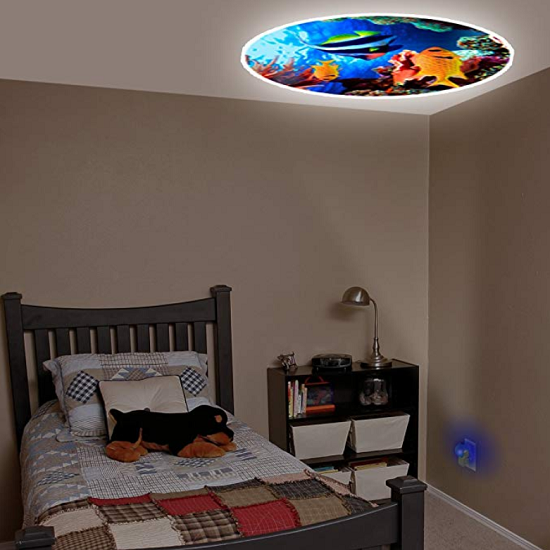 The beauty of a kids night light projector is in its numerous choices in terms of styles and designs. Every night, your children can choose whatever suits their mood, from princesses to adventurous, so there's something to look forward to at bedtime. This is also a plug in night light for kids that makes it so easy for tech-challenged parents to operate.
Projectables is a series of plug-in adjustable globes with different themes and collections. With options that include Disney Princesses, Mickey Mouse, Marvel, Paw Patrol, and more, a Projectables collection would be a great budget-friendly option for the kid who loves licensed characters. If you or your child prefer to avoid these mainstream franchises, look for more general – and often, somewhat educational – scenes, including a safari, the solar system, and our favorite, tropical fish. Many of the options are 6-image sets, so your child can choose an image to project every night – making bedtime a little more fun. Grownups love that most of the collections are under $15, with some scenes and collections at an under the $10 price point.
What We Love:
This light projects vibrant and detailed scenes, approximately 3 feet in diameter, featuring everything from nature to characters from the most popular children's franchises for a fun addition to any kid's bedroom.
Space-saving and convenient, you plug the globe directly into an outlet and adjust the angle to project it as desired on the wall or ceiling – no cords, cables or batteries required.
With energy-efficient LED bulbs and a Dusk-to-Dawn Sensor that automatically shuts off the light in bright conditions, the night light won't draw excess electricity.
Made with cool-touch materials and technology, you won't have to worry about the globe itself getting too hot for sensitive little hands to touch.
Meets UL Listed safety standards.
At a price point in the under $10, this night light won't break the bank.
Thousands of purchasers have left positive reviews of the different Projectables light collections.
Score
Fun: 93/100
Safety: 97/100
Value: 98/100
Versatility: 92/100
Interactivity: 80/100
Overall score: 92.0/100
What beautiful images to focus on when getting sleepy-eyed! Buy one of these awesome night lights for your kiddo at Amazon. Click HERE!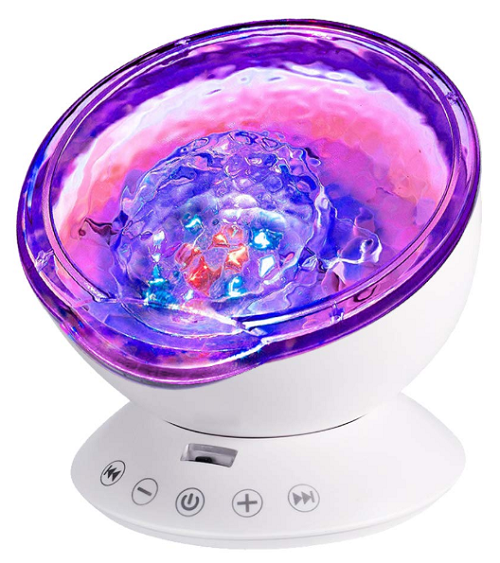 This is one of the cool night lights on our list because of its striking design and fun features. Although the light itself is pretty cool, it's the whole, versatile package that lands the Remote Control Ocean Wave Projector 12 LED &7 Colors Night Light a spot on our top 10 list. There's something so soothing about watching the ocean waves. Particularly for children who love Nemo and Dory, the Little Mermaid or Baby Shark, this multicolor ocean wave projector may be just the night light you're looking for. Would your child be less resistant to bedtime if every night brought with it an extraordinary light show? Yes, they will more receptive to bedtime routines when they have one of these fun night lights that combines sights and sounds, all in the comfort of their bedroom. This projector, in particular, includes a built-in mini music player. Use it to play built-in soothing sounds, or connect your own device with the included cable to play your child's favorite music. The auto-off feature has three options – one hour, two hours, and four hours – but you can also disable the feature to keep the light show on all night. The price point around $25 makes this light a great bargain that kids will never outgrow (and adults might want one, too).
What We Love:
The 12 super bright LED bulbs allow for 7 different color combinations.
Adjust the projected image by turning the project up to a 45-degree angle.
It's the built-in mini music player that really steals the show here. It comes loaded with 4 built-in soothing sounds – ocean wave, flowing water, forest insect, and merry nature – as well as an included cable that will allow you to play music from a smartphone, tablet, or another device.
With one of the best automatic shutoff features on the market, this ocean wave projector allows you to choose from 3 preset durations or disable automatic shutoff to keep it playing all night long.
Use the included remote control or just tap the light to easily change colors or turn on and off.
Almost 300 purchasers have left positive reviews for this projector night light.
Score
Fun: 92/100
Safety: 80/100
Value: 93/100
Versatility: 97/100
Interactivity: 93/100
Overall score: 91.0/100
I would have loved one of these as a kid? How about you?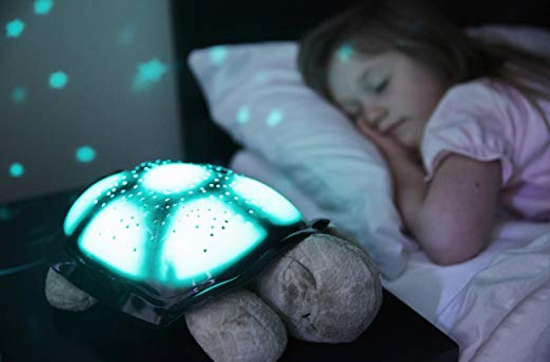 A wildly popular night light that does double duty as a cuddly new friend, the Cloud B Twilight Turtle Plush Night Light Projector will have your little one snoozing under a projection of the night sky. This is undoubtedly the cuddliest girls night light on our list, thanks to the soft, cute turtle and its lighted shell. At bedtime, the adorable stuffed turtle transforms from a friend suitable for daytime play into a projector nightlight. The turtle's shell illuminates the room with stars, rotating through shades of blue, green, and amber. At a $30 price point, the Twilight Turtle offers plenty of bang for your buck as both a night light and a toy. This bestselling product has garnered thousands of glowing customer reviews and mentions in numerous ranking lists by parenting experts and authorities and for good reason.
What We Love:
This plush-bodied turtle is cuddly enough to be a desirable stuffed animal in its own right, and the lightweight shell is durable enough to withstand that inevitable manhandling in store for the toys of small children.
The projector-style night light casts glowing stars over the room for a fun twist on illumination.
With blue, green, and amber color settings, your child can choose a favorite color to stay on or let the light cycle automatically through each color.
The eight real-life constellations used in the pattern of the turtle's shell add an educational aspect to this night light. The light comes with an illustrated Twilight Turtle Star Guide, allowing older children and young children with parental assistance to identify the constellations.
A 45-minute time conserves battery life and keeps the room from remaining too bright after a child falls asleep.
Battery-operated design means there's no hassle or danger from power cords or charging cables around small children.
To protect children from accidentally accessing batteries, the battery compartment has a screw closure.
More than 4,000 purchasers have left favorable reviews of this product on Amazon.
Score
Fun: 97/100
Safety: 91/100
Value: 89/100
Versatility: 90/100
Interactivity: 84/100
Overall score: 90.2/100
How cute is this? The Cloud B Twilight Turtle Plush Night Light Projector is cuddly and functional!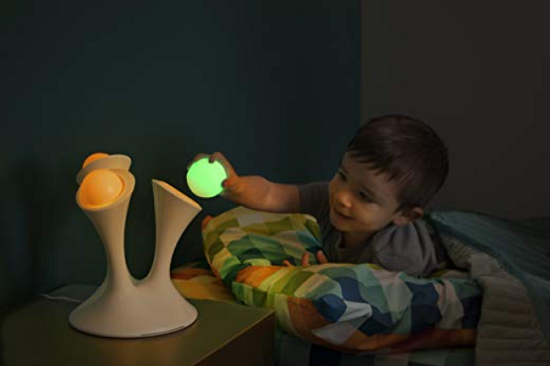 With its futuristic look and vibrant colors, the Boon Glo Nightlight is nothing short of cool. What's even cooler is that you can pluck the luminous balls right off of the base and play with them – and considering the way boys like to dismantle and assemble their toys, this are highly recommended boys bedroom lights! These awesome night lights are made without electronic components and designed to stay cool – no matter how long the base light has been on – these durable phosphorescent balls retain their glow for up to half an hour after you take them off the lighted base. The Boon Glo Nightlight is the most expensive option on our list (other than the extra-large 240-piece set of Sound-Activated Light Blocks), and while some families might find it not worth the high cost, others find that it keeps their kids amused well into their teens. Think of it as toddler lamp that will grow with your child, a precious memento of his childhood years so it becomes worth the cost.
What We Love:
This light doesn't just sit on the nightstand and look nice. Once removed from the lighted base, the balls are a toy that kids of all ages are sure to love.
Children love playing with the durable glow-in-the-dark removable balls or even bringing them into bed with them for added feelings of security.
The balls' phosphorescent glow diminishes over a period lasting up to half an hour, which keeps the room from remaining too bright after a child falls asleep.
Choose any color on the spectrum with the easy-to-use sliding lever at the bottom of the base or watch the night light automatically cycle through the entire rainbow.
Battery-operated design means there's no hassle or danger from power cords or charging cables around small children.
Both the balls themselves and the LED pedestal stay cool to the touch, making them safe for little ones to handle, and are made without BPA or PVC.
This can be a boys night light or a girls night light at any age and due to its design, your child won't feel embarrassed to be sleeping with a night light in their room.
Score
Fun: 99/100
Safety: 97/100
Value: 73/100
Versatility: 90/100
Interactivity: 90/100
Overall score: 89.8/100
With a very futuristic, yet retro look, the Boon Glo Nightlight is fun day and night! Get it on Amazon!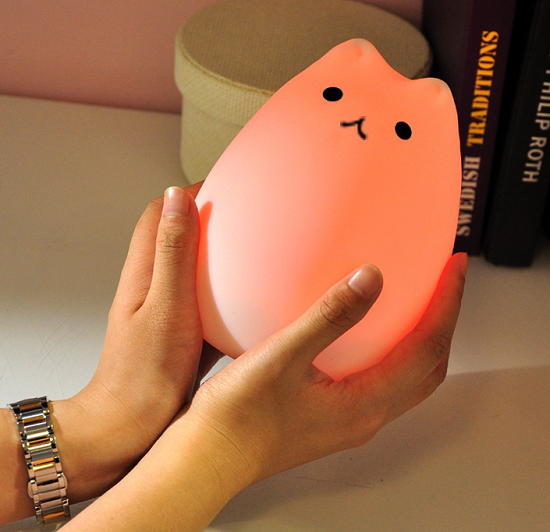 This might just be the most colorful cat you've ever seen! Kids of all ages can't help falling for the adorable face and features of the squeezable and huggable GoLine Tech Soft Silicone Cat Night Light. With a comforting warm white light as the default and 6 lively colors to change to, parents say this night light is the perfect amount of brightness. Kids will, no doubt, want to touch this cute kitty – and they can! The lamp's soft-touch silicone materials make it safe to hold, and it changes colors – or put the lamp in battery-saving standby mode – with a pat on the head. At its $15 price point, this cat night light has garnered over 1,000 favorable reviews.
While it looks more like a girls night lamp, it's also a suitable lamp for boys' bedrooms. After all, young boys can also like pastel colors and cute designs.
What We Love:
An irresistibly charming face will make this cat lamp a fast favorite for kids of all ages (and adult cat lovers, too).
Constructed out of BPA-free silicone, this cat is soft enough to touch and hold – and with a battery life up to 15 hours, it won't leave your child in the dark.
Top control lets you switch between 7 color settings, plus a standby mode, with just a tap of your hand – easy for a child to learn and control.
It only takes about 3 hours to fully charge this light via USB cable, and the light can last up to 12 to 15 hours.
The lamp is easy to clean in the event of messes.
Score
Fun: 93/100
Safety: 96/100
Value: 95/100
Versatility: 85/100
Interactivity: 78/100
Overall score: 89.6/100
Do you have a cat lover in the family? Check out this huggable KITTY CAT nightlight!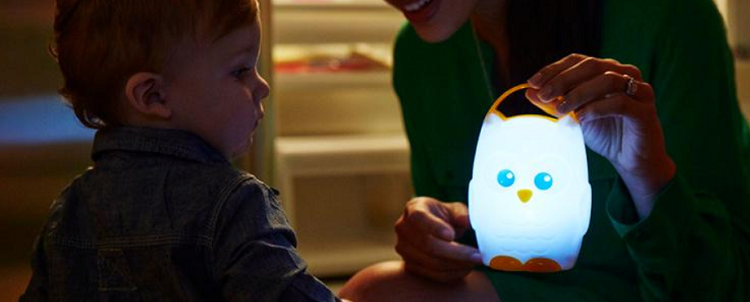 Did you know that kids and adults are attracted to everything cute because it's the way our brains are wired? No wonder then that cute night lights catch our attention even as adults! This is true for the Munchkin's Light My Way Night Light is a simple and simply adorable night light option at a very reasonable $10 price point. Designed as a toddler night light, it's made with cool-touch LED technology for safety and a handle perfectly-sized for children as young as 2, this little owl is the perfect companion for a good night's sleep – even if it gets interrupted by a middle-of-the-night journey to the bathroom. Battery-operated and small enough for little hands to hold with ease, the charming nightlight emits a soft enough glow that it can sit on your child's nightstand, yet it becomes a portable lantern when needed.
What We Love:
Small and safe to touch, this charming owl can be brought right into bed if your child is nervous about being alone in the dark.
Battery-operated design means there's no hassle or danger from power cords or charging cables around small children.
With no cord required, your child can simply pick up the night light by the attached handle and carry it around like a lantern.
A 20-minute time conserves battery life and keeps the room from remaining too bright after a child falls asleep.
More than 1,200 purchasers have left positive reviews of this night light.
The affordable price point makes this night light a great choice for families on a budget.
Score
Fun: 92/100
Safety: 95/100
Value: 97/100
Versatility: 85/100
Interactivity: 75/100
Overall score: 88.8/100
This CUTE OWL has a carrying handle, so it can be used as a lantern. No more fumbling for the light switch in the middle of the night!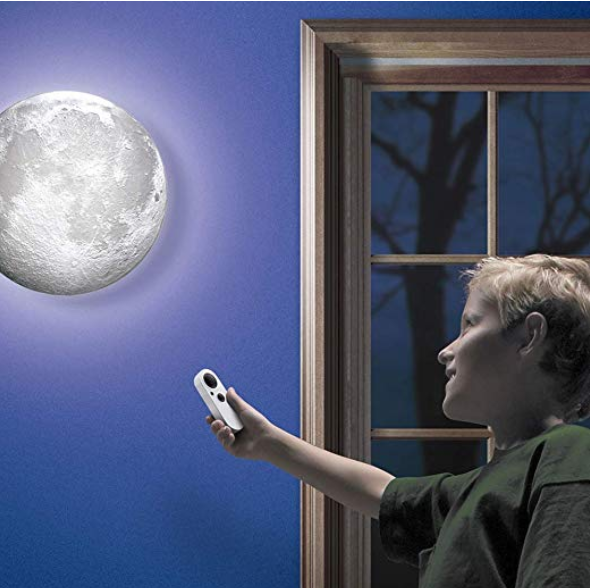 If you're looking for a kids room night light for older children, perhaps tweens and teens, then this could be it! But it can also function as a night light for toddler afraid of the dark because it brings the moon indoors, so to speak. Wall-hanging night light with the lunar appeal, the Moon in My Room lamp from Uncle Milton has educational value as well as an undeniable cool factor. Use the remote control not only to turn on and off the authentic moon replica but also to show the 12 different phases of the moon. While kids are likely to outgrow many of the lamps on this list as they get older, this authentically designed moon 3D wall lamp will still hold its appeal and fit right in with an older kid's décor.
What We Love:
The glowing moonlight fixture offers plenty of aesthetic appeals for boys', girls' and unisex room themes of all ages, and even for adults.
With 12 different settings, this replica shows the moon in all of its different phases, not just the full moon. Children will enjoy learning about the different phases of the moon as they run through these settings manually or enable the automatic cycle.
Remote control makes it easy to adjust the light and moon phases.
The wall-hanging lamp is lightweight and easy to put up, so installing it won't be a hassle.
Battery-operated design means there's no hassle or danger from power cords or charging cables around small children.
A 30-minute automatic shutoff feature conserves battery power.
More than 2,900 purchasers have left favorable reviews of this light.
Score
Fun: 83/100
Safety: 86/100
Value: 86/100
Versatility: 87/100
Interactivity: 94/100
Overall score: 87.2/100
Check this out on Amazon… A great wall hanging night light that even teens and adults will like! Very unique!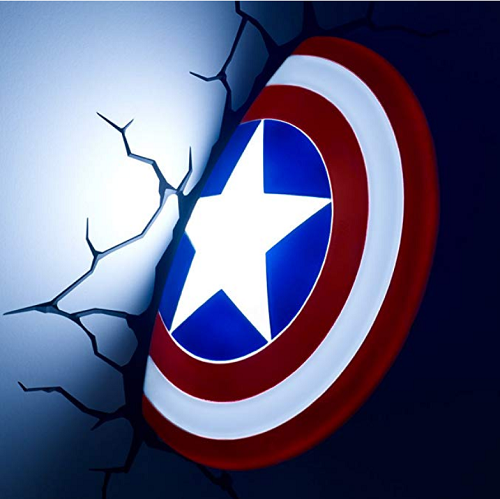 The young (or not-so-young) superhero fan in your life will love the luminous 3D Deco Lights from 3DLightFX. Although the company offers designs featuring the hottest licensed franchises, from Disney and Nickelodeon to Star Wars and Warner Bros., their robust Marvel collection may well be the most impressive. Let Hulk's fist, Thor's hammer, Spiderman or Iron Man's masks or hands or Captain America's shield light up the room as they save the night as well as the day. Most lights are in the $25 to $45 range, which are still among the more reasonably-priced childrens bedroom lights, and really act as a statement piece, making them suitable for tween and teen comic book fans as well as little ones. Plus, these are really bright night light installations that comfort children who are afraid of the dark.
What We Love:
Each lamp includes a 3D crack sticker that you apply to the wall to make it appear that the superhero is bursting through the wall, into the room.
The cool-touch design keeps the lamp safe for when children inevitably want to touch it.
Battery-operated design means there's no hassle or danger from power cords or charging cables around small children.
Energy-efficient LED bulbs help conserve battery power.
Score
Fun: 97/100
Safety: 90/100
Value: 82/100
Versatility: 84/100
Interactivity: 75/100
Overall score: 85.6/100
Another great wall hanging for the superhero fan in your family. Check out all of the options on Amazon.com!
Things to Consider
At what age should I start allowing my child to use a night light?
Often, bedtime is a challenging time for parents, as well as the children. You've done all the right things, such as put electronic devices away at least an hour before bedtime, they are fresh out of the bathtub with clean and comfortable jammies on, and they've had the last drink of water and used the bathroom for the last time; however… after the bedtime story… they're are scared of the dark!
As this fear is common among children, (and some adults), there is nothing wrong with adding a little extra security by using a night light. Snuggy Bear shouldn't be expected to do it all, right? Using a nightlight is the answer to the problem. It provides a sense of security, empowerment, and eases their little minds.
And, to some toddlers, they've never known anything different; primarily because as parents, we like to be able to look in on our sleeping baby or change a diaper without turning on a bright light in their eyes.
If your child is not accustomed to a nightlight from birth, at about age two to three, they may start having a fear of the dark. At this age their imagination has developed, but their reasoning skills… not so much! As much as you try to tell them there is nothing to be afraid of, they can not process that and things tend to frighten them.
Another reason to allow the use of a night light in a child's room is… to provide a safe trip for bathroom breaks and back to bed. The use of a night light in your child's bathroom is a good idea, too!
Is there any harm in using a night light in my child's room?
There may be a few cons to consider; however, the good may outweigh the bad. A dark room promotes the healthy secretion of melatonin, which helps us all fall asleep and stay asleep; therefore, acquiring a good night's rest. Sometimes, depending on your night light choice, it may actually hinder sleep patterns.
As some night lights are interactive, make soothing noises, and are just too bright (especially if they emit blue or white light; red is best) then they can be distracting, instead of sleep-inducing. Also, if your child comes to rely on sleeping with a night light, they may have trouble when sleeping at Grandma's, on vacation, or at a friend's house if they can not sleep without it.
What are the different types of nightlights made for a child's room?
There are many types of cute and functional night lights to choose from; however, you may want to focus on your child's age and needs at the time of purchase. As they progress, their preference for a nightlight, as well as yours, may evolve.
Indeed, best night light for toddler isn't necessarily the best for a tween and a teenager even when he/she has a sentimental attachment to it! Toddlers tend to appreciate cute, cuddly things while tweens and teens prefer cool features that they can control.
When they are a baby, choose one that will allow you to view the child with ease, but not too bright. There are some that also monitor the child's room temperature at night for you as well.
As they become toddlers, wall plug varieties (you should avoid electrical cords at this age) come in cute shapes and sizes that add interest to the child's room, as well as functionality. Also, plush toys can add light to their room and often have an automatic shut-off after 45 minutes or so… by then, they are fast asleep! Battery operated is best.
Tweens and teenagers may or may not need a nightlight, but if they do, night lights on the market today are really cool and provide a nice glow, projects motion on the ceiling, or provides "white" noise. Other light options can be in the form of their clock, some fairy lights, or an art piece. In addition, lamps sometimes have a "glow" feature at the base to act as a night light. These come in electrical or battery-powered options.
You know your child better than anyone, so, you will know what type of night light will best fit their anxiety level, sleep pattern, and age.
What price range should I expect to pay for a child's night light?
You can pay as little or as much as you want for a night light. The box stores have them for a few dollars, or if you are interested in something that reflects your child's personality in addition to helping them with added security, you can expect to pay more. The $30 – $40 range seems to be the norm. Check out our list above for a wide array of night light types at all price points.
What color night light is best?
Choosing a night light with a soothing color of red or orange hue is best. Blue or white lights tend to stimulate and awaken versus the opposite. Plus, if you choose a huggable night light, you will want it to emit a soft glow as it will be super close to their eyes. If you choose a toddler night light with a timer, a softer hue that will eventually turn completely off will be less shocking to them once they've fallen asleep.