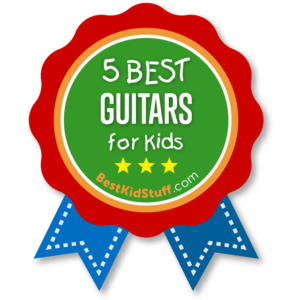 Guitar lessons have numerous cognitive benefits for children. By third grade, children who take music lessons have improved academic performance in a variety of subjects.
According to recent scientific studies, students who play an instrument have significantly higher scores on reading and spelling examinations than students who aren't introduced to a musical instrument.
Guitar lessons are a good fit for those looking to improve concentration levels. Playing an instrument requires focusing on a set task for an extended period of time.
Learning the guitar also improves hand-eye coordination since children must develop the skills to read music at the same time as they move their fingers over the strings. Specifically, learning the guitar requires a great deal of patience and perseverance. The guitar is one of the more complex instruments and the child must be dedicated in order to advance.
Although the guitar is more complex, it is a very fun instrument to learn since it allows children to demonstrate their creativity. While learning the guitar, the child may improvise music or even end up creating his or her own chords.
Although learning guitar starts out as a solitary endeavor, there is also a social component to it. When the child is able to start practicing with a group, he or she develops teamwork skills and learns how to work together to achieve a common goal.
Choosing the Best Guitar for Beginner Kids
The best guitar for kids will be designed to facilitate learning. Before looking at features of the guitar, the first decision will be whether to choose an electric or acoustic version. Although children can always switch between the two options, a beginner student can learn on either type. The only true drawback is that an electric may not be the best guitar for kids to learn on since it requires a larger upfront investment.
If the child is unsure if he or she will stick with the instrument, an acoustic version may be the best guitar for beginner kids. Despite acoustic guitars costing less than electric, parents and guardians shouldn't buy the cheapest version they can find. The best acoustic guitar for kid players will be comfortable for the child to play and hold its tuning for some time.
The size of the best acoustic guitar for kid players depends on the student's age. Children under the age of 6 should learn on a 30-in acoustic guitar, children between 6 and 9 should choose a 34-in version, and children over 10 can play on 36-in acoustic guitars. Acoustic guitars have three main body types: classical, dreadnaught, and jumbo.
The dreadnaught is a popular choice because it has an attractive body shape and a clear sound that projects well. Classical guitars have smaller bodies with no boom sounds on the end. Jumbo guitars are large and boomy and not usually the best starter guitar for kids.
Another key difference when shopping is whether the guitar has steel or nylon strings. Steel strings are the more common type chosen for lessons since they have a crisp tone and a preferred choice for playing rock or country music. Nylon strings have a mellower sound and are used more often in classical music.
For the best starter guitar for kids, choose one that is durable, but within the desired budget. Typically, the child's starter guitar won't be the last guitar owned. The following are good examples of the best beginner guitar for kids.
---
Although a little more expensive than most beginner guitars, the Taylor Baby BTE-KOA Dreadnought Acoustic-Electric Guitar has superior construction that will last for several years of beginner lessons.
The size is appropriate for children, tweens, and young teens. The mahogany construction is lightweight to make for easy handling. The guitar comes in a natural brown color with an attractive high-gloss finish.
Despite the small size, the guitar has powerful acoustics and a crisp sound. The shorter neck makes it easy for children to reach the frets. Strings are adjustable for the ideal comfort level.
Along with children, musicians looking for a travel guitar often purchase Baby Taylor guitars too.
Sound: 7/10 – Not up to Taylor standards, but good resonance and tone
Playability: 8/10 – Good setup and playability
Aesthetics: 9/10 – As handsome as expected
Longevity: 10/10 – The Taylor name is known for quality construction – your kids will save it for theirs
Score: 8.5
Appropriate for beginners, Amazon offers the Taylor Acoustic Guitar to jumpstart your child's musical career!
2. Yamaha FG JR1 3/4 Size Acoustic Guitar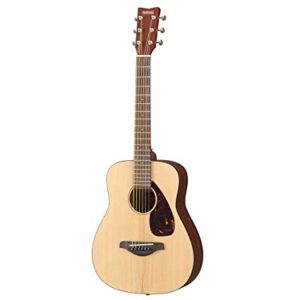 The Yamaha FG JR1 3/4 Size Acoustic Guitar is considered the best guitar for kids who are just starting out. The small size makes it appropriate for children under the age of 12 or those looking for a guitar to take on the go. The guitar is constructed from a mix of high-quality woods including spruce and rosewood.
The classic design includes a natural wood color in a glossy finish for the front and a darker wood satin finish for the sides. The included steel strings are durable with superior sound quality.
The starter set offers a great value by including all the accessories needed to begin lessons. With purchase, the guitar comes with a carrying case, strap, picks, extra folk strings, clip-on tuner, and lesson software.
Sound: 9/10 – Better than the average beginner guitar
Playability: 9/10 – Well set-up action and components
Aesthetics: 7/10 – Nothing special, but good quality
Longevity: 8/10 Will last well beyond beginner guitar lessons
Score: 8.25
For kids under twelve, this guitar is just the right size for small hands.

The Oscar Schmidt OG1FYS-A-U 3/4 Size Dreadnought Acoustic Guitar has a similar mid-range price point as the other children's guitars featured. The guitar is constructed mostly from engineered wood and comes in a range of colors such as blue, pink, yellow, and light brown. A high-gloss coat is applied to give the guitar an attractive finish.
The guitar includes six strings with the placement close together for small hands. With steel strings, a crisp and powerful sound is produced. The size of the guitar is best for beginner players between the ages of 6 and 12.
Although made from engineered wood, construction is solid and should last even with clumsy handling by younger kids.
Sound: 8/10 – Rich sound of a full-size guitar
Playability: 8/10 – Plays well
Aesthetics: 8/10 – Superficially nice-looking, but gives away its cost in details
Longevity: 7/10 – Lower-quality components may not hold up
Score: 7.75
Click on this Amazon link if you would like to check out the Oscar Schmidt OG1FYS-A-U 3/4 Size Dreadnought Acoustic Guitar!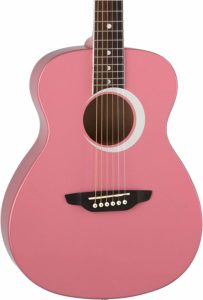 As the best starter guitar for kids, the Luna Aurora Borealis 3/4 Acoustic Guitar offers up a kid-friendly design and a small body type.
The guitar comes in a range of colors including pink, teal, and white. The small body delivers a big sound but allows young children to feel comfortable holding the guitar. This type of guitar is best for beginner players under the age of 12.
Mixes of woods are used for construction including basswood, walnut, and mahogany. The guitar includes a total of 19 frets and has a standard sealed die-cast tuner. Strings are fairly close together, but small fingers should have no problem manipulating them.
The guitar is sold without any accessories, so buyers may want to purchase items such as cleaning supplies, replacement strings, and a carrying case.
Sound: 7/10 – Little sustain, weak tone
Playability: 7/10 – Issues with maintaining tune
Aesthetics: 8/10 – Fun range of colors to appeal to kids
Longevity: 6/10 – Feels lower in quality than Luna's adult models
Score: 7
Let the concert begin… with this kids guitar designed specially made for little hands
5. Donner 36" Dreadnought Acoustic Guitar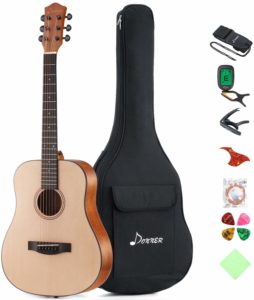 The Donner 36" Dreadnought Acoustic Guitar is a good choice for students who are over the age of 10 and starting lessons. This best acoustic guitar for kid musicians has the popular dreadnought body type that can be used to play most musical styles.
The guitar has a very slim neck to improve comfort levels for beginner players. Constructed from a blend of spruce and mahogany, the instrument produces a very rich sound. To help kids learn the instrument, fret position marks are included on the neck and top of the fingerboard.
The price falls into the mid-range for beginner acoustic guitars, but still, a solid investment since all the accessories needed to start lessons are included.
The beginner set includes a carrying bag, strap, replacement strings, polishing cloth, four picks, and a pickguard. Most importantly, the guitar includes a high-quality tuner to assist the new player with always remaining in tune.
Sound: 6/10 – Solid sound
Playability: 6/10 – Often has issues with maintaining tuning
Aesthetics: 7/10 – Quality made, without the aesthetics issues of most low-cost guitars
Longevity: 8/10 – Made well enough to hold up over time
Score: 6.75
The Donner 36" Dreadnought Acoustic Guitar includes all the accessories you need!