Thousands of years ago the great Greek physician Hippocrates stated that "all disease begins in the gut." Today we have countless studies to back his claims. There are connections between immune health (immunity being nearly synonymous with health) and our mind. Gut health is the key to our physical and mental health- areas of wellness we understand are intimately connected. What then can be more disheartening than watching as your child suffers with gastrointestinal (GI) distress?
Today, the almost negligent use of antibiotics are a root cause of GI upset. Ear nose and throat (ENT) problems are very common issues that stem from poor gut flora at birth. This has happened with an increase in unnecessary cesarean births. When a child does not pass through the birth canal of its mother, the infant actually misses the first dose of probiotics. From there, for a myriad of health reasons mothers are unable to breastfeed- meaning young infants often miss essential probiotics like B. infantis among others during a very crucial developmental stage.
During the early stages of life when a baby's innate immune system is forming children who start off with fewer probiotics are more prone to ENT infections which are commonly treated with antibiotics. Additionally, antibiotics are offered for ear infections, chest infections, and what eventually becomes Strep and even pneumonia. The snowballing effect of GI upset triggers immune conditions that are far more serious than a sniffle. Autoimmune disease is on the rise as compromised gut lining begins to "leak" causing our bodies to recognize food as a threat. Along with autoimmune disease comes mood disorders as toxic and inflamed bodies do not tend to be happy. If Hippocrates came back from the dead, he would probably say "I told you so."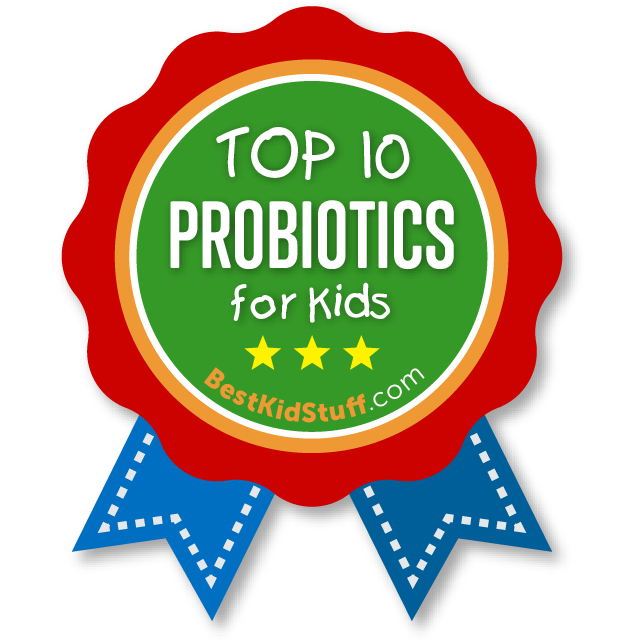 The good news is that Hippocrates is not coming back to taunt us, and we now thousands of years later have the resources to right what went wrong.
Probiotics can be life-changers for children and families. What's more, children don't often object to taking something that makes their body feel better and minimizes pain. Just to be sure however, when considering our ranking we took taste very seriously. If a child won't take their probiotic due to taste that defeats everything. Not only that, but young children don't naturally know how to swallow pills. We looked into gummies, chewable tablets, and small pearl-shaped probiotics that made it easy for children to take their supplement. Most importantly, we wanted to know how well this product worked. We combed through hundreds of reviews and only selected product where the parents gave 5 star reviews actually stating that their child in GI distress actually was relieved of their issues.*
Before starting a probiotic supplement, speak with your doctor. GI upset can be complicated and it may be necessary to avoid certain beneficial bacterial strains.
That being said, we were thrilled to find a number of companies truly addressing the issues surrounding probiotics for kids and here's what we came up with for the best probiotics for kids today.
Ranking Methodology
Administration: ease of procurement of probiotics as well as range of delivery methods and kid effective doses
Works: whether the product works for a wide range of kids, as observed in reviews
Kids Like It: whether or not kids like taking the probiotic (or at least don't mind it)
1. Hyperbiotics Pro-Kids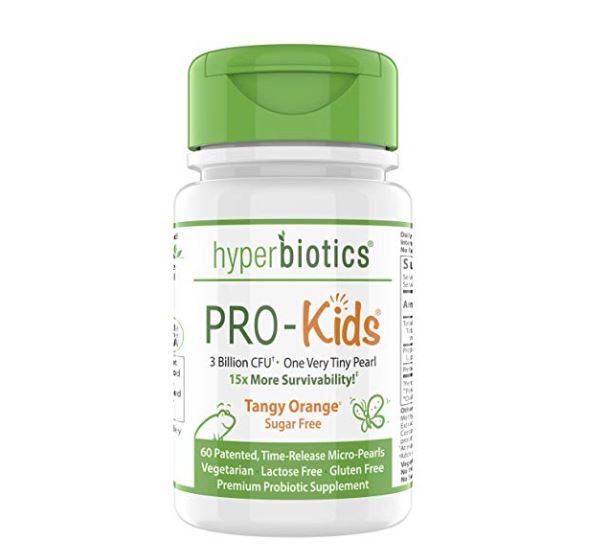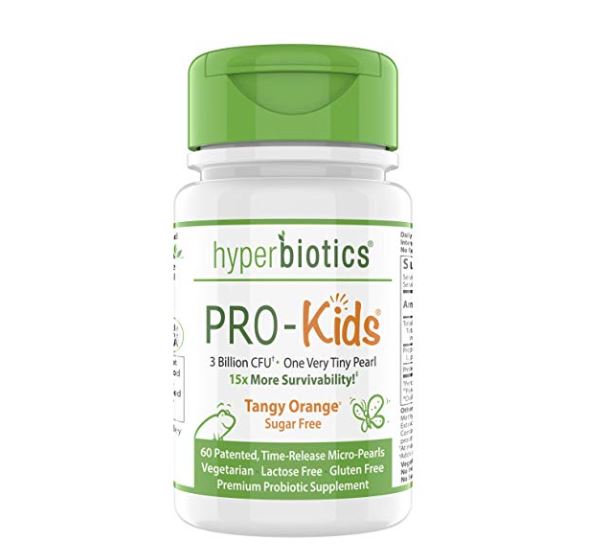 We selected Hyperbiotics Pro-Kids probiotics because the company uses a slow release delivery method meaning that the beneficial bacteria have a better chance of survival and can do their work where needed- in gut! The beneficial bacteria are then slowly released over and 8-10 hour period. This product uses 4 strains from the Lactobacillus, and Bifidobacterium families including B. infantis- the probiotic most famously found in infants who were breastfed for lengthy periods of time. Though Hyperbiotics may be chewed, this product works best when swallowed*.
Pros
4 Different Probiotic Strains (L. plantarum, L. acidophilus, B. infantis, and B. lactic)
Easy to Swallow
Can Be Chewed if Necessary (Though Works Best If Swallowed)
Prebiotics Included
Sugar Free, Non GMO, Lactose-Free, Gluten-Free
Many Parents Have Reported That Their Children Focus Better*
Helps With Regularity*
Many Parents Have Raved About How These Probiotics Help With Immunity*
Parents With Children With Autism Have Seem GI Improvement, and Reported Other Benefits*
Many Parents Report Improvements with Ear Nose and Throat Issues*
Cons
Not All Children Like the Taste
Can Be Chewed if Necessary but Works Best When Swallowed*
Score:
Administration- 98
Works-100
Kids Like It-98
Total: 98.6
2. Culturelle Kids Probiotics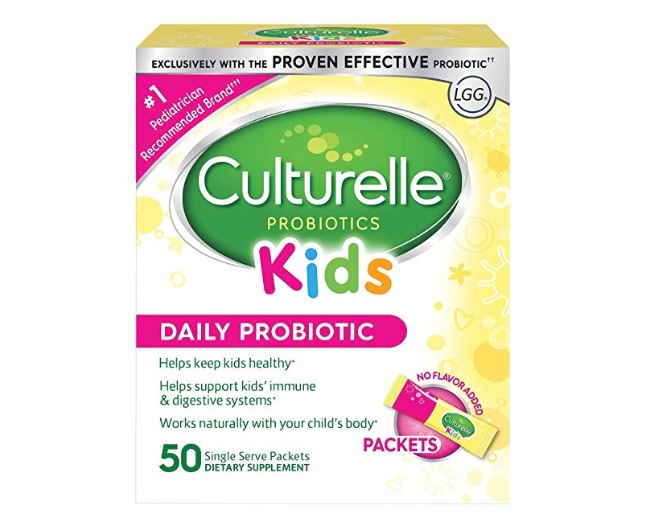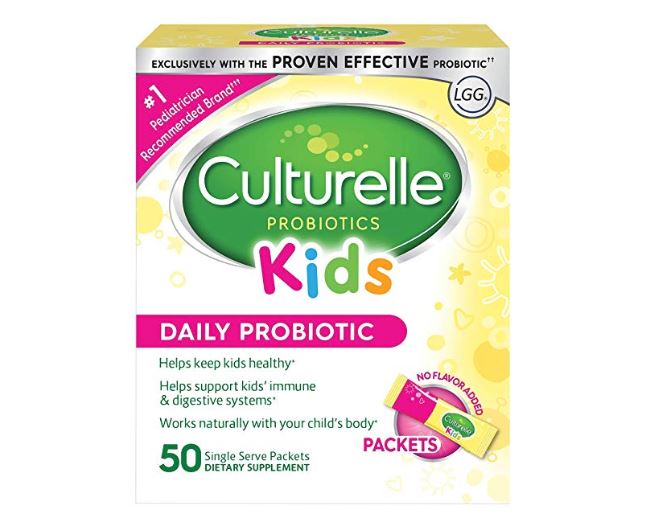 We selected Culturelle Kids Probiotics as it is a #1 Pediatrician recommended brand that works well for children ages 3 and up*. This chewable gummy is great for kids' immune systems* and contains Lactobacillus rhamnosus GG a probiotic strain that is very helpful for stomach upsets*. The product does not contain gluten, sugar, lactose, diary, preservatives, yeast, soy or added colors- ingredients that can often trigger GI upsets.
Pros
Users reported that these probiotics have helped solve some puzzling gut-related issues in their child*
Good for Children With Sensitivities and Food Allergies*
Helps With Both


Cons

tipation and Diarrhea*

A Lot of Parents Report that Their Kids Like the Flavor
Helps Improve Mood*
Helps Boost Immune Response*
Helped With Chronic GI Issues*
Cons
Every Child's Gut Flora is Different and Some Parents Did Report that This Was Not Effective For Their Child
The Cost Was Out of Reach For Some Parents With Multiple Children
Not All Children Will Like the Taste
Some Reported That The Gummies Actually Gave Their Children Gas
Score:
Administration- 99
Works-98
Kids Like It-99
Total: 98.6
3. NatureWise Chewable Probiotics for Kids and Infants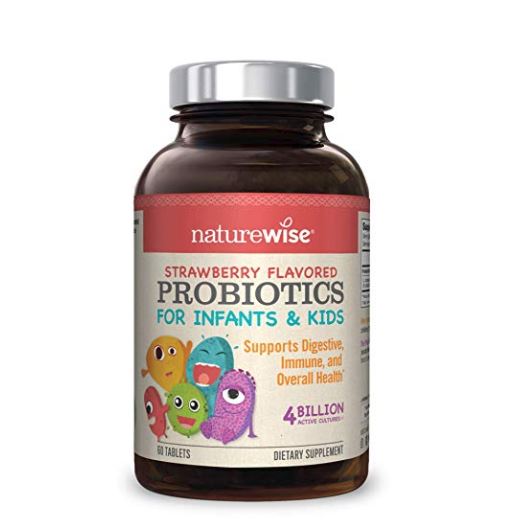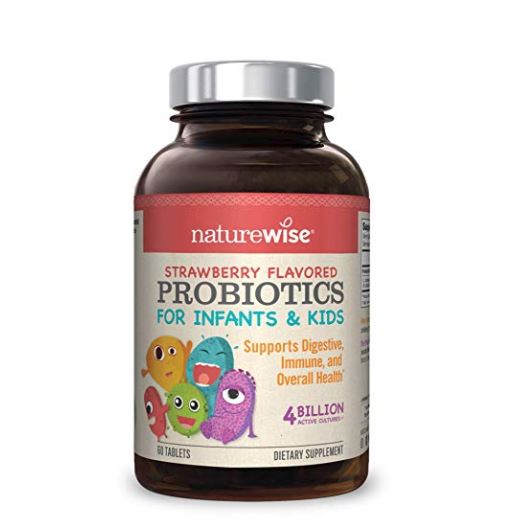 NatureWise Chewable Probiotics for Kids is cleverly formulated tablet that contains some of the most heavily research beneficial bacteria- L. rhamnosus, L. plantarum, B. Infantis, and B. Lactis. This is a daily supplement designed to support overall health and digestive health in children. There are 60 chewable tablets included in every bottle.
Pros
4 Excellent Strains of Beneficial Bacteria
Free of Most Common Allergens
Time Release Capsule
Small and Easy to Swallow
May Be Chewed if Necessary
Parents Report Helps With Child's Immunity*
Parents Report Helps With Regularity*
A Lot of Kids Enjoy the Taste
Made in A Nut Free Facility
Cons
Sometimes Higher Potency Probiotics Are Difficult on Younger Children*
Not all Children Will Find These Easy to Swallow
Some Parents Found This Product Too Pricey
Score:
Administration- 99
Works-98
Kids Like It-99
Total: 98.6
4. Up 4 a Happier Inside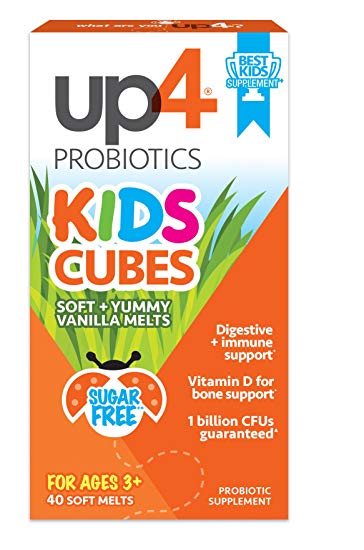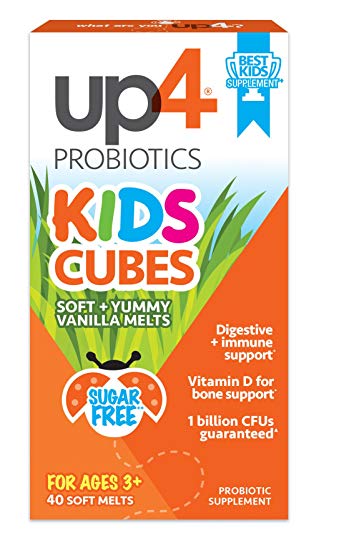 Up 4 a Happier Inside makes some of the best probiotics for kids anywhere. This formula also combines vitamin D and contains 1 billion CFUs. This is a chewable cube that boots immunity* and helps to aid in digestive processes* and it is shelf stable. There are two main strains of probiotics used Lactobacillus acidophilus DDS-1 and Bifidobacterium lactis UABla-12.
Pros
Many Parents Report That Their Children Stop Getting Sick After Using These*
Contains Vitamin D
Helps to Eliminate Gas*
Comes with 60 Gummies
Great for


Cons

tipation and Diarrhea*

Great for Kids with Allergies*
Sugar Free
Great Taste- Even Picky Kids Tend to Like These
Cons
Contains Palm Oil
Contains Maltitol
Score:
Administration- 99
Works-98
Kids Like It-99
Total: 98.6
5. Up 4 Probiotics Kids Gummies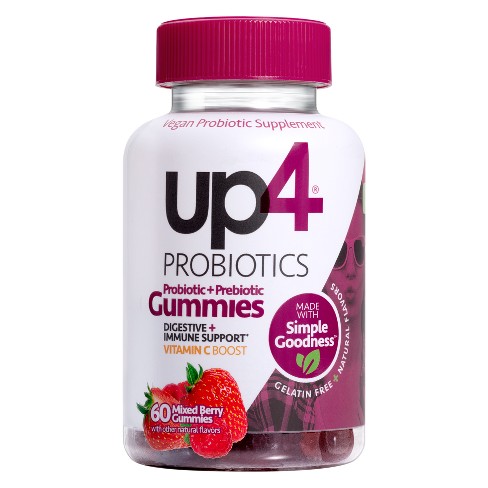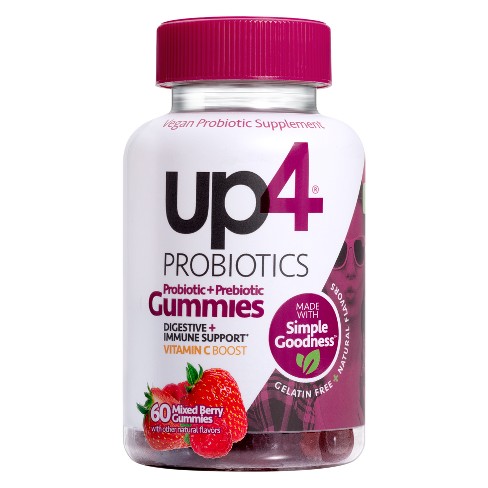 This is actually Up 4's new product that is a fruit-flavored probiotic and prebiotic blend. Prebiotics are just as they sound- they provide yummy nutrients to feed those helpful gut bugs. In addition to 1 Billion CFUs of Bacillus subtilis, Bacillus coagulans and Inulin (from Chicory root) this product contains added vitamin C. This is a vegan product that does not contain food dye, GMOs, or gluten.
Pros
Gluten-Free
A Number of Parents Have Reported Their Children Enjoy the Taste
Helps With Regularity*
Non-GMO
Cons
Every Child's Gut Flora is Different and Some Parents Did Report that This Was Not Effective For Their Child*
Score:
Administration- 99
Works-97
Kids Like It-99
Total: 98.3
6. Nordic Naturals Probiotic Gummies for Kids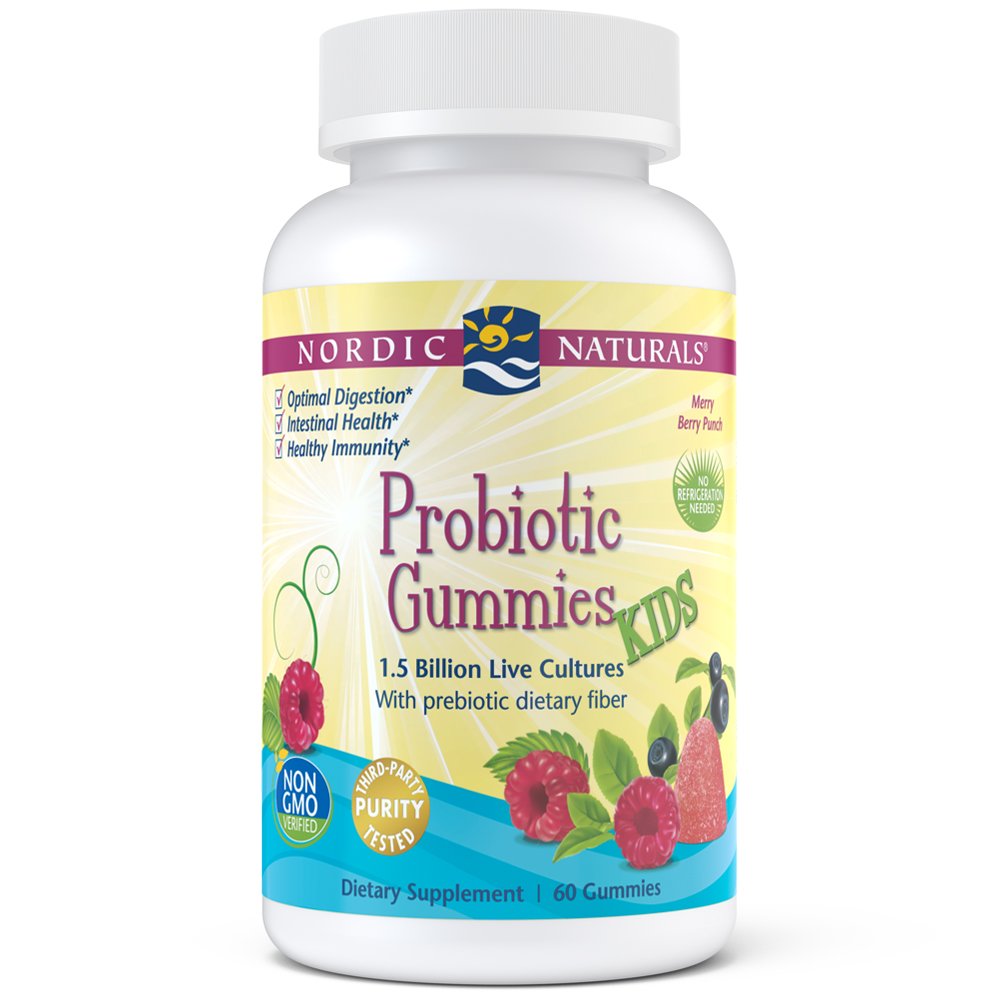 The probiotic gummy from Nordic Natural is a great product that contains a prebiotic fiber (tapioca source) as well as 750 million CFUs of Bacillus coagulans (B. coagulans). Children's systems simply do not do well with some of the 12-15 strain products you see for adults, so we really like that Nordic Naturals has carefully selected a strain that is known to help with IBS, regularity,
Cons
tipation, and diarrhea.* This gummy also contains an added dose of vitamin C but does not contain gluten, milk derivatives, or artificial colors or flavors.
Pros
Free From Allergens and Artificial Dyes
Works to Clear Up "Tummy Troubles" *
Supports the Immune System*
Tastes Great
Some Parents Have Reported Improved Focus and Mood*
A Prebiotic and Probiotic Blend
Cons
Sugar Coated
Not All Kids Like the Flavor
Score:
Administration- 99
Works-98
Kids Like It-97
Total: 98
7. Intelligent Labs Kids Probiotics and Prebiotics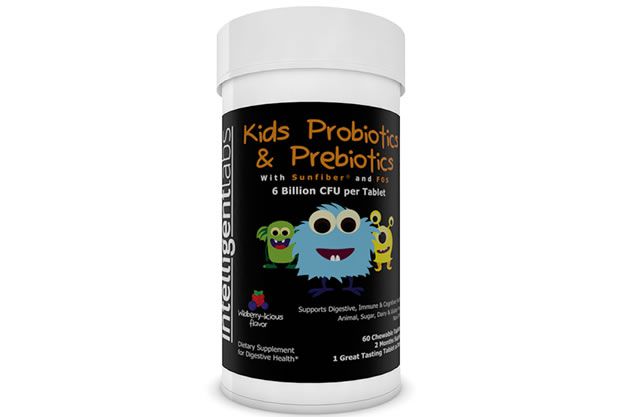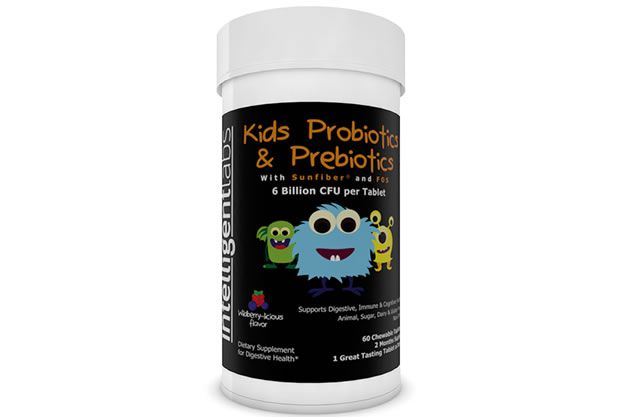 Sometimes with a picky eater, it's not enough to supplement with a probiotic particularly after a round of multiple rounds of antibiotics. You need the prebiotic too to aid in the growth of those good bugs. Which is why we chose this blend of Probiotics and Prebiotics from Intelligent Labs. These tablets are free of common allergens, and are also Kosher! The probiotics are a proprietary blend of B. lactis, and L. acidophilus.
Pros
Third Party Lab Tested
Parents Report Helps Children Repopulate Their Guts After Antibiotics*
Parents Report Helps to Enhance Mood*
Good Quality
Many Kids Like the Taste
Contains a Prebiotic and Probiotic
A Lot of Strains
Cons
Not Everyone Likes the Taste
Contains Xylitol
Score:
Administration- 99
Works-97
Kids Like It-97
Total: 97.6
8. Olly Kids Multi + Probiotic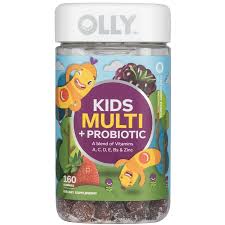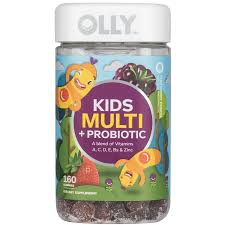 Just like the name implies, this is a multivitamin combined with a probiotic strain. In addition to vitamins A, C, D, E, B6, and B12, this multivitamin contains two minerals- zinc and iodine alone with Bacillus coagulans (B. coagulans). B. coagulans is a safe probiotic used famously for IBS, antibiotic-related diarrhea,
Cons
tipation, and immune deficiencies*.
Pros
Tremendous Help with Chronic


Cons

tipation*

Helps With Overall Immune Function*
Tastes Great
Helps With Regularity*
The Combination of a MultiVitamin and Probiotic is an Overall Price-Saver
Cons
Some Parents Reported Diarrhea
Some Parents Report These Are Too Big
Score:
Administration- 97
Works-98
Kids Like It-97
Total: 97.3
9. Ultimate Flora Kids Probiotics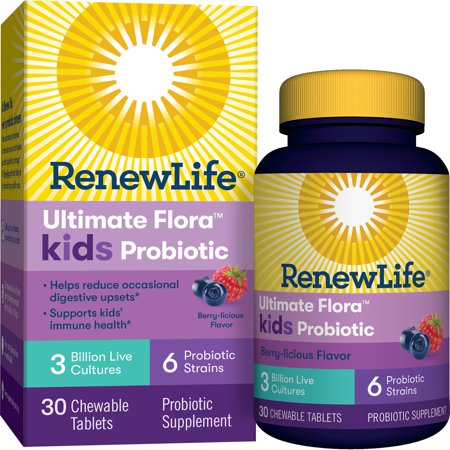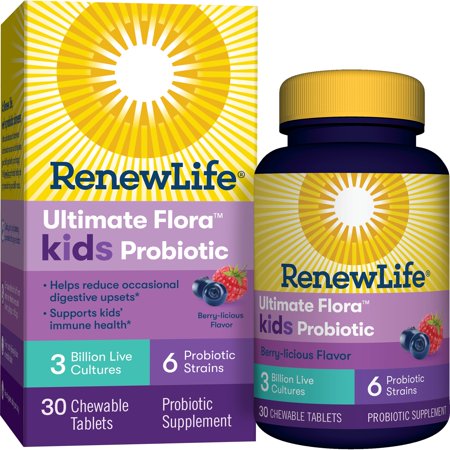 Ultimate Flora Kids Probiotic is a berry-flavored chewable tablet that has been formulated with 6 different strains of beneficial bacteria- Bacillus coaglans, L. acidophilus, B. lactis, B. breve, L. salivarius, and L. plantarum. The product is gluten, dairy, soy and sugar free. This tablet is suitable for children over the age of 4.
Pros
Great for Kids With Severely Compromised Gut Flora As This Product Has A Lot of Strains*
Parents Have Reported that this Product Firms Up Loose Stools*
Many Parents Report This Probiotic Helps Regulate Constipation*
Strengthens Gut to Strengthen Immune System Response*
A Good Pick if A Child Has Been on Many Antibiotics*
Great Flavor
Cons
Can Be Pricey for Families With Multiple Kids
Higher Numbers of Probiotics Strains May Actually Be Difficult for Some Children's Gut Flora*
Score:
Administration- 97
Works-97
Kids Like It-97
Total: 97
10. Replenish The Good Kid's Probiotic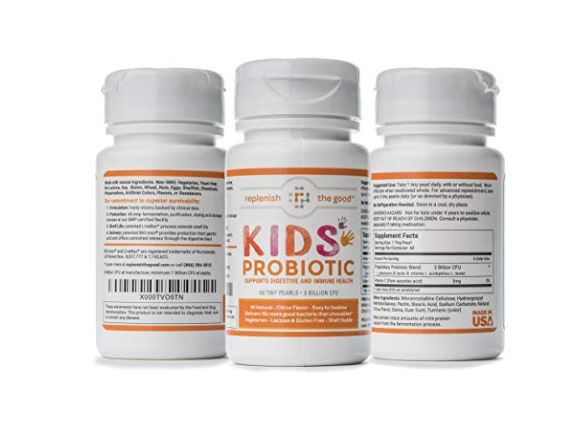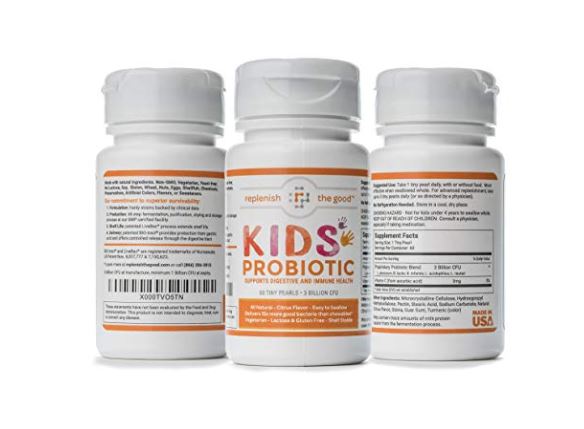 Replenish the Good makes an easy to swallow probiotic pearl intended for daily use. This probiotic uses Bio-tract ® and Livbac ® technologies to ensure that this product makes it to the gut where all of the work needs to take place. The Kids Probiotic is blended with 5 probiotic strains and vitamin C. The four strains are L. plantarum, B. lactis, B. infantis, L. acidophilus, and L. reuteri.
Pros
Parents Love These Probiotics as They Help With Immune Support*
Good for Ear Nose and Throat Issues*
Many Parents Report Easy to Swallow
Helps With Regularity*
A High Number or Strains
Cons
Contains L. acidophilus which can be problematic for the most sensitive guts*
Not the Best Taste
Score:
Administration- 98
Works-97
Kids Like It-96
Total: 97
*These statements have not been evaluated by the Food and Drug Administration. This product is not intended to diagnose, treat, cure, or prevent any disease.