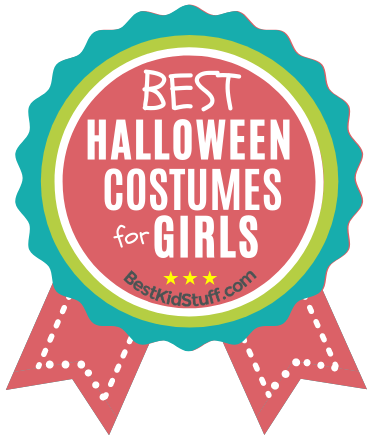 'Tis the season for some good old' trick-or-treating! October is a goldmine when it comes to the best celebrations – from a hearty and sumptuous Thanksgiving, we continue the cheers and festivities as we run towards Halloween.
Dubbed as the 'scariest night of the year,' it's one of the only nights within the year where all sorts of tomfoolery are accepted. From crazy horror-themed pranks up to the most outlandish of costumes, even adults are bringing their A-games in playing dress-up.
Halloween became a very popular celebration in the 1900s, although its roots can be traced back to more than 2,000 years ago, to the Celtic New Year (named Samhain).
People used to create large bonfires and wear horrifying costumes to ward off evil ghosts and other paranormal beings. Today, the times have truly changed, and we have evolved our purpose and practices over the years.
Outside of any religious and cultural beliefs, people are getting into the Halloween spirit to celebrate with loved ones and friends. We all get to share in the fun, laughter, and loads of candy corn that come raining down this season!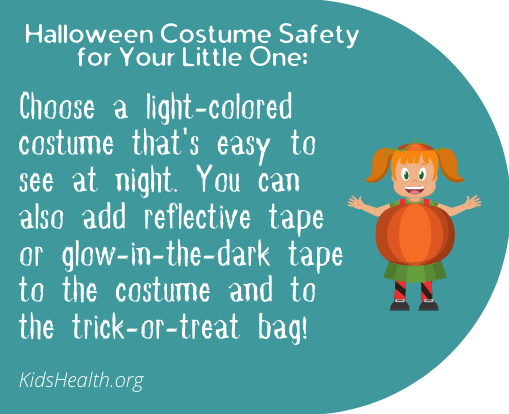 If you have small girls at home, you may find it a tad easier to dress them up. With Halloween, though, the options may seem a bit repetitive – and if you truly want them to stand out from the rest, you must put in a bit of research and pre-planning to achieve a cohesive and outstanding theme.
All the more work is needed if you'd want to achieve a family theme! No worries – we got your back. Here are 20 best Halloween costume ideas for the girls in your life!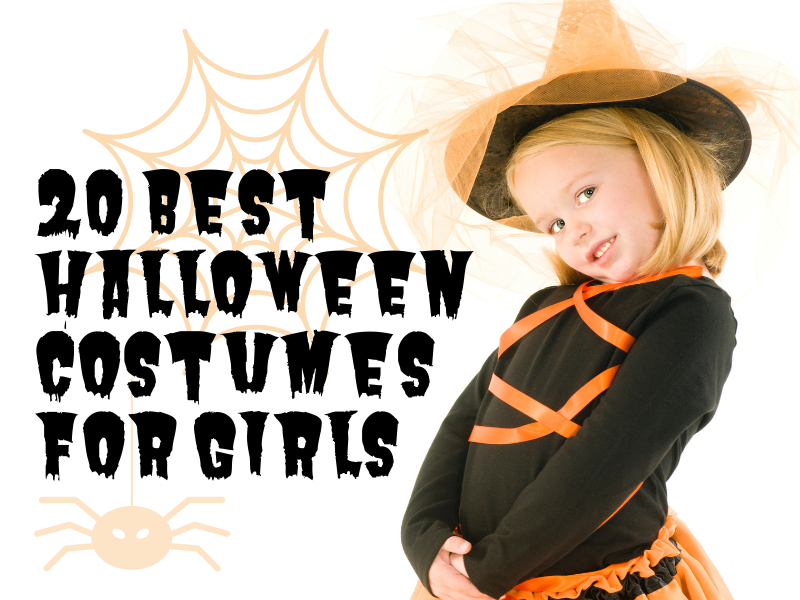 ---
Toddlers (1- to 3-Year-Olds)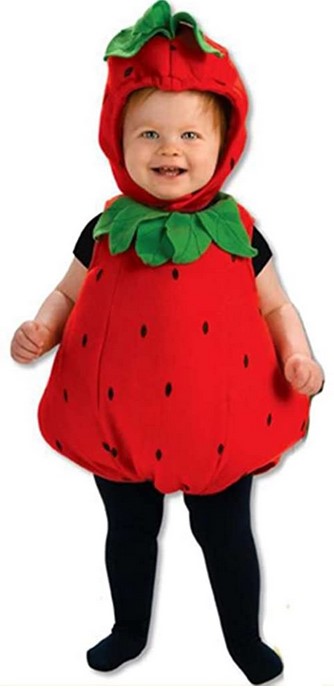 The Berry Cute Deluxe Plush Infant Costume is probably one of the cutest Halloween ensembles we've ever seen!
This bright-red, juicy attire will make you want to bite in and surround your toddler with hugs and kisses. Know that when you dress up your toddler as a fruit, vegetable, or any food-themed costume, a trail of ooooh's and awweee's will surely follow you wherever you go.
Since toddlers may not understand any part of the trick-or-treating experience, they may feel a bit fussy while in complete gear, that's why parents must think ahead and also consider the comfort and convenience of the costume in question. It is a tunic that your kid can easily wear (and removing it is fairly easy, too).
Made with 100% polyester, this imported costume is fairly durable and can stand the test of time. The berry tunic has a bright-green, leafy accent with printed black seeds in front. It comes with a headpiece that fits snugly and securely on top of your daughter's head.
Since it's a sleeveless attire, you can dress up your daughter in a plain black shirt and tights to make it all look cohesive.
Awww… How cute is this? The strawberry hood will frame your little one's precious face just perfectly!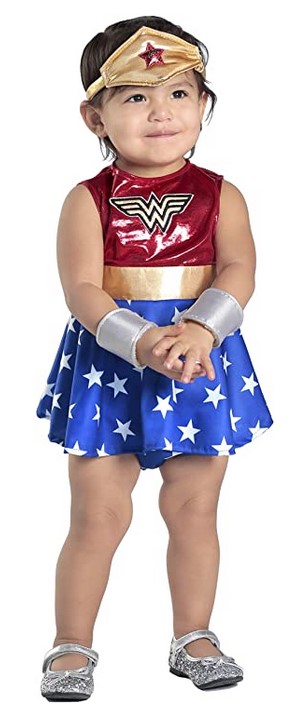 Gal Gadot has got nothing on your little girl! The Princess Paradise Baby Girls' Wonder Woman Costume will surely make this Halloween more fun and exciting for your daughter.
You'll agree that toddlers are superheroes in their own right, bursting with an endless supply of energy and curiosity wherever they go – to complement this, you'll surely appreciate this Wonder Woman-themed costume, which is officially licensed and authenticated by DC Comics. Your daughter will look good in touches of red, gold, and blue.
She'll look magnificent, no lasso required! The costume is made with high-quality, imported polyester, which will keep up even with high levels of activity. Out of the box, the costume includes a beautiful one-piece dress with a red top, gold belt, and a blue, star-spangled skirt.
The costume also contains the infamous 'W' logo. Additionally, you will receive matching diaper covers (bearing the skirt's color and pattern) and Wonder Woman's accessories (including silver wrist cuffs and a cute gold adjustable headband with a red star in front).
To complete the look, you can add a red cape attached to the back with safe closures (like velcro), as well as silver slippers or red boots.
Girl Power!!! This is perfect for the little wonder baby girl in your life!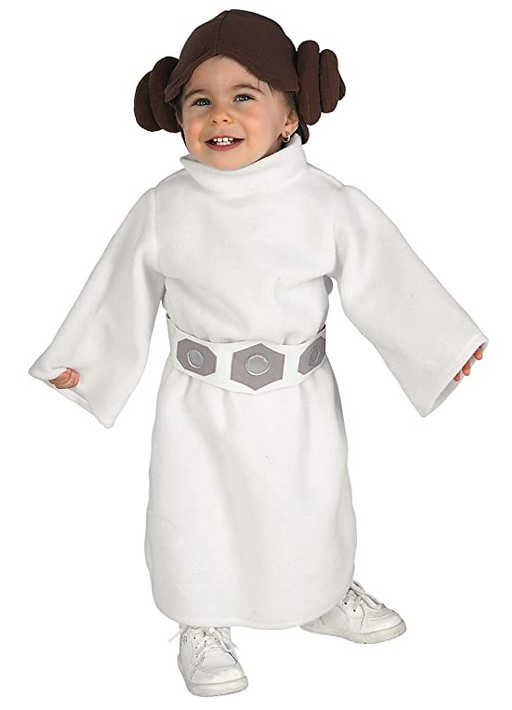 May the force be with you! Rubie's Star Wars Princess Leia Romper may seem a bit more simplistic and drab than other costumes, but don't let the all-white ensemble fool you – you'll get more than a few Insta-worthy shots and swooning neighbors with this impressive take on Princess Leia's attire.
If you love the Star Wars franchise or want a memorable costume for your daughter this Halloween, then this is the perfect ensemble for her! This beautiful white robe is made from 100% polyester and pristine plush fleece that keeps your toddler warm and covered amidst the cool breeze of autumn.
As a romper, we must say that this kids' version is a pretty sweet and a more comfortable take on Princess Leia's infamous kaftan! On top of the flowing robe, the costume also includes her famous white and silver belt to cinch the whole thing together.
The cutest part of the costume is the brown plush headpiece that features her iconic bun hairstyle on each side. You can pair this off with some cute white sneakers, and even add in a tiny lightsaber (or a lightstick for smaller hands) to complete the whole look!
Parents, are you Star War fans? If so, this is perfect… and you can dress up too to complement your daughter. Get a theme going!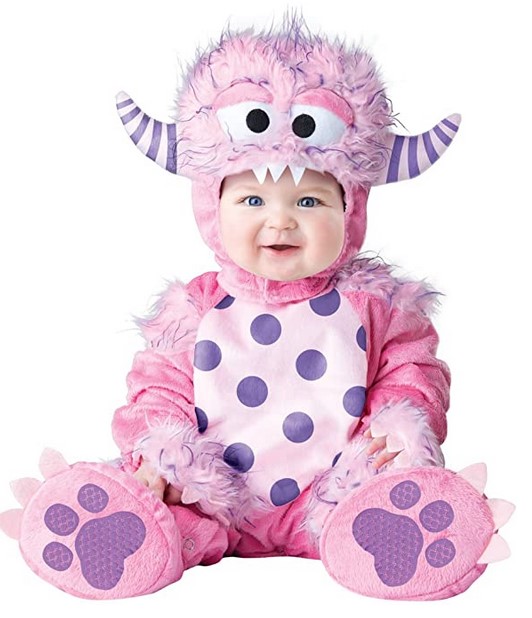 Something is charming about dressing up your child in a cute, furry little monster get-up. The in Character Baby Girls' Lil' Monster Costume by Fun World may seem like a mash-up of cotton-candy and characters straight out of Monster's Inc., but we're pretty sure that you'll love seeing your daughter in this funky costume!
Made with polyester and acrylic, this ensemble will surely stand the test of time (and possibly be worn by younger siblings after a few years). The costume is also very easy to clean, but for subsequent uses, make sure to wash it by hand because it is a bit delicate to be machine-washed.
The pink and purple costume is worn as a jumpsuit, which can be easily pulled under the legs in one swift motion. Underneath the jumpsuit, you will see leg snaps that are easy to open and close, in case any diaper changes are needed.
The headpiece is eye-catching as well, with round eyes, pink and purple horns, and a few furry details. Another thing we love about this costume is that it includes matching slip-on booties that have skid-resistant bottoms, making it safe for your child to play around in costume.
With this "not-so-scary" monster costume, your little girl will be the talk of the neighborhood!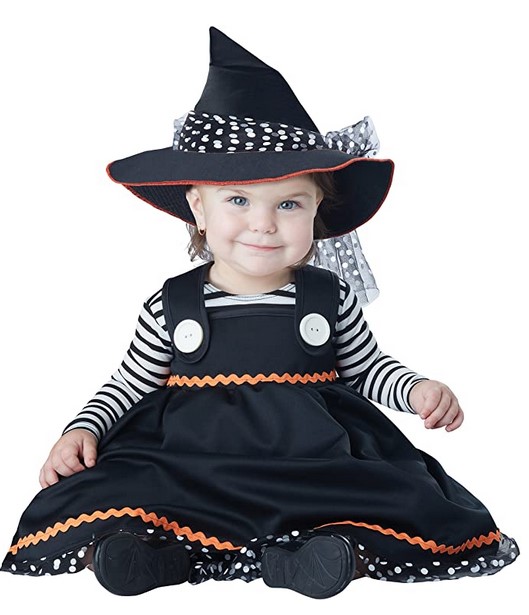 The California Costumes Baby Girls' Crafty Lil' Witch is a great option, especially if you want to dress up your child in something festive, yet super comfortable. Witches will be on full display this Halloween, simply because it's a classic theme that never goes out of style!
Nothing beats seeing your kids in a cute, black dress, with a pointy hat (and a broomstick in tow, for good measure). This costume proves that you don't need to buy something flashy or spend a lot of money on something of quality.
Additionally, we adore the black and white color scheme (with a few, flattering orange trimmings) – makes everything spooky! The costume is made with 100% polyester, bringing together high-quality materials that will keep up even with the most active of toddlers.
It comes with a black, pointed hat with a polka-dotted shawl wrapped around it, and a striped dress layered with black overalls on top. If the hat doesn't fit snugly on your child's head, you can put an elastic strap to secure it in place.
You can opt to dress your child in some black or striped leggings to keep them warm, or even throw in a cute broomstick for added effect.
This cute little witch costume is so adorable, they will surely put a spell on everyone while trick-or-treating!
---
Pre-schoolers (3- to 5-Year-Olds)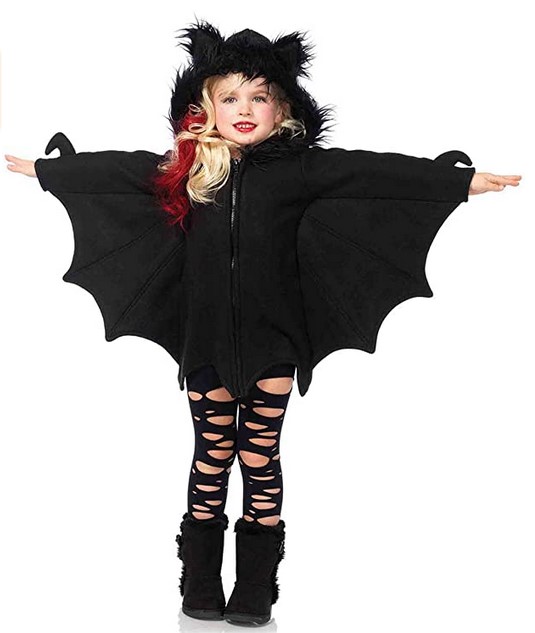 The Girls Cozy Bat Costume will surely be a great hit when your child goes trick-or-treating this year! By default, bats have always been a staple in Halloween decorations, with families putting them up alongside cobwebs, skull heads, and other design elements.
Your kids will love dressing up in this amazing ensemble that's surely made for costume parties, dressing-up, and playtime! Available in an array of sizes to choose from, you'll want to dress up your daughter and possibly, their siblings, in a coordinated outfit – this one will do the trick!
This polyester costume includes the black dress with attached wing sleeves – when your daughter extends and spreads her arms wide, then the ribbed wing structure becomes visible like a welcome surprise. The dress comes in a comfortable, sensible fit made with relaxed fleece that's perfect for going out on a crisp, cold autumn night.
Since it's zipped, your child can put it on and remove it very easily. The best part is that it has a furry ear hood, which acts as a cute design element, as well as a functional part of the whole thing (to warm your child's ears while heading out).
Pair it off with some black leggings, and voila! This sweet costume will have them fluttering around everywhere as they try out their cute bat wings!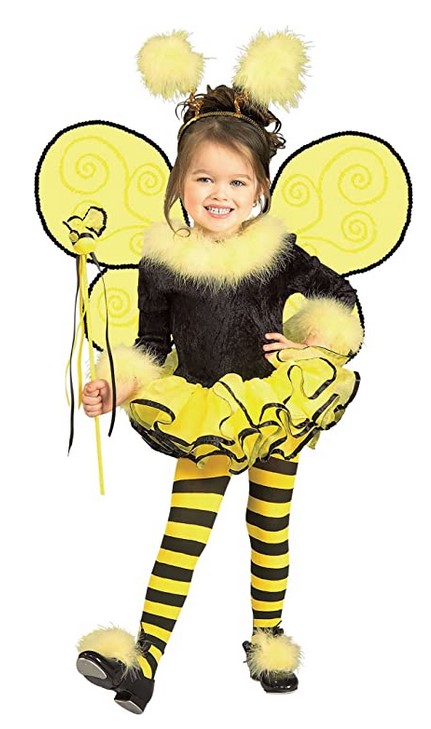 Buzz, buzz! The Bumble Bee Child Costume has landed to give your child more than just a great time at Halloween. The costume does include a lot of bee touches here and there (especially the yellow and brown color scheme), but it's a more toned-down version of what you would expect from a bee costume.
Lead-free, this outfit is safe to wear and perfect for your active daughter to run around and play in. Since it also has a 'princess' vibe to it, your little girl can wear it outside of trick-or-treating, and even rock it during playtime and costume parties.
Out of the box, you will see a brown leotard that fits very snugly. Attached to the body is a special yellow tutu lined with brown trimmings. It also includes a special yellow headpiece that acts as antennae – it's fluffy and matches the whole costume perfectly!
It also has a special wand with a cute bee on top, adding up to the princess bee theme. Your daughter will enjoy playing around with the prop and cast some magical cheer even on the spookiest night. Pair it off with some yellow and brown tights, and she's all set!
Buzzy Bee, she will be… in this precious bee costume! Please note: The yellow/brown tights are a separate purchase!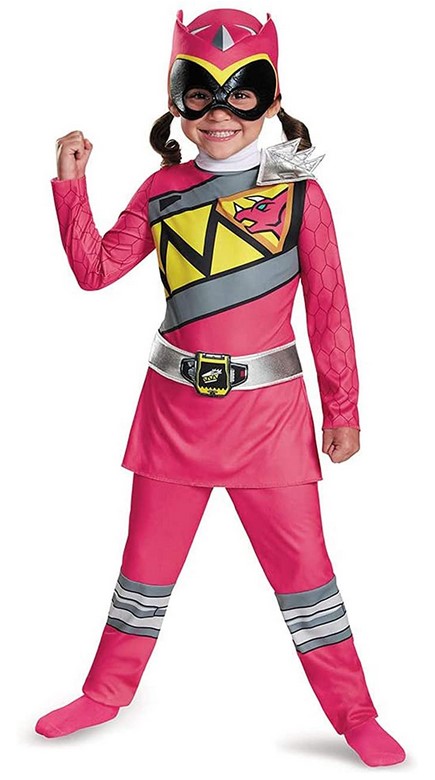 Superhero costumes will never go out of style. The Power Rangers Costume For Girls Pink is a testament to the power of female characters – and the best part is that your daughter will look so good in this!
If you're a 90s kid or someone who loves cartoons, then you will surely appreciate this nod to one of the best kids' series to ever exist. This costume has been modified to fit tiny bodies, making it look so seamless and comfortable, even when they're busy running around and acting a little hyper because of the Halloween candy.
The inspiration for this outfit is taken from the Power Rangers Dino Charge's Pink Ranger suit. Dressing up in one of the Mighty Morphin Power Rangers costumes will allow your child to explore her imagination and let herself loose as she enters the world of make-believe.
Additionally, the costume is the real deal – and since it's an official version (that runs deeply on the details), it won't come off cheap and flimsy like other costumes out there. You will receive a polyester jumpsuit, a shoulder piece that can be removed, and a character mask that'll surely seal the deal.
Dress your daughter in this cute pink Power Rangers suit. She will be the hit of the Halloween Bash!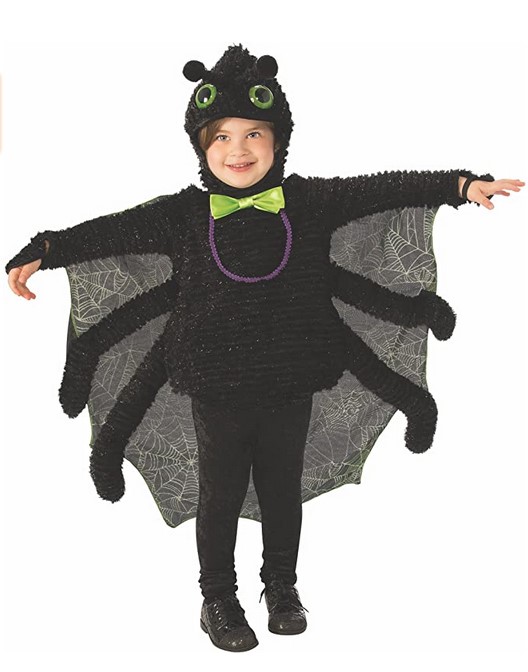 Let your little critter shine with the Rubie's Eensy Weensy Spider Children's Costume! Spiders and other creepy crawlies are considered to be Halloween staples – that's why there's never a shortage of these elements, whether as decorations or as actual, life-sized costumes.
There's something so adorable about dressing up as one of nature's funniest creatures – the furry body, teeny eyes, and long arms make for the perfect Halloween costume and turn a night of trick-or-treating into a social media and pictorial fanfare. You can't blame the stage parents, though.
The costume is made with durable polyester that'll surely stand more than a few washes and uses. The top is perfectly constructed in one piece, with a hoodie-like head attachment that has two large eyes stuck on it. Aside from the armholes, the costume top also has two 'spider limbs' sticking out on each side, adding up to the novelty of the whole get-up.
When your child extends her arms wide, the beautiful grey cape stuck to the arms becomes seen, complete with spider web prints for added effect. Just add some leggings to keep everything cohesive, sticking to the all-black theme very well.
Just try to keep them off the "water spout" in this cute Eensy Weensy Spider costume made by Rubies.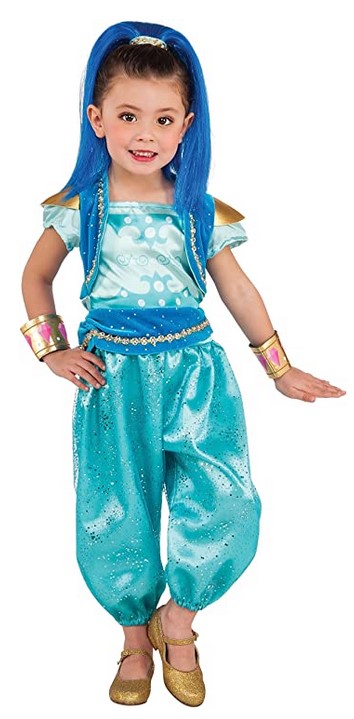 If your girl wants to look and feel her best this Halloween, this Girls Shimmer and Shine Genie Shine Costume will be your best bet. The Arabian Nights-esque ensemble is a winner – officially licensed as Nickelodeon's Shimmer and Shine costume, you'll be assured of the safest, highest quality, and authentic items right on your doorstep. We love how feminine the costume is – it would make your little girl stand out from the crowd, yet keep her comfortable even while trick-or-treating or running around. It is made from 100% polyester, which doesn't ruin easily and can surely keep up with your child's energy even during playtime.
The costume is composed of a Deluxe Shine jumpsuit with beautiful gold shimmering accents to boot – a very princess-like way to go searching for candy. There is also a sash-like accessory that acts as a belt to cinch it all nicely. The jumpsuit also has an attached vest with gold trimmings on the edges and gold exterior shoulder pads that rest on each side. Moreover, the costume comes with gold wrist cuffs and a cool gold headpiece with an attached blue ponytail – a huge nod to one of the show's characters.
The Girl's Shimmer and Shine Genie Shine Costume is perfect for the little lady in your life!
---
Middle Childhood (6- to 11-Year-Olds)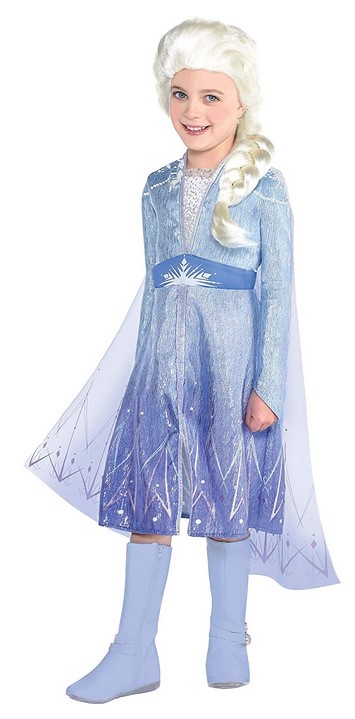 Your little girl can finally Let it Go and feel like the magnificent Snow Queen with the Party City Elsa Act 2 Halloween Costume for Girls!
The Frozen movie franchise will be a great option for dressing up this Halloween! Bold, brave, and beautiful Elsa's character isn't that typical for Disney, save for a few modern female protagonists like Mulan and Merida (from Brave).
Allowing her to dress up as one of her greatest role models will make her feel more confident and self-assured and let her imagination run free. Now that's very empowering!
Your little girl will love this long-sleeved, blue dress that comes in a beautiful ombre finish. It also features a waist sash with a cute snowflake accent, velvet epaulets on each shoulder, and sheer mesh panels that add to its very classy form.
Silver accents subtly give a whole look an amazing appeal – especially when light hits different parts of the costume, it'll add a sparkly finish to an already amazing dress. Add a beautiful light blonde wig and some boots or sandals to put it all together.
Surely one of your little girl's favorite movie characters, this Elsa costume is always popular!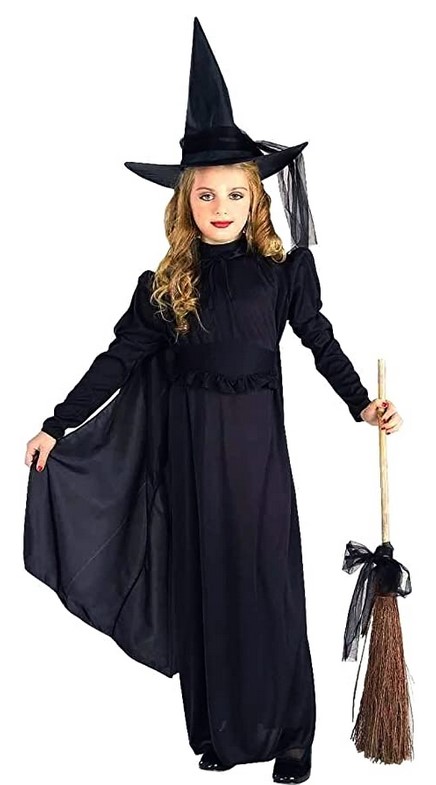 Halloween is a witch's party! The Classic Witch Child Costume is something that your child may want to dress in, partly because it's one of the less stuffy alternatives that'll surely help your child enjoy the holiday.
With the cool autumn air, this costume is the functional way to go! Mainly a traditional figure in the spookiest night of the year, witches owe their notoriety to different moments in history. Although it may seem a bit common to see them as costume themes, it's an idea worth considering.
The costume is made with premium polyester, making dress-up and clean-up a breeze. The whole set is inclusive of the black witch's hat with a mesh scarf – little touches that truly give the whole costume more flair. It also has a dress with a belt tapered at the waist for a great fit and an accompanying cape.
Although it is missing a few key items like footwear and the ever-so-famous broom that witches are known for, you can add these separate parts as you see fit (although the costume on its own is already a statement piece).
"Double, double toil and trouble" – This classic witch's costume never gets old and is perfect for Halloween Trick-or-Treating! Don't forget your transportation… your broom!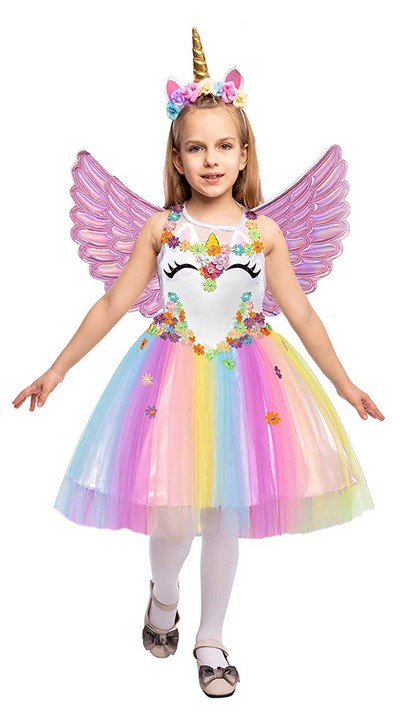 Rainbows, unicorns, fairy tales – the Unicorn Princess Pageant Flower Girl Tutu Dress gives your child the best of every part of the dream world she's always wanted with this costume!
It has a super feminine color scheme that's reminiscent of all the candies raining down on Halloween! In this outfit, your little girl will surely rake in more than a few praises from neighbors and Instagram likes!
Moreover, princess costumes never go out of style because their appeal doesn't age – from one generation to another, living as royalty has always been a dream for most of us.
The costume is a colorful tulle dress with small flower accents and unicorn lashes placed strategically in front. The dress also features a blue, yellow, and pink multilayered tutu made with 100% polyester (only the highest quality materials used for this costume).
The set also includes metallic pink wings, a golden unicorn headdress with pink and white ears peeking through, and beautiful flower accents (positioned as a flower crown). Perfect for a night of trick-or-treating, pretend play sessions, or even as a unique birthday outfit for your child!
Spark their imagination… Perfect for your girly-girl, this unicorn-themed dress is perfect for a Halloween costume or just for pretend-play!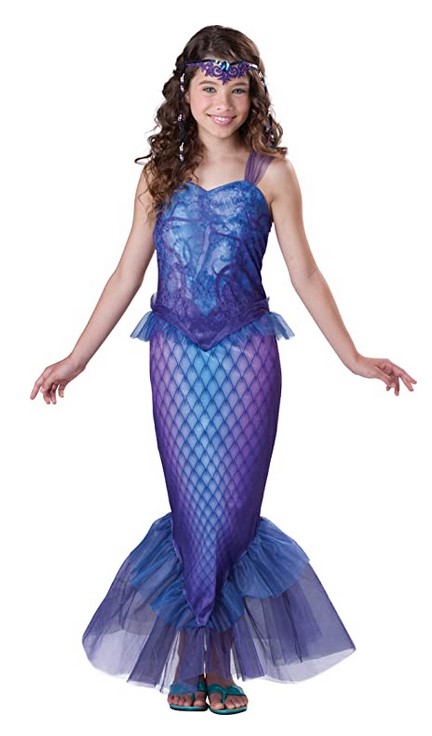 Look at this stuff, isn't it neat? The in Character Mysterious Mermaid Costume – Girls will surely make your daughter belt out a few songs from one of Disney's beloved greats!
Though it is as if the fish is out of the water, you will appreciate the attention to detail and superior quality materials used to complete this costume. If your child loves swimming or spending their days at the beach, then this outfit will surely resonate with her the most.
Moreover, it's a stunning outfit that doesn't come up that often—a good icebreaker to the creepy vibe that Halloween gives off. The costume is made with 100% polyester crushed velvet and tulle – this combination of materials makes the beautiful structure and form of this dress possible.
The best part is that it's fairly easy to clean! It's a one-piece pullover dress that is accentuated by ruffles and features cute tulle straps to keep it all in place. The blue and purple velvet bodice catch light like no other – it has ocean-like swirls that will surely turn heads!
We also love how the printed scales translate very nicely, making it all surreal and more realistic. Now that's a great costume!
This is perfect for the little girl who is enchanted with sea life… and the mystical life of the mermaid!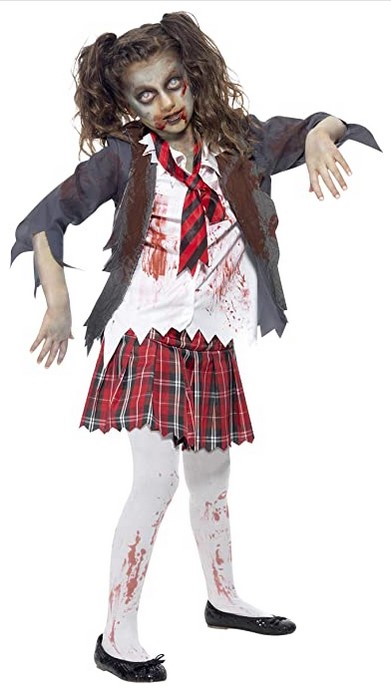 The Smiffys Girl's Zombie School Girl Costume will be the next big hit at your child's Halloween party! A good scare-fest entourage is never complete without a zombie in tow – it's a festive and kooky character that'll allow your daughter to let loose and get crazy.
If your child is older, introduce more visual elements to her Halloween costume. Let her express her creativity with body paint, homemade prosthetics, and—you got it—fake blood. No zombie costume is complete without it!
The costume is 100% polyester, which may feel a bit stuffier and less breathable, but given the conditions of autumn (cool, chilly breeze), then this may be perfect. It features the complete schoolgirl costume minus the immaculate feel of an actual uniform – white dress shirt with a grey jacket on top, distressed, and painted red in all of the right places.
It also has a red plaid skirt and a red and black tie that pulls everything together into a cohesive look. Your daughter can wear her hair in pigtails for an adorable touch, as well as knee-high stockings and some black leather shoes to complete the whole thing.
Just add a full moon! If scary is her cup of tea… this is the perfect costume!
---
Young Teens (12- to 14-Year-Olds)
16. iCos Red Cosplay Costume Halloween Girl Jumpsuit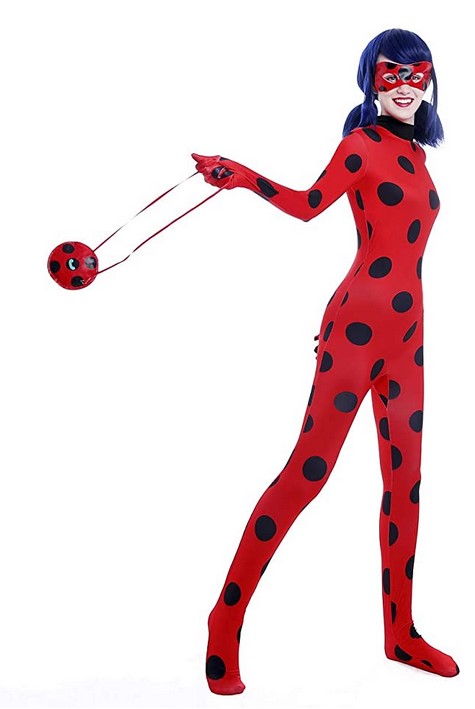 Say it better with red and black! The iCos Red Cosplay Costume Halloween Girl Jumpsuit may look like a more eccentric option for the season, but don't be fooled by its non-threatening facade.
When worn entirely, the costume looks incredibly flattering – with a color scheme reminiscent of a ladybug, the outfit seeks to shock spectators with its vibrant hue. We love how great it looks on young teens, who may want something a bit more beautiful and age-appropriate on the 'gram.
Because of the ladybug theme, you can wear it outside of Halloween, including themed birthday parties or even during school activities that may require a unique costume.
The costume is made with high-quality polyester and elastic Lycra, making for a better fit. Out of the bag, you will be receiving the red and black jumpsuit with exposed zipper closure, a matching mask that goes over the eyes, and the unique yo-yo bag.
We love how the bag takes the same colors as the outfit, making color coordination way easier. Since the jumpsuit is created like a large onesie, you will have to wear shoes over the foot part. You can also add a colorful wig to contrast the color combination.
This is great for your young teenager's next Halloween Boo Fest! They will be the hit of the party in this stylish onesie!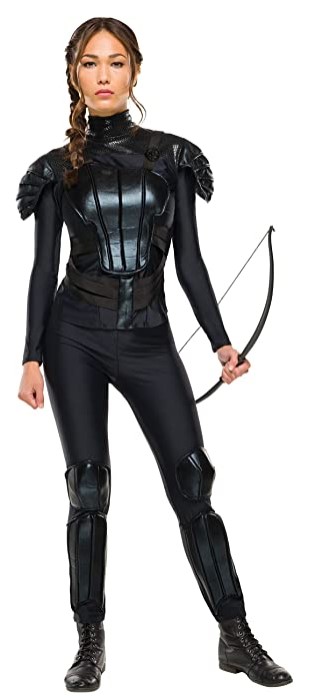 The Rubie's Costume Co Women's The Hunger Games Deluxe Katniss Costume needs no further introduction.
Your teen will surely volunteer to act as a tribute this Halloween with this officially licensed Katniss Everdeen ensemble. You can be sure about enjoying the highest quality materials used in this outfit.
If you want your daughter to dress up as one of the most prominent female protagonists in books and movies, take a hint and nudge her towards this choice. She'll love rocking this set on Halloween!
This costume is made with 100% polyester. The set includes a long-sleeved black top accented with different types of fabric (which adds more depth and dimension to the whole costume). The top has a pull-on closure that keeps everything together.
It also has attached armor and straps, and also includes a black Mockingjay pin. The black pants also have attached knee and shin guards, staying true to every notable bit of Katniss' most popular costume in The Hunger Games trilogy.
You can have your daughter pair it off with chunky combat boots and a bow and arrow, and voila! She will be ready to take on Panem by storm.
Is she a Hunger Games fan? If so, this Katniss costume is the perfect tribute to the strong character and… Girl Empowerment!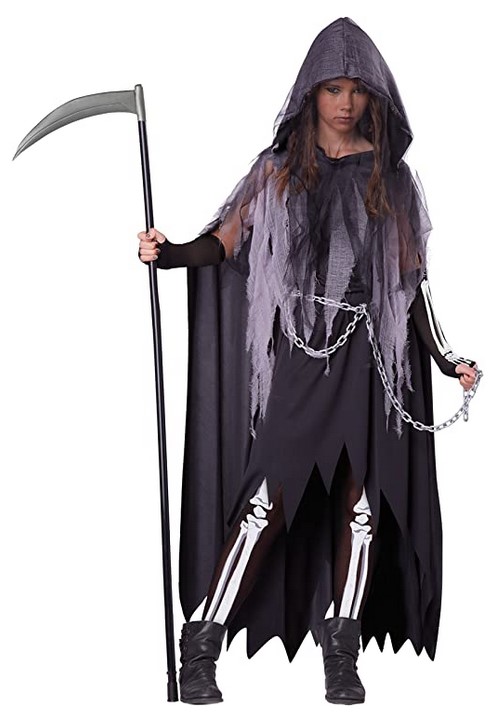 A female Grim Reaper? Yes, you read that, right! The California Costumes Miss Reaper Tween Costume takes no prisoners when it comes to giving onlookers more than a great scare.
The Grim Reaper is probably one of the most mysterious figures that we often see on Halloween, a scary skeleton figure that wears a dark-colored robe with a hood hiding their actual profile.
The chilling image was created as a response to the events surrounding the Black Death in the 14th century. If your daughter wants to portray a character that's dark and apt for the season, then this is the way to go.
The costume will make your daughter's goth into this Halloween come true – the set includes a strategically tattered pullover dress with an elastic waistband for a great fit.
Included in this ensemble is a hooded cape with a cowl collar, mesh drapes, and a face veil that adds to the mystery of the entire look! Underneath the layers of fabric, your girl will be wearing some tights and little gloves complete with a skeleton print.
Throw in the signature scythe, and your girl will rake in some serious Halloween scares!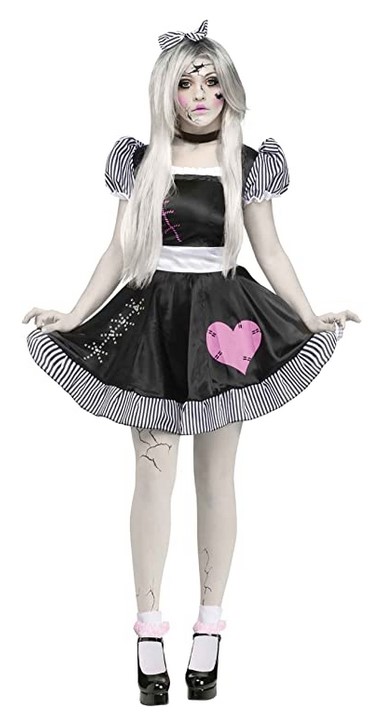 The Fun World Broken Doll Costume is another frontrunner in the Halloween costume department – a clear testament to the influence of the emo/goth era of the late 00s/early 10s, with touches of the Lolita doll culture that also coexisted with the said movements.
Black and white are the two colors that dominate this outfit; these are perfect neutrals that'll offer flexibility for accessorizing. The costume is made out of 100% polyester, while the tights are made with a nylon-spandex blend that'll surely fit well with the whole ensemble.
Because of the material, the costume is fairly easy to clean – you need to wash it by hand and let it air out to make it last longer. It includes a black-and-white dress with a satin bodice and princess seams out front.
It also features a square neckline with pleated white satin for a dainty touch. You can pair this off with white socks and black schoolgirl shoes for that dash of innocence and playfulness.
Another creepy option for the girly-girl who wants to be cute… and scary… all at the same time!
20. Disney Maleficent Movie Black Gown Tween Deluxe Costume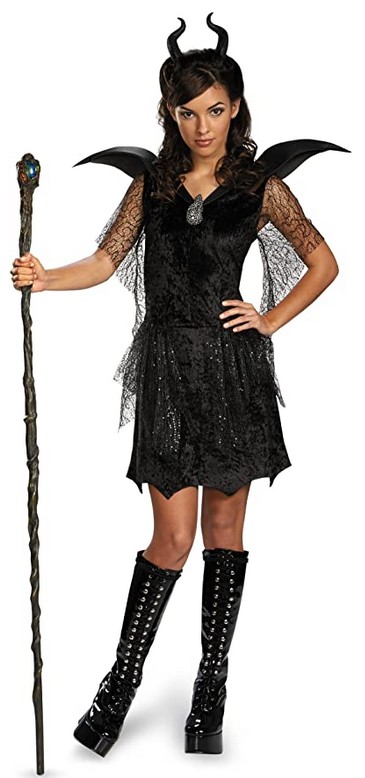 All hail the Queen! The Disney Maleficent Movie Black Gown Tween Deluxe Costume may seem a bit toned down for tweens, but it's a perfect costume for girls who want to bring out their dark side this Halloween.
Maleficent is the queen of female antagonists – from her introduction as the evil witch in Sleeping Beauty, up to the production of her very own movie franchise, she has proven time and time again that she's here to stay.
Wearing this costume would be such a power move for your teen! This outfit is an officially licensed Disney costume, which guarantees only the highest quality materials used to make this costume.
The polyester costume is a one-piece black dress with a suede-like texture that plays around with light, making it shine like no other.
True to form, it has the raised, three-dimensional collar Maleficent is known for, complete with a silver brooch that joins the ends together. You will also receive the Queen's crown piece – a headband with horns for that striking finish.
You can opt to add a separate staff and some knee-high boots to cart, and your girl will be ready to rock Halloween!