Babies start to eat solid food around four to six months, and choosing the right food can be a daunting task. So, what's best for your baby? There are so many options to choose from, and it's hard to know what to look for.
We wanted to create this list of the best baby food brands to help narrow down the options and make sure you find products to help your baby grow big and strong. Milk or formula contains enough nutrients for babies the first six months of their life, but as they get older, they need help boosting their nutrition as their body continues to grow.
It is essential to offer your baby milk before solid food to ensure that milk is their number one source of food until they turn one. You can introduce solids when your baby is about to double their birth weight, or they start to seem unsatisfied by milk alone. You can also look for things like holding their own head up or being able to sit on their own.
When making this list, we considered ingredients, taste, and most importantly, the nutritional value of each food on the list because, after all, we want the healthiest baby food for our baby. The food on our list, the top ten baby food brands, is for parents that want to make their own baby food, but don't have the time.
Starting with easy to eat food like the ones on this list is important to make sure they can easily swallow. We chose the best organic baby food brands that were not filled with additives or unnecessary fillers, which reduce the nutritional value.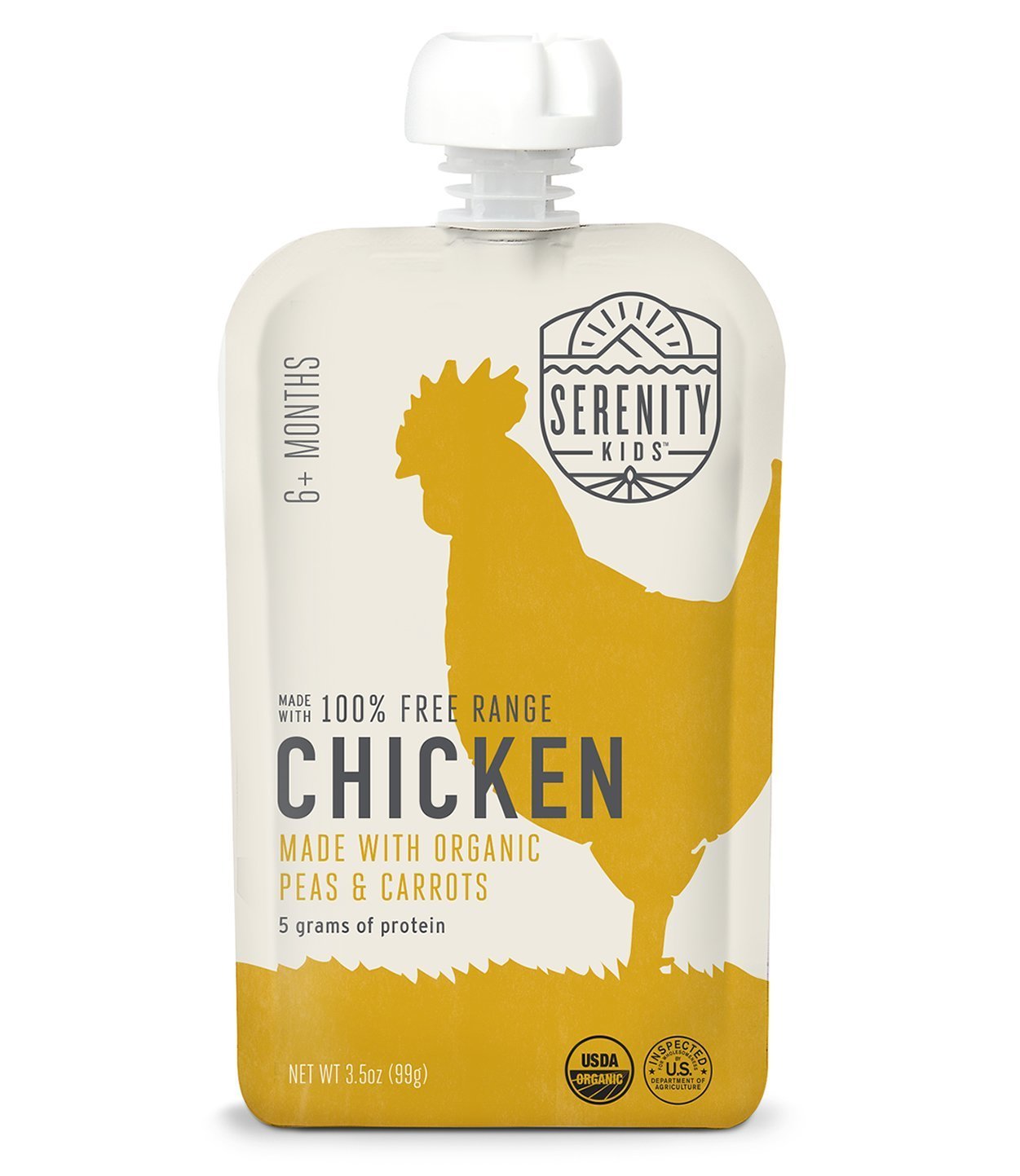 Serenity Kids is a unique brand that offers high protein food for your little ones to enjoy and is top-rated baby food.
They offer four meat flavored options which include Beef, Chicken, Uncured Bacon, and Salmon as well as a variety of vegetable options. There are not a lot of top baby food brands that offer meat options without using fillers like rice or beans.
Other companies only provide fruit or vegetable flavored foods because they think that they are the best first food for babies. Those foods are often full of unnecessary amounts of sugar.
Pros
There are no preservatives added to this food. It can sit on the shelf because the pouches go through a process where they are passed through high heat.
All of the vegetables are non-GMO (genetically modified organism) and certified organic.
Serenity Kids is one of the only companies to use organic meat without using a filler such as beans, rice, or oats.
Cons
During the heating process, the vegetables lose some of their nutrient quality.
Serenity Kids products are a little more expensive than other brands on this list because they use high-quality, natural, organic ingredients.
Opened pouches must be consumed within 24 hours unless they have been put in the freezer.
Order Serenity Kids Baby Food on Amazon!
Happy Baby is suitable for babies six months old and up. This brand combines a puree of two or three fruits and veggies together to create a great-tasting and smooth serving that your baby will love.
For happier tummies try these today; it is a fantastic option for children with sensitive stomachs. In addition, they are gluten-free. Let them discover new flavor blends as they learn to explore how to eat healthier from a young age.
You can buy a variety pack or individual flavors!
Pros
Happy Baby is the perfect choice for babies with sensitive stomachs.
Each product is gluten-free and certified organic.
Designed recipes with a child's taste in mind.
Cons
None! We are having a hard time coming up with any because this product is very healthy.
Check out the many flavors available on Amazon.com!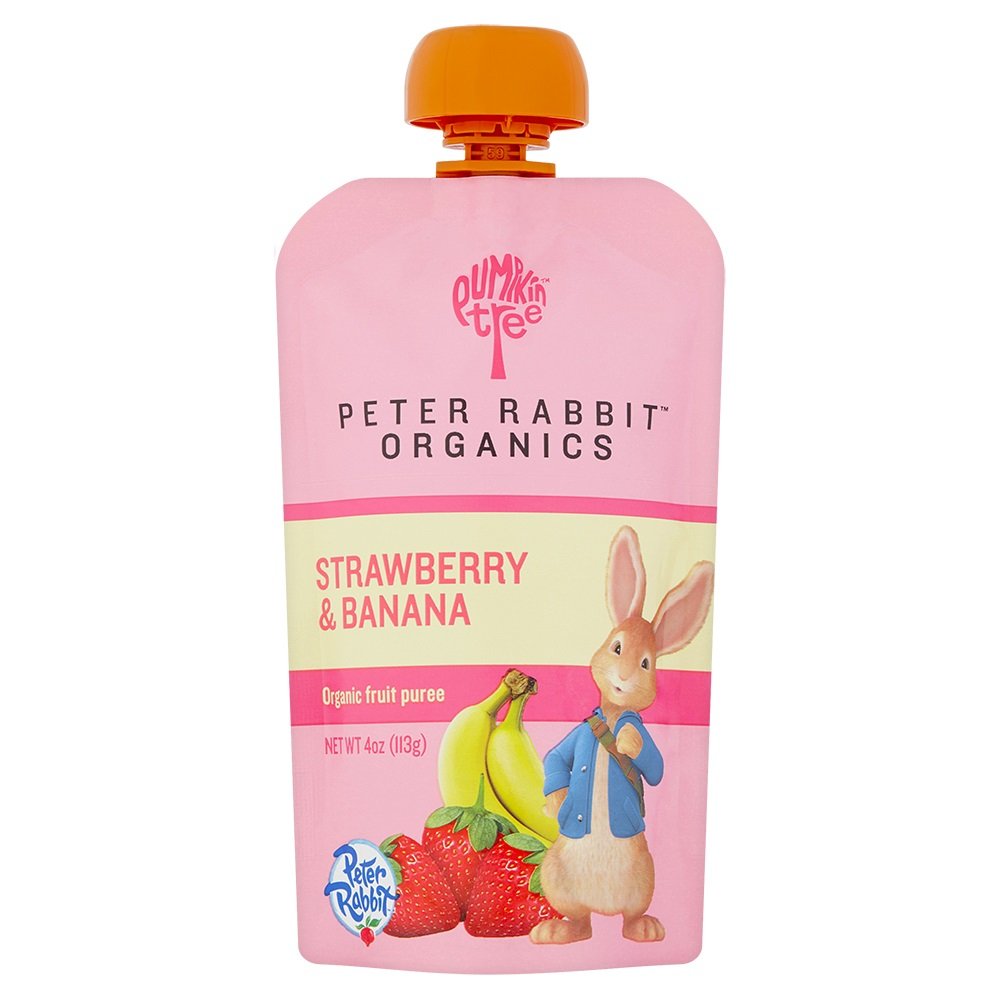 Peter Rabbit organics are known for their simple recipes. Each flavor was thoughtfully planned out with fruits and vegetables that go well together, which is nice because then your kids will actually enjoy eating it.
These products are non-GMO, free from ascorbic acid, and made with organic fruits and vegetables. Sometimes baby food is watered down, but that is not the case with this product. There are no additives or other fillers that make it look like you are getting more food than you actually are.
Another unique thing about this product is that the packaging is BPA-free, so you don't have to worry about harmful chemicals leaking into the food.
Pros
The Peter Rabbit brand baby food can be bought in many stores nationwide, so it should be pretty easy to find.
All of the ingredients are high quality and certified organic by the USDA.
Each pouch equals one serving and contains no cholesterol, no saturated fats or trans fats.
Cons
Peter Rabbit Organics might not be found in your local grocery store.
You can purchase many yummy flavors of Peter Rabbit Organics on Amazon!
4. LITTLE SPOON FRESH ORGANIC BABY FOOD
Little Spoon Fresh Organic baby food is the perfect choice for parents that want to make their own baby food but don't have enough time.
Each bowl was handmade, and that shines through in the quality of the food. With many flavors, textures, and benefits, you can't go wrong. Little Spoon Fresh Organic baby food is made with delicious purees with no fillers, preservatives, or added sugar.
Other brands tend to add supplements and other filler ingredients to reinforce the nutrients, but you don't have to worry about that with Little Spoon making it one of the best organic baby food brands. It's made fresh and delivered to your door every two weeks!
Pros
Little Spoon baby food was created by a busy Mom, just like you.
Each order is made by hand with only the best quality ingredients.
Every single batch is made to order which means that it is incredibly fresh.
Little Spoon is not pasteurized with intense heat, so all of the fruits and vegetables still have most of their nutrients.
They taste good straight out of the fridge or warmed up in the microwave.
Cons
It is best if your order online, so you will have to make sure that you stay on top of how much of the product you have left because you can't just run to the store and buy more if you want it to be made fresh.
How convenient… delivery right to your door! Check out their site for the many options they have to offer.
5. YUMI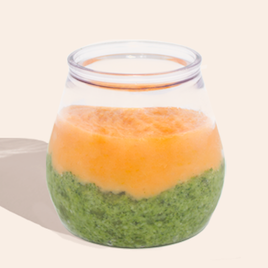 Yumi is a top baby food brand that offers unique baby food created by a team of doctors. Each product is tailored for your baby and their specific needs.
You have to order online and fill out a bunch of questions to determine how many times your baby eats per day and then you can pick if you want the variety pack or if you want the starters. All of this is explained more in-depth on the website, and it's straightforward to follow.
Each smoothie is made with superfoods that not only taste amazing but are also really good for your baby as well.
Pros
You order the food on a subscription basis, so you can fill out the questions once and then you don't have to think about it again until you want to change your order or cancel the subscription.
Yumi was made by a group of doctors so you can be sure that its good for your baby.
Cons
Yumi is not found in stores. It's only available to purchase online.
It can be a little expensive because all of the ingredients are organic and made specifically for your child.
Click here to purchase Yumi baby food straight from Yumi!
6. GERBER ORGANIC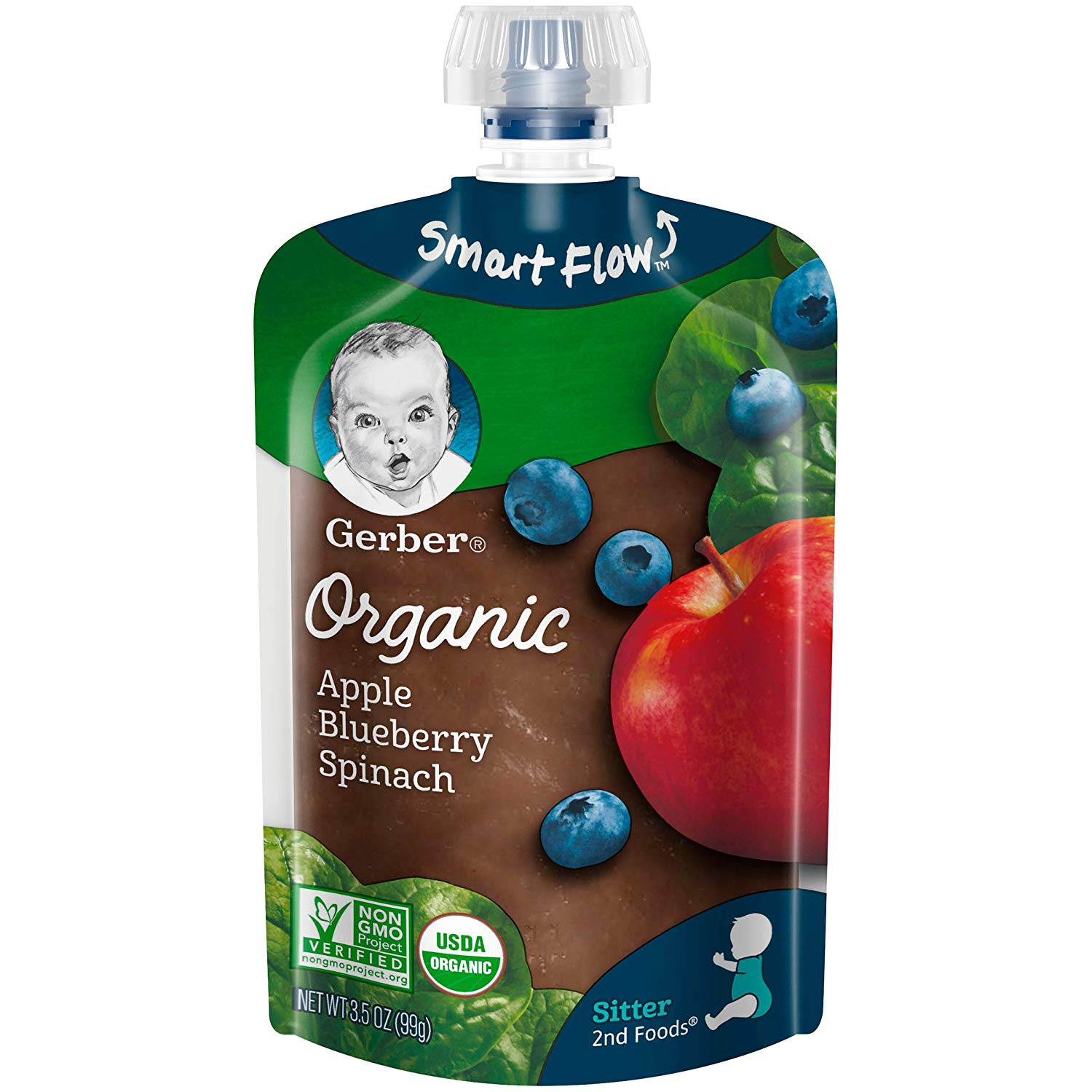 Is Gerber baby food safe? Yes, of course, it is considering that Gerber is one of the top baby food companies in the world!
Gerber is undoubtedly among the most popular baby food brand that has been a household name for many years. They offer fifty different organic flavors to choose from, so your baby will never get tired of the same old flavors. Gerber Organics are never made with extra starch which is an added bonus, and they are certified organic as well.
Gerber conducted a study that showed that kids aren't meeting the recommended amount of vegetables, whole grains, potassium, and vitamin D, so they set out to make food that meets all of those areas and more. Such attention to nutrition detail makes it the best grocery store baby food for parents who want the best value for their money and the best nutrition for their babies.
You can read all about clean field farming on their website. All of the ingredients used are GMO-free and very high quality.
Pros
Gerber Organic baby food covers a wide variety of flavors.
They grow all of their own fruits and vegetables, so they can assure you that their products are made with the freshest ingredients.
Gerber Organics, one of the best-rated organic baby foods, can be found in a wide variety of retailers.
Cons
The baby food has been pasteurized with intense heat to increase shelf life.
Some of the recipes include pureed fruits and vegetables instead of using the whole product so that decreases some of the nutrients that can be found in the entire fruit or vegetable.
Gerber Organics baby food options are available for purchase on Amazon!
7. PLUM ORGANICS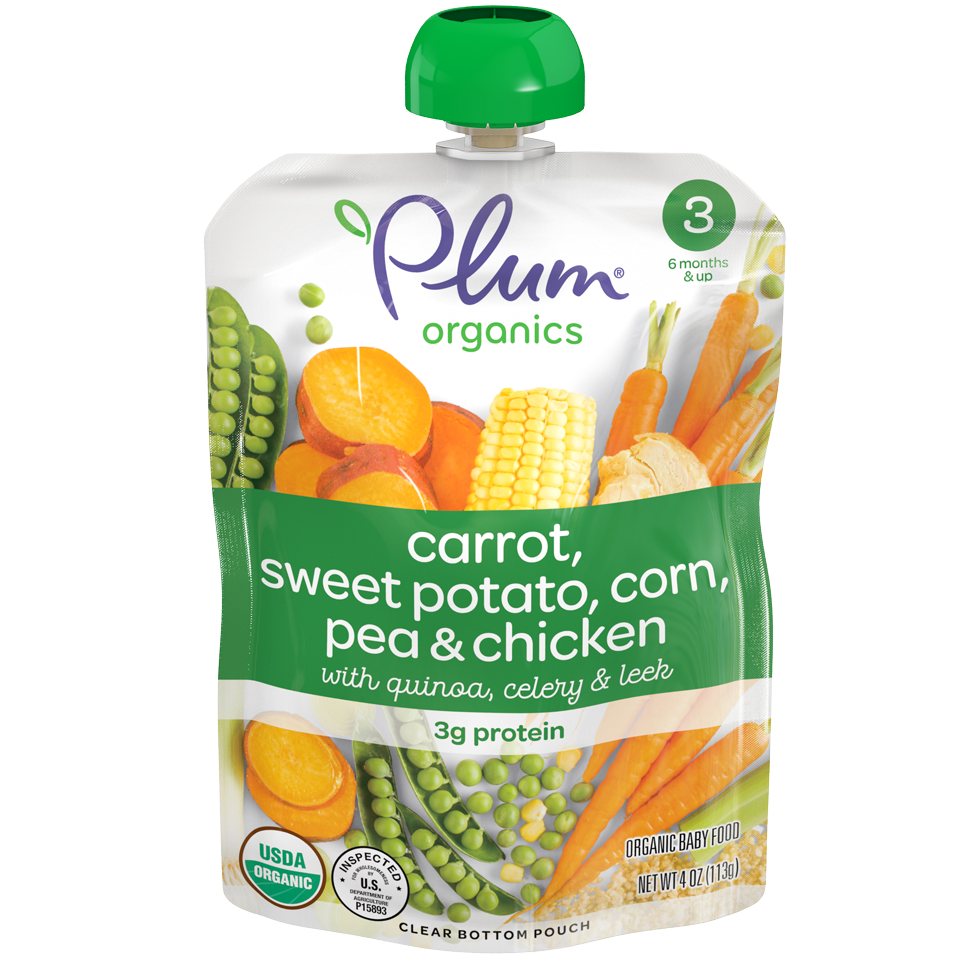 Plum Organics offers food for your baby through different stages of their first year of life. As your baby grows, their needs change, and so does this baby food.
All of the food is unsalted, unsweetened, and lightly cooked, so the fresh ingredients do not lose any of their nutrients. It's the best baby solid food brand if you're looking for a line of baby food that grows with your baby, so to speak. Plum Organics is the best stage one baby food to introduce your little ones to solid foods without overwhelming their developing pallet.
The stage two foods are for babies 6 months or older, and they are made with a mix of fruits and vegetables and other grains and yogurts. Stage three food was created to help your baby transition from baby food to actual table food. These blends are more intense in flavor and overall texture.
Pros
Plum Organics baby food has been designed to grow with your baby.
They are made with simple ingredients and no additives.
Plum Organics can be found at a few different big retailers so it should be easy to find.
Plum organics donate food to families that are in need.
Cons
Plum Organics are more expensive than some of the other brands on this list.
Some of the stage two food has ascorbic acid and lemon juice added for extra flavor.
Some of the stage one food seems like it has been watered down.
Interested in Plum Organics baby food? You can purchase it on Amazon and have it delivered to your door!
8. EARTH'S BEST ORGANIC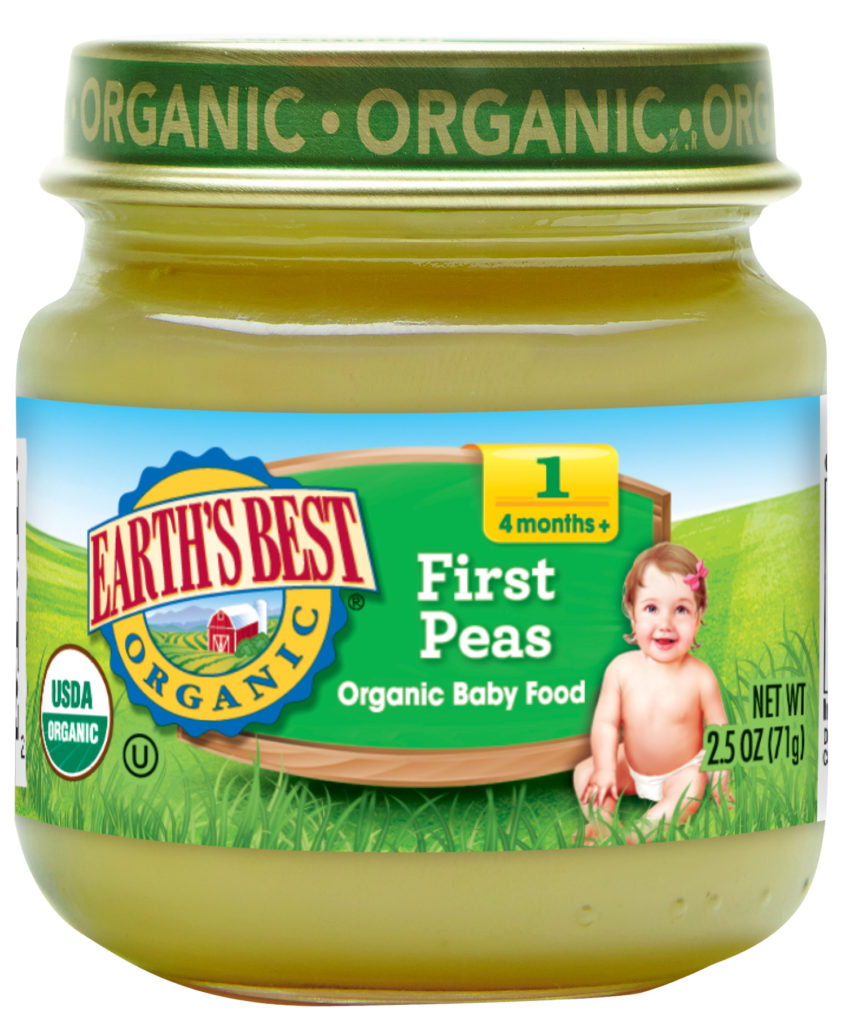 Earth's Best Organic baby food can grow with your baby and, thus, it's one of the top-rated baby food for parents who like to stick to a single brand. It's also the best baby food brand to start with since it has a stage one product line.
The food comes in stage one, which is recommended for babies that are at least four months old. They also offer stage two baby food that is good for babies that are at the six-month mark. Their goal is to keep their recipes simple so that they don't overwhelm the pallet with intense flavors.
They want each product to be as organic as possible to provide your baby with what they need to grow.
Pros
It is best consumed at room temperature, which makes it easy to travel with.
They have a whole team of experts researching which ingredients are the best for babies to consume.
They buy their products locally to make sure that they are as fresh as possible.
This food can be found in stores, and it is reasonably priced.
Cons
The texture of Earth's Best Organic is a little too intense for some children.
Some of the food is watered down.
They do not recommend freezing the food, so you won't be able to keep it long.
You may purchase Stages 1, 2 and 3 of Earth's Best Organic on Amazon!
9. HAPPY TOT ORGANIC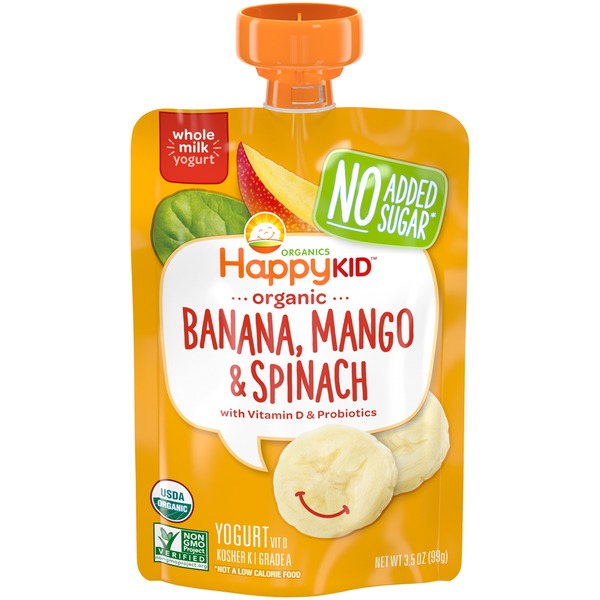 Happy Tot Organic baby foods are made with superfoods and, thus, may well be the healthiest baby food brand in the market today. It's also among the best natural baby food brands for sensitive babies or for babies with special dietary needs.
They are an excellent choice for babies with a lot of food allergies because all of the products are peanut-free, fish and shellfish-free, gluten-free, dairy, and egg-free. The website has an allergy filter, so you can see which foods are perfect for your baby, and said feature contributes to its reputation as among the best baby puree brands – babies, after all, are vulnerable to allergies so an allergy filter makes perfect sense.
Your baby will be able to get the daily recommended amount of fruits and vegetables in one pouch of this food. Your babies need to eat lots of protein and fiber as well to help their growing bodies.
Pros
Happy Tot Organic is perfect for babies that are picky eaters because their recipes were designed to be simple and tasty.
This food was made with non-GMO products and is 100% organic.
This company does all they can to make their products with the earth in mind. All products are packaged with reusable and recycled products.
This company was founded by a mom, so you know that you will be getting food that you would approve of.
Cons
None! We are having a hard time coming up with one because this product is good for your baby and good for the environment.
Happy Tot Organic is available in variety packs on Amazon.com!
10. ELLA'S KITCHEN
Ella's Kitchen was created by a father that wanted to make sure that his daughter could eat the best food possible. His goal is to make food that tastes good but also allows him to do good for local communities by giving back.
There are many different tasty options for your babies to enjoy. They have fruit smoothies, textured meals and fruit, and veggie combos – indeed, it's the best baby food brand for 4-month-old babies and older because of the wide variety offered.
These products are certified organic by the USDA.
Pros
Ella's Kitchen provides excellent options for babies that need a special diet because they have gluten-free, lactose-free, and vegetarian options.
Ella's Kitchen offers many different flavors options so you will find one that your baby will love.
Cons
Ella's Kitchen pouches cannot be put in the freezer, or the texture of the product will change, and ingredients will separate.
The price is a little higher than other brands because a lot of extra work goes into making these fresh and with the best ingredients possible.
They do not have a dedicated facility for their products, so the products may have come into contact with one of the main allergens during production.
Ella's Kitchen pouches come in many yummy flavors! You can purchase the mangoes, pears, and papayas blend here!
*********************
What is the best baby food? There's no right or wrong answer here since it will depend on your baby's age, stage of development, and personal preferences as well as your lifestyle and budget. Your baby's first solid food may be a fruit puree or a combination of milk and infant cereal – and you will still be making the right decision either way!
But if you're confused about the best quality baby food for your precious one, you may want to think of it in stages.
Stage 1 baby food (around six months old) should have a thin, drippy consistency, such as finely pureed fruit or vegetable without pieces or chunks. We suggest going for a single-ingredient first food so as not to overwhelm your baby's tastebuds.

Stage 2 baby food (7-8 months old) have a slightly thicker texture, with one or more ingredients for more complex flavors. Start with small amounts and let your baby become accustomed to the flavors and textures.

Stage 3 baby food (9-12 months old) have a thicker texture with more pieces and chunks for a chewable experience. Add finger foods, too, but stick to well-cooked veggies in small bite-sized pieces, soft foods, and O-shaped cereals.
Always compare baby food brands when you're shopping for commercial baby food, too! You must compare their nutritional values and ingredients; check the expiration date; and check for the depression in the center of the lid (popped-out buttons are a sign of spoilage, leakage or tampering so skip these bottles).
The good baby food brands take great care in ensuring that their products comply with the safety rules and regulations of government agencies, too. You may want to be aware of food recalls and the like.
And then there's the question about whether organic baby food is better. While the jury is still out, we suggest giving your precious one the healthiest organic baby food you can find – Plum Organic and Gerber Organic are great examples. You can't be too careful when it comes to your baby's health!
---
related baby and toddler "stuff"