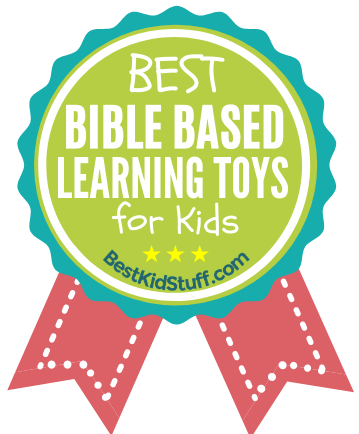 Play is an important aspect of every child's life. Several play types help kids express themselves, such as physical play, playing with objects, symbolic play, pretend play, and rules. Moreover, play helps develop the brain's structures by focusing and enjoying the process of learning to help them pursue a goal (or, in this case, winning a game).
Infants enjoy playing using their senses using touch or hearing. Rattles and other tactile toys such as wooden sets with colorful graphics are ideal for this age. Reading to them at an early age also engages them to play and interact.
Toddlers are likely to play using board books or those with simple illustrations or photographs. Wooden toy puzzles can also boost critical thinking among toddlers. Fabric picture books and stuffed toys that are at least 1 1/4 inches in diameter with 2 1/4 inches in length are ideal for preschoolers.
During middle school, children ages 6 to 8 years old will develop more social bonds with friends. Toys fostering cooperative or competitive play such as board games and monopoly games are ideal entertainment for them. Games that foster family bonds such as the Bible Bingo and scrabble help develop better social bonds for those in their pre-teen years.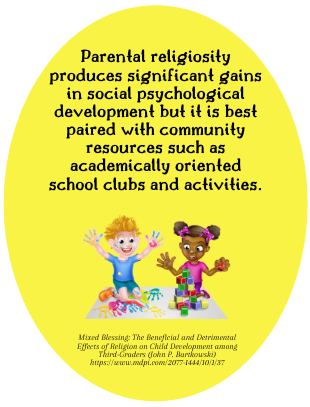 According to UTSA sociology professor John Bartkowski, faith-based learning may enhance social competence and better psychological adjustment among kindergarteners. Another study from the American Journal of Epidemiology also pointed out that raising children with religious affiliates have better mental health and overall well-being as they are growing up to adulthood.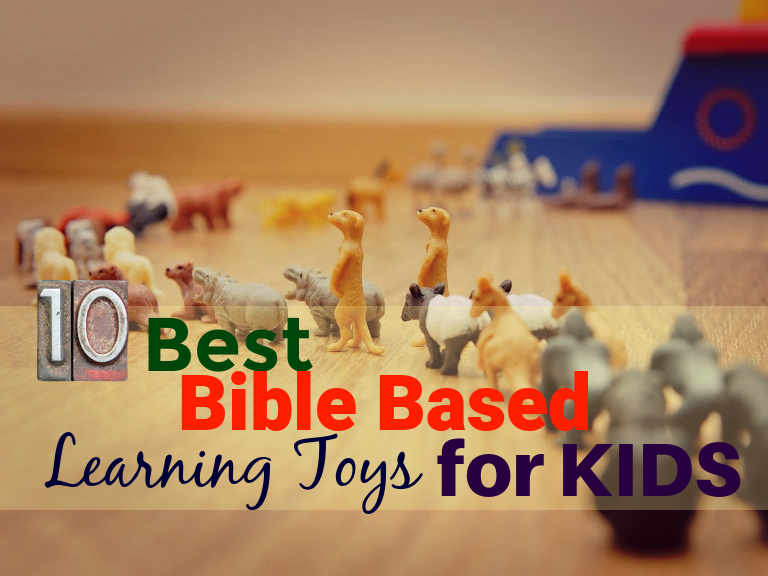 1. EverEarth – Giant Noah's Ark with Animals & Figures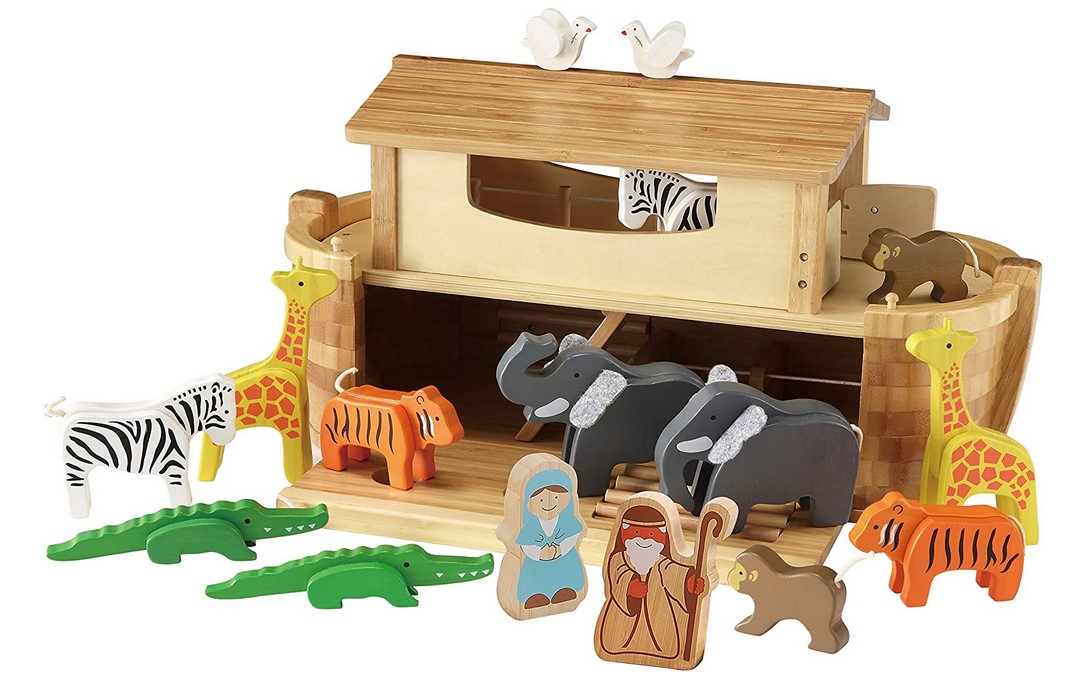 Revisit the wonders of Noah's journey with the EverEarth –Giant Noah's Ark with Animals and Figurines.
This EverEarth product aims to help children rethink the traditions of the past. This Bible-based toy is made of sustainable rubberwood that is in keeping with its campaign for forest preservation.
This is an eco-friendly toy set depicting the biblical story Noah's Ark. It contains a large ark with several animals like doves, giraffes, monkeys, elephants, and tigers all set in pairs.
Each animal is colorfully painted with kid-friendly paint that is safe for daily use. These water-based paints don't chip easily, so your kids can enjoy this toy for longer. This beautiful wooden set is artfully crafted to appeal to kids ages 36 months to 5 years old. It's a perfect distraction for solitary creative play or with other kids or siblings.
For young children, this would be an ideal introductory visual presentation of significant Bible teachings. Noah's story can come to life (and imagination!) when kids get to role-play as they learn about the meaning behind Noah's great quest!
This vibrant piece also helps improve their fine motor skills. The toy pieces can be held with just the right grip for toddlers to encourage muscle build-up in these intricate parts such as fingers and wrists. It also makes it easier to tell stories as the child plays along with these pieces too!
It encourages shape recognition by helping the child identify what kind of animals are present on the set. Having them to identify these animals develops their knowledge of these animals in real life.
During playtime, you can insert fun facts about these creatures, so your child develops a wider concept and respect nature and wildlife.
Each set comes in recycled packaging in keeping with EverEarth's advocacy. This is perfect for a child's first Noah's Ark toy!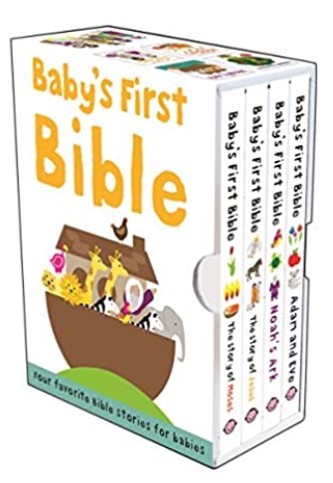 With its vibrant illustrations, let the Baby's First Bible Stories Boxed Set come to life as kids learn about wonderful Bible stories of Jesus, Adam and Eve, and Moses!
Characters inspire this creation by Roger Priddy in the Bible, where God's mighty acts are shown through these people. Illustrations are based on selected stories to inspire children of their remarkable journey of faith, hope, and love.
The storylines are made simple, so children ages 1 to 3 years old can comprehend. With the assistance of a caregiver or parent, kids can learn along visually as it is being read aloud by an adult.
If you're considering this as a baptism gift, this beautifully crafted book encourages literacy and story analysis to help them understand the significance of their journey.
These illustrated books help your kids comprehend as they learn to read. Picture books like these also help in language development as they learn new words along the way.
It also encourages them to ask the meaning of those words to widen their vocabulary. Beginner-level learners would greatly benefit from this storybook!
Visual tools help uncover your kid's imagination and analysis skills. This Bible Stories Boxed Set uses a narrative with colorful illustrations to enhance your kid's language comprehension.
Make their first reading experience memorable by introducing them to this boxed set for only $13.31!
Storytime is made more fun and whimsical as kids learn the exciting journey of great people of the faith in the Bible.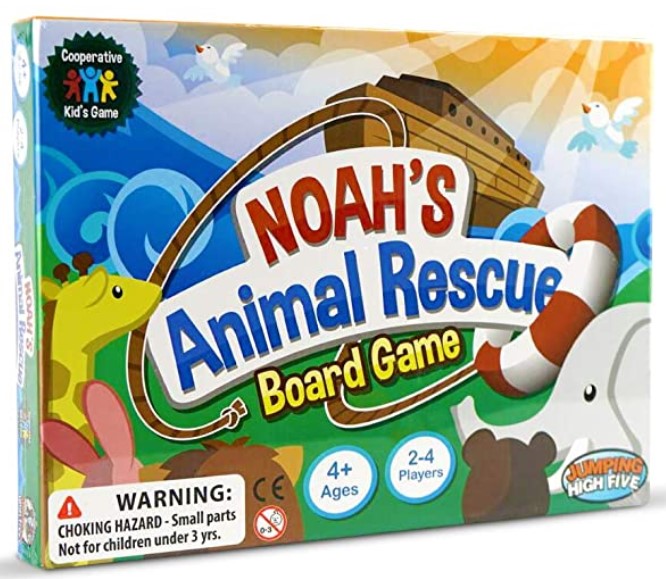 Noah's Animal Rescue Board Game by Jumping High Five is just the right set for a fun game for two to four individuals!
For an educational game board, this creation by Jumping High Five illustrates a concept taken from the Bible. Noah's ark is a popular story that they may have heard from school or church.
Each set contains one game board, 13 rain circles, five animal tokens, 36 terrain cards, and one rain token. Noah's journey inspires each phase of the game in securing the animals inside the ark.
Intended for children 4 to 8 years of age, this board game encourages cooperative play. The objective is to get everyone involved in planning the next move to save all the animals before the flood arrives.
Ideally, this game is set for two to four players and teaches children to work together to achieve one goal. At the end of the game, everybody wins!
It's an ideal tool you can use to help them build confidence and social skills. The game involves a lot of interaction, so it encourages them to give insights and work together. It also tinkers with their problem-solving skills as the board game provides unique challenges every step of the way.
Scheduling downtimes is made more fun with this set. It's an ideal game set to play with your children during lazy afternoons.
Building friendships and family bonds are more fun when everybody aims for the same goal. This toy delivers that! It's lightweight, so kids can also take this toy with them during camping trips and play with their friends.
They can also bring this to their outdoor playhouse and spend some time playing with a couple of their friends as part of their sleepover activities.
Learning is made fun and affordable with this unique game set! Teach them about Noah's journey!
4. Pockets of Learning Nativity manger Play Set
The Pockets of Learning Nativity Play Set is your ideal plush toy set with a significant story to tell!
This item by Pockets of Learning intends to stimulate the mind and touch. Using colorful and soft fabrics, these small stuffed toys represent the story of Christ's birth and depicts a journey of pure faith. The fabric creche is made of plush and includes 10 figures.
This cloth playset is perfect for a child's first Nativity set for the Christmas season or is worthy of a story told all year long. In addition, you may store the pieces in the creche when the doors are closed for safekeeping!
It will also make a great prop for bedtime storytelling. Aside from its cute set of plush toys, you can introduce the Nativity story to them while using this set. Let the set serve as a physical illustration to make the journey more vivid while fostering their creativity. It's a visual treat for them, and they'll be able to appreciate the significance of the toy set you bought for them.
This colorful set is ideal for small boys and girls ages one year and up. Because it is lightweight, this playset is easy to carry around during short trips to the park, the beach, or the next-door neighbor!
You can get creative and use the pieces separately for other stories. This way, bedtime stories can seem more lively and interactive as the child follows through the story with actions and visuals.
It's a perfect solution to keep your child engaged in quiet play. You can use this as a perfect distraction for your little one!
5. Melissa & Doug Noah's Ark Shape Sorter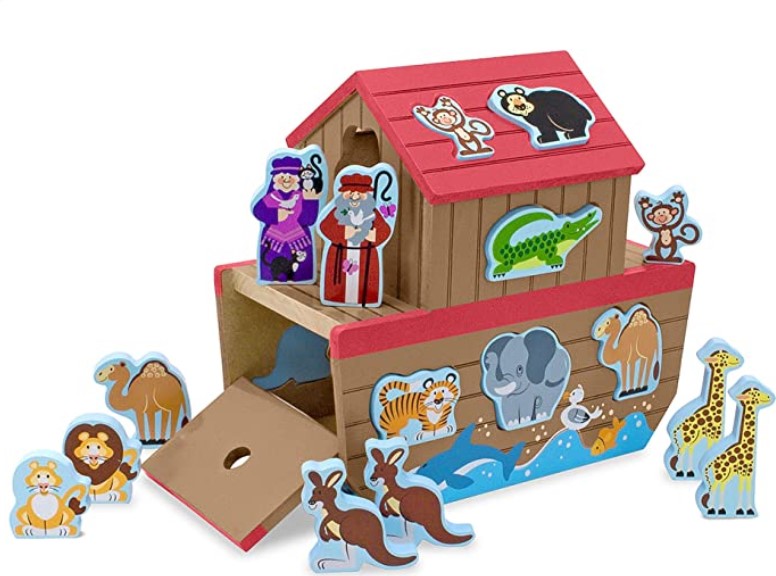 The Melissa & Doug Noah's Ark Shape Sorter is a classic toy set with colorful characters illustrating Noah's journey.
This Melissa & Doug product brings back traditional toy sets that are well-crafted to appease the tactile senses. Bringing back classic wooden toys provides safe, economical, sturdy, and non-sophisticated toys suited for young children. In this toy set, kids can find various animals in pairs or individuals, such as giraffes, kangaroos, lions, and camels, to name a few.
They can also find Noah with his shepherd's staff and his wife beside him. Sticking to its original illustration, the ark comes in a safe, kid-friendly, and high-quality wood suited for everyday use. It's a two-story ark where children can easily flip open the doors to accommodate the wooden pieces.
Environmentally conscious parents may find this toy set an ideal gift for their children for birthdays or holidays. It's made of sustainable but high-quality materials that they could also pass on to their siblings in the future. Compared with plastic ones, this is non-toxic and won't leave any paint residues that could be fatal for their health.
This classic staple wooden set also encourages cognitive development by fitting in animal pieces in the selected holes. Not only does this introduce a memorable story, but it also improves their literacy, problem-solving skills, and knowledge of animal species.
Made of high-quality wood material, this product guarantees long-lasting use. You wouldn't mind getting this toy bashed and thrown around since it's made of high-quality wood material. Unlike digital options, this is not brittle and won't risk any malfunctions due to digital glitches.
It's a versatile toy set you can use for other stories aside from Noah's. The little animal inserts can be used as props to help tinker the imagination.
Adults can create another story from these animals. It can also be used by your children as individual toys to play with their siblings, friends, or classmates in school.
From a trusted name in high-quality toys, Melissa and Doug Noah's Ark Shape Sorter is great for young toddlers!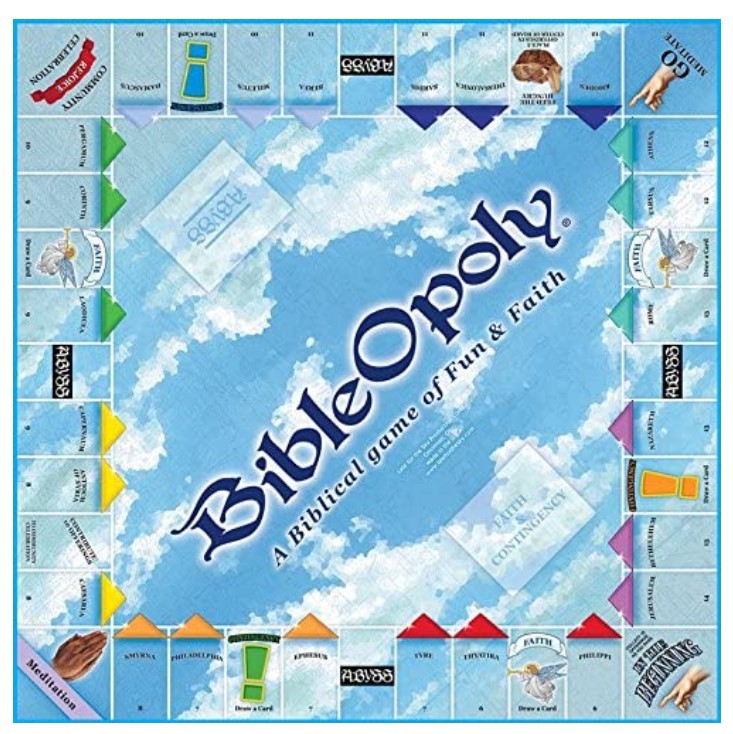 The Late for the Sky Bibleopoly is your Monopoly version of an exciting journey of the Bible's cities.
This Monopoly-style board game is an ingenious product by Late for the Sky to introduce fun facts about the Bible to little kids. It combines Monopoly's property trading concepts except that the events occur in key areas in the Bible. It can accommodate two to four players to journey to cities, community celebrations, meditation, and an occasional "Abyss."
The goal is to earn a cornerstone, a reward for those who help a fellow player, do offerings, or do community service. Accumulate these cornerstones to get bricks and steeples to build a church. If you get the Meditation, you could lose three turns from the game.
It offers a great wealth of insights for kids to learn about Bible stories and their significance. Unlike Monopoly, where you accumulate wealth, you need to gain good deeds to win this game. It teaches kids selflessness by doing more for others than personal gain.
It's an ideal introductory game to teach children ages eight years old and above about the Bible's key details. It's a fun game they can share with friends, so it's learning and having fun at the same time!
It's a perfect after-Sunday school game to play with their siblings or church friends and foster better relationships in faith!
Let the trivia begin… with the Children's Bible Trivia game!
Ideal's Children's Bible Trivia presents this classic board game in hopes of having young ones learn more about their faith. It's a custom trivial game that children ages six years old and above (and even adults) can enjoy! It can accommodate up to six players.
It's an ideal gift to give your niece, nephew, or grandchildren… if they're looking for a bit of a challenge for their next trivia game night!
This game will improve their bible-related vocabulary and comprehension capacity. It's highly recommended to help your children adapt to various bible concepts based on the King James Version of the bible. It's a fun and educational tool at the same time!
The object of the game is to finish your flight up a beautiful rainbow by answering questions in each Bible category, including The New Testament and Wisdom, Old Testament, Geography and History, Prophets and Miracles, as well as Names, Letters, Numbers, and Sequences.
These questions are configured for children and it includes over 1000 questions! Let the competition begin!
Go for classic games where your kids and the whole family can enjoy spending time together. Put the FUN in learning life-long bible-related lessons! This is great for family game night!
8. Noah's Ark Tabletop Balancing Game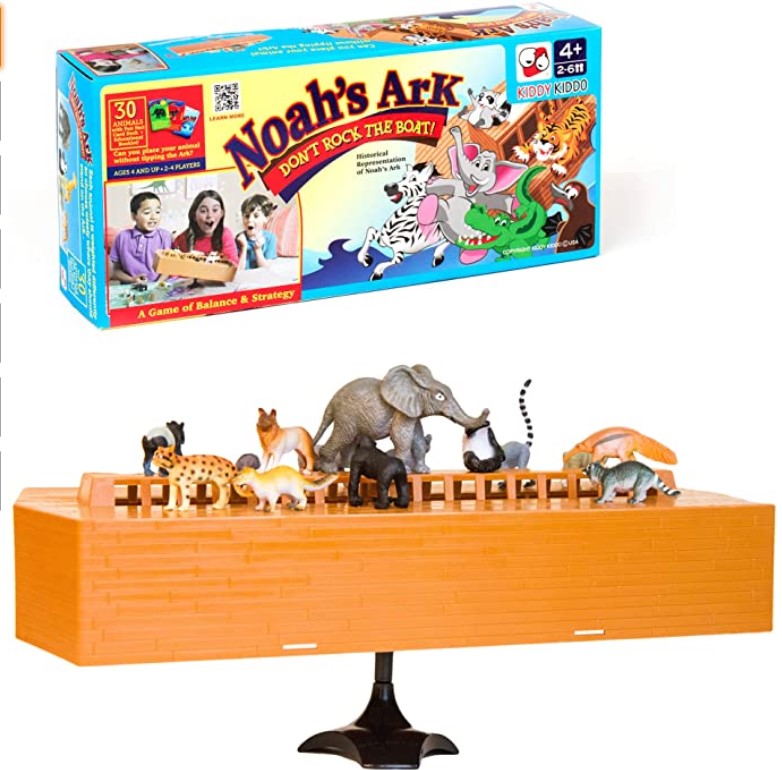 Get your child to play and think creatively with the Noah's Ark Tabletop Balancing Game!
This unique toy set is a product of Sunlite to build the genius in your kids. It contains 30 pieces of animals in pairs, one ark as a balancing board, and a balancing tip. The game's goal is to bring animals of various weights on top of the board without tipping over your side.
Each animal has different weights, so it challenges their problem-solving skills as they add more animals. The ark can tip over 360 degrees, so the goal is to keep the animals from falling off it!
This game allows for up to 6 players. This fosters good competitive play with their siblings, friends, or classmates. Looking for a fun distraction during a long afternoon? You could use this as a tool to bring your family together for some bonding over chips, iced tea, and some brain flexing!
It's an interesting concept that requires analysis. Kids may find this game focus-intensive, so it keeps them away from their digital devices.
Using high-quality materials, you can never go wrong purchasing this set for your kids. Each animal is finely crafted with kid-friendly paints. Each set also contains informative playing cards with interesting facts about each animal.
It's a great learning tool for curious kids! This looks like so much fun… even for adults!
9. Dicksons Noah's Ark Friends Children's Matching Game
Bring inspiration to life with the Dicksons Noah's Ark Friends Matching Game for young children! Beginning at age three, little ones can begin to sharpen their memory skills with this fun bible-based activity.
This creative product by Dickson takes kids on a make-believe trip on Noah's Ark as they pair up the animals to make a match… just like Noah!
Through creative cardboard illustration, this one comes with lessons that kids can glean from the Bible. What better way to impart morals and values to little children than using these inspirational cards as you illustrate how Noah obeyed God's commands?
The multi-colored graphics are easy on the eyes and simple enough for children as young as 3 years old to enjoy. You can lay the card facing up to let them match similar designs. Older children can play with this facing down and have them memorize the spots they place the cards until a match comes up.
Each set comes with 41 pieces of inspirational cardboard graphics. This is a great study group activity for your kids at home or in a church class setting! Bring Noah's story to life!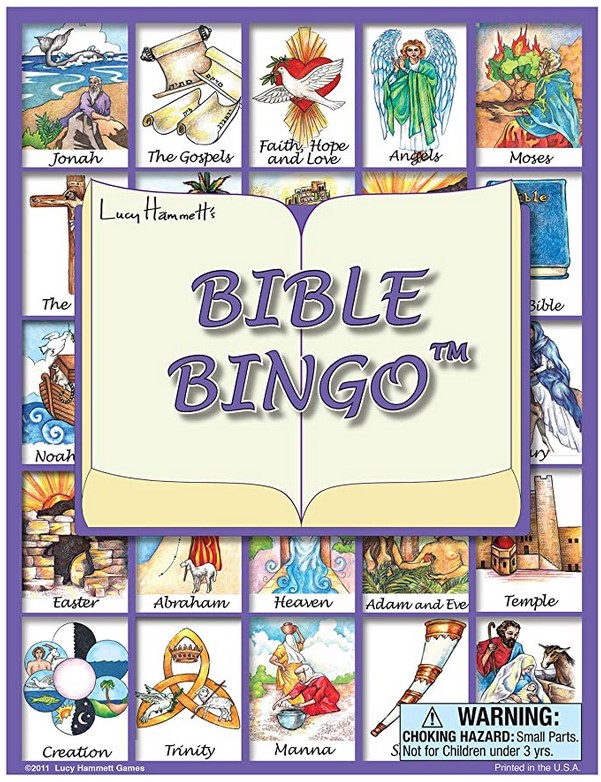 Friday nights and holidays just got cozier with the Lucy Hammett Games Bible Bingo Game! This set by Lucy Hammet Games is an exciting Bible-themed board game for kids and the whole family. Ideally, it can accommodate up to 6 players, so there's room for more people to join in the fun. Kids three years old and up can enjoy a good game of creative bingo.
Kids learn better when they learn and play at the same time. This item adds a bit of twist to the traditional bingo game. It is filled with facts on significant events that are written on each card.
Unlike your traditional bingo card game, this one comes with a unique set of instructions to keep the game interesting. Suggestions are found on each box's back, so your kids, their friends, and the whole family can enjoy a unique game of bingo each time!
Each set contains 42 picture cards designed with visually-appealing graphics in the front and fun facts at the back. You can also use these as educational cards to help your children understand better these Bible concepts, especially younger kids.
This kid-friendly bingo game may help develop hand-eye coordination and comprehension. Throughout the activity, they can move the pieces around while teaching them to follow the game's rules.
Throughout the play, kids could develop strategies to help them win the game. Depending on the kind of rules you're following, kids can find creative ways to plan and make good decisions to achieve their goals.
Whether it's for a Sunday school activity or just a friendly bingo game with the kids at home, you don't have to look far for hours of entertainment with this item!