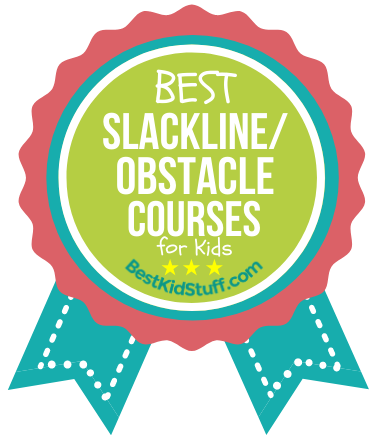 Approved by Britt Lynn
At some point in every child's life, they will want to pretend to be…you guessed it… a ninja! From different obstacles like gym rings, climbing ropes, rope knots, and monkey bars, certain activities and sports make them want to pursue becoming legendary warriors.
Setting up a backyard ninja obstacle course poses an excellent attraction and enjoyment for your little ones. They can train just like the characters and heroes they see on the big screen.
Playing on obstacle courses have great benefits!
As physical activity is one of the most crucial elements in staying healthy, these slackline and obstacle courses engage kids in exercise at an early age. These flexible ninja obstacle courses can help improve coordination, build core strength, and increase stamina.
It is also an effective method to introduce them to climbing walls and zip lines and other stimulating sports that entail physical and mental aptitude. Before kids start practicing, they should be in a safe environment.
There are many slacklines and obstacle courses available on the market.
Here are some considerations when selecting the best backyard ninja obstacle courses: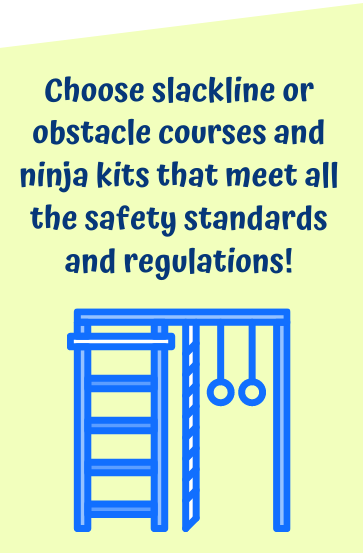 Skill level: First, opt for a backyard ninja obstacle course kit that has a versatile model for your kids' growth. Choose something that your children can use over time as they improve their skills from being beginners, intermediate learners, and expert-level players. Consider their experience when purchasing and playing with it. Children at the beginner's level shouldn't be playing expert-skill–or they will give up easily!
Accessories: Always consider the accessories in the course kit, such as ratchet protectors, training line, mainline, training line, ratchet for the mainline, and tree protectors. Other accessories such as spinning wheels, climbing ropes, and cargo nets can add challenging obstacles for these little ninjas along the way. These attachments are essential for this physical activity.
Quick installation: While most have an easy-to-install mechanism, obstacle courses may require an effortless process of assembly. Some come with step-by-step instructions or manuals.
Safety: And finally, choose the ninja kits that meet all safety standards and regulations. Consider the maximum weight capacity (most do have a weight limit), because not all equipment types can handle several kids playing at once.
No longer are obstacle courses only in your local gym – Now you can have one in your own backyard!
Now that it is possible to bring ninja obstacle course entertainment into your outdoor space, below are some of the best backyard slackline and ninja obstacle courses available on Amazon, perfect for your aspiring little ninjas at home. So let's find out what each selection offers!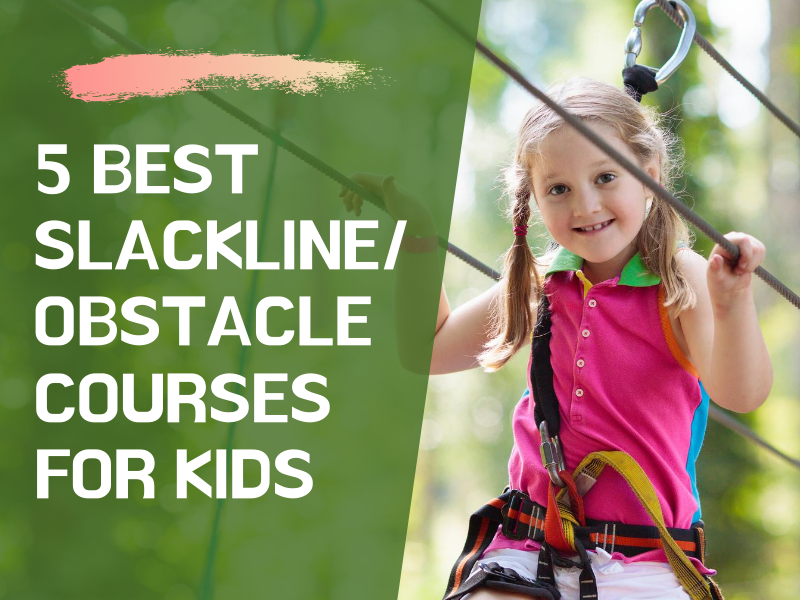 1. Trsmima Ninja Warrior Obstacle Course for Kids – 50′ Ninja Slackline Kit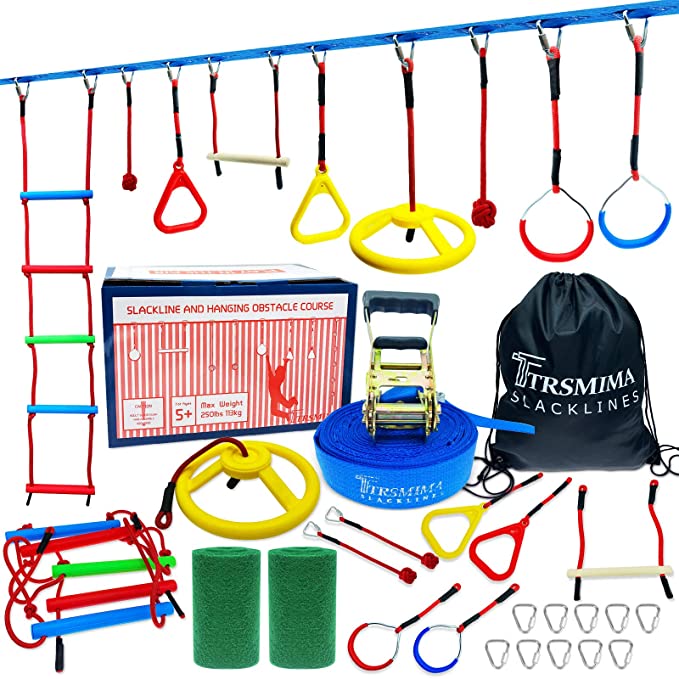 Create your backyard gym for kids with the Trsmima Ninja Warrior Obstacle Course. Perfect for ages five and up, children can train like little ninjas as they overcome obstacle courses of different level difficulties in this obstacle course kit
The Trsmima Ninja Warrior Obstacle Course is the longest slackline obstacle course on our list. It has challenging courses with ninja training accessories that include slackline, gymnastic rings with bar, monkey bar holds, and rope knots. The featured 50-foot ninja slackline is 10 feet longer than other regular obstacle course kits. These features help boost their balance and improve their responsiveness in the most fun ways.
Advocating environmental preservation, the kit comes with an extensive tree protector to protect your slacklines and trees from wear. Additionally, it has a swing wheel and rope ladder. From climbing, gripping, and jumping, this can improve your little ninja's responsiveness, inspire their competitiveness, and develop their sports hobby at a young age.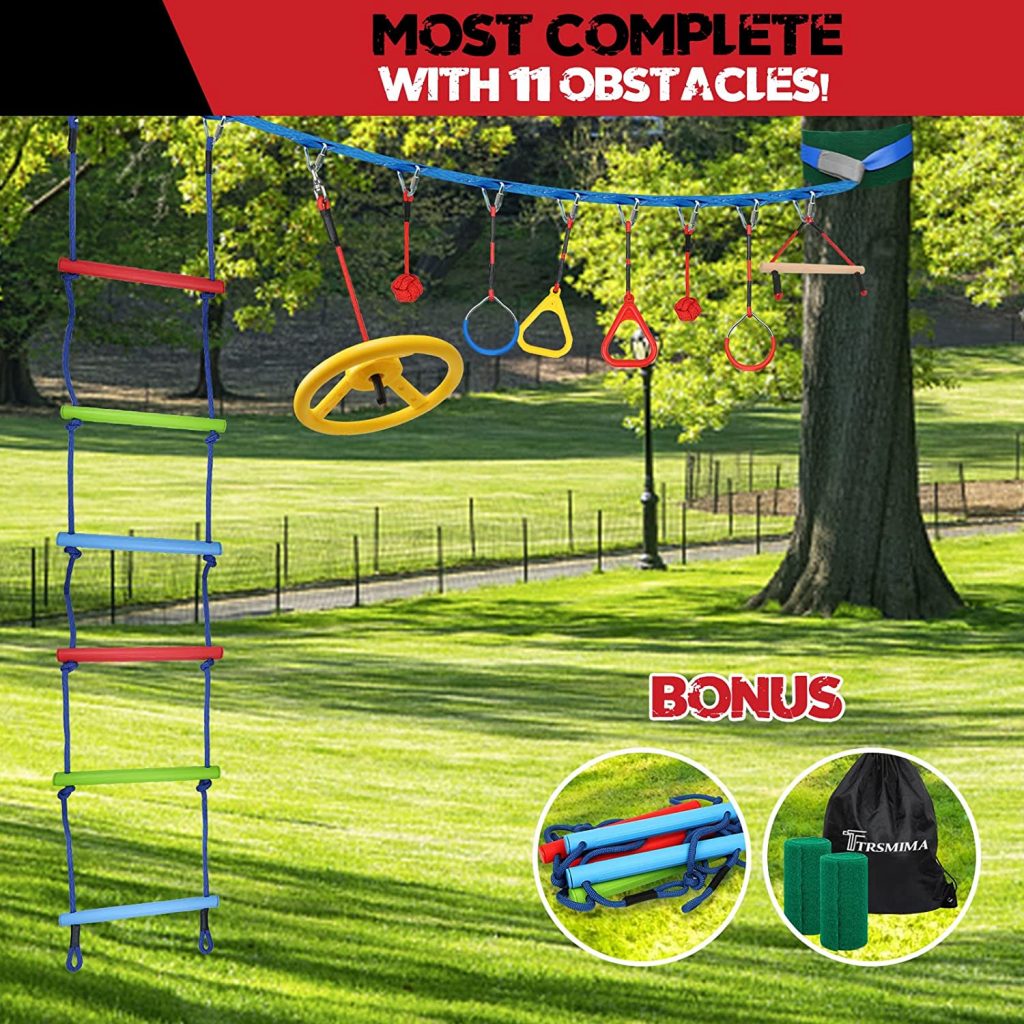 It includes a unique trapeze swing and two slacklines where younger ones can hang on. They can jump, climb, and grab their way to top as these slacklines and rope lengths are also adjustable. Instead of a fixed position of obstacles, this course kit can be adjusted to obstacle positions.
Trsmima Ninja Warrior Obstacle Course has super-strong anchors that offer reliable support. It has a sewn rope joint and cover tape for your young one's safety! Another advantage is that it can carry a maximum weight limit of 440 lbs. With this loading capacity, it can accommodate multiple kiddos, whether they are a beginner or a mini-athlete, as they overcome these obstacles in healthy competition!
Children can enjoy this slackline/obstacle course in your backyard, playground, basement, or trips to the beach and parks. While the initial set up may take most of your time with the metal webbing buckles, users can get it done quickly as in their second or third set-up and upon takedown.
2. FQMAO Slackline Ninja Training set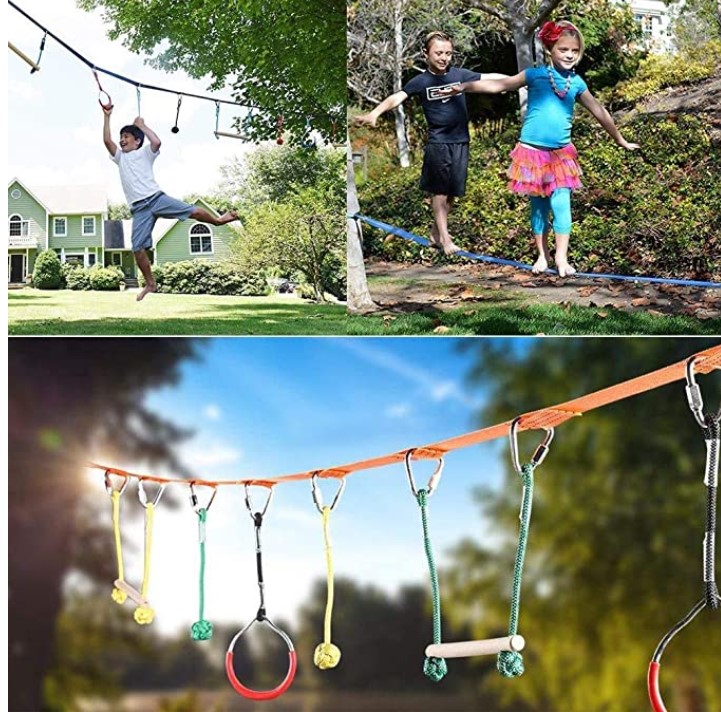 The FQMAO Slackline Set Ninja Training Set is a user-friendly training kit for mini- warriors both indoors and outdoors! This fun ninja obstacle course is ideal training for beginner ninjas who want to learn and little pros who are looking to upskill their balance and strength!
The FQMAO Slackline Set Ninja Training comes with 40-foot slacklines with 12 pockets for DIY exclusive obstacle course kits. It also includes three webbing knots, two monkey bars, a 40-foot slackline, two gymnastic rings, a carrying bag, and two tree protectors.
As they make their ladder line for training, they can adjust the monkey bars and gymnastic rings based on distance and order from each other. You can remove or add additional obstacles as each stage of life needs a different challenge! Designed for versatility, kid ninjas can raise the level of difficulty of their mini-training from easy to difficult as they progress!
One of the major highlights of this obstacle course kit is that of the high-quality industrial material. From the climbing frame assembly slackline to the wooden monkey bars, they are guaranteed safe. As always, it will always be safety first and protection to our little ones before playing!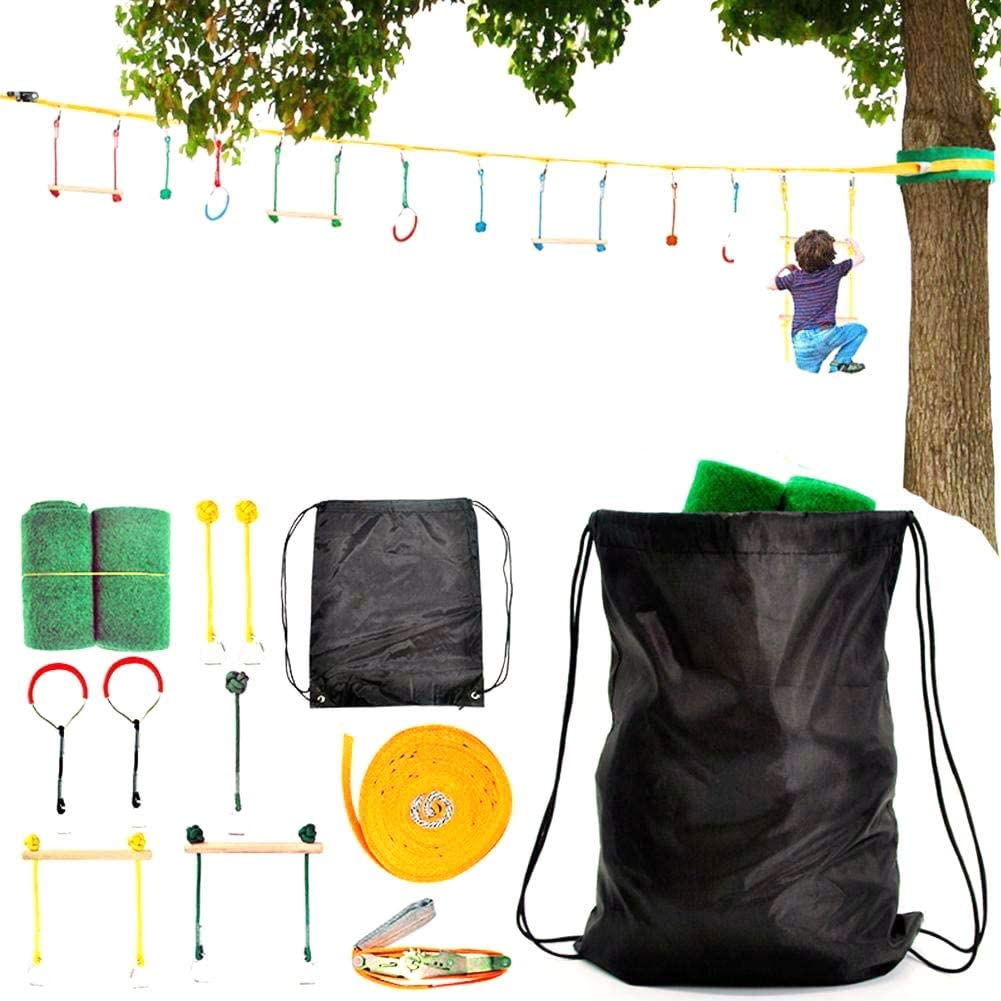 Throughout the manufacturing process, the FQMAO Slackline Set Ninja Training is made of heavy-duty materials, tested to sustain very high forces and several tiers of quality control. With its sturdy structure, it gives a full body work out among kid ninjas and sharpens their concentration. This also improves both their balance and the strength of their lower extremities!
Another advantage of purchasing this ninja training set is that it is quick and simple to set up anywhere. The user-friendly design can be set up and taken down effortlessly so kids can proceed immediately to training and playing.
Whether for forest camping, backyard or playground fun, fitness classes, this portable set won't disappoint! The FQMAO Slackline Ninja Training Set is designed as a kid-friendly and safe product that delivers endless hours of ninja fun!
3. B Branton Ninja Warrior Obstacle Course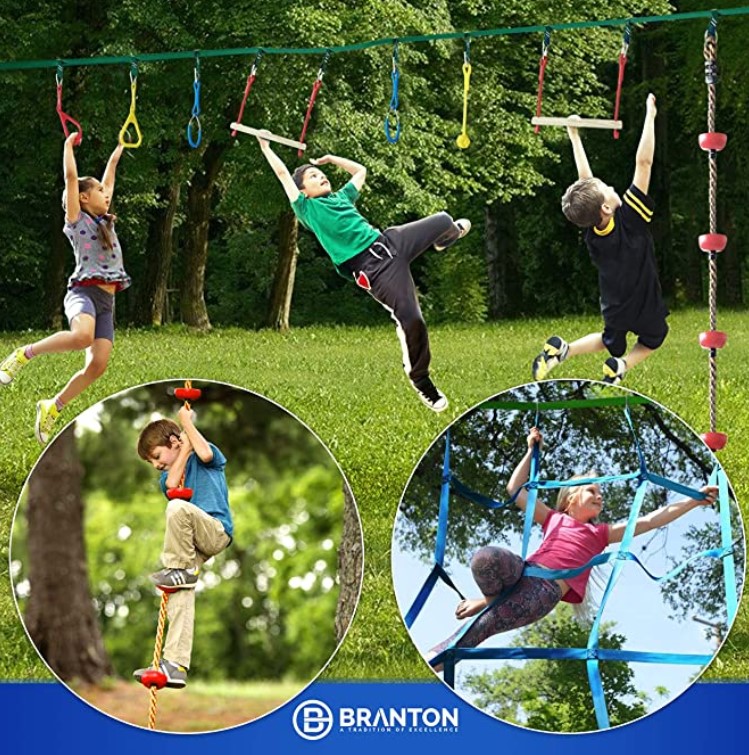 Encourage your kid's ninja quest to begin and upgrade their warrior skills with this signature B Branton Ninja Warrior Obstacle Course. Recommended for little ninjas five years and above, this ninja warrior kit is a multiple-skill obstacle course that will surely let them love the fun of outdoor activity!
This obstacle course features accessories that ninja kids will surely enjoy while becoming a ninja. This includes a 50-foot ninja slackline with steel ratchet, obstacle net, monkey fist, monkey bar holds, swing, gymnastic rings, and a swing strap.
The exclusive accessories and customization of spacing accessories apart have all that it needs for these children to become a Ninja master in the future. The slackline is made of high-quality material that can be used as a tightrope. Its attached heavy-duty steel rachet is the reason for efficient tensioning and easy release.
The adjustable loops also help to easily slide to any position. The swing strap, which comes as a bonus, allows the swing to be used on a slackline or horizontal branch or beam. Besides, it can also assist athlete kids in their training.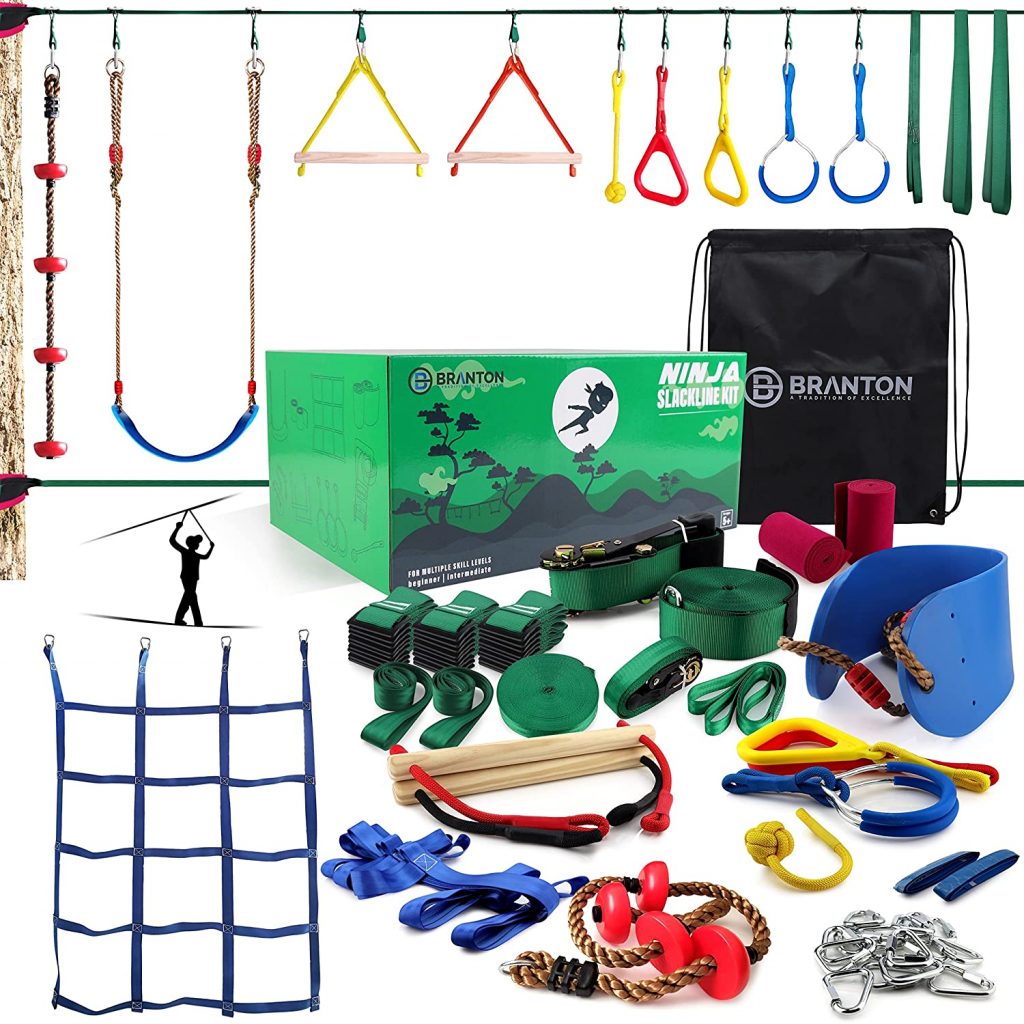 The well-designed thick non-slip felt wrap with velcro fastening is an effective tree protector from abrasion. With their unique attachment design, you can place obstacles as close or as far as you want to give them fun and training on multiple skill levels. From beginner to advance, these mini-warriors can create a variety of course set-ups.
In this ninja slackline equipment, kids will enhance their physical strength and stamina as they climb, swing, jump, and race their way to fitness and amusement.
This exclusive ninja training warrior equipment has a presentable and gift-ready packaging for your aspiring little ninja warriors. Also, this set is super versatile, easy to set up, and safe to use. Simply hang it between two solid trees, and the ninja action is ready to go!
It can be converted from an obstacle course line into a slackline within 10 minutes by removing all obstacles and bringing the line down for a change in the child's workout.
A unique mechanism in the accessories of this course kit makes the locking onto the slackline safe and secure. As a warranty for this ninja kit, it has a 100% money-back guarantee if the customer is not satisfied with the product. Indeed, the Ninja Obstacle Course is great for children to learn and train like a ninja warrior!
4. Jugader Ninja Slackline Obstacle Course for Kids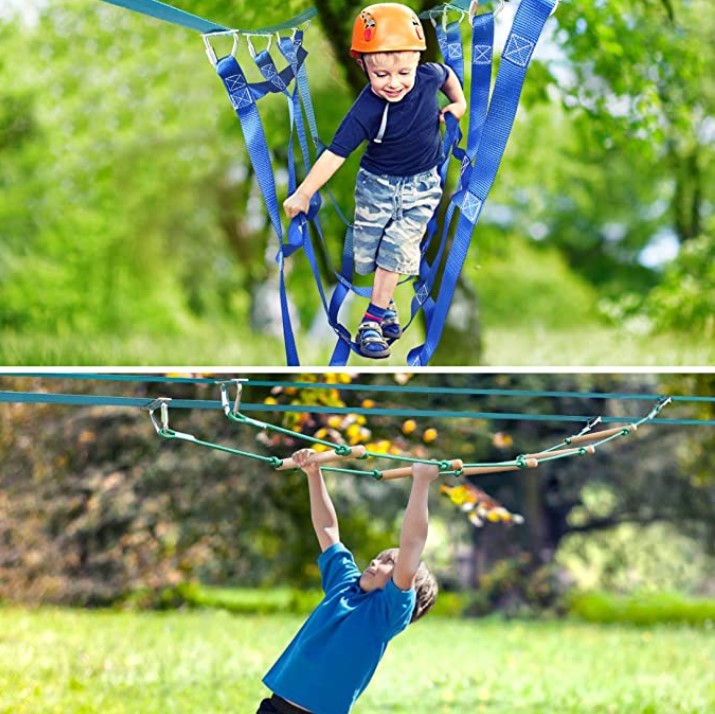 The Jugader Ninja Slackline Obstacle Course is a perfect outdoor playing tool for your children. It helps kids five years old and up to improve their balance, strength, and concentration. An ideal gift for birthday or Christmas holidays, it can be set up in backyards, parks, summer outings, and parties!
This obstacle course has a unique double line design. All the obstacles are listed below:
2 50- foot ninja line,
a climbing net,
a swing,
a ladder,
a long monkey bar,
two monkey bars,
4 gym rings,
2 rope knots,
22 buckles,
22 carabiners,
2 flat bars,
4 anchors,
2 tree protectors,
and a carry bag.
It can support up to 250 pounds as its maximum weight limit.
What makes this product a standout among others is its unique double line design. The two 50-feet ninja lines can be hung by one line or double lines. As the lines are doubled, so does the fun and entertainment for these little ninjas. In two lines, children can conquer 12 different obstacles.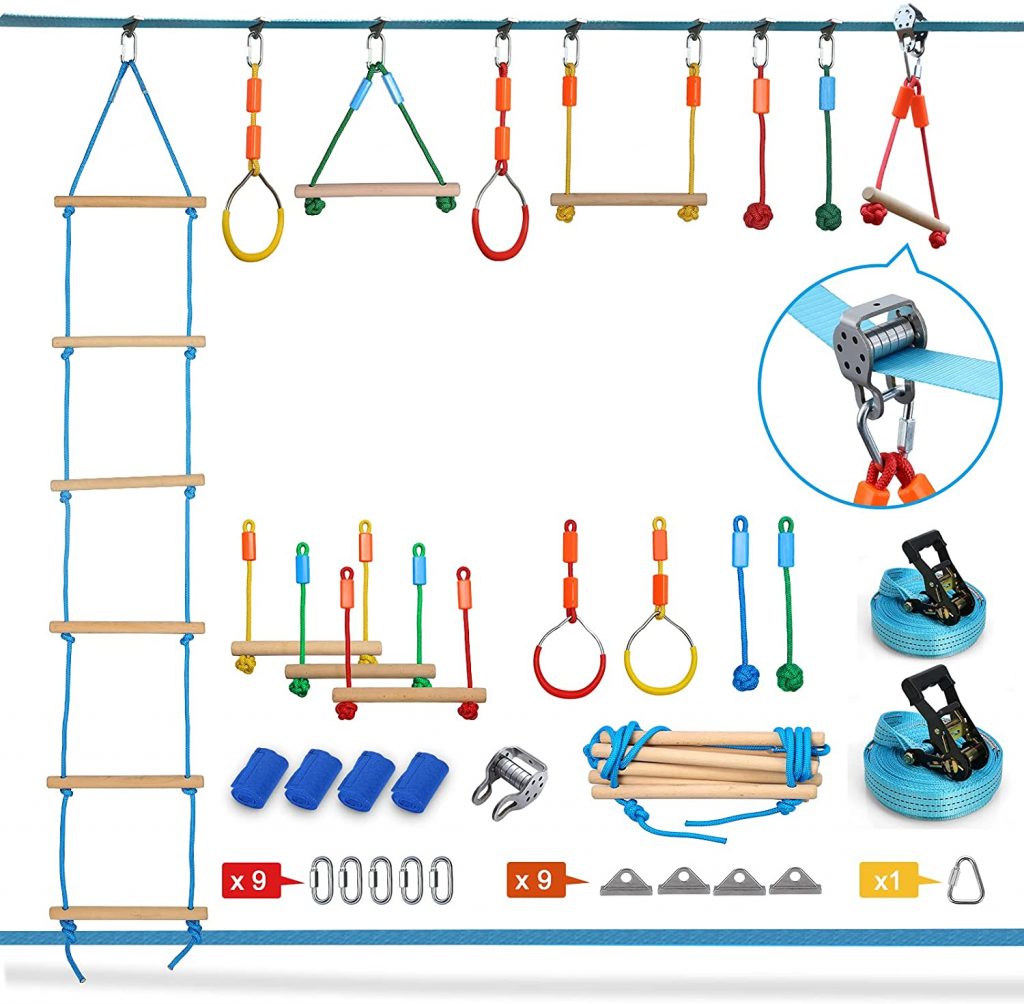 The climbing net and ladder can be installed in two ways, which can also add to their challenges outdoors. The long and short monkey bars, great for building upper body strength, are hung perpendicular to the course, where gym rings extend the course or rope knots can fill a gap.
It is up to you to customize and add more obstacles to make it physically enjoyable for these little ones! With no fixed distance and fixed obstacles in the Jugader Ninja Warrior Obstacle Course, it offers more set-up choices for outdoor fun that surely children will never get bored!
There is another advantage of having a double line aside from the range of customizable obstacle courses. With its unique double design, the Jugader Ninja Warrior Obstacle Course offers more safety. As it prevents bouncing, the lines won't go flying and twisting as children let go of the ropes.
The double line option takes more time to set up. If you still find it difficult to install, you can watch the available video for their reference. The manufacturer also has a 100% customer service if you or the kids aren't happy with the product.
5. X XBEN Ninja Warrior Obstacle Course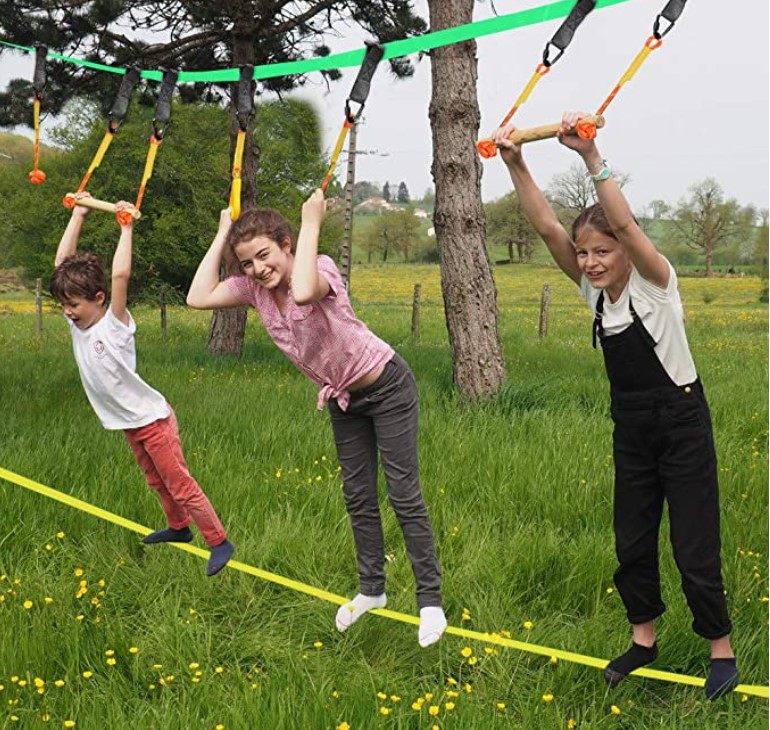 Children will have fun playing and training as real ninjas with the X XBEN Ninja Warrior Obstacle Course! X XBEN has been selling sports items and outdoor games on Amazon for many years. These kids can train like a ninja, skip, climb, and jump as this ultimate obstacle course has a lot of outdoor fun choice, too!
The kit has a multiple skill levels with customizable ninja equipment. Comes with eight complete kits, the ninja package is composed of 50-feet slackline kits with training line, monkey bars, safety strap buckles and delta rings, gymnastic rings, rope knots, and fist holds among others. Both the slackline has a high-grade ratchet, and the monkey bars are made with the best-graded pine wood quality.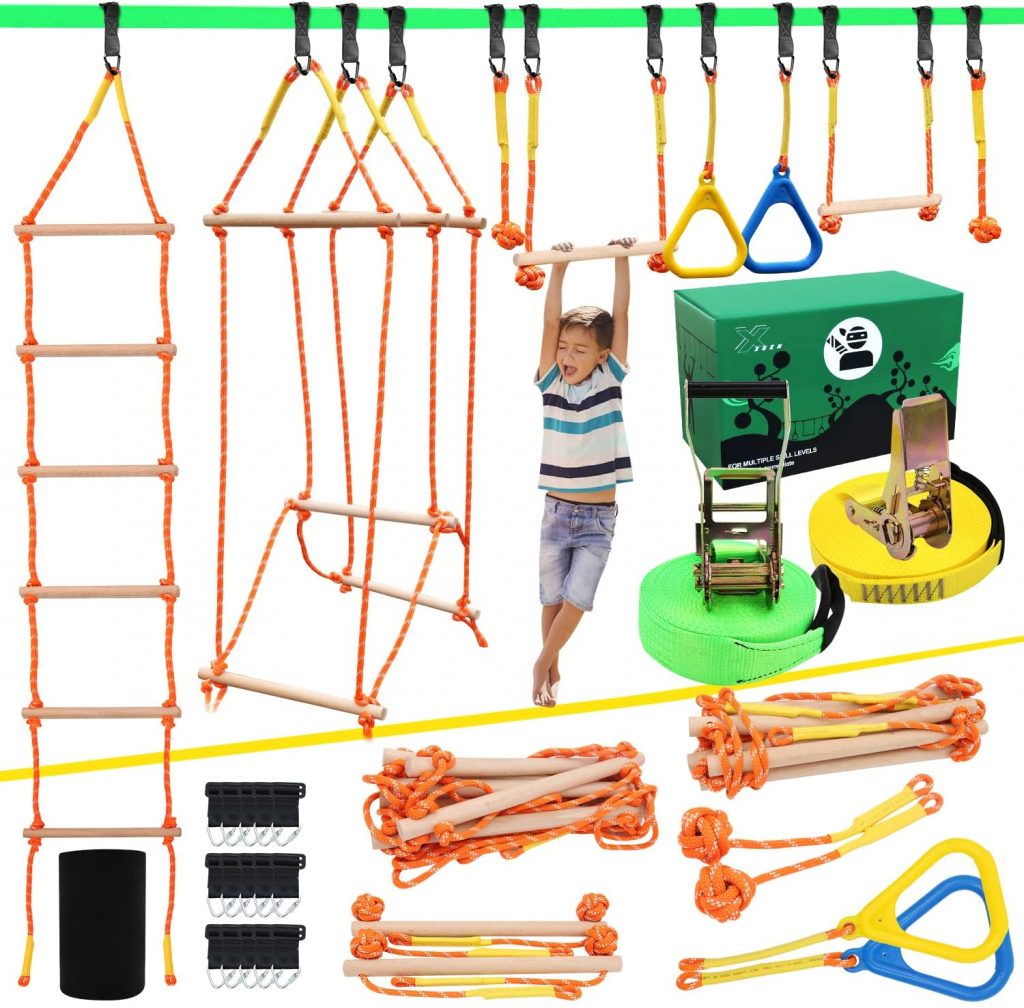 Children can set their warrior skills as they swing on gym rings and improve their strength by holding their body weight on rope knots. With a capacity of up to 440 pounds, this obstacle course accommodates several young kids at once. Whether for competitive play or strength exercise, it is a positive way to keep them healthy and physically active!
Unlike other available backyard ninja obstacle course kits on the market, X XBEN includes a rope ladder and bridge obstacle in their package for free! With a $300 value, the 68" rope ladder can be hung in two ways. Unlike the other ladder, both ends can be hooked.
Another featured accessory is the bridge obstacle that can be hanged either indoors or outdoors. It is where little ninjas can practice their balance, stamina, and leg strength. With these exclusive free accessories, it can add to the level of challenge and entertainment among these young warriors!
This backyard ninja course also is easy to set up anywhere. The assembly is hassle-free and will not consume most of your time. It also comes with an instruction manual to guide adults in quick set up before these little ninjas come out and play.
As the product also values the safety of the young ones, their obstacle course is made of heavy-grade materials. The accessory link rope is made of 13 whole core polyester to give it more strength. The monkey bar has rubberized grips for children to grasp it better and avoid falling. Its delta rings have industrial strength also for maximum security.
This obstacle course kit has a 100% satisfaction guarantee.
---
Here are some other fun outdoor activities: