Are you planning on going on an adventure with your kids? Can't find a gift with all the safety and entertainment features? Do you want to stay connected with your kids when they are out? If your children are a bit too young to use or own gadgets like mobile phones and tablets, long-range walkie talkies are your best option!
Walkie talkies are an excellent means of communication only during playtime but also for outdoor activities. You can count on long-range walkie talkies when out camping, biking, hiking, and other adventures families and kids love.
How Does A Walkie Talkie Work?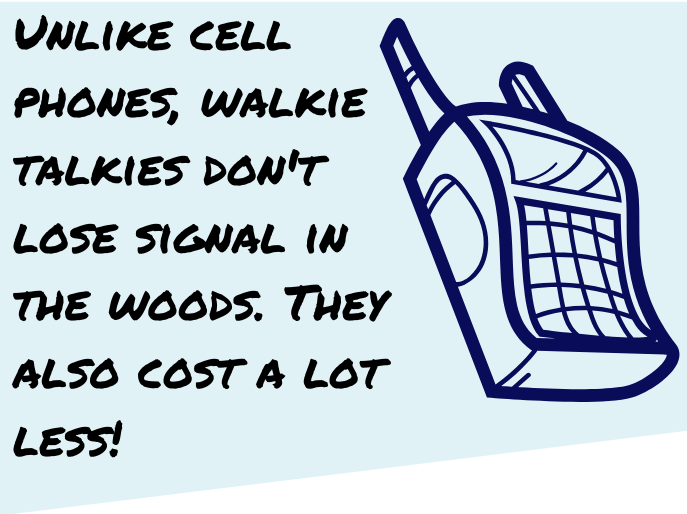 Typically, long-range walkie talkies cover 10 to 16 miles and work best in an open field, and even mountains and valleys. The most sophisticated cell phones lose signal, particularly in forested areas. Walkie talkies don't. They also cost less and don't come with contract fees and monthly charges.
Walkie talkies are also easy to carry, so kids can take them while playing with their buddies or use them to keep in touch with friends who live nearby. As long as they are set on the right channel, contact should be easy-breezy.
A great set of walkie talkies should come with a manual that can walk you through the operation and assembly. They are relatively cheap and are mostly lightweight. Some of them are designed with bright colors or even have your kid's favorite superheroes printed on the case plates.
Do you plan on getting walkie-talkies for your kids? If you're looking for long-range walkie talkies for kids age three years and up, check out our best picks!
---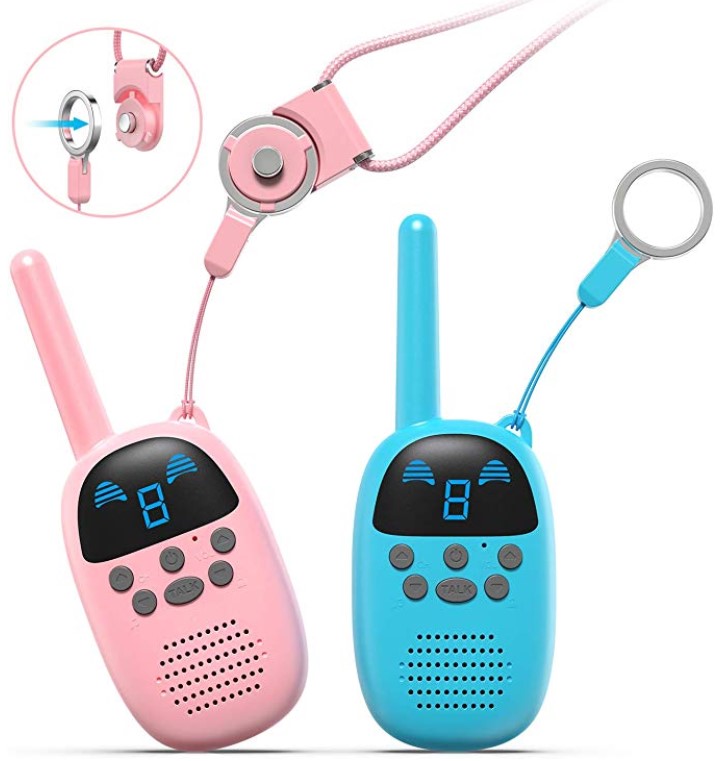 One of the top-rated outdoor walkie talkies for kids is the GOCOM walkie talkies. The GOCOM walkie talkies come with a kid-friendly design. They are lightweight and compact with a one-key button that's so easy to use.
Kids age three years and older will surely love them. These walkie talkies cover a range of up to 15 miles for mountains, 6.5 miles on open water and 1-mile reach within the city, which make them perfect for kids out on an adventure.
Thanks to its 5-ft Anti-fall feature and its ABS material, youngsters can go from block to block in their neighborhood without having to worry about losing or breaking their GOCOM walkie talkies.
Besides these features, the 9-channel handheld GOCOM walkie talkies are splash-proof so kids can use them in any weather. They display a channel scan, battery level indicator, automatic channel lock, with large numbers, so it's easy to read.
The GOCOM walkie talkies have an automatic keyboard shutoff (10 seconds) that helps conserve the battery in case kids forget to turn them off. They also stay powered up to 1.5 hours when turned on and not in use. Kids can take these long-range walkie talkies to parks, supermarkets, camp, and other outdoor activities so they can stay connected.
Outdoor adventures await with GOCOM Walkie Talkies!
2. Midland – X-TALKER T20X4 Walkie Talkies
The Midland-X-Talker T20X4 Walkie Talkies offer you a bargain when you purchase them in a four-pack. These 2-way radios are license-free and set up to 22 channels. They function within the range of 16 miles for a great reception and performance out into the mountains and valleys.
These brightly-colored blue walkie-talkies are compact and suitable for small little fingers to hold. It has a crisp and clean audio quality with an auto squelch function that gets rid of background noise, so kids enjoy a clear line of communication. What's even more impressive about these walkie talkies is that it comes with an NOAA Weather Alert feature that gives weather updates for real-time monitoring.
This feature warns kids when it's time to go home or take shelter. These walkie-talkie sets will keep kids in touch with their family and friends through call alerts, channel scans, Easy Voice Sound Activated Transmission (eVOX) hands-free operation, and its 38 privacy codes.
The Midland – X-TALKER T20X4 Walkie Talkies are water-resistant so kids can use them in potentially wet or offshore conditions without the need to worry about risking damage from water splashes. The screen shows battery life status, is extremely light and can easily fit even in small pockets.
They make lovely gifts for children age three years and older.
Amazon's Midland-X-Talker T20X4 walkie-talkies will provide many hours of fun and excitement!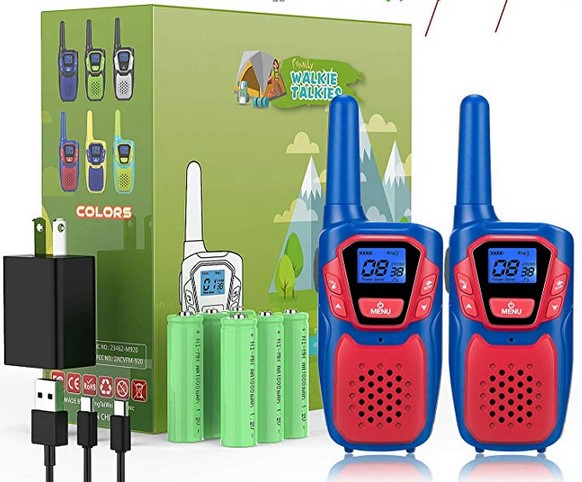 The Topsung Rechargeable Walkie Talkie is an upgraded design with a wealth of features. Kids can keep up with each other and share moments with their family on outdoor activities using one of the best 2-way radios.
Kids who want to go camping or on a biking trip to the mountains will find these 22-channel walkie-talkies useful for they can cover up to a 16-mile range. Adventurous little ones (ages three and up) can go out and use these user-friendly walkie-talkies within a four-mile range on open water and a one-mile range in a residential area.
Parents will be happy to find out they can use these walkie-talkies as baby/child monitors as it saves them time to get their kids' needs. They won't have to change batteries frequently since it comes with six 1000mAh AA rechargeable batteries, a fast-charging USB cable, and an original charger.
The simplicity of the Topsung walkie talkies gives age-appropriate fun and experience to kids. It has a lanyard and a back clip so kids can easily carry them. Its advanced technology includes functions like auto squelch, auto memory, auto scan, auto power-saving, battery gauge alert, and a built-in weather scanning. Its one-to-many communication gives kids the power to keep pace with all of their friends in the neighborhood.
The company supports the "No Reason to Re-turn or Re-place Service" to guarantee 100 percent satisfaction to all its customers.
Who's up for an adventure? Bring on the Topsung Rechargeable Walkie Talkies for your kiddos.
4. QNIGLO Long-Range Kids Walkie Talkies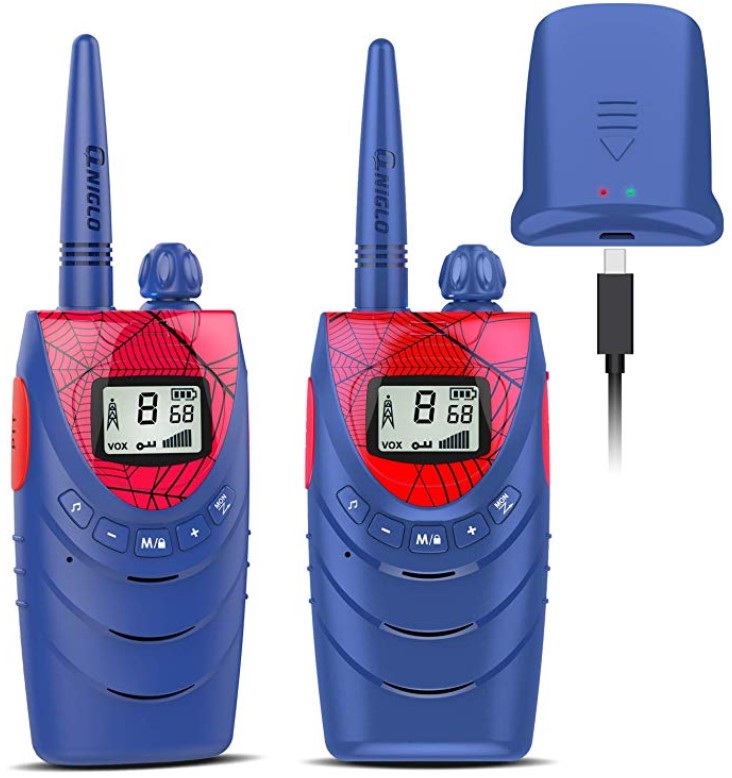 Kids out on a heroic mission will find these QNIGLO walkie talkies appealing. They sport the signature red and blue Spiderman-theme. These walkie talkies keep young superheroes' interaction going and bring the action to life with their lightweight build. They are user-friendly and cover a 10-mile range in an open field and 1 mile within the city.
Youngsters will love exploring their imaginary superpowers with family and friends without any interruption. These 2-way radios have a maximum of 18 hours in operation and 7 hours on standby. Now, when kids get tired of pressing the PTT button, they can set the VOX function to enjoy hands-free communication continuously.
The QNIGLO Long-range Kids Walkie Talkies are perfect for children ages five and up. Kids who carry these walkie talkies in crowded places still get clear and loud sound quality. QNIGLO Kids walkie talkies are also packed with an auto squelch function that can filter background noises, 22 selectable channels and 68 privacy code, comes with a micro-USB cable, and a 1200mAh Li-ion battery.
They are made with durable ABS material to withstand kids' rough games and outdoor activities.
Amazon Prime offers two-day delivery and free shipping. The kids (and adults) will love these long-range walkie-talkies!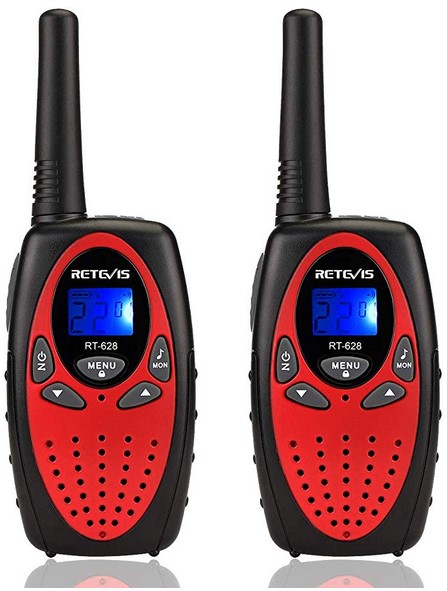 The Retevis RT628 walkie talkies have a sophisticated design that children and adults may like. This affordable pair of radio toys are small and light enough for a kids' comfortable grip. They can fit in a kid's pocket or even in their little bags and come in 4 colors (red, white, silver, and camouflage).
Youngsters can hold down the button to speak and release it while waiting for a reply. They boast a range of more than 10 miles from mountain top to valleys or in areas with less obstruction and 2 miles when in used in residential areas/city. They are recommended for ages five years and up.
These walkie talkies are convenient to carry and easy to detach or assemble. Little commanders enjoy these voice toys equipped with good signal and clear voice communication. Additionally, these walkie talkies give your kiddos an alert before you start speaking through its call ring tone setting.
Junior radio operators can reach multiple radios, choose from 22 channels and play with them hands-free through the VOX function. They are sturdy, come with rechargeable batteries, and have backlit screens so your little broods can still read them even when they're out after dark.
View the Retevis RT628 Walkie Talkies on Amazon!