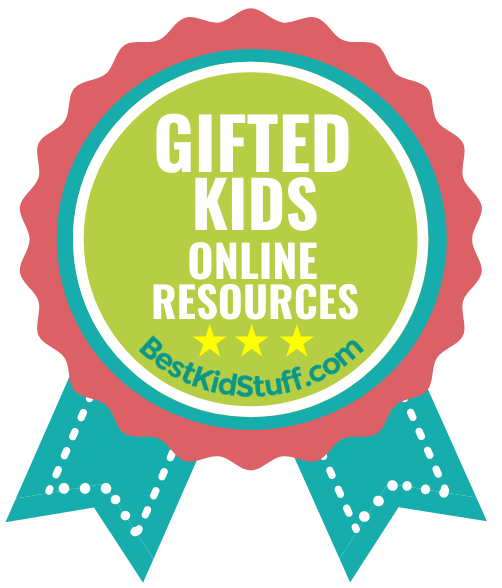 Giftedness is such a loaded word that it isn't used lightly! While most parents believe their children to be gifted individuals, psychologists and educators define "gifted" in other ways.
Giftedness isn't common, with only an estimated 3 to 5 out of every 100 children falling into the category. Gifted children are typically exceptional in several areas, such as overall intelligence, leadership skills, and artistic abilities, as well as in specific academic abilities.
In many cases, a gifted child can exhibit exceptional abilities in both science and the arts. But while intellectual abilities represent just a single type of giftedness, an intelligence quotient (IQ) test is usually necessary to call a child as gifted.
But it's a challenging task to determine who's gifted and who's not for many reasons! There's neither a single generally accepted definition of giftedness nor a single standardized test for it. Nonetheless, the U.S. Department of Education has about 3.2 million students enrolled in its public school system's gifted and talented programs (SY 2011-2012).
The federal government has guidelines on giftedness, although states and local districts aren't required to use them. State and local districts are neither required to identify gifted students nor to serve their needs, at all!
In the United States, only 37 states have specific guidelines on giftedness. Of these states, only 32 have mandates in the identification and provision of services for gifted learners.
If you think that your kid is gifted, you may want to ask your local district about specific guidelines and programs for gifted children. Every district is different and, thus, you and your child may or may not like what's on offer.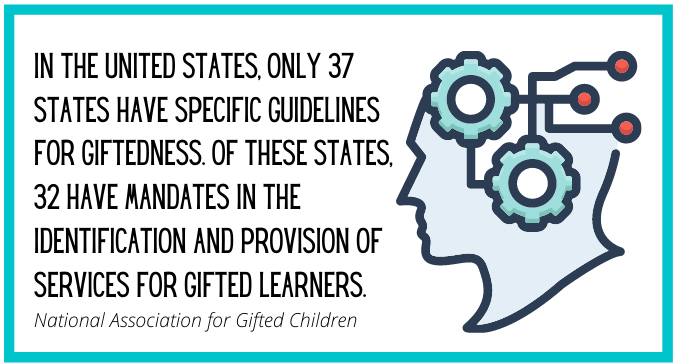 Going to the definition of giftedness, the National Association for Gifted Children define giftedness in the following manner:
"Gifted individuals are those who demonstrate outstanding levels of aptitude (defined as an exceptional ability to reason and learn) or competence (documented performance or achievement in top 10% or rarer) in one or more domains. Domains include any structured area of activity with its symbol system (e.g., mathematics, music, language) and set of sensorimotor skills (e.g., painting, dance, sports)."
There are, of course, other definitions of giftedness. These include but aren't limited to Francoys Gagné's (2003) Differentiated Model of Giftedness and Talent, Robert Sternberg's (2003) Triarchic Theory of Intelligence and Joseph Renzulli's (1986) Three Ring Conception of Giftedness.
While these definitions differ in many ways, most of them point to these unique characteristics of gifted individuals.
Above-average general intellectual ability
Detailed and extensive memory capacity
Ability in finding and solving unusual and difficult problems
Ability to think in multiple perspectives and make multiple connections
Ability in quickly processing and learning information
Ability to focus on projects of interest for extended periods
Advanced communication and vocabulary skills
Intense curiosity about the world around them
Sustained and intense passion for their particular areas of interest although it can change with time
These characteristics of gifted children are fluid in the sense that these can change in intensity and subject matter over time. No two gifted children are the same, too, when it comes to their specific set of intelligence and interests. What may work for Tom may not work for Harry and vice versa.
Parents should look at the following list of the 30 high online resources for kids with a discerning mind. You have to consider your child's specific interests, such as math, music, and engineering, and make website suggestions. You should also check your child's activities on the sites, set time limits for their use, and provide supportive guidance.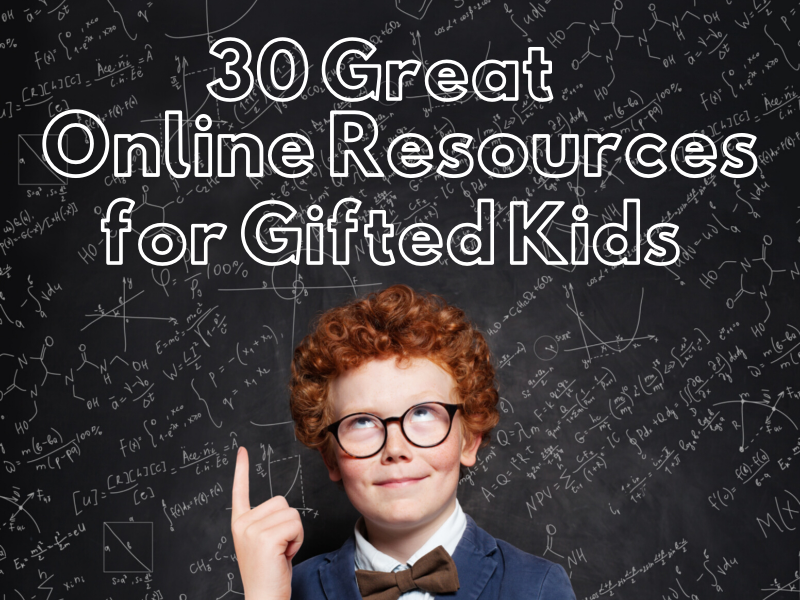 General Aspects
Mensa for Kids, a part of American Mensa, accepts young Mensans (under 18 years old) and provides them with a wide range of online resources. These include access to GiftedandTalented.com, an online community for K-12 accelerated learners and their parents and teachers, and to Johns Hopkins University Center for Talented Youth, which offers a 10% discount on online courses.
Aside from the educational resources, the site also provides fun games and activities that make learning more enjoyable yet still challenging.
TED-Ed, the youth and education initiative of TED, is known for its thought-provoking thoughts and discussions. On its own, TED-Ed aims to inspire and celebrate the innovative ideas and initiatives of students and teachers worldwide.
Gifted children can watch and listen to a broad range of topics, including The Arts, Business and Economics, Design, Engineering and Technology, Health, Literature and Language, Math, Philosophy and Religion, and Thinking and Learning. The lessons are a collaboration between animators and educators.
For gifted children with an insatiable appetite for knowledge, the obscure and obvious information gathered from Atlas Obscura is heaven-sent! The articles and features cover a wide variety of topics, too, from history, food, and science to travel and exploration, so there's always something for everybody.
Here, children will know something that they don't know that, in turn, will encourage them to dig deeper and know more. Most of the articles are written engagingly, too, without losing sight of their historical significance.
Arts – Music, Writing, and Reading
Bookworms will love the social interactions, book exchanges, and book reviews that occur on Bookopolis. Children set up their accounts on the social reading site and then proceed to create book lists, reviewing books, and interacting with other members. There are also curated built-in book lists, read-alike lists, and Common Core-aligned book lists for various age brackets.
Trivia, puzzles, and word games add more variety to the book-reading activities, too. Children can also make their avatars, earn points and badges, and record their reading progress.
For budding musicians, The Music Interactive is an excellent choice to support their interests. Children can download apps for practice and performance-related tasks, from pitch and rhythm to composition. These apps are usually presented as fun games and activities that introduce and reinforce music-related skills.
The Recorder app, for example, has 13 songs with options like light-up notes. Other apps include JamaMambo and Krank and Lucy, both of which are pitch and rhythm recognition games and performance apps like Latin Jazz, Jazz Piano, and Sheddin' the Basics series.
The SFS KIDS is a kid-friendly site that offers children an opportunity to learn about classical music and engage it on many levels. The site itself is colorful, interactive, and fun to explore, so children are encouraged to learn more.
The interactive activities include overviews of classical music, mainly orchestral music, from the musical instruments and their sounds to the musical concepts. Children can also listen to classical music as well as enjoy the quick activities at the Music Lab, where they can experiment with tempo, pitch, and rhythm.
Developed by the world-renowned Dallas Symphony Orchestra, DSO Kids provide children opportunities for learning about music using cute graphics, engaging sounds, and interactive activities. Indeed, it's a doorway to music that children will understand and enjoy! Here, they can learn about music's building blocks, build their instruments, and watch educational videos, among others.
The site's "Listen" section is notable for its large selection of sound clips organized by instrument, composer, and music theory, as well as for necessary information about the composers. There are also plenty of games and activities that will expand the children's musical interests.
If your child is into writing scripts and plays, you should encourage him/her to enter the annual Marilyn Bianchi Kids' Playwriting Festival. The winners' works are published in an annual book, and the Dobama Theater produces the plays. Indeed, the festival is considered one-of-a-kind because it provides young playwrights the opportunity to showcase their works!
Plus, Dobama Theater offers children and their families a weekend of free theater. There are also a teacher and student workshops designed to polish the participants' theater skills.
Who better to learn the art of drama than from the author of several bestselling books and courses on drama? David Farmer's Drama Resources website is a compilation of helpful articles, videos, and online courses designed for aspiring actors. His tips and tricks about drama and acting come from his personal experiences, including director and producer, trainer in workshops, and writer.
The outline of Drama Resources makes it easy to find the information your child may be looking for. There are tabs for drama strategies, primary drama ideas, and language learning, as well as drama games.
The National Gallery of Art's NGA Kids website is a treasure trove of resources for aspiring artists, including artistically-inclined gifted children. The Art Zone app has eight interactive activities, a personal exhibition space, and a sketchbook for freehand drawing. The artworks inspire the interactive activities in the NGA's collection.
Children will want to log in time and time again because of the site's user-friendly interface and tools, as well as the emphasis on artistic self-expression without judgment. They are also encouraged to discover artworks with new eyes and, thus, find their style.
Computer Programming and Coding
The beauty of BASIC-256 lies in its ease of use while also making the tasks challenging even for gifted kids. While it's designed for middle school and high school children, extraordinarily gifted elementary school students will find to their liking, too. The site provides an encouraging environment for children to learn the basics of computer programming.
Children learn better, too, thanks to its detailed tutorials, fun exercises, and built-in graphics mode. They also learn traditional control structures, such as goto, gosub, and for/next, that, in turn, strengthens their flow-control knowledge.
Hour of Code originally started as an annual event organized by Code.org, a non-profit organization, and takes place annually during Computer Science Education Week. But individuals and organizations can become hosts of their Hour of Code year-round. These coding events can be organized using the Hour of Code website.
During these one-hour events, children have the opportunity to learn the coding basics and broaden their participation in computer science. But coding isn't the only activity – many of these events also include fun activities and helpful tutorials.
Did you know that half of the users of Bitsbox are girls? The monthly coding subscription box, with prices starting at $30/month, contains new projects and suggested apps. Children can then use these apps for coding programs on a virtual tablet.
But the apps aren't all fun and games, although that's part of the appeal! Children write real codes that form the backbone of real apps that can be played immediately on their devices. As one journalist puts it, Bitsbox sets children up for success because coding is a vital skill in our modern society.
The MIT Media Lab is behind Scratch, a completely free coding platform where users can create, share, and mix their desired projects. Children can program their interactive games, animation, and stories, too, as well as share their creations in the online community. They also work in collaboration with each other while also learning creative and critical thinking and systematic reasoning.
The Scratch interface is attractive to kids' eyes, too! There are three main sections, namely, a coding area, a staging area, and a block palette.
Coding is hard work, but Code Combat makes it more enjoyable! Code Combat lets children learn coding skills by engaging in adventure games as if they are playing video games. The role-playing games (RPG) adventures present coding as a fun activity that even elementary-age children can play.
While the site offers free access to all players for all its core levels, users can also upgrade their subscription at a cost. The upgrade includes 3,500 bonus gems. The coding languages include Python, JavaScript, CoffeeScript, and HTML.
Designed by iD Tech, Tech Rocket is a kid-friendly online learning platform that provides free courses for kids and teens on iOS, Python, and Java, among others. Children will learn basic and advanced STEM skills from coding activities and game design. We highly recommend the app development and game design tracks since these are useful in academics and real life.
There's a social community, too, which allows children to post and answer questions on an online forum and Live Coaches who assist via chat.
Science and Technology
Science covers such a diverse range of topics that gifted children will likely not run out of options. Science Friday, a radio program with weekly broadcasts on public radio stations, tackles everything about science. It may be microbes in the body this week and then outer space with its quasars, pulsars, and black holes next week.
The host and guests always ensure that these topics are tackled in an entertaining and informative way – no patronizing the kids! The broadcasts are also available on iTunes, in podcasting format, and on Sirius XM Radio.
Parents should know that the videos and other content on The Kid Should See This website wasn't correctly created for children, but the content is child-appropriate! The growing library has more than 3,000 videos from various sources like Vimeo and YouTube. These are curated by the site owner, Rion Nakaya, and his school-age children.
Take note that the videos can be seen on their original websites. Parental guidance is highly recommended to prevent kids from seeing inappropriate content on these sites.
The PhET program started as a physics education and simulation program only. It evolved to become one of the best educational resources in science and math, as well as a program aimed at the improvement of STEM literacy. It covers everything that gifted children are likely to be interested in, from algebra and atoms to zoology.
There are more than 100 PhET simulations, and each one of them encourages the students' curiosity and enables their scientific exploration. Hands-on experimentation also strengthens their scientific skills.
The Chemistry Puzzles, Games & Toys website encourages children to look beyond appearances and seek the science behind them. By using fun activities and tools, the website teaches children about chemistry while also rediscovering the joy of toys. There are plenty to choose from, too – a periodic table battleship, a PhEt challenge, and logic puzzles.
Mathematics
Victoria Hart, the brains behind Vi Hart, calls herself a recreational mathematician because she combines math and music in introducing mathematical concepts. Vi Hart posts her engaging videos on YouTube, said videos of which explain math concepts via doodles. Gifted children will be fully engaged since the topics are presented in a fun yet challenging way.
Young math aficionados will love Mathforum.org, a site that hosts daily puzzles provides math problems in different grade levels, and offers a wide array of scavenger hunts. Teachers are on the forum, too, so students can ask questions and get answers that will make sense to them while also opening up their math skills. Students are encouraged to become active doers and gainers of math skills, a process that requires a curious mind.
Built by the National Council of Teachers of Math, the Figure This! The website challenges children with basic and advanced concepts in geometry, algebra, and statistics, among others. While the site targets middle school students, younger children with gifted intelligence will benefit from the math challenges, too. There are several features to choose from, such as the Take a Challenge for groups, Challenge Index, and Family Corner.
Children can submit their mathematical puzzles to MathMagic and, in the process, share their gift for math. Original math creations are encouraged among children since these stimulate their minds. Keep in mind that MathMagic is a multi-purpose equation editor app compatible with most software, including graphic software, word processors, and DTP layout software. The line includes MathMagic Personal Edition, MathMagic Prime Edition, and MathMagic Pro for Adobe InDesign.
If your gifted child likes a real challenge, then you should recommend the Wolfram Alpha site! Here, children can choose and solve many of the world's solved and unsolved math problems. Everything that will awaken your child's interest in math can be found here, from the Millennium Prize to Hilbert's 23 problems. Children can ask questions about math problems, such as who formulated them and how these were solved – or not.
Engineering
The OCW: Mechanical Engineering website ensures that students learn through a combination of theoretical and practical lessons. As its motto says, mind and hand (men's et manus). Mechanical engineering is, of course, one of MIT's founding courses of study, and the university is well-known for its advances therein. Students can choose from several free courses with an emphasis on mechanics, design, manufacturing and product development, and robotics.
Choose from more than two dozen – and counting – kid-appropriate engineering projects, including mechanical hands, cars, bridges, and towers. The STEM-based projects are designed for elementary and middle school students, although truly gifted younger children will also find them useful. These are based on the basics of mechanical engineering, structural engineering, and physics, and these use the same set of materials (cost-efficient for parents).
The Project Based Engineering for Kids website is on Instructables, a spin-off of the Squid Labs.
Created by the Boston Museum of Science, "Engineering is Elementary" offers an entirely free curriculum that is suitable for kids, from preschool to middle school. The inquiry-based STEM curriculum is based on the engineering design process that, in turn, allows kids to think, reason, and solve systematically.
Designed to complement Design Squad, a PBS Kids television show, Design Squad Global provides children with a platform for competition in designing innovative engineering solutions. The engineering design process is also applied in the games, lessons, and video demonstrations in the site, which also has closed captioning. Children can choose from several features, including Build, Games, Design, Watch, and Global Kids, on the navigation menu.
The Crash Course Physics site has several physics-related videos for children and teens. Dr. Shini Somara ably hosts the videos tackling diverse topics from light, motion, and sound to temperature, heat, and magnetism. The videos are based on freshman college-level courses as well as the 2016 AP Physics I and II curriculum.