Smartphones have great potential to add to a child's development, but they can also pose a real danger. Apps that aren't secure could make your child vulnerable to online threats and inappropriate influences.
The wrong kind of content can distract a kid from learning, playing, exploring, and fully enjoying childhood. With so much at stake, it's no wonder parents are asking for help to identify the best iPhone apps for kids.
safety first…
In our ranking of children's apps, safety is paramount. You need to know that the game or app your child is playing won't put their safety or their identity at risk. The best games balance educational value with entertainment value.
With apps that make learning fun, you don't have to worry that a smartphone is dumbing down your child's educational progress. In fact, using the right apps can help your kids begin learning the foundations of advanced concepts in math, science, and computer coding as early as their toddler or preschool years. Entertainment value is just as important. If your kid won't use the app, its educational content is of no value to him or her.
Monitor screen time…
One of the biggest worries parents have about screen time at a young age is that looking at these high-tech animated clips and games will quash their own creativity. On the contrary, many outstanding apps allow children to think creatively, develop innovative solutions to problems, and create visual and musical works of art that would be impossible without technology.
Finally, although you can't put a price on your child's education, you know that raising kids is expensive. Our ranking takes into account the cost and value of apps alongside their other attributes. If you're ready to let your child begin using a device for entertainment and education, even for limited amounts of time, our list of the top 10 best iPhone apps for kids can help you take the first steps.
10 Best iPhone Apps for Kids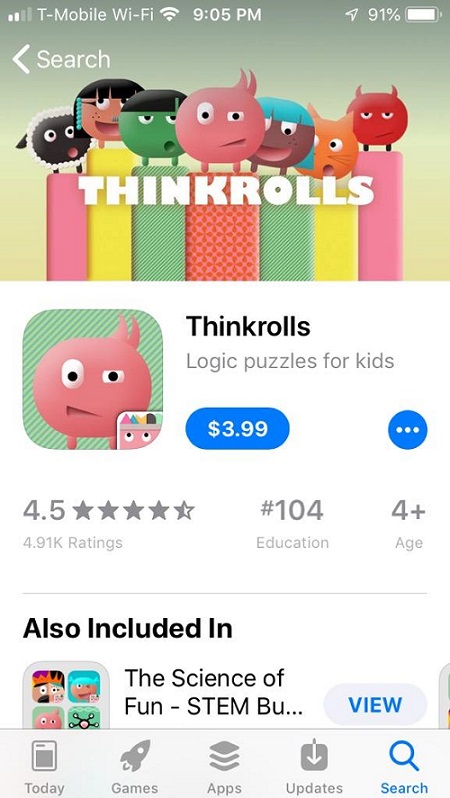 Thinkrolls is an award-winning educational app that brings the challenge of solving physics problems and kid-friendly logic puzzles to the fun of a platform game in the style of Mario.
Though hundreds of puzzles, children as young as 3 can learn about science and physics concepts – but all they see is an exciting adventure game filled with castles, dragons and magic. Kids take fun actions like popping balloons, eating cookies and bouncing on "jellies" to clear or get around obstacles in their path, all the while having too much fun to realize that they're learning to think critically and solve problems.
Thinkrolls has been so popular that the developer, AVOKIDDO, has since released 2 sequels: Thinkrolls 2 and Thinkrolls: Kings & Queens. Parents love that Thinkrolls is "an actual game," something they don't have to push their kids to play, unlike many educational games that appeal more to parents than the children who have to play them.
Teachers find the app "engaging and fun" and report using it with their own children outside of school.
Pros and Cons
Pros
Over the course of the game, kids learn to manipulate scientific properties like speed, gravity, elasticity, buoyancy, friction and heat.
How can one game be simple enough for 3-year-olds but challenging enough for 8-year-olds? Thinkrolls accomplishes this by separating puzzles into an easy mode meant for ages 3 through 5 and a hard mode for ages 5 through 8.
With more than 200 levels of puzzles, there's plenty of content to keep kids coming back to the app over and over again.
While the app is educational in that it subtly teaches children the applications of physics concepts, it also helps them develop other important skills and attributes, including patients, perseverance, problem-solving and logical reasoning skills.
There are no points to distract from gameplay or penalties for making mistakes in the game, which makes the app a risk-free environment for taking chances, trying new solutions to problems and learning from the consequences.
The original Thinkrolls app has a 4.5-star rating in the App Store, based on 4,900 reviews.
Thinkrolls has won numerous awards, including the Parents' Choice Award and the Editors' Choice Award from Children's Technology Review & Tech With Kids. USA Today ranked it among the 10 Top Kids Apps of 2014. In 70+ countries across the world, the App Store featured Thinkrolls as a "Best New App."
Once purchased, you can measure ongoing progress for as many as 9 profiles, and the app supports Apple's Family Sharing feature, allowing for as many as 6 family members to use it.
The app works even without Internet access, so it's always a good time to play.
Thinkrolls is safe for kids, with no third-party ads. This app does not collect personal information (including location data), making it fully compliant with the Children's Online Privacy Protection Act of 1998.
While the app isn't free, its $3.99 price tag is reasonable, and there are no in-app purchases.
A child-locked parental gate closes off settings and app support information so that only adults can access external links and email messages.
Parents don't have to worry about the app clogging up their phones with unwanted push notifications.
Cons
All 3 Thinkrolls apps are paid, with no Lite version.
Because there are no instructions or directions, some children (and adults) may feel frustrated at the beginning as they struggle to figure out how to play the game.
The lack of certain elements normally found in platformer games, such as points, high scores and lives to lose, may make the game less exciting for kids who are primarily motivated by competition.
Score
Safety: 98/100
Educational value: 99/100
Entertainment value: 98/100
Creativity: 97/100
Cost: 95/100
Overall score: 97.4/100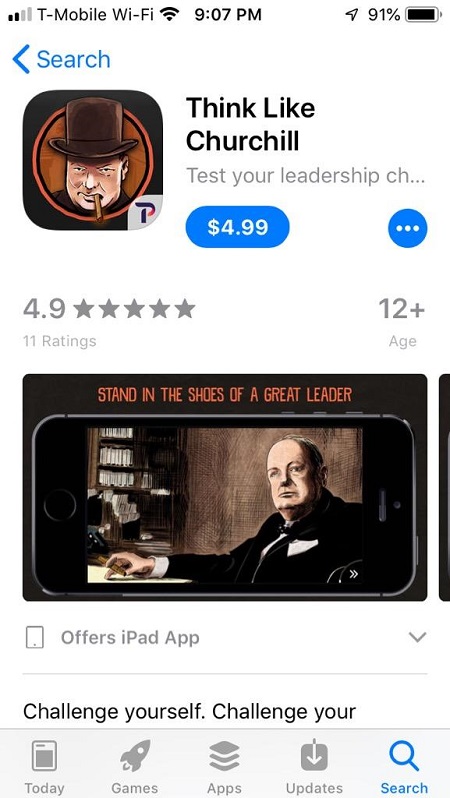 Many of the educational apps out there focus on the STEM (science, technology, engineering and mathematics) subjects, but Think Like Churchill breaks the mold.
History comes alive – and children develop their critical reading, thinking and decision-making skills – in this unique mixed-media game that puts the player in the shoes of this historical figure. It may be hard to imagine kids as young as 12 finding ways to relate to the British Prime Minister during World War II, but this interactive animated graphic novel does just that.
Users explore the personal moments and big decisions of Winston Churchill's life, tapping their way through the interactive world. By reading more than 80 real primary sources from the time, including archived briefings, photographs, letters, telegraphs and intelligence reports, children have access to much of the same information Churchill had in real life as he faced decisions – some of them life-or-death – about international relations and military conflicts. Then they are asked to stand in Churchill's shoes and decide which decisions they personally would make.
Parents and teachers have praised the app not just for its historical content and visual design but also for the soft skills it helps children develop.
Pros and Cons
Pros
Think Like Churchill teaches history lessons that are far more memorable than what students will read about in a textbook.
The incorporation of real primary-source documents makes sure the historical details of the game are accurate and allows children to develop skills in critical reading and examining and analyzing evidence.
The game explains not just what decisions Churchill made but why he made them, which helps provide context to historical events.
Putting children in Churchill's shoes allows them to develop a deeper understanding of what leadership entails and to grow their own decision-making skills. It also puts into perspective that Churchill – and other figures in historical and current events – are real people, so that children can better learn to understand the psychology of others and practice empathy.
Parents and educators speak highly of the visual images and animation found in the app.
While not free, the $4.99 one-time cost is reasonable, and there are no in-app purchases.
As many as 6 family members can use the app, if you set up Apple's Family Sharing feature.
The well-received app has a 4.9-star rating in the App Store.
The app does not collect personal information from minors and will not disclose personal information gathered from adults – such as while agreeing to a paid subscription – with third parties. The "strict procedures and security features" that are in place prevent unauthorized access to this data.
Cons
For purposes of historical accuracy, the app includes content of a violent nature, including images of stylized cartoon violence, as well as tobacco and alcohol use. The app is recommended for ages 12 and older because this content may not be suitable for a younger audience.
Adults have noted that the app is heavily text-based, so children who are not strong readers might be reluctant to explore it. On the other hand, interesting concept and format could help get some children more interested in reading.
The app is not as popular as many other apps in the App Store and has only 11 ratings at the time of this writing.
There is no free version, but that also means children are protected from ads.
Score
Safety: 95/100
Educational value: 100/100
Entertainment value: 96/100
Creativity: 96/100
Cost: 95/100
Overall score: 96.4/100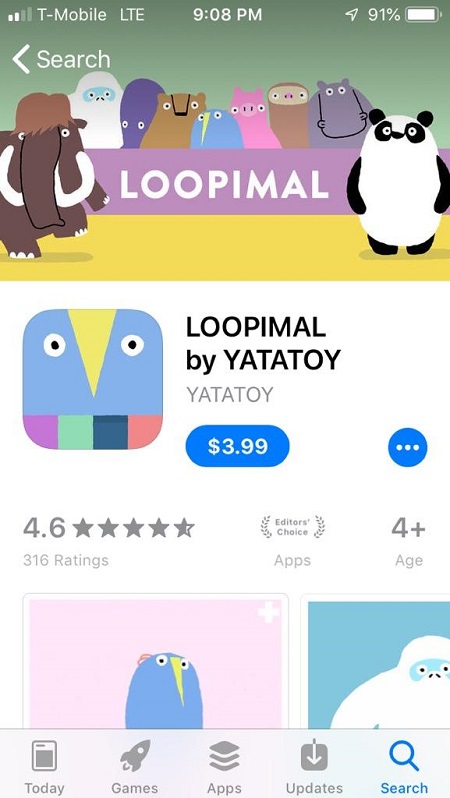 From an early age – sometimes, even within the womb – children love music. Understanding how music and sound work, on the other hand, is a different and less intuitive matter.
An education app called LOOPIMAL lets children experiment with sounds and create their own musical compositions, all with amusing animations of dancing animals in the background.
Choosing different blocks will add pre-programmed sequences of rhythms, melodies and sounds, allowing children to loop their selections to create original and catchy combinations.
Pros and Cons
Pros
The app's developer describes the possibilities as "endless," and parents and kids agree. Children can choose from 9 dancing animals, each with their own beat or simple sequence of musical notes, to start their composition. Three modes allow users to start off with one, 2 or 4 different animals and their accompanying sounds.
Kids can customize their musical creation by choosing from 5 different sounds to add, filling up as many as 8 slots that will play in a loop.
Parents and critics described the app's animation as "charming" and found the music creation capabilities enjoyable for all ages.
The popular app as a 4.5-star rating in the App Store, based on 316 reviews.
Drawing on his experience as a father himself, the app's developer pledges to take privacy and security seriously. LOOPIMAL collects no personal data from children and makes sure all statistical (non-personal) data collected about the app's usage is handled securely.
There is no social media integration within the app. A secure parent gate that prevents children from accessing the About section of the app, which includes external links to the company's social media channels.
While not free, the one-time $3.99 purchase price for the app is reasonable and allows the app to operate ad-free. There are no in-app purchases.
Cons
The most frequently cited complaint is that the app doesn't offer the ability to save and share your musical creation.
LOOPIMALS is a paid app.
Score
Safety: 99/100
Educational value: 92/100
Entertainment value: 97/100
Creativity: 98/100
Cost: 95/100
Overall score: 96.2/100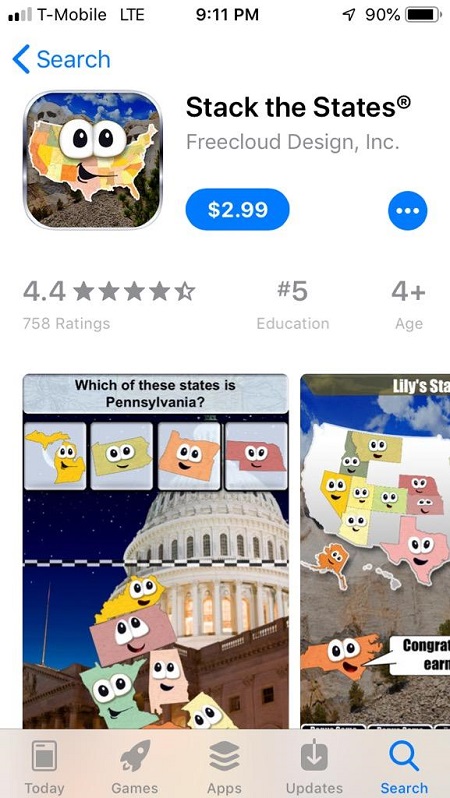 When was the last time your elementary schooler told you geography was fun? A game called Stack the States might make your child change his or her mind.
By correctly answering geography trivia questions, players gain animated images of states, which they use for building. In a style reminiscent of Tetris, they move and drop the state shapes on the screen on top of each other to build a stack of states (hence the app's name) that reaches up to cross the checkered line.
The goal is to cross that line as quickly as possible – without letting a state fall from the stack. Victories open up a total of 4 new mini-games for kids to further enjoy and allow them to collect states as part of their profile. Parents and kids call the game "addictive" and "surprisingly fun" – so fun, in fact, that children may not even realize how much they're learning.
Pros and Cons
Pros
Stack the States tests children's knowledge of the shapes, locations, abbreviations, nicknames, flags and capital cities of each state in the U.S.A.
Unlocking the 4 mini-games is part of the fun. Puzzler, Map It, Capital Drop and Pile Up are more challenging and fast-paced than Stack the States.
Children can study the game's virtual flashcards first or start answering trivia questions on their own – whichever they prefer.
Multiple-choice format keeps questions from becoming too intimidating, especially for younger children.
Stack the states is safe for children to use because it contains no social network integration features, third-party data collection or third-party ads, although ads for the developer's other educational games may appear.
The low $2.99 cost of the app and the absence of in-app purchases make this game a cheap buy.
If your kids remain hungry for more geography knowledge after completing the full scope of Stack the States, the developer has also released Stack the Countries and Stack the States 2.
The original Stack the States app has an average App Store rating of 4.4, based on 753 reviews. Stack the States 2 has the same rating, based on 263 reviews, while 200 reviews have given Stack the Countries a 4.6-star rating.
The game is fun for the whole family, because it allows you to create 6 different profiles and supports Apple's Family Sharing feature.
The award-winning app has been recognized as the Best Educational Game App by iEAR.org and the Best Kids App for iPad by the Best App Ever Awards.
Cons
The educational goal of the game is mostly to memorize facts rather than developing deep understandings of subject matter or acquiring new skills, so while players are certain learning, they may not learn as much playing this game as they would playing other games on the list.
Although the game is rated for kids as young as 4, the inclusion of more challenging geography questions left many parents and kids feeling that it is better suited for children a bit older – in the age range of 6+ or even 8+.
Timed mini-games aren't as laidback as the main Stack the States game and can leave some players, especially younger children, feeling frazzled.
The game repeats questions over time, which can help children start to retain the information but may also become boring, particularly for older children.
Parents of younger children and special-needs children lament that the app doesn't offer a read-aloud feature for kids whose reading abilities are limited.
There is no free version, but that also means children are protected from ads.
Score
Safety: 99/100
Educational value: 94/100
Entertainment value: 97/100
Creativity: 92/100
Cost: 95/100
Overall score: 95.4/100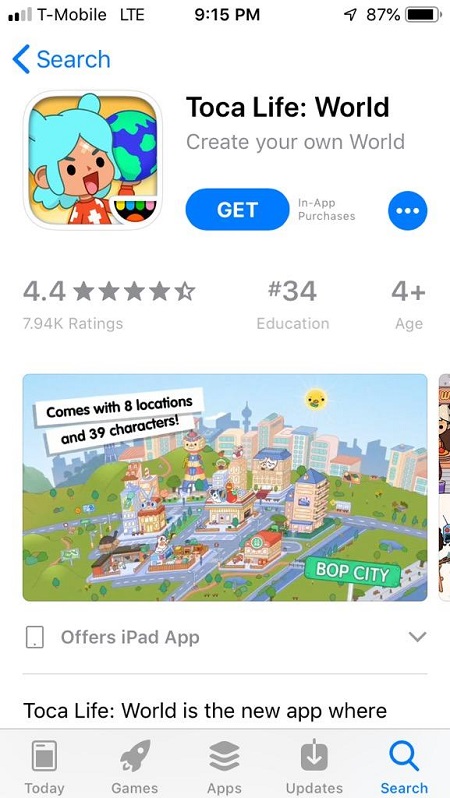 If you loved playing The Sims as a teenager or older child – or if you still enjoy the franchise today – then you might want to introduce your child to a series of apps by Swedish company Toca Boca.
In an age where technology so often overshadows old-fashioned imagination, Toca Boca's apps – which the company prefers to call "digital toys" – nurture and encourage imaginative play. Apps in the Toca Life series are particularly reminiscent of The Sims and other life-simulation games, in that they allow children to design and place characters into a scene and then control them.
A dozen different Toca Life apps allow children to play (virtual) pretend in various places and situations, such as city, school, office and vacation. A good place to start, if you want your child to enjoy the Sims-like fun you remember, is with Toca Life: Town, which costs $3.99 and was recognized among the App Store Best of 2014 when it originally came out.
The free Toca Life: World app brings all of the Toca Life settings and capabilities together in one easy place, like a giant world of pretend for your little one – but you still have to buy each piece of the puzzle your kid wants to access.
Toca's extensive lineup of more than 40 digital toys also includes a series of well-loved hair salon apps and kitchen apps.
Pros and Cons
Pros
The Toca Life apps allow children to flex their creativity just as much as kids did in the days before technology – and in fact, it better equips them for imaginative play in a greater variety of settings and scenarios, because kids aren't limited by the constraints of their real-world play environment.
Toca Boca's apps have earned praise for challenging stereotypes and welcoming diversity, allowing users to create characters with a variety of skin tones and families with unique configurations, and to break free from gender norms when it comes to jobs and recreational activities.
The apps are designed for use by children as young as 4, allowing these preschool-aged kids to start developing technology skills without sacrificing the creativity that characterizes childhood.
The apps contain no third-party ads, although they may promote the purchase of other Toca Boca digital toys.
The developer does not collect personally identifiable data from child users.
While most of the apps aren't free, they typically cost a one-time fee of just $3.99 apiece, and there's no ongoing subscription cost required.
Toca apps are very popular, with most of the individual apps having average ratings in the 4-star range and thousands of positive reviews.
As many as 6 family members can use the app, if you set up Apple's Family Sharing feature.
Cons
Many Toca apps do allow for and encourage in-app purchases. It is important to supervise your children, make sure they understand not to agree to purchases without permission and, when possible, disable in-app purchases, at least temporarily.
Although the price of each app is low, the total cost adds up as you keep expanding your child's virtual world with the next app.
Most apps are paid. Free Toca Life apps like Toca Life World are limited unless you are willing to spend real money expanding the content with in-app purchases or connect it with other Toca Life apps, which again requires you to spend money in the real world.
Although these games are classed as educational, they aren't as strictly educational as other apps where the main focus is to learn more about science, math or history.
Score
Safety: 94/100
Educational value: 94/100
Entertainment value: 98/100
Creativity: 97/100
Cost: 89/100
Overall score: 94.4/100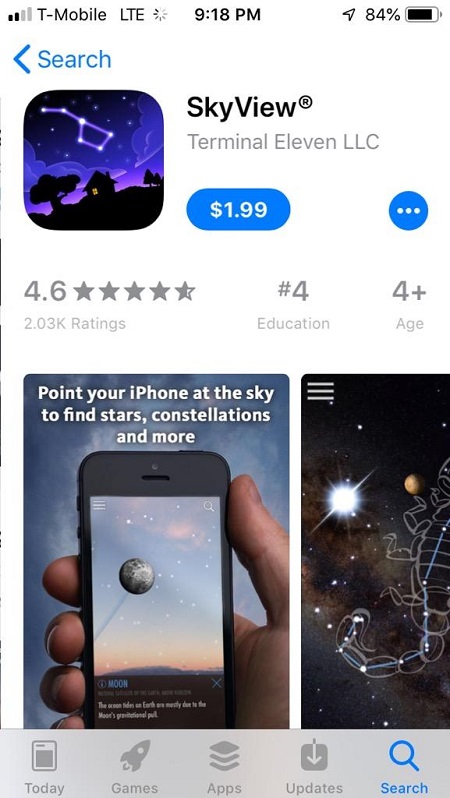 The best apps don't eclipse the real world. They accompany you out into it and enhance it. One app that won't have your child's eyes glued to a screen is Skyview.
Turn your device toward the night sky, and the astronomy app will use your location to identify the celestial bodies above you. This augmented reality app is perfect for identifying the constellations that are visible to you, but it also tells you about the planets, stars and satellites you may not be able to see with the naked eye due to clouds, daylight, light pollution and distance.
Skyview brings high-tech innovation to the ancient pastime of stargazing to help your family enjoy real-world educational experiences together.
Pros and Cons
Pros
No more guessing at the constellations! Skyview will not only tell you which stars you're looking at but also provide interesting facts and trivia about the celestial bodies in the sky.
We've all gone outside to look for a special meteor shower, glimpse of a planet or other rare event, only to be disappointed when we can't find it. Skyview's search feature will help you find what you're looking for in the night sky.
Wondering what the sky looked like on a special night in the past or what it might look like at some specific future date? While no app can promise true time travel, you can track the movement of bodies in the night sky into the past or into the future.
The app comes in a free Lite version and an expanded full version that costs just $1.99. The full version includes a Stargazing Music Pack soundtrack, a setting that shows only the brightest objects in the sky, a Today Widget that tells you what to look for each evening, thousands of additional celestial bodies to explore and an Apple Watch app.
Skyview is a popular app, with 9 million downloads of the Lite version and 1.7 million downloads of the full version from the App Store. Both versions have a rating of 4.6 stars, based on 2,000 reviews for the full version and 6,000 reviews for the Lite version.
Skyview is an award-winning app that has educated and entertained families for a decade. In 2011, Skyview was named among the App Store's Best of 2011 and ranked on TechCrunch's Top 20 App list and The New York Times' Top 10 App list. It was also recognized as one of the App Store's Best of 2012.
The app works even without Wi-Fi, so you can use it wherever your stargazing journey takes you.
As many as 6 family members can use the app, if you set up Apple's Family Sharing feature.
Skyview does not collect personal data, which helps keep your children safe.
Cons
The Lite version is limited to only about 15 constellations, 2 satellites and the sun and moon, so the glimpse of the night sky you get with this version is only partial. It's a great starter option to find out if your family enjoys stargazing, but for long-term use, you might need to upgrade to the full version.
The Lite version allows for in-app purchases, so parents should disable the ability to make in-app purchases if they don't want surprise charges on the bill. However, the costs of these purchases are low, and buying the low-priced full version right off the bat gives you all of the extras without having to worry about unexpected in-app purchases.
Parents report a slight learning curve when it comes to learning how to use the controls and position the device for optimal performance.
You may have to manually reset or calibrate the compass in your phone to get Skyview to work accurately, although this is not difficult to do. The app may not work in areas where there is a strong magnetic influence due to interference with the compass.
Some users who upgraded to the full version complained of technical difficulties with getting the soundtrack to play.
One of the aspects that makes this app so educational is the history and facts that it provides about the planets and constellations. Since many of these celestial bodies are named for mythological figures that contain adult content – including violence, sex and drinking – parents should know that there may be some mild references to these topics in the facts about the stars and planets.
Score
Safety: 91/100
Educational value: 94/100
Entertainment value: 96/100
Creativity: 95/100
Cost: 95/100
Overall score: 94.2/100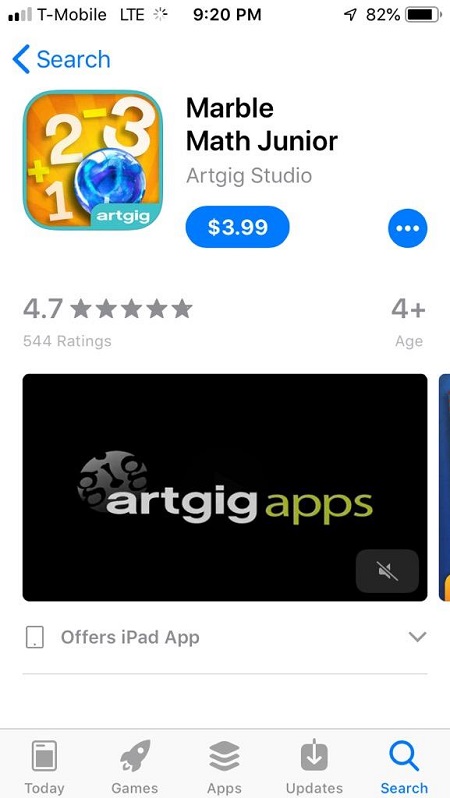 It's never too early to start coaxing your children toward developing a love of math. A fun app Marble Math Junior could be just what it takes to get your 4-year-old eager to learn math.
Both this app and its predecessor, the original Marble Math game, use the framework of moving a marble through a maze to win points and achieve high scores (and the bragging rights that go with them). However, these aren't just any mazes. Instead of merely (and mindlessly) navigating the marble to the end of the labyrinth, players must answer word problems that require them to do mental math to know where to guide the marble.
Surprisingly, Marble Math Junior is more popular than Marble Math, with 539 reviews in the App Store compared to the original game's 343 reviews.
Pros and Cons
Pros
Marble Math Junior tests children as young as 4 on their knowledge of shapes, matching, sequencing, adding, subtracting, multiplying, telling time and counting money.
Once children advance beyond the basic math concepts tested in Marble Math Junior, they are already familiar with the platform of Marble Math. This version, ideal for older kids (think the 9 and up age range) tests knowledge of division, decimals, addition of fractions, negative integers, factoring, simplifying equations and sequencing Roman numerals.
The questions in the Marble Math apps align with Common Core standards and are ideal for helping children learn to practice mental math.
The content of Marble Math apps is customizable, so parents can choose particular areas to focus on, block questions about concepts the child hasn't studied yet and set a level of difficulty that meets the child's current proficiency.
When players select a wrong answer, the app allows them the choice of trying again or seeing the right answer, so they can learn from mistakes in a way that makes sense to them – without getting frustrated.
The Marble Math Junior level is accessible even to children who aren't reading yet, with a read-aloud option.
Players' profiles track their progress and save their settings, so parents can see measurable results and kids don't have to start over each time they open the app.
The award-winning apps have earned recognition from Common Sense Media. The original Marble Math app won the Children's Technology Review Editor's Choice Award, while Marble Math Junior was named the Parents Magazine Best Math App.
Once you purchase either app for the reasonable price of $3.99, you can create unlimited custom profiles. Marble Math apps also support Apple's Family Sharing feature, allowing for as many as 6 family members to use the app.
The Marble Math apps do not collect or share personal information or include third-party ads.
Cons
Both apps are paid. The developer does offer a free Marble Math Multiplication app, but it is much more limited than the paid apps.
Some users complained of technical difficulties that occasionally made the apps difficult to use.
Even in the Junior app, parents found that some of the content was too sophisticated for the kids on the lower end of the 5 through 8 age range.
The coordination needed to play the game may be too sophisticated for 5-year-olds, even if the math content is not.
Score
Safety: 95/100
Educational value: 97/100
Entertainment value: 93/100
Creativity: 89/100
Cost: 95/100
Overall score: 93.8/100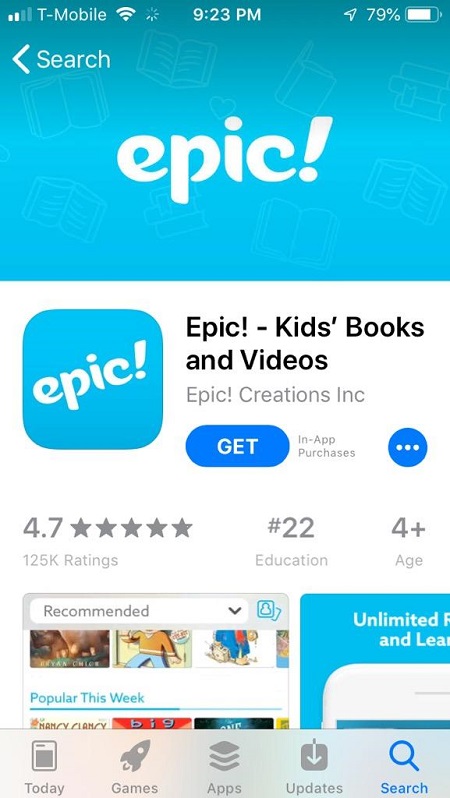 If you're the parent of a voracious reader, you know that there's value in a love of reading – but there's also a hefty cost when your child devours books. The iPhone app Epic! will cost you a monthly fee, but it will give your child unlimited access to a digital library containing tens of thousands of e-books.
The titles are diverse and include offerings from popular series for children through pre-teens, including Curious George, Sesame Street, Goosebumps and The Chronicles of Narnia.
Pros and Cons
Pros
A subscription to the Epic! library will put 35,000 titles in the palm of your child's hand.
Offerings include fiction and nonfiction, with titles in the categories of biography, STEM and graphic novel. Everything from beloved children's classics to Epic! original stories is on the table.
In addition to conventional e-books, children have access to audio books, read-to-me books, quizzes and educational videos.
Children can read online or offline, from the app on a mobile device or on the Web.
One subscription allows you to create up to 4 profiles, each with a personalized reading experience, that children can use simultaneously. As many as 6 family members can use the app, if you set up Apple's Family Sharing feature.
Explore the Epic! digital library for free with a one-month trial.
Epic has a 4.7-star rating in the app store based on 124,100 ratings.
The app contains no ads that could expose children to inappropriate content or make your device vulnerable to security threats.
There are no in-app purchases, so you'll never be surprised with an unexpected bill – just the predictable subscription cost.
Cons
As iPhone apps go, Epic! is on the pricier side due to the need for an ongoing subscription. Parents will spend $7.99 per month, but they can get a discounted rate if they purchase 6-month or 12-month subscriptions.
Subscriptions are set to auto-renew by default, which could result in unwanted charges if parents don't cancel their membership in time to avoid the extra charge.
Some parents reported difficulty canceling a membership.
Score
Safety: 98/100
Educational value: 94/100
Entertainment value: 92/100
Creativity: 90/100
Cost: 88/100
Overall score: 92.4/100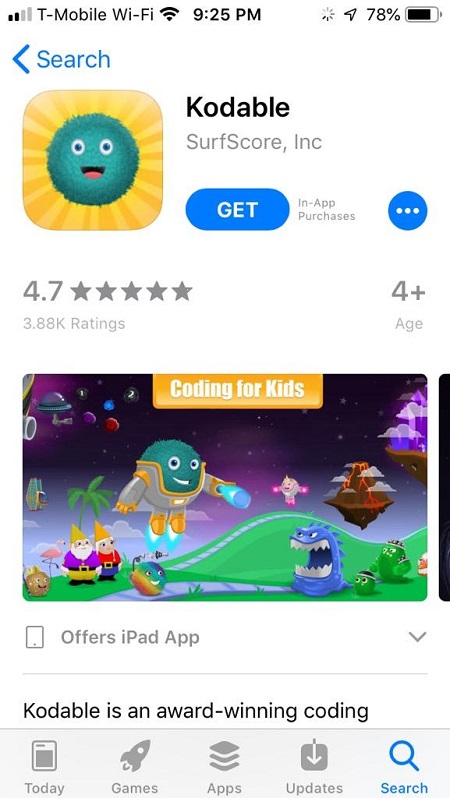 Computers are entrenched in today's world, and they aren't going anywhere. Programming will be an even more critical skill for this generation of children than for previous generations.
To give kids a jump on learning to code, apps like Kodable begin laying the groundwork for computer science studies early – for kids as young as 4 years old. The app makes computer coding fun by setting it in the context of a story in which players must help the furry, blue aliens of the Fuzz family after they crash-land on a planet called Smeeborg.
Naturally, children help the Fuzz family with computer programming. Though the games and fun activities that comprise the app, children in kindergarten through second grade can cultivate skills in logic, reasoning and problem-solving.
Ultimately, they will be able to write code in the JavaScript programming language and apply that knowledge to create their own mazes and games.
Pros and Cons
Pros
Children ages 4 to 10 who start with no computer science knowledge can learn the underlying concepts of coding, become proficient in a basic but prevalent programming language and design their own programs.
More than 160 levels make up the Kodable app, so you don't have to worry that there isn't enough content for the cost.
The curriculum of Kodable is developed by experienced elementary school teachers and includes activities that emphasize computational thinking, programming and communication, the impact of computer programming and social emotional learning, particularly as it relates to group collaboration.
Parents don't need to know computer programming, either. The app includes resources for parents and is perfect for learning coding together.
Your kids will likely become familiar with Kodable at school, since half of all elementary schools in the United States has used the program, as of February 2017. By September 2018, the total number of kids who have used Kodable had grown to more than 15 million.
Updates allow parents to measure their child's progress in the app.
Kodable has been featured in numerous publications, including The Huffington Post, TechRepublic and Readwrite.
One subscription allows you to create up to 4 profiles. As many as 6 family members can use the app, if you set up Apple's Family Sharing feature.
Your kid can try Kodable for free with a 7-day trial.
The app has a 4.7-star rating in the App store, based on 3.9 reviews.
Kodable complies with international children's privacy laws, including the Children's Online Privacy Protection Act of 1998. To protect children, Kodable does not collect Personally Identifiable Information from app users.
Cons
While the app itself is free, the subscription comes at a cost of $6.99 per month.
Until you shell out the money for the subscription, essentially purchasing all of the content available, users have the potential for in-app purchases.
Younger children may struggle after they complete the earlier lessons of the program, because the content does become challenging as the level of difficulty rises.
Because Kodable's target audience is younger than that of other coding apps, the program is not as advanced – which is good for parents of younger children, but may be a drawback for parents of children on the upper end of the age range.
Score
Safety: 94/100
Educational value: 96/100
Entertainment value: 93/100
Creativity: 94/100
Cost: 83/100
Overall score: 92.0/100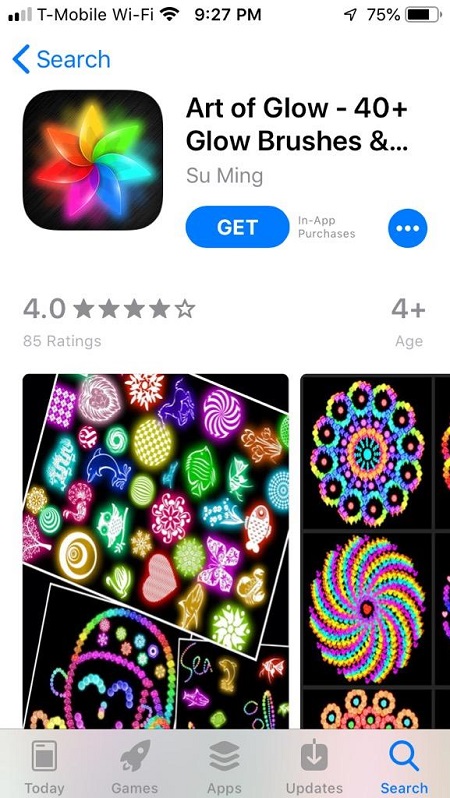 Who doesn't have fond memories of Lite-Brite? The then-high-tech toy has been, quite literally, brightening up childhoods since 1967. Time Magazine even ranked the toy among the All-Time 100 Greatest Toys.
For a modern audience of kids who were born into a world of technology, though, picking up and meticulously placing each tiny colorful peg into a hole might not seem as exciting as their parents found it once upon a time.
Fortunately, apps like Art of Glow recreate the joy an old-school Lite-Brite once brought – and in many ways, they improve it. Kids can create works of glowing art effortlessly. Today's technology allows for special effects Lite-Brite users could only dream of and offers more creative freedom.
While there are plenty of excellent art apps suitable for kids (not to mention, calming for adults), this very popular free app is easy enough for preschoolers to use and flashy enough to catch the attention of even the youngest children.
Pros and Cons
Pros
Instead of tediously organizing and finding the right color pegs, as they would have to do with a real light-box toy, children simply select the shades they want to use. Creating their desired images is as easy as finger-painting, but without the mess.
Add effects like animated text art, fireworks and twinkling stars to your works of art.
Because of the hole-and-peg construction of the Lite-Brite toy, templates and guides were often necessary to create a work of art that actually looked like anything. Without these constraints, children can let their imaginations run wild. Parents don't need to stock up on paper refills and templates that feature licensed characters, and they won't have to worry about light bulbs going out or needing new batteries.
The Art of Glow app has seen more than 5,000,000 installs and has 1,900 ratings in the App Store.
A free app offers an extensive range of features, while a $0.99 pro version adds the option to make videos. There are no in-app purchases.
As many as 6 family members can use the app, if you set up Apple's Family Sharing feature.
Cons
This app facilitates creativity and artistic development, but it doesn't have an explicitly educational function to it.
The app is more self-directed than games with levels, scores or specific objectives. While some children enjoy creating art at their own pace, others might get bored after a while.
The ads can be obtrusive and annoying, and they could potentially expose your child to content that is not age-appropriate.
Unlike most other app developers, the publisher, Natenai Ariyatrakool, does not have a Privacy Policy readily available on the organization's website that outlines what (if any) data the app collects, how it is used and what security measures the app has in place.
Score
Safety: 85/100
Educational value: 83/100
Entertainment value: 95/100
Creativity: 98/100
Cost: 97/100
Overall score: 91.6/100