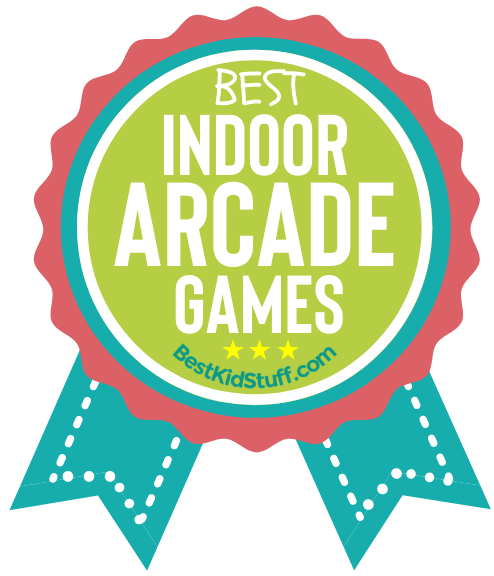 Loved by many, arcade gaming is one of the most sought after entertainment media. You've likely encountered these in entertainment centers, pubs, and other public places where kids (and adults!) go to pass the time while mom and sister are out shopping.
Arcade games come in various categories such as pinballs, video games, billiards, bowling, air hockey, and even those fancy claw machines with stuffed toys and treats inside.
Though all of these seem like they're only good for entertainment, arcade games have shown promising benefits too. Cognitive abilities are found to be enhanced among people who play arcade games.
After all, multi-tasking decision-making and memory skills are required to help the players move through more difficult game levels.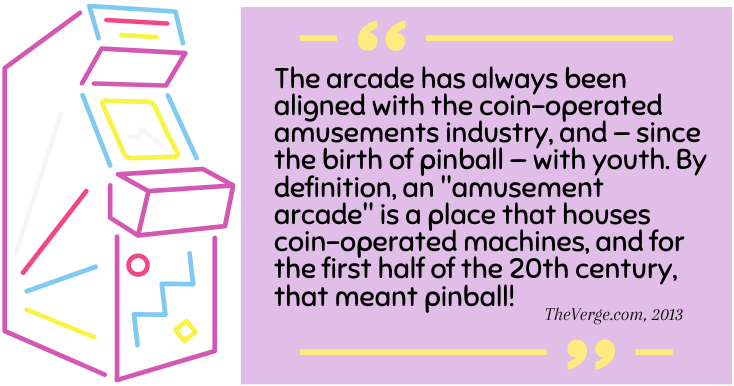 Moderate gaming has also been shown to lessen emotional disturbances among children. Indoor game rooms encourage physical play (such as bowling and air hockey) hence keeping them active through this entertainment equipment. The market is also teeming with personal and coinless options, allowing arcade fans to build their collections.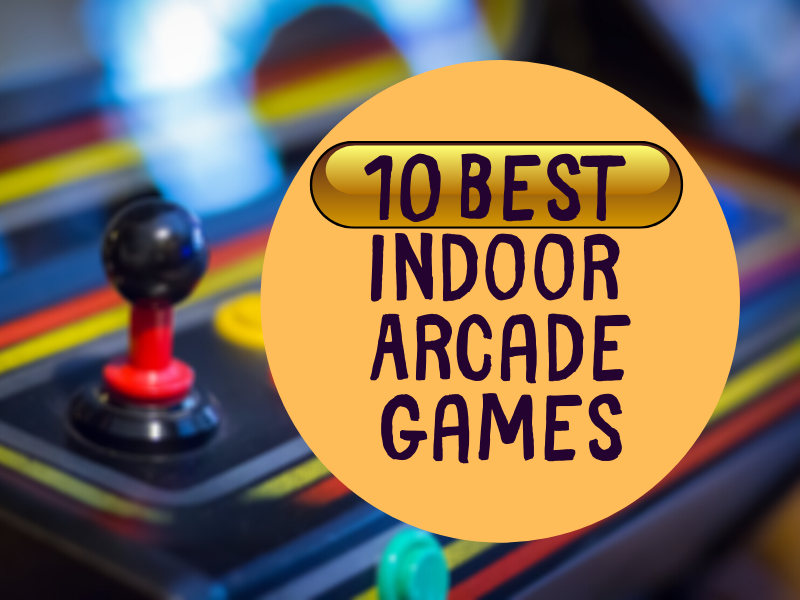 Whether you're an enthusiast looking for something classic to add to your collection or a business looking for fun arcade games for your clients to enjoy, this Doc and Pies Cocktail Arcade Machine Special-Edition with 60 Classic Games will not disappoint!
With a 22-inch screen, this retro video arcade is suited for up to two players. It features a standard retro design to surely bring nostalgia to anyone who grew up playing these during the '80s or '90s.
There are 60 games to choose from in this one machine. It's a far cry from 'boring' since you have so many options to choose from and explore for days (or months!) ahead when you're in your Game Room or Man Cave.
Don't let its retro design fool you. There are also tons of games you and your family can enjoy when you place this in the family room. For those rainy days and lazy weekends, having play sessions with your kids is a quality time well spent!
This equipment also sports two standard cherry joysticks with two sets of buttons for easier maneuvering. Even for young kids, this would be easy to use. It's best to add stools with just enough height to easily allow players to be more comfortable and easily check the screen.
For business owners, this indoor arcade game equipment comes with a coin slot. So, if you're running to an arcade store and looking to add classic games to your collection, you can charge your players at a premium.
Fit for kids ages 12 years, and up, kids and adults will never get tired of exploring and honing their gaming skills with this arcade machine!
Who wouldn't love a RETRO GAMING MACHINE?! With 60 games to boot!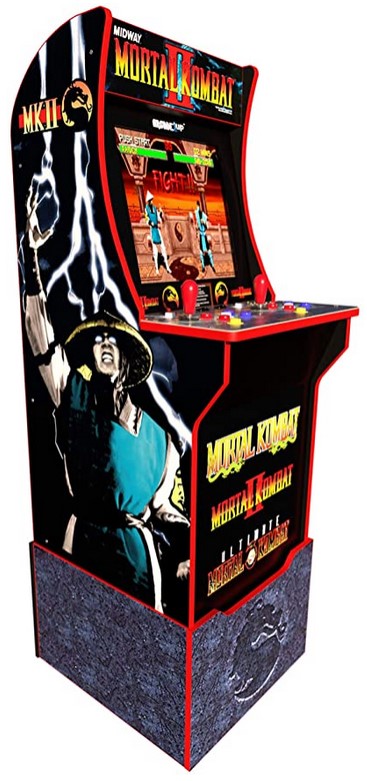 Another much-loved classic game, the Arcade1Up Frogger Home Arcade Machine is just the right antidote to your 80's nostalgia.
This Arcade1Up arcade cabinet is a much-anticipated collaboration between Konami Cross Media NY Inc. and Tastemakers. Re-introduced as a 3/4 arcade cabinet, this makes for a suitable home gaming equipment for man caves and game rooms.
Fans of this iconic game will still enjoy its original formatting, complete with joystick, music, and buttons. When you purchase this arcade cabinet, you get a colorful and high-resolutions 17″ screen display with the original game and panels.
At 5 feet high, this arcade equipment features three games: the classic Frogger, Time Pilot, and Time Pilot 84. For a good price, you get more time to hone your skills in completing three separate games during downtimes!
Fit for home use and kids 14 years old and above, this is a coinless arcade cabinet made of colorful light-up marquee sporting the original Frogger artwork.
It's time to add another vintage arcade game to your collection!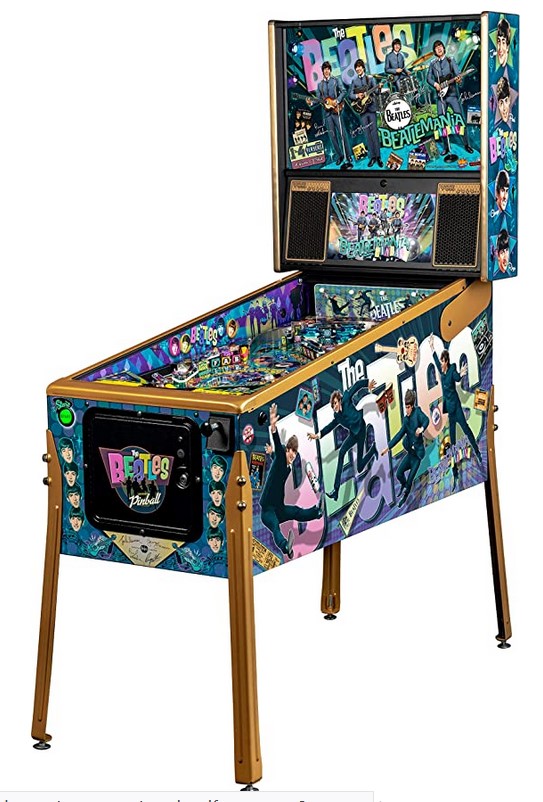 Get better play experience with the Stern Pinball The Beatles Gold Edition Arcade Pinball Machines!
If you love The Beatles and enjoy pinball machines, this arcade game combination for you! Everything about this machine screams 'Beatles' all over. Sporting the faces of the famous band, this pinball machine displays a colorful "retro" artwork.
This Stern and Kapow product has embedded a few upgrades from the usual pinball equipment. You get to hear timeless Beatles' songs such as Can't Buy Me Love, A Hard Day's Night, and Taxman. There are also iconic introductions made by Ed Sullivan and The Beatles 1965 introduction in the New York Shea Stadium. The flippers, the opto-spinners, and spinning record discs are made with retro designs with iconic band faces and cartoons.
Moreover, a full-screen display of animation with simulated reel scoring can be seen on its high-resolution screen to keep track of the game in a fun and exciting way!
Compared with a standard pinball machine, this equipment allows for multi-ball play, so you don't have to keep reloading the pinball for each round.
This home arcade equipment will entertain you, your guests, and your family at a reasonable price, especially if you are a BEETLES enthusiast!
4. Coastal Amusements Telephone Toy Plush Crane 30″ Claw Machine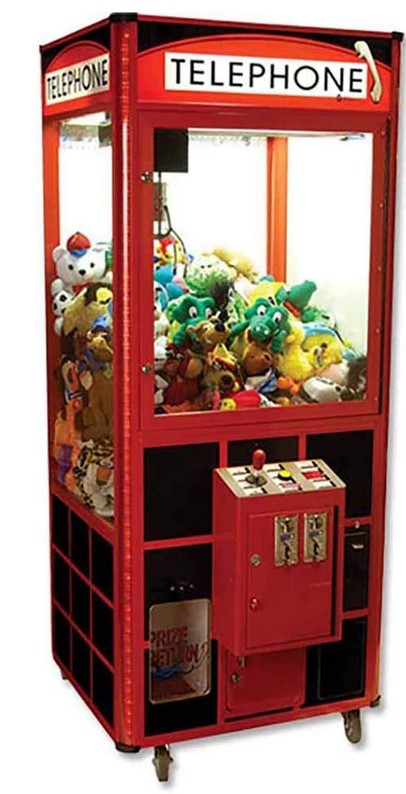 Complete your arcade collection with the Coastal Amusements Telephone Toy Plush Crane 30″ Claw Machine.
Claw machines are iconic games any business owner would love to add to their arcade center. This Coastal Amusements claw machine is encased in a classic cabinet-type set in an attractive red color.
It's suited for small spaces where kids, teens, and adults can have their go in showcasing their skills to getting as many toys from the storage.
Anyone loves a quick game with a big reward. The cabinet has enough storage for treats or stuffed toys of your choice. It comes with attractive running lights to draw your patrons in to try their hand out in this game.
It's easy to use and manipulate. Just as you'd expect from a standard claw machine, this one comes with a small cherry joystick and a yellow button. The instructions are also easy, so younger kids can have their go in playing this machine under an adult's supervision.
This arcade machine is also programmable with adjustable pricing and options. You are in control of the price per play, settings (including free play), and claw strength.
Any arcade owner looking for a value for investment game equipment will be highly satisfied with this classic claw machine.
Why not try out the ever-so-popular claw game in your home arcade? It's fun, challenging, and nostalgic!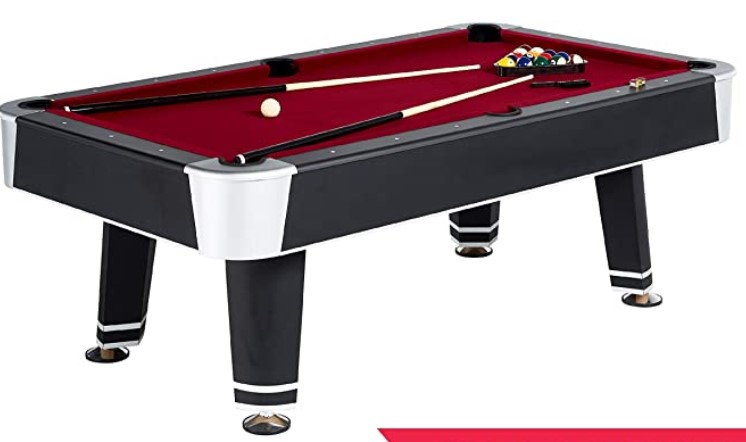 Whether you're playing for enjoyment or wanted to spend time with friends for a friendly pool game, the MD Sports Billiard Table Set should have space in your home.
If you're looking to add a multi-purpose pool table, this MD Sports creation is a timeless piece. Each set contains a sturdy pool table with a complete set of billiard balls; a felt brush, cue sticks (good for 2), a triangle, and chalk. You can add more cue sticks so more people can join in the fun!
Don't let its aesthetics fool you. Whether you're practicing to hone your skills or do it for recreational purposes, this table is an ideal go-to set. It can withstand wear and tear with its 7.5-inch high-quality surface with a 3/4-inch felt protective exterior for a smooth and optimum ball reaction.
It also features 6-pocket, durable leg supports with custom levelers and protective rubber feet, ensuring you get maximum returns for your purchase.
It's nasty to see scratches on your pool table; hence its scratch-resistant finish protects the paint from accidental brushes. Quality bumpers made of K-818 material are set to last a long time. Compared with conventional billiard tables, this one sports a premium exterior using rich burgundy felt against stylish pillars in black and white combination.
Your Man Cave will look better with this unique piece added to your space!
Easy to assemble, this sturdy billiard table is another staple to add for personal entertainment or your arcade business.
6. Gold Standard Games Tournament Pro Elite Air Hockey Table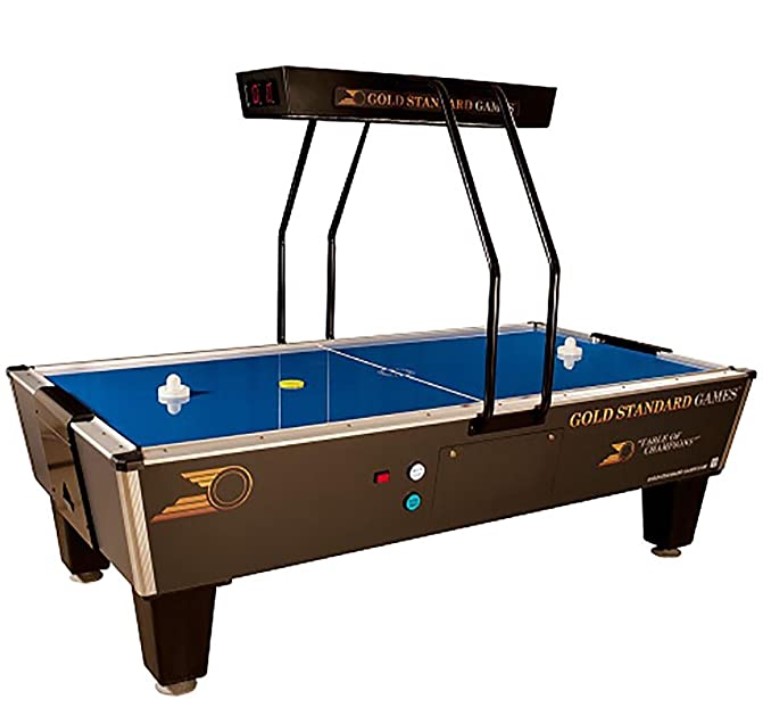 Perfect for home entertainment, the Gold Standard Games Tournament Pro Elite Air Hockey Table is your gaming equipment to elevate your enthusiasm in air hockey.
Whether for leisure or trying your hand on serious air hockey skills for a pro game, this Gold Standard Games air hockey table is fit for any purpose and skill set.
Designed by Mark Robbins (Air Hockey Champion) with aesthetics and function in mind, this is an air hockey table that lets you experience the "real deal." It is also fully sanctioned by the U.S. Air-Hockey Association for professional tournament play.
It uses a free-play button, so you don't need to worry about coin inserts to start playing. This air hockey table also features a low-profile and professional design that looks similar to a pro hockey game.
The rails are made of quality aluminum for a maximum bounce, while the surface is made of highly durable laminated material to ensure longevity. A commercial blower allows for free-flowing pucks to glide through the surface with ease, letting players concentrate on the game.
You won't get any flimsy scoreboards for this set. It comes with a sturdy goal construction to let players keep track of their scores. The overhead scoring also features a black light for cosmic mode and white light for competitive mode.
Suited for home or arcade center use, you can take your air hockey skills to a professional level with this air hockey equipment at an affordable price.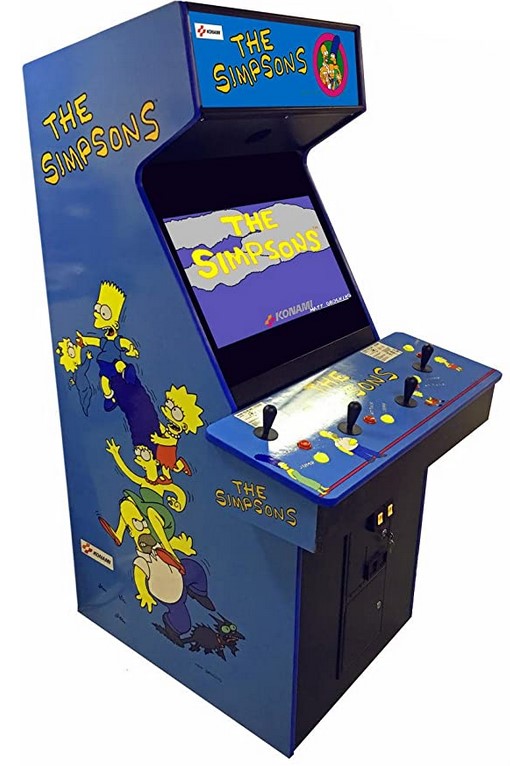 A sure blast from the past, this Konami Simpsons 4 Player Arcade Game is still a fun game to play today for kids and adults alike!
If you're looking for a light-hearted game, then this Konami arcade game will fit perfectly in your collection. The Simpsons is a beloved cartoon show many are familiar with watching as a kid in the 80s. However, playing this game delivers the same kick of comedy, laughter, and excitement in this arcade game.
With a silly plotline, this classic game is a great way to spend time with the kids. The maneuvers are easy to follow, using only a few actions such as jumping, hitting, and walking.
Marge, a Simpson favorite, is a favorite character many prefer to use because of her better reach (using the vacuum as her weapon). The players can unlock secret weapons, including trash cans they can fling to their enemies, slingshot, and a bowling ball.
This arcade game brings the same fun and quirkiness as the show! Anyone who has taken the time to get past that Krusty balloon or getting obliterated by Smither's thousand bombs may find enjoyment playing The Simpsons Arcade.
The control panels are easy to navigate with its four black joysticks with red and yellow button pairings. It's a fun game you can play solo or with siblings and friends to accommodate up to 4 players.
Coin token slots are available below and can be adjusted according to your preferred settings.
With quality craftsmanship and a classic game to boot, you can never go wrong playing for hours with this!
8. N2fun Golden Tee Golf Pedestal Arcade System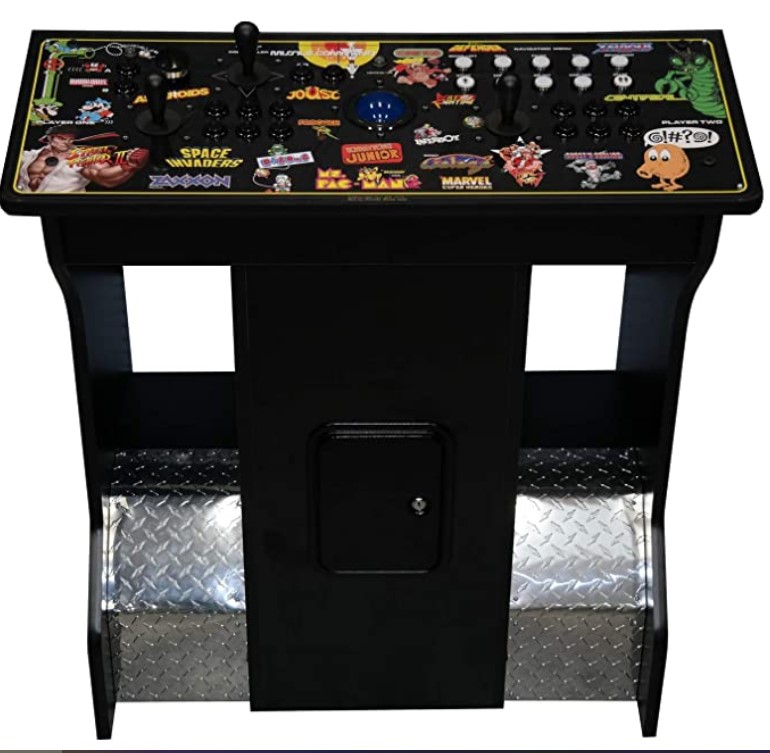 Get top-grade entertainment fit for any age with the N2fun Golden Tee Golf Pedestal Arcade System.
The N2fun Golden Tee Golf Pedestal's creation is packed with exciting games for all ages. Owners would get a bang for their buck with more than 12,000 games in this one arcade machine. From kids to adults they would surely enjoy classic games like Donkey Kong, Golden Tee Golf, Galaga, Super Mario, Street Fighter, and Pac Man.
Not interested in playing? If you feel like listening to music, this can be used as a Juke Box. Prefer to sing your lungs out? Plug the microphone to the port, and you instantly have a karaoke machine!
No cables are needed for this arcade machine to function. You'll only need a smart TV and connect it through WiFi. It can also connect with other electronics, such as your wireless keyboard, where you can adjust videos and audios when you're on the other side of the room.
Everything is ready for play, so there's no need for complicated set-up! The box is made of sturdy and quality materials, including the joysticks, speakers, and buttons.
The light-up buttons are for selecting and changing the settings of your preferred game or activity. Each piece is made for daily wear and tear and can withstand prolonged hours of use.
This arcade equipment can accommodate up to 4 people, so everyone can take turns and have fun when you're playing as a group.
Coin slots are also available for patrons to keep coming back to test or hone their skills playing their favorite games. A locking metal door ensures all tokens are safe and secure from prying hands.
Fit for businesses or personal use, this one is a jam-packed item sure to entertain for countless hours!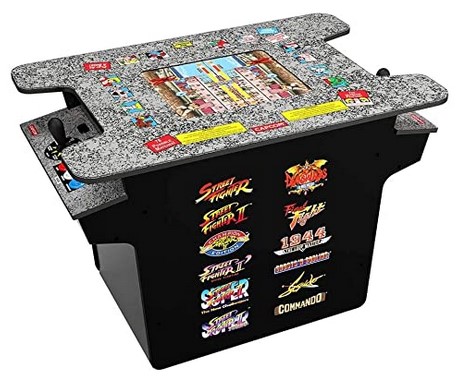 Filled with action-packed games, the Arcade1Up – Deluxe Cocktail Table with Split Screen is a perfect home companion for boys.
This is another Arcade1Up cocktail arcade machine to fit smaller spaces or man caves. Accommodating up to two players, this one contains 12 games, including the Street Fighter series and Commando, to name a few.
If you're looking to perk up lazy afternoons or spend quality time with your kids, this is an affordable machine to have in your home!
Split-screen allows for multi-players to keep track of their game and score. The middle of the table displays a clear 17″ LCD screen encased in a sturdy gray-colored exterior. Control panels are located on opposite sides with the conventional joystick and colorful buttons.
The speakers are located on the sides, and deck protectors are in place to maintain the exterior's integrity despite constant use and accidental bumps or scratches.
This machine functions immediately and won't require any tokens to get any of the games started.
Bring amusement to your personal space with this compact arcade machine! It's great for smaller spaces!
10. mck Electronic Bowling Arcade Game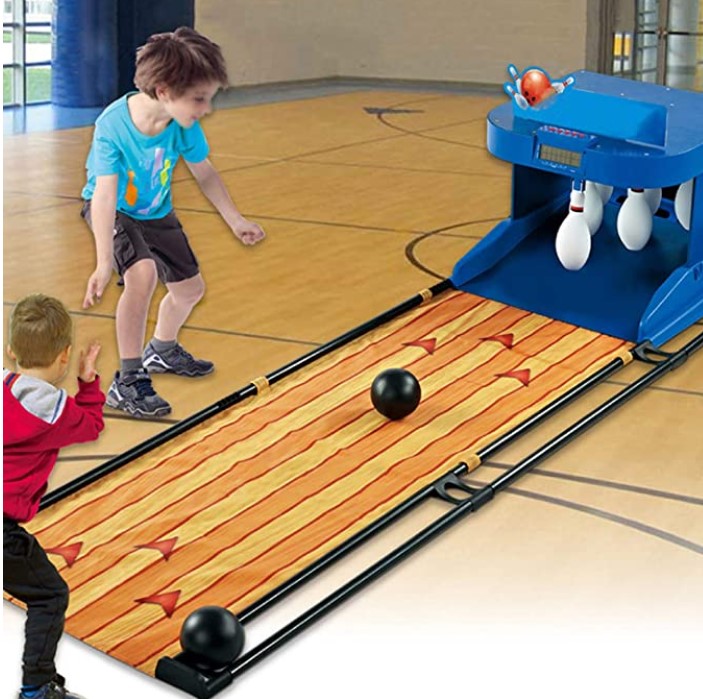 Experience the fun of bowling within the comforts of your home with the MCK Electronic Bowling Arcade Game!
This product from MCK is intended for family use. This is a multi-player arcade bowling set that can accommodate two players.
You can either play solo, with a partner or with a group separated into two sets. By clicking the buttons, you can adjust the number of players. A clear LCD screen will display the scores for each team.
The fairway baffle blocks the bowling ball thrown while ensuring that it automatically returns to their respective sides after each throw.
This is an ideal piece to have in your home for your kids and guests with varying skills set. It could also serve as practice equipment for young kids who want to sharpen their throws to acing strikes!
There's no need for complicated tools to set up this arcade bowling equipment. The bowling balls weigh just enough for kids to handle as well. Each set contains six bowling pins, two bowling balls, and sturdy bowling arcade equipment.
Make every day a fun day with this bowling arcade machine!