Although most parents teach their toddlers and little ones in learning their ABCs, you should not turn a blind eye to your kid's fitness or physical health! Encouraging them not to fear the outdoors is even more probable when playing with a ride-on toy. These toys are useful in honing their motor skills, as well as their coordination.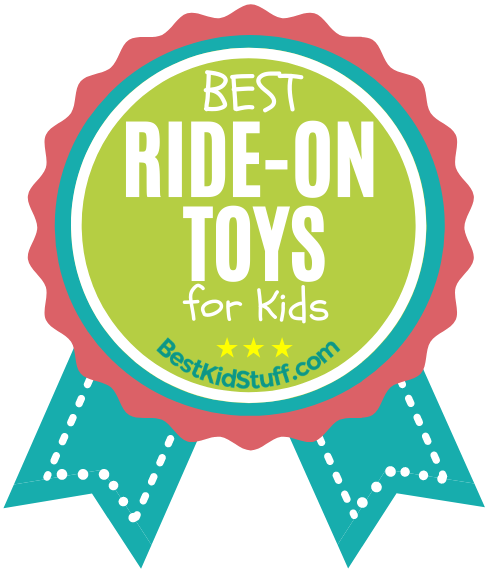 Simply put, your kids will be able to attain and develop their executive function as life skills only when they are outside, under the sun, enjoying their outdoor games. These are crucial moments for them to learn how to react, amuse themselves, and use their imagination and creativity.
It also improves their physical development, strengthening bones and muscles. Let them play out different scenarios to simulate fun roles with their friends and buddies while riding stationary or electric cars or bikes.
A ride-on toy is defined to be a toy in which your toddlers or kids can ride on. They come in various kinds, ranging from a push car, bicycle to rocking horse, and small trikes. Depending on their skills and interests, there are many selections.
As a parent, you should need to know what features and functions matter before you proceed in making a purchase. These ride-on toys will eventually impact their early growing stage, after all.
What to consider before obtaining a ride-on toy: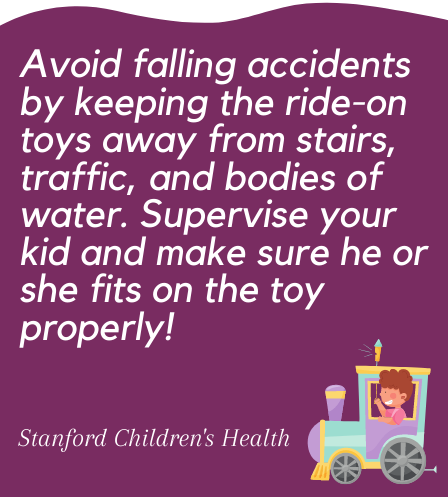 Safety. Among all things, parents should prioritize safety. Some toys could be deemed unsafe for your kids, especially if it does not suit your child's age. Ride-on toys have designated age groups that you need to check firsthand so that you can assess if it's suitable for your kid. Each toy needs to undergo a quality check, of course, and they should meet safety standards.
Durability. Once it's safe, it does not automatically mean it's durable. This is a whole different feature. Stable means that your kids may be able to use it and ride on it for a long time. It could mean your second or third child may even be able to use it, too, when the time comes. Sturdiness is a practical feature that we all look for when deciding to purchase any product: the same thing goes for your kid's toys.
Size. Find a ride-on toy that is appropriate for the size of your toddler. Although most toys suggest age suitability, consider if the ride-on toy's size also matches your kid's weight and height.
Power Source. While some ride-on toys are powered through charging electricity into the batteries that can ignite the steering wheel, other toys require stationary energy, which means that your child will need to pedal and go in motion for the toy to move. Depending on which power source you or your kid prefers, make sure that it is convenient to use as it is easy for your toddler to control.
Here is a consolidated list of the ten best ride-on toys for your children: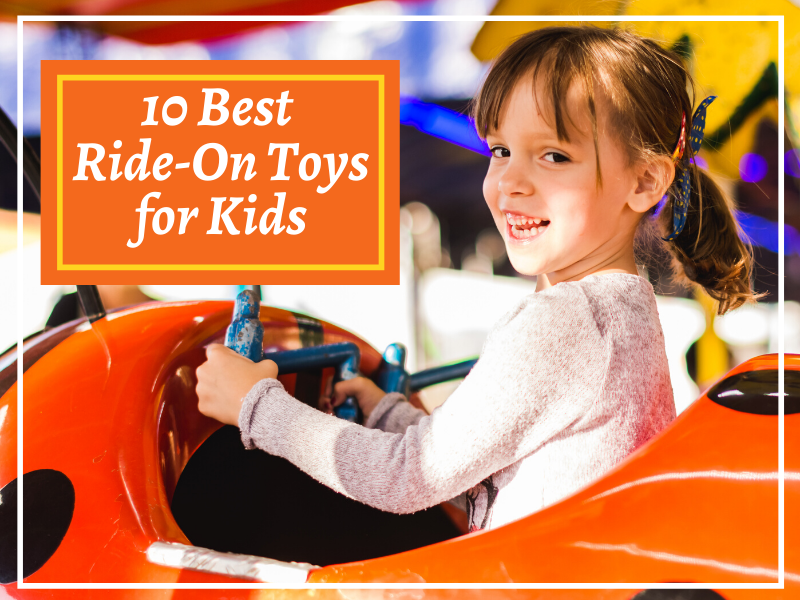 1. Step 2 Hot Wheels Extreme Thrill Coaster Ride On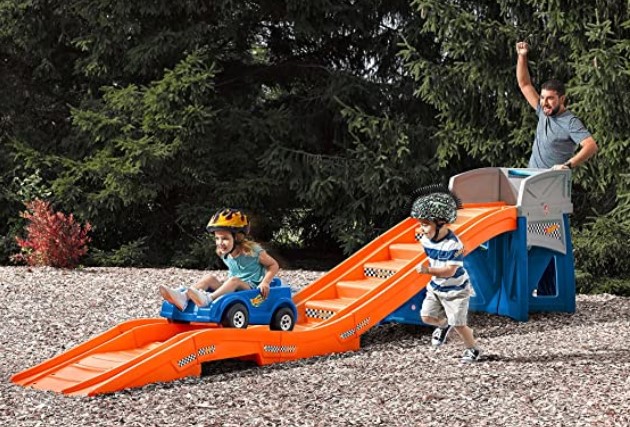 This toy is suitable for kids who have a heart for the adrenaline rush and love heart-thumping rides of a roller coaster. Surprise your little ones and let them try out this hot wheels ride. A cross between an indoor mini car and an outdoor roller coaster, the Step 2 Hot Wheels Extreme Thrill Coaster Ride On may feel like a dream come true for your fun-loving little ones.
This is perfect for three-year-old kids and up. Invite your kid's friends over to share and take turns as they ride down the track, using a single-rider coaster designed car. The coaster car starts at the top from its platform as the beginning point and eventually slides down to reach the slide's bottom.
It can roll a bit more forward because of the car wheels. It eventually halts after some seconds. It's straightforward to reset the coaster car; it only requires you to roll it back upward, ready for the next kiddo to ride.
Little thrill-seekers will indeed find it fascinating to keep riding this slide over and over again, along with their friends too. It is no doubt that this will be the talk of the neighborhood, and your kid's friends would want to keep getting invited always.
This entire package holds a five-piece riding track, coaster car, platform, and some of the hot wheels themed decals. What makes this 14-ft riding track more interesting is that most kids can maximize their motor skills because of its complete molded-in steps.
They can climb up the stairs back to the platform and go down again as they wish. Safety is a feature proudly emphasized by this trademark of ride-on toys. They make use of recessed wells for the coaster car to ensure stability. It's understandable why most parents choose these particular hot wheels to ride toy with all these features.
This one is like being on a roller coaster… fun for all of your little daredevils! Check it out!
2. Radio Flyer – Flyer 500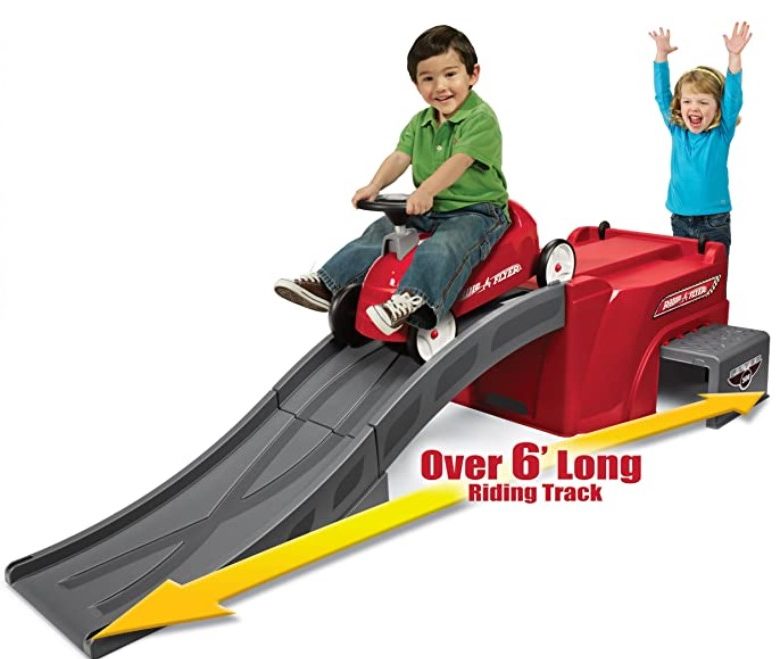 Promising endless fun for your kids, this Radio Flyer – Flyer 500 ride-on toy is a 6-foot-long riding track and flyer car. It is perfect for your babies with ages two years old until 5. As early as two, let them experience real riding as they slide along the track. Expose them to doing physical activities as early as possible.
The flyer car can be used entirely independently, without the track's support. It is suitable for off-track riding for your little ones too. They can play and get engrossed with their imaginations as they play with their safe and harmless toy car in your indoor home or your garden.
Similarly, the track and ramp can also accommodate other kinds of miniature cars. Friends can come along and race together as they all slide on the ramp one by one. This ramp can sustain weight for up to 50 lbs.
Wherever you prefer to set it up, this mini car and portable ramp are effortless to transfer and wheel to different locations. You don't need anyone else's help to move it, since it is lighter than other ride-on toys. When the sun gets too harsh outdoors, or your kids want to play only with their miniature car inside the home, you won't have any trouble at all. Move it anywhere you need to.
Another advantage of it is its easy storage. It can fit right into the base altogether, so it does not require so much space for storing. If these factors are what you find essential in finding a ride-on toy, then choose this Radio Flyer 500 for your kids.
YIPEEE! This will provide hours of endless fun for the kiddos AND it's easily transportable to take to your child's next play date!
3. Temi Ride On Toy Powered Train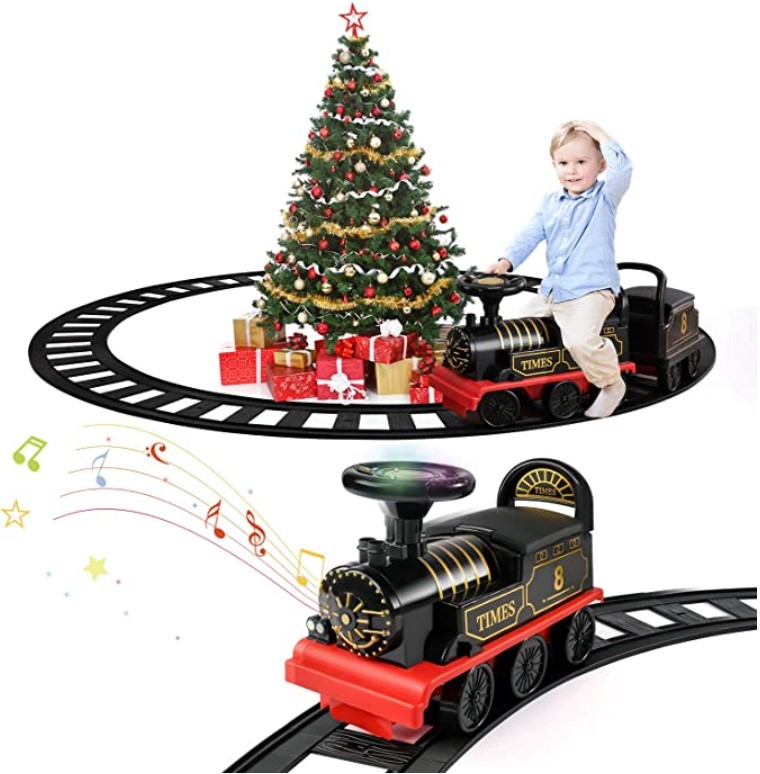 This Temi Ride-On Toy Powered Train is electric-powered or battery-operated that can last a maximum of 2 hours riding time. With a track safe speed of under one mph, you don't need to worry about your toddler's safety while riding this powered train. The pace is just enough for you to supervise conveniently.
Designed for boys and girls ages 2 to 6 years old, this electric train ride-on comes with an anti-tilt accessory and a secure backrest for added safety. It also has adjustable footrests for your toddlers to rest their feet on safely. This toy is constructed with ABS plastic materials, so they are sturdy and non-toxic for your kids. You must note that the weight capacity of this powered train is not more than 55 lbs.
Best to be given as a gift, your kid will be very much delighted to see the flashing lights that come with the train. You can assemble it quickly with no hassles: 16 curved tracks can shape into a full 7.2 ft. diameter circle. So, you may choose to decorate it with the Christmas tree in the middle or leave it on its own.
The train car works on and off-track so that they may ride the train anywhere they wish. It is built for indoor and outdoor settings, making it perfect to be driven even in parks, your backyard, or even in your living room. This ride-on toy is very flexible to use and play for your little ones. They can even store their favorite toys on the under-seat carriage box.
This toy can make fun memories for your kids as they use it as a ride-on toy, baby walker, or even as a pull toy wagon. How flexible is that!
On or off the track, this is the little engine that WILL entertain your toddler for hours!
4. Kidzone DIY Race Electric Ride On Bumper Car Vehicle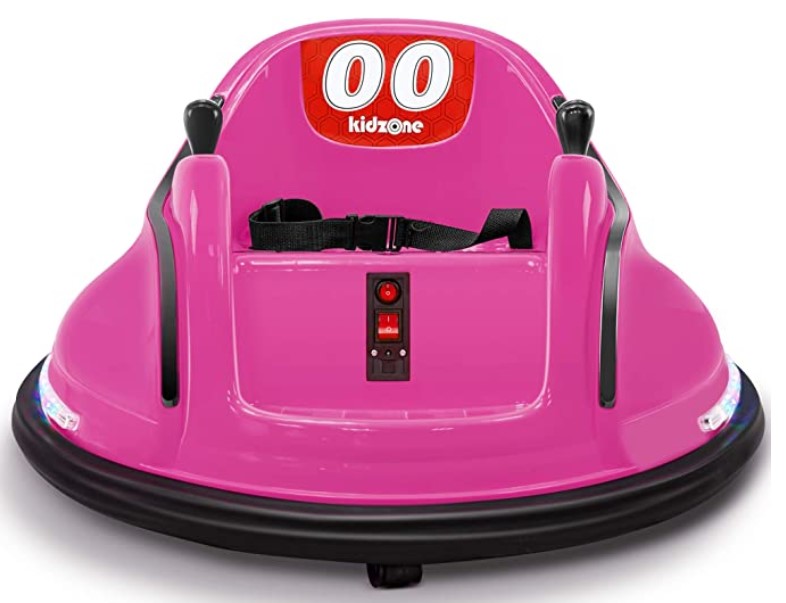 Does your child love to play bumper cars in arcade game places or amusement parks? Maybe he or she has tried it before and has never forgotten about it. What if you make your little one's dream come true by buying her or him their very own bumper car? You just might get tagged as the most relaxed parent of the year.
Watch your kids smile as you unleash this Kidzone DIY Race Electric Ride On Bumper Car Vehicle in front of their eyes. Upon reaching one year and six months, your baby can start riding this mini remote-controlled car. Have them laugh and enjoy a lot of fun when the car spins a little too much.
It can turn at a full 360 degrees by controlling the joystick or you as parents, operate the remote control. It is fully rechargeable and has a maximum speed of 1.9 mph—perfect and safe for your babies. It's an excellent way to introduce them to riding electric cars!
The shell of the car is durable enough to last a long time. As for the outside system, there are soft rubber bumpers attached so that your kids can enjoyably bump into some surfaces without having any severe and dangerous impact. This bumper car boasts a safety belt, anti-flat tires, and even bright lights to make it look even more appealing to kids.
You have the liberty to control the car's movement through the remote control, or allow your older kids to operate the joystick. You can ensure their safety by finding a more expansive space for them to drive and bump into. Other kids and friends can join them as they race along and have some super fun.
Once you purchase this bumper car, you will only need to remove it straight from the box, and it is ready for charging and use. It's pretty easy and sleek!
5. Lotee Children's Electric Car Kids 3 Wheels Electric Tricycle Ride-On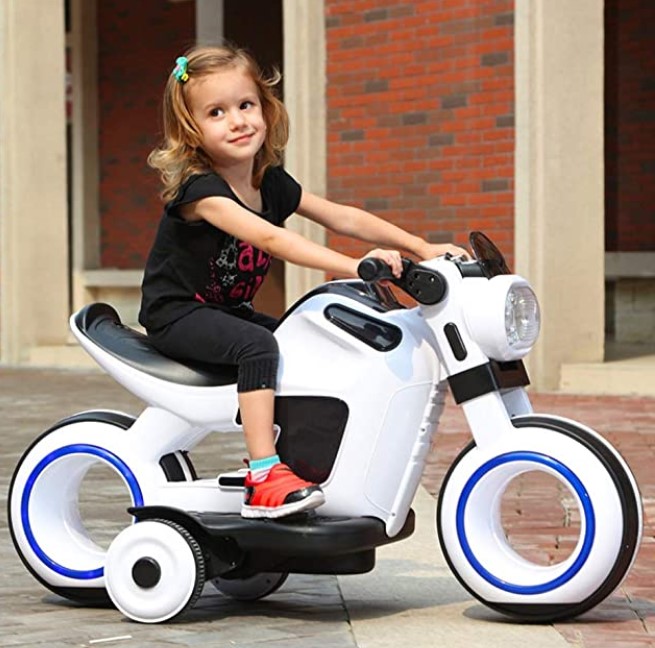 Imagine how cool your toddler would look while riding his or her electric motorcycle. Allowing your kids to explore outside, in the park, on the streets, around your neighborhood, is an effective way for them to be exposed to learning many things at an early age.
With a large battery capacity, this Lotee Electric Tricycle Ride On has great power that can deal with riding on any surface. Whether your tots prefer to ride on pavement, carpet, tiles, grass, puddle, open road, this ride-on toy can efficiently sustain. It comes with three wheels, one in front, and two at the back, making it perfect and safe for ages 2 to 8 years old kids.
It can withstand a maximum of 40-kilogram capacity and has a 38 cm seat width so your kid can sit comfortably. It comes with an independent pedal that will be controlled by your kid alone, along with a forward and backward button switch. Just make sure to supervise and stay within your kid's distance so you can easily monitor their ride.
This is the nearest to a real-life motorcycle experience that your kid can get! With a powerful performance engine, this three-wheeled motorcycle can be ridden in any weather condition because of its waterproof level. It also boasts a helical spring on its shockproof suspension system, making it highly resilient to impacts and unnecessary vibrations.
Your little one can play and ride along this powered toy continuously for three hours. It sure is an excellent practice for them to improve their hands-on abilities and enhance their creative skills.
Let your kiddo explore the great outdoors on the Lotee 3 Wheel Electric Tricycle… just another reason for your kid to love spending time outdoors!
6. DDT Children's Electric Car Ride-on Fire Truck Toy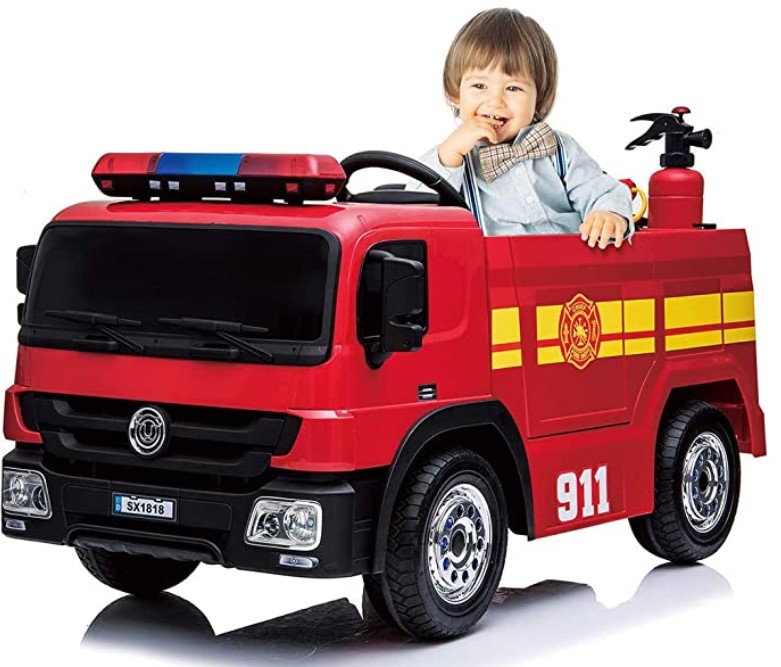 When parents ask what their kids want to be when they're older, some of them truthfully answer that they would love to become a firefighter. Let your child realize this firefighter dream by surprising them with this Ride-On Fire Truck Toy!
Powered by a 12V electrical charging battery, this fire truck is equipped with realistic alarm sounds, firefighting gear, water guns, and fire extinguisher toys. Let them experience the situation as practical as possible. They can play with their other friends as they play along with a simulated scenario of helping others in need.
Not only can they have genuine fun, but your kids will also understand and learn the importance of helping others as a firefighter. This electric fire truck comes with two ways to control: it has a remote control for parents and a pedal-steering wheel combo for your kids to operate. The speed limit runs for about 4 to 7 kilometers per hour, so it is assumed to be safe for your children.
They can choose to ride it in both indoor and outdoor environments. The car can last for up to 60 to 120 minutes, depending on your child's weight. And this toy is suitable for kids over three years old. You don't need to go into a fluster about its safety features, because there is a seatbelt, double lock door, and a spring suspension system for smooth and secure riding.
One more fun feature is that it has a piece of MP3 connection music, so your kids can enjoy listening to stories and music while riding. How cool is that?
7. FXQIN Electric Excavator for Kids Ride On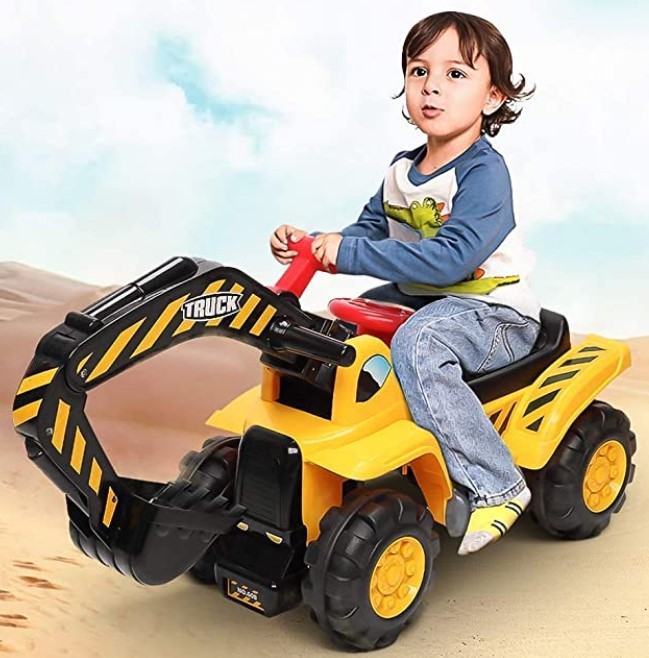 If your kid fancies construction vehicles, it would be hard for them to say no to riding this FXQIN Excavator Ride-On toy. Purchase this unique ride-on toy as a Christmas or birthday gift, and your kid will surely jump for joy. Constructed and designed with PP material, non-toxic and harmless to kids, this toy car is durable and sturdy to withstand a slight collision.
Perhaps the most fun and exciting feature is the rotatable cab attached to the front part of the car. It is capable of shoveling stones, sand, and other particles.
Allow your children to operate this bucket, with a realistic sound of the engine echoing. It has a built-in motor and horn sound, and you can even adjust its volume. Kids would never fail to be amused with that scene. The scooping bucket is easy to operate by adjusting the handle with an upward and downward movement.
This rechargeable ride on the tractor could work and run for 30 minutes and require 2 hours of charging. It is recommended for small kids age three years old and up. Along with the removable digger and scooter, a helmet, vest, toy roadblock, and toy rocks are included.
There is also a grid under the seat, in which they can store their other favorite toys. Your little one can pretend to be in a construction project simulation. This kind of experience will support building your baby's physical skills, as well as his control and coordination too.
This is an educational ride-on toy, and it will train your small kids to learn the importance of constructing infrastructures and knowing how to use such construction vehicles and equipment.
8. Aosom 12V Kids Electric 2-Seater Ride On Police Car SUV Truck Toy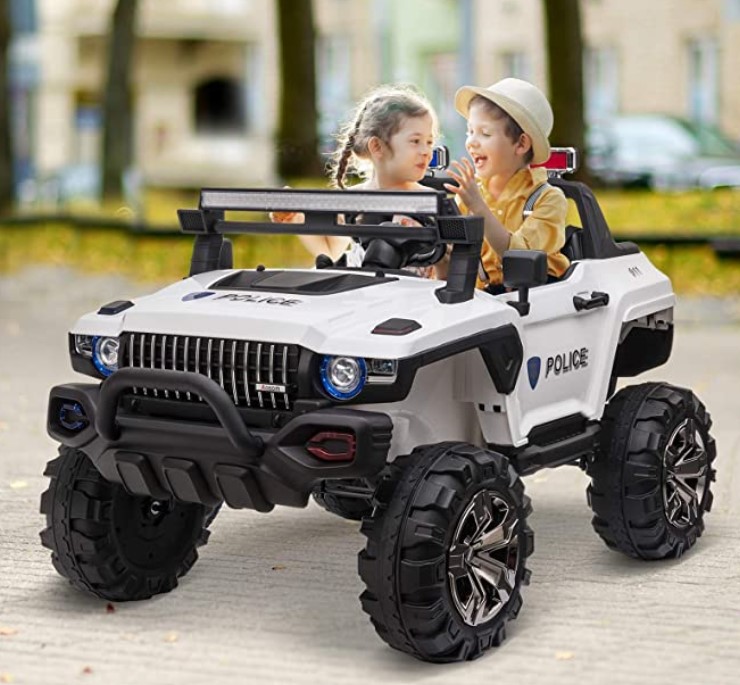 Another famous occupation that most little kids would like to be when they grow up is to become a police officer. There is just something about the uniform and the AOSOM 12 V Kids Electric Ride On Police SUV that appeals to kids. They become intrigued as they admire the police officers' courage and heroism in the community!
So when you give them an electric police car as a gift, your baby will be ecstatic. This ride-on toy is indeed the best choice for your family because of its many useful functions. To start, this Aesom SUV comes with a robust elevated suspension that can run safely at speeds of 1.8 to 3 mph. It is designed entirely like a real car.
It has all the safety components like an LED light bar, headlights and taillights, seat belts, wing mirrors, illuminated dashboard gauges, horn, storage area, and an easy-to-control steering wheel. The driver and one passenger can occupy the car, so two of your kids can ride comfortably together on it. This ride-on toy is preferred to be ridden by 3 to 8 years old toddlers.
This car could work both ways, by remote control or by their command and power on the steering wheel. Parents and guardians should constantly monitor while the kids are riding, though, to ensure maximum safety. True to its promise for quality, even the tires of this car use wear-resistant polypropylene tires, which are not easy to leak nor burst.
There is also pre-installed music and USB aux cord plug-in, which can be played while going for a ride, making them feel the vibe more and more. This toy is confidently more than just a toy for your little ones!
Your children will put many miles on this cute 2-seater Police SUV as they keep law and order on the playground!
9. MST 24 Volt Thunder Tank Ride-On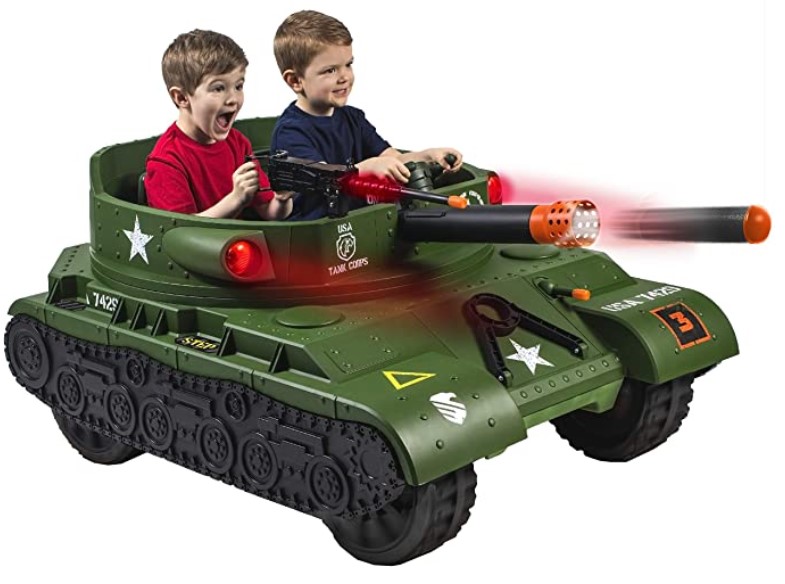 Children are naturally so good at play pretend. Their creativity is top-notch, no matter how scarce or bountiful their resources are. If your kids have wanted to have a Thunder Tank Ride-On toy for a while now, then you probably want to give in to their request with this fantastic toy.
Playing with the kids in the entire neighborhood or exclusively with the family is always a fun time for them. Powered by a 24 Volt battery, this 2-seater tanker can run at a maximum of 5 mph. It is designed and fully equipped with realistic cannon that comes with five plastic shells.
An attached machine gun comes with lights and sounds when used and a manually rotating turret for placing the cannon in precision to hit the target. The weight limit of this tank car is 150 lbs.
Looking like a real soldier's tanker, your little boys might feel like they are in a real battle. With enough adrenaline and hype, expect them to act as giddy and excited as they can be. There is a button for making sounds and switching the lights.
As for the turret, it is manually operated by rotating and aiming the cannon at your target. Plastic shells are loaded into the cannon, and you can release it as you hit the mark. During the battle, the toddlers can feel the thunderous sound of cannon boom and strikes.
Just press the button for lights and sound! This is an enjoyable play pretend game for kids, and the military decals on the tank car add an even more realistic vibe to the toy!
10. Peg Perego Polaris RZR 900 Red Ride On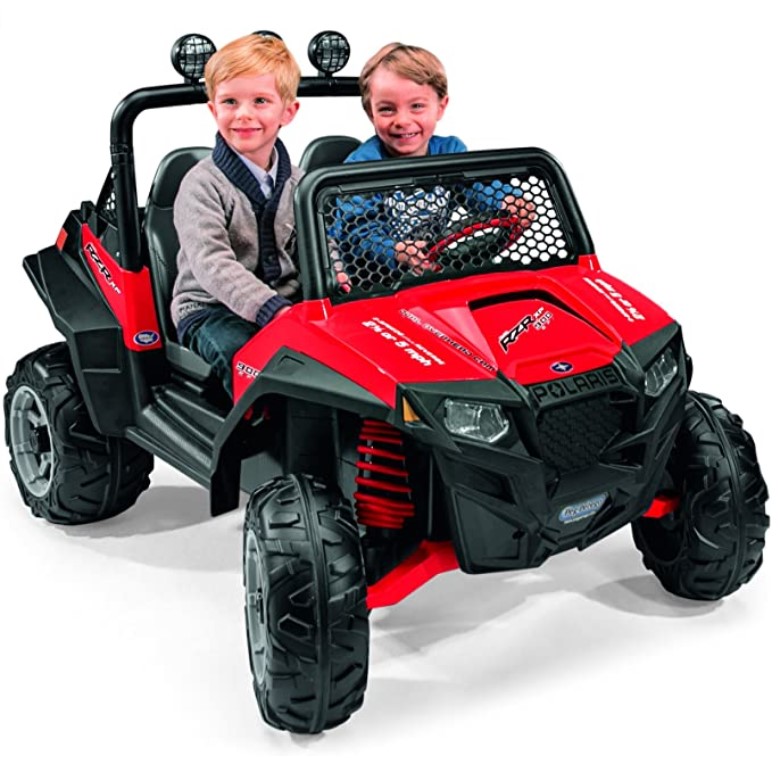 This toy car is a fun-loving ride on all kinds of terrain. Designed similarly to an ATV car for adults, this POLARIS RZR 900 Red Ride-On toy is perfect for off-road riding.
Hence, it is suitable to be ridden on grassy surfaces, dirt, muddy, rocky, cemented, and soft areas in outdoor places or around your yard. It comes with a sports bed equipped with tie-down anchors, so your children can haul and bring anything they want.
The speed limit is five mph, which is safe and slow enough for parents to keep up and supervise always. There are also attached adjustable bucket seats that can still fit your kids even as they grow bigger and older. It indeed is not only practical but economical for parents too.
Let your kids anticipate extreme fun as you give them this ride-on toy as a gift. They can maximize playing with their playmates as they drive in the park and haul any toys along. They could load up and drop off any treasures they can find in the garden or your yard.
This sports bed is compatible with other 12V and 24V miniature cars and can hold up to 66 lbs. of weight content. This is a fun and unbelievable feature! This car comes with super traction wheels, which is why it can go for any terrains. The car's design looks very realistic with an off-road windshield and roll bar too.
It can be operated by your little ones from 2.5 to 5 mph in forward and reverse directions. So, train their motor skills by allowing them to play with this ride-on toy every weekend in the nearby park.
Check out this AWESOME SUV! It's perfect to haul around a sibling or best friend as well!