Children are usually their most creative as soon as they hit three years old. During this time, kids are physically active and drawn more to doing creative activities. Throughout their toddler years, excellent motor skills would have developed where they draw, write, and manipulate movements with better precision.
They demonstrate their artistic ability as they grow older. At 9 or 10 years old, they start to imitate the people they see around them as they become more curious and imaginative.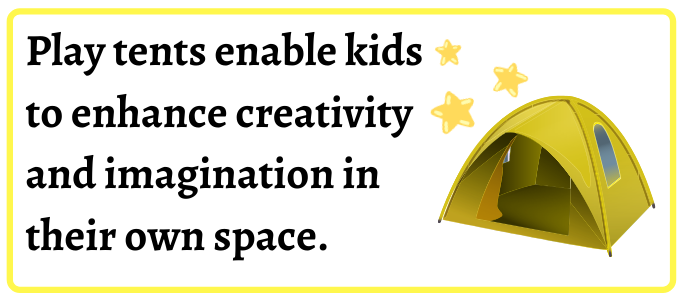 In developing creativity and imagination in children, unstructured play and toys are essential for this. Using play tents enhances creativity by letting children have their own space to imitate scenarios.
Play tents have various playful designs giving children the unlimited capacity to dream and come up with creative scenarios and activities. Unstructured play is further enhanced when children can imitate adult activities such as driving or playing doctor. Most play tents can be used indoors or outdoors too.
We present our top recommendations for kids at least three months old or toddlers three years old and up. The prices are based on Amazon listings as of this publishing.
1. Knight Castle Play Tent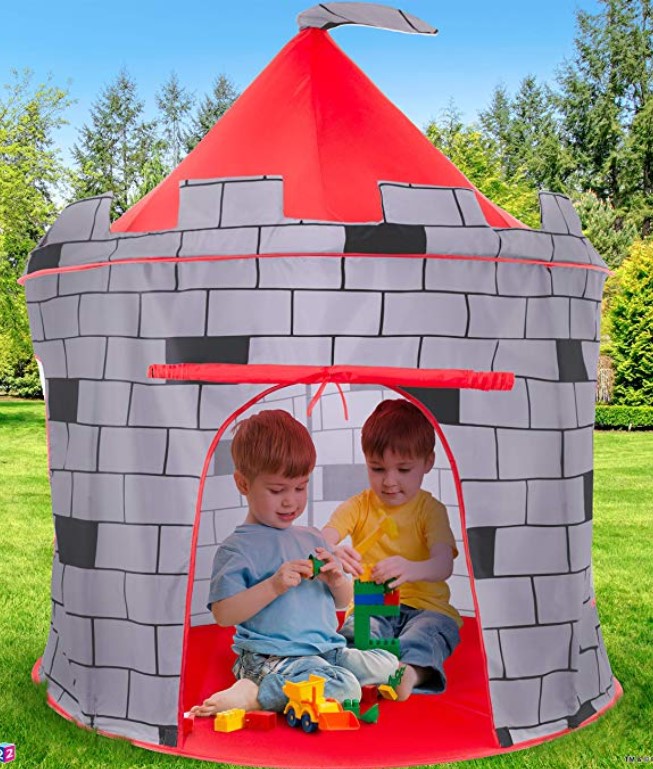 Your child can imagine many things. With the Knight Castle Play Tent, they won't need to go far to slay imaginary dragons! The red and gray combination suits any medieval themed bedroom or play area. Rest assured that this is well-ventilated with two side windows and a roll-up front door so your kids are comfortable throughout their play.
Are your little ones feeling a bit adventurous? It can also be used outdoor should the kids need to get a healthy dose of sunshine, and there is room for 3 children in the castle tent. With a price tag of $19.99, the tent weighs roughly 3.02 pounds and can be easily carried along for camping. Quickly fold the tent and tuck it in the pouch for storage. After finding a spot, promptly assemble the tent using its support rods.
If you're planning to throw a birthday party anytime soon, this will make a great addition to your play materials. Whether they're dreaming of being rescued by Prince Charming or simply playing hide and seek, this tent will surely give them an adventurous experience within the comforts of home or outdoor garden.
It is a convenient pop-up play area should you need a play area for your visitor's kids when they come over for a barbecue.
Who doesn't love a FORT?! Um, I know I do…
2. Prince Playhouse Kids Tent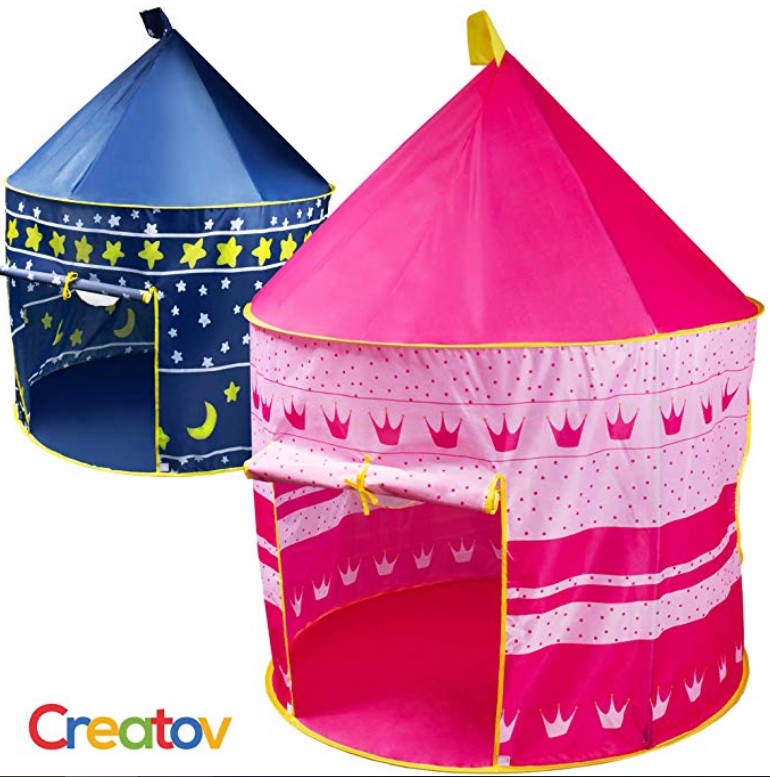 Are you looking for a neat hideout to play with your kids? The Prince Playhouse Kids Tent is just the right stuff for it! Suitable for children starting three months old, this tent would be an excellent addition to any princess themed bedroom.
You can choose from two designs: pink and blue. You can also get a two-pack set if you want to purchase these two colors. Your little prince or princess can sneak inside with his or her playthings. Priced anywhere within $18.99 and $29.99, this tent is 100% safe for babies and children. With two windows and a roll-up cloth door, this tent makes for a comfortable haven for your kids to play around.
Mesh windows keep bugs away so your little one can sleep soundly as the adults enjoy a cookout nearby. It also makes for a cozy, safe spot during nap time for babies anywhere at any time.
Setting up the Prince Playhouse Kids Tent isn't rocket science; this tent can be assembled in minutes. If you happen to have other kids over on short notice, you can take the tent out of the pouch and a play area is available in no time. Got a mess? No worries! Get a cloth with soap and water to clean off stains.
This portable tent only weighs 1 pound so it can be a carry-on extension for your little one's comfort for a long trip ahead.
The Prince Playhouse Kids Tent hideout is a kid fav! Buying it is just a click away!
3. Gingerbread House Play Tent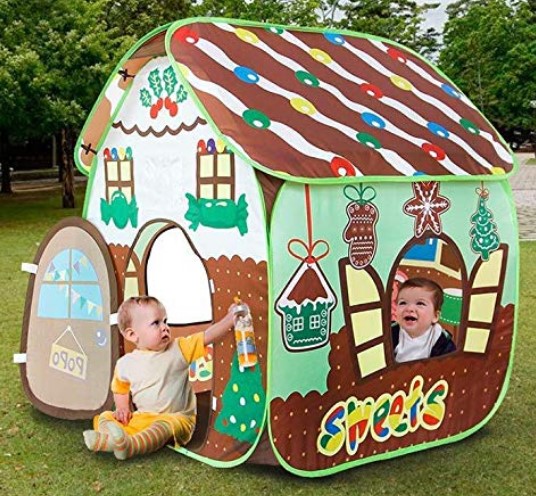 The Gingerbread House Play Tent is an ideal play tent for babies and kids with its unique and portable design. It has playful colors that inspire creativity and fun time for children.
It's made of 190T polyester fiber, which makes this sturdy and can easily be cleaned as necessary. This set comes with five parts: roof, tent, door, and four pegs. All items are packed neatly in a small carry-on bag for easy transport.
This pop-up tent is easy to assemble and will require a few minutes to get it in shape. Playing hide and seek or peek-a-boo is more enjoyable with this play tent! Are you having some kids over for a small gathering?
Why not set this tent up and you have an instant play area where the kids can enjoy and play inside! This little tent can accommodate up to 3 kids as well. Are you bored with indoor play?
For only $19.99, this tent can be taken outside too! Just bring your child's toys and you're ready to have some fun-time with the kids.
This ADORABLE indoor/outdoor Gingerbread House Play Tent is a no-brainer!
4.

Ice Cream Truck Pop Up Play Tent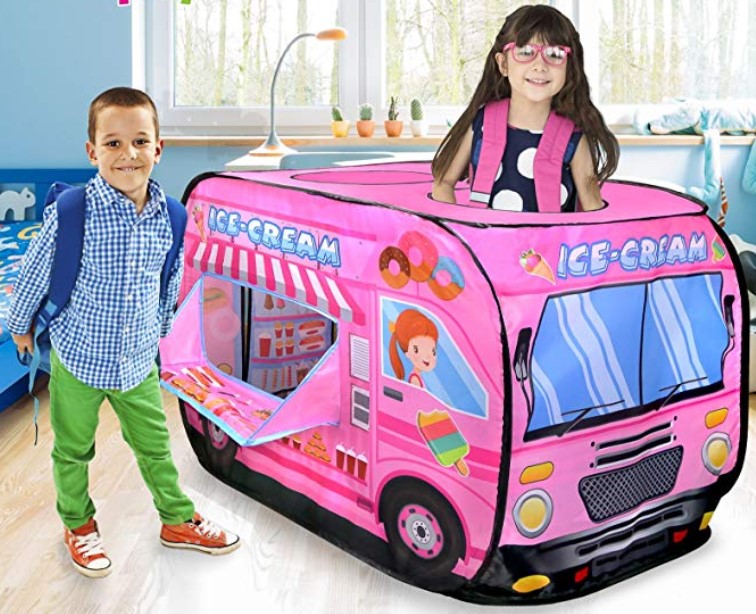 Would any kid resist this cold and sweet delicacy? What better way to build memories than with an Ice Cream Truck Pop Up Play Tent!
Is the ice cream man your child's current favorite? Play pretend with your kids at home! Buy any sweet treats toy set and play with them pretending to eat toy cakes and ice cream!
The eye-popping light pink design will have your kids stay in for the whole day. It's made of 100 percent polyester fabric, a sturdy material strong enough to endure light physical activities as kids play inside this tent.
Suitable for outdoor and indoor use, this play tent is a versatile piece you can carry with you.
Are you going on a road trip? No problem. This item can be folded and unfolded easily without any tools. Set-up a makeshift play area for your kids hassle-free! After using, easily store this in the cabinet until your next use.
It consists of a back door and two round openings found on the roof. While the size may be deceiving when unfolded, this tent can fit up to 4 kids after assembly with a 45" X 28" X 28" measurement.
Okay, where was this when I was a kid?!
5.

Locomotive Train Foldable Play Tent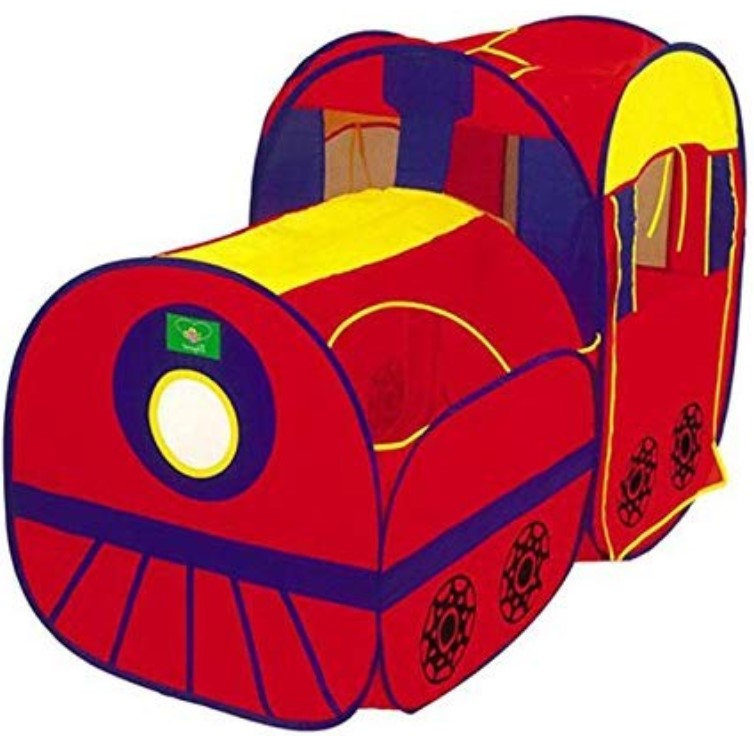 Spark your little one's imagination with the Locomotive Train Foldable Play Tent. This locomotive-inspired tent is adorably designed in red, yellow, and blue.
This tent is made of lightweight polyester non-woven fabric and can be easily cleaned using a damp cloth after use.
No tools are required in assembling this item. This pop-up play tent can just be unfolded from its carry case and set-up within minutes. This design works well for indoor playrooms where your kids get to enjoy unlimited imagination playing locomotives. Not only that, this portable play tent can be used anywhere.
If your kids are tired of playing indoors, fold the tent and unfold it outdoors. Once set-up, this tent can accommodate up to 4 kids. You can get a few hours of rest nearby as your children enjoy playtime with their other "train conductor" friends.
This SUPER CUTE Locomotive Train Foldable Play Tent for sale for a GREAT PRICE!