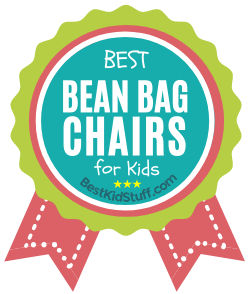 Bean bag chairs have become a statement piece of the house for quite some time now. Also known as the Sacco chair or the "shapeless chair," these large, fabric bags have existed since the 1960s.
They were originally designed to promote chair products that were comfortable and appealing, and later became part of the art movement called Italian modernism.
In the present, these sack bags continue to rise in popularity as a stylish piece of furniture. You can find them indoors and outdoors in college dorms, family porch, poolside, kid's bedroom, or playroom.
They are versatile and have diverse uses. They are safe for everyone, including your kids. Yes, your kiddo will surely love bean bag chairs!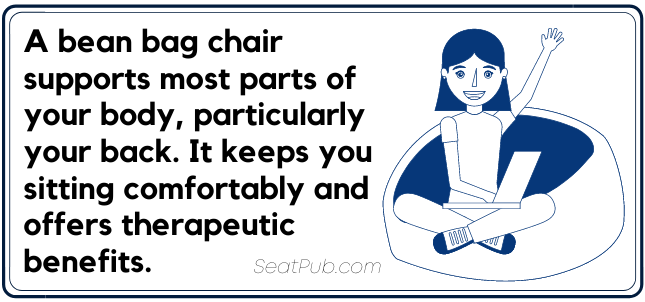 Bean bag chairs can quickly become your kid's preferred seat in the house. They conform to your kid's body and are comfy to sit on for them. You can select from a plethora of styles, shapes, and colors that are inviting to your kid!
They can transform their room into a great place to hang out or get cozy while playing or reading a book. Various collections of bean bag chairs are out there on the market, giving you a hard time to choose. Now, which bean bag chair will suit your child?
We have picked out the five best bean bag chairs for you to help you choose. Get the right bean bag chair for your child from the list below:
---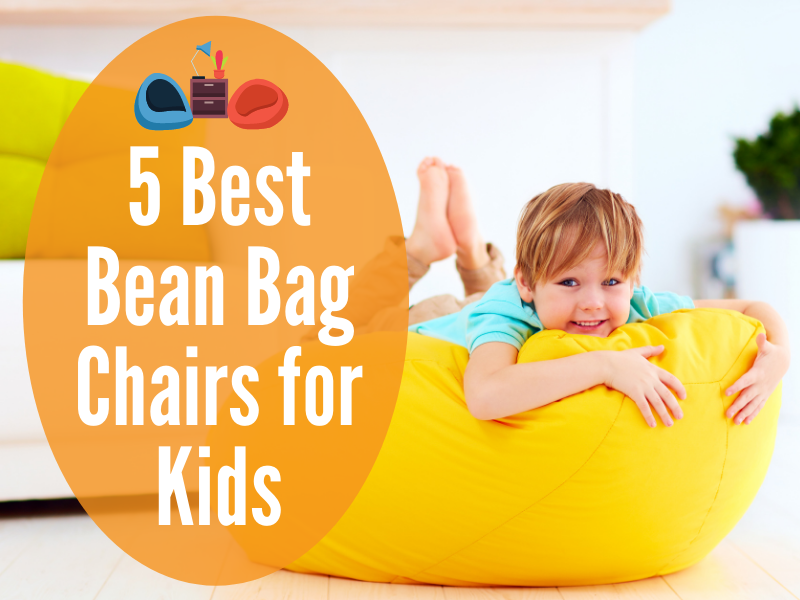 1. Marceooselm Lazy Sofa Bean Bag Pumpkin Shape Chair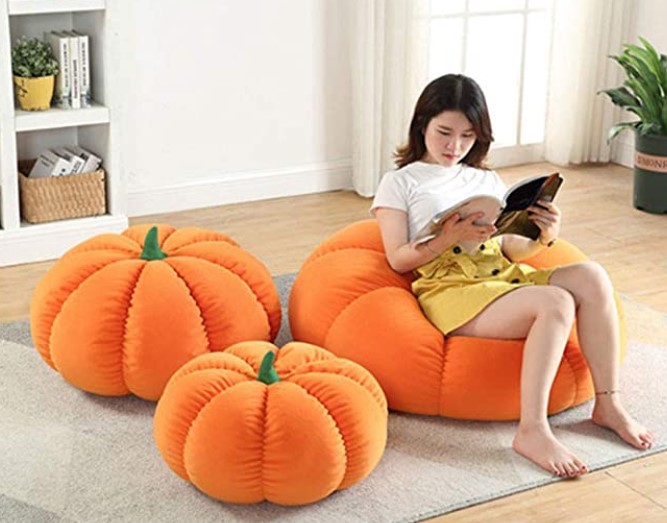 On top of our Bean Bag Chairs for Kids list is the velvety-soft Marceooselm Pumpkin Bean Bag Sofa Chair – Large size. The gorgeous pumpkin seat comes in a variety of sizes, namely small, medium, and large, that can fit any toddler or teenager. Its long zipper and reinforced seams are durable. They are made to last from kids ripping or tearing them apart.
The Marceooselm Bean Bag Sofa Chair is made using imported EPP particles with no unusual or chemical smell, and its fabric is moisture- and stain-resistant. It is an ideal addition to your kid's bedroom or even your living room. What's even better is that its cover is completely removable and washable to keep it long-lasting and clean.
This also comes in small and medium sized.
This is a great option for the fall season… decorative AND functional!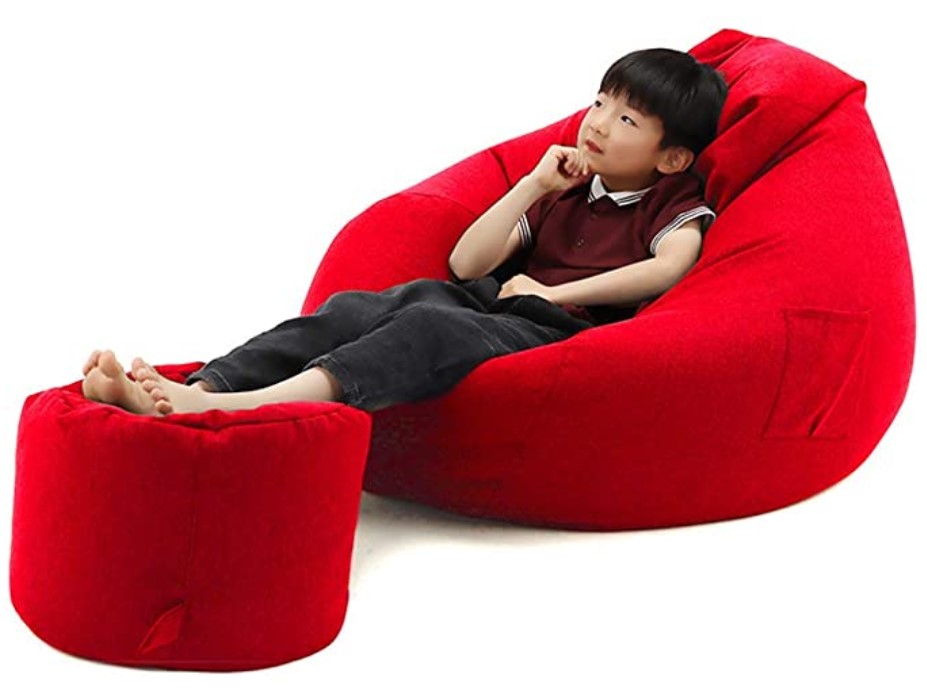 Giving superior comfort and quality, the Ultimate Sack 5000 Bean Bag Chair is a sizable sack that features a bucket seat. Kids can curl up on it while playing their favorite video games, watching their best-loved cartoon show, reading a book, or even taking a nap.
The bean bag chair is lightweight, giving your child the freedom to move it around by themselves. Available in colors like: gray-blue, rich red, sunny blue, and light coffee, the Ultimate Sack 5000 Bean Bag Chair lets your little one relax while sitting upright in a reclining position. Its extra-long zipper makes for easy removal of the slipcover. It has even got a side pocket so your youngster can store their toys or essentials within their reach.
Do you have a little gamer in your household? This is perfect for them!
3. Comfy Sacks Kids Lounger Memory Foam Bean Bag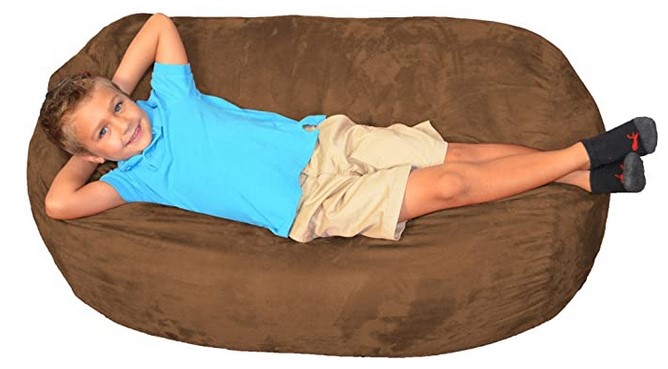 If you're on a tight budget, then the Comfy Sacks Kids Lounger Memory Foam Bean Bag is perfect for you. This plush chair is an affordable option that does not sacrifice comfort. It holds fillings that are made from long-lasting memory foam to give a soft texture that can withstand compression.
Its locking zipper keeps the filling safely and its suede cover is machine washable. You can choose from its several sizes from 4ft that can fit a little child, age 18 months to 7 years, to a large size measuring 8ft that can hold the whole family. Its wide selection of colors will blend well with your child's bedroom or playroom.
This Bean Bag Lounger is perfect for nap time or for just watching their favorite movie! Check it out!
Provide your child the cutest bean bag chair with the Cuebear's Stuffed Animal Bean Bag Chair. This bean bag chair is molded after an adorable Shiba Inu puppy shape that will surely put a smile on your kid's face. Available in light a light color, this plush chair sports a huggable fabric that will have your tiny tot fall in love with it.
It is lightweight so you or your child can easily move this plush chair. Your kid will surely love the feeling of riding on a puppy's back, helping them sink into a soft cradle. This is perfect for babies, toddlers, boys, and girls to lay on.
This little puppy is sure to behave, we promise!
5. Yoweenton Unicorn Bean Bag Chair
Great for kids who love unicorns! Get the Yoweenton Unicorn Bean Bag Chair with a super-affordable price tag. It weighs less than 13 pounds, filled with soft memory foam, and made with super-soft luxury velvet that won't shed or fade after washing. It's so comfortable that your kids will adore it.
This adorable bean bag chair comes with a durable zipper, and its fabric is with good elasticity making it safe for kid's rough usage. It's machine washable for easy laundering.
Let your little schoolers do their homework, play video games, or relax in this cushy bean bag chair!