Are you in need of gift ideas for a three-year-old girl and have no idea where to start? Do you find yourself at a loss when thinking of what they like or what interests them? Finding a gift that a toddler would enjoy can be quite a challenge. What do our three-year-old darlings honestly want?
Understanding Your Little Lady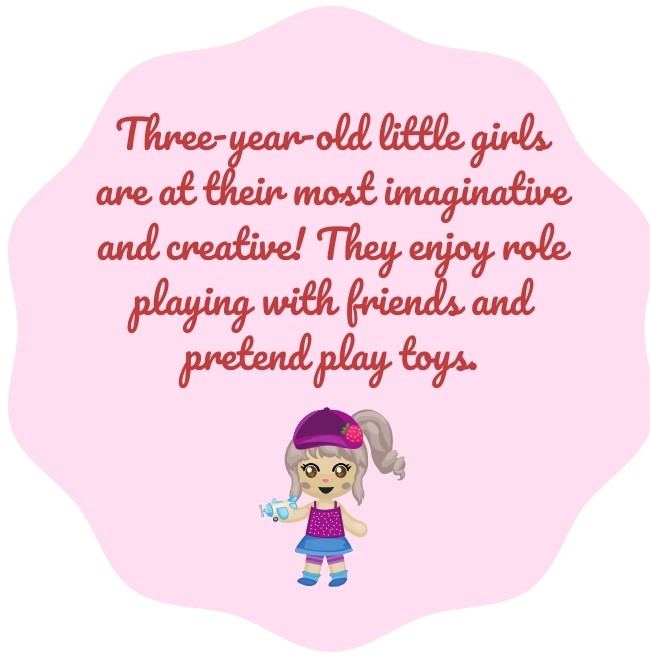 Three-year-olds already think in concepts. At this age, their memory and imagination are developing. While some children's interests may vary, most of them may engage in playing pretend games or those games where they role-play with imaginary friends, their toys, or with their friends at school.
A child, this age begins to think "I" as opposed to "her" or "him." They may do parallel play or individual play beside each other, or play cooperatively in small groups. Gift options should cater to these developments. This way, they can enjoy and have fun with your gifts.
Don't worry; usually, young girls enjoy age-appropriate presents.
The following toys are the top 5 best age-appropriate gifts for your growing 3-year-old! It also provides tools that facilitate your child's personal growth.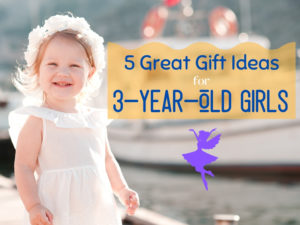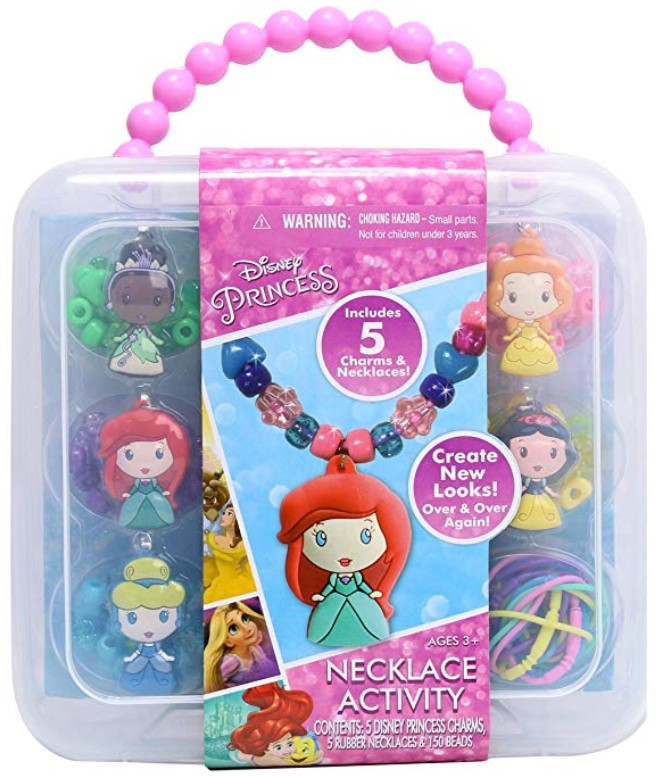 The Disney Princess Necklace Activity Set is a playset that allows kids to design their very own Disney princess necklace.
This set is composed of five rubber character charms, 150 beads, and five silicone necklaces for three-year-olds who enjoy mixing and matching jewelry as they play pretend princesses or designers. This best gift for 3-year-old girls allows your little girl to enjoy designing Disney princess necklaces in a fun and easy way. She has to slide the beads and the charms into the silicone necklaces and ta-dah!
She will have her very own customized Disney princess necklace. With its secure necklace closure, she will not have any difficulties in finishing her masterpiece. All she needs to do is to insert one end into the other and voila! She now has a piece of finished jewelry.
This set is easy and convenient. She may choose to create and recreate new looks if she wants to. Parents will have an easy clean up when she's done playing, as everything can be stored neatly inside the plastic box case that comes with the set. If she gets attached and wants to bring it everywhere, its sturdy handle will make it possible.
This toy helps develop your child's creativity and imagination by exposing her to design. At three years old, your girl begins to be conscious of what she wants. She tends to copy adults or her friends, that is why this is also the age where they may get interested and begin to imagine themselves in a profession and want to act like professionals.
Remember that this set includes small parts that are not suitable for children under three years as the beads can be swallowed accidentally and may cause choking. Don't forget that 3-year-olds need adult supervision while playing with the set, especially if they have younger siblings.
Your little princess can make her own necklace with this adorable Disney Princess Necklace Set on Amazon!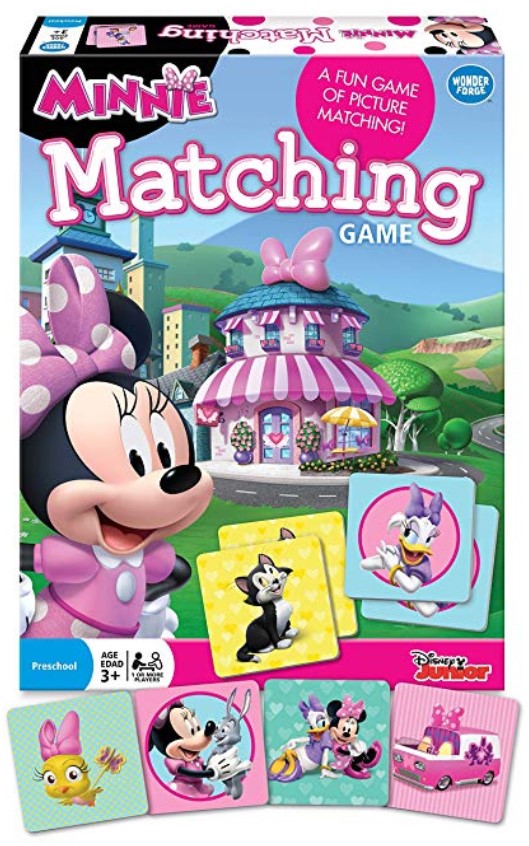 3-year-olds develop their memory as they continue to grow. The Wonder Forge Junior Minnie Matching Memory Game is a splendid gift that focuses on fun as it improves your child's mind!
This game features a game of picture matching. When flipping over colorful tiles, pictures of Minnie, Daisy, Figaro Cuckoo Loca, and more are revealed. If your girl likes these classic Disney characters, she will surely enjoy seeing them as she flips and matches pictures. The one who picks up the most matching pairs wins. Your little one can play with her friends or with any family member. This game is adult-friendly too!
The Junior Minnie Matching Memory Game offers one of the best gifts for a three-year-old girl with 72 tiles and explicit instructions. With its clear instruction manual, the game is easy to learn in less than 5 minutes. Through matching pictures, this set is not only fun, but it will also help your girl practice her focus, memory, and matching skills.
This can also be an excellent game for adults to join in on the fun. This way, you can bond with your kid. However, remember that this set contains small parts that are not suitable for children under three years. Adult supervision is advised.
I used to LOVE memory cards as a kid… and, still do! You'll enjoy sharpening your brain while your baby girl sharpens hers with this Minnie version of a Matching Memory Game!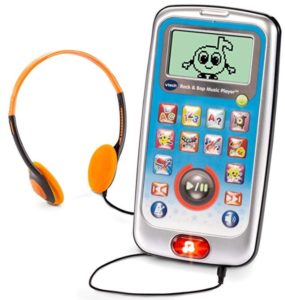 The Vtech Rock and BOP music player has a retro look with its Walkman-like appearance. It lets your child explore musical games while listening to child-friendly songs. Usually, child-friendly songs are upbeat and fun, so your child can dance and sing along to the music.
This is recognized as one of the best gifts for 3-year-old girls because of its interactive and educational features. Through songs, it introduces letters, numbers, animals, instruments, time, and more. It also features different musical styles, from classical to hip-hop and from hip-hop to rock. Not only that, this game exposes your young girl to various instruments and unusual melodies. This feature helps boost her creativity and appreciation of music.
To make it a believable musical accessory, this best gift for a 3-year-old girl comes with a child-safe headphone. Thanks to the volume limit feature that seeks to protect your little one's ears, your child can listen and play on her own with you, worrying that her ears would get damaged.
One of the best features that make this toy one of the best gifts for a 3-year-old girl is its instrument remix mode. It does not only help develop your child's memory and creativity, but it also helps build her motor skills through its interactive feature. Its instrument remix mode allows your little girl to interact with the screen to make music. There is also a game selection feature.
This game selection feature helps build excellent motor skills. When you buy the toy, you can order AAA alkaline batteries along with it. If you wish, you can buy it separately from a different shop.
Some children, including boys, love this toy because of its unique features. It is available in blue and pink.
You can't go wrong with VTech!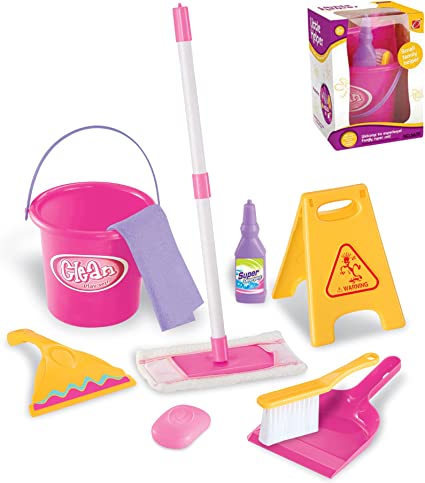 The Cleaning and Housekeeping Set from Toys 2 Discover comes with a functional water bucket, broom, floor mop, dustpan, and mop squeezer.
At three years old, your child is into role-playing and pretend plays. Since she always sees you around the house cleaning, she will most likely follow what she sees you always do. She will pretend to be you. With this toy, your child can tidy up like you.
She can use different tools to help her gain essential household skills. This will not only help her improve her fine and gross motor skills, but it will also help her learn to do her part when it comes to keeping the home sparkly clean.
This toy allows your little girl to engage in pretend plays to develop her creativity and imagination as well as to educate her on the most critical skill and value that she will carry into adulthood for which she will be thankful.
Watching mom and dad clean the house is kind of fun for a child and they want to get in on the action! …not sure that I hopped on that bandwagon as a child…
5. Pretend Play Purse with Accessories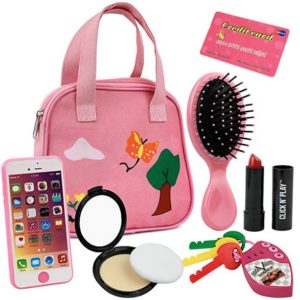 The Click N Play Pretend Play Purse comes with all accessories in a mommies purse.
It includes a pretend car key that makes a sound similar to the real thing! There is also a pretend lipstick, cosmetics with an applicator and brush. Your little girl will surely love it! The set also includes a fake credit card and a smartphone with sounds.
As 3-year-olds engage in pretend plays, especially at this age where their imagination is developing, this toy will help improve your young girl's creativity through its believable make-believe items that allow them to be pretend-adults.
The purse features two handles and a zipper. All of the items are designed to be safe for your child. The smartphone and car keys run on two, 3 LR44 button batteries.
Girlie girls gonna be girlie girls!