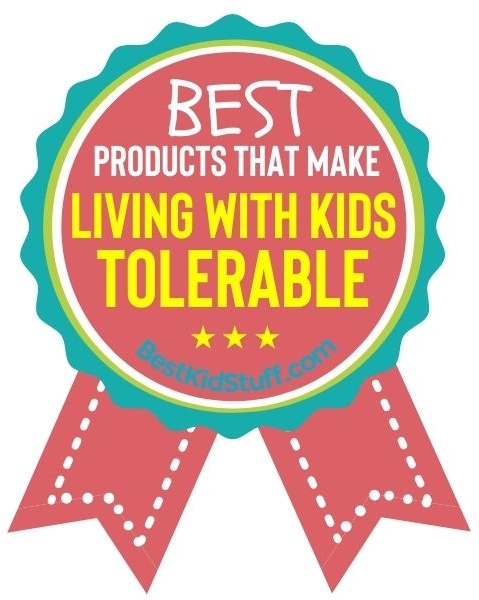 Nothing compares to the joy that parenthood brings; there's no arguing this fact! But on the flip side of these blissful parenting moments is a parent's day-to-day battle against frustration, worry, and disappointment!
Every responsible parent wants their kid to have the best and feel their best all the time, but truth be told, it is humanly impossible for a mom or a dad to address everything their kid needs. No manual can prepare a parent for what's coming. As every child is different, even the most knowledgeable parent isn't equipped to handle it.
Babies, toddlers, kids, and teens can be a handful! Thankfully, there is help! Finding the right people to assist you in your parental journey—be it a partner, a friend, a family member, or a parenting expert—can do wonders!
In the same way, certain products are designed to make every day a little less complicated and more bearable. Our list indexes the best products in the market that help you go above and beyond your parenting skills—and make everyday life with your children tolerable! For an easier look into these helpful products, the items are categorized based on the kids' ages or growth stage.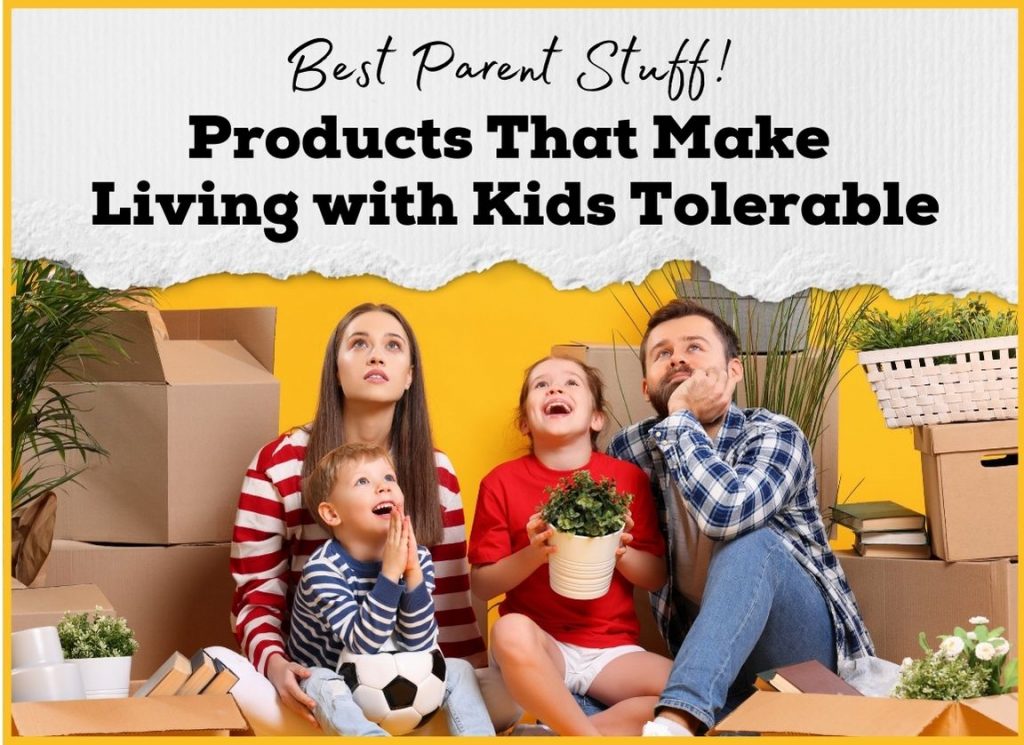 FOR BABIES AND TODDLERS:
1. Owlet Duo Smart Baby Monitor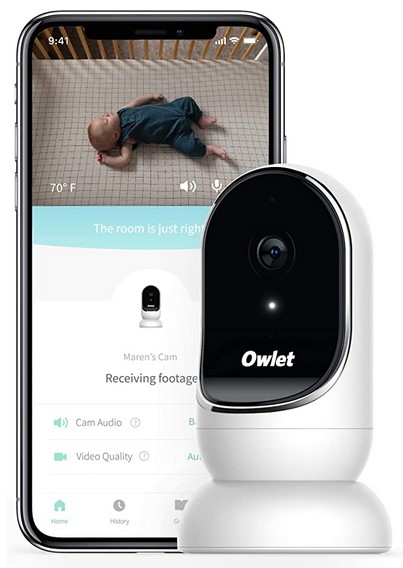 Sleeping issues aren't exactly new to parents, especially to new or first-time moms and dads. A baby monitor is a must, but the Owlet Duo Smart Baby Monitor stands out because of its top-of-the-line features! For starters, the high-definition video and audio features give you a full view of your baby, so you'll see and hear exactly when the child needs you. It allows secure HD video streaming, 4X zoom, and wide-angle view. Its encrypted and secure data are only meant for those who choose to stream video from the camera. The Owlet Duo also has sound and motion notification, 2-way talk, and background audio features.
Completing the Owlet Duo's monitoring functionality is its capacity to track your baby's sleep trends, sleep quality, waking hours, and the number of sleeping hours. The Owlet Duo app also provides live readings of the baby's oxygen levels and heart rate and informs you when readings move from "safe" zones. The integrated pulse oximetry technology is proven safe for babies.
The Owlet Duo works on 16-hour battery life (8 hours in 20 minutes) and a quick 90-minute charging time. The wireless charging feature allows you the convenience of fast charging on any base station.
Adults are advised to keep the Owlet Dup away from the baby and ensure the cords are properly kept.
2. Inglesina Fast Baby High Chair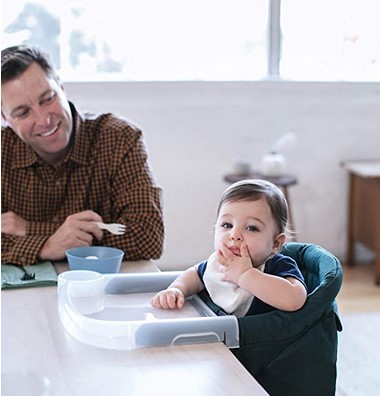 High chairs are a must for babies, too! The Inglesina Fast Baby High Chair takes your baby's safety and comfort to the next level—and does so in style! This trendy-looking black high chair from Italy is designed for newborns and toddlers 6 to 36 months of age and weighing between six and 37 pounds.
Because of its simple design, twist-tight coupling facility, and compatibility with most types of tables (3.3-inch thick), the Inglesina Fast is a favorite among parents. From its quick set-up at most tables to its robust build, it's clear this product was built with parents and newborns in mind. This infant high chair features an integrated travel-friendly tote bag and allows for quick and easy feeding at home or on the go.
A handy, travel-friendly carry bag is also provided. It fits both the dinner tray and the table chair if purchased. It complements the Fast table chair that fits right into the arms of your Fast table chair and works with all versions of the Fast table chair.
The convenient back storage pocket is ideal for storing little accessories like wipes, toys, food, and other essentials to free up your hands. It is impossible to misplace the carry bag because it is sewed to the bottom of the table chair!
The Inglesina Fast table chair is machine washable, ensuring a joyful and clean mealtime for you and your baby.
A leading brand, Inglesina has been developing premium strollers, highchairs, and table chairs since 1963, focusing on safety, practicality, and the finest materials, inspired by the carriages seen in the British Court.
3. Graco 4 in 1 NEWBORN Carrier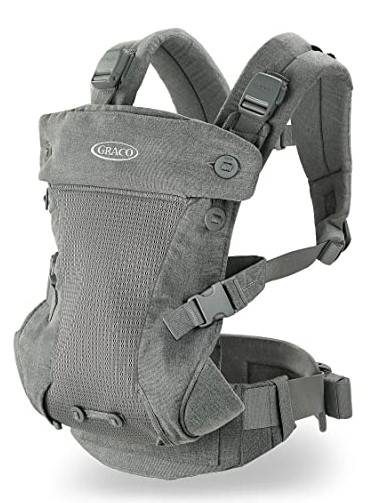 It is difficult for a parent not to own a carrier in this day and age! A top-rated product, the Graco 4 in 1 Baby Carrier is designed with four carry positions, none of which require the use of a newborn insert. Parents choose the best carrying mode that the situation requires: the facing-in newborn seat, facing-in baby seat, facing-out baby seat, and back-carry baby seat.
When you're out and about, let your growing kid face the world. If your little one is nine months or older, you can easily move to the back-carry mode. The International Hip Dysplasia Institute certifies the Graco 4-in-1 carrier as "hip-healthy," assuring that the baby is comfortable in all carry postures. The baby is also comfortable in every carry position because of the adjustable seat and head support. No additional insert is required for the integrated infant seat, which can be used starting at 8 pounds.
It features magnetic buckles with SecureConnect for a quick and safe connection. Importantly, this carrier has durable waist and shoulder straps, lumbar support, and a breathable mesh front panel with a retractable shield for all-season comfort.
The Graco 4 in 1 Baby Carrier also has a privacy shield to allow the baby to sleep soundly while protecting them from the harmful sun! With this highly recommended Graco product, bonding, relaxing, snuggling, and exploring with your baby becomes a comfortable experience!
Organic washable bibs and harness covers are included, making it simple to clean the portions of the carrier where the baby likes to drool and chew on. Seat and head support can be adjusted.
Parents will appreciate the padded shoulder and waist straps for comfort. It offers lumbar support, too!
4. Playtex Diaper Genie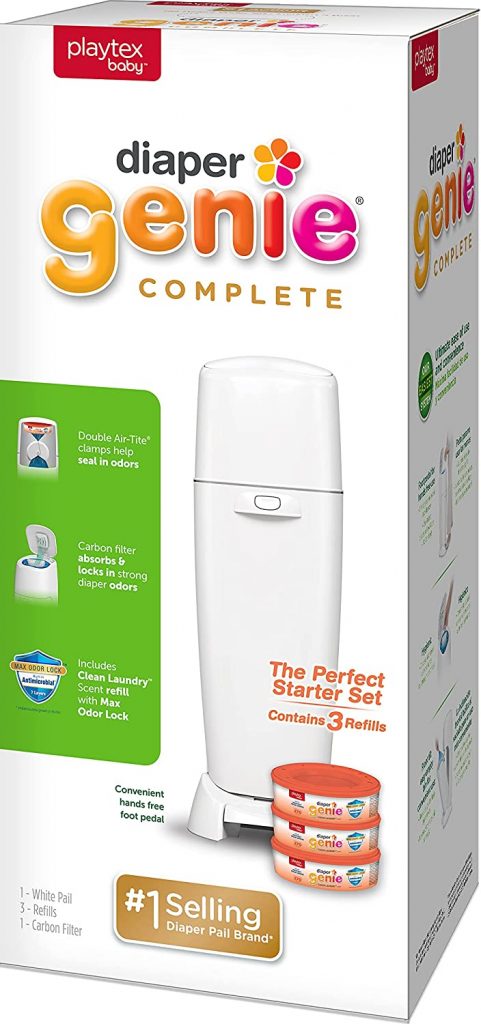 If you have infants or toddlers, piles of diapers in the trash and bad odor sneaking out is not uncommon! Do you want to organize used diapers and congest their odor? The Playtex Diaper Genie is a great investment to make living with kids tolerable! It features a comprehensive diaper disposal system, controlling odor and allowing diaper-changing for instants and toddlers to be convenient and organized. The package comes with a white pail and three Clean Laundry Scent refills.
Because the Diaper Genie has a built-in odor-controlling and antimicrobial system for refills and pail, bad odor and germs cannot escape. If any unpleasant smell sneaks out, the Diaper Genie's Carbon Filter will seal completely on top of the bin. The product also comes with double air-tight clamps as an added layer of protection. Its 7-layer refill will neutralize strong diaper odors, helping the nursery area or certain parts of the diaper-changing room smell fresh and lean. The refill also has an opaque film to conceal the sight of used diapers while replenishing the pail.
The Diaper Genie can hold a maximum of 270 diapers. Parents can easily pull the full bag through the built-in cutter and seal a knot via the front tilt bin when the bag is already full. Remember that regular kitchen trash bags aren't compatible with the Playtex Diaper Genie since they were exclusively designed for refill bags.
With an ergonomic design, the Playtex Diaper Genie is extremely convenient to throw dirty diapers even with your infant in one hand. Parents will only step on the foot pedal and throw the diaper in. There is no need to hold the pail itself or bend to toss the diaper on the pail.
5. Bololo Baby Bottle Sterilizer and Dryer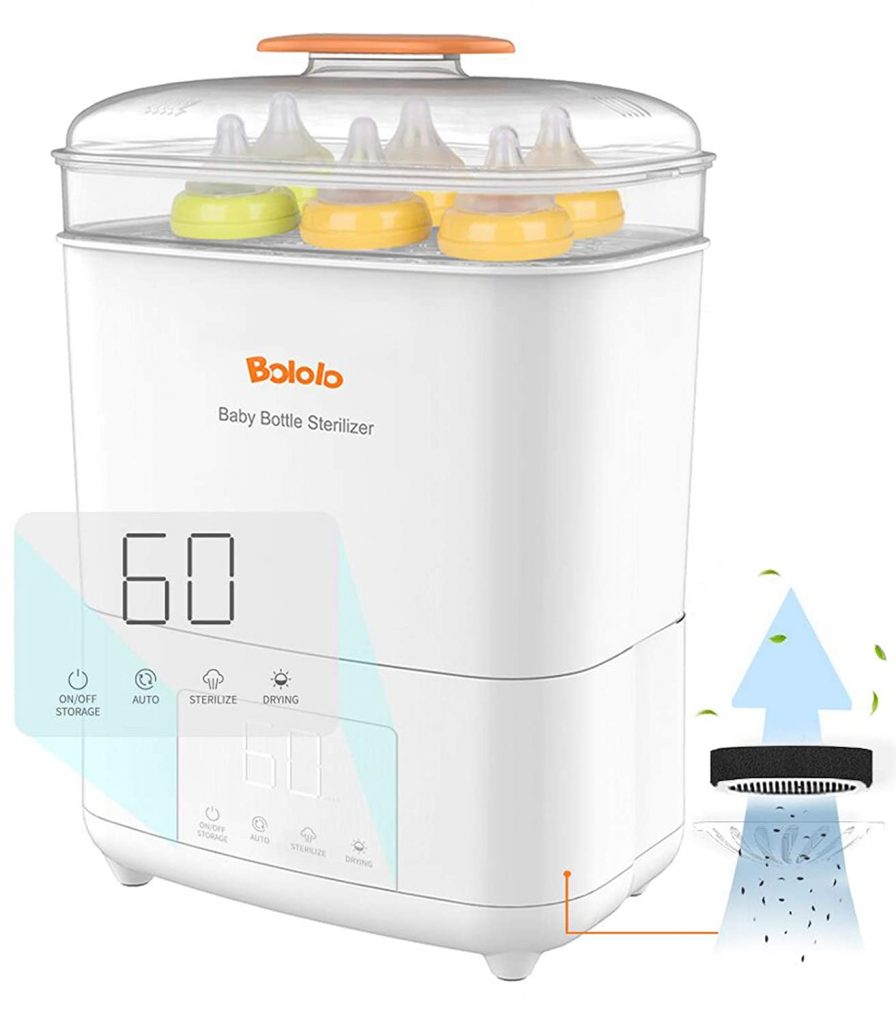 The Bololo Baby Bottle Sterilizer and Dryer is loaded with features that reflect convenience for every parent. This 600-watt power sterilization has a HEPA filter and a LED screen and holds a maximum of 12 baby bottles. It can sterilize a mother's breast pump and other infant essentials all at once.
The HEPA filter prevents contaminants from infiltrating the baby stuff while drying and ensures long-time sanitization. Besides integrating the intelligent air purification system, this Teflon-coated product is easy to clean with a gentle cloth.
With the all-new LED touch screen display, the Bololo Baby Bottle Sterilizer and Dryer feature a one-touch operation of the Auto mode. It also displays the remaining operation time for easier reference. Parents will not worry about any burning risk since the item can easily prevent overheating.
Unlike traditional sterilizers in the market, the Bololo Baby Bottle Sterilizer and Dryer has three innovative designs for stronger drying and sterilization. It has a robust airflow in multiple directions and an Equiblast to prevent air impurities. The product also features a three-layer structure to accommodate every parent's need. They can either sterilize smaller infant essentials, 12 baby bottles or tableware, or a combination of different items.
Drying or sterilizing can be done in four simple steps with a straightforward function. Add water below the mark, put accessories and bottles into the device, choose a particular function, and adjust time settings for drying.
FOR YOUNG KIDS:
6. Garmin Vivofit Jr. Fitness Tracker For Kids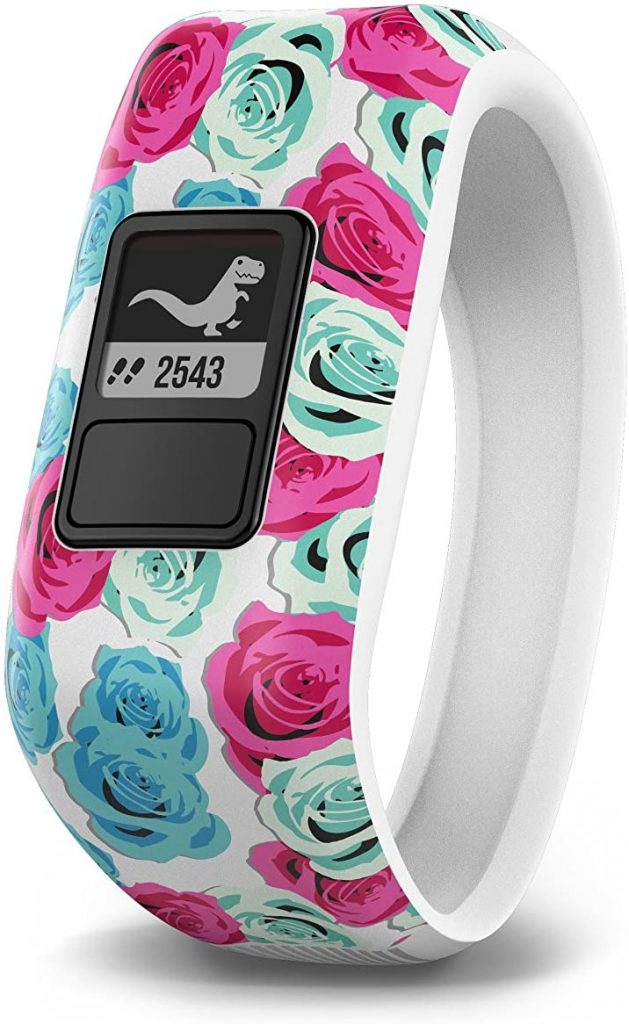 Do you want to monitor your kid's activities and sleeping habits? The Garmin Vivofit Jr. Fitness Tracker for Kids is a must-have, especially if you're a busy parent. It is one of the best essentials to help your kids become motivated in accomplishing certain chores and introduce them to living a healthy lifestyle. Since the fitness tracker has a 1+ year battery life, parents don't need to charge the device constantly. For battery replacement, the device is compatible with the CR1632 coin cell.
With stylish and child-friendly designs, kids can wear them every day to school, park, playing field, farm, beach, or even home. It features a 145mm silicone band that is stretchable enough to fit in your child's hand comfortably. Although it is suitable for children aged four to nine, parents can also purchase the Vivofit Jr. XL or Vivofit 3 accessory bands for larger wrists. Since it has 50-meter water resistance, the Vivofit Jr. Fitness Tracker is a swim-friendly accessory.
The Vivofit Jr. mobile app will become your assistant on the go for parents. The mobile app is compatible with Android and iOS devices. It lets parents access a comprehensive overview of their child's daily activities, chore records, sleeping schedules, and the number of daily steps. Parents can also assign new chores and tasks and assign corresponding coins or reward systems to motivate their children through the app. However, the app already includes preloaded chores that can be configured to recur weekly or daily.
Adventure trail + fun facts are also integrated into the app. Once your child has achieved their 60-minute activity goals, mobile adventure trails and fun facts are unlocked. It is an effective way to inspire your kids to accomplish their best daily.
7. Joovy Room2 Portable Playard Playpen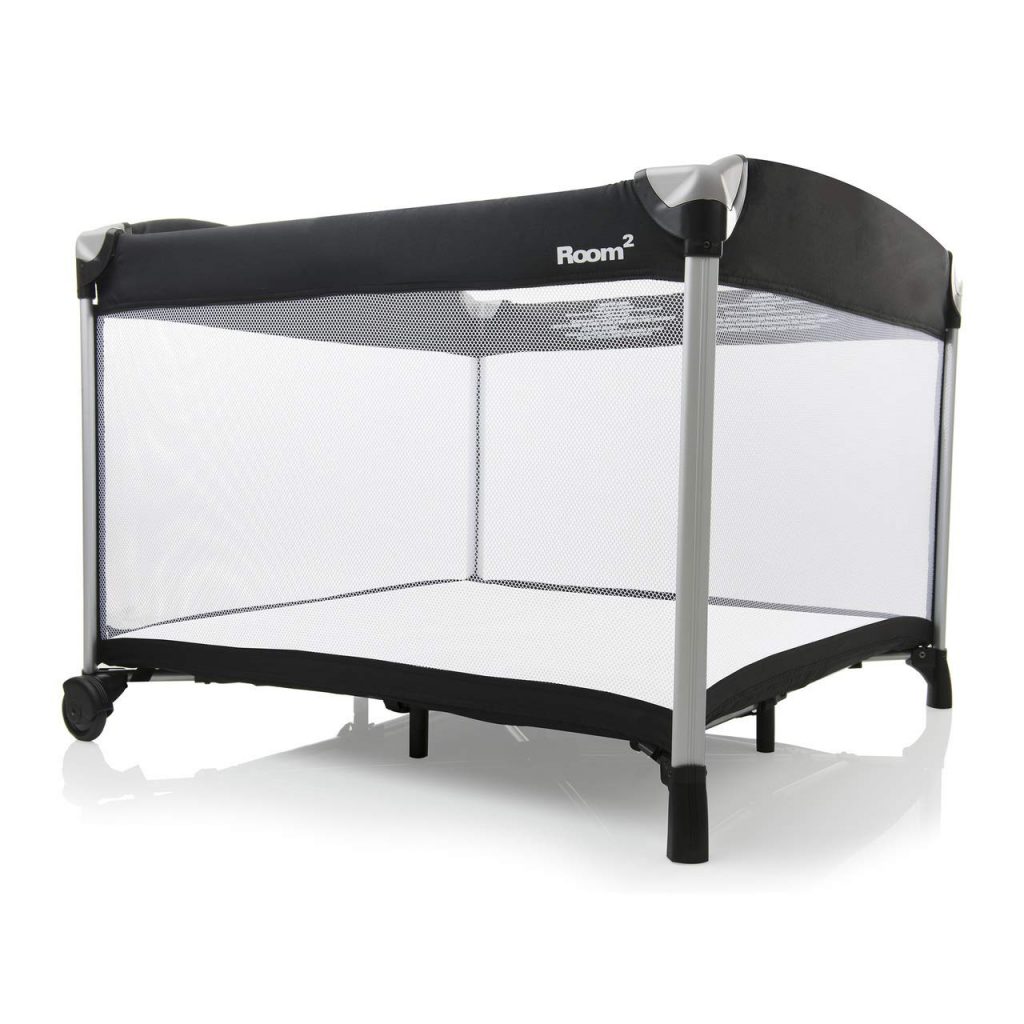 The Joovy Room2 – Playard is a portable all-in-one Playard and playpen that can support two newborns to toddlers up to 35″ tall. If you are preparing lunch or dinner, wanting to take a quick shower, or using the restroom, the Joovy Room2 is an excellent babysitting companion for peace of mind. Instead of roaming freely around the house without supervision, you'll feel secure that your child is safe in this playpen.
The playpen is built with a stronger mesh and heavy-duty fabric, making it durable, reliable, and can last a lifetime. It is strong enough to accommodate multiple children and playgroups, maintaining its durability even with growing families. With almost 10 square feet of space, the Joovy Room2 is perfect for parents with twins. Since it offers reliable space, your child will have plenty of room to play and sleep as they grow. With extra-large mesh windows and a 360-degree viewing angle, parents and guardians can easily monitor their infants, even from a different corner in the room.
The Room2 Portable Playard has a sleek & modern design which makes it perfect for any room. Although it is not bulky, there is more than enough space for your toddlers. Despite being heavier and bigger than the Joovy Room, this playpen is perfect for travel. It can fold in a standard playard method and includes a travel bag for easier mobility. A waterproof, fitted cotton mattress sheet is also included in the package to help keep the playard clean and dry.
The Joovy Room2 can also be converted into a Twin Nursery Center. You can purchase the separate changing table and bassinet so you can easily change the infant's diapers or groom them conveniently from the playard itself.
8. Hatch Rest+ Night Light and Baby Sound Machine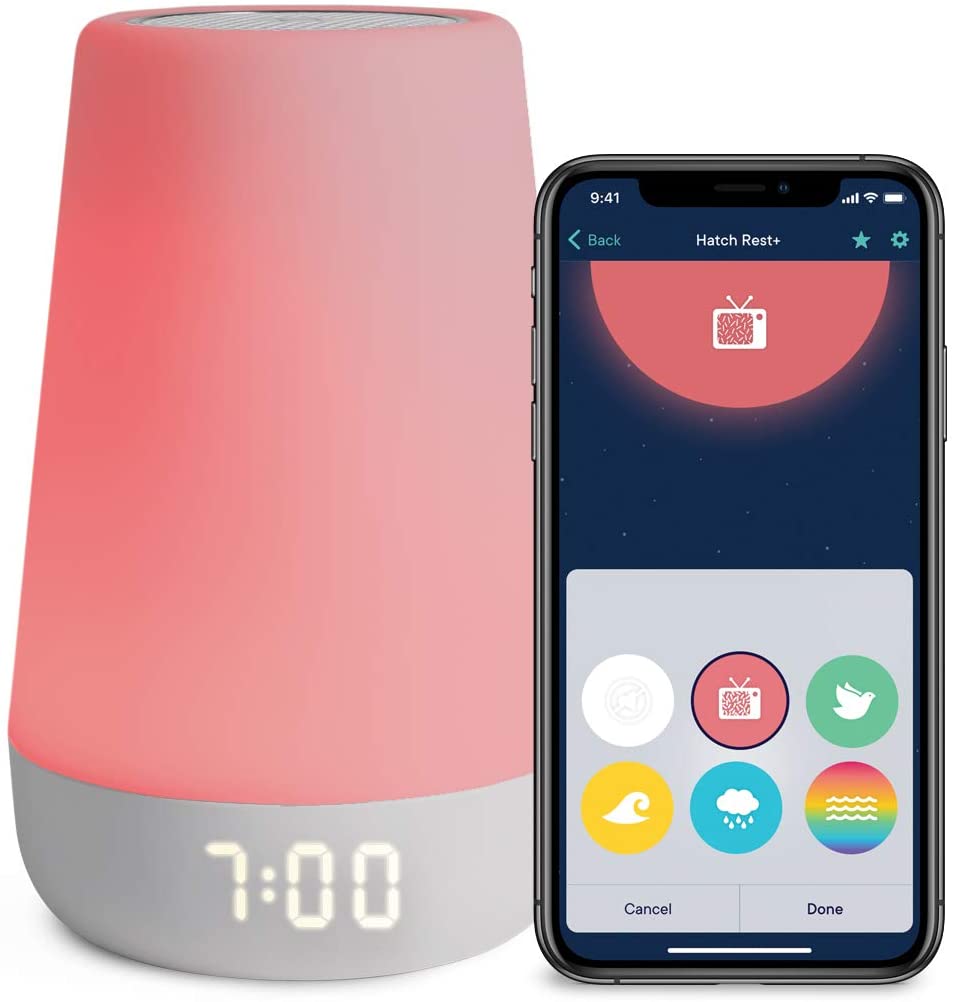 Putting a child to sleep can be challenging for some adults. To help make a living with kids tolerable during sleep time, the Hatch Rest+ Night Light and Baby Sound Machine is a worthy investment for parents. It is an excellent device for parents starting to let their children sleep independently in their rooms.
The device is powered by corded electricity. However, it can also be battery-operated as a backup during power outages. With the Hatch Rest+, parents will have a sound machine and night light in one comprehensive product. Its sound machine feature allows them to choose from a library of snooze-inducing sounds or white noise. With the night light integration, parents can also select their desired color. The Hatch Rest+ also has the Time-To-Rise feature so you can configure any adjustments to your child's waking up, bed, and nap times.
Customizing the settings can easily be done through the mobile app. Parents can also perform a 2-way Audio Monitor through the mobile app, allowing them to listen and talk to their child straight from their smartphone or tablet. No extra gadgets are necessary for the product to function properly. With clear transmissions, audio communications are secure to maintain privacy.
Since the Hatch Rest+ is Alexa-enabled, the device can easily change the sound, volume, brightness, and light settings hands-free. It is also Wi-Fi-enabled, so parents can easily access the device anytime, even outside the home. To prevent your infants from modifying anything, the Hatch Rest+ features a Toddler Lock that disables all physical buttons on the device itself.
The Hatch Rest+ only weighs 14.5 ounces and has a 4″ x 4″ x 6.5″ dimension, making it extremely portable to move around your home without occupying too much space. It can also be brought while traveling since it is handy enough to fit into any traveling compartment.
9. Lusso Gear Kids Travel Tray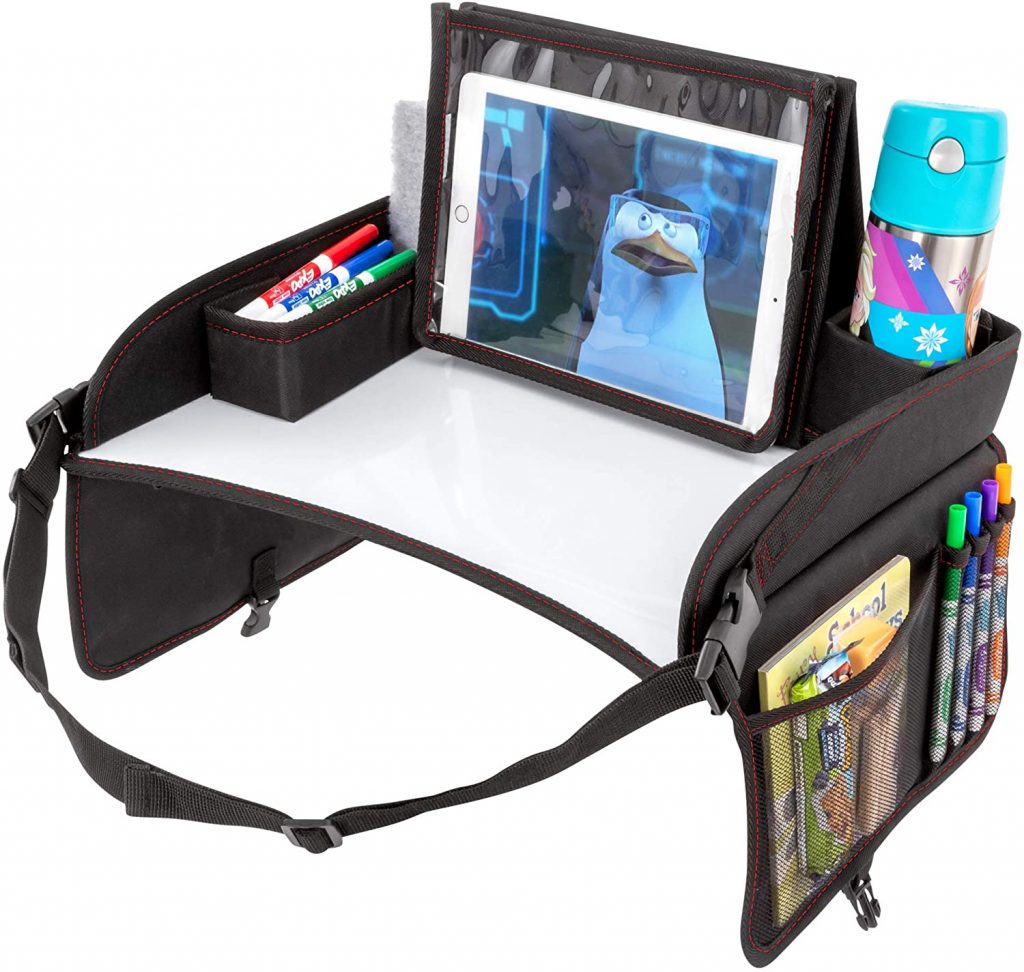 Do you often take long road trips for out-of-town escapades? The idea of having your kids for extended hours in the car may seem daunting for most parents. If it is the case, the Lusso Gear Kids Travel Tray is one of the best road trip companions when you're traveling with children. It is a comprehensive travel tray with everything you need to keep children content, engaged, and happy. The product is compatible with all vehicles, including trucks, SUVs, minivans, and cars. However, the travel tray can also be used with a kid's chair, high chair, or stroller.
The multipurpose dry erase board also serves as a snack tray. Children write, sketch, color, and play on the board itself. Otherwise, they can conveniently eat on the tray without spilling anything in the car. After eating, the tray can easily be wiped clean with a damp paper towel.
For kids' entertainment, the travel tray has a built-in 3-in-1 tablet stand that works as a storage for kids' tablets, a detachable tablet bag, and a protective sleeve. Children can watch their favorite cartoons, play games, and get entertained hands-free with the tablet stand. It also secures electronic devices from crashing into the floor.
Lusso Gear's travel tray also has onboard zipper storage pockets with pen holders that can keep small toys, snacks, art supplies, smartphones, and other essentials in place. It helps your child stay organized until you will arrive at the destination. The product also includes a detachable storage compartment and cup holder.
The Lusso Gear Kids Travel Tray features a dynamic design and is 100% adjustable for all sizes and shapes. Setting up the travel tray is straightforward and effortless. No tools are required. The protective strap can be attached to your child's body while sitting in the car. Once you've arrived, detach the strap, fold accordingly, and bring it as if you are carrying a laptop.
10. DORPU Learning Step Tower For Kids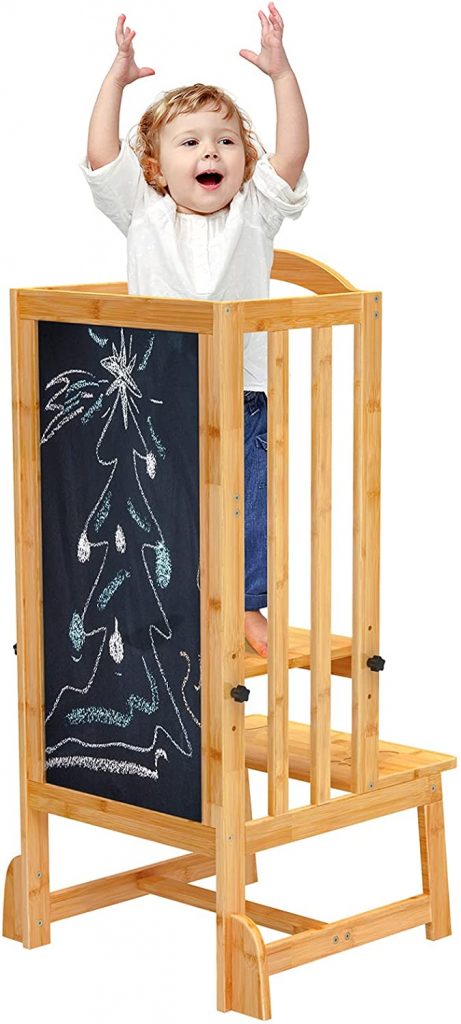 Introducing your kids to cooking and teaching them how to wash their hands properly has become easier with the DORPU Learning Step Tower For Kids. Instead of using a simple chair, parents can invest this item in more safe and secure training around the kitchen. This multifunctional learning step tool is an excellent alternative to help spark young children's curiosity and creativity.
The step tower has an innovative height-adjusting feature to accommodate children of different ages, scenarios, and heights. No tools will be required to adjust accordingly to the height of the kitchen sink or counter. With ergonomic and adjustable design, toddlers can comfortably stand and play on the step tower without taking too much space in the kitchen. It also has a curved, protective rail and less than 10″ step design to help them climb in and out of the tower easily and safely. The step tower also has support feet sides for anti-toppling.
Regardless of whether you're teaching your toddler how to wash the dishes, helping in the measurement of ingredients, or letting them observe how to perform simple culinary methods, the learning step tower's adjustable height is suitable for all types of kitchen counters. It is also helpful when your toddler learns to brush their teeth independently.
The step tower also includes a double-side Magnetic Art Board, sparking children's creativity. It is a 2-in-1 artboard featuring a whiteboard, chalkboard, and chalk that serves as a creative outlet for drawing, sketching, and painting. Before using the artboard, parents must remove the protective film.
Since customer satisfaction is the company's priority, DORPU offers a 120-day guarantee for parents to purchase the product confidently. If something happens with the toddler within the first month from the date of purchase, the company will replace the item for free.