At the tender age of five, children start to discover their skills. Introducing them to age-appropriate toys or instruments unlocks their interest in new hobbies and crafts. If you're wondering what to get your youngster for their birthday or any other occasion, a sewing machine for beginners would be an excellent choice!
Sewing isn't just for adults. Kids join in on the fun, too. The many activities associated with a sewing project stimulate their creative thinking and problem-solving skills, enhance motor skills and hand coordination, and foster a sense of accomplishment.
Making the Choice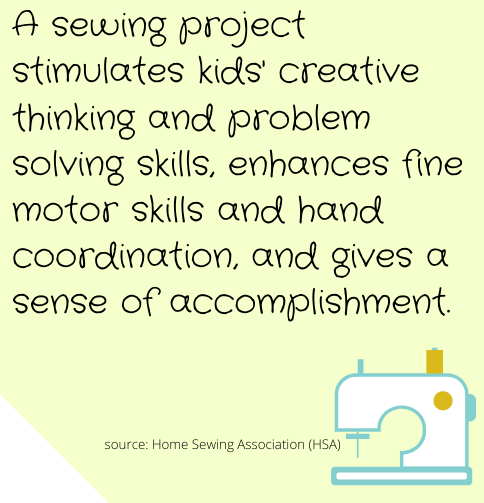 Of course, a full-sized sewing machine can be a challenge for little beginners. Shopping for a sewing machine appropriate for their age is the answer!
When choosing a sewing machine gift, you must look for simplicity and safety. Mini sewing machines are usually equipped with a start/stop button to help beginners adjust the speed easily.
Your sewing machine must have a protective needle guard to ensure safety and ease of use. To reduce sewing hazards, young kids need to be supervised by adults when using needles and stitches.
Let your child learn or enhance their sewing skills, and give them the freedom to complete small projects on their own. Shop for a kid-friendly, safe sewing machine with our help! Make an informed buying decision; check out your best options: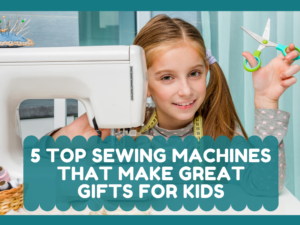 The Sew Cool "Cool Maker" Sewing Machine is more like a toy than a sewing machine—but it does the job! It sports a bright pink and white housing and is designed to be lightweight with a handle so kids can easily carry it around. No more frustration with tangled-up thread and bobbins… this sweet machine sews without the thread!
It comes with five pre-cut "sewing" projects, fluff, and an instruction book. Projects include a stuffed cat design, stuffed rose design, rainbow marker holder, keychain, and for the fashionista… a stylish pouch. Additional felt-type fabric can be used to create your own designs!
There's a little storage where young tailors can put their treasures. The machine will need 4 AA batteries to operate. Not only does it bring fashion and creativity for little ones, but also regards safety so parents don't have to stand by their child the whole time to prevent children's little fingers from getting pricked.
Beginner seamstresses, aged 6 to 10 years old can operate this starter kit and work with glitter, felt, stretch pre-cut fabrics, and patterns. Kids can create cute projects like a plush unicorn, butterfly or allow their imagination to lead them when sewing.
This product is an excellent introduction to sewing for little girls and boys who want to try out a new hobby and parents who want to keep their young ones entertained. More projects are sold separately in the Sew N Style project kits.
Your kids will be "sew cool" with Amazon's Sew Cool "Cool Maker" Machine!
2. NKOK A2213 Singer Sewing Machine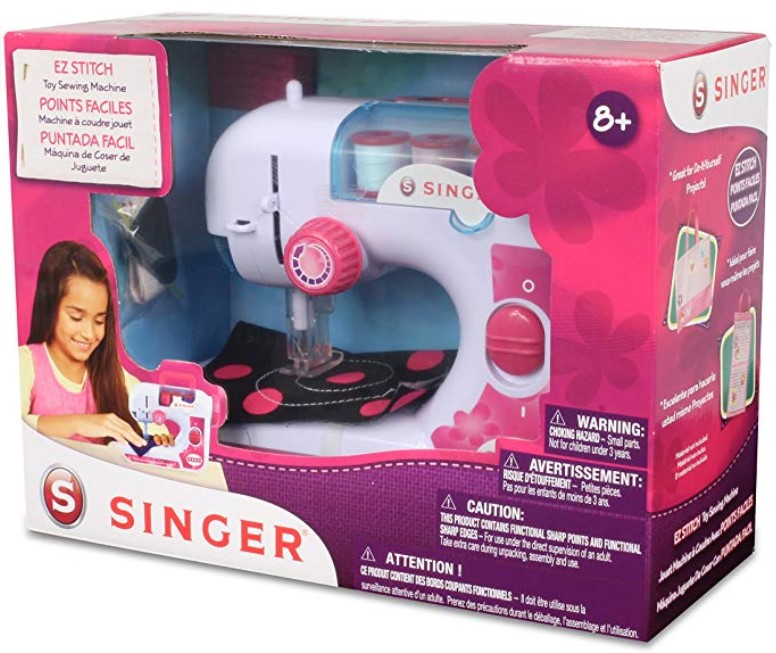 The NKOK A2213 Singer Sewing Machine provides a great gift for little seamstresses age eight years and up. This machine helps young children who want a useful trainer unit and get to know the dynamics of sewing. It is set up with a spool compartment, a carrying handle, built-in work lights, and a foot pedal that allows beginners to control the speed.
The manufacturer includes in this package three spools of thread for continuous sewing and projects, plastic needle, a needle threader which helps in easier threading, and a measuring tape. It requires four AA batteries (not included in the package).
The machine meets safety standards as it is equipped with a protective cover to keep little inexperienced hands from injury. NKOK A2213 Singer EZ Stitch Chainstitch Sewing Machine is officially a licensed toy by the brand Singer.
Need a special gift for the youngster in your life? If so, Amazon has it!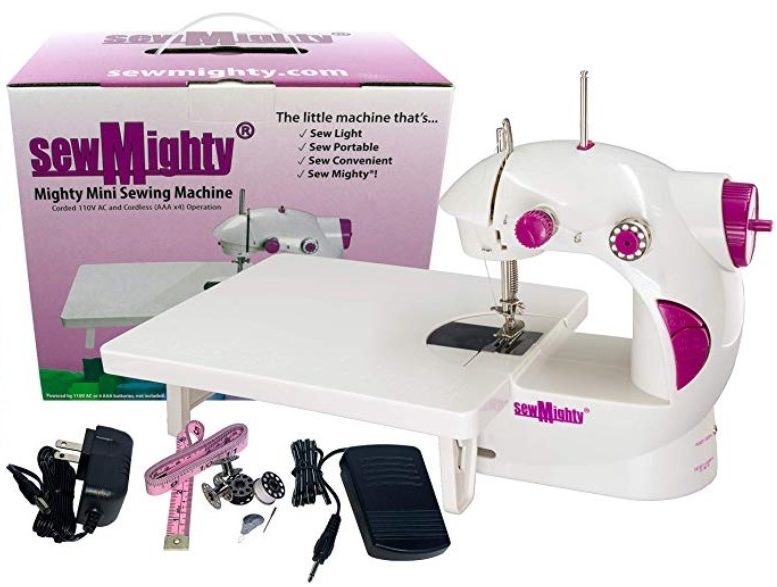 The Sew Mighty Mini Portable Sewing Machine is a powerful, small sewing machine that will bring much joy in your sewing experience. This sewing machine is an appropriate gift for kids seven years and older who are already sewing enthusiasts. Even adults who are learning the basics of sewing can also enjoy the features this sewing machine offers.
This Sew Mighty Mini sewing machine is designed with durable plastic housing so that it endures little bumps and falls. It is also portable so kids can take it and use it anywhere they want to.
It features double thread sewing with a drop-in lower bobbin, straight stitching, and a two-speed motor so kids can create beautiful and functional stitches. It also includes a foot pedal and an extension table, which are convenient when working on many large projects that most toy sewing machines can't handle.
When you order this sewing machine, it is bundled with three threaded metal bobbins, two empty metal bobbins, one replacement needles, one needle threader, one pink 60-inch tape measure, 110V AC adapter, foot pedal, and an instruction manual. This machine functions on either AC or DC power or 4 AA batteries.
Although this is an easy-to-use sewing machine, kids should be supervised while they work with it until they get used to the task.
"Mini" means "mighty" with this Sew Mighty Mini Portable Sewing Machine from Amazon!
4. KPCB Kids Sewing Machine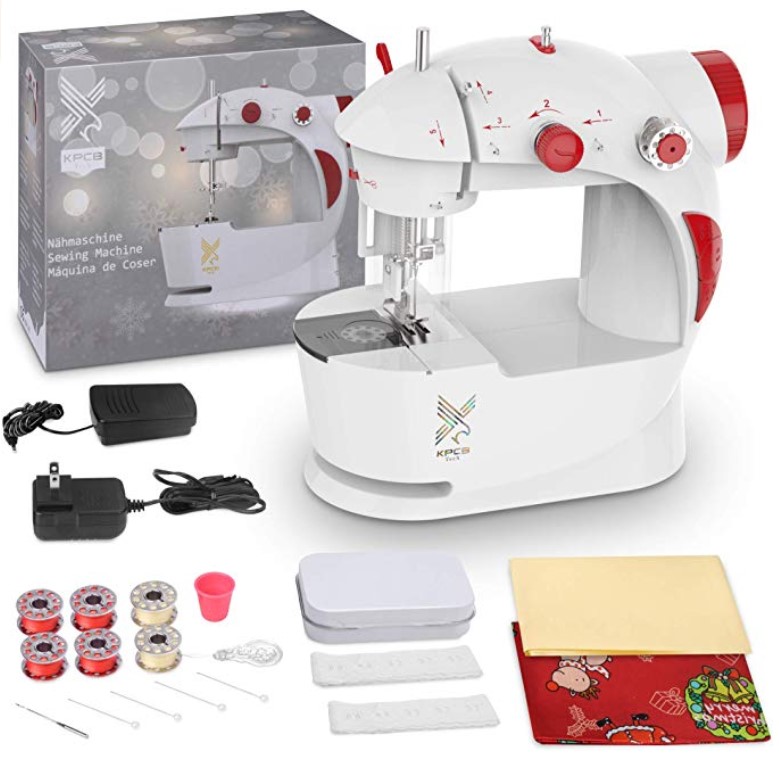 The KPCB Kids Sewing Machine allows young children to be captivated by the art of sewing. This mini sewing machine is capable of handling small crafting projects and repairs. This is not only used by kids aged eight years and up but is also ideal for adults who want to begin working on their sewing skills.
The machine has got features like a safety guard that protects kids' fingers from getting punctured, a needle threader for a task most people dislike, and a foot pedal operation appropriate for kids to control speed as they get used to the basics of sewing. It also has an automatic bobbin rewind to save time and prevent wasted thread. Its Illuminated work area makes sewing stable and smooth.
Materials such as fabrics, bobbins, needles, pins, and thimble are all packaged with the machine. A guide is also included for the DIY drawstring bags. What's impressive about this machine is that it can handle a variety of fabrics like denim, soft jeans, cotton, linen, and hard silk. However, it is highly advised that the needle be changed according to the thickness of the fabric.
This sewing machine can be used with either an adapter or batteries.
Do you have a child interested in constructing their own creations? Amazon Prime will ship this to you for free!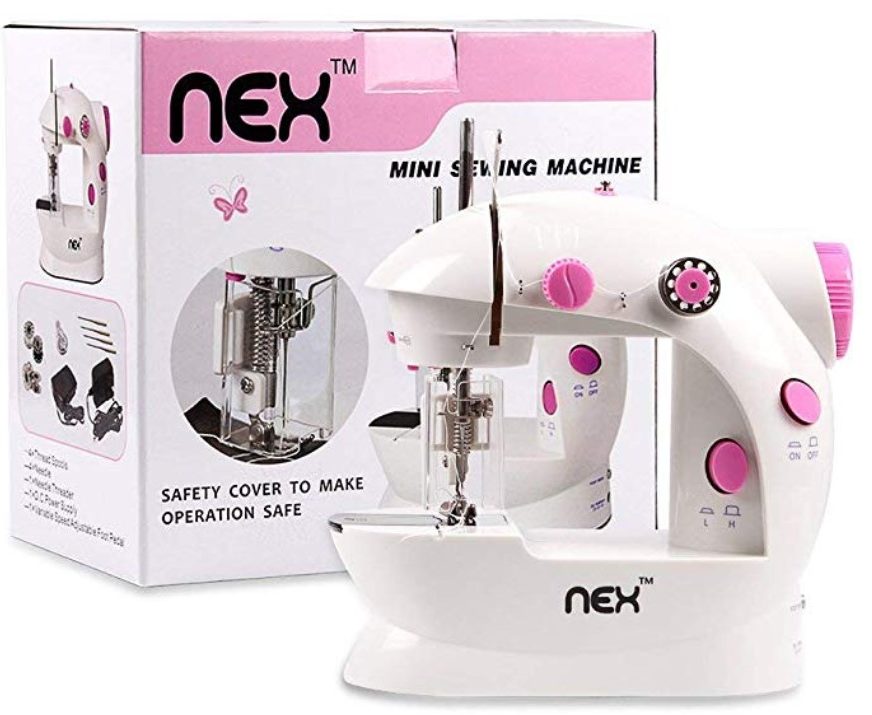 The NEX Sewing Machine for Little Projects is a mini sewing machine that has a child-friendly feature making it a fantastic choice for gifts. This machine can work for small projects by young ones who have expressed an interest in sewing. It can even be a great gift for beginner adults who want to work on sewing projects anywhere they like.
It is compact and only weighs 2.2 pounds. This makes it easy for young tailors to transport the machine to their comfortable work area. Even though it's small, it has got advanced features on it. The machine is designed with a bobbin winder and a thread cutter for straightforward sewing projects
The machine can handle up to four layers of thin denim and comes with high and low-speed settings. Children can perform a task at a push of a button or a foot pedal. Most importantly, the NEX Sewing Machine is installed with a protection cover to avoid cuts and pricks on those tiny fingers.
The built-in LED light makes the needle and the fabric highly visible. It has two power options, namely battery or electricity, which makes it great if your children want to work on a mini-project at a friend's house or on vacation.
Children will surely love this machine, even as young as five years old can work with it (with supervision).
Is your child the creative type? With many features, the NEX Sewing Machine for Little Projects will do the job!