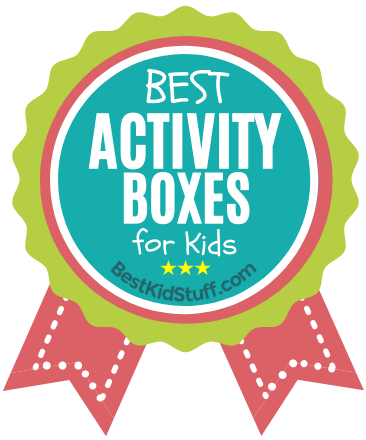 Kids are their most creative during their preschool to toddler years. Even before they reach six years old, their imagination has likely peaked and has expressed this freedom through creativity. Their expression comes from their personal experience and feelings, which are often a reflection of their emotional health.
Imagination plays a crucial role in developing critical thinking as well as problem-solving. The role of parents or caregivers during this phase is to allow children to be able to express themselves and explore possibilities using these creative faculties freely.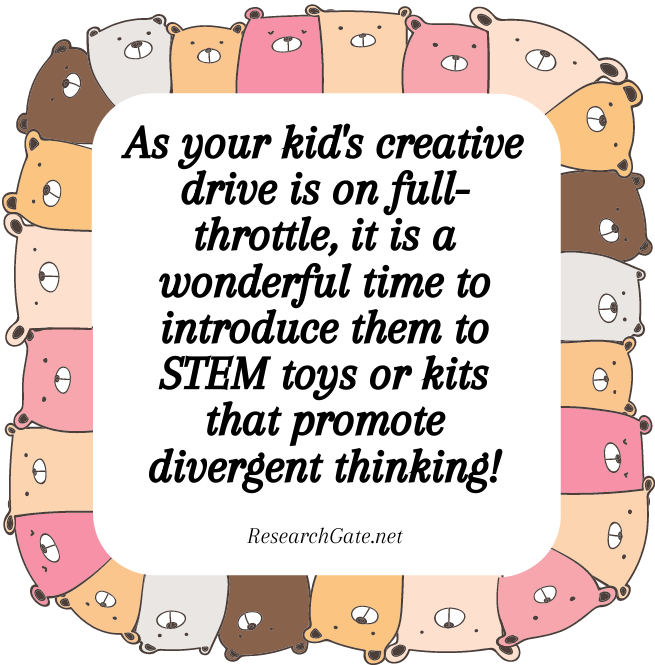 Before the onset of formal schooling, it is important to cultivate these faculties using crafts and activity kits. At age 5, children are now able to do pretend games, explore, and experiment.
Adults can further foster this by giving them items that are not only fun but also keep them engaged to learn.
As their creative drive is on full-throttle, this would be a wonderful time to introduce them to STEM toys or kits that drives them to learn and support divergent thinking. Items like soap making, junior tools, woodworks, and organic beauty DIYs are good starting points.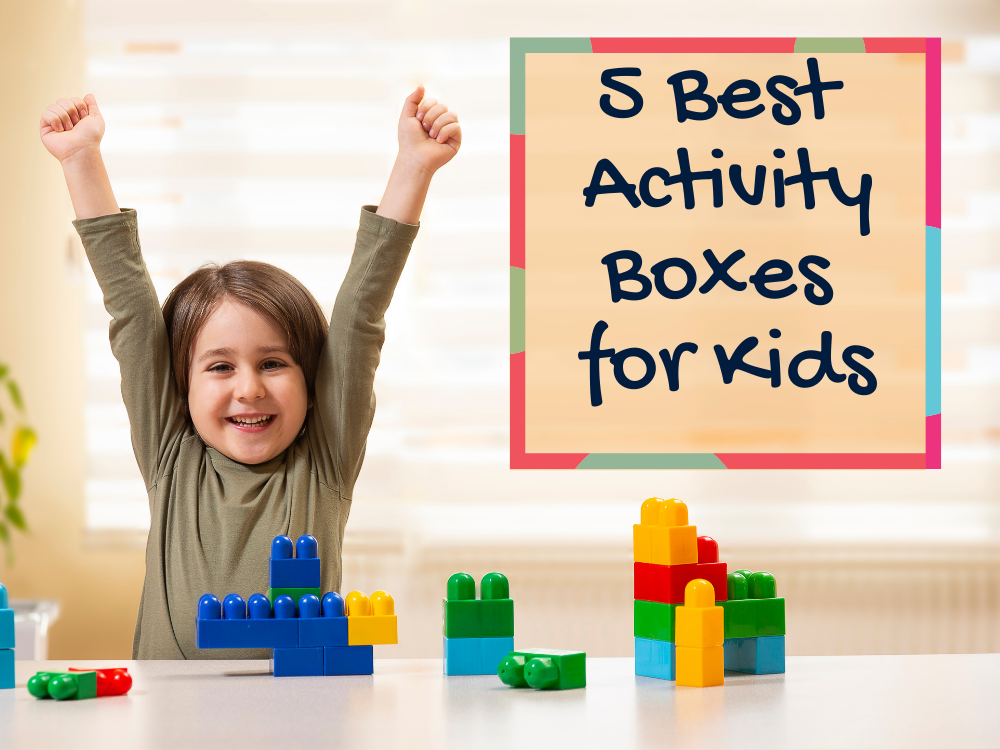 ---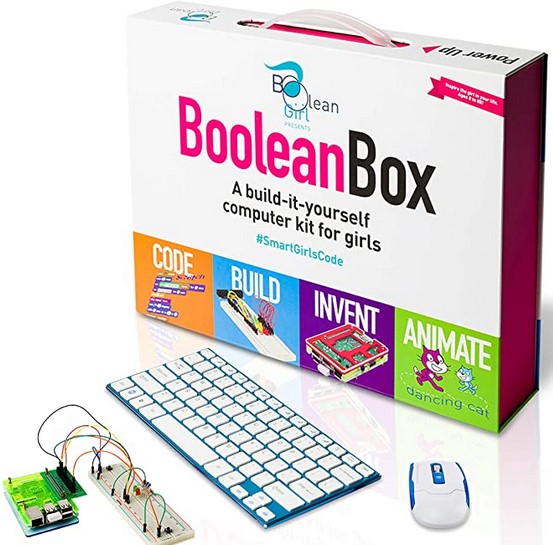 Introduce programming and circuit design in a fun way with the Boolean Box Build a Computer Science Kit for Kids. This tool helps your kids be interested in coding and learn at the same time. Ideal for girls and boys from ages eight and above, this Boolean DIY kit is unique because it is the only one with programming, coding, electronics, and animation all in one package. Each kit contains a Raspberry Pi III, a mouse, a keyboard, and exclusive access to online content for the Boolean Girl curriculum to walk them through about coding and programming.
The kit is everything your child needs to start coding, such as Python, Scratch, and Minecraft, and fulfill circuitry tasks. For the curious child, they will have a handful of fun activities, such as exploring models and circuits. The game controller project is one of the best games most kids love in this kit! To access these types of content, your kids will be directed to the official website where they get to choose any project for free.
The projects will start with simple concepts to help them build skills and knowledge. Eventually, as the projects progress, it becomes more sophisticated and needs more extensive critical thinking and logic skills. These projects are downloadable and can be re-learned as they deemed fit.
Though most of the projects are accessible online, children can also learn using the items found in the box. Connect the product to an HDMI-capable TV and follow the instructions on the manual. This could be a chance to spend quality time with your children as you guide them about the concepts and building programs.
Using creative methods to help your children understand STEM and STEAM concepts through play and experimentation, this product makes for an ideal educational toy to encourage them to enjoy learning freely on 'daunting' concepts such as these.
Ideal for 3rd to 8th graders, this one is a good purchase to get them engaged in the world of science.
2. Lakeshore Build-It-Yourself Woodworking Kit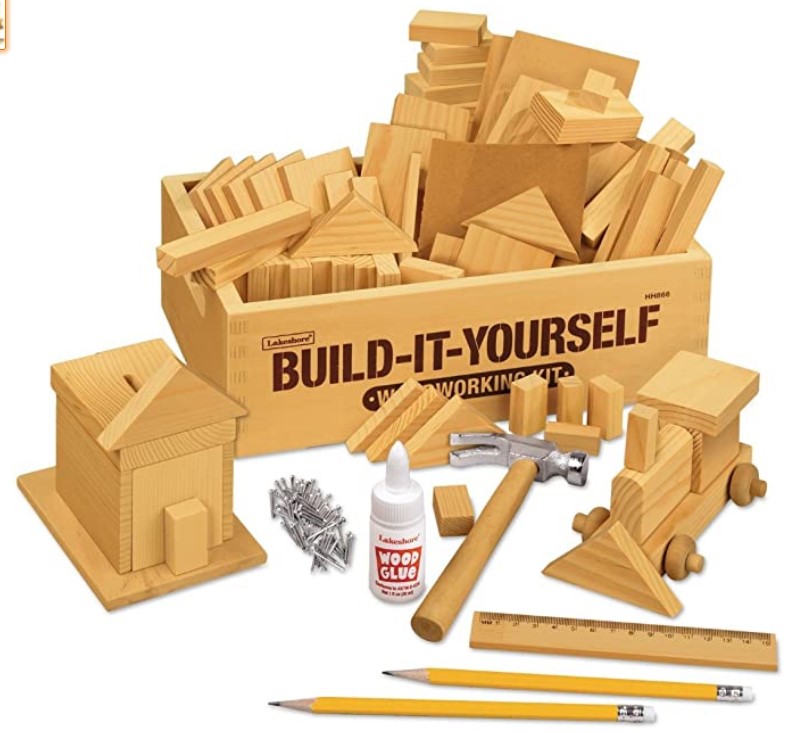 Imagine and build with the Lakeshore Build-It-Yourself Woodworking Kit. For lazy weekends, finding something for your kids to tinker on does not always require rocket science. Lakeshore Learning Materials inspires creative play through woodworking with this kit.
Ideal for kids' age 4 to 11 years old, each kit contains all the essential building materials he or she will need for the activity: a lightweight hammer, nails, pencils, wood glue, pine pieces in different shapes and sizes, a ruler, and sandpaper to smooth out rough surfaces.
Their creativity is the limits with this kit! Your child can have fun building more than one type of project. Using the instruction guide, you and your kids can spend time building cool items such as a shed, train, airplane, wheels, propellers, and a bird feeder, to name a few.
You can guide your child throughout the activity as they measure the right wooden pieces fitting for the project they set out to do. With an easy guide to follow, your kids can carry on hammering, building, and polishing these pieces for hours with little to no guidance!
Are you planning to give these for your children for their birthdays or the holidays? Purchase two to three of these kits for two kids to share!
If you are looking for an activity kit to help tinker their creativity while strengthening their gross motor skills, this product is the right fit!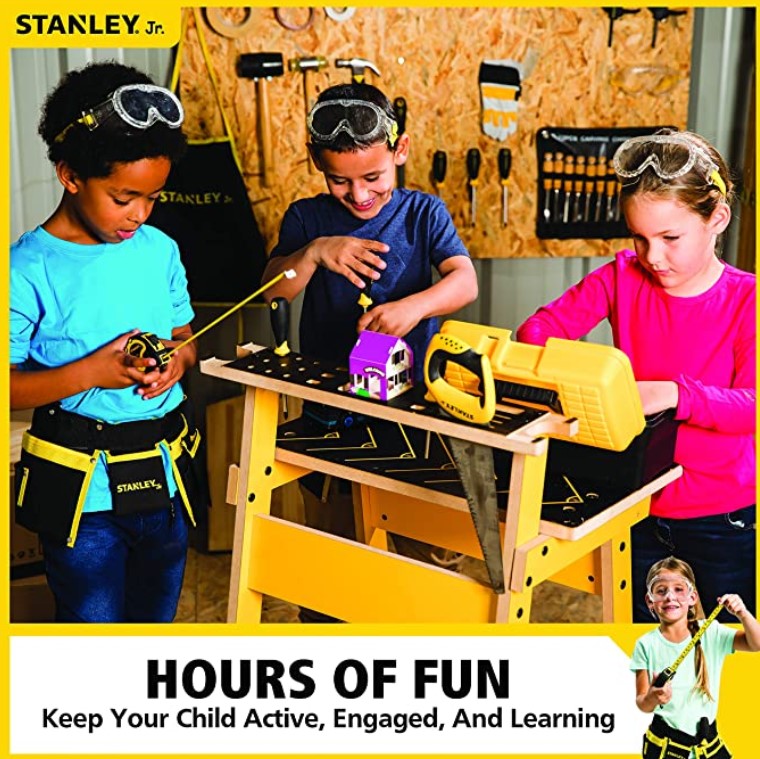 The Stanley Jr. 10-Piece Kids Tool Set is the building materials your kids would love exploring with! Excellent for kids five years and up, this Stanley Jr. tool kit is a good educational toolset for the curious.
This is a creative non-toy gift to help develop their imagination through pretend play. Your mini-handy man would surely love this set composed of a tape measure, ruler, hammer, safety goggles, screwdrivers (Phillips), bar clamp, tool belt, handsaw, tool belt, and a file. This junior tool kit contains real tools made of quality hard steel and rubber.
Similar to grown-up tool kits, your kids can have fun creating DIY projects. As this uses real tools, it is best to have an adult supervise them during playtime. The possibilities are limitless, so you can spend quality time with them as you create various projects such as wooden toys, birdhouses, or a wooden bench for starters! Your child must be safe at all times. The safety lock mechanism feature in the tape measure keeps your child from accidental slips and cuts.
Kids, this age needed a good boost in self-esteem, and this kit delivers that by allowing them to take ownership of their creations. It is also a great gift to help develop fine motor skills and critical thinking as they solve to fit pieces together using the tools found inside this kit.
All siblings and mom and dad can share this activity box during a weekend activity in the shed. You also have the option to purchase a dress-up costume to go along with this handyman tool kit to keep it close to the real deal!
Overall, for a good price, this junior tool kit will be something that the kids (or you!) can truly enjoy for years ahead!
4. Tovla Jr. Kids Cooking and Baking Gift Set with Storage Case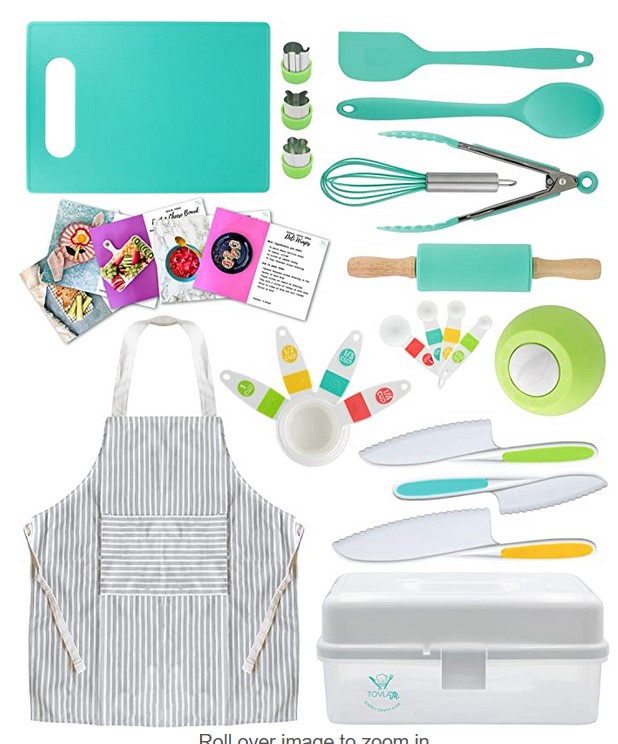 The Tovla Jr. Kids Cooking and Baking Gift Set with Storage Case is your ideal beginner baking and cooking set for junior chefs! This is an essential kit for kids who love to bake or cook along with mum and dad.
This cooking and baking gift set by Tovla & Co. is packed with all the essentials for your young chef. Each set contains 17 pieces of cooking tools a whisk, spatula, knives, tongs, measuring cups, a chopping board, a small roller pin, and an apron, to name a few.
If you are contemplating what to give them for their birthday or a special treat for doing well in school, this is the perfect gift set for children ages four and up. It comes in a vibrant combination of white, blue, and yellow, so you do not have to worry about gender-specific colors.
Parents need not worry about safety either because this product is made of child-friendly, non-toxic, and food-grade materials.
Spend the afternoon baking cookies or cooking their favorite dishes using this junior cooking set. Parents can prepare their favorite foods using the parent-approved recipe cards provided along with the set. You can also let your child explore other kid-friendly recipes online as you help them cook their very own dishes using these cute tools!
This creative gift is a great way to help you connect with your children and share the experience of doing what they love together. They can also share this experience with their friends when they want to cook for a tea party or sleepover.
It also tinkers with their creativity as they prepare and mix ingredients—and even go beyond and experiment with various textures and flavors!
From creating simple cookies to baking their specialty cupcakes, this set would make a gift they would surely treasure!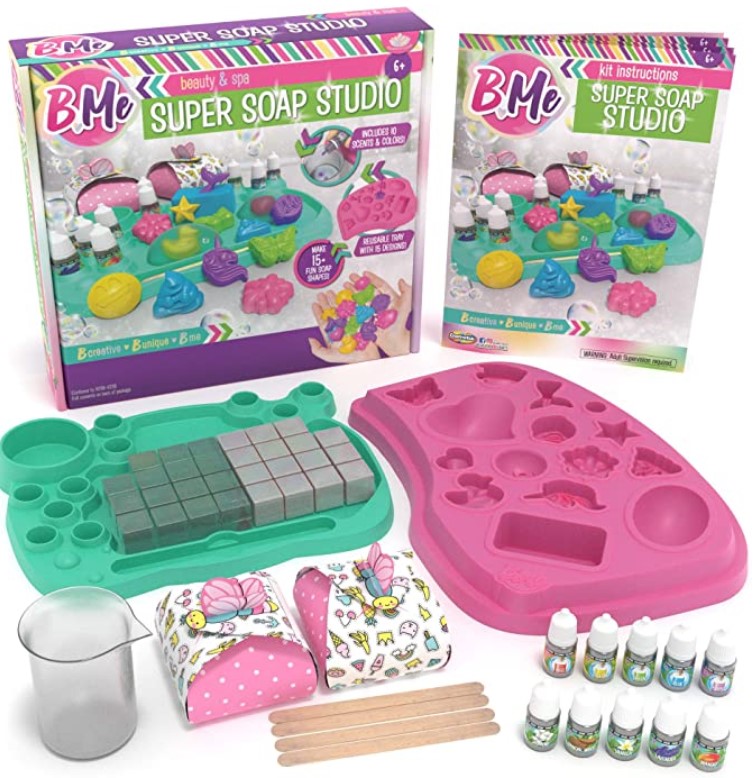 Get exceptional fun indoor activity with the DIY Soap Making Craft Kit for Girls & Boys! Some may consider this 'old fashioned' but this craft kit by B Me is just the right set to let them explore soap making. Using this kit, you can teach them the kind of ingredients that goes with their soap. Furthermore, it is an opportunity to learn more about basic everyday items such as soaps!
Suited for kids age six years old and up, this kit already contains 15 silicone molds with funky designs, a mixing cup, soap cubes, mixing sticks, aromatic scents, a mold tray, a soap creation station, and five dyes to choose from. The soap mixture in this kit could give them around 15 soaps in varying colors and designs. It could also yield more soaps if they use the smaller molds.
This makes for a perfect indoor activity during rainy days or slumber parties. Activities like these are time-consuming, keeping them distracted from their digital devices and TV as they stay engaged in creating their masterpieces.
Following the instructions in the manual, your child can create DIY soaps independently or with little supervision from an adult. However, you can choose to take this opportunity to spend time with them as you assist them with this activity.
Ran out of soap cubes? You can still use the other items in this kit and repurchase dyes, soap cubes, and scents as needed. The more you have on hand, the better as they experiment with the different textures, colors, and scents using layers!
Aside from sparking their imagination, this soap making set also helps develop fine motor skills. It is also an ideal tool to socialize with other kids if you happen to have visitors with kids over for a prolonged time.
Best of all, soaps can be shared by the entire family!