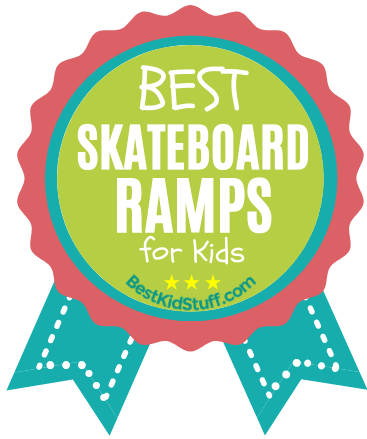 Skateboarding has been gaining popularity among kids in recent times. Aside from the fact that it relieves stress, enhances metabolism, and boosts coordination, sports scientists cite that this physical recreation is a complete workout in itself.
In America alone, an estimate of 6.5 million people participated in skateboarding events in 2018.
For children, starting this new sport and hobby, a skateboard AND a skateboard ramp are a must! These two can bring a whole new level of excitement as they tackle jumps and flips, master their tricks, and influence their peers.
Previously, most young ones go to skating parks or build their ramps at home. Now, there are portable child-friendly skateboard ramps where you can create your exciting mini-skate park in both your compound and driveway.
Having them in your backyard also lets you keep an eye on your child's safety as they play.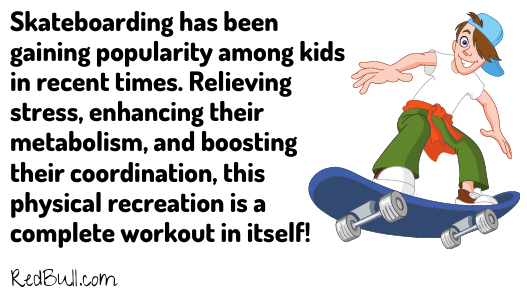 With a wide range of these ramps available in today's market, they come in different shapes and sizes. Choosing a good skateboard ramp is also vital in your little adrenaline junkie's fun, tricks, and safety. Some of the product's attributes you need to consider includes:
Quality: From the weight capacity and robust construction, a ramp that falls apart within months can endanger your child. Always check for items that can withstand large impacts and does not weaken over time.
Portability: Home-use skateboard ramps are usually easy to assemble and disassemble. Its lightweight yet sturdy finish makes it handy to bring either outdoors or indoors.
Safety: As this hobby and sport require physical effort, protect your novice riders by equipping them with the right safety gear. From wrist guards, knee pads, and helmet, these will lessen your worries as they are out there having some fun in your neighborhood.
Below are five of the best skateboard ramps for kids! These are currently available on Amazon. Check and review which one is perfectly suited for your young skater!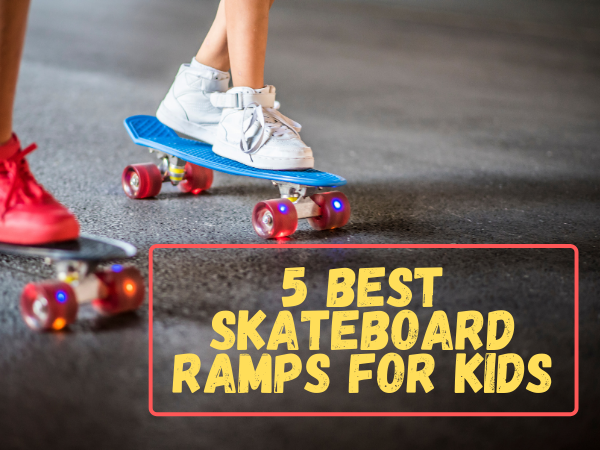 1. Landwave 4-Sided Pyramid Skateboard Kit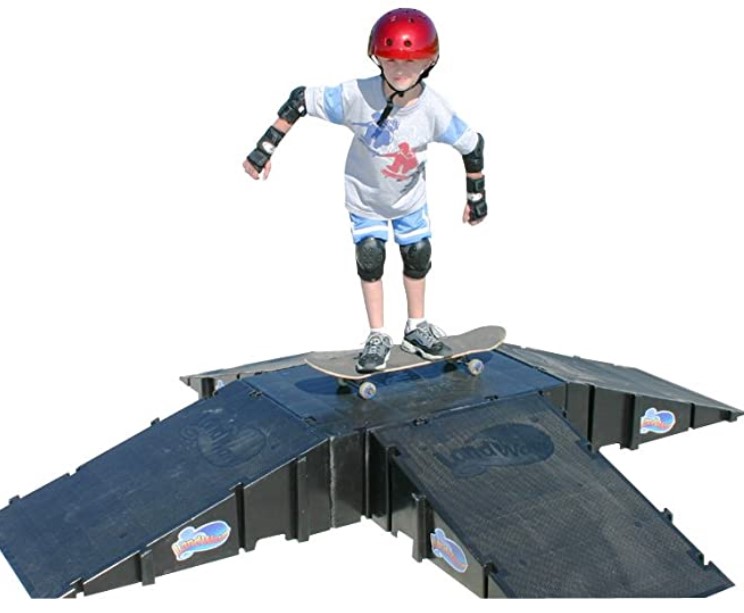 Landwave 4-sided Pyramid Skateboard Kit lets your children eight years and up to make their own unique skate park. Its sturdy and well-built design offers multiple assembly possibilities with its four stackable ramps and one deck.
In this skateboard kit, the are various ways to arrange the ramp, and multiple users can use them together. Kids can customize them as a 4-sided pyramid with the deck in the middle to go in different directions at the same time. Based on their riding style and skill level, these little adrenaline junkies can create their set-up with its tractable surface!
Made from durable and lightweight plastic, it can easily be moved around if needed. This robust kit is easy to assemble with no tools required. The ramps easily fit together, lock in place, and have rubberized feet to resist sliding and skidding. They can also combine them with other compatible Landwave decks and ramps for more riding tricks and a skateboard ramp system of their dreams!
Landwave 4-sided Pyramid Skateboard Kit not only works perfectly for skateboards but also for BMX bikes, RC cars, and scooters. The 12-inch height of the deck and ramp suits well for these mini riders, but for the more experienced one, they can opt for a more elevated platform.
Children can use this skateboard kit for indoor practice. It has withstood extreme weather conditions, which make it suitable for a great outdoor play, too!
Get 'em off the couch and outside for some safe but daring fun! Check out the Landwave 4 sided Pyramid Skateboard Kit for your beginner!
2. Ten Eighty Skatepark Set w/Grind Rail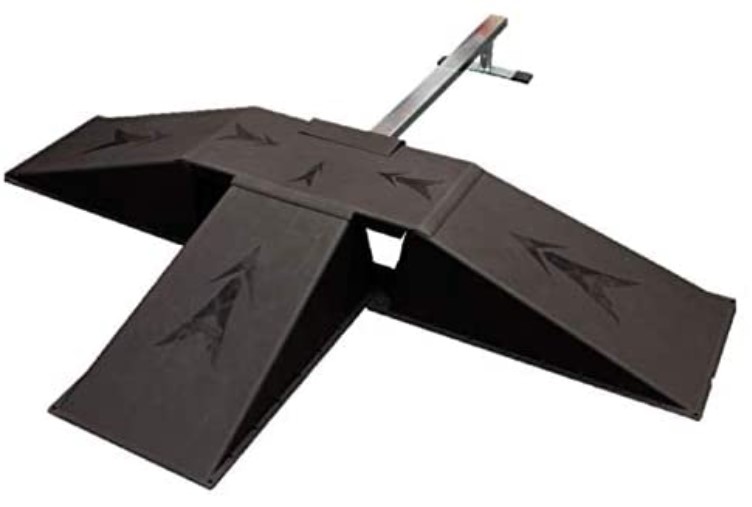 If your little adrenaline junkies are looking for a skateboard set with extra fun, then this product from Ten Eighty is the answer. Aside from the usual ramp components, it includes a rail set for additional skating tricks!
In Ten Eighty Skatepark Set with Grind Rail, older kids will love its robust and modular construction. The sleek black set consists of 3 ramps which provide air time and a tabletop suitable for manuals. If these mini-skaters want to practice grinding, the kids will enjoy the attachable 40-inch square rail.
Whether they use bicycles, inline skates, scooters, and skateboard, riders can get their ultimate skating experience with these fun, cool, and versatile trick options!
The skateboard ramp is made from highly-durable polypropylene material. Its textured slip-resistant finish ensures stability and security during the run for children. Its sturdy design can support users up to 175 lbs, too.
With regards to the assembly process, parents and older skaters don't have to worry as it only takes minutes with the instruction manual included.
The Ten Eighty Skatepark Set with Grind Rail is sure to please the skateboarding enthusiast in your family!
3. Landwave Single Skateboard Ramp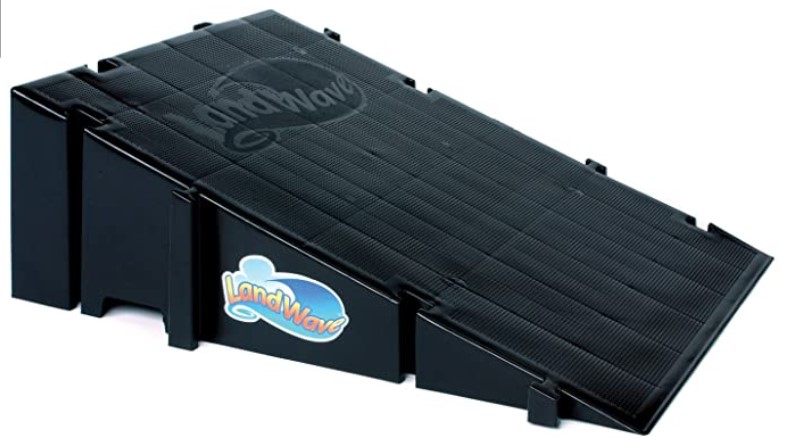 If your children are not yet ready to take the plunge with Landwave 4-Sided Pyramid Skateboard Kit, this one is perfect for novice riders. Works as a basic kicker ramp, Landwave Single Skateboard Ramp is designed for young skaters of up to 8 years old and above.
Having a Landwave Ramp all by itself, little adrenaline junkies can use it as they initially start their hobby. Kids can launch off the ramp and land on the flat ground. The gap set-ups are perfect for some aerial tricks between kickers as they gain confidence.
If they want to level-up their tricks and excitement further, you can add other customizable Landwave ramps and decks at a later time. This ramp is also easy to assemble as modules slide together with no tools required. The rubber underneath prevents it from sliding on the pavement and provides safety without compromising fun for a mini-skater!
As it comes in a single unit, the height and width can be configured by consumers with any number of other modular units. With its customizable height, this item will be a great single-jump launch ramp for scooters, skateboards, and BMX bikes.
Since the product is one ready-to-go unit, it cost less than its hybrid counterparts. Each ramp also can support a maximum weight of 300 lbs.
Landwave Single Skateboard Ramp offers a 90-day money-back guarantee!
4. 1080 Skate Ramp Jump Skateboard Kids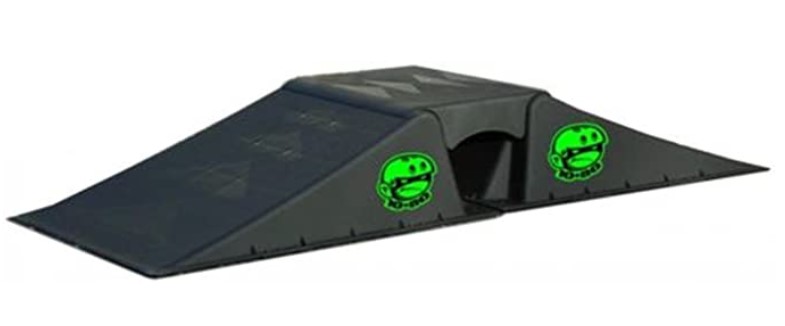 1080 Skate Ramp Jump Skateboard Kids ramp offers beginning skaters and riders the ideal platform for starting their aerial tricks. This box jump ramp set is recommended for little adrenaline junkies eight years old and above.
The skateboard ramp is built with two sets of solid launch ramps and joined together with a tabletop connector. Mini-skaters can launch from either side of the ramp since transition can be done easily. If they want to unlock more advanced skills, they can roll over the top.
The wedge shape is perfect for novice riders to enhance their skills and master tricks without the intimidation of taller ramp heights. They can do flip tricks and manuals on the same ramp in an instant. This simple playset has a lightweight design.
Designed with kids' safety and fun in mind, it is made from high impact polyethylene that will resist thrashing. The non-slip rubber feet and a textured finish will keep your inline skates, pulse scooters, BMX bikes, and skateboards planted.
1080 Skate Ramp Jump Skateboard Kids ramp requires some assembly that takes just a few minutes to put together. It can be easily disassembled easily for storage purposes. Built to withstand up to 125 kgs of impact, this product is extremely durable.
The skateboard ramp has a good price point and guarantees satisfaction as the product can be returned for a full refund!
5. Landwave Skateboard Starter Kit with 2 Ramps and 1 Deck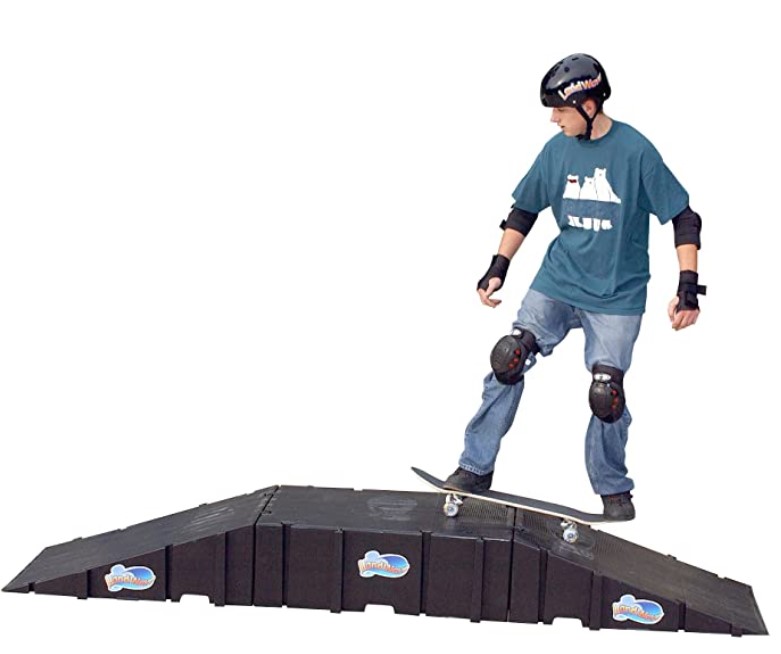 By the product name itself, Landwave Skateboard Starter Kit is an excellent choice for those young riders who want to start their mini skate park.
This skateboard kit is also best suited for those who want to upgrade their skating skills as it offers various customizable functions. Landwave Skateboard Starter Kit comes with two stackable ramps and one deck. The latter can be used either as a two-feet launch ramp or a fly box.
Mini-skaters can use the one ramp to launch and the other for landing. The deck can be attached for beginner riders who are not yet ready to "catch any air." Neighborhood children with razor scooters, BMX bikes, and skateboards can also make their configurations with the three separate pieces so they can try other tricks.
For added thrill and challenge, those with advanced skills can combine and expand it with other compatible Landwave ramps and decks. The robust construction of the ramp has a simple and safe design that is ideal for adrenaline junkies.
Like the previous Landwave products, these ramps are made from highly durable U.S. materials that last for a long period. This skateboard ramp does not require any tools to assemble, and the three separate parts can be easily put together in minutes.
Perfect for home practice, its lightweight design means it can be moved from indoor to outdoor pavement or asphalt surface in an instant.
Designed to resist the weather, Landwave Skateboard Starter Kit can be left outside in all temperatures.