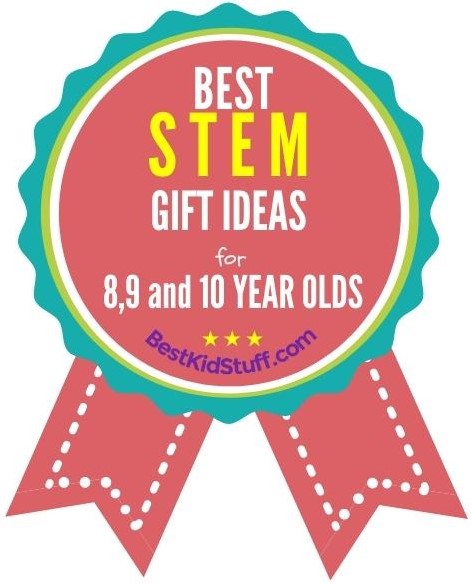 Thinking about what to give to your growing kid for the next special occasion? Why not try giving educational gifts! Choose toys that introduce Science, Technology, Engineering, and Mathematics (STEM) in a fun and interactive way. Why settle for boring educational toys when you have an overwhelming array of exciting, challenging and fun gift options?
Why is STEM Learning Important?
Incorporating STEM learning while your child is growing is an important step for their development. Some kids may see science as a boring subject, but it's a big part of their daily lives. Developing a good understanding of the different branches of sciences will help your child appreciate what they experience and learn in school every day. Moreover, learning technology early on can develop your kid's interest in programming and robotics, which are promising career choices in the future. Engineering and mathematics go hand-in-hand, both involving logic and critical thinking.
Ranking Methodology
1. Match the child's developmental level and age. STEM learning may be broad, but focusing on its specific aspects can lay the foundation for effective learning. The product must enable the child to think, create, or imagine by promoting pretending or role-playing, practicing, or problem-solving activities.
2. Entertaining and enjoyable. Science, Technology, Engineering and Mathematics may be complicated concepts, but STEM toys and gifts must integrate fun and learning! Most children have short attention spans, so each item must propose a creative way of keeping kids interested in STEM.
3. Promote social skills. Children love to play independently, but it is equally important to expose them to kids their age with whom they can play. With STEM products, kids put their thinking to the test and develop their social skills simultaneously! Remember to keep the children supervised by adults at all times.
4. Guaranteed safety, durability and ease of use. As a rule of thumb, toys and items for kids, in general, must be sanitary and do not contain toxic or flammable materials. They should also survive repeated use and handling. And although STEM toys connote education or learning, they must be simple enough for a school-age kid to operate, use, and enjoy!
Gifts that improve your child's STEM skills surely bring many benefits and offer an opportunity to spend quality time with their little ones! To help your search, we've prepared 10 of the best STEM gift ideas for 8, 9, and 10-year-olds: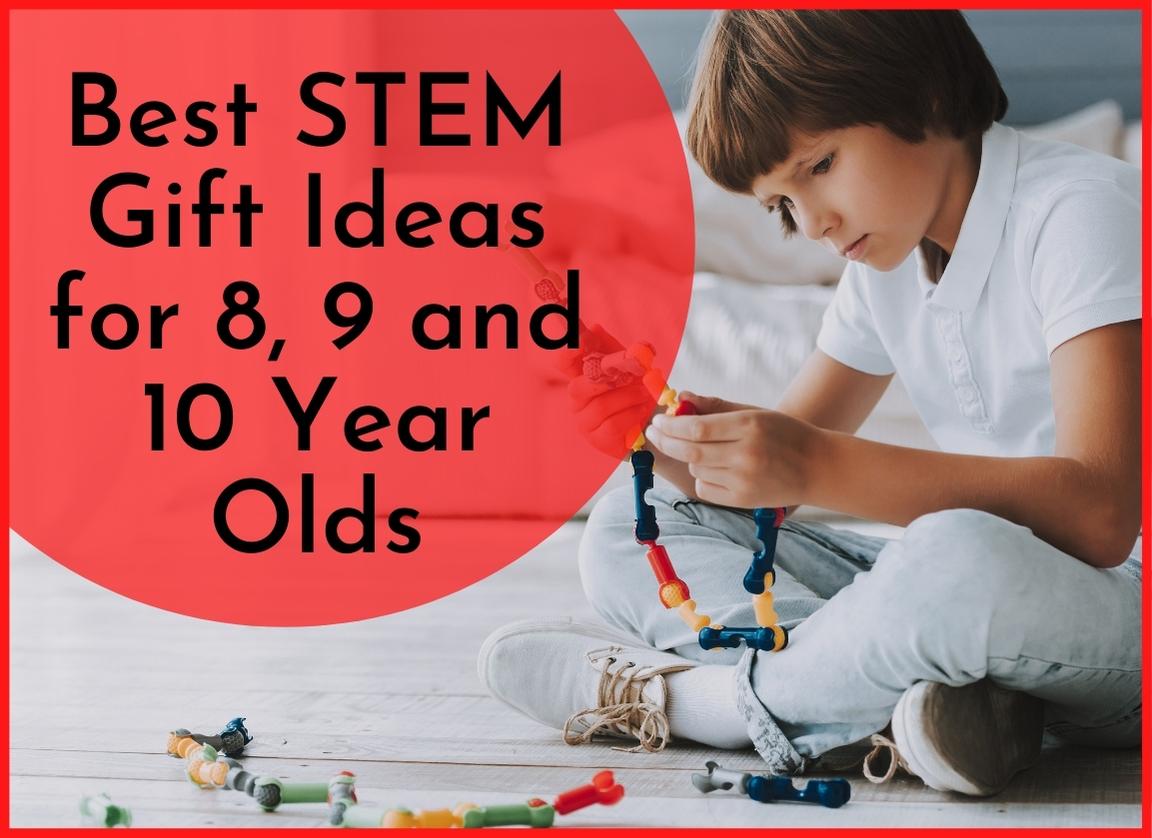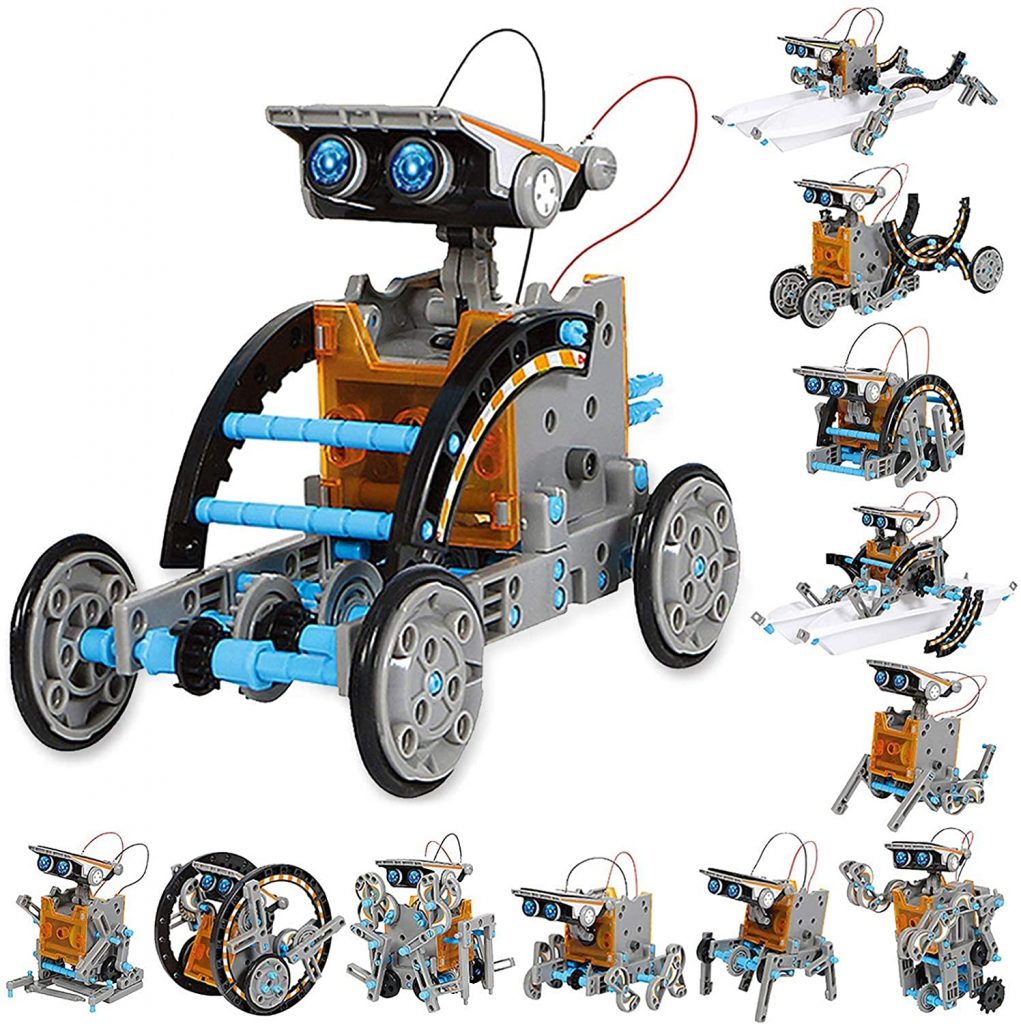 Looking for a gift to help your kid learn more about robotics? The Sillbird STEM 12-in-1 Education Solar Robot provides different types of robot designs for your kids to build. Education experts believe that building a robot may enhance your kid's STEM skills and provide a better understanding of how hardware and programming work hand-in-hand. While most of the designs are intended to work on the land, it has available robot setups to work on water. Your kid may start with entry-level designs like designing a robot puppy or beetle for beginners. Some second-level designs, like making a rowing or surfing robot, are designed to challenge your child's engineering skills.
Aside from learning the basics of engineering and mechanics, setting up the robot can also improve your kid's problem-solving skills and even develop their interpersonal skills when working with a group. Best of all, this DIY robot uses solar energy to function, so you won't have to worry about batteries or power sources. This feature also makes the product safer to use, even with minimal supervision. It's also a great way to introduce renewable energy to your little scientist. The set includes around 190 robot parts, along with an easy-to-follow guide for the 12 designs. The pieces are made from high-quality plastic that's guaranteed to be toxic-free and child-safe. Gift this product or let your child experience building a robot first-hand.
2) Orboot Earth by PlayShifu (App Based): Interactive AR Globe For Kids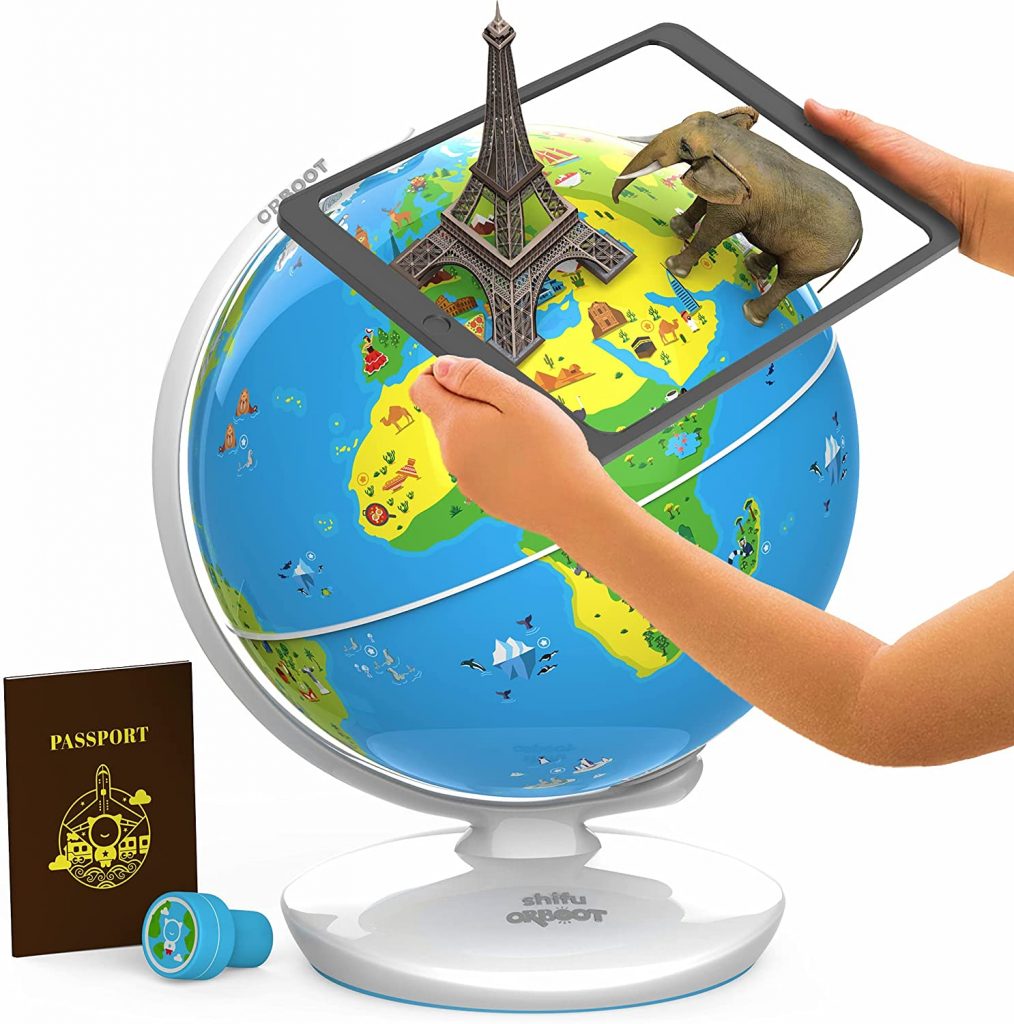 The Orboot Earth by PlayShifu is an interactive globe where kids can use a smart app to learn about world geography or culture. Children may learn about each continent, the location of every country, and more general facts about them. This award-winning product is designed to be both educational and fun. Aside from learning more about various locations worldwide, your child may learn facts about different monuments, inventions, and even food from different destinations. This helps in introducing cultural sensitivity and social science. Additionally, you'll learn more about interesting facts about the different animals worldwide.
The Orboot Earth by PlayShifu is complemented with an Orboot app that creates an interactive learning experience. The app can be downloaded both for Apple and Android devices. After downloading the app, you have to scan the globe and explore the different areas. Available in different modes, the smart app packs a lot of visual narratives, fun music, and interactive puzzles that are sure to excite your curious child. The globe also comes with a toy passport to help set online travel goals and encourage your kid to explore more countries. Let your kids learn more through augmented reality while solving challenges and puzzles.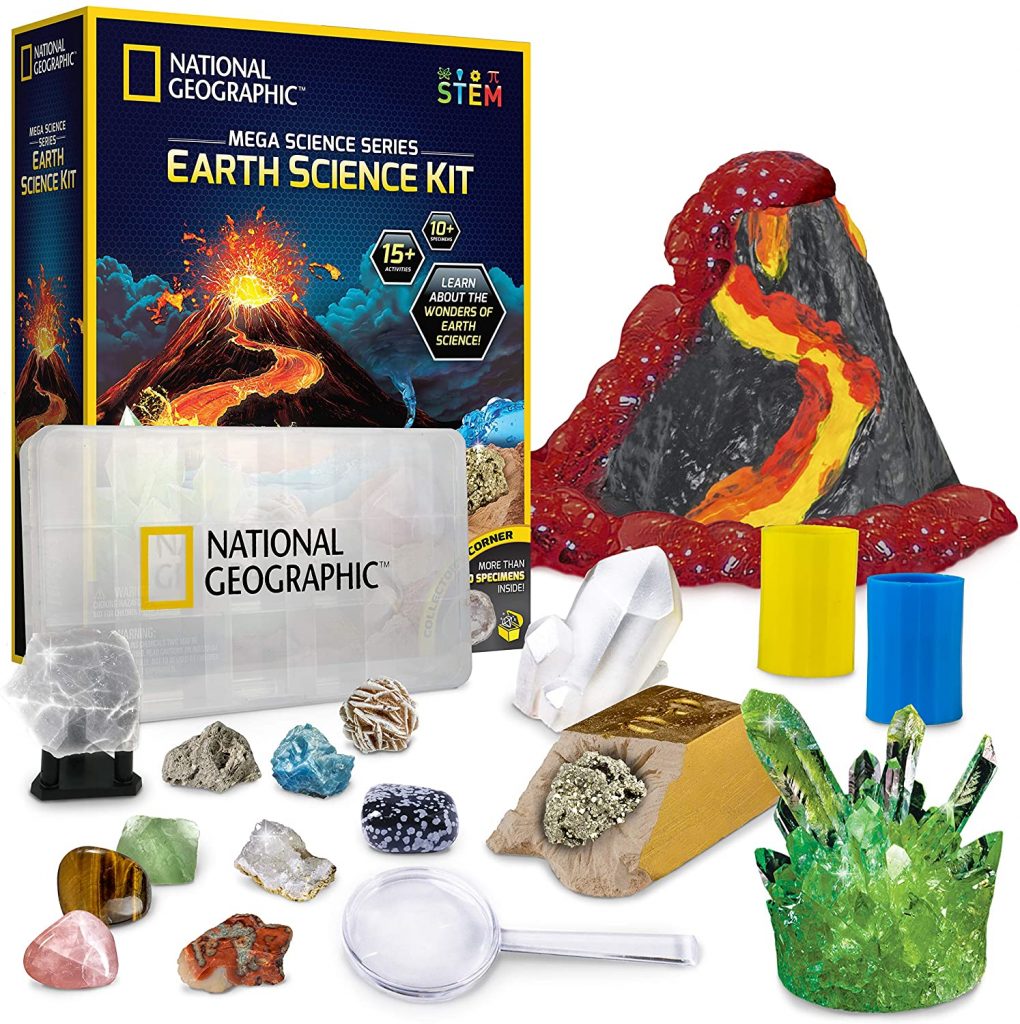 The NATIONAL GEOGRAPHIC Earth Science Kit is an ideal gift for children curious about science and doing experiments. With over 15 science activities that may help introduce different concepts involved in earth science. Your child can get hands-on experience in geology by digging up different specimens like rose quartz. Start a rock collection with over ten rock specimens such as pumice and snowflake obsidian. Best of all, the kit includes the materials and a guide in growing your crystal in as fast as three days. This may help provide a better look and understanding of how crystals are formed.
Creating a volcano is also a part of every earth science class. With this kit, your kid can create a reusable volcano to practice creating different mixes for bigger explosions. Additionally, your kid can learn more about vortexes and water tornadoes through practical activities. The kit includes detailed instructions so your child can easily follow the experiments and develop an appreciation for scientific thinking. Making mistakes won't be a problem since the kit has enough materials for your kid to practice on. Immerse your inquisitive one in the world of volcanoes and rock. Going over the science activities is also a great way to bond with your child or as a family.
4) Thames & Kosmos Structural Engineering: Bridges & Skyscrapers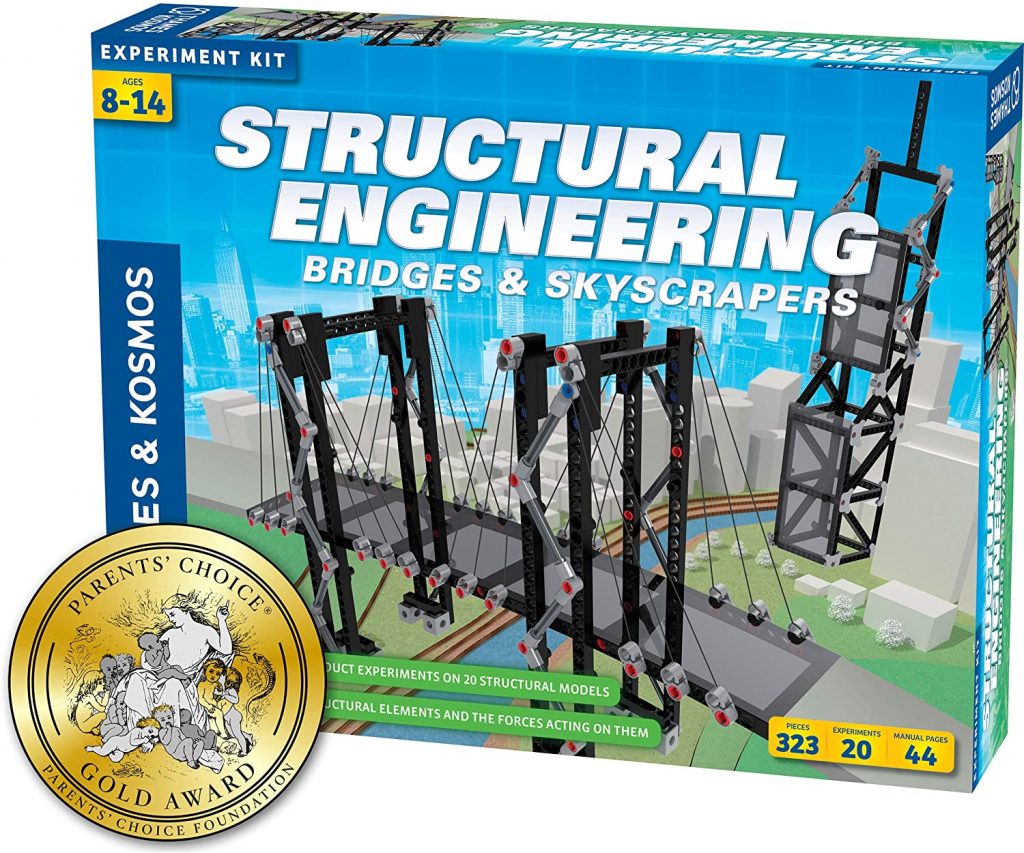 Looking for the gift your little engineer will love? The Thames & Kosmos Structural Engineering: Bridges & Skyscrapers set is perfect for testing out their design skills. With this set, your kid can build different bridges and tall structures like skyscrapers. Learn about structural engineering by building 20 models using this kit of modular building pieces. Your child can start building simple structures at first to be familiar with different concepts in physics. Afterward, they can start doing complex models like a suspension or truss bridge. If your child is interested in building tall structures, the set comes with a guide in building two skyscraper models, for starters.
Every model demonstrates a concept from mechanical physics or structural engineering in a practical way. This building set comes with over 300 building pieces that are toxic-free and safe for children. It also has a manual that's easy to follow since it comes with full-colored drawings and detailed instructions. Additionally, the manual provides information on different structural parts such as beams, columns, and trusses. Introducing them to buildings and basic structures will surely help them understand different forces affecting structural models in a fun but informative way!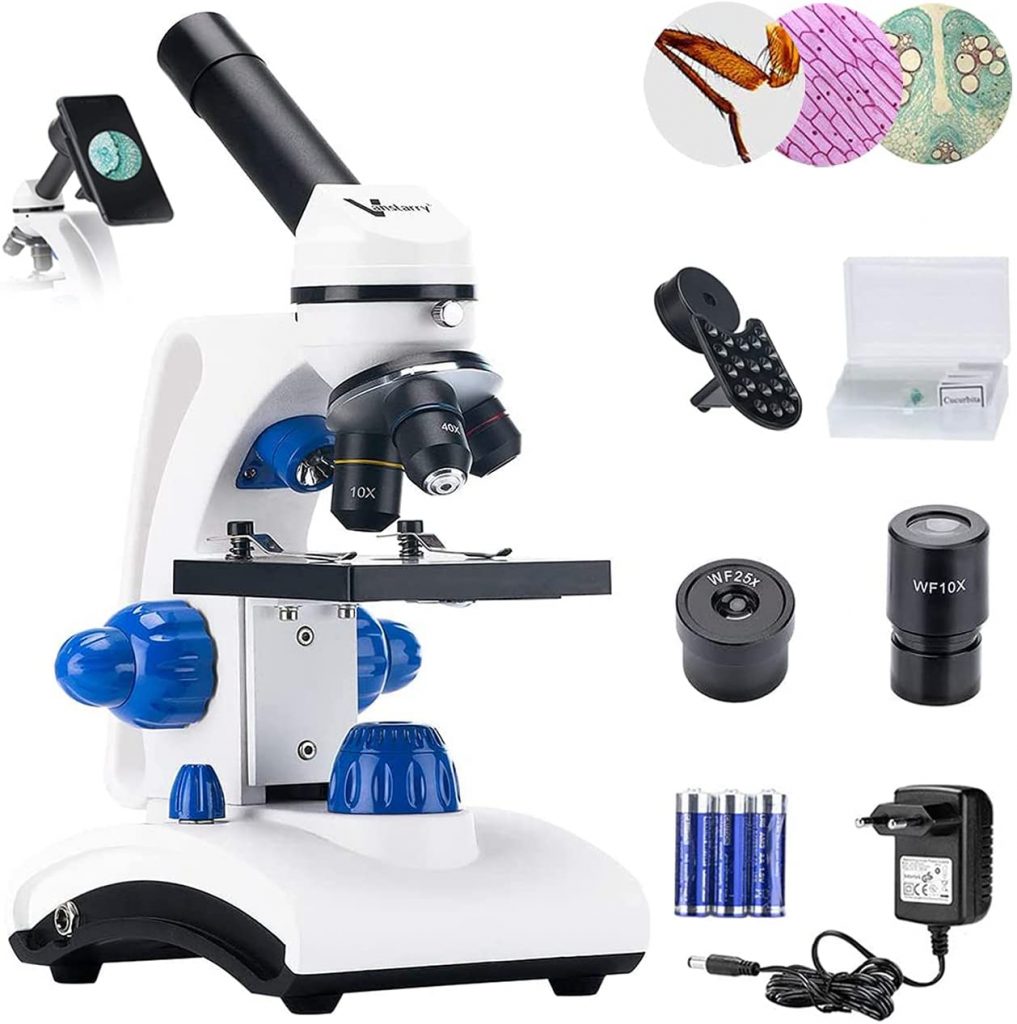 The Vanstarry Beginners Microscope Kit is the best gift for your curious little one. This product fits those interested in learning more about science and exploring the microscopic world. With magnification ranging from 40x to 1000x, it features high-quality lenses for clear images and great zoom quality. Your child can look into different solid objects such as rocks and leaves through the low power lens. At the same time, they can also have a closer look at cells and various living organisms through liquid specimens such as blood or water samples.
This product is a great introduction to learning biology while keeping your child interested. Aside from the microscope, the set also includes empty slides, so your kid may try preparing the specimens. It also comes with a user manual on how to handle the microscope properly and conduct specimen handling. Best of all, the Vanstarry Microscope is portable, so your kid can bring it anywhere they go without needing a power source. Just be sure to carry three AAA batteries whenever you go out. You can check leaves or soil samples when visiting parks or water samples when visiting lakes or ponds. Keep your child interested by letting them check different slides and encourage their curiosity.
6) ZOOB BuilderZ STEM Challenge Moving Building Modeling System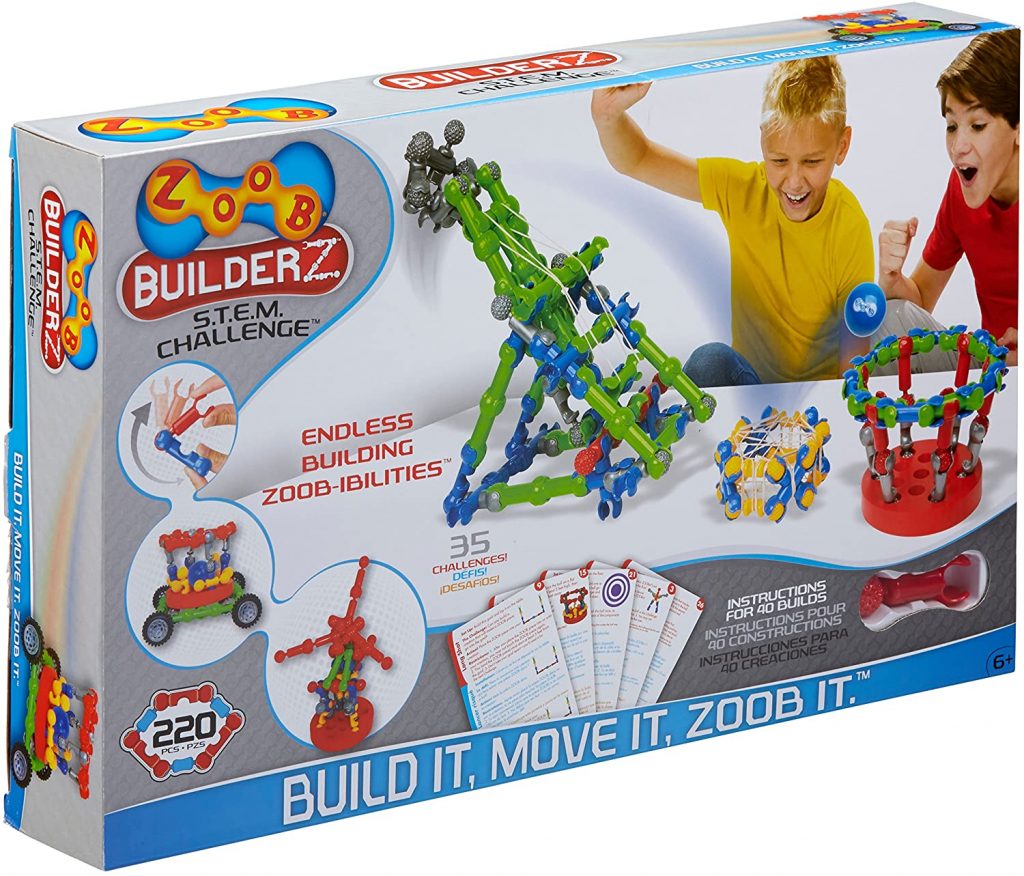 Build exciting and cool designs with the ZOOB BuilderZ STEM Challenge Moving Building Modeling System. Your child can build different creations like trampolines or ziplines with this gift. They can even put together a functional catapult that's fun to play with. With this gift, your child can come up with any design. This is a great way to exercise their creativity and put their imagination to work. At the same time, your kid can base his designs on the instruction guides included in the set.
The modeling set comes with over 200 construction pieces, including wheels, ZOOB pieces, and rubber bands. The ZOOB pieces have a unique Snap-on design in 5 different models. The pieces can rotate or spin when connected, perfect for creating mobile designs. So instead of just creating displays, your kid can create a design that they can play with. On top of this, the set comes with several challenge cards that will surely test your child's problem-solving skills. Some challenges include bouncing the ball or hitting targets with the catapult. Get this product and let your child learn the basics of design and engineering while developing their creativity and strategy skills.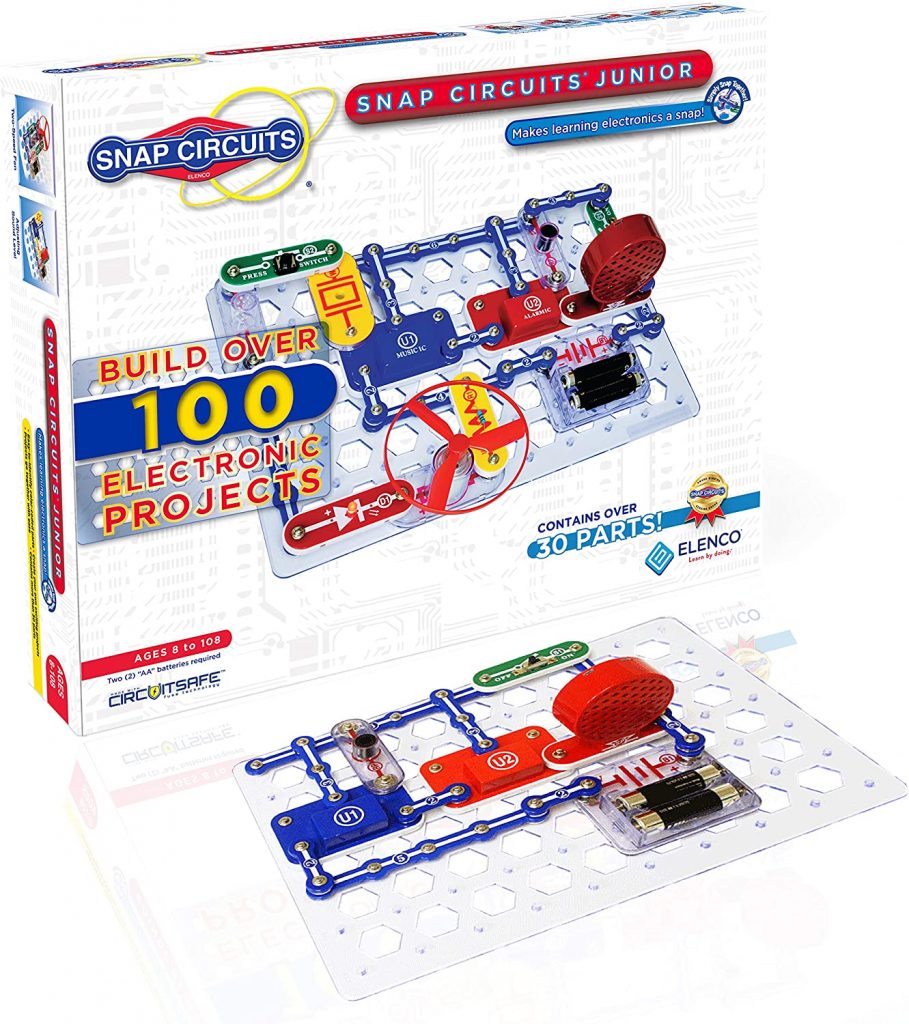 Introduce electronics to your kid through the Elenco Snap Circuits Jr. SC-100 Electronics Exploration Kit.
While the subject may be challenging, the set comes with a guide for your child to follow so that they can build circuits with ease. The manual has easy-to-follow instructions and colored illustrations for the color-coded pieces. The set comes with 30 circuit pieces connected to create a real electronic connection. With this, your child can create over 100 projects so they'll have a better understanding of how electrical models work while having fun.
The pieces easily snap together, so there won't be any soldering involved, making this safe for kids. Some pieces include slide switches, an alarm circuit, and snap wires. With this set, your kid can create a musical doorbell or a voice-controlled lamp, which they can use in their room. They will surely enjoy putting together a police siren and other models that they can use when playing. After finishing the projects, you can challenge them even further by purchasing different add-on kits to introduce more parts and manuals!
8) Science Kit for Kids with Over 23 Science Experiments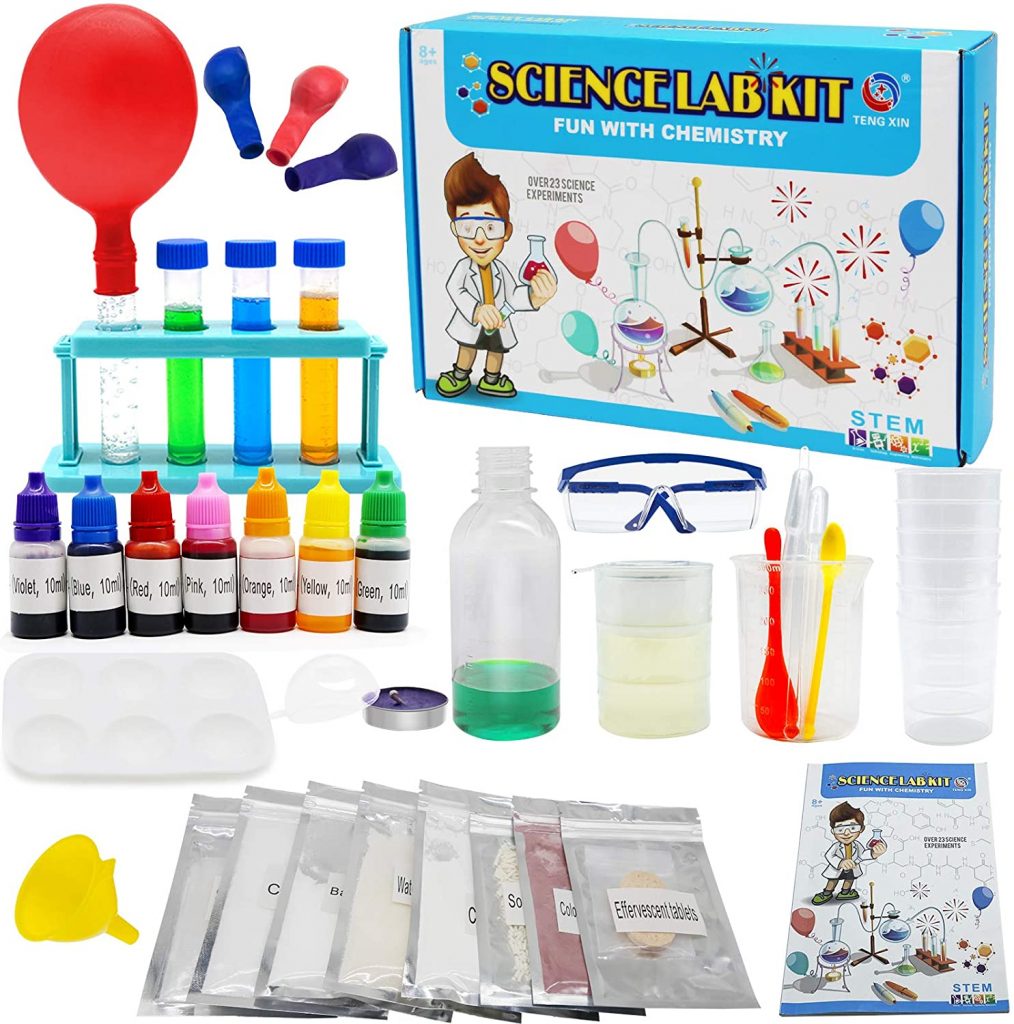 Do you want to explore the world of Chemistry with your kid? The Science Kit for Kids will give you a chance to let your kid create fun experiments while learning. It is a tool that highlights the chemistry concepts while enabling parents to spend quality time with them. The Science Kit unlocks more than 23 experiments that are guaranteed to spark your child's interest in chemistry through its manual. It provides step-by-step instructions on how to experiment while teaching science principles. Work on experiments involving chemicals such as calcium lactate, citric acid, and resin. Your child can make volcanic eruptions or a rainbow Ferris wheel. Play with dyes by turning cabbages into colorful ones.
The set comes with different materials such as a test tube set, funnel, and dropper. For safety, the set also includes a pair of goggles for an extra layer of protection for your kid's eyes. Experiments usually involve making exact measurements, and that's why the set also comes with measuring cups so your kid can follow the measurements conveniently. You're sure of your child's safety since the set has passed US toy standards, and the chemicals included are guaranteed to be toxic-free. Spark your child's interest in chemistry while doing simple experiments.
9) ThinkFun Gravity Maze Marble Run Brain Game and STEM Toy for Boys and Girls Age 8 and Up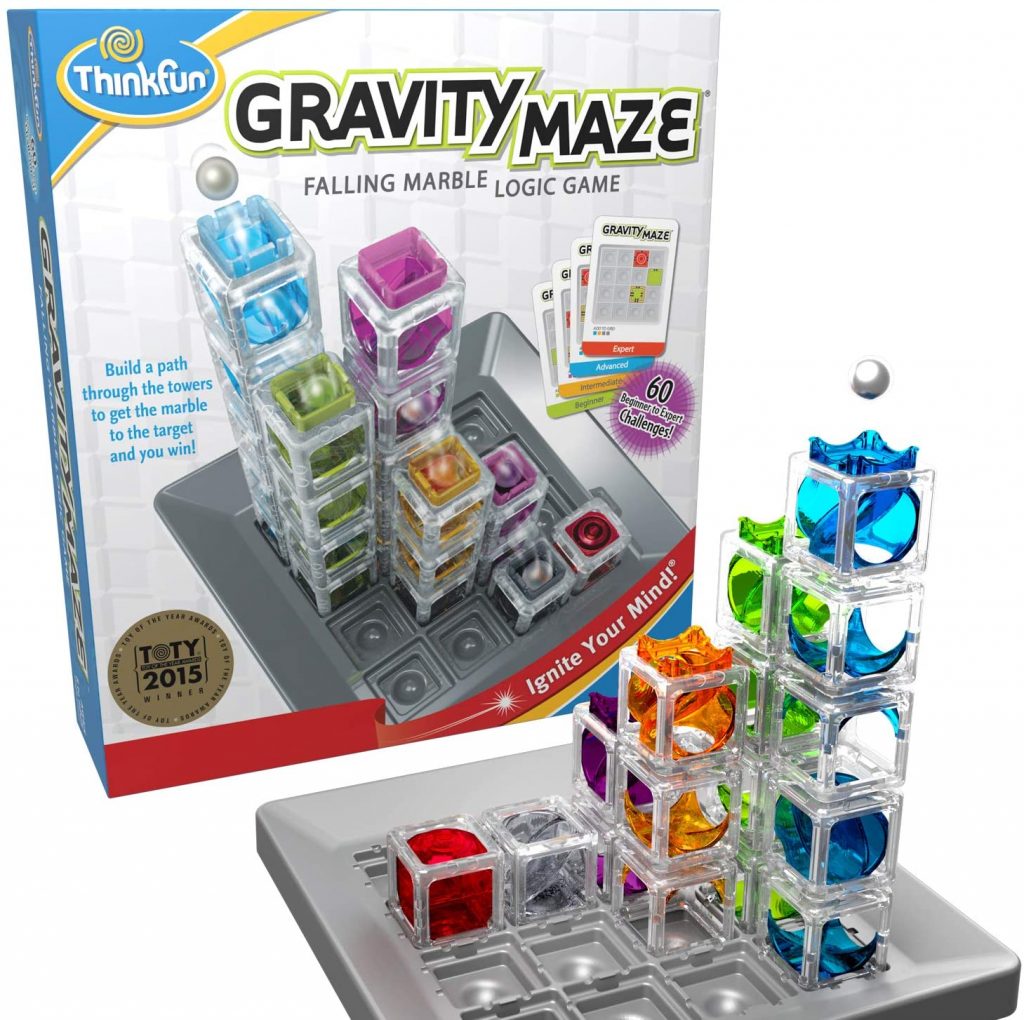 The ThinkFun Gravity Maze Marble Run Brain Game is the perfect gift for any kid who loves challenges. This award-winning product is a marble game and a STEM toy in one. Challenge your child's logic and strategy with the game's 60 challenges, ranging from easy to expert level. Your kid can build the challenges themselves by setting up the towers into the grid board. It is an activity that effectively introduces engineering concepts and spatial understanding.
The game's goal is to know where to position the marble to land on the target. By completing the challenges, you can enhance your kid's planning skills and build on their logic. The components are high-quality plastic that is safe for children. Say goodbye to complicated instructions, as the set comes with a step-by-step manual. The towers are also color-coded, so it would be easy to follow. Overall, this product is a great brain teaser and learning toy.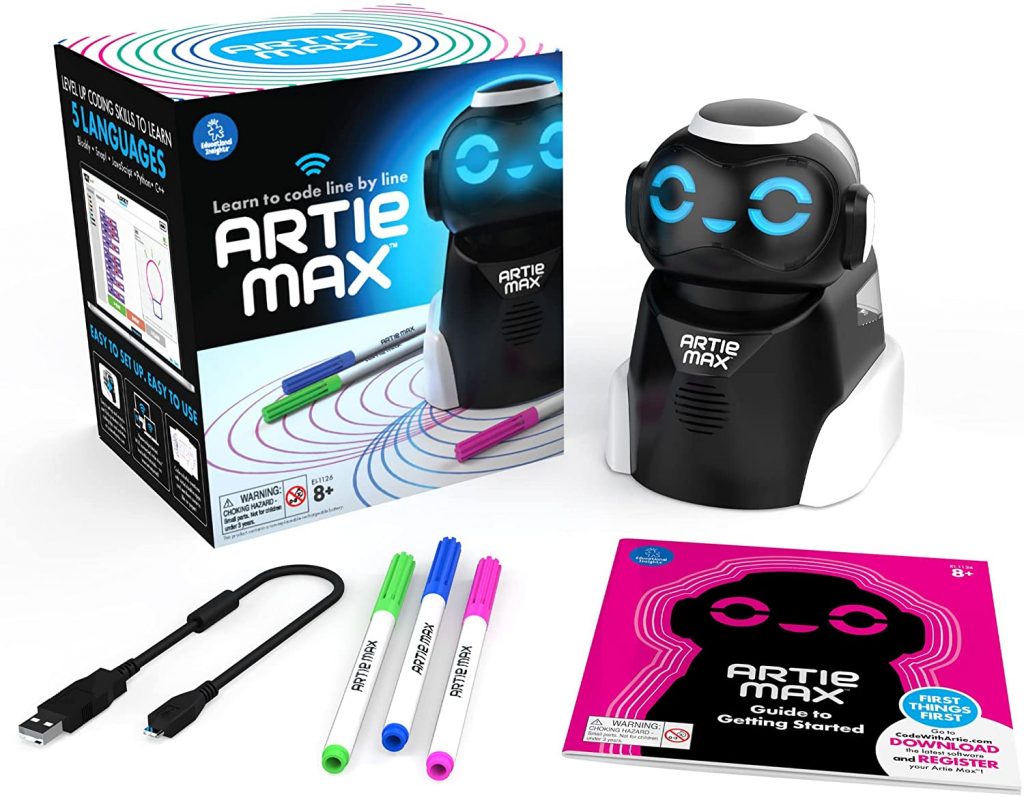 Thinking about introducing robotics to your kid? The Artie Max Coding and Drawing Robot is a fun and interactive way for your child to know more about programming. It fuses robotics and creativity since the robot can draw different designs and artworks through its three interchangeable markers. The robot is equipped with smart sensors and line detection to draw precision. With this product, your kid may learn different coding languages such as JavaScript and Python. It even has a built-in UI where your little programmer can learn from a selection of pre-programmed codes.
Is it your kid's first time to try coding? No need to worry. The set comes with videos and tutorials for your kid to watch and follow. This way, they won't feel overwhelmed with the topics and will be guided easily. Artie Max has WiFi access. It doesn't need an Internet connection to operate, so you know your kid is secure while playing with the robot. Buying batteries can be such a fuss. Good thing Artie Max uses rechargeable batteries so you won't have to buy new ones every time. Create creative drawings and get acquainted with programming through this robot.
---
REMINDER: Keep Your Child Safe!
Learning while playing may involve different toy parts. Some toys may provide different chemicals for experiments or involve sharp parts that can be dangerous. That's why it's important to keep your child safe through these tips:
Provide supervision. The best way to protect your child from any accidents is to be there with them while playing with the STEM toy. Since some toys may involve sharp objects, be sure to offer help and provide a guiding hand.
Read the manual beforehand. The manual explains the instructions in a way they'll better understand. It also shows you what to expect during experiments or when building designs to eliminate the risks.
Check for any damages or expired contents. Damaged products aren't uncommon. Check for any cracks that may injure your kid or any expired chemicals that may be harmful when used for science experiments.
Store them properly. Small parts of building or robot models may be choking hazards, so store them in a container that toddlers can't reach. Keeping them away from the floor lowers your chance of stepping on them, which can be pretty excruciating.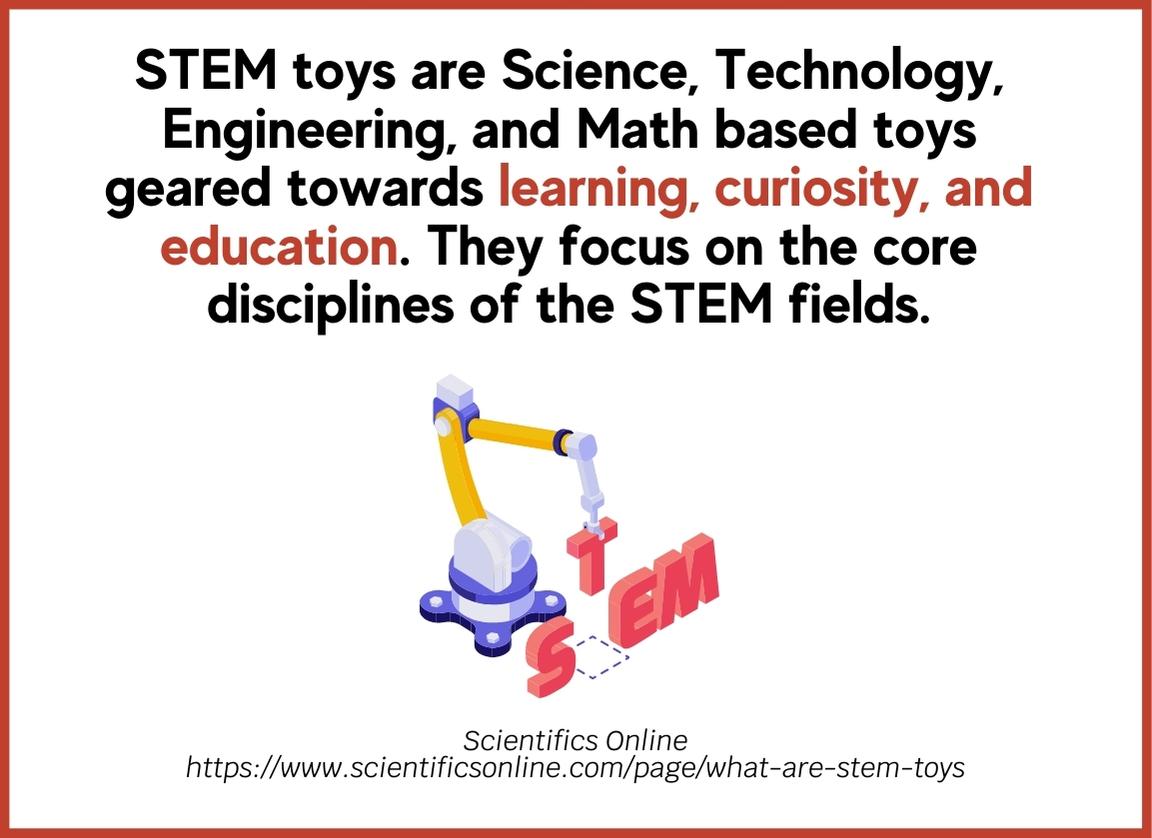 The Takeaway
Introduce the Science, Technology, Engineering, and Math concepts to your bright school-age kid through the different learning toys for the holidays and other special occasions! Give them hands-on learning experiences through science experiments, or challenge their minds through games and puzzles! STEM gifts are also a great way to spend quality time with your kid while growing their interest in learning new things!