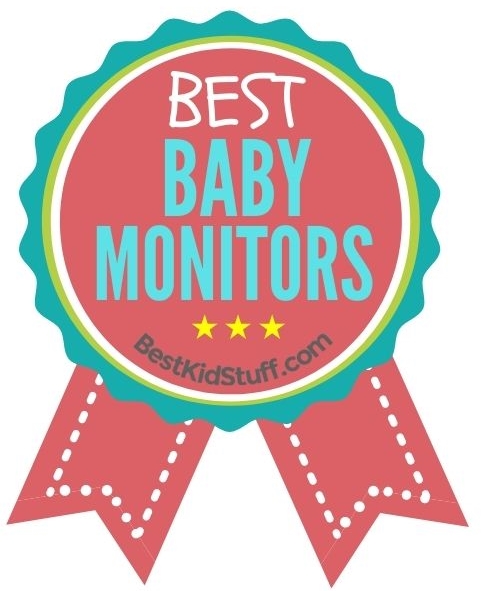 Newborn babies need all the monitoring and protection they can get! Perhaps long before you excitedly wait for your baby's arrival, you've already considered a smart baby monitor!
This breakthrough technology has given countless parents priceless peace of mind, helping them keep their precious little ones safe without having to look at them 24/7.
Essentially, baby monitors allow you to track your baby's sleep habits. You do not have to sneak into the nursery room to make sure they sleep soundly. Baby monitors today provide real-time breathing rates you can see on the screen.
Most baby monitors today feature high-quality visual and audio capabilities, which means you can hear them cry and dash into the nursery at once. If you are out on a quick errand and want to know how your baby is while at it, you can always use the baby monitor for a quick listen or glance.
Quick peek at The Top 3 Baby Monitors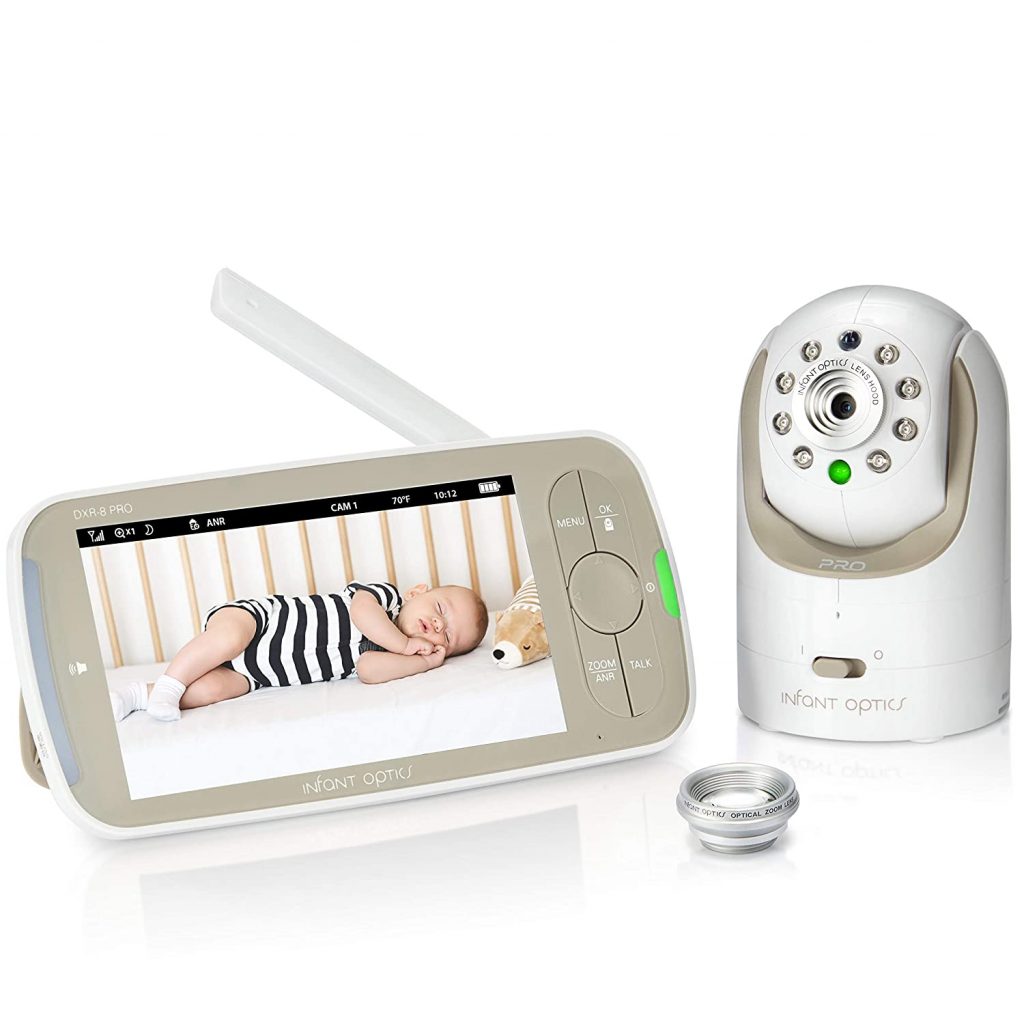 Infant Optics DXR-8 Pro Baby Monitor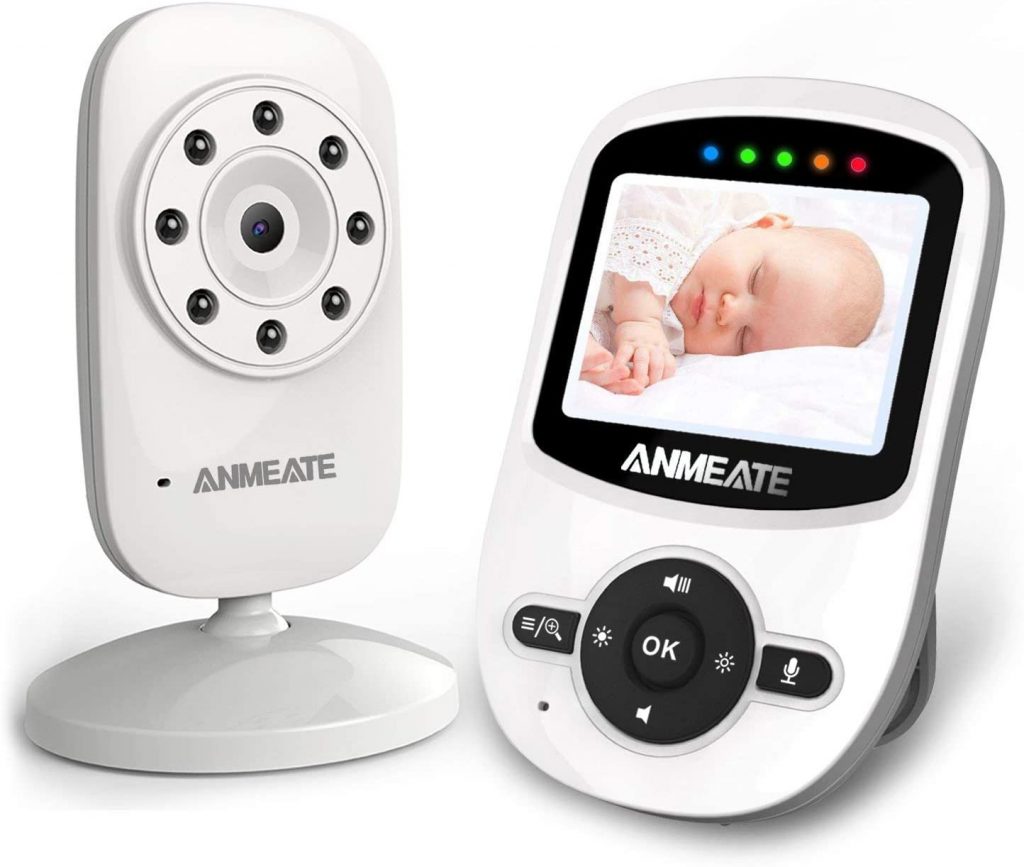 ANMEATE Video Baby Monitor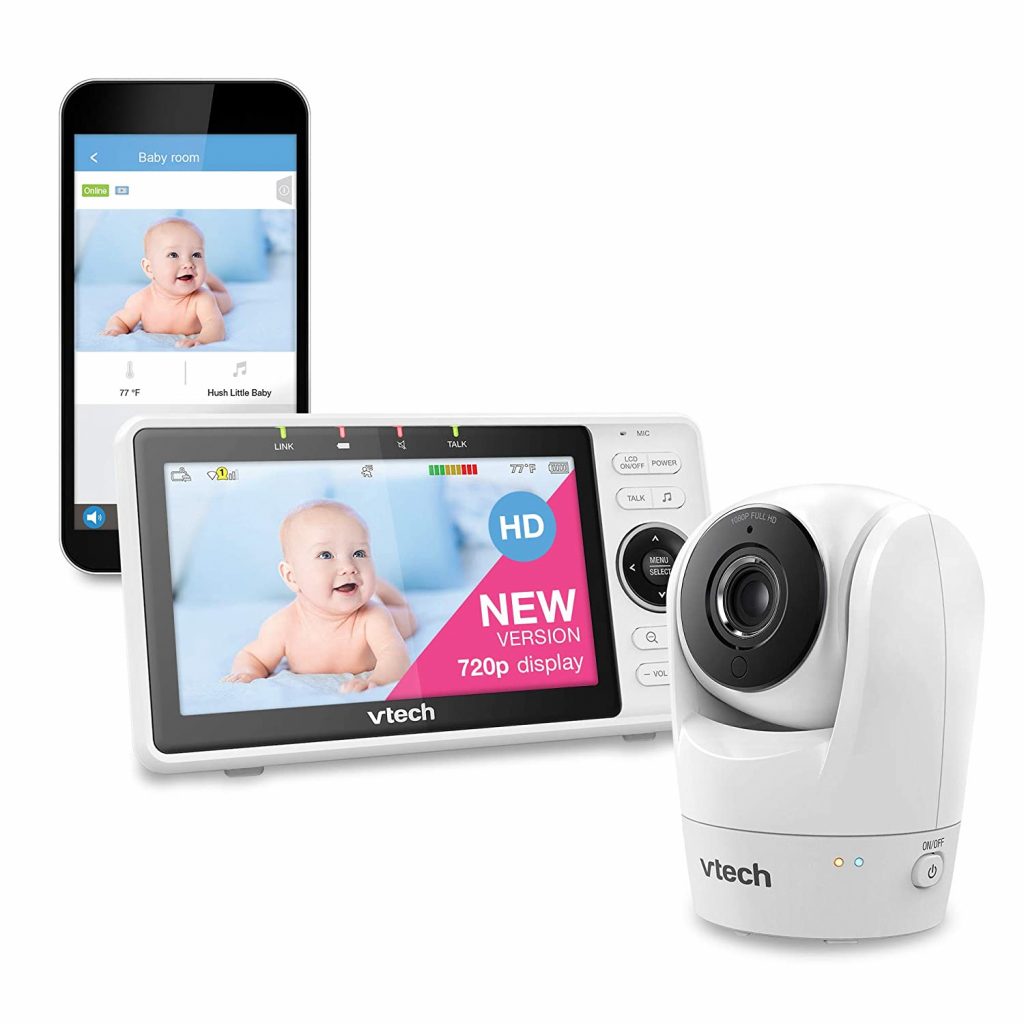 VTech Store Upgraded Smart WiFi Baby Monitor
Other fairly advanced baby monitors even allow you to talk to your baby to soothe their worries or play them a piece of calming music without going into their room. Talk about convenience and efficiency!
A baby monitor is a must-have for parents who want to be assured that their baby is safe and sound in the next room—AND it is a lifesaver for often-exhausted parents, too! This portable gadget of beauty gives you that extra time for yourself. No more wasting time checking on your little one; you can watch and listen to them while you're taking a break or taking a shower!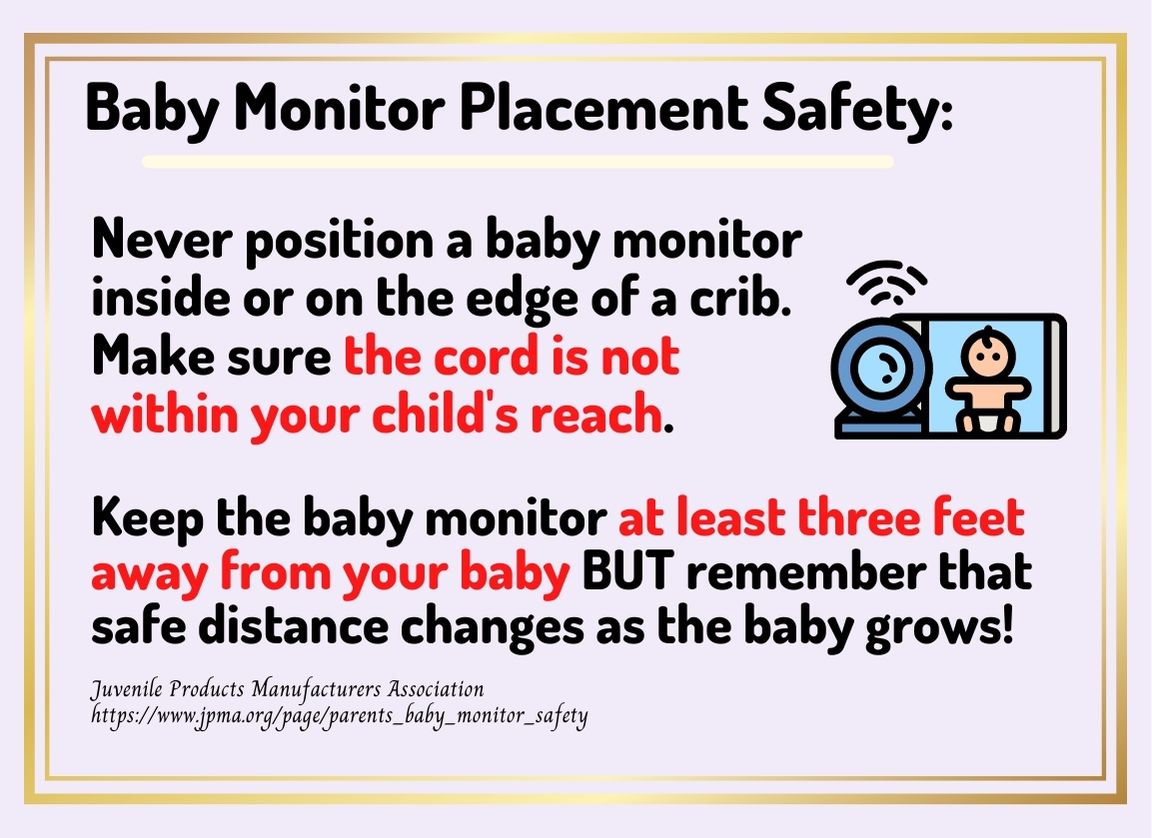 Our Ranking Methodology
But what makes a good baby monitor? We've compiled some of the best in the market to make the choice easy for you. Here's how the list came to be:
Crisp audio: A baby monitor's audio quality is a make-or-break feature. The earliest versions of this must-have product involved audio signals. Today, all baby monitor products are created with impeccable audio quality in mind.
Adjustable mic sensitivity: Many moms and dads want to hear ONLY the sound their baby makes, and not every little noise. The busiest of parents, particularly those who have older kids to look after, cannot be bothered by the sound of their baby's feet scratching against the blanket. Our list includes smart baby monitors with microphone sensitivity features that parents can customize.
Range: Baby monitors aren't created the same in this respect. Some function at a more limited range than the others. Our indexed products come in different ranges to suit your space.
Night vision: You want to see your baby CLEARLY on the baby monitor whenever you want to from sunup to sundown. The night vision feature is a must in every device.
Adjustable camera: The camera should be adjustable enough to focus on what parents want to see when checking on their kid, and how close they want to see it.
Photo and/or video options: If parents want to capture certain movements or details in their baby's sleeping or waking time, they should be able to! The image capture and video functionality is becoming an all-important feature of baby monitors.
User-friendliness: The baby monitor should come with clear instructions for set up and ease of use, because let's face it, parents don't have all day!
Add-ons that truly matter: The fundamentals of a working baby monitor may be the first ones you need to check, but today's options come with an extensive range of add-on features! While optional, you may find these features helpful, which are offered by some of the best baby monitors on our list:

Background music while monitoring your baby
A two-way-talk feature that lets you soothe your crying baby or toddler
A room temperature sensor on display that alerts you in case the room becomes too cold or too hot
Mobile app integration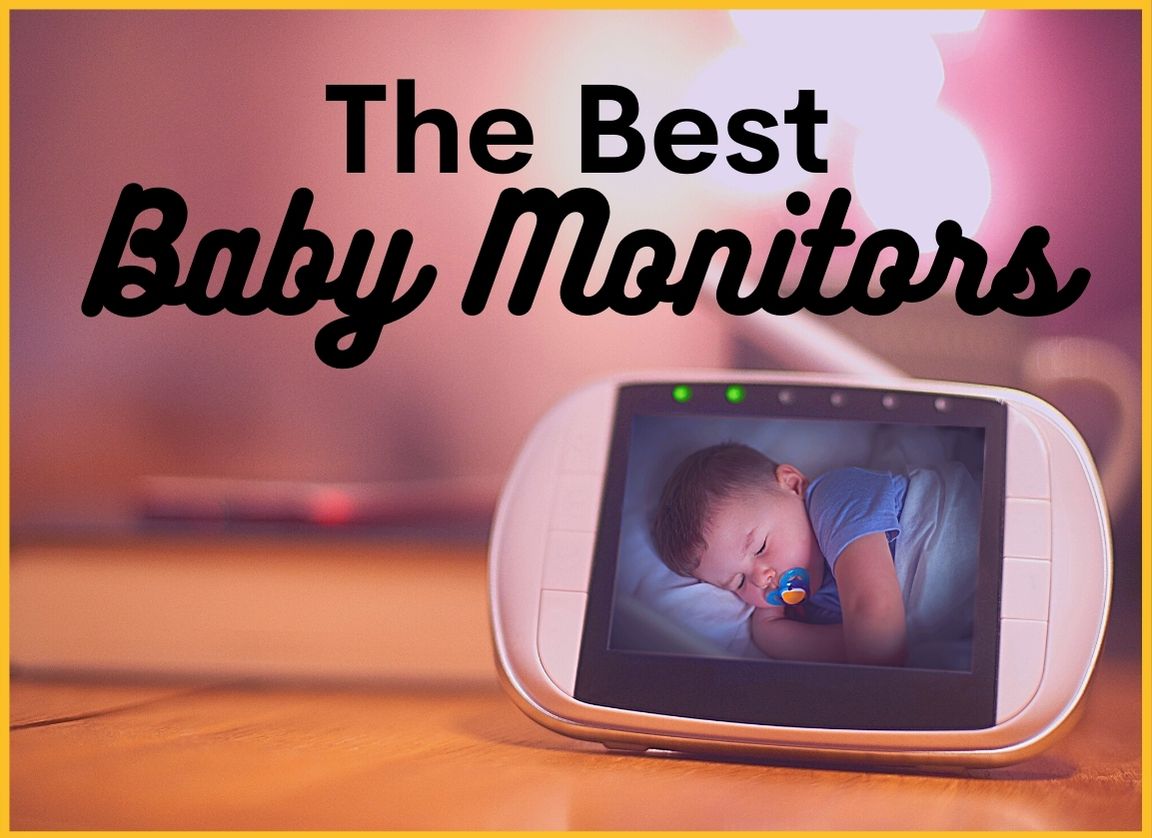 Are you looking for a monitor with ultra-clear video quality? Look no further than Infant Optics DXR-8 Pro Baby Monitor with its high-definition video resolution playback. It has a large screen that lets you see your baby in better detail up close. Plus, it has an improved LCD screen that offers better viewing angles and sharper or brighter colors.
Its full viewing control allows you to pan, tilt, and zoom. It also features interchangeable lenses, including a zoom lens that lets you zoom up to 6x. The monitor also comes with a 1000mW speaker that affords a louder volume. It turns out crisper than many of its counterparts when you do sound playback.
But the highlight of this baby monitor is its active noise reduction feature that filters out background noises and lets you hear your little one. Even when you put the monitor close by when it is time to sleep, the background noise is canceled out, so you can only hear your baby in clearer audio.
This monitor does not have the means to be connected to the internet. Some might see it as a setback, but this is good news for those who want to keep the monitor private. Without the internet connection capacity, no one else can hack in. The video and audio signal transmits only to one monitor unit.
---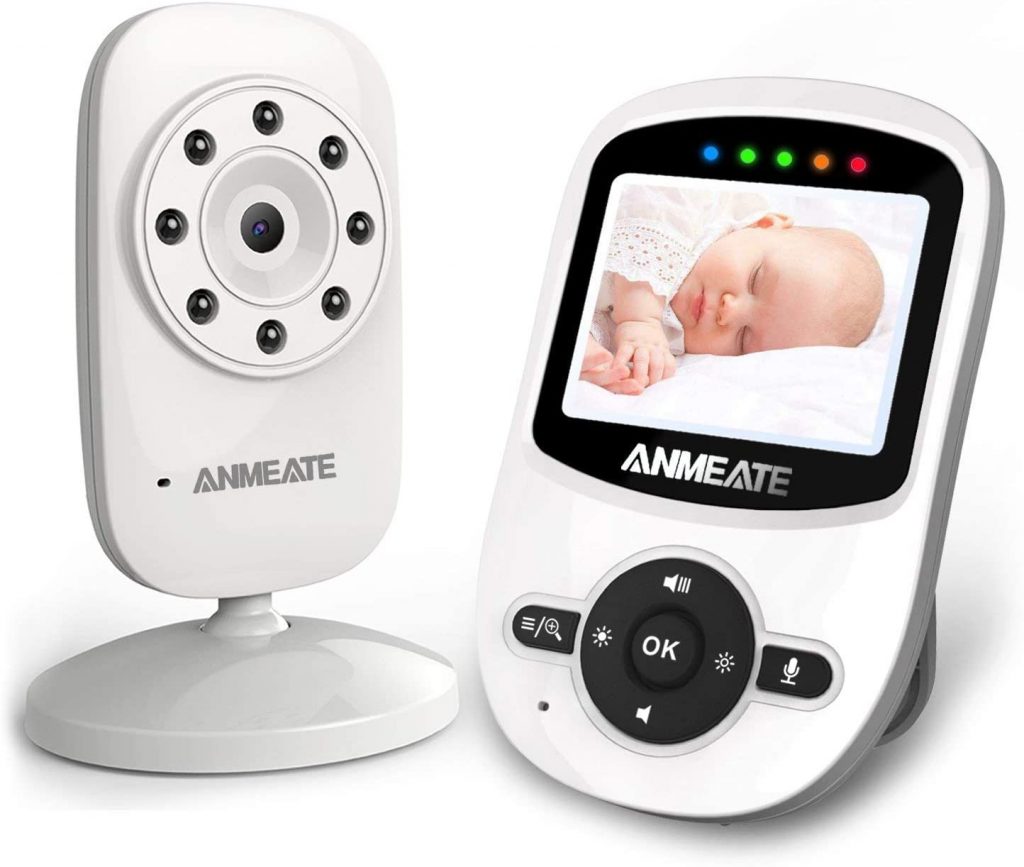 One of the top choices for monitoring babies, ANMEATE Video Baby Monitor showcases a high-quality color screen. Its high-resolution display is equipped with 2x zoom magnification for comprehensive coverage. The screen gives you a streaming live view whenever you check in on your little one.
You can sleep assured that your baby is still being monitored during the night through the high-definition night vision feature. Its camera has eight infrared LED lights that allow you to follow your babies' activities even in the dark. It also includes a temperature-monitoring feature which can be quite handy.
Covering a transmission range of up to 960 feet, the baby monitor features a two-way talking intercom that lets you comfort your baby by talking to them. You can also soothe their worries by playing up to four lullaby songs.
Additional handy features include eco mode activation, alarm, timer setting, sound-activated LED indicators, digital zoom with image pan and tilt options, manual pan (360 degrees), auto scan view, and tabletop or wall mounting options. The monitor is also user-friendly, with its easy installation function and high-capacity battery. The Li-ion battery can last up to 8 hours when put in an eco0-friendly mode.
---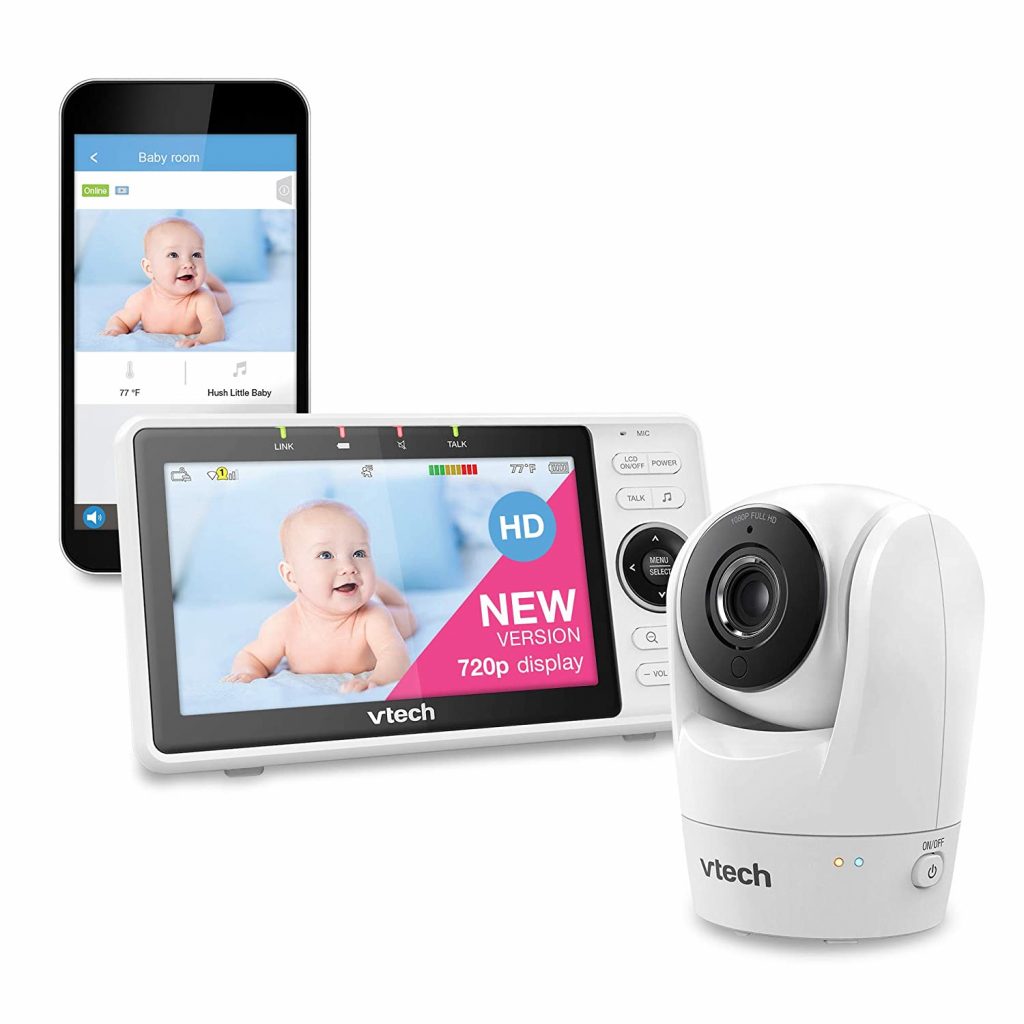 Do you need an indoor smart baby monitor with wireless connectivity technology? VTech Store Upgraded Smart WiFi Baby Monitor features a true color day vision and a high-definition night vision with an upgraded display. It gives you a crystal clear wide-angle view into the nursery room.
Configured for local monitoring, the monitor comes with the MyVTech 1080 app that can be easily set up to operate in router mode. It allows you to remotely access the monitor from your smartphone or tablet without the need for monthly subscriptions.
Another top feature is the camera's pan, tilt, and zoom functions that are fully motorized, letting you watch your little one in full HD. Even better, the camera has a built-in wide-angle lens that eliminates the need for multiple lenses. The state-of-the-art FHD 1080p CMOS visual sensor provides an exceptional video feed, making it possible to offer features like its 120-degree wide-angle lens and ultra-crisp night vision.
Some baby monitors only have an audio feature that lets you hear any sound coming out from the room. This one takes it on another level by featuring a 2-way talk function. It is possible for you to not only hear your baby but also let your little one hear the sound of your voice for extra comfort.
The temperature change can be communicated to you with instant notification through the WiFi connectivity function. You can be easily aware of the change in temperature in the room and adjust accordingly. Lastly, you can lull your baby to sleep by playing a soothing lullaby. There are five calming melodies and four sets of ambient sound, including white noise and a trickling stream.
---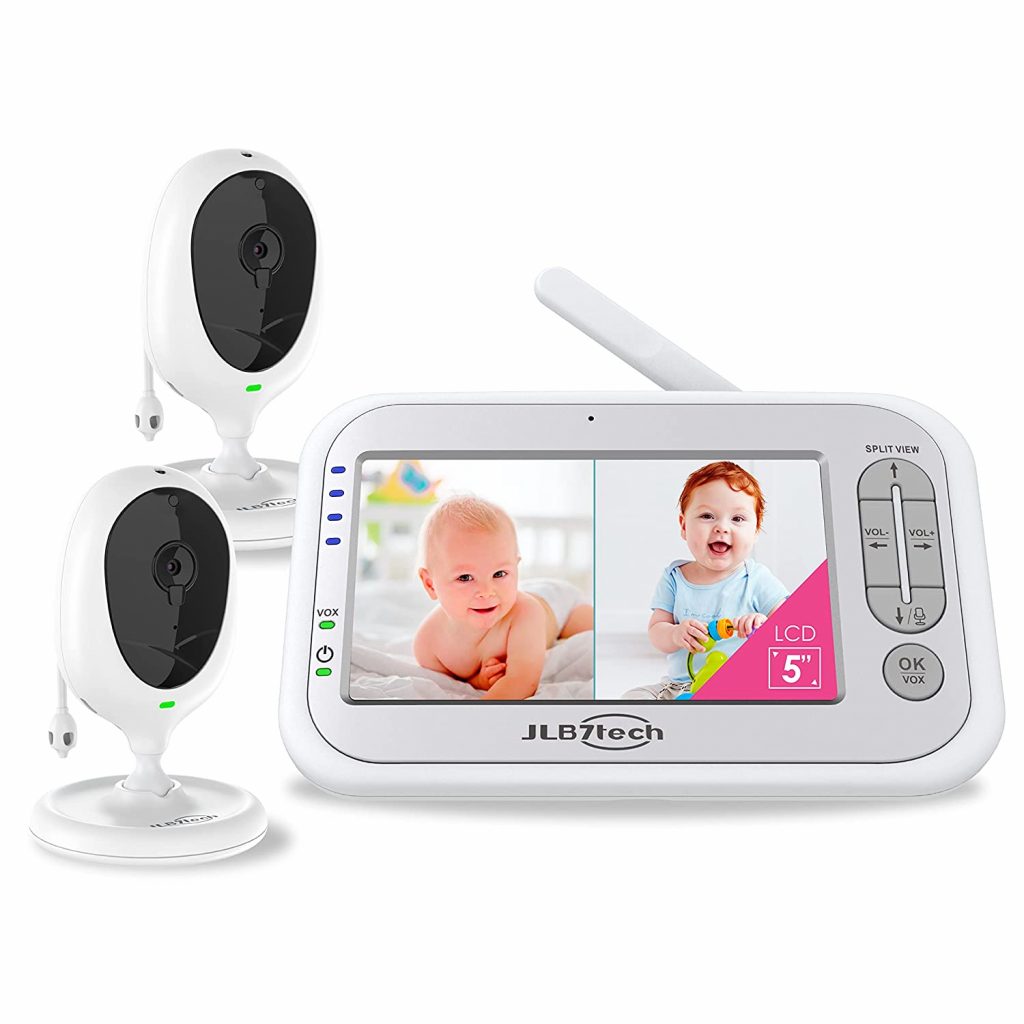 Designed for indoor use, the JLB7tech Split Screen Video Baby Monitor features a 5-inch large split-screen LCD that allows you a clear view of your baby while they enjoy their daytime activity or sleep peacefully in the nursery room at night. Supporting up to two cameras simultaneously, this monitor lets you attend to two children in different rooms. The additional camera must be bought separately.
The monitor has a built-in microphone and speaker for two-way audio conversations. It lets you hear the sound from the rooms while also talking to them and soothe them with your voice when they are making a fuss. You can help your baby sleep more soundly during the night by playing them with calming lullabies.
You won't have to panic when your little one starts crying as the VOX mode with its voice activation and feeding alarm reminding functions wakes the baby monitor up the moment it detects the baby's cry. With its more secure 2.4 GHz FHSS technology, you can rest assured that your baby's activities are kept private as it transmits the data to your screen without the aid of the internet or an app.
---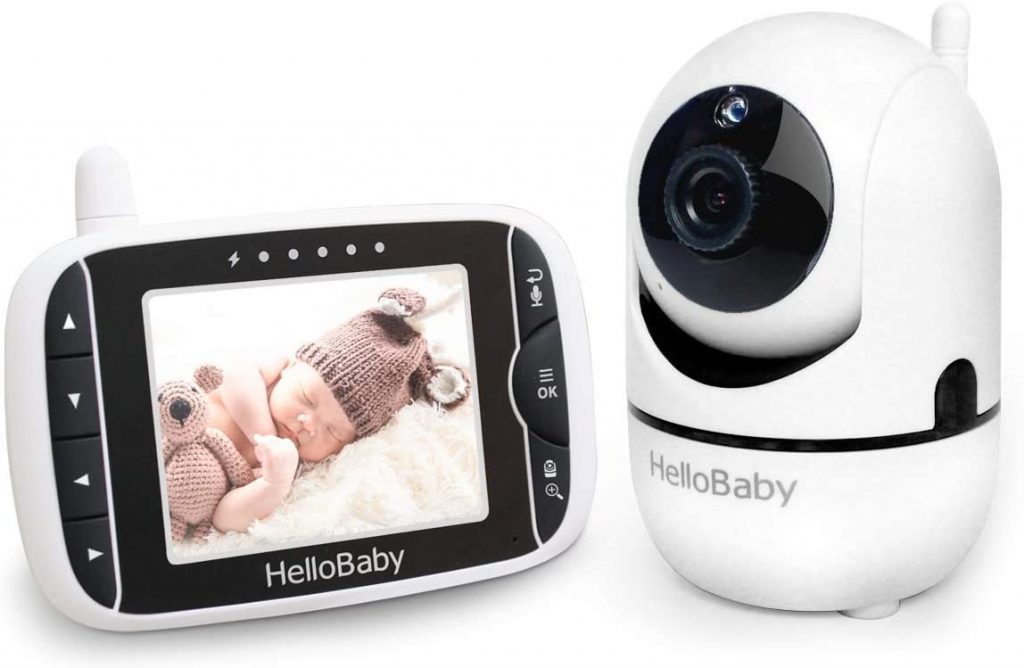 Easy and convenient to use, HelloBaby Baby Monitor with Remote Pan-Tilt-Zoom Camera comes with a large LCD and safe wireless technology. You can be assured of a secure and reliable connection through the application of frequency hopping and digital encryption technology. The camera can be controlled remotely. It is equipped with a rotate function in horizontal and vertical modes, allowing you a clear view of your baby from any angle.
There are added smart features that can help you maximize this baby monitor. It includes a two-way audio feature that lets you have a two-way conversation that is crystal clear, almost as if you are in the same room with your baby.
The monitor also comes with a room temperature monitor and alert, night vision. Sound LED indicator, audio-only mode, and built-in lullaby. Its plug-and-play function means it is easily operational. The power unit is highly portable, made possible by its rechargeable battery, which means you can bring it with you anywhere in the house.
---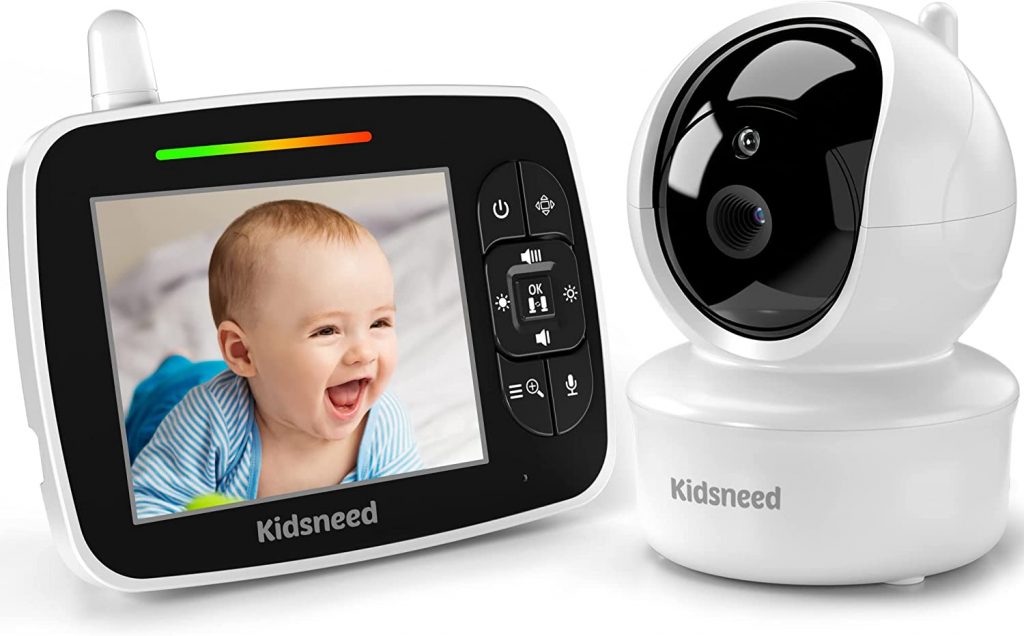 Designed with parents, guardians, and caregivers in mind, Kidsneed Baby Monitor with Remote Pan-Tilt-Zoom with Camera and Audio, is equipped with handy features such as the pan-tilt-zoom camera. It gives you full viewing control, which means you can have a clear view of your little one from any angle.
At night, you can sleep easy knowing its automatic night vision mode with clear greyscale infrared images that can let you check your baby even in the dark.
The monitor has a clear, two-way audio function that allows conversations on both ends. You can hear your baby even when you are in another room. To help them sleep more calmly, you can choose among four relaxing, built-in lullabies that you can play while they rest.
There is also the built-in temperature sensor attached to the baby camera that can send you alerts whenever the room temperature changes so you can adjust the thermostat promptly. The monitor does not have WiFi and app support, which is ideal for parents who want to keep their data safe from hackers.
Add up to four cameras to this baby monitor, which comes in very useful if you have several children in the house that need monitoring. This can also be used to cover several areas in your house. Other stand-out features include auto camera scan view, tabletop or wall-mounting options, alarm and timer setting, sound-activated LEDs, and more.
---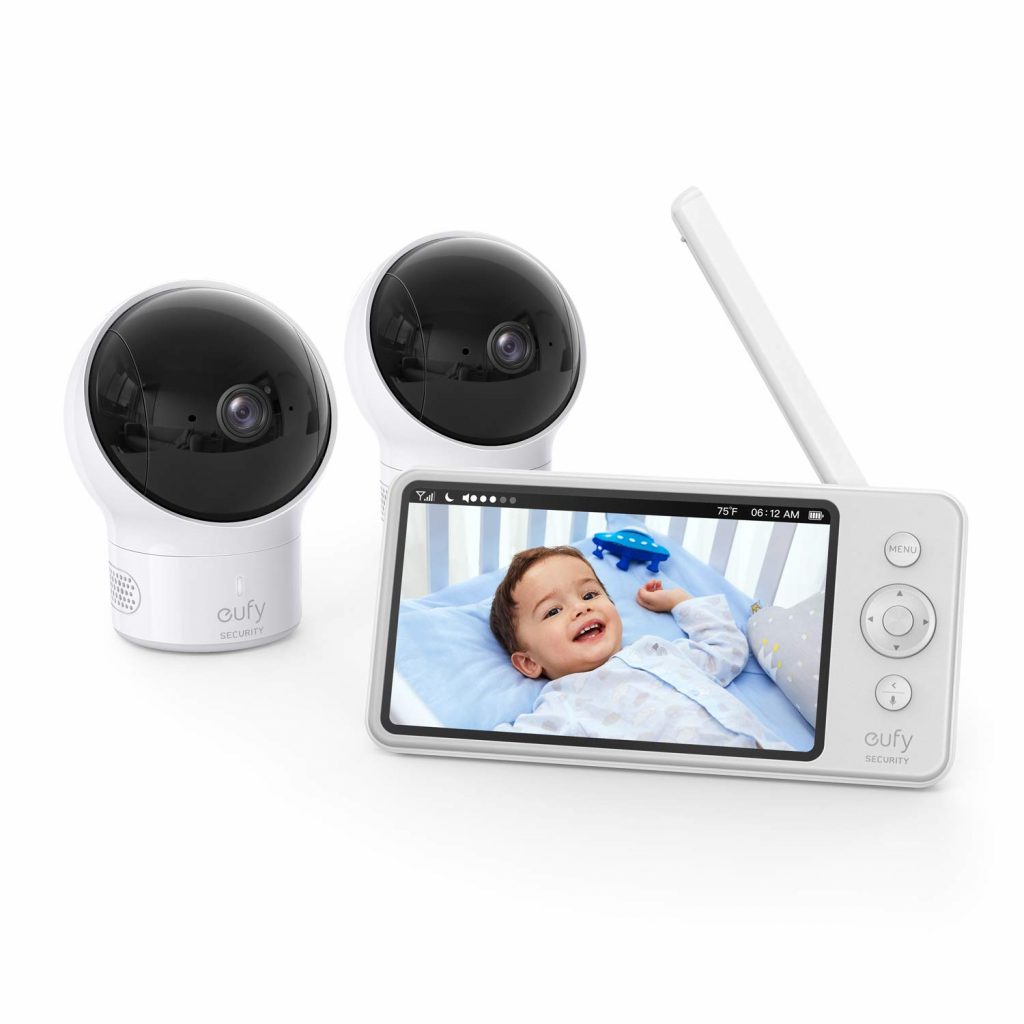 Complete with a camera and audio features, the eufy Security Video Baby Monitor is ideal with its wireless technology! It has a large display monitor showing sharp pictures with ten times more detail than ordinary 240p-display monitors.
The camera's pan-and-tilt feature lets you adjust the lens 330 degrees to see corner to corner and floor to ceiling. The monitor includes an extra lens that you can attach to expand the view to 110 degrees when your baby starts to walk and run around.
Day or night, the baby monitor alerts you immediately when your baby cries. It is quite mobile, covering a 460-foot area that keeps you connected in real-time wherever you are in your home. You are also offered crisp, two-way audio through its built-in microphone and speaker. It is easy to speak to your baby and soothe them when they make a fuss.
---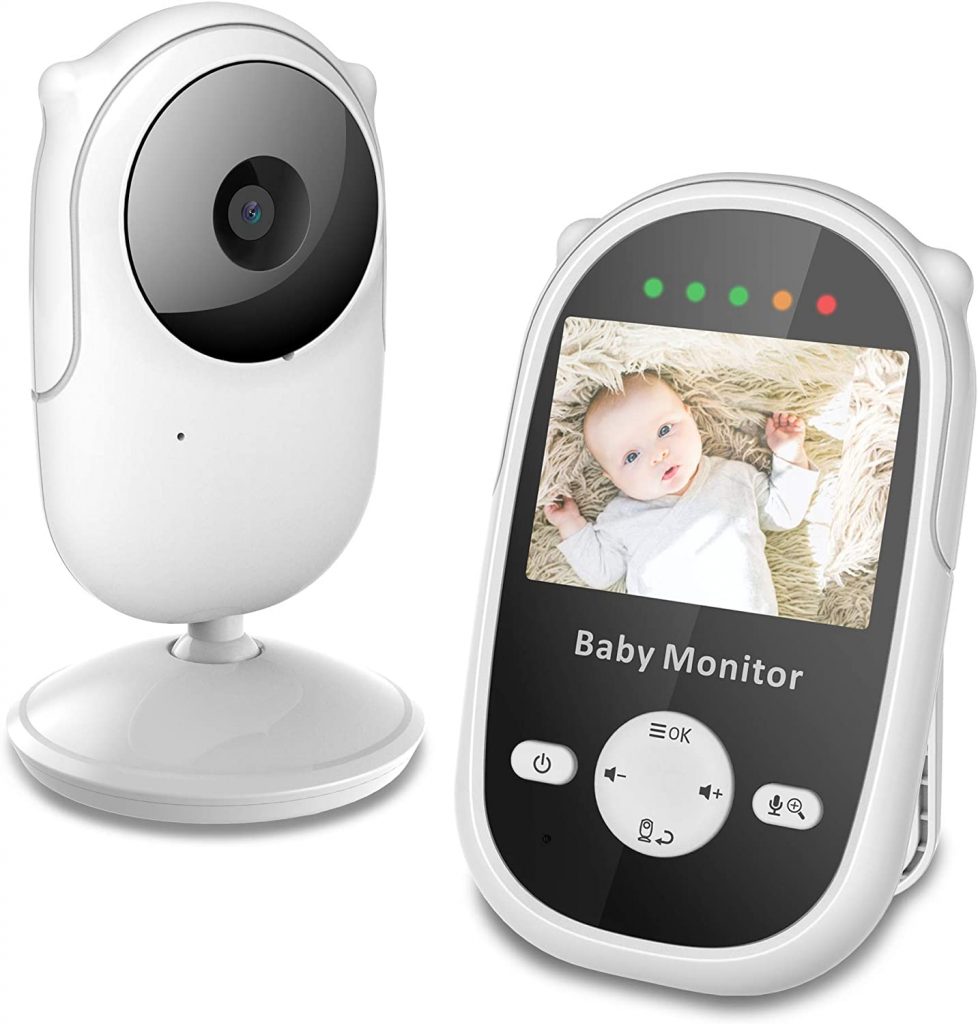 The Newbaby Video Baby Monitor with a Digital Color Camera lets you keep a clear view of our baby wherever you are. The high-quality, TFT-color LCD has a wireless transmission function which makes it convenient to access anytime and anywhere in your house.
The transmission distance covers up to 900 feet in open space so that you can take the monitor within scope. It features an infrared night vision function that allows you to keep an eye on your little one even at night. When your baby is crying, you can coax them through your parent unit with its two-way talk function. You can also play them some lullabies to help them fall asleep again.
When the baby is in distress and makes a loud sound, the parent unit's screen will alert you. It will go back to the eco mode when the sound stops. It is possible to set a reminder for feeding time, allowing you to never miss out on this essential time of the day. You can set the alarm in 2, 4, 6, or hour hours.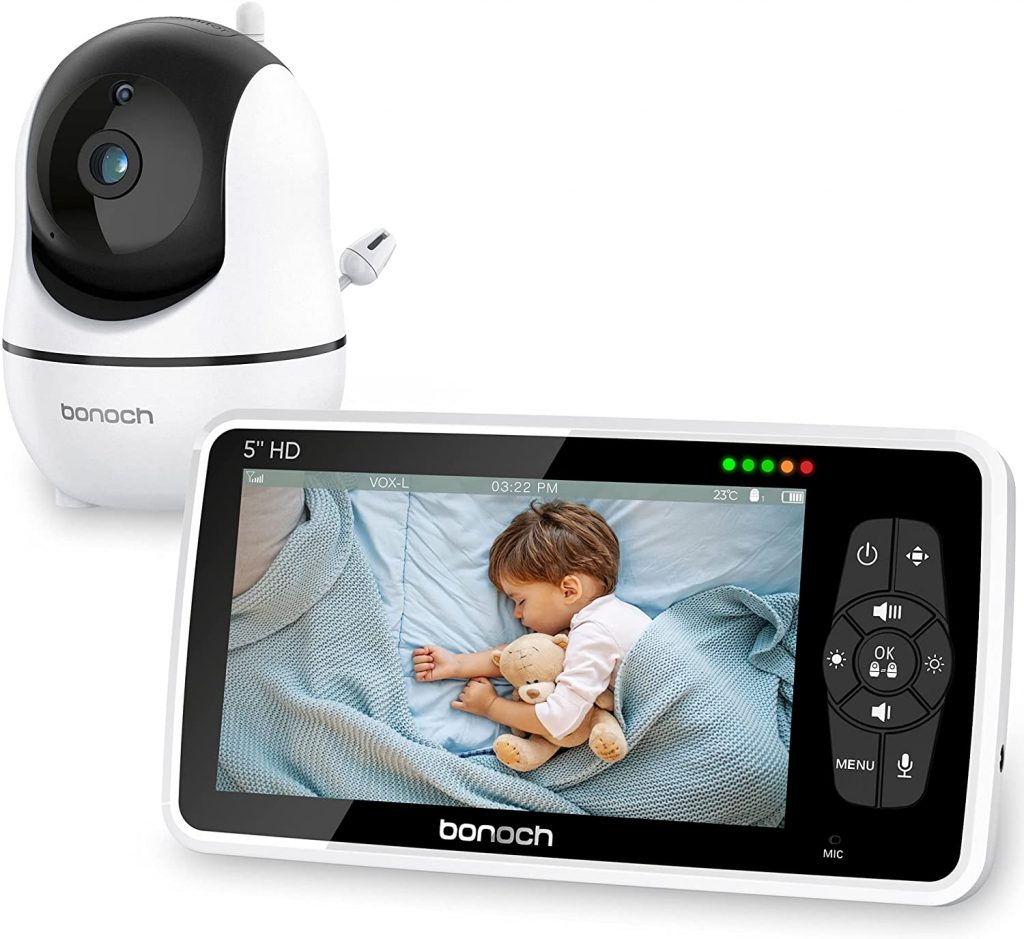 Designed to help parents live a peaceful life, the Bonoch Video Baby Monitor with Camera and Audio lets you stay connected with your little one through its big display screen that allows up to 4x zooming in. The HD 720p resolution color screen with sharp picture features shows your baby's activities more clearly and even up close.
You can rest easy at night, too, as it is equipped with an auto night vision feature, providing black and white images on display even in the dark. Plus, it does not have a red dot or red light coming from the camera, which can disturb your baby's sleep.
The monitor has a 400 mAh built-in battery that makes it convenient for you to monitor 24/7. Its 2.4GHz FHSS wireless connection ensures a secure and private live stream just for you, protecting your family's privacy and safety. You can move the camera around easily, adjusting it to pan and tilt and covering 1000 feet of open space. It sends you instant alerts during the change of temperatures.