Did you know that Sergey Brin, Larry Page, Jeff Bezos, and Princes William and Harry were all educated in Montessori schools? You, too, can provide your babies with the benefits of a Montessori education by allowing them to play with Montessori toys! These toys, of courses, don't have the Montessori brand on their labels but are true to the Montessori method of learning.
Dr. Maria Montessori developed the Montessori Method in the early 1900s. The child-centered learning methods encourage independent learning with children choosing what they want to learn while teachers provide the guidance.
Along these lines, Montessori toys are toys that have the following characteristics:
Made of natural materials like wood, cotton, and wool as well as ceramics and metal. These materials provide an organic connection between children and nature, aside from being safer to the mouth and provide different textures and temperatures that stimulate the senses.
Made with simple designs that encourage children to make independent explorations and discoveries. Physical manipulation and pretend play are crucial elements.
Made with realism in mind, meaning the toys are rooted in reality and lifelike. Babies can then form realistic images of the world around them.
Made with one task and learning outcome in mind, thus, allowing babies to develop one skill at a time and to complete a task correctly.
Made with a purpose, particularly in skills development. Job-like activities that make them feel like part of the real world are emphasized.
Made with STEM learning in mind, such as math and physics, but in a way that's fun for babies
Note that the term "babies" includes children from birth up to four years old. These Montessori toys are suitable for newborns, infants and toddlers but many of these toys will require close adult supervision.
Under $20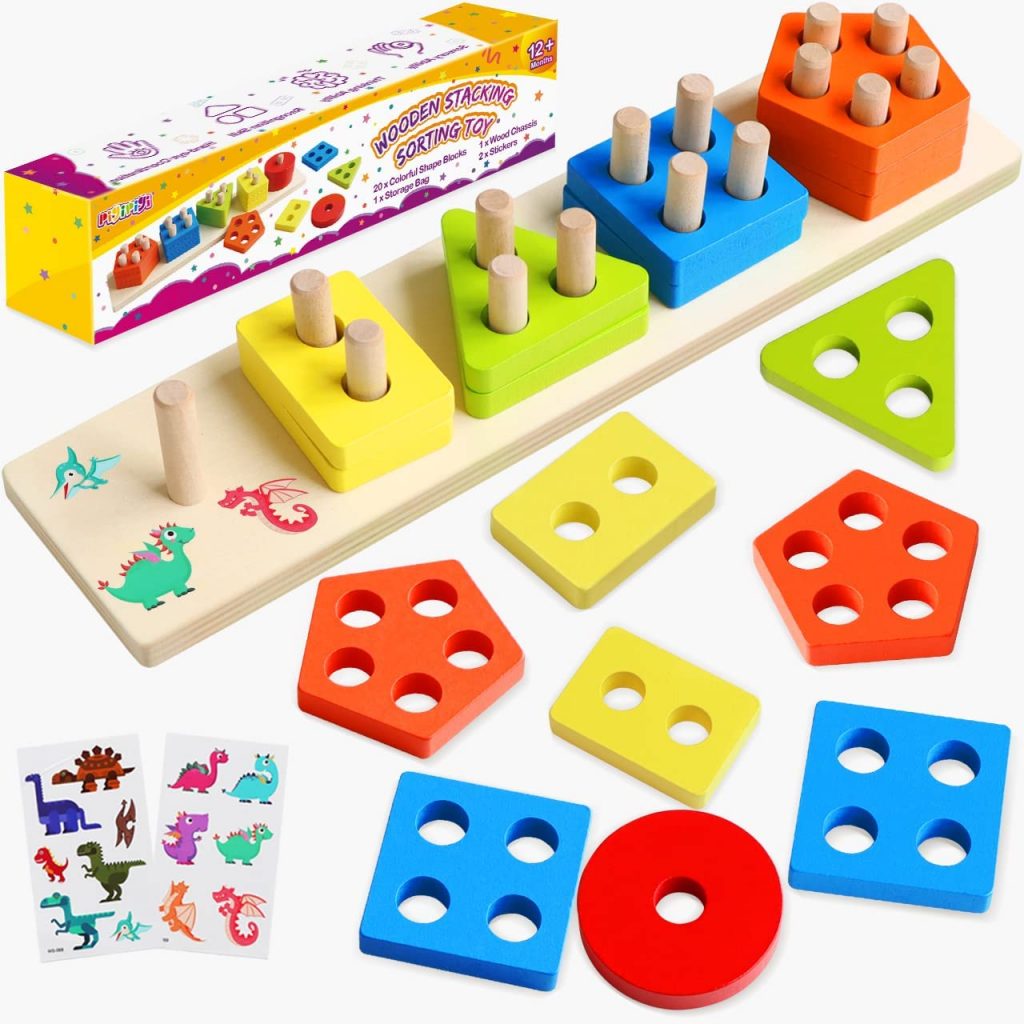 Made of lightweight natural wood with non-toxic, water-based paint, the sorting and stacking set is perfect for babies up to four years old. The set contains 20 geometric blocks in five brilliant colors, a rectangle chassis with pegs, and two stickers, which can be stored in a convenient storage bag. Babies can stack the blocks, sort the blocks according to shape and colors, and create shapes with the blocks.
Babies develop their hand-eye coordination, sensory development, and cognitive skills including logical thinking. Creative and imaginative play also becomes more developed as babies continue to play with the blocks.
---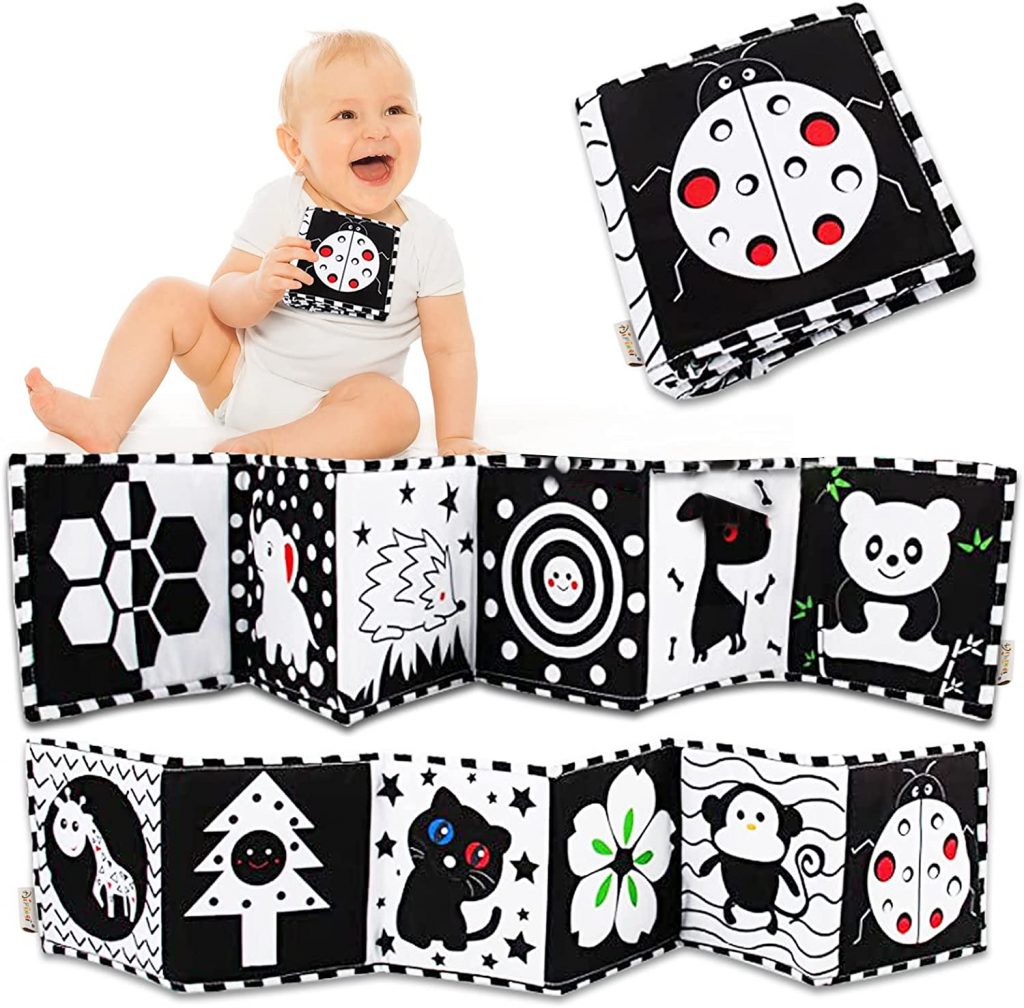 Made with non-toxic fabric, the black-and-white double-sided cloth book stimulates your baby's visual development and pattern recognition skills. The high contrast between the background and patterns will entertain babies up to six months old, even encourage them to "talk" to the cute animal prints.
The cloth book can also be used as a soft mat for the floor, crib and pram, thanks to its lightweight and foldable design. Once your baby outgrows its size, it can be used as a wall decor, too.
---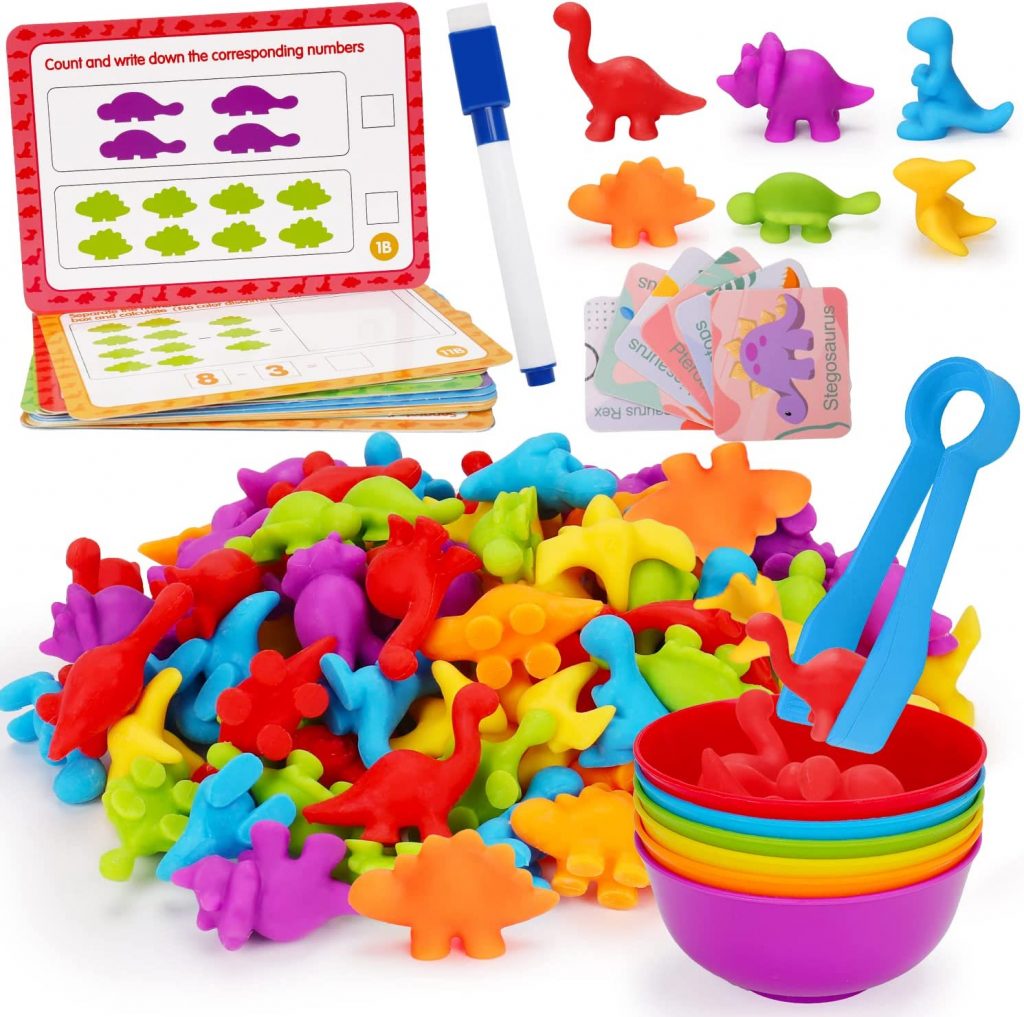 Colorful, educational and enjoyable are the best words to describe the counting dinosaurs set. Babies up to four years old will find multiple ways to play with the set, from sorting the dinosaurs according to color and type to counting and comparing them! The set contains 72 color dinosaurs and 15 learning game cards, as well as collection bowls, educational cards, and a tweezer.
Babies develop their hand-eye coordination and manual dexterity when picking up the color dinosaurs with the tweezers. Logical thinking and math skills are also developed.
---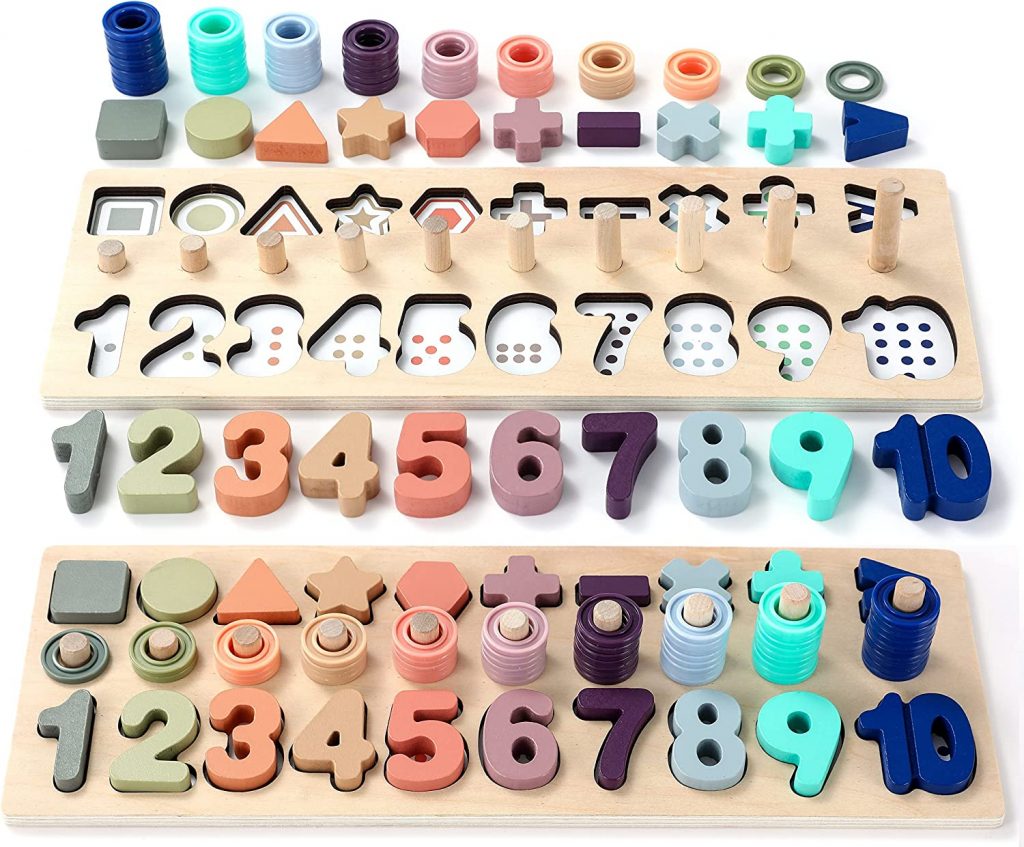 Early development of math skills is crucial for overall development. The Bekilole wooden number puzzle set makes it possible for babies to learn about numbers and shapes in a fun way. Babies learn to match the number pieces with the pegs on the board – each piece only has one matched peg – resulting in more independent learning.
After making the right piece-to-peg match, babies can move on to number, shape and color recognition. Math skills become easier and more fun to learn!
---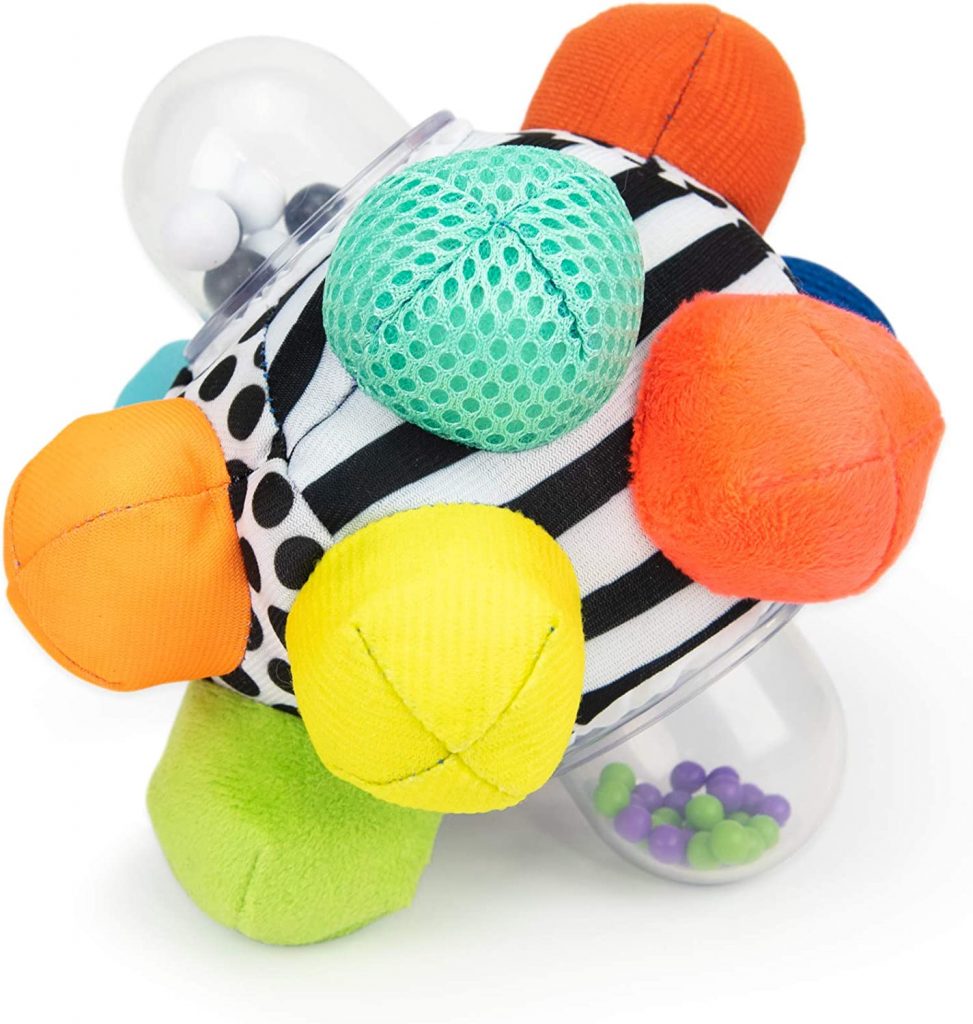 Made mostly of soft materials, the toy is suitable for babies up to three years old, especially for babies who like to put things into their mouth. The multiple textures stimulate your baby's tactile skills, as well as their manual dexterity in grasping and transferring the ball between their hands.
Babies also love the gentle rattle sounds, bold patterns and bright colors that engage their ears and eyes. This is a completely safe product devoid of BPA, latex, paint and phthalates.
---
Under $50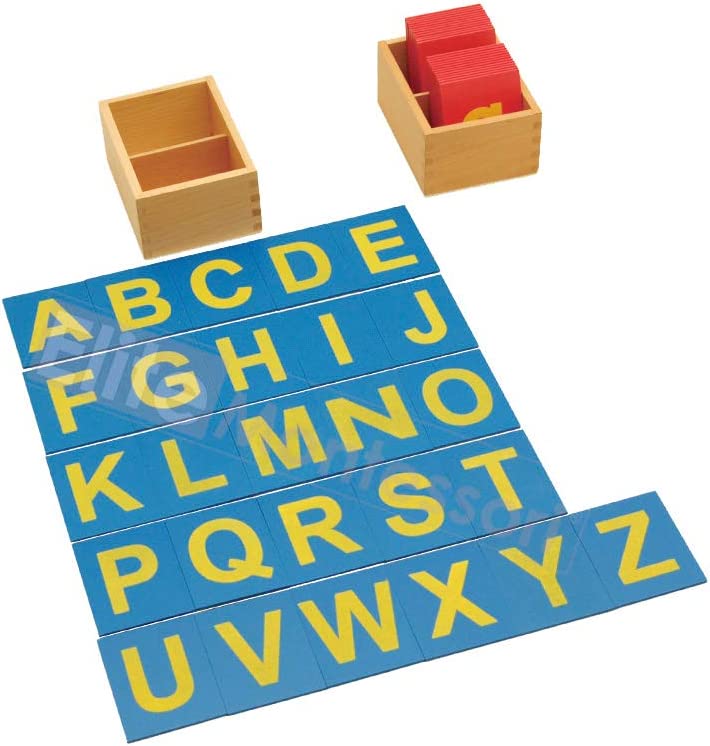 Alphabet literacy is the foundation of effective reading skills and the Elite Montessori sandpaper letter set is an excellent start! The set contains 52 sandpaper letters in lower and upper case and two wooden boxes. This is appropriate for 3-year old toddlers and older, but it can be used by younger children with adult supervision.
Children trace their fingers along the shapes of the letter and, thus, learn the basics of writing them. Aside from letter formation, toddlers can also be taught the corresponding initial sound of each letter.
---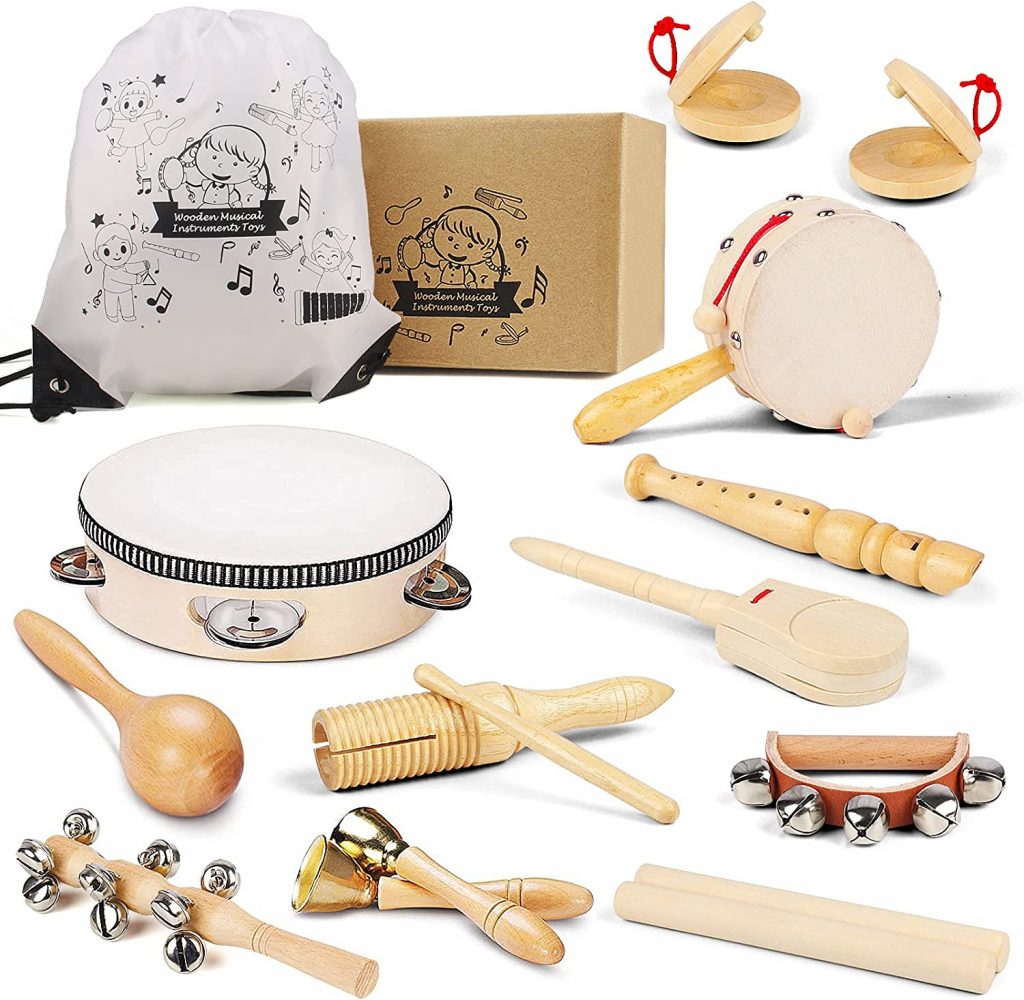 Children who play with musical instruments develop their literacy skills, too, and the Chriffer Kids musical instruments are great for this purpose. Made of natural wood, the safe and sturdy material will withstand countless banging, shaking and rattling by little hands while also providing hours of enjoyment.
Your baby will be able to distinguish the different sounds that each instrument makes, too. The set contains woodwind and percussion instruments for variety.
---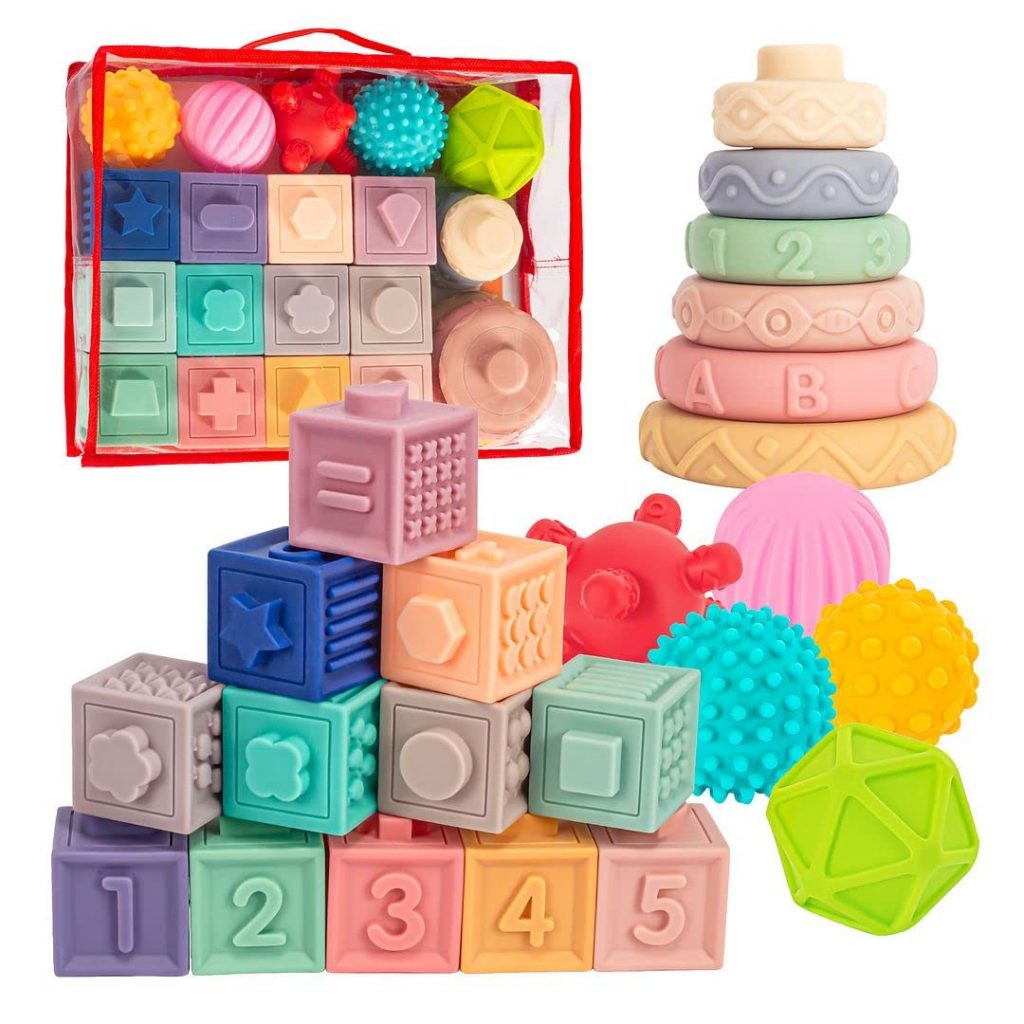 Babies up to 12 months old like to explore things with their mouths, thus, their toys should be made of soft and safe materials. This set comes with stacking blocks, sensory balls, and stacking rings in different colors that can be grasped by little hands and safe to put in the mouth – no choking hazards here either. These are washable toys, too.
The toys can be stacked into various sizes and shapes, thus, babies can engage in imaginative play. Every block also has embossed patterns of animals, fruits and shapes that engage their attention.
---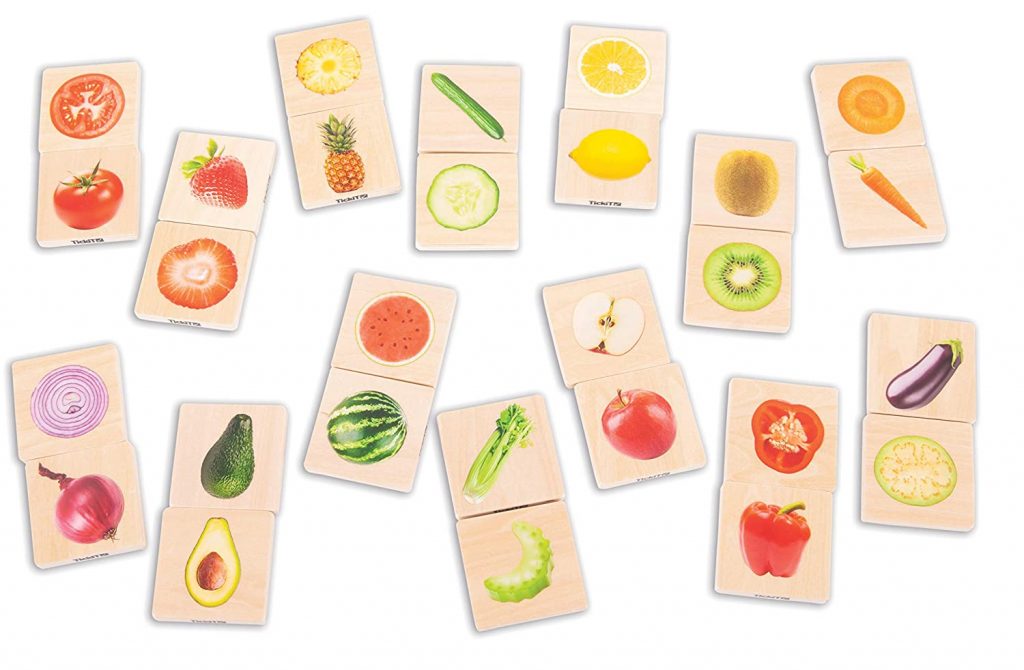 Realism is among the hallmarks of the Montessori Method and it's immediately apparent in the TickiT toy set. The colorful images on the wooden blocks aren't just beautiful – these are clearly based on real life. Babies up to four years old can learn the names and appearance of various fruits and vegetables.
Small hands can easily grasp the chunky tiles, too. Babies can play memory games by sorting and matching the tiles. You can introduce new healthy foods, too, using the tiles for play.
---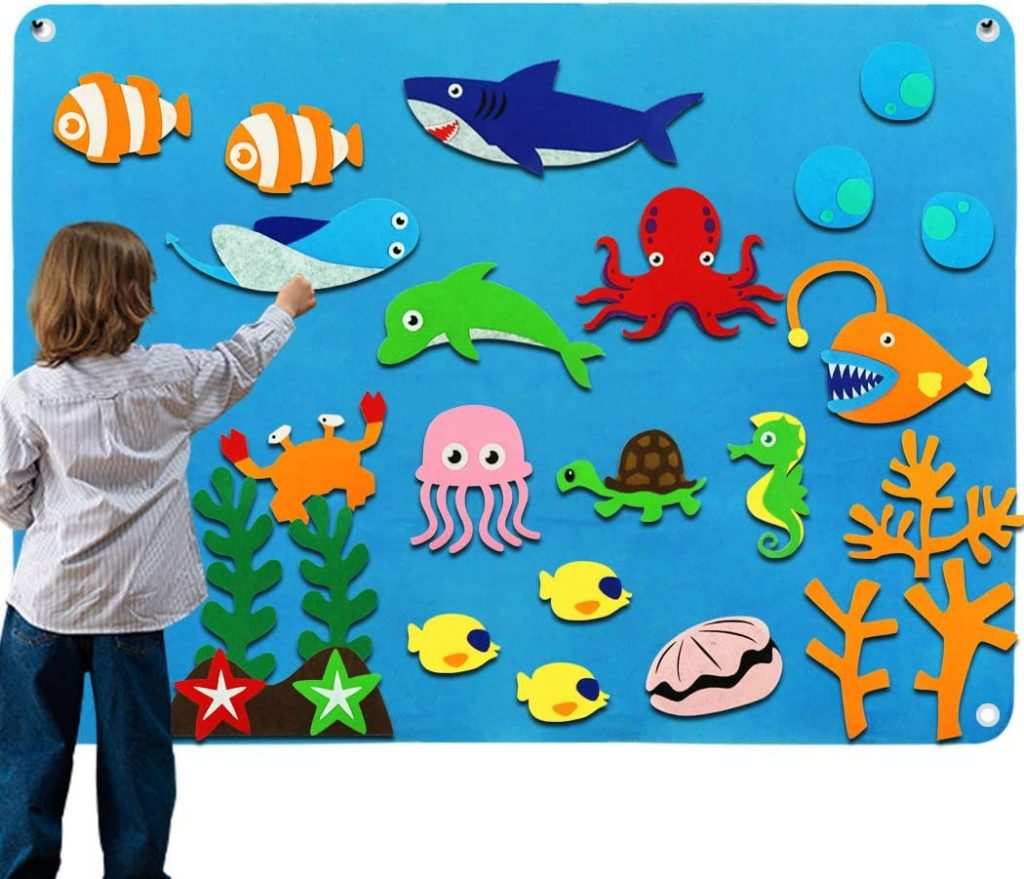 With its lightweight, foldable and portable design, the ocean-themed felt board story set is excellent for entertaining children on the go and at home! The board consists of 50 pieces of felt elements including penguins, polar bear, Arctic wolves, whale and narwhals, among others. Children up to four years old can stick the felt elements on the board and create stories of their own.
The Velcro at the back of these pieces are sturdy enough for countless peeling off and sticking on the board, too. The board itself can be a wall decor.
---
Under $100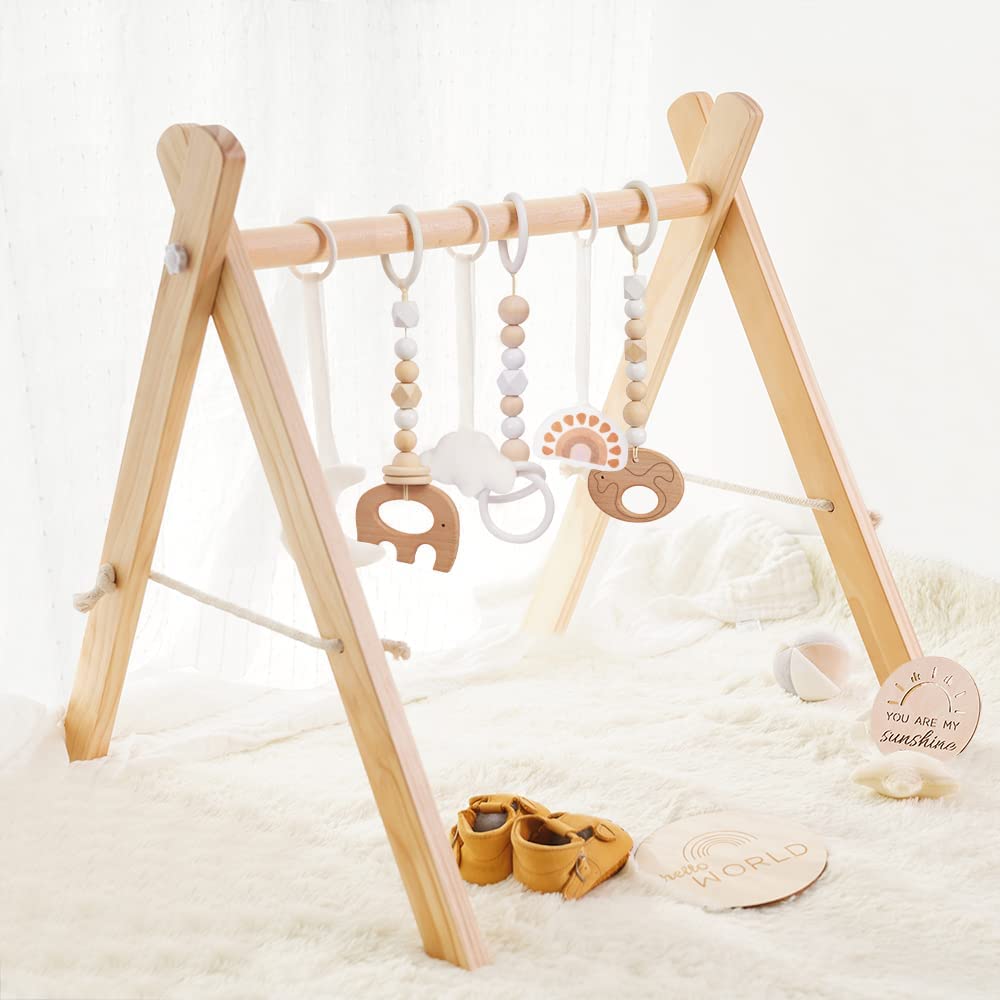 Baby gyms are excellent for the development of hand-eye coordination, among other early motor skills, in babies. Made of sturdy pine wood – no paint and chemicals, too, due to its unfinished yet smooth surface – it has soft toys and wooden beaded toys for visual stimulation. There's room for a few extra toys, too.
This is easy to assemble and set, aside from being in a neutral color to fit in any nursery. Just fold if it isn't being used.
---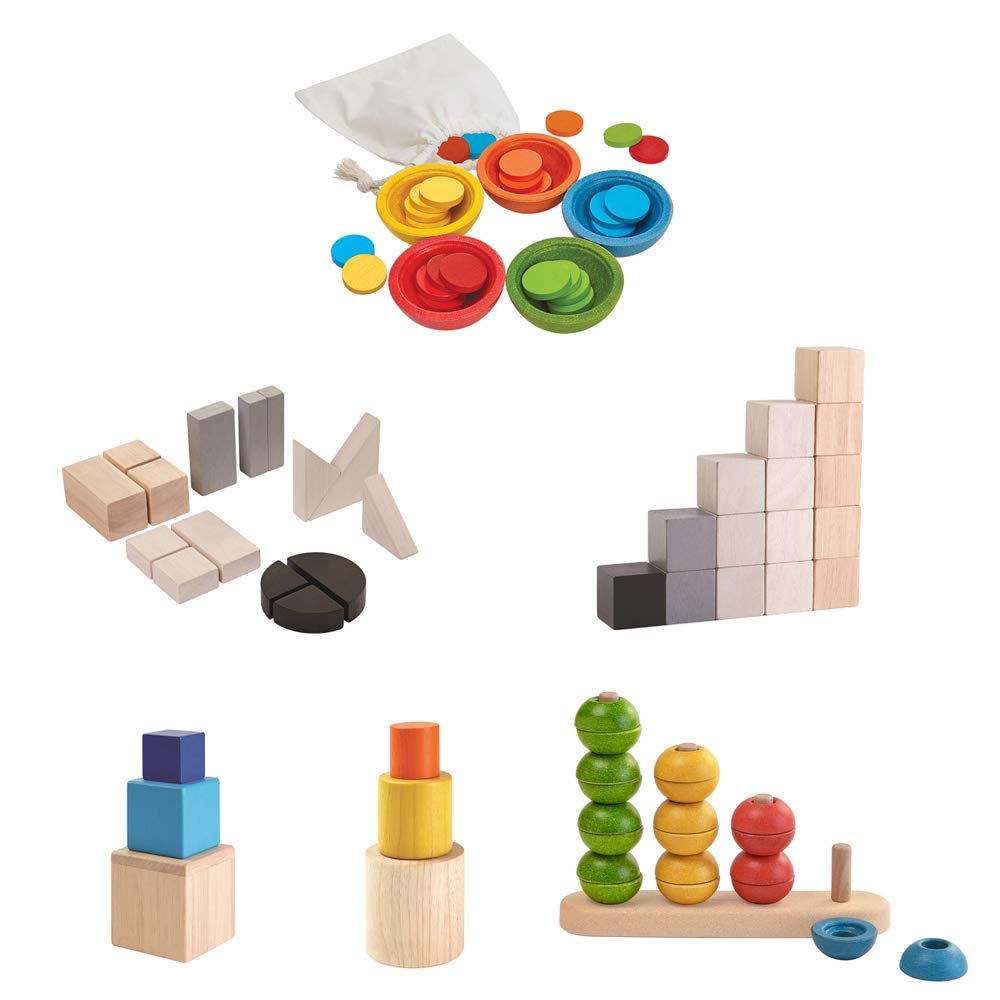 The set has five different categories – nesting boxes, fraction blocks, nesting cylinders, sort-and-count cups, and sort-and-count cubes – for hours of creative play. All these elements are made of solid and safe wood with non-toxic paints and stains that add vivid colors to their surfaces. There are no chemical smells even when first opened from its box.
Babies can develop their memory and math skills, such as colors, shapes and numbers, as they play with the set. This is suitable for children 18 months and older.
---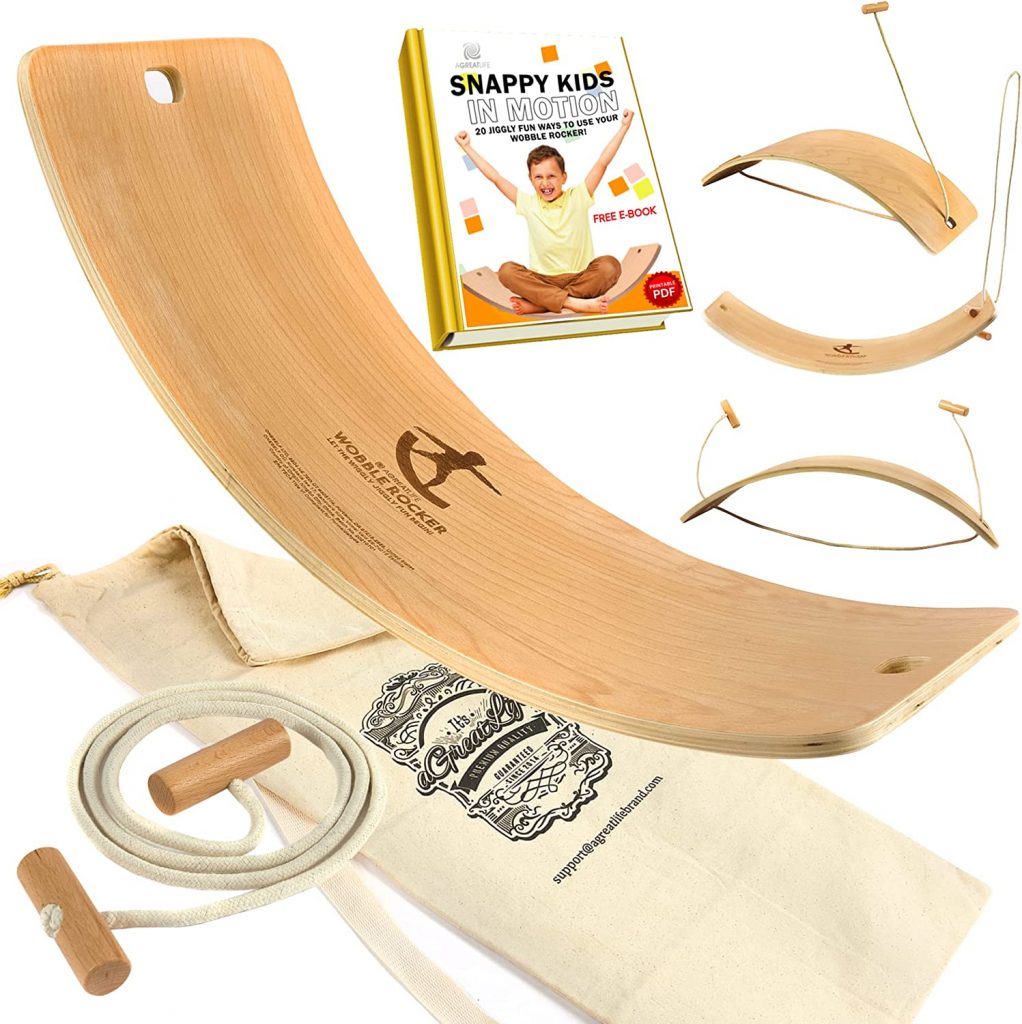 Physical play for toddlers stimulate their motor skills while also encouraging cooperative and creative play. This wooden wobble balance board can be used as a rocker, climbing platform and balance board, among other 20+ ways to play. Such is its sturdy construction that it can withstand indoor and outdoor use for years!
Toddlers learn balance, develop agility and improve their posture, too. Being away from screens is a bonus.
---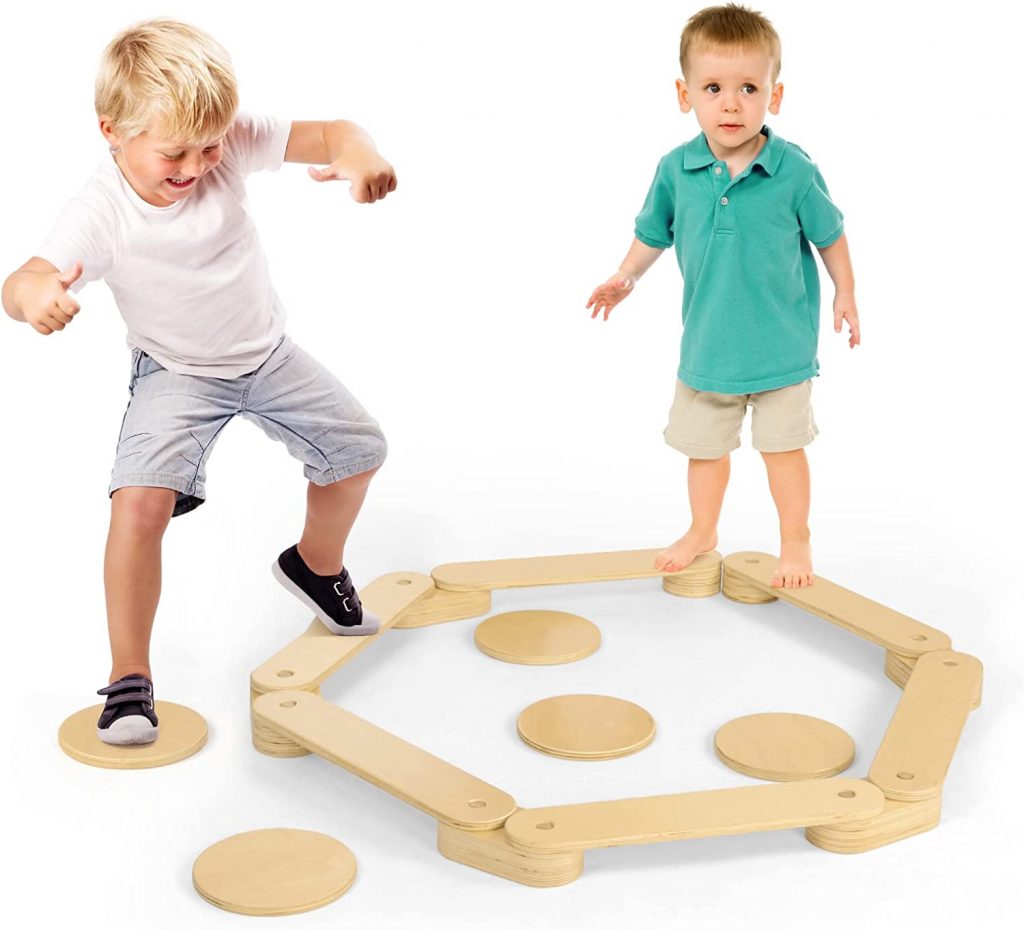 Children enjoy physical play on this wooden balance beam with stepping stones! The multi-wood construction can withstand rough playing by up to two children, too, while the non-skid bottoms keep it in place. Children develop their balance and coordination skills while also learning the value of sharing.
This can also be used for children with special needs, such as poor physical coordination and autism.
---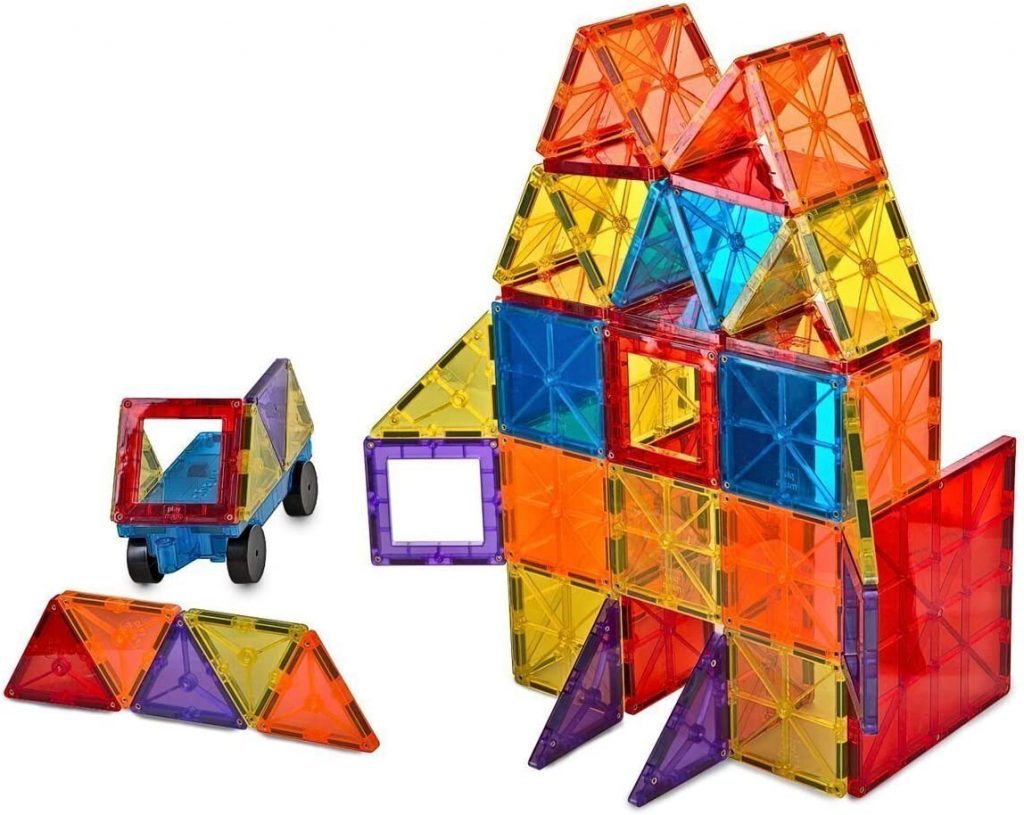 There's always a benefit to starting babies on their math and science skills at an early age but ensuring that they enjoy the learning process. This is the best value of the Mag-Genius Building Magnet Tiles Blocks – it stimulates numeracy skills alongside problem-solving and logical thinking skills.
The set has 13 different shapes that can be stacked in various ways, thus, enabling imaginative play. The pieces are sturdy, too, so there's less risk of breakage.
---
Over $100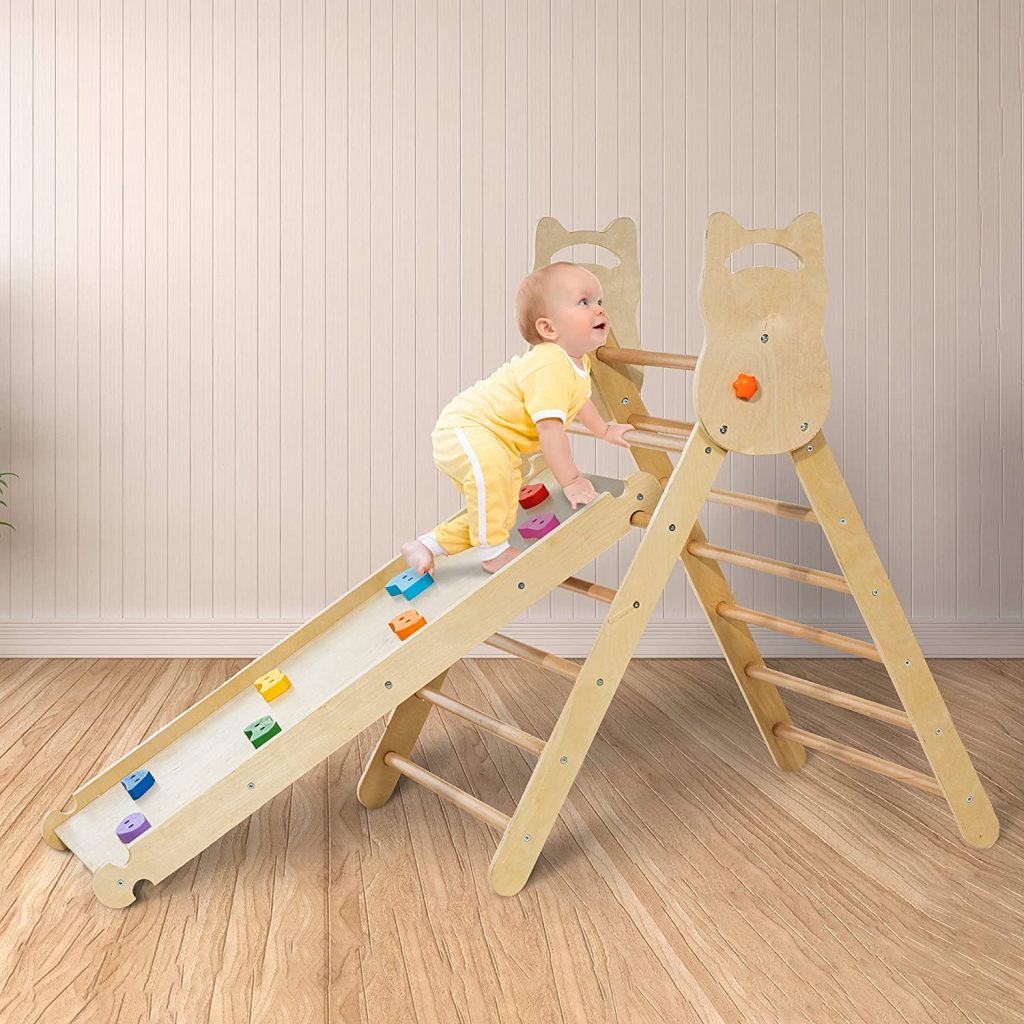 The set consists of a triangle-shaped pickler and a two-sided ramp suitable for children up to four years old. This is primarily a climbing structure with colored blocks on the ramp but its other side can be used as a slide. The 2-in-1 function means great value for your money!
This is easy to assemble as well as fold and carry for portability, which parents appreciate. Children love the climber, too, since it allows them to climb, slide and explore their physical abilities.
---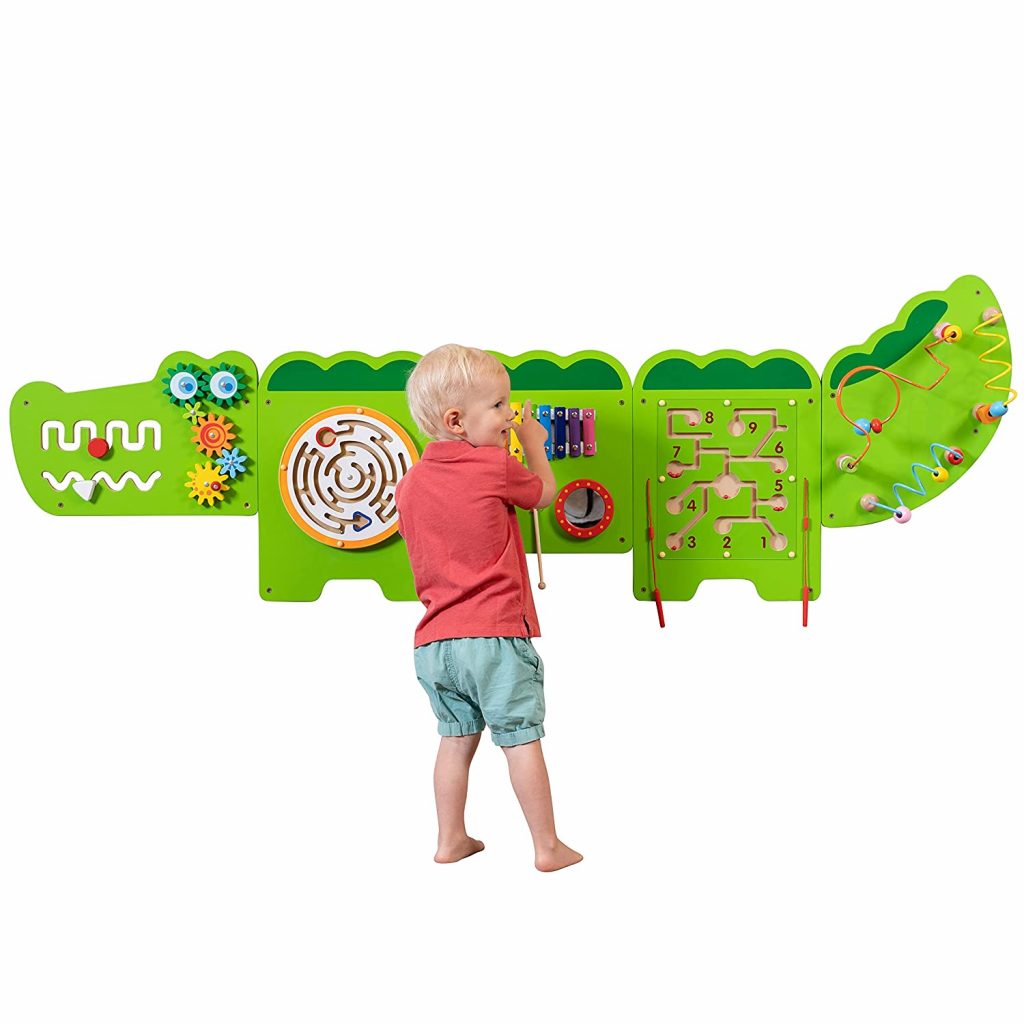 Suitable for 18-month old babies and above, this 5-panel activity set has 11 hands-on learning activities that children will enjoy. Each panel can be easily mounted on a wall at an appropriate height for children.
The activities include puzzles, magnetic pen and balls, percussion instruments, threading activities, interlocking cogs, and rotational pieces. Children develop their social, math, and motor skills.
---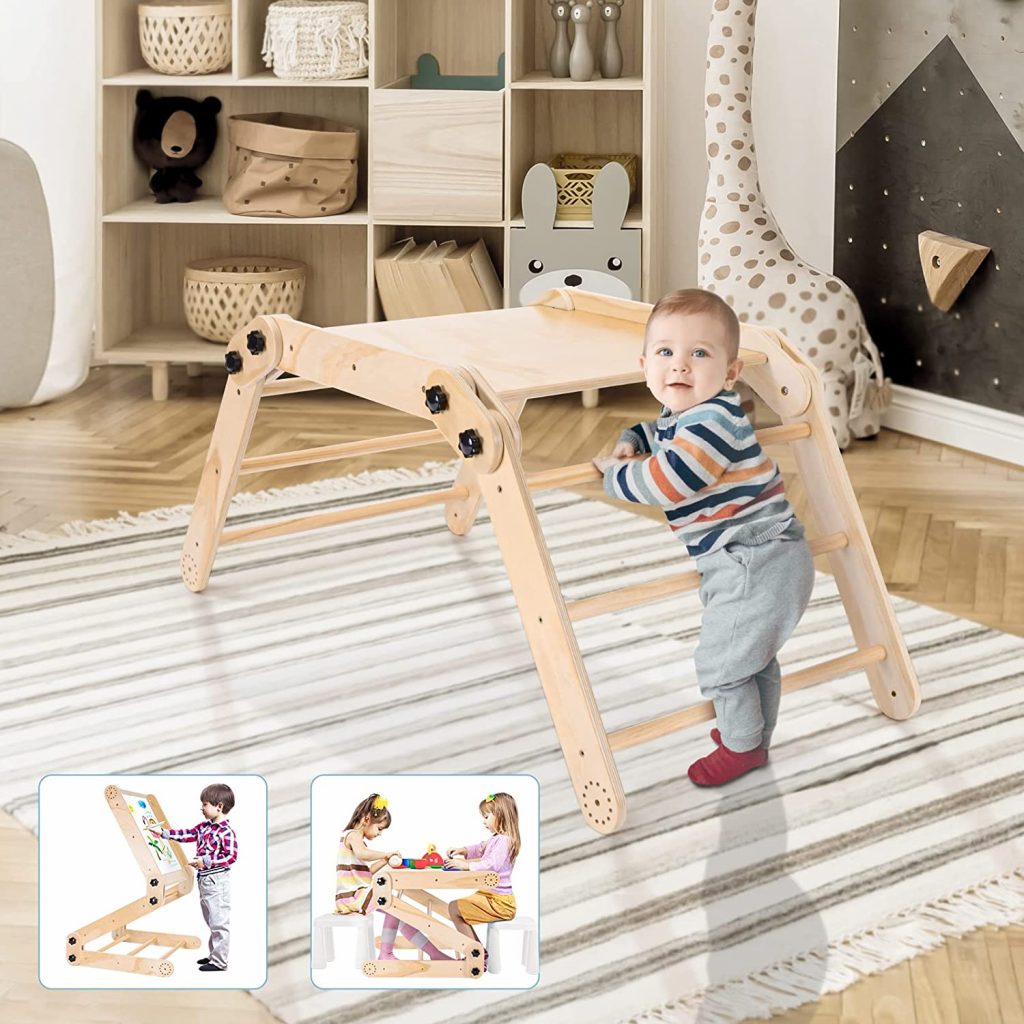 Obtaining the best value for your money usually means getting multiple uses from your baby's toys and things. This is true for the Ikkle 3-in-1 foldable triangle climber. Made of sturdy wooden material, it can be used in three ways – as a triangle climber, an art easel, and an activity table. Talk about the triangle climber "changing shape" as your baby's needs change, too.
---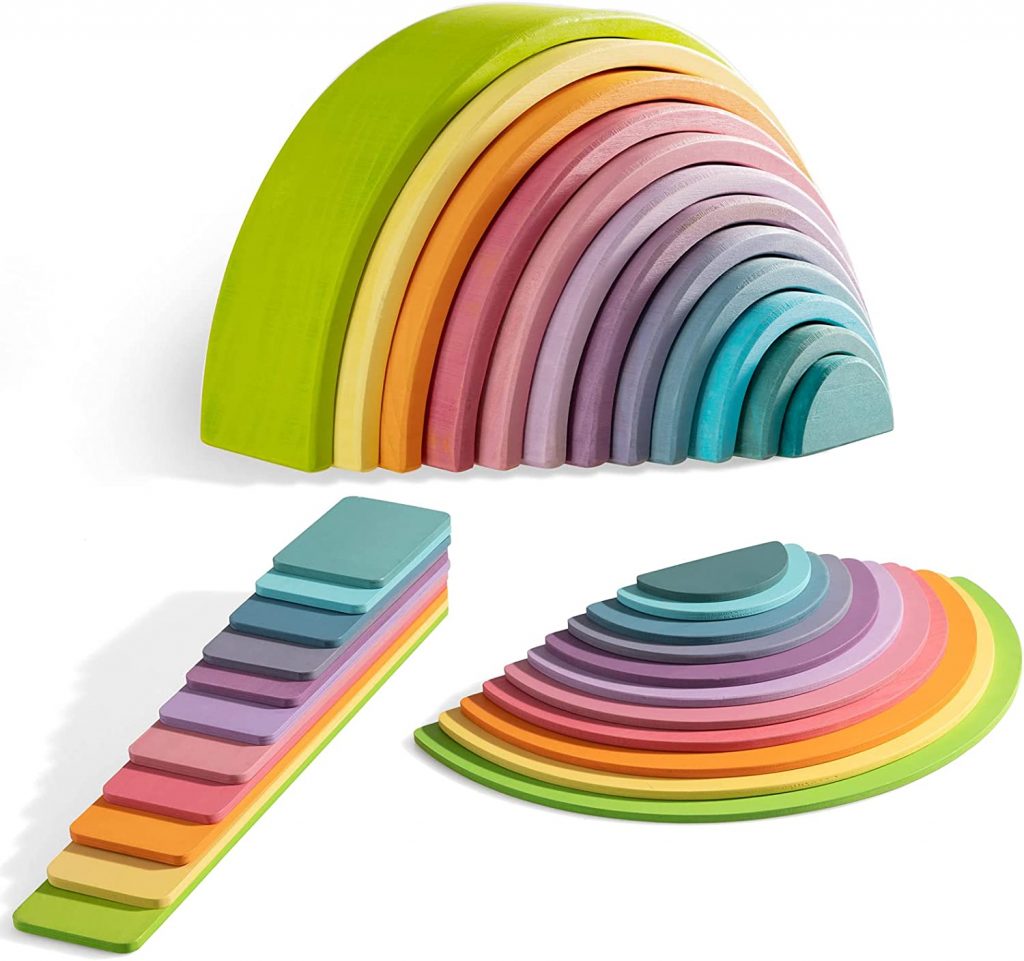 With its colorful appearance, the rainbow blocks immediately attract the attention of your little ones! The set comes with 12 arcs in different sizes and colors that encourages children to engage in creative play. The arcs and blocks are small enough for small hands to grab but large enough not to be choking hazards.
Children also develop their gross motor skills and hand-eye coordination when playing with the arcs and blocks. These elements are made of sturdy wood for years of play.
---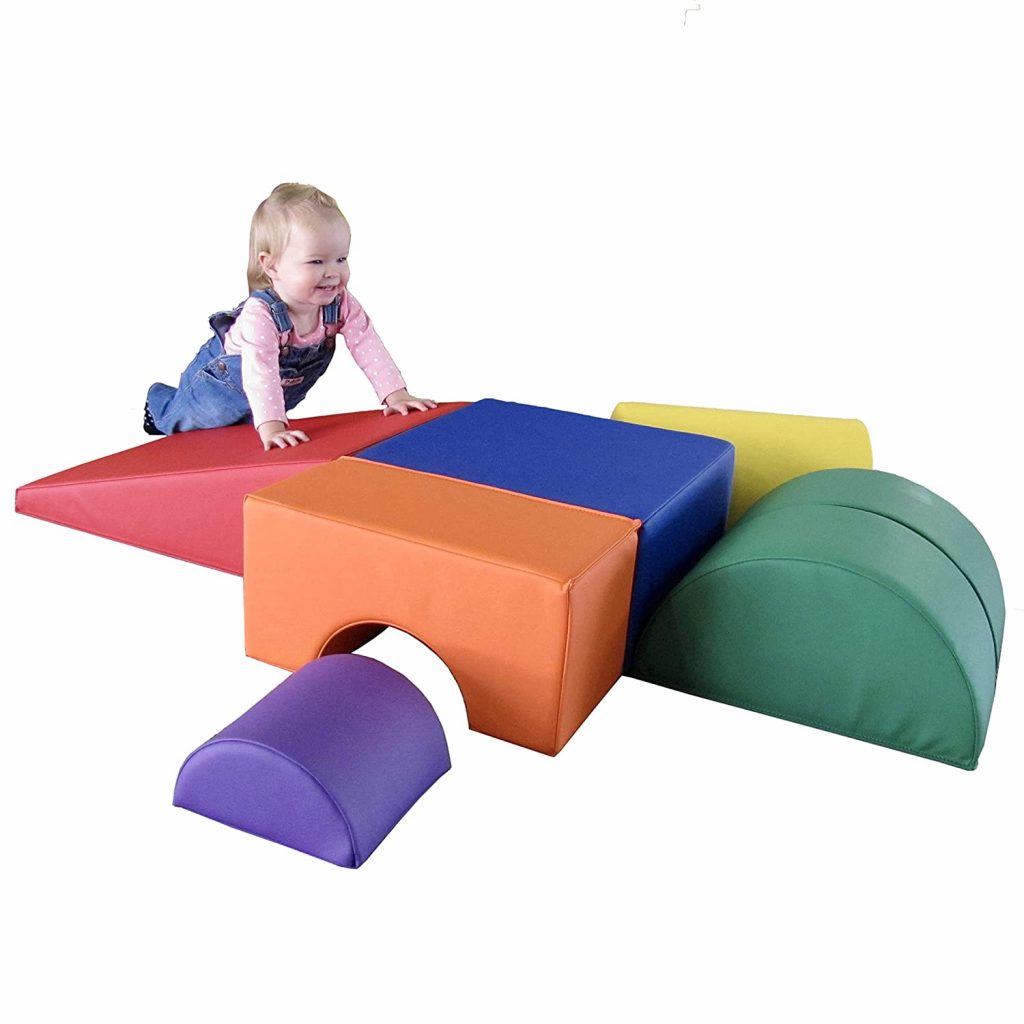 For little babies who are starting to crawl and climb, the FDP SoftScape playset is an excellent toy! Toddlers also love to build various structures with its shapes, too, and can be seen using their creations to slip, slide and climb. Children develop their physical and mental skills while playing with the playset.
The dense foam shapes provide a soft landing material for children's fragile bodies. The non-slip base ensures that the foam blocks generally stay in place.
These Montessori-inspired toys are well worth the money because your children will be healthier and happier with regular playtime.