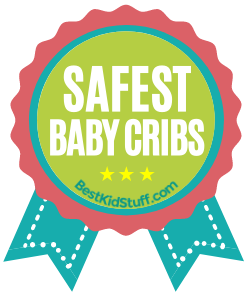 Motherhood is an exciting time—and preparation is everything. Depending on your timeline, you can purchase all your baby items during the middle or third of your trimester. However, you are at your peak of energy as you hit the second trimester. Ideally, this is a good time to plan and take care of all the necessary preparations for your baby's arrival.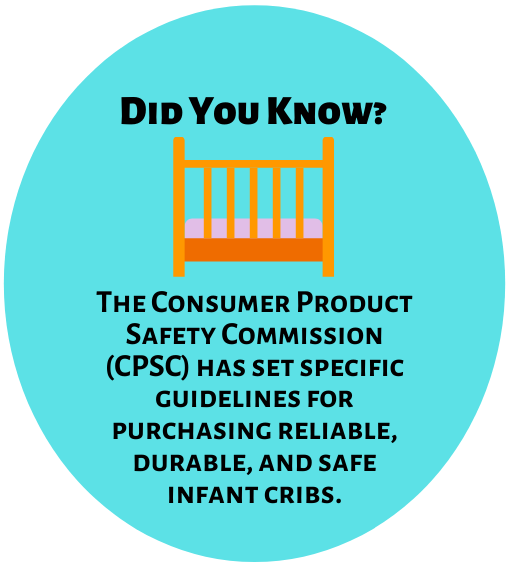 As soon as you hit 18 to 22 weeks, your obstetrician might be scheduling you for another routine ultrasound, including gender identification. Unless you want this as a surprise, it's good to know if you are having a girl or a boy as you plan the room decorations, clothing, and a suitable baby crib while you have the time and energy for it!
Opting for breastfeeding could also enhance your child's quality of life. Hence, placing a crib near or stationed beside your bed makes it a convenient method. Furthermore, co-sleeping further boosts mother-to-child bonds.
In choosing a crib, you can opt for a classic wooden crib with adjustable heights to ensure you're getting the most of this purchase. There are also contemporary versions of these cribs that blend easily with modern interiors equipped with all the functions they'll need in a bed.
There are safety guidelines provided by the Consumer Product Safety Commission (CPSC) to help you find reliable infant cribs. As a parent, reducing any risks of suffocation or Sudden Infant Death Syndrome (SIDS) should be avoided starting with the right crib and mattress.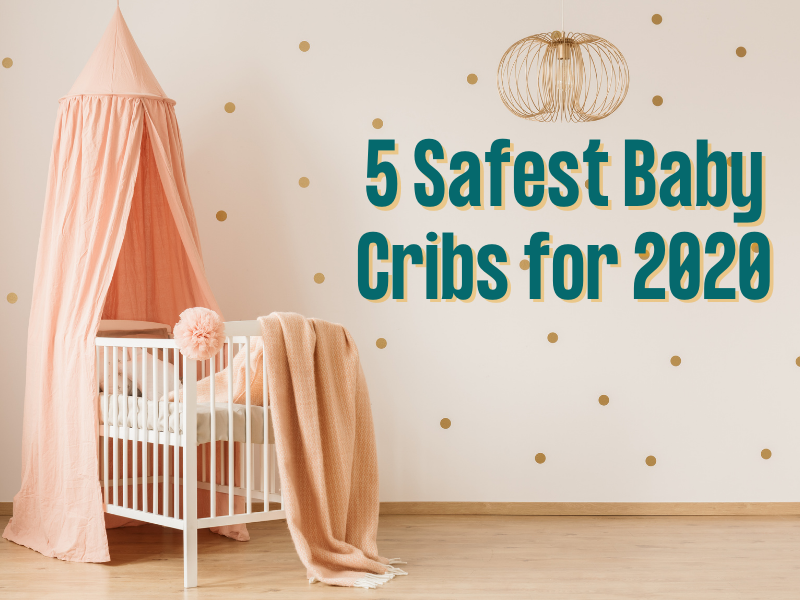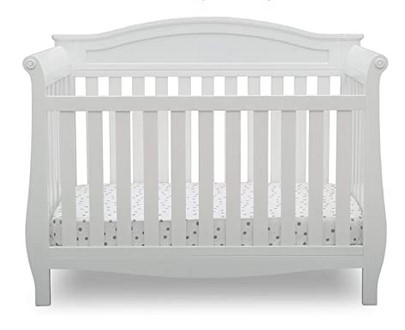 Cribs are an essential item for any soon-to-be mother. When you purchase the Delta Children Lancaster 4-in-1 Convertible Baby Crib, you get more than what you pay for!
This classic from Delta Children Store is made from quality solid pine wood construction. It's built for daily wear and tear that comes with baby movements and activities. Painted in Bianca White, this multi-functional baby bed will fit most interior settings, so you don't need to re-paint the crib to get it to blend seamlessly with its current surroundings. The subtle rosette accents also add a subtle style to this classic crib.
This versatile crib can be one of the most valuable purchases you'll ever make for your child.
It's a multi-functional bed that can be used as a crib, day bed, and a full bed complete with a headboard and footboard. Depending on how you'd prefer to sleep with your child, it can be used as a co-sleeper bed by turning this crib into a day bed.
If you want to make it into a completely separate bed, adjust the side rail to turn this into a crib. As the infant grows, you can fully utilize the bed as a full bed by adjusting the side rails and a toddler bed by using the toddler guard rail later in life.
As the baby grows, so does this functional crib. Compared with traditional cribs in the market, this can adjust up to three heights where you can lower or heighten the level depending on your child's ability to sit or stand. It's safe for your babies (and toddlers) to keep them from falling or tumbling over the bed.
This cot can fit a standard size mattress. However, you can purchase the Delta Dual-Sided Mattress, where one side is ideal for babies and the other for toddlers. To improve the comfort level, you can place the dual mattress at the bottom with the waterproof cover on top to keep it stain-free and fresh. It's a cost-efficient purchase to go along with this crib!
Spend wisely and buy this adaptable furniture! It is a worthwhile purchase for parents looking for a bang for their buck.
2. Dream On Me, Carson Classic 3 in 1 Convertible Crib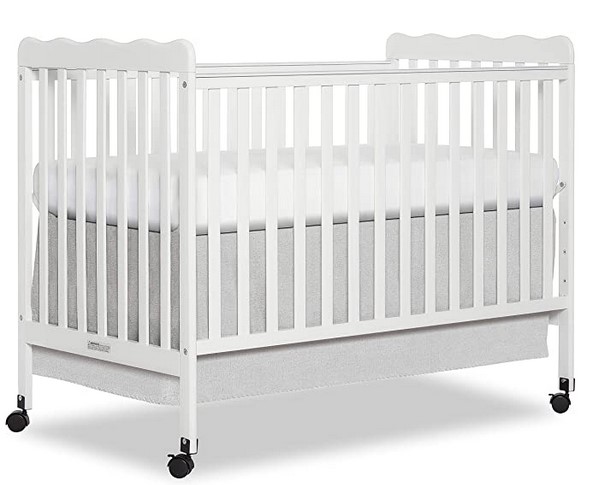 If you're looking for classic crib designs with all the functional features of a contemporary baby bed, the Dream On Me, Carson Classic 3 in 1 Convertible Crib is just the right fit.
Parents looking for a more traditional-looking multi-functional crib will find great delights with this convertible cot. It's made of sturdy pinewood to ensure the safety and comfort of your child even when they move around as they grow older. This Dream On Me Store product is made to fit any room theme from simple to elegant room settings.
As parents, there is a constant concern for the baby's comfort and safety as he or she grows during the first few years. Newborns grow easily, so there's a need for constant change of clothes, and yes, furniture. But not with this multi-functional crib!
It can support up to three levels as your child starts to crawl, sit, and stand throughout their developmental stages. Unlike your regular crib, this is a one-time purchase that your child can utilize for the next two to three years!
For newborns, you can place the uppermost support to hold the mattress. As soon as they start sitting or climbing, you can adjust the bottom support to the lower tiers to prevent any accidental falls.
This classic crib also converts into a toddler bed once he or she hits more than a year old. The co-sleeper feature allows you to reach easily for your child when positioned near your bed.
This cot uses a standard mattress that you can easily purchase in your local stores or online. Go for waterproof mattresses to keep the stains from seeping in the foam and possibly damaging its integrity. Or you can purchase the Dream On Me standard mattress separately.
The bottom wheels allow the crib to be mobile to move from one spot to another. For added safety, the wheels have locks to keep the crib immobile when it's set in place. This cot also passes the CPSC and ASTM standards of approval. The non-toxic finishes and sturdy side rails also keep the baby from falling over the bed.
For the budget-conscious parents, this functional bed is something you can cherish for years ahead!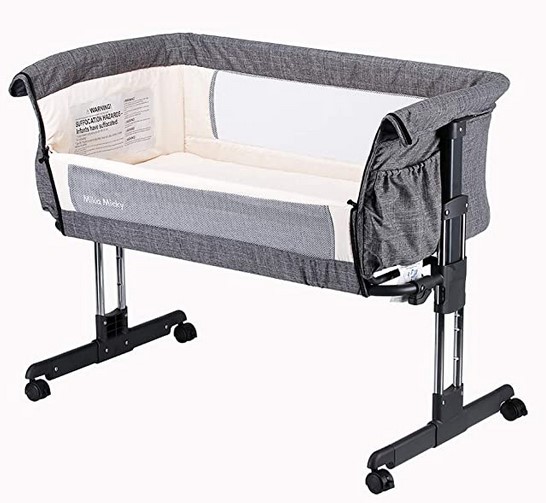 Mothers want to feel secure when it comes to their baby's comfort. With the Mika Micky Bedside Sleeper Easy Folding Portable Crib, rest assured that your baby is safe and secure next to you.
This product by Mika Micky is a bedside sleeper type that can be easily attached and removed from the parent's bed. It conveniently enables you to cater to their needs without having to leave out of bed. The structure allows you easy access to breastfeed and sleep afterward.
The exteriors are made of high-quality textiles that can withstand daily use. For hot summer days, two sides of the bassinet are made of mesh, allowing cool air to pass through to keep your baby ventilated. It also allows for easy visibility to check on your baby inside the crib.
This bassinet uses two sturdy straps as anchors, so your newborns are safely attached to your bed. Built-in wheels and brake make it easier to move this bassinet and lock it into place.
You can transform this into a standalone crib simply by adjusting the mesh cloth side rails. This feature enables you to move your baby to a different spot where there is sunshine or a place of calm before moving back to your bed. The two side pockets serve as storage space for baby items such as diapers and other essentials.
Is your bed too high? This bassinet has seven adjustable heights from 13 to 21 inches from the floor. It can also be adjusted to accommodate your bed from 18 to 26 inches in height. This bassinet is ideal for newborns until six months (until they can roll over to the side) or when the baby reaches 33 lbs. It's also lightweight, portable, and a breeze to set up so you can take this with you with your baby on short trips.
Parents who'd like the comfort of looking after their newborns efficiently would love this portable co-sleeper crib!
4. Storkcraft Tuscany 4-in-1 Convertible Crib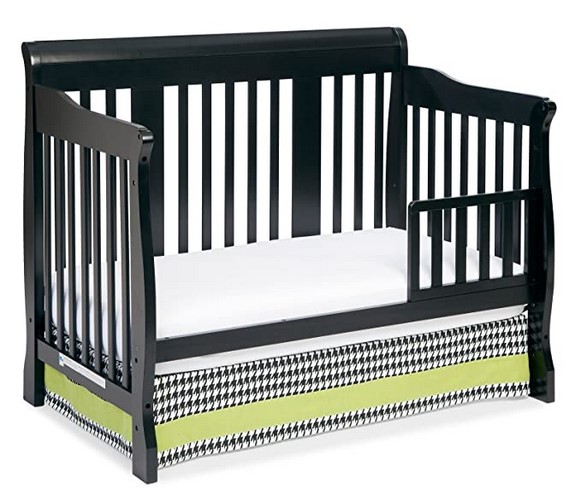 The Storkcraft Tuscany 4-in-1 Convertible Crib is an elegant but functional bed for newborns to toddlers!
Understandably, parents would want the best for their children. It's especially important to find a convertible bed worth every penny. This bed is an ideal one for the budget-conscious parent.
This Storecraft Store crib is intended for parents who are looking for design and longevity. This crib is made of quality wood to accommodate your child's growing body from newborn to toddler years. The cherry finish is non-toxic and kid-friendly for your child's health and safety throughout use.
This classic crib sports a subtle sleigh design that complements well with most settings, particularly contemporary or rustic nursery themes. The mattress support is also made of steel spring with a metal frame for added safety. It's an adaptable crib that can easily transform into four forms: day bed, toddler bed, full bed, and crib.
In case you want to co-sleep with your newborn, adjust the rails to turn this into a day bed. Purchase safety straps for the cot for added security in stabilizing the cot to the adult bed. Once the child is old enough to sit or stand, you can add the rails and turn this into a crib.
Accommodating up to 50 pounds, this convertible cot can be transitioned into a full bed once the child can walk. You can purchase a standard mattress and bed frame supports for the full-bed. Adding a waterproof lining can also extend the quality of the mattress.
You can easily assemble this bed with minimum tools needed. Depending on your child's needs, there are three adjustable heights you can choose. You can opt for the lowest support when your baby can stand or sit on the crib. Adjust the height to the uppermost level when they're still in their first year.
The bed is made of quality pine wood and composites to ensure long-lasting use for your child. It's also a certified product by JPMA, CPSC, and ASTM.
Make this multi-function crib something your child can enjoy for years to come!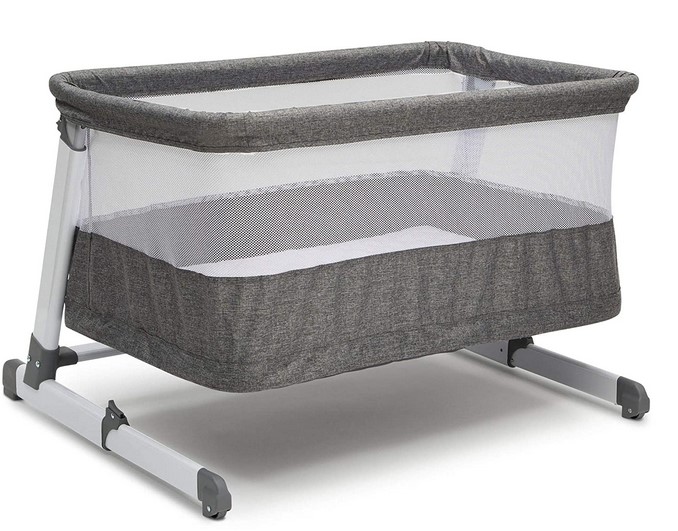 As a functional bassinet with a contemporary design, the Simmons Kids Room2Grow 2-in-1 Newborn Bedside Bassinet & Infant Sleeper is just the perfect companion for your growing child. Parents want to make sure that they're getting the best purchase for their newborn child.
This product from Delta Children Store is just the right bassinet suited for long-lasting use until toddlerhood. It sports a dark gray color exterior made of quality fabric suitable for daily use. This bassinet comes with durable side mesh to ensure adequate air circulation to keep your baby cool, especially during warm days.
It also allows for easy visibility for parents during the late hours of the night. When you're room sharing, you can adjust the height up to 3 feet, making it easier for you to reach for your little one.
No need to switch to new beds for the next few years with this convertible crib! This bassinet can hold from 15 to 25 lbs. for newborns to toddler years. The adjustable height positions allow you to set the crib from bassinet mode (suited for newborns) to sleeper mode (suited for infants and toddlers).
This set comes with a waterproof pad to prevent any leakage and stains on the foam mattress. It is machine-washable with no need for complicated solvents to keep it clean. If the bassinet fabric covers need cleaning, you can safely detach the cloth from the cot and place this in your washing machine using a gentle cycle and soft soap.
You can purchase a suitable standard mattress separately. This convertible cot is JMPA certified and has met all ASTM and CPSC safety standards.
Looking for an efficient and stylish crib? You can purchase this at a very affordable price!