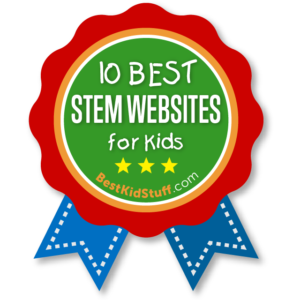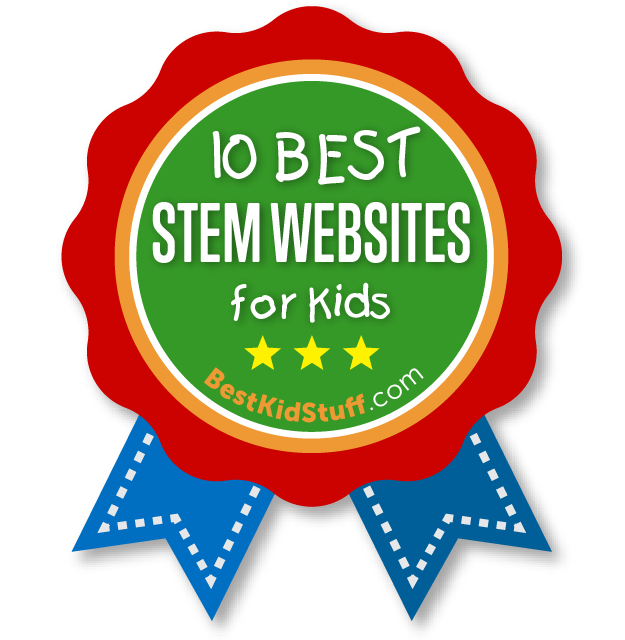 We are all aware that not all screen time is created equally. There are plenty of opportunities for kids to "veg out" online these days, but when it comes to resourceful learning websites, those seem to be a little trickier to come by.
STEM websites are a fantastic way to let your kids engage in guilt-free screen time. These days, STEM careers are the highest in demand and an early interest in STEM subjects can lead to huge payoff later in life.
Not to mention, a number of these types of jobs are online- and utilize a screen for multiple hours a day. That's why healthy screen time is important to learn and a big reason we wanted to review the best STEM websites.
When ranking these sites we considered the following: Cost, Resources, Gamification (the fun factor), Usability, and Range of Difficulty. With those metrics in mind we calculated their final score.
Mindfulness while online is essential to help maintain a kid's focus when they are "unplugged" and engaged in conversations in real life which is why we noted when a site displayed a little bit too much clickbait.
We're defining click bait as any piece of un-related content that encourages kids to get off task and make unhealthy habits during learning time. Our favorite sites stay on task, link well to related topics, and encourage kids to get up and flex those creative engineering muscles.
With all of this in mind we arrive at these Top 10 Best STEM Websites for Kids.
---


National Geographic Kids is a visually impactful website that entices kids to explore their world. National Geographic is known for its awe-inspiring photography, cinematography, and storytelling. Their STEM website for kids certainly delivers.
The main focus of the site is animals- their appearance, behaviors, foods, and habitats. Each page offers further opportunities for your child to expand their knowledge about each creature and the world around them.
There are countless videos that round out the site and some that are even entire episodes focusing on the natural world. Some of the more interactive components of the site are the quizzes, and games. The games teach basic principals like coding, geology, planetary systems, geography, travel, sports, and more while the quizzes encourage kids to think about how they as individuals fit into the grand scheme of it all..
Nat Geo Kids is a great site for moments when you and your kid may want to engage in some guilt-free screen time. The platform is similar to other social media platforms in that the activities are short and attention-grabbing. We like how connected each component is to the next- a sign of a well thought-out and deliberate site.
The visuals are clear and engaging for a wide-range of ages. We can even see parents getting in on the fun. But Nat Geo Kids is not all about screen-time, the "Homework Help" section encourages your kids to set up their own scientific experiments and get outside to fully explore the world around them.
Pros
Free
Visually Impactful
Fun for Kids
Teaches a Wide-Range of STEM principles
Great for Learning About Animals
Good for All Ages
Cons
A Lot of Simple Games, Not Enough for More Advanced Concepts
Some of the Items are more clickbait then educational
Some of the Information Could Be More Thorough
Score
Cost Factor: Free
Range of Resources: 95/100
Gamification: 95/100
Usability: 95/100
Range of Difficulty: 95/100
Overall Score: 98.5/100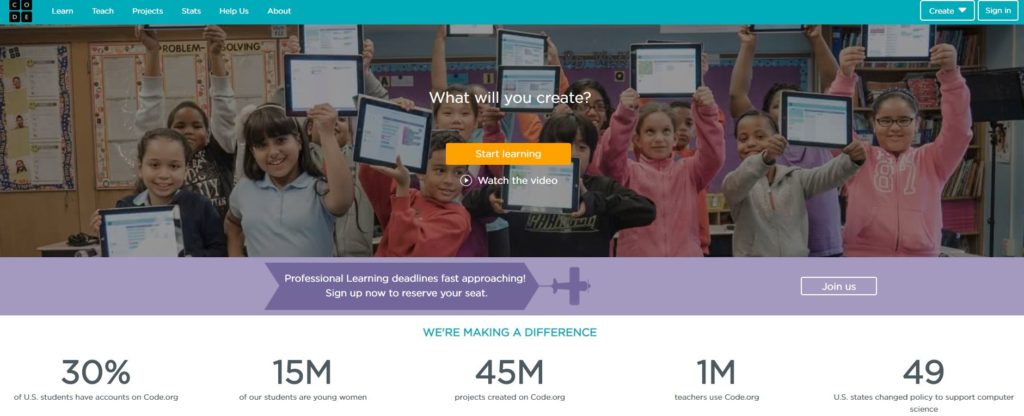 Code is a non profit organization that aims to reach women and underrepresented minorities. This educational website is a place where kids of all ages can head to learn how to code.
The organization is backed by companies like Amazon, Microsoft, and Facebook and with such support are able to offer completely free and open source learning. Their advocacy coalition works at the federal level to establish policies that will ensure broader diversity in the field of computer science.
There are resources available for teachers as well as students and even adults looking to try their hand at coding can take a crack at it through this site. Their statistics are impressive. As of today, 30% of U.S. students have an account on Code.org and nearly 15 million of those students are women. This is a great example of a website that is not only fun but also working to solve some of the world's problems.
Once you enter the website, you can begin coding right away. There's no need to even make an account. The "hour of code tutorials" are a great way for kids to explore code. Some of the tutorials include making a Dance Party, building worlds on Minecraft, writing a game, programming droids and more.
A number of the activities may be completed in just 10 minutes. The site particularly shines when approached as part of a curriculum. This is a great resource for teachers but this website is not limited to the classroom. Kids can code whenever they have free time.
In fact, your kid can sign in and begin coding or at least learning the concepts of code and work their way through as they would through school coursework. There are even introduction to computer science courses for children as young as 4 years old. If your teen is already a whiz at code, there's even material for college-aged students. Age is not a limiting factor with this website!
Pros
A Website With a Mission
No Spam or Clickbait
Great for Ages 4- Adult
Fun Tutorials
Engaging Videos
Free
Great Resource for Teachers
Expanded Curriculum to Include In-person Learning
Evidence-Based
Cons
The Look of the Site Could be more Kid-Friendly
This Site Is Just About Coding
Score
Cost Factor: Free
Range of Resources: 96/100
Gamification: 90/100
Usability: 90/100
Range of Difficulty: 95/100
Overall Score: 96/100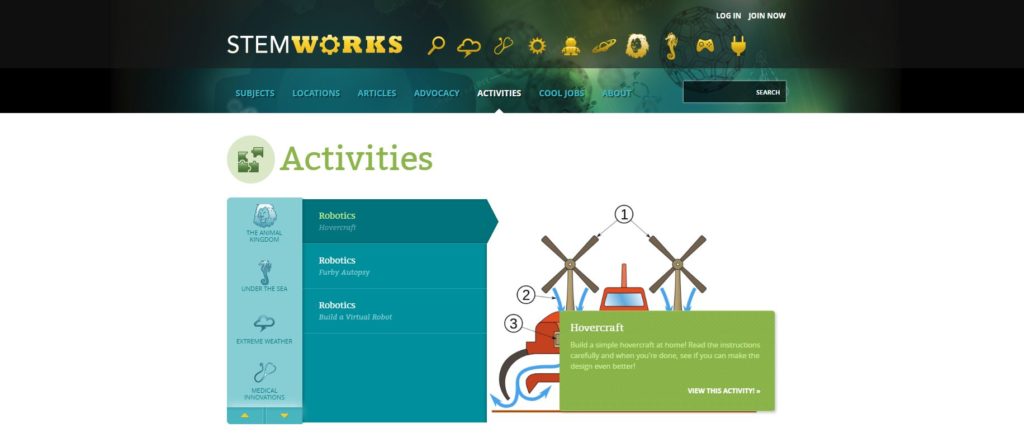 STEM Works Activities is an online resource for kids, parents, volunteers, and teachers.
Activities is a section of the STEMWORKS website that focuses on the following topics- crime scene investigation, extreme weather, medical innovations, robotics, space, the animal kingdom, under the sea, wind energy, and other STEM subjects. Initially a blog, STEMWORKS developed over the years into a full-blown community.
The site is a source of inspiration for any individual who is looking for ideas and insights into STEM. The targeted ages are Middle School-aged children. The site is not filled with unwanted spam or clickbait and encourages its uses to submit feedback and make recommendations. We appreciate the honest and earnest community that can be found here.
When you head to the site, you can easily navigate your way through the topics using either the top bar or sidebar. Each topic comes with a list of suggested activities- hence the name. Some of the activities link directly on the site while others will take you off the site to the initial source.
You'll find a list of items needed, written instructions, and most of the time you will find video instructions. For this reason, we think this website is a great tool for highly motivated kids and may be even better for adults. Younger children may want to start with some of the "Extreme Weather" activities which would be appropriate for elementary school students with adult supervision.
Children can learn to build earthquake-resistant structures with toothpicks and mini marshmallows, a volcano, make a barometer and so much more. If you log in to become a member of the community you can leave comments and give suggestions. There's a yellow button at the bottom of the right-side toolbar to leave recommendations for suggested activities. STEMWORKS Activities thrives on feedback and this community component.
So, if you're looking for ideas for engaging STEM activities, definitely check out this site.
Pros
Lots of STEM subjects explored
A Large Online Community
Allows for Feedback
Activities are Engaging
Good for Middle School Kids
Great Resource For Teachers
Cons
This Site Could Be More Kid-Friendly
Some of the Links to Activities Were Not Working
Many of the Activities Required a Number of Items Not Readily Found Around the Home
Score
Cost Factor: Free
Range of Resources: 95/100
Gamification: 95/100
Usability: 90/100
Range of Difficulty: 90/100
Overall Score: 95.4/100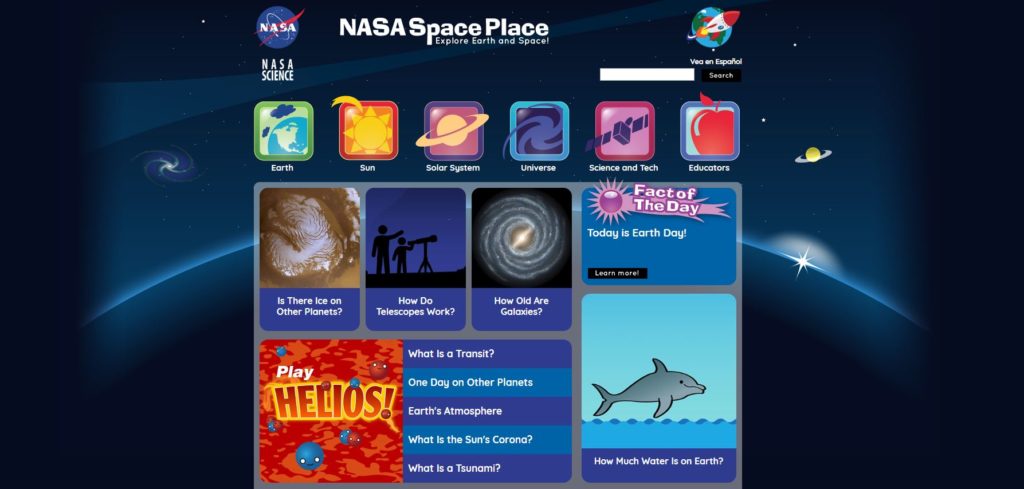 NASA Space Place is a colorful and fun website that encourages kids to "explore Earth and Space!" This is a great source for any child who is fascinated with Earth and Space or for any novice who may just be getting started. At the top of the page are the site's categories: Earth, Sun, Solar System, Universe, Science and Tech, and Teachers.
Each category contains games, articles, crafts, and other activities related to the topics. Educators have access to completely open source activities for their classrooms including some of the latest in science fair activities, and next generation standards. The next generation standards include crosscutting concepts, the disciplinary core, and science and engineering practices.
We especially like this site for its kid-friendly layout. Kids need only to click on one of the categories at the top of the page and are instantly taken to a colorful page that shows kids where to play games, read articles, make related crafts, and explore various activities. At the bottom of each game is a section that contains related articles and activities so you child can continue to explore.
Some of the most engaging activities and games are in the Solar System and Universe categories- as you may have expected coming from a NASA site. If your kid likes to play games, be sure to have Flash installed on your computer.
Pros
Visually clear
Kid-Friendly
Very Informative Articles
A Great Resource for Teachers
Free and Open Source
Cons
Some of the Games Are Too Simple
Requires Extra Plugins to Run
Score
Cost Factor: Free
Range of Resources: 95/100
Gamification: 95/100
Usability: 90/100
Range of Difficulty: 90/100
Overall Score: 95.4/100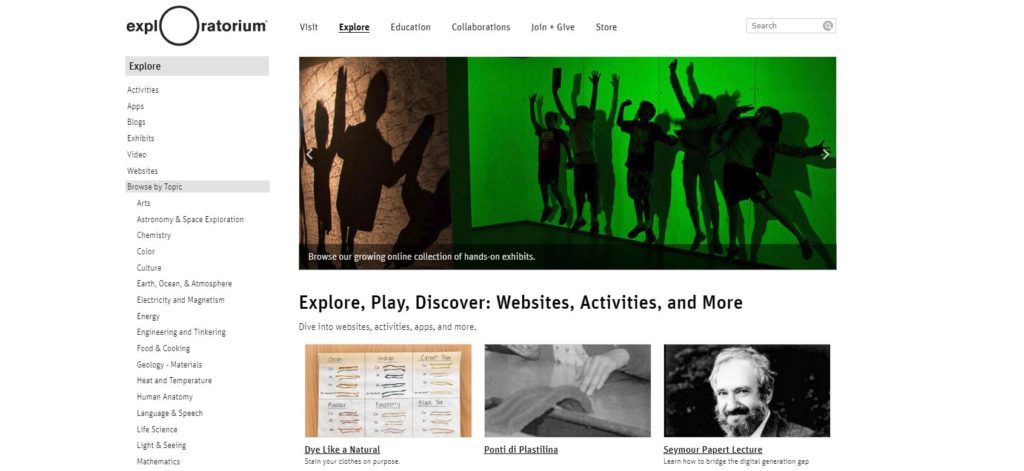 For 50 years, Exploratorium has encouraged awe and wonder in the minds of young people as a hands-on museum located in San Francisco. Additionally, Exploratorium is a fascinating website filled with articles, videos, activities, and other resources that work well for kids, teens, and adults.
Over the years, Exploratorium has collected and gathered information from across the globe- from artists and from scientists and has become a treasure trove of information and inspiration. If your son or daughter is at all curious- (and aren't all kids?) they are going to love this site.
When you first land on the page, head to the second tap at the top that says "Explore." The right-hand column contains a "Browse by Topic" section which we think is one of the best features of the website. Some of the topics include "Energy" "Color" "Engineering and Tinkering" "Time" "Arts" "Food and Cooking" and so much more.
Alternatively, the "Explore" page displays a nice mix of topics that are highly exciting and engaging if you are on the site to "just browse." A lot of the activities work well for middle school kids and older, but small children can participate with the help of an adult. Speaking of adults, we think this is a great site to head to for the kid in all of us.
So, whether you're looking for some fun hands-on activities for your own children or are simply still young at heart and ever-curious, maybe give Exploratorium a try yourself!
Pros
A Lot of Exciting Content
Great Activities for a Wide-Range of Ages
Influences from All Across the World
Engaging Thought-Provoking Videos
Established 50 Years Ago and Held the Test of Time
Lots of STEM subjects covered In-Depth
Open-Source Materials
Fantastic Resource For Teachers
Cons
Not a Lot of Activities For Very Small Children
Score
Cost Factor: Free
Range of Resources: 96/100
Gamification: 70/100
Usability: 90/100
Range of Difficulty: 95/100
Overall Score: 93.8/100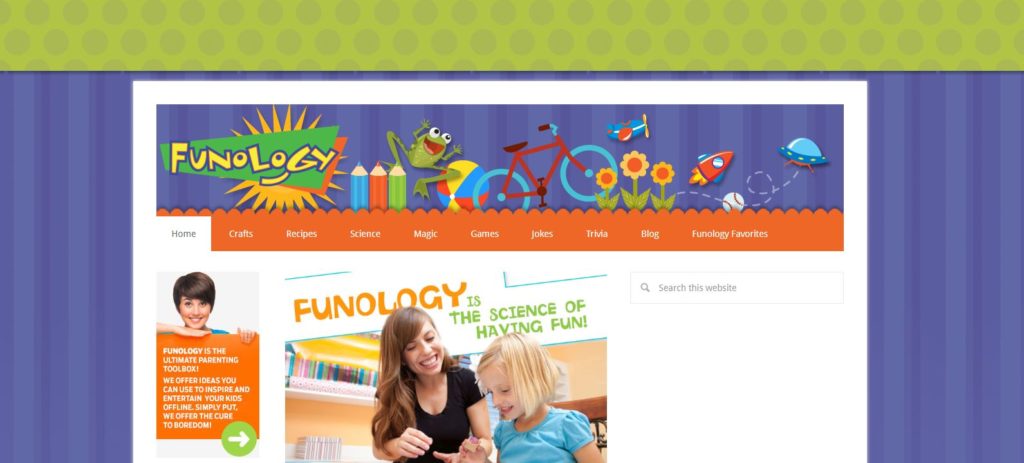 Funology is "the Science of Fun" and this website is packed with great activities that "offer the cure to boredom." This is a place to head with your kids on a rainy day or any free afternoon.
The activities are great for kids elementary-school-aged to middle school. Though, we think your tween might really love trying out some of their tasty recipes and testing out a number of their science experiments. The categories are, Crafts, Recipes, Science, Magic, Games, Jokes, and Trivia and within those categories are sub-categories like seasonal crafts, art projects, holiday arts and crafts and more. One of our favorite features of this site is how well organize it is. Lost your place? It won't be difficult to navigate your way back.
The experiments section of this website is one of our favorite parts. We really like how accessible each experiment is not only to the kid but also to the parent. Most of the experiments require very few materials- a number of which may be found around the home.
Most of the crafts and activities follow suit- they are simple and accessible, which we think certainly has its place on those days when you're spinning your wheels and looking for a break from Screen Time. That's another thing we love about this website, after finding out what you need it's time to leave the screen behind and just start building, crafting, and playing.
Pros
Great For Elementary School Kids
Easy to Navigate
Colorful and Visually Appealing
Activities Don't Require A Ton of Items
Easy to Access
Activities are Fun
A Number of Engaging Categories
Cons
Some of the Content Could Be More Thorough
This Site Monetizes With Distracting Ads
The Blog is All About Shopping
Some of the "Funology Favorites" Are Clickbait and Not Very Educational
Your Older Kids Might Not Feel Engaged
Score
Cost Factor: Free
Range of Resources: 95/100
Gamification: 90/100
Usability: 90/100
Range of Difficulty: 90/100
Overall Score: 93.6/100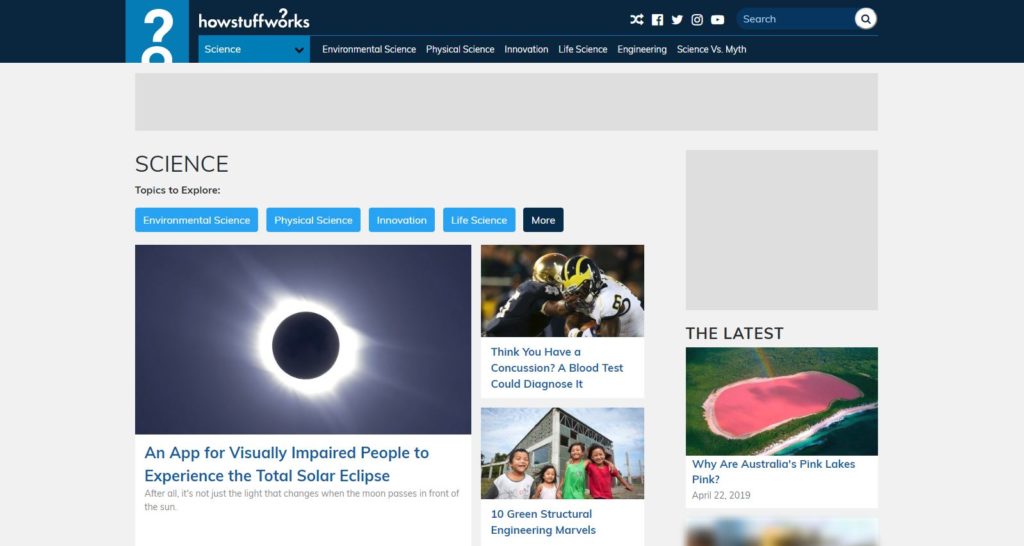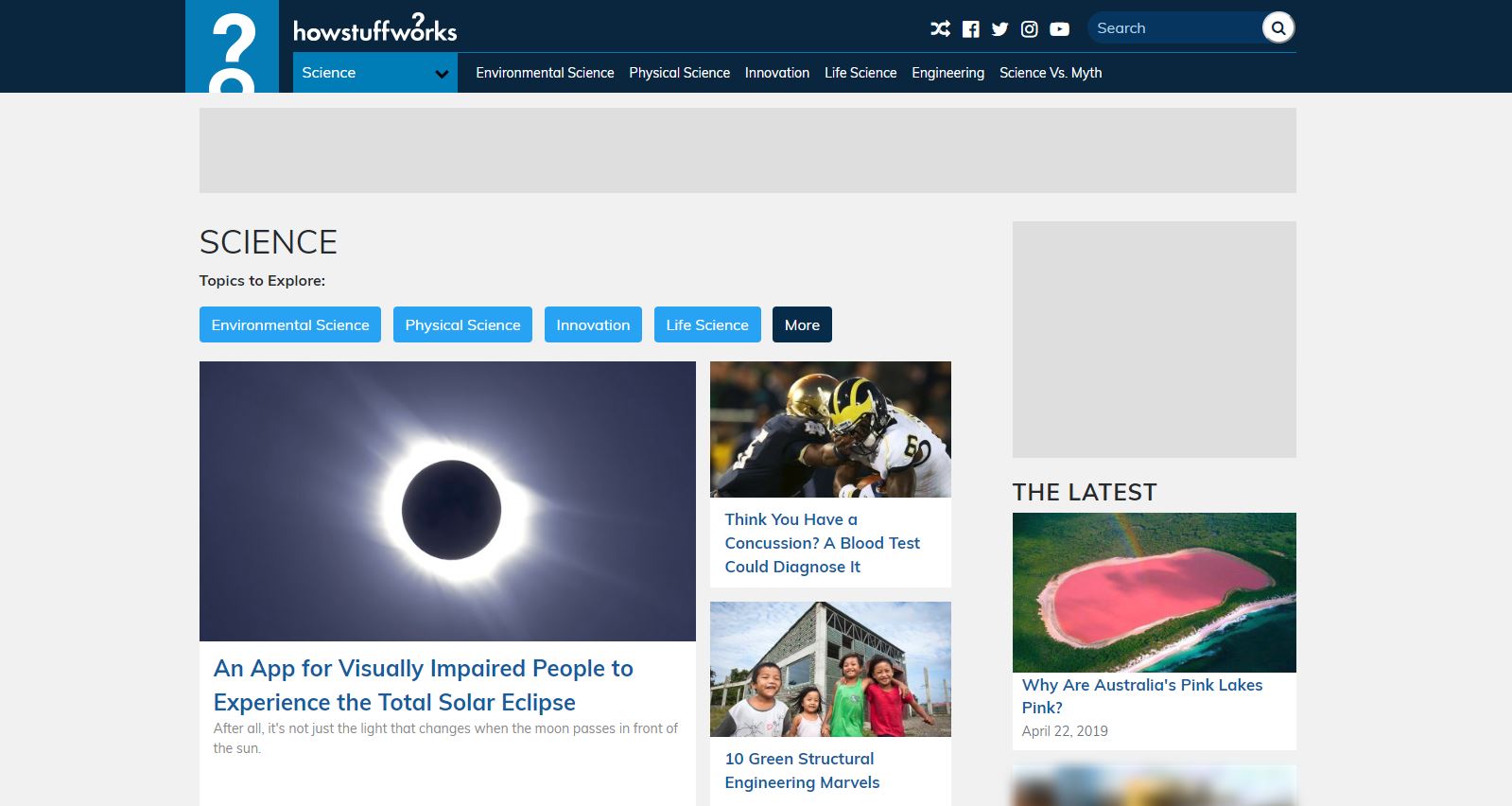 How Stuff Works are the less theatrical Myth Busters for online media. The website is awe-inspiring- a collection of the material the How Stuff Works community have built steadily over the years.
This collection is a testament to the truly unique world we inhabit and are apart of- there is just so much stuff out there, so much to try and grasp and so many misunderstandings just waiting to be exposed. The site is for ages Middle School and up and is a really great resource for not only learning but family discussion.
Remember sitting around the dinner table with your parents discussing the headlines of the newspaper? We're not sure how many families do this anymore, but if you wanted to start this tradition up again, we think this is a great source for material. Their Podcast "Stuff You Should Know" is informative and well-researched. Sensing a theme? This site is certainly fonder for your teen's next research project.
The main website focuses on adults more than kids but click on the "science" section and enjoy exploring environmental science, innovation, physical science, life science and space. The length of the article varies depending on the topic and there are always related articles waiting in the wings. Beware! Some of those articles are cleverly disguised ads.
So be sure to check for the words "sponsored" otherwise you may find yourself down an unintended rabbit hole. That being said, for the inquisitive teenager, the team at How Stuff Works have compounded a phenomenal learning resource.
Pros
A lot of Information
Great Site for Tweens and Teens
Connects Well to Related Content
Fascinating Facts on Every Page
Cons
Too Much ClickBait
Not Easily Navigated
Needs More Content for Younger Children
No Activities or Games
Score
Cost Factor: Free
Range of Resources: 95/100
Gamification: 0/100
Usability: 95/100
Range of Difficulty: 95/100
Overall Score: 93.6/100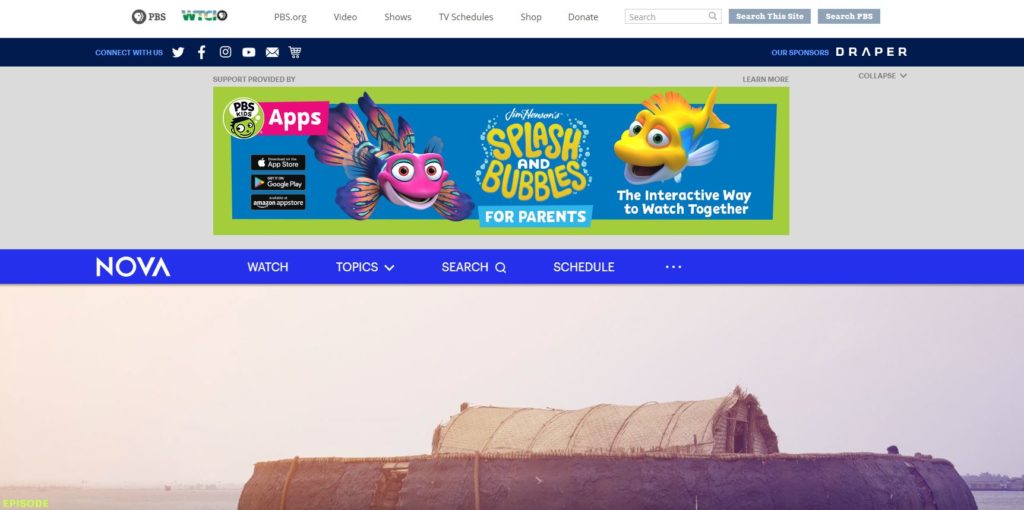 NOVA was created in 1974 and is currently "the most-watched prime time science series on American television." The television series broadcasts weekly to 5 million audience members. Additionally, NOVA produces extensive STEM content on their website and encourages participation with their NOVA Labs and NOVA Education initiatives.
In a sense, NOVA is a scientific community where everyone is welcome to join in. The content is not tailored specifically to children but like some of the other website we've examined is very family-friendly. The topics explored include Ancient Worlds, Planet Earth, Technology and Engineering, Space and Flight and many other hot STEM topics.
When you enter the site you'll have the option to Watch, explore topics, search for your interests, and check out what's coming up next on NOVA. Our favorite content are the classic episodes of NOVA and we love having the ever-growing body of articles waiting in the wings that flesh out their content even further.
What's more is you don't need a Flash player or extra plugins or a membership to view their episodes. You can just click and play! If artful storytelling helps your teen grasp science, certainly give NOVA a try.
Pros
Decades of Great Content
Highly Engaging Videos
Many Insightful Articles
Free and Accessible
Cons
Not the Best Site for Very Young Children
Score
Cost Factor: Free
Range of Resources: 95/100
Gamification: 0/100
Usability: 95/100
Range of Difficulty: 95/100
Overall Score: 93.6/100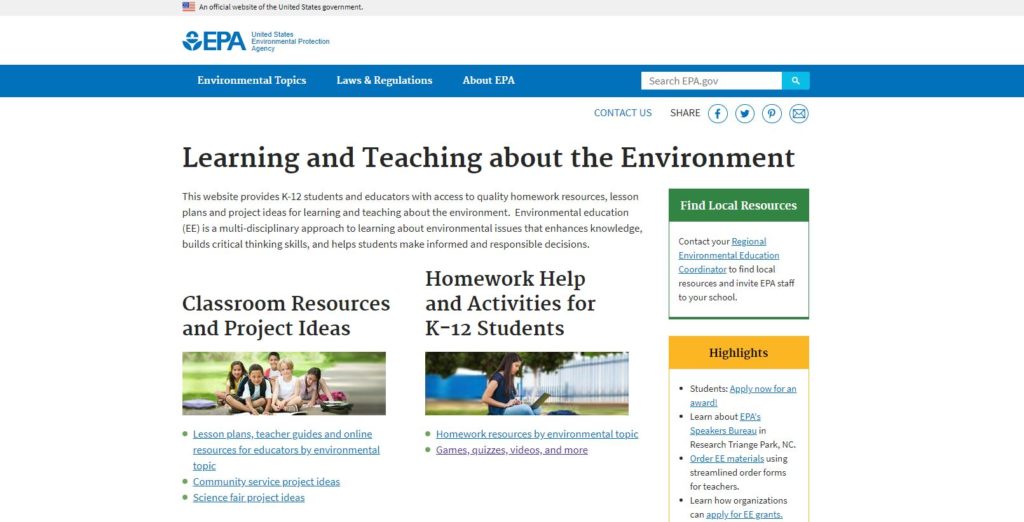 EPA Students is an educational resource website that focuses on teaching environmental issues to younger kids. The site encourages citizens to remain current on environmental issues and has a section for kids and another for teachers.
The kids section is twofold- one section that focuses on environmental issues and serves as a homework helper and the other which is games, quizzes, videos and more. The games work for grades K-7 and look into topics like migration, water, the ozone, pollution and all things for the environmentally-conscious.
Additionally there are some fantastic science fair ideas when it's time for your kiddo to get stuck in with science. The homework resources section is great for both kids and adults and includes some informative activities like a coloring book called "Carl Gets Some Rest" about using alternative transport to help save the environment.
EPA Students is a great resource for teachers as well- including thorough open-source lesson plans,activities and more. Some of the topics discussed are: Air, Climate Change, Ecosystems, Energy, Health, Waste, and Water. There's even a printable board game for kids that includes different rules depending on the grade.
As a government site, you may have guessed that materials are free. There are also links to other free and open-source materials. Definitely check out the National Service Center for Environmental Publications that includes over 66,000 digital and 1,500 print materials!
Pros
Open-Source
Government Site
Good for Teachers and Kids
Excellent STEM Resources
Good Educational Games
Countless Free Resources
Cons
Low Visual Appeal
Limited on Resources that are Just for Kids
Score
Cost Factor: Free
Range of Resources: 90/100
Gamification: 80/100
Usability: 90/100
Range of Difficulty: 95/100
Overall Score: 92.4/100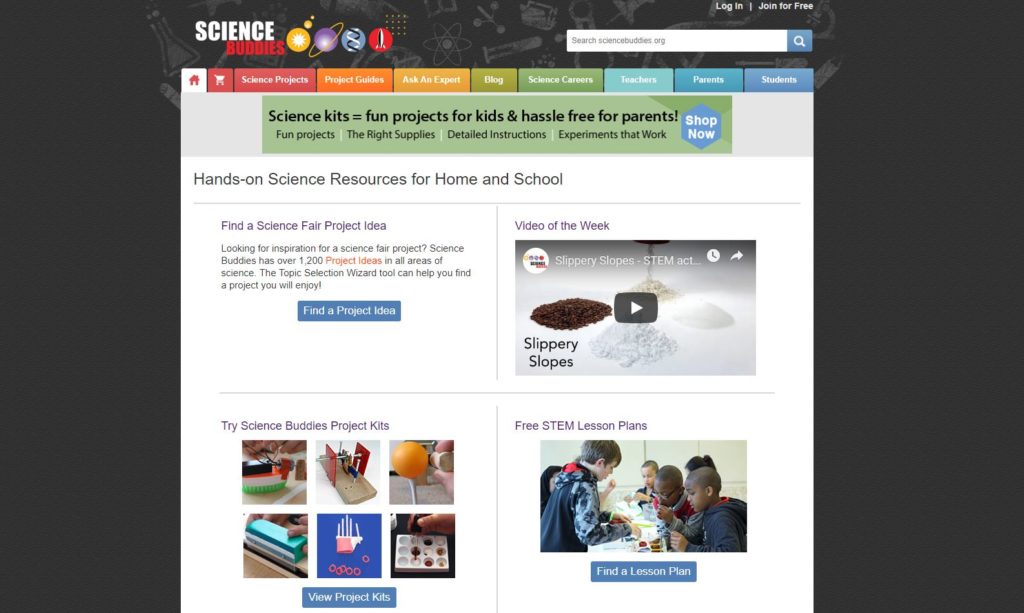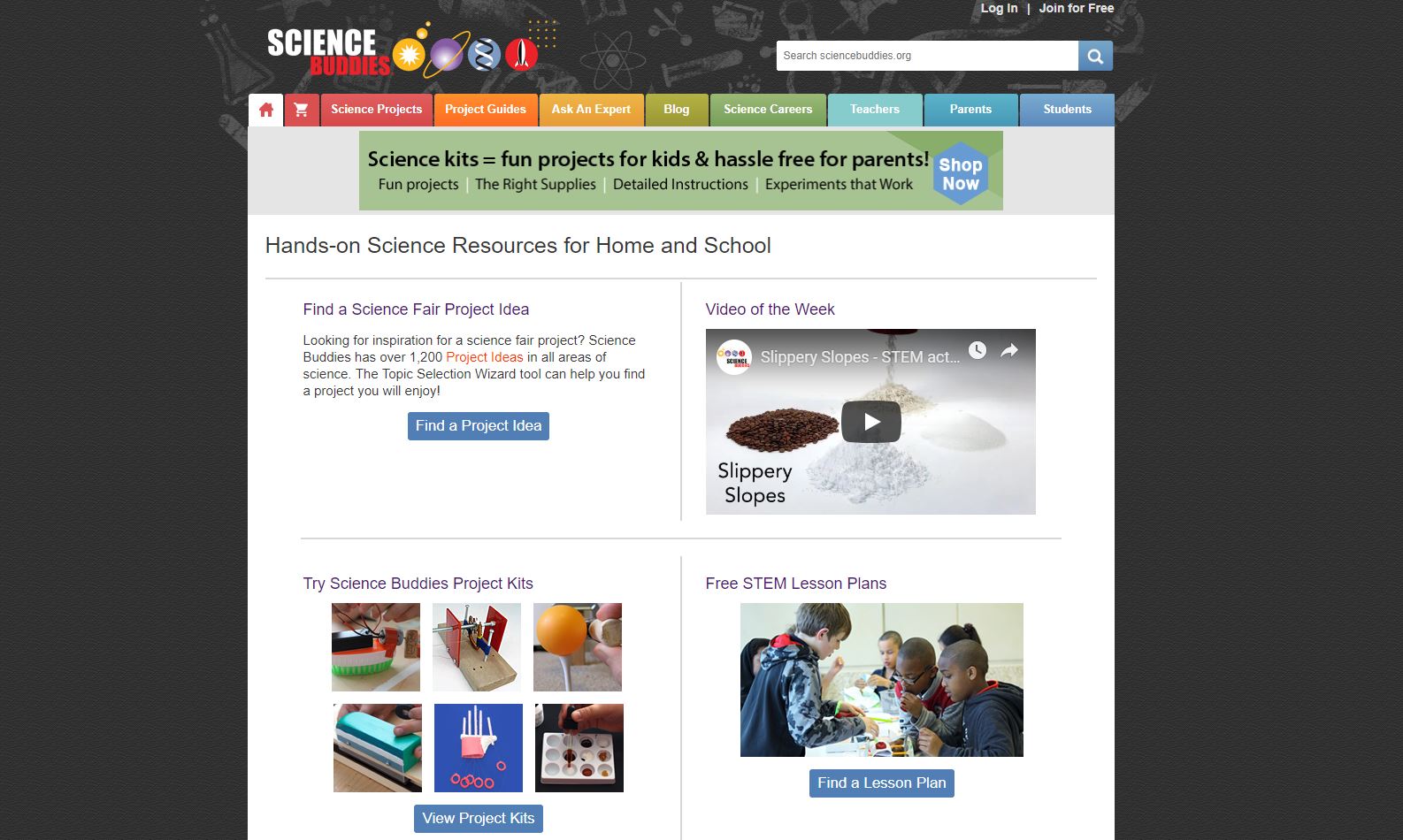 Science Buddies is an inspirational website that encourages young people to get creative with their science projects.
This site is packed with ideas, kits, news, and other resources that keep children of all ages engaged in science. There's even an area of the site where kids can learn more about STEM careers. Each career is categorized and there is a notation indicating whether or not this career is in demand. This section gives examples of what each profession entails and steps to get there.
It wouldn't be science buddies if the site did not also recommend area-specific activities and experiments to try. We really like this aspect of the site- which sets it apart from other sites. Not only that, but the activities are great for all ages.
Science Buddies is also a STEM site for teachers and parents. Teachers have access to lesson plans, STEM classroom kids, worksheets and assessments, and may link up their Google Classroom with Science Buddies Resources. Parents are marketed to a little more heavily than the teachers as the site sells science kits.
These kits are expensive though help in a time crunch. A materials list may be found under the teachers' resource section for parents who don't mind hunting down a few parts before getting started. You will certainly save money but not time. That being said, the kits explore all areas of science and are scalable to work with a variety of ages.
Pros
Great STEM site for a number of ages
Excellent Resource for Kids
Great For Parents and Teachers
Cons
The Kits are Expensive
The Site is Not As Visually Exciting as Some of the Others
Score
Cost Factor: Free
Range of Resources: 90/100
Gamification: 80/100
Usability: 90/100
Range of Difficulty: 95/100
Overall Score: 92.4/100
Related stem "Stuff"