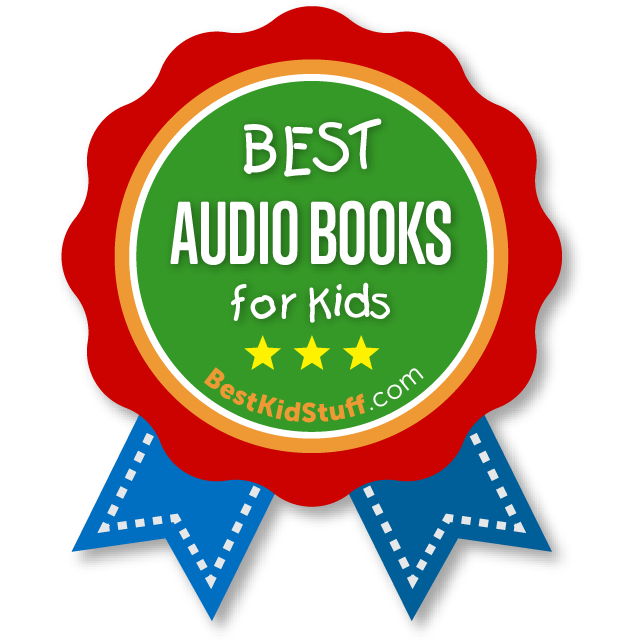 Listening to a good story is a tradition that we will never lose. Even when we get a bit older, stories are part of our daily conversations and pastimes.
Everyone knows someone who is a fantastic storyteller. They're often animated and captivating at the same time with an ability to bring in details without overpowering the impactful nature of the story.
Voice actors and narrators who do this the best, have the same kind of quality even though you can't see them. They manage to enliven a story with the inflections in their voice, through subtle or dramatic voice changes in ways that captivate the imaginations of children.
We love audiobooks for this reason. Sure, reading a book is a ton of fun but listening to a book in a group or when you need your hands free is an exciting way to consume stories.
We also love the abundant availability of audiobooks and know that it is difficult to discern which of these books is worth the purchase.
Luckily at Best Kid Stuff, we pride ourselves on being kids at heart and we totally geek out on finding the best stuff out there for kids including great kids' audiobooks.
We had a great time uncovering which books out there were the best options to listen to and are sure you will find a number of titles that you'll want to snatch up immediately.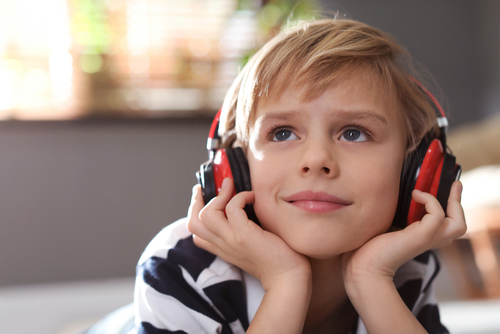 When we started investigating the best audiobooks for kids we were first drawn in by great writing. After all, the narration is only as good as the words on the page.
Next, we looked for an excellent narrator or in some cases cast of narrators. Have you ever been nearly put to sleep listening to someone's voice? While that may be a good thing for certain purposes we were more interested in narration that brought a story to life.
Lastly, we wanted to find some titles that were fun for all. After all, a road trip where everyone is listening is not the best time to listen to an Elmo book on repeat. It has to appeal to grown-ups too. We think listening to stories is a fantastic family or group activity.
Not to mention, there are also several educational audio books for kids for those that thrive to expand their minds. With all those things in mind here's what we came up with for the top kids audiobooks!
Metrics:
Writing: Is it well written and easily understandable for focus age?
Interesting: How good is the story?
Narration: Did the narrator or group of narrators bring this story to life?
Sound Quality: Are the words clear and crisp? Do the sound effects contribute to the listener's experience?
Purpose: Is it meant to inform, educate, or entertain?
Fun For All: Is this something the whole group can enjoy?
Check out our "Things to Consider" section!
---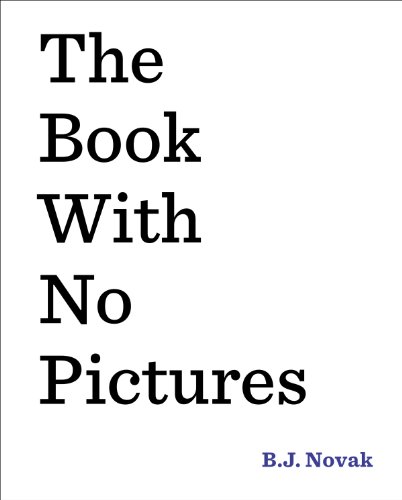 The Book With No Pictures is you guessed it a pictureless book filled with nothing but boring old words. We jest! The words chosen for this book are far from boring; they are hilarious.
BJ Novak is known for his funny writing for The Office and he proves that he can be just as hilarious writing for children.
Novak himself provides the narration for the audiobook which is just perfect. Try playing this one during a road trip for when stress is high and boredom is higher- the complaining is sure to be replaced with laughter. You may even want to grab a hard copy for home when you're feeling like bonding with your young child in a silly way.
This title is going to be one the kids beg to hear again and again. You probably won't mind it, either!
What We Love!
Great New Concept
Read by the Author
Extremely Silly
One of the Top Children's Audio Books
Score:
Writing: 98
Narration: 100
Fun For All: 99
Total Score: 99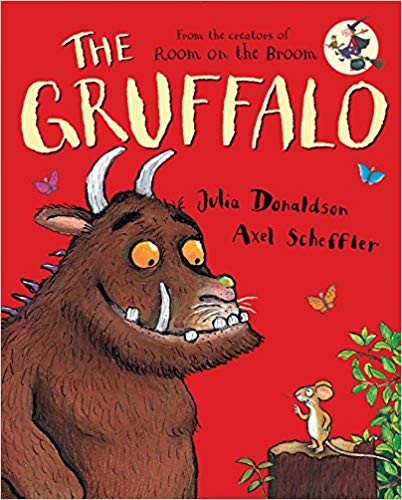 A Gruffalo? What's a Gruffalo?
This is the story of a mouse who is taking a walk through the woods and in an attempt to scare away his enemies describes a terrifying monster, The Gruffalo. It does do the trick temporarily but before long the mouse faces the actual Gruffalo.
Imelda Staunton, best known as Dolores Umbridge in the Harry Potter films, does an expert job providing the voices in the audio version. She manages to completely animate each different animal with her voice in such a way that will surely draw in your young child's attention.
The addition of music and sound effects contextualize the book- making the audiobook of Gruffalo the best rendition of it. Don't hesitate to check out this audiobook and others by Julia Donaldson.
What We Love!
Excellent Story
Incredible Narration
Lots of Fun for Parents And Children
Score:
Writing: 100
Narration: 100
Fun For All: 98
Total Score: 99.3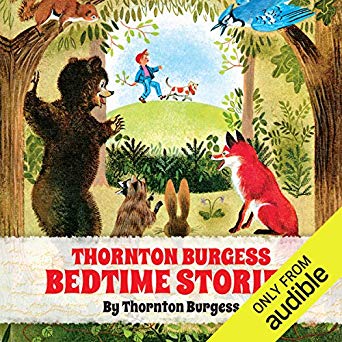 "The Bedtime Story-Man" Thorton Burgess was an environmentalist and lover of children's stories. He wrote about nature for 50 years publishing over 15,000 stories in his lifetime for his column "Bedtime Stories." Some of his beloved animal characters include Peter Rabbit, Little Joe Otter, and Old Mother West Wind among others.
The narrator (uncredited) does a fantastic job creating all of the voices to enliven Burgess' delightful characters. Burgess' stories were certainly meant to be passed down orally, and this narrator kind of reminds us of an old-timey grandfather or great uncle.
It's a lot of fun to put these bedtime stories on at night or any time your young children may just need a little quiet time.
What We Love!
Old Stories
Excellent Narration and Music
Fun For All
Score:
Writing: 98
Narration: 100
Fun For All: 100
Total Score: 99.3
4. How to Train Your Dragon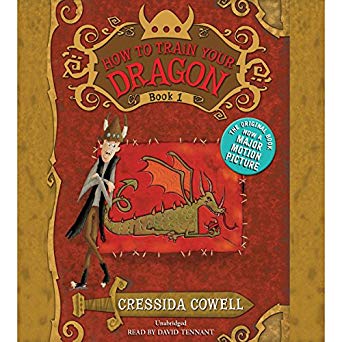 A fair warning: the books are nothing like the film, but in many ways, they're better!
We love the audio version of this book, How to Train Your Dragon, as we are enthralled with David Tennant's voices, inflections, and generally entertaining nature. He's arguably just as entertaining as a voice actor as he is on film and television.
Training a dragon is a rite of passage in this magical world created by Cressida Cowell. The series chronicles Hiccup Horrendous Haddock III (Hiccup), a uniquely gifted Viking that does not fit in the Viking mold. He is thin and yet strong, and his mind is incredibly active. Hiccup is the only Viking capable of speaking Dragonese.
In this first book (of a series of 12) Hiccup trains Toothless the dragon who becomes his dragon companion in all of the 11 subsequent novels. Listen to David Tennant sweep you away on an adventure with the audio rendition of this book.
What We Love!
Great Writing
Fun Character Development
Superbly Narrated
Score:
Writing: 100
Narration: 100
Fun For All: 100
Total Score:100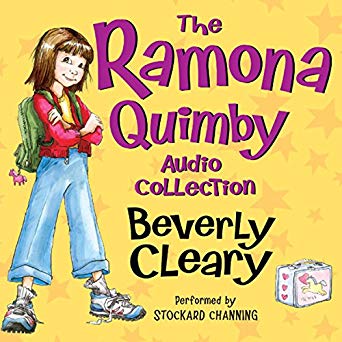 The Ramona Quimby Audio Collection includes Beezus and Ramona, Ramona the Pest, Ramona the Brave, Ramona and Her Father, Ramona and Her Mother, Ramona Quimby, Age 8, Ramona Forever, and Ramona's World. The narrator is Tracy Dockray and she is absolutely hilarious as all of the voices.
Ramona's antics are sure to get your little ones excited. This beloved character is still relevant even today. We love that the collection contains so many delightful hours of listening joy as we are certain your child will be completely wrapped up in the life of Ramona.
This audiobook is an excellent option for kids of any age.
What We Love!
Classic Beloved Stories
Lots of Hours of Fun
Fun Characters
Score:
Writing: 100
Narration: 98
Fun For All: 98
Total Score: 98.6
6. Matilda read by Kate Winslet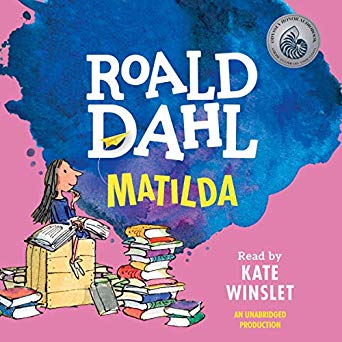 Matilda is yet another imaginative Roald Dahl creation. In fact, Matilda has out-sold even Charlie and the Chocolate Factory.
It's the story of a young highly intelligent girl who is abused and neglected by her parents. Her intellectual capabilities are never put to much use at school as the evil Miss Trunchbull refuses to place Matilda into the appropriate programming.
Matilda becomes friends with her teacher Miss Honey and uses her amazing mental abilities (telekinesis) to help save Miss Honey and the other kids at school from the evil doings of their headmaster. Back at home, her parents are in legal trouble and Matilda asks to go and live with Miss Honey.
For the audiobook rendition, Kate Winslet does the narration and it is an absolute treat. Winslet manages to capture the spirit and whimsy of Roald Dahl flawlessly with hilarious inflections in her voice and a coy matter-of-fact tone. Like with all of Dahl's novels, Matilda is filled with animated characters.
We can't think of anything better than a book like this one brought to life through an audio rendition. Your kids are going to want to listen to this one again and again.
What We Love!
Fun Story
Hilarious Narration
Good Themes
Score:
Writing: 100
Narration: 100
Fun For All: 100
Total Score: 100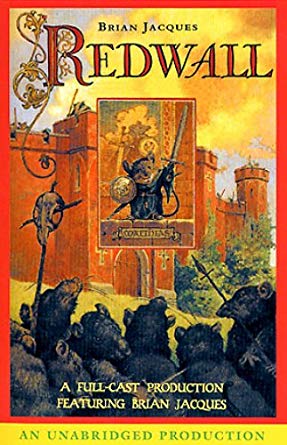 Redwall is a series of fantasy books written for children (though for all ages). They were written by Brian Jaques between the 1980s and the 2010s.
The world is filled with animals who have all been anthropomorphized and follows a mouse named Matthias. Matthias lives in the abbey of Redwall within Mossflower Woods and longs for adventure. Before long adventure comes his way in the form of a rat called Cluny the Scourge. Cluny plans to take over the Abbey and it is up to Matthias to stop him.
The audio version of this series is read by an entire cast including Brian Jaques and his son. We think your kid is going to be completely enthralled with the characters and will have hours of fun with this series- there are a total of 22 Redwall books!
Fantasy lovers or otherwise are going to have so much fun listening to these audiobooks.
What We Love!
Tons to Listen To
Amazing Narration
Fun and Engaging Stories
Score:
Writing: 100
Narration: 100
Fun For All: 99
Total Score: 99.6
8. The Inquisitor's Tale Or, The Three Magical Children, and Their Holy Dog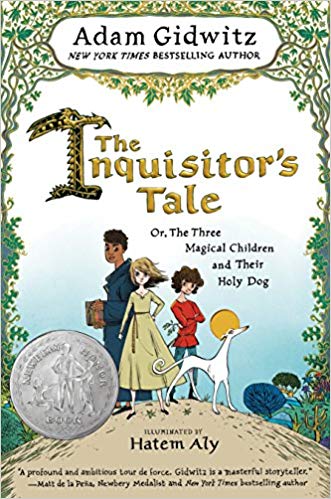 The Inquisitor's Tale Or, The Three Magical Children, and Their Holy Dog is written by Adam Gidwitz who has quite the cult following. His books are intended for kids but adults love them as well.
The Inquisitor's Tale is very well researched and set in the 13th century with kind of a Chaucer vibe. It follows the three children who each have a magical power as well as their holy dog who for one reason on another has come back to life and accompanies them on their adventures through medieval France.
Your kids and tweens are sure to love the audiobooks that are narrated by award-winning voice actor Vikas Adam (He has narrated over 200 audiobooks ) Mark Bramhall, Jonathan Cowley, Kimberly Farr, and many more.
This is a great way to get your kids wrapped up in the magical worlds created by Adam Gidwitz and we are certain your kids are going to love this audiobook and will want to hear more by Gidwitz. The next obvious steps after this one are his Grimm books.
What We Love!
Imaginative Story
Well Researched Historical Setting
Fun to Listen To
Score:
Writing: 97
Narration: 98
Fun For All: 100
Total Score: 98.3
9. Harry Potter Series narrated by Jim Dale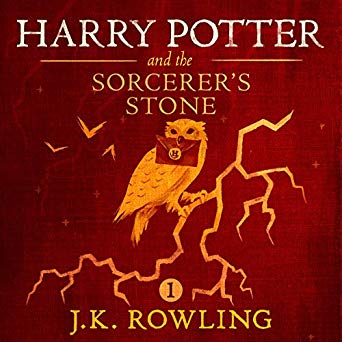 Everyone knows about J.K. Rowling and her famous orphan wizard series Harry Potter. But we think everyone should also know about Jim Dale, the man who narrates all of the Harry Potter series and has won a Guinness Book of World Records twice- once for creating over 140 different voices for Harry Potter and the Deathly Hallows and another for holding the top 6 spots in the Top 10 Audio Books in America.
He does an expert job narrating and even though you may already have the collection of Rowling's books we recommend you snatch up all of the audiobooks as well. These stories just never get old.
The Harry Potter series follows Harry and his friends Ron and Hermione as they learn to become the best wizards in the world at Hogwarts School of Witchcraft and Wizardry. He is literally haunted by the realities of his past as a Dark Wizard, Lord Voldemort took the lives of his parents and attempted to take his own. Eventually, it is up to Harry to save the world from the return of evil and total domination by Lord Voldemort.
what we love!
Record-Breaking Narrator
Lots of Books to Listen To
Fun for A Lot of Ages
Score:
Writing: 100
Narration: 100
Fun For All: 100
Total Score: 100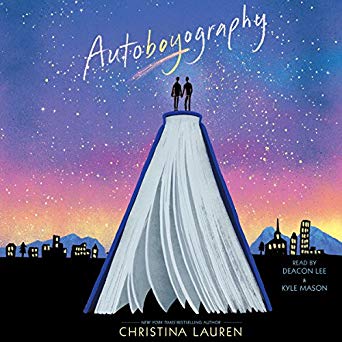 Autoboyography is a coming-of-age novel written by Christiana Lauren. Christina Lauren is the combined name of Christina Hobbs and Lauren Billings. They are known to coauthor young adult and adult fiction.
The story is about two boys who fall in love in Mormon Utah. Tanner Scott takes a seminar (based on a dare) where he is required to write a book in one semester. It is there that Tanner meets Sebastian, and the two are secretive about their feelings because of the influence of the Mormon church.
Those who have listened to this story have reported that the story lingers in their memory for days and weeks to follow. We love the subtle writing in the book and feel the narration really brings this story to life.
Your teen is sure to fall in love with the story too and will likely want to come back to this one in the future.
What We Love!
Very Relatable For Teens
Approaches Difficult Subject Matter Well
Believeable Narration
Score:
Writing: 97
Narration: 97
Fun For All: 96
Total Score: 96.6
---
Things to Consider
What are the benefits of listening to audiobooks?
For the true reading enthusiast, there is nothing like holding a book in your hands and flipping those pages, all while anticipating what's on the next one. But with today's technology, you and your children can benefit from audiobooks. Here are a few reasons that it might be a good choice for members of your household.
Audiobooks are a great way to:
Listen to great story-telling
Save on book storage space
Sharpen listening skills
Learn a new language
Elevate your mood
Reduce eye strain
Help you relax
Can be shared by the entire family
Save time
Can be listened to while doing chores or your favorite hobby
Increase your knowledge on many topics
Pass the time while exercising, traveling, or walking
Easy to use
Which audiLE book selections are the best audio books for 2 year olds?
We all know that attention spans for toddlers are very short; therefore, our selection #1 The Book With No Pictures and #2 The Gruffalo both have listening times between 6-9 minutes. These selections also make them the best audible books for 5 year olds.
In addition, #3 Thorton Burgess Bedtime Stories is another excellent choice for an audio book for 5 year olds. This is a children's "compilation of chapters," one reviewer states, focused on chapters from the original books; therefore, making them a perfect short story option for toddlers at bedtime.
Which audiobooks are a great series to introduce to my child?
We have two selections listed above that are great audio books for 9 year olds and up. As a "series" requires a commitment for most young readers, these are sure to keep their attention. Our selection #5 Ramona Quimby Audio Collection and #9 Harry Potter series are both great options to keep them busy for a while.
How is the best way to get my young child interested in audiobooks?
Attention spans vary, especially for the little ones. Here's a few tips to get you off to the right start:
Set up a reliable listening device and earbuds, if needed to avoid frustrations.
Choose a book that is age-appropriate.
Review the narrator; occasionally a sample is available to see if they pique your interest, as well as will keep your child's attention.
Start with a short book and work your way up.
And, if your child can't get into it… abort the mission and find something else. Don't waste your time on something they are not enjoying.
Experience an audiobook as a family, stopping along the way to discuss or for a big belly laugh!
What are the best audio books for a 10 year old and up?
At this age, kiddie books are of no interest to them, quite naturally. They, most likely, have developed a taste for a particular type of book they enjoy, whether it is fact or fiction that they prefer.
From ages 10 and up, often it is permissible for them to listen to school reading assignments through audible books. If so, this is a great way for those who don't enjoy reading a book to develop an interest in literature and expand their vocabulary.
For fun, most tweens and teenagers enjoy adventure, fantasy, fiction, and the occasional scary novel. Ages 13 and up often enjoy books that offer different points of view, a new culture, or biographies that depict real-life experiences.