If you want to bring the greatest gift to a little boy's party, you need to figure out what they enjoy or are interested in. You might be clueless about where to look. Ultimately, you need to know what indeed makes a toy best for his age?
Are you in the market for a child-friendly, fun, but uncomplicated gift for a three-year-old boy? As the special occasion draws near, you may feel overwhelmed with the unlimited assortment of toys to choose from!
What Do 3-Year-Old Boys Like?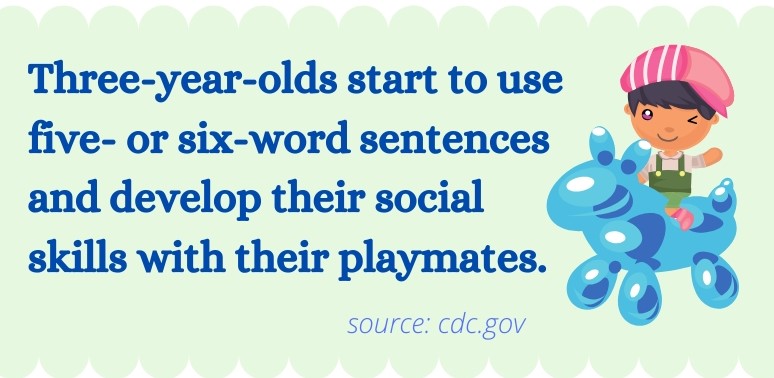 When a boy turns three years old, this is when parents get to see significant developmental milestones.
Three-year-olds start using five or six words and forming sentences, which is crucial to language development. Kids this age begin to enjoy playing with other kids – making playtime more fun!
Because your boy is now a preschooler, you should expect sudden changes in their physical abilities.
At this stage, they start doing new things – refining the motor skills they developed when they were two. Now that he is three, you can let your boy walk, run, jump, hop, and climb without worrying about him tripping over himself.
Three-year-olds are more in tune with their excellent motor skills or their small muscle movement. Your boy can now hold a crayon with an exceptional grip. He can now draw a circle, play with interactive toys, and stack blocks to create figures. Things with different shapes and colors will not only keep them occupied but will help them reach every milestone.
Whether your three-year-old is checking all the boxes or not, turning three is a beautiful thing in itself.
You have to remember that children develop differently and at different stages. In terms of play, boys this age get to enjoy toys where they can let their imagination run free.
When choosing a gift for three-year-old boys, keep it simple but exciting and fun but safe. If you are still in a pickle, check out the toys on this list.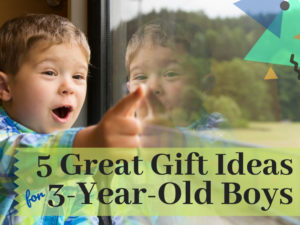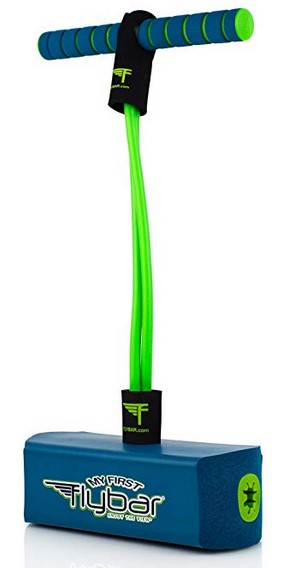 The My First Foam Pogo Stick from Flybar is a perfect gift for boys who are always on their gadgets. It is an excellent alternative for screen time without sacrificing fun and excitement while they play.
Introduce your 3-year old to the joy of jumping around with friends. Plus, they get some much-needed exercise and healthy exposure to Mister Sun! Giving the Foam Pogo Stick to a young boy who is fueled with energy to burn will prove to be a perfect much. And because it is specially designed for kids age 3+, the pogo stick is made of durable materials with handles padded with heavy-duty foam.
Your child will enjoy jumping his way to a more robust and healthier future. Flybar's My First Foam Pogo Stick is a reliable companion for little boys. It has a built-in squeaker made of durable foam, which squeaks as he jumps up and down. You do not even have to worry about scratches on your floor! This means he can pogo stick indoor and outdoor.
While he jumping and squeaking, he gets to train his hand-eye coordination, jumping, hopping, and especially his balance. These are all gross motor skills that are important in a 3-year old's development. Flybar promises to deliver active play in every American home through its foolproof toys!
With the My First Foam Pogo Stick, expect a healthier, more active little boy.
Your little guy will be getting his exercise on the Flybar Foam Pogo Stick in just a couple of days with Amazon Prime!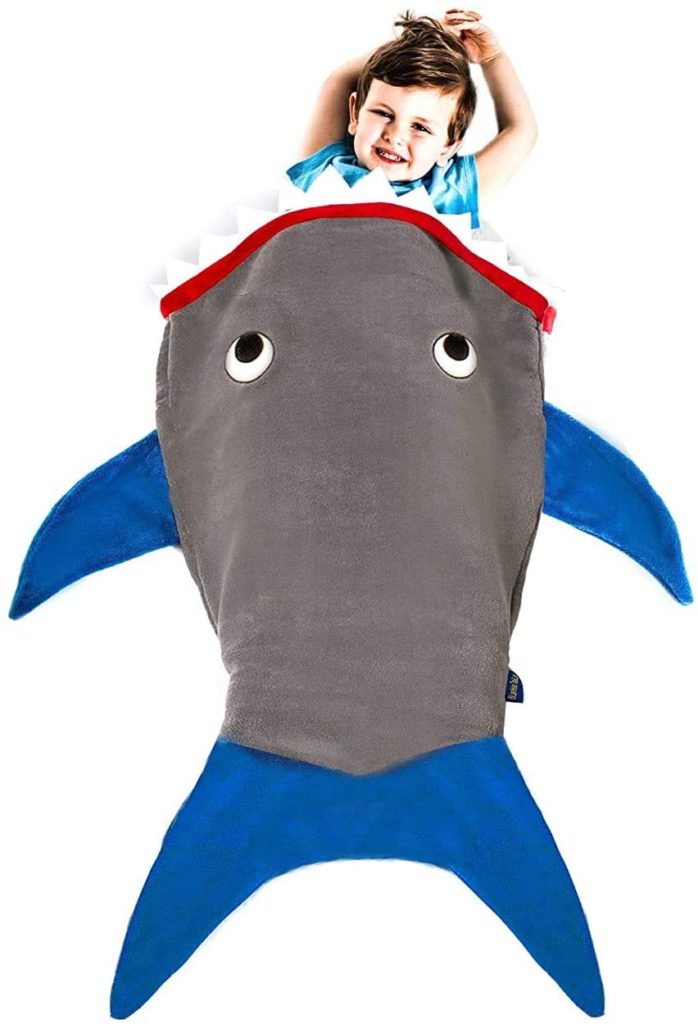 Unleash your kid's imagination with the Shark Tail Blanket Sleeping Bag, a unique blanket for both sleep and play at an affordable price. If you want a unique gift for your little boy without breaking the bank, you found it!
Made of 100% polar fleece, the blanket is super soft and light. The fleece fabric structure of the Shark Tail Blanket is expertly tailored and offers excellent insulation. It will make your boy feel super cozy and comfy while he snuggles it during his sleeping time.
Shark Tail Blanket works like a sleeping bag to climb in straight into the mouth of one of the fiercest sea creatures. Complete with a soft felt teeth, and a detailed embroidered eyes with fins that double as snuggly pockets for their feet, your boy will surely have a snuggly time.
Perfectly sized for toddler boys and girls, the 37" inches x 24" inches blanket is great for the couch, in bed, for camping, sleepovers, even in the car!
Once you decide to get this toy for your 3-year old, it will be sent to you in a vacuum package. This will not only avoid unwanted moisture, dust, or bad smell, it also ensures that every Shark Tail Blanket is sealed with love.
Snuggle up with your shark… kid! The Shark Tail Blanket Sleeping Bag will be a HIT at their next sleepover!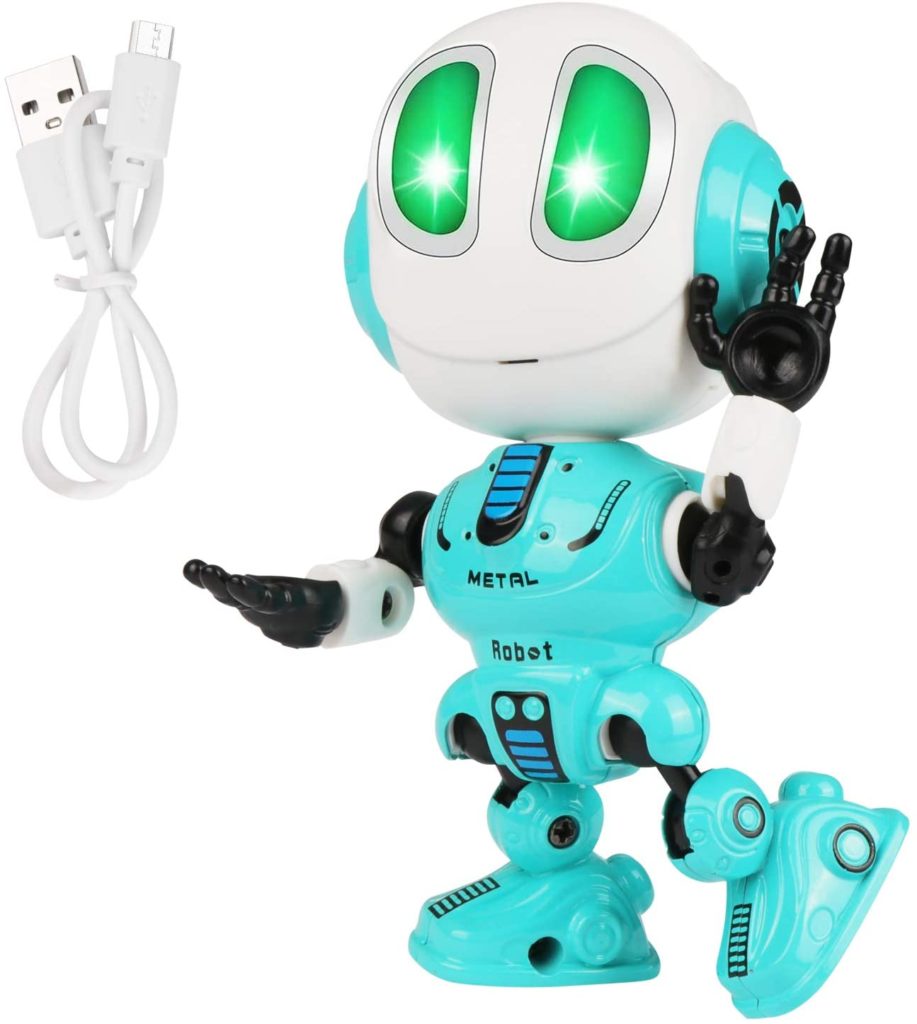 Are you looking for a gift for a technology-loving young boy? Look no further, the Talking Robot Toy might be the best choice!
Like a parrot, this interactive mini robot repeats what you say. If you have a 3-year old who is fascinated with machines and robots, we suggest that you get him this toy. He will be amused by how a little 6.14 x 4.21 x 2.24 inches, die-cast metal toy talks back to him.
By simply tapping on the head, his Talking Robot will repeat everything he said. It can also echo your voice when you sing, whistle, or whisper. There is no surprise that this is a toy that both kids and adults love!
We know, little boys can be rough on their toys. That is why this mini talking robot is made of high-quality material. The best part is, all the joints come with 360° rotation. It features posable joints – perfect for boy's tinkering hands. Each comes with flashing LED lights that change color when you touch his head. And, when you keep tapping on its forehead, your Talking Robot will go funny!
You do not have to worry about batteries because every purchase includes 3 button batteries. With this toy, you are bringing the best gift for your little boy that will surely win him over.
At just under 20 bucks, a repeating robot for your son with the gift of gab will keep him entertained for hours!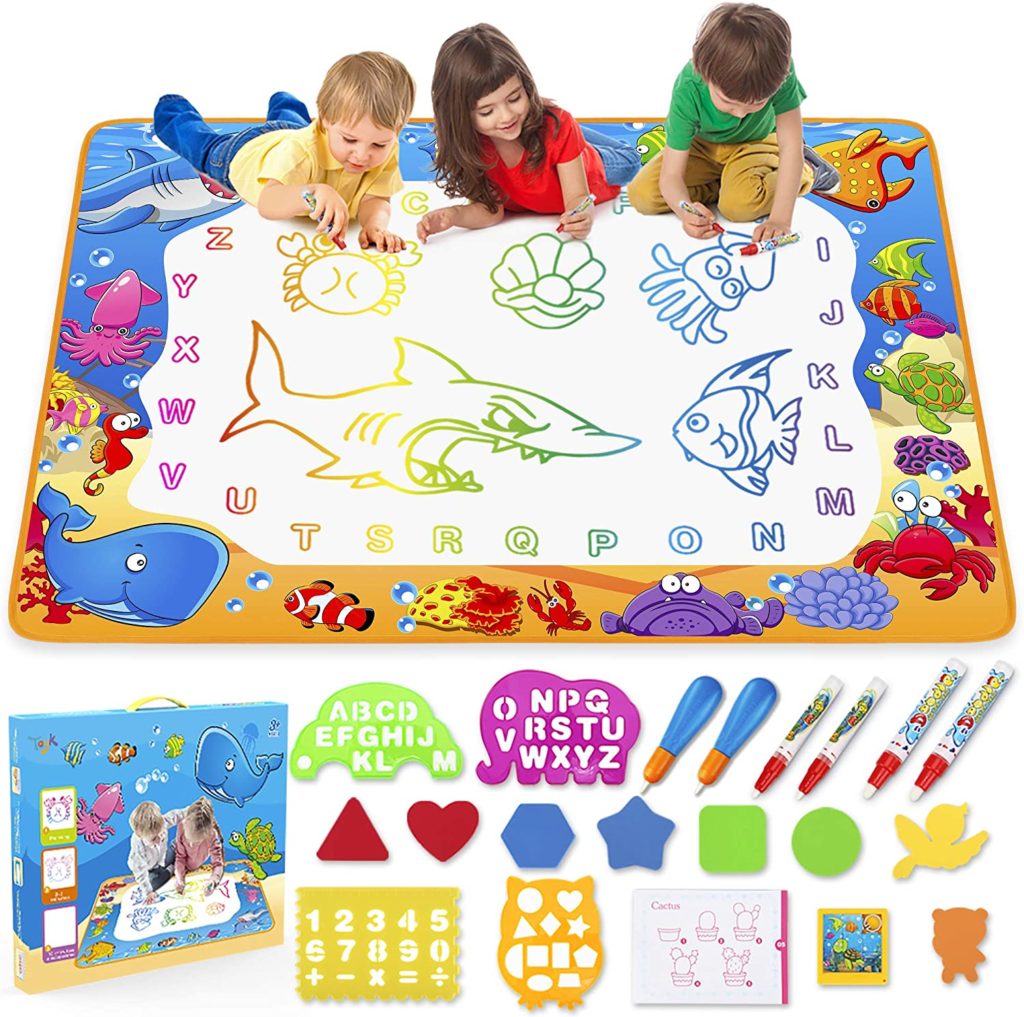 The Water Drawing Mat is a product that will help kids develop artistic potentials. It does not eliminate the element of fun and play, and the feeling of being free to explore colors and shapes. Without a doubt, the Water Drawing Mat will keep your young one occupied as it offers an interactive alternative to screen time.
The mat comes in a large size, which is perfect for boys with big dreams and vast imaginations. But mommies need not worry about portability. It can be neatly folded in a compact size, ready to be brought in every out of town trip.
Are you worried that your boy might make a big mess? That will not be a problem with the Water Drawing Mat. It does not use ink, paint, or any toxic chemicals. Just add water! It's a magical painting pad where your little one can paint different pictures. The mat itself is made of water-resistant nylon material that is safe for kids of any age. Keep a clean play area at all times.
While they play colors and shapes with friends, they also refine their hand-eye coordination, color perception, and especially develop creative skills. Playtime will never be boring again!
The Water Drawing Mat is a must-have!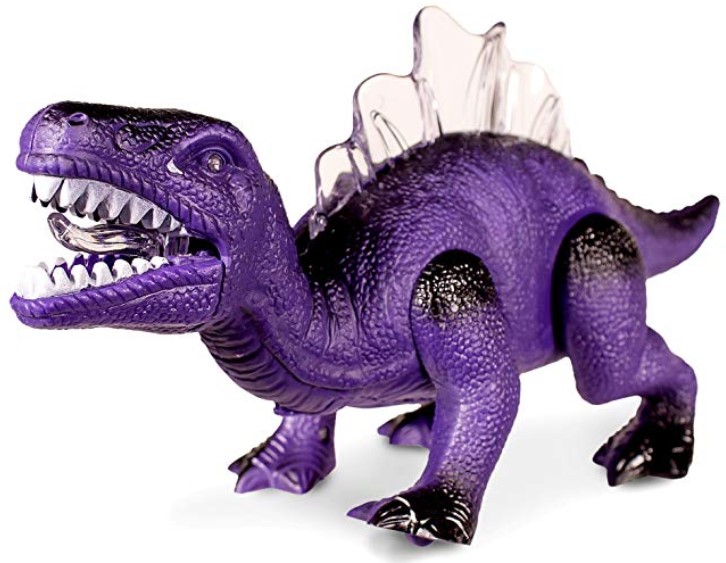 Three-year-old kids always find animal toys fascinating, and giving a realistic dinosaur toy will make them giddy and excited. Windy City Novelties' Spino the Dino is your boy's first look at the fantastic world of dinosaurs.
Bring the Jurassic journey at home by giving him the ultimate gift for his age. Heighten his imagination by enabling pretend play and story-making with imaginary games. Spino, the Dino will keep your boy engaged for hours on end.
With a simple toggle on/off switch, your kid will activate the toy's movement, light, and sound. He will get a simulating experience with a magnificent animal that will take him to a prehistoric playtime. It can walk, it can light up, and it can roar!
Every package comes with 3 AA batteries, so it is ready to let a ferocious roar out of the box. The 12" inches long and 6" tall, dinosaur flashes bright red, blue, and green LED lights from its spikes down the back, eyes, and tongue.
Because most boys love dinosaurs, Spino Dino's features will bring hours of evolutionary entertainment.
One word… dinosaur.
recommendations for younger and older boys