One of the most exciting stages in your son's life is when they reach two years old. This is the time when they start to shed their appearance of being a baby and enter the phase of a toddler. Most 2-year-olds are very active. They begin to crawl, walk, and even talk a little.
As for their growth and development, 2-year-old boys often showcase new and exciting abilities that are considered as typical milestones for this particular age group. Sometimes they might jump awkwardly. They learn how to throw, kick, and catch balls. Others can stand on one foot for a few moments or climb on playgrounds and structures.
They also become more curious about the things around them. There are times when they try to turn lids and doorknobs or turn pages of a book one at a time.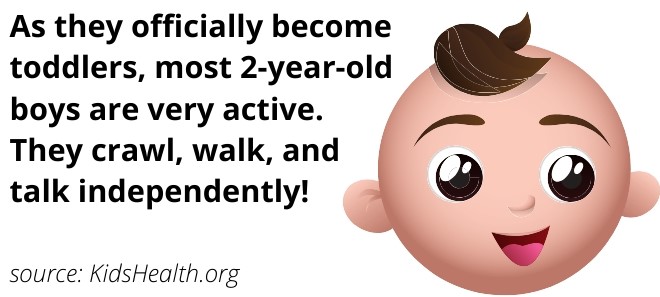 Since two-year-olds are very active, parents are often cautioned to watch over them. You can't afford to take your eyes off them, even for a few minutes.
They might start climbing on the sofa and leap into the floor. They can injure themselves without proper supervision.
But what can you do to tame their boundless energy? Many 2-year-olds get entertained by playing. This is where they can channel their energy and develop their motor and cognitive skills.
What Toys are Suitable for Two-Year-Olds?
If you're looking for the most suitable toys for two-year-olds, then you must keep in mind that those you choose must be able to help them develop their motor, emotional, and cognitive abilities. Most of them are starting to discover about pretend play and figuring who they are. Toys like cars, trucks, and building blocks can help them a great deal.
The following are some of the best toys for 2-year-old boys that suit their developmental stage and aid their learning through play and exploration. Check them out and give your little boy the happiness he deserves!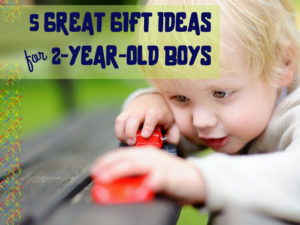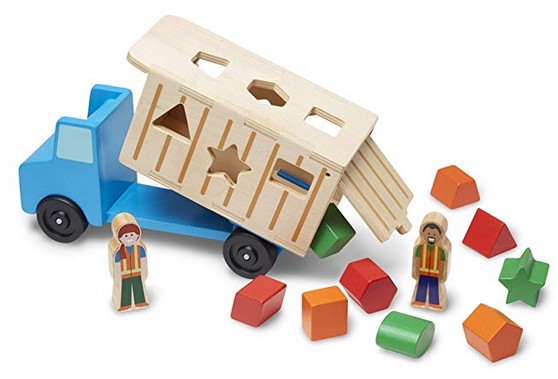 When it comes to recognizing shapes and colors, it helps to start them young.
Your little boy will love this Shape-Sorting Wooden Dump Truck Toy from Melissa and Doug. This toy offers a two-in-one entertainment and pretend play experience that will help them in their crucial developmental stage.
Featuring a back door that lifts and a truck bed that tilts to dump blocks, this wooden dump truck toy allows two-year-olds to indulge in creative play. This is a useful diversion from the screen, letting them engage in ways to pass the time.
Made from high-quality materials, this toy doubles as a shape sorter. Kids will learn all about the different shapes by encouraging them to fit each cut-out wooden blocks on the sides of the truck. Each block is in different colors, too, piquing their interest on different shades and hues. Aside from these, your 2-year-old boy can also learn how to count while sharpening their imagination.
Just like other products from Melissa and Doug, this wooden dump truck toy comes with a 100% Happiness Guarantee. So, if you or your child are in any way dissatisfied with the product, you need to give a call so they can assist you.
You can't go wrong with Melissa and Doug products for your child!
2.

Fishing Game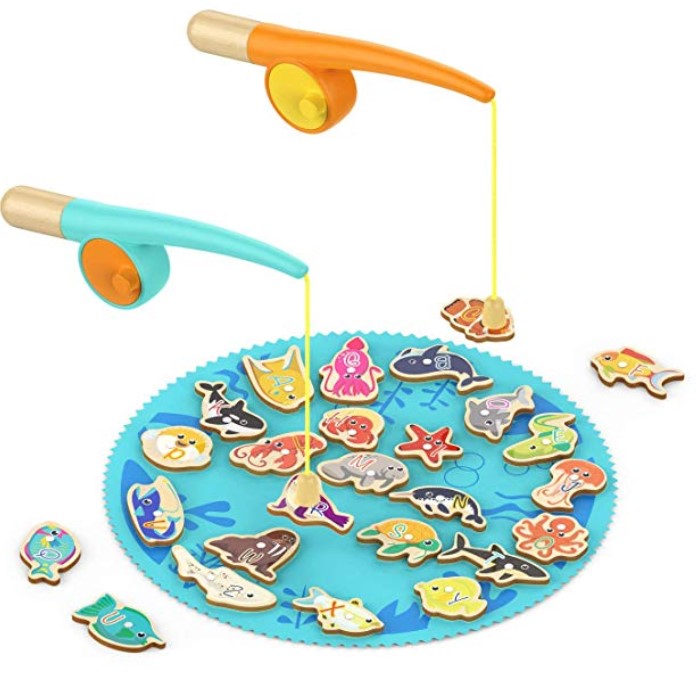 Are you planning to initiate your child into the world of fishing? Start them young and let it be a fun learning experience with the help of Fishing Game by Top Bright.
This educational toy allows your little boy to enjoy 26 wooden fish puzzles. These puzzles are impressively patterned with the alphabet, numbers, and ocean creatures. It is one of the best ways to teach them how to develop their hand and eye coordination and motor skills.
Two-year-old boys can catch the wooden fish with the use of magnetic rods. Through this pretend game, they will be able to practice their instinct and shape their imagination.
To make it even more fun, you can play with them or let them play with a friend. This will also help them develop their social skills. Each fish puzzle has a corresponding number, which can be added at the end of the game. The one who gets the highest score wins.
The toys are safe even for 2-year-olds as they are made from non-toxic materials. The natural wood fish puzzles are high-quality, coated with environmentally friendly water-based paint. All edges are also smooth to ensure a risk-free playtime.
Your little guy will be "hooked" playing this Fishing Game by Top Bright! Amazon can "hook" you up too!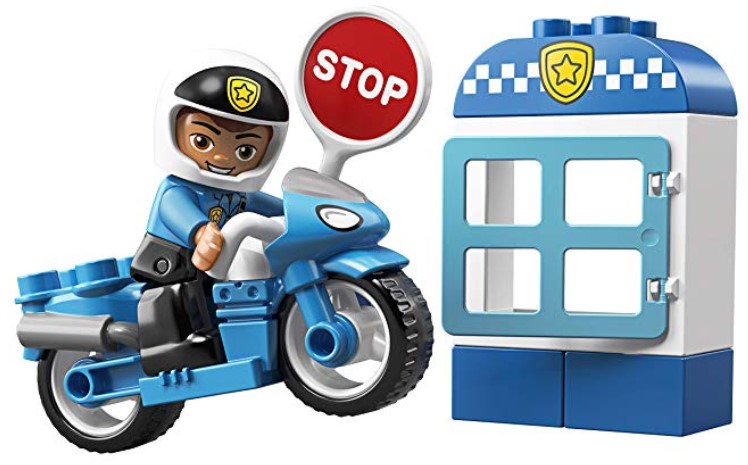 It is always a good idea to train your child's mind and sharpen their imagination as early as possible.
For your two-year-old boy, the LEGO DUPLO Town Police Bike Building Blocks is the perfect learning experience. Featuring a LEGO DUPLO police figure, police bike, police kiosk, and a stop/go traffic sign, this toy set encourages learning through imaginative play.
Your child can pretend to be a little police officer who controls the traffic, driving the motorcycle around town looking for people to help. They can play out the scenarios that police officers often do, like operating the stop and go signs, resting in the kiosk, and climbing back on the motorcycle.
Designed to develop your little boy's motor skills, this toy can also improve other aspects of their growth. Role-playing can hone their social and emotional skills, teaching them the importance of empathy and collaboration.
An impressive Lego set, this playset offers endless possibilities to a young child's mind. This can widen their imagination and shape their innovative way of thinking.
If you want a perfect gift for any occasion, then this toy is both impressive, giving excellent value for your money.
Your future policeman will love pretending with this LEGO set!
4.

Wooden Car Toys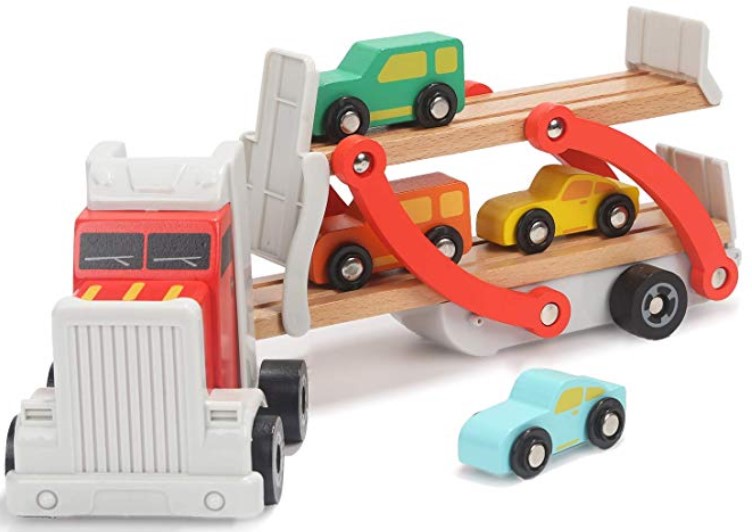 What little boy would say no to toy cars? From Top Bright comes a set of bright Top Bright Wooden Car Toys perfect for two-year-old boys.
These toy cars made from high-quality natural wood and select plastics. With durable materials and a great design, these toys are bound to last, giving your boys years of fun and entertainment.
Forget about electronic devices and battery-powered toys; this toy set gives pure fun through imaginative play. If your little boy loves cars and trucks, then he will be pleased to get his hands on one wooden truck and four mini wooden cars.
Unlike battery-operated or rechargeable car toys, this one encourages their imaginative and innovative skills. They can find different ways to play as the wooden cars can be used separately, and the trailer can convert into ramps, letting them drive the truck on and off. Plus, these toys are suitable for both indoor and outdoor play.
Made from non-toxic materials and tested to the highest U.S. ASTM F 963 and European EN71 toy safety standards, moms like you can rest assured that your toddler will not get in trouble or be put at risk with this playset.
Who doesn't want to drive a big rig hauling the fancy cars on the back?! Best gift EVER!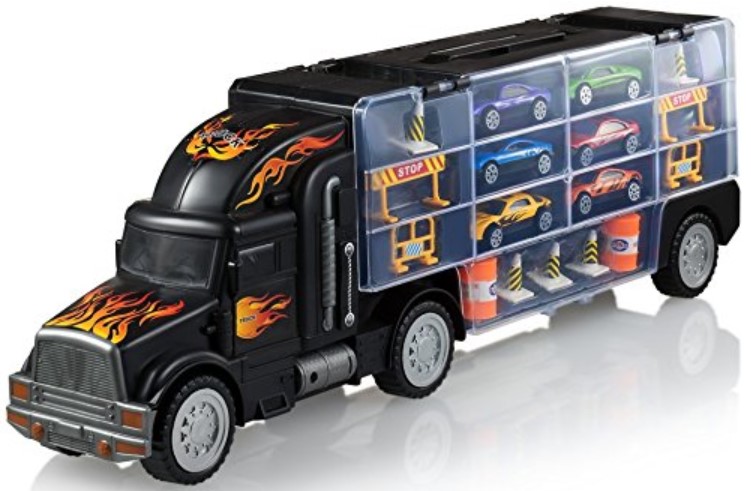 Little boys are often fond of cars and trucks. Couple this set of toys with role-playing, and you have a winning combination.
That is what Play22's Toy Truck Transport Car Carrier offers with its collection of 6 cool die-cast racing cars, construction signs, cones, and roadblocks, and a truck case that can fit in 28 vehicles for storage.
These toys are great for your child's imagination, as they can pretend to play various roles in construction and driving. They will be able to develop their emotional and social skills, especially if they play with an adult or other kids their age.
The size of the toys is perfect for their little hands as well, aiding their hand and eye coordination as well as their motor skills. The cars are in different colors, too, so you can help your child identify colors early on.
An ideal gift for two-year-old toddlers, this toy truck transport carrier is perfectly safe for their age group since they are made from non-toxic materials. You will be able to leave your child to an hour or two of fun role play without worrying they would get in trouble.
Wanna make your little fella's friends jealous? This'll do the trick! Hours of fun for your 2-year-old AND his playmates!
recommended for younger and older boys