Were you invited to go to a kid's party? Or are you throwing one for your four-year-old boy? Do you want to impress the little man with your gift of choice? Do the toys on display seem overwhelming and leave you wondering which one fits him best?
If you want a present that's a real winner for a son, a brother, a nephew, or a friend, try to remember what it felt like as a four-year-old. If you stay on the right track in your gift-hunting, your item can become a four-year-old boy's instant favorite!
The World of a Four-Year-Old Boy
Your little boy is growing up fast. He is exhibiting independence and self-confidence. As with any four-year-old, he loves playing with toys as a way to explore his creativity and is, therefore, more comfortable playing for extended periods.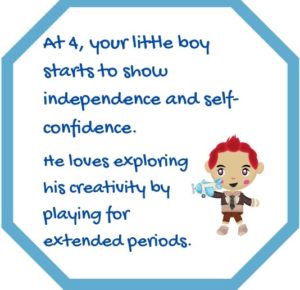 Noticeably, four-year-old boys are eager to learn and try new things. When they don't get what they want, boys this age are better able to handle their emotions and accurately express how they feel about the situation.
At four, they are very inquisitive…
Four-year-olds are always curious, that's why you should be prepared to answer their questions. It'll surprise you how well he can carry a conversation! Your little boy has a growing vocabulary because his thought process is becoming more developed. You can expect to have a simple yet exciting talk about anything under the sun. Your four-year-old might even belt out a few lines of a song, rhyming two or three words, and also make up a language of his own.
Using their imagination through play is a great learning tool.
Most children learn through play, and your four-year-old boy is no exception. At this age, he should be running, hopping, climbing, swinging, and throwing and kicking balls with ease. It only fits that you choose toys that will not only entertain but also teach them. The toys listed in this article are not only fun, but they are also engaging, innovative, and educational.
The toys on this list cost under $30 on Amazon at the time of publication.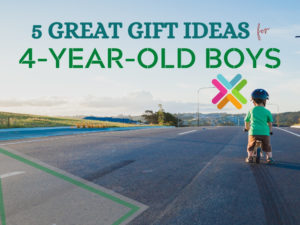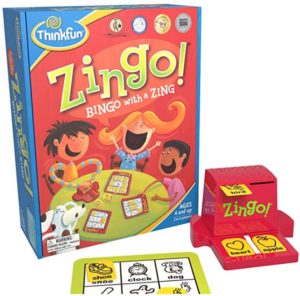 A trusted family brand, ThinkFun products always find their way in every American household. The Zingo Bingo Board Game is no exception.
ThinkFun is a known manufacturer of brain games that keeps young children engaged and challenged. Great for young learners, this toy has sold over 50 million units in total. Getting the Zingo Bingo Board Game for a four-year-old boy will stimulate his critical thinking process. Maximize the things he can achieve because he is at the perfect age to play with brain-stimulating games.
The Zingo Bingo Board Game for Early Learners. It builds on the potential of four-year-olds to learn the language quickly, without taking out the fun of playing. It is a fun pre-reading game perfect for children ages four and up.
Get the newest edition of the Zingo Bingo and give it to a young boy for a holiday or birthday present. An extraordinary boy deserves an award-winning toy. Made of high-quality components, non-toxic materials, watch your boy play with others as he learns language and matching skills.
Plus, you get an extra Zingo card with every purchase making it possible for up to 7 players to play! It also comes with a unique Zingo device that dispenses the colorful tiles. There is no wonder that the Zingo Bingo Board Game for Early Readers is a favorite board game in classrooms worldwide.
Beloved by all ages, and undoubtedly, will be loved by any four-year-old boy.
The Zingo Bingo Board Game… the name ITSELF sounds like a blast! It's available on Amazon!
2.

Dinosaur World Road Race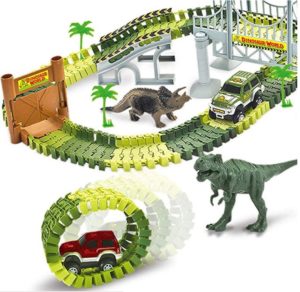 Do you still have no idea what to get for a four-year-old boy? There are more than enough toys to choose from, but many are dull and lack the element of creativity. That makes the AUUGUU Dinosaur World Road Race the perfect gift idea for them!
It is an original dinosaur car track that will give your little one the full experience. Every box comes with a bendable track, battery-operated cars with a 1.5V AA battery, and the Dinosaurs. Plus, you can always buy more dinosaurs to up the fun.
The AUUGUU Dinosaur World Road Race is the ultimate parent-child education opportunity. Create a fun afternoon activity with your four-year-old boy when you build the race track together.
Eager as they are, boys this age can quickly put the track together. Because of the serpentine technology, kids can change the design or pattern they want. This does not only refine your kid's motor skills; it also develops critical thinking skills and imagination.
With the operated race car, four-year-old boys will never get bored. Let your boy imagine a real dinosaur park as the cars run smoothly on the track they created. The vehicles can fly around the curves, race over the slopes, and cross the hanging bridge with dinosaurs along the way.
With the Dinosaur World Road Race, you are bringing the dinosaur world to your kid's expanding world of imagination and adventure.
What?! Dinosaur World Road Race? I'm totally a girl and I'd love this… and I'm 48.. so… It's on AMAZON!!!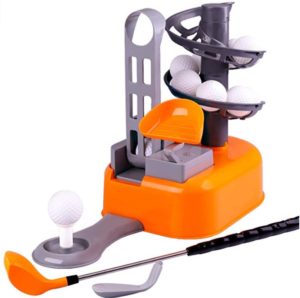 The iLearn Golf Toys Set brings a highly-regarded sport within your four-year-old boy's growing environment. It is designed and created by an Early Childhood Teacher and mother who was committed to giving boys and girls fun, safe, educational toys that help in their development.
With the iLearn Golf Toy Set, kids can find pleasure in learning collaboration and teamwork, while they focus on their creativity and imagination. Most importantly, they can learn golf without the danger of hitting their head with a clubhead! And moms can rest easy while their boys play – no clubhead hitting the furniture or hard surfaces.
The iLearn Golf Toy Set is very light and ultraportable so that you can carry the golf set for a lovely day out. Start a playdate with friends and enjoy an afternoon of golf and friendship. The set comes with a dozen balls and two golf club heads – perfect for parent-child activity.
While playing the iLearn Golf with your boy, you get to strengthen your emotional relationship. Teach him the joy of playing golf with this innovative take-apart machine. The set is made of durable materials that will last for several birthdays and holidays.
It is important to remember that outdoor sports come with the likelihood of an accident. Parents need to be present when kids play with the iLearn Golf Toys Set to avoid any unwanted injuries. But because this toy is manufactured by iPlay, you can relax knowing that the set is safe and harmless.
Golf… Who doesn't dream of their little fella in the PGA?! Well, folks who hate golf… but, I digress… It's just a click away on Amazon.com!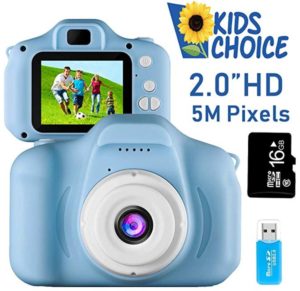 Colors and pictures easily amuse four-year-old children. Having a camera can be exciting.
With the Coodoo Kids Camera, kids can take photos of their favorite food, toy, or even the most mundane things that catch their attention. It is a digital camera equipped with a high lens, which supports real 5MP quality photographer and 1080P video. As they take photos, your boy can immediately look at the photo he took in the 2.0 inches IPS HD display.
The Coodoo Kids Camera features five funny frames and six magic filters. Let his imagination wander with the camera as he looks for something interesting. With an unusual camera like the Coodoo Kids Camera, your four-year-old will not be cooped up at home.
After a few rounds with the camera, you can expect less screen time and more time looking for subjects. Introduce your four-year-old boy to the world of photography by getting him the tools to reach his potential.
Made from high-quality plastic, this camera is tiny but incredibly durable. Suitable for kids at least three years of age, this toy camera allows your little man to take beautiful photos while traveling. It is an excellent tool for documenting his early memories.
Get ready for your little guy to take some awkward photos of you when you're not at your best… but, FUN!
5.

Piano Music Dance Mat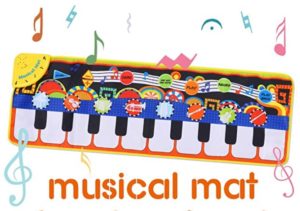 Pave the way for your four-year-old's music genius by getting him the Cyiecw Piano Music Mat. Music, as we know, plays a big part in child development. Introduce your boy to the fun music brings.
By combining music with body movements, this toy refines your boy's gross motor skills. Among many things, music teaches self-expression, as well as intellectual, emotional, social, and language skills. It helps boost confidence, making young boys more socially adaptable.
The Cyiecw Piano Music Mat features fresh colors that appeal to every child's eyes. Colors stimulate the brain, and through the music and sound, the piano mat makes, colors change with each key. Plus, he gets to choose from 8 different instruments. With every foot stomp, boys will enjoy stepping on the different tile, encouraging movement and sports ability. Plus, you get to record, playback and listen to the songs they made.
Watch your boys stomp all over the mat without worrying about wear and tear. Heavily padded, this dance mat is made from plastic and non-woven plastic. Inspire the creative genius inside your little boy when you get him the Cyiecw Piano Music Mat.
A four-year-old would love to stomp on this mat to make music! It's available on Amazon! Go ahead…CLICK HERE!
recommendations for younger and older boys